A US police officer has become the third suicide among those who defended the Capitol building from rioters in January.
Washington DC police officer Gunther Hashida was found dead at his home on 29 July, leaving a wife and three children.
Mr Hashida, 43, was part of the emergency response team in the Special Operations Division of the Metropolitan Police Department.
He had joined the police department in May 2003 and a fundraising page has been set up seeking donations to "support his memorial service and his family in the loss of his love and guidance".
A police spokesperson confirmed Mr Hashida's death to Sky News, adding: "We are grieving as a department as our thoughts and prayers are with Officer Hashida's family and friends."
The officer's suicide follows that of his colleagues Jeffrey Smith and Howard Liebengood, both of whom died within a month of the riot.
House Speaker Nancy Pelosi sent her "deepest condolences" to Mr Hashida's family and colleagues, describing him as "a hero who risked his life to save our Capitol, the congressional community, and our very democracy".
She added: "All Americans are indebted to him for his great valour and patriotism on 6 January and throughout his selfless service.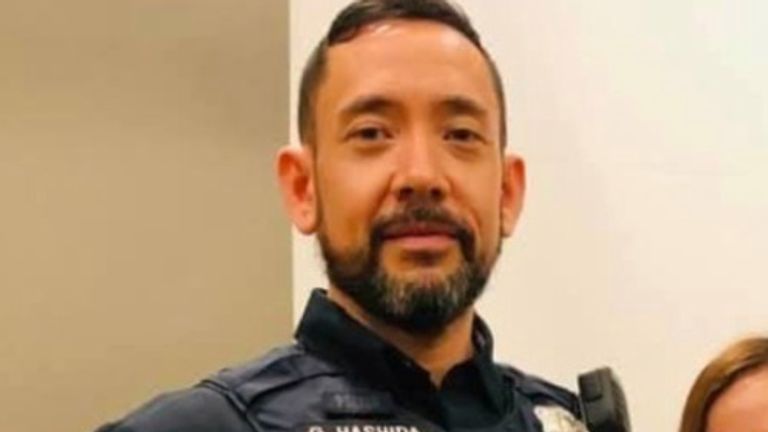 "May Officer Hashida's life be an inspiration to all to protect our country and democracy, and may it be a comfort to Officer Hashida's family that so many mourn their loss and pray for them at this sad time."
The Capitol was invaded by supporters of then-president Donald Trump on 6 January as a joint session of Congress was officially confirming Joe Biden's win in the election a few months earlier.
More than 500 people were arrested, with around 140 police officers injured and one – Brian Sicknick – collapsing in his office after responding to the riot and dying the following day after two strokes.
Late in July, a congressional committee investigating the riot heard from four police officers who told them about the violence and abuse they experienced that day.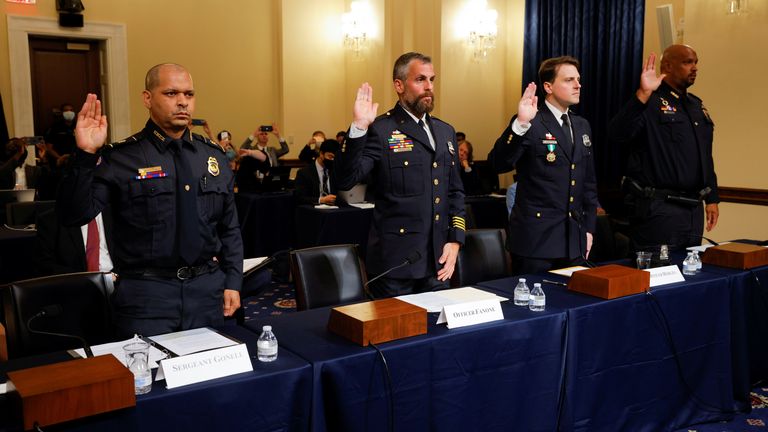 One of the officers, Sergeant Aquilino Gonell, said that for many in the police, the trauma resulting from the riot "has not ended".
"That day continues to be a constant trauma for us literally every day, whether because of our physical or emotional injuries, or both," he said.
One of his police colleagues Michael Fanone added: "What makes the struggle harder and more painful is to know so many of my fellow citizens, including so many people I put my life at risk to defend, are downplaying or outright denying what happened.
"I feel like I went to hell and back to protect them and the people in this room, but too many are telling me that hell doesn't exist or that hell actually wasn't that bad.
"The indifference shown to my colleagues is disgraceful."
:: Anyone feeling emotionally distressed or suicidal can call Samaritans for help on 116 123 or email jo@samaritans.org in the UK. In the US, call the Samaritans branch in your area or 1 (800) 273-TALK.
Nashville school shooting: First pictures emerge of victims of attack, including nine-year-old girl and headteacher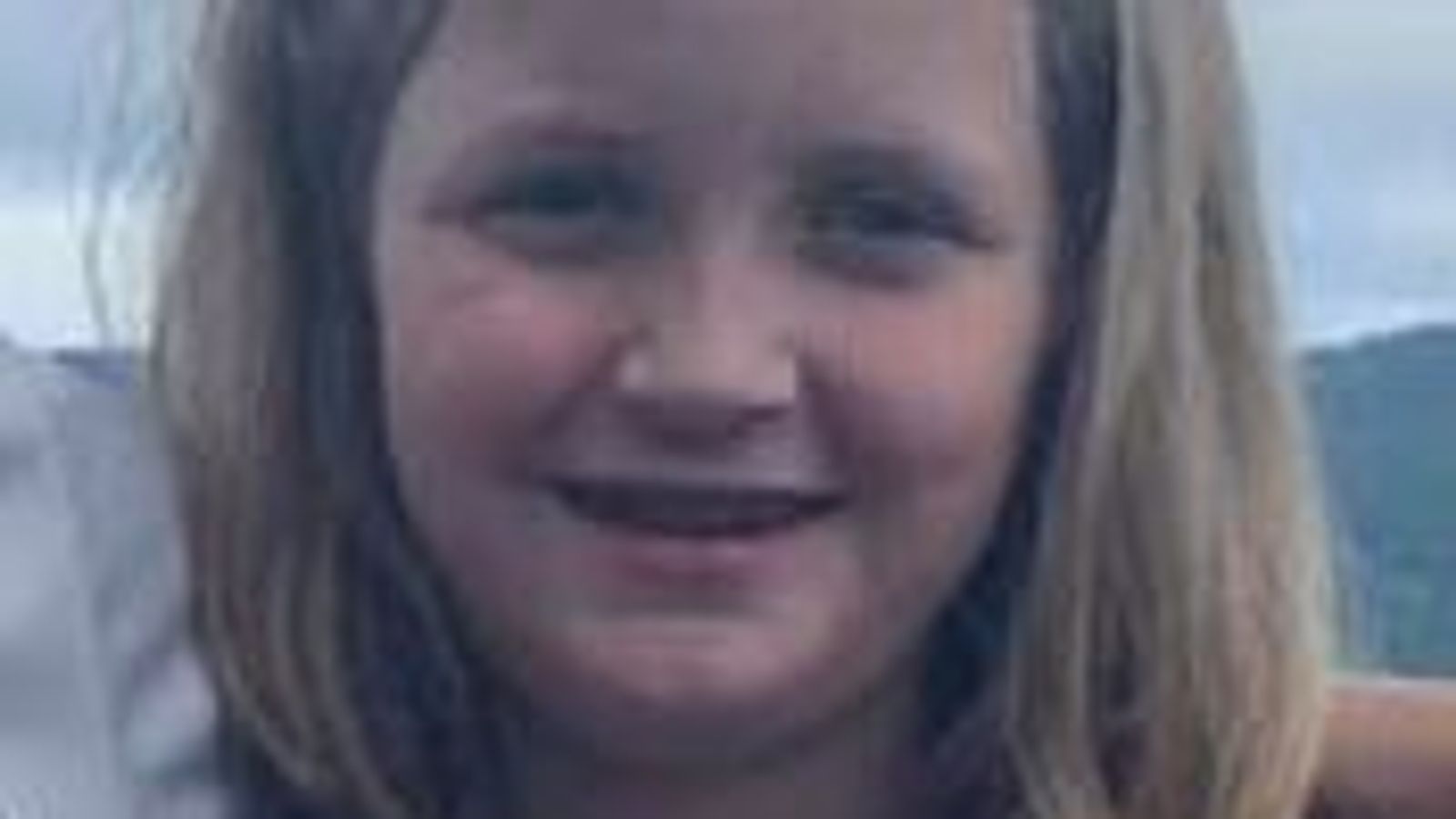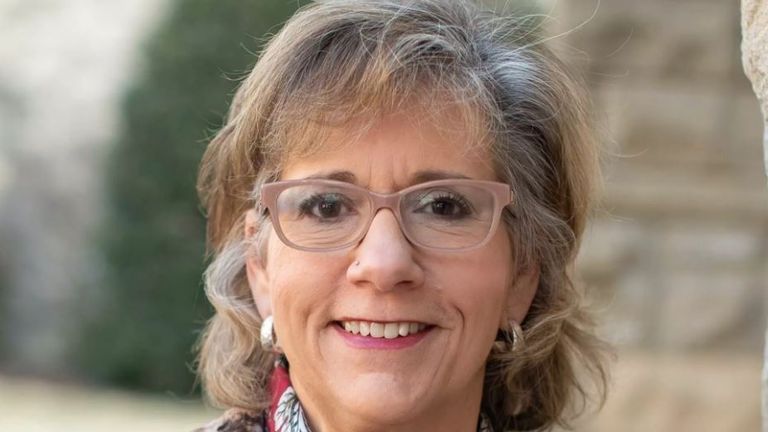 Images of four victims of a shooting at a school in Nashville have been released.
Six people, including three children, were all shot dead by Audrey Elizabeth Hale after the former student opened fire in the private Covenant School in the Tennessee state capital.
The six victims have been named as Evelyn Dieckhaus, Hallie Scruggs, and William Kinney, all aged nine, 61-year-olds Cynthia Peak and Mike Hill, and 60-year-old Katherine Koonce.
Pictures have so far been released of Mr Hill, Ms Koonce, Ms Peak and nine-year-old Hallie.
Read more:
Video shows moment attacker was shot dead
Why tragedy could have been even worse
Hallie was the daughter of the pastor whose church runs the school.
The three adults were all staff, Ms Koonce was the headteacher, Ms Peak a substitute teacher and Mr Hill was a caretaker.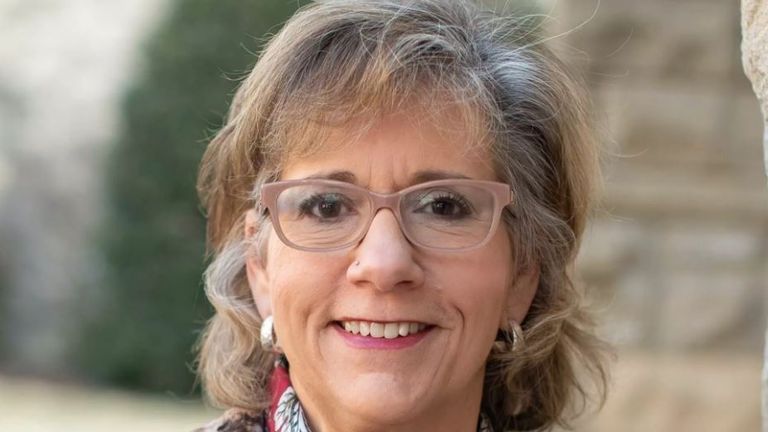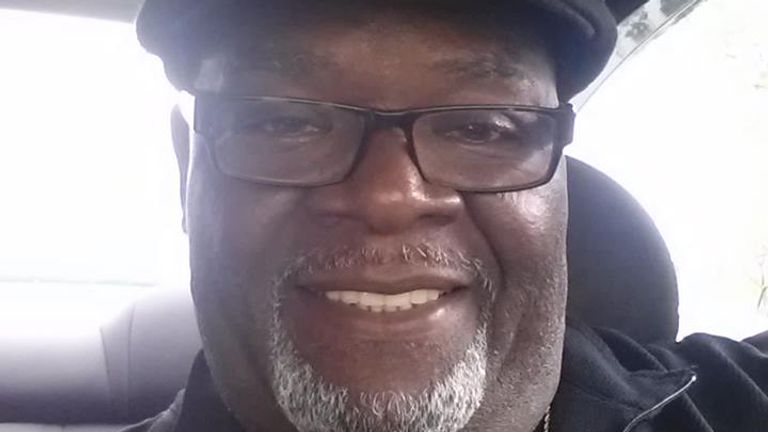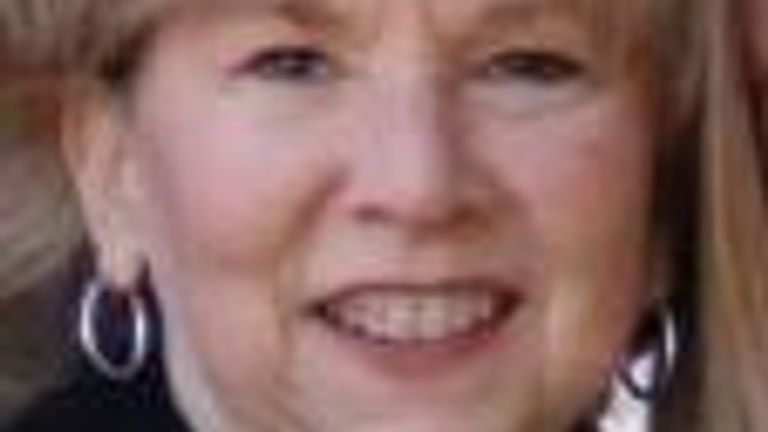 "We love the Scruggs family and mourn with them over their precious daughter Hallie," Park Cities Presbyterian Church senior pastor Mark Davis said in a statement.
"Together, we trust in the power of Christ to draw near and give us the comfort and hope we desperately need."
The Covenant School in Nashville has about 200 students from preschool through sixth grade, as well as roughly 50 staff members.
Hale had a manifesto and detailed maps of the school, and entered the building by shooting through its doors and starting on a killing spree.
Read more:
Video of Nashville school killer entering building released
What we know about killer Audrey Hale
Police chief John Drake said: "We have a manifesto. We have some writings that we're going over that pertain to this day, the actual incident. We have a map drawn out about how this was all going to take place."
Nashville shooting: Police kill school attacker

Officers started receiving reports of an attack at 10.13am (4.13pm UK time) and as police began clearing the ground floor of the school they heard gunfire coming from the second floor.
Two officers from a five-member team opened fire in response and fatally shot the suspect at 10.27am (4.27pm).
Hale's motive for the attack is not yet known.
Nashville school shooting: Bodycam video shows moment attacker was shot dead by police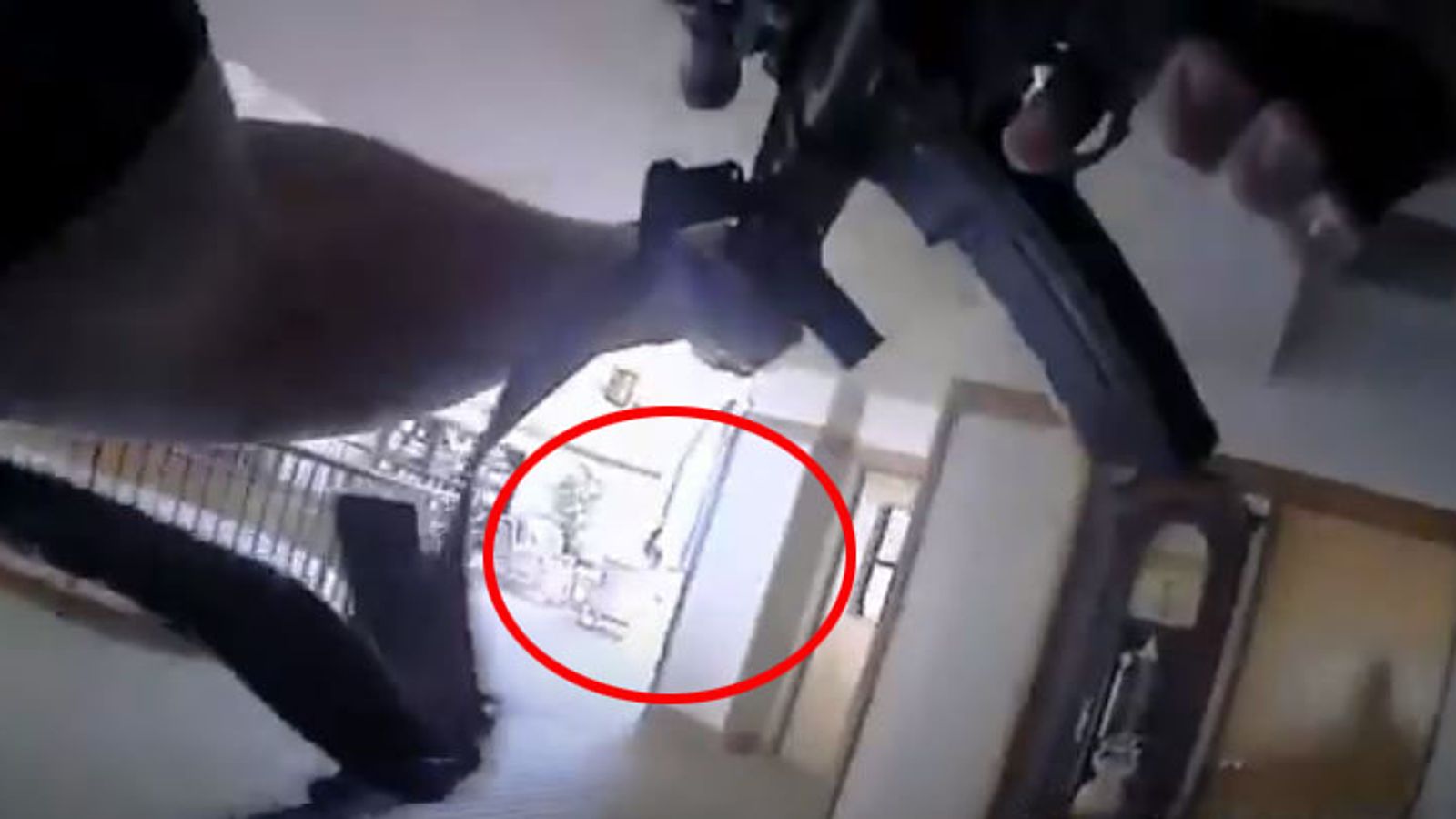 Graphic video has been released of the moment the Nashville school attacker was shot dead by police.
Audrey Hale, who identified as a transgender male and was a former student of the private Christian school, killed three pupils aged nine and three adults before being stopped.
Footage from Officer Rex Engelbert's bodycam shows him opening fire with a rifle several times on Hale before the perpetrator falls to the ground injured.
Police then head towards the 28-year-old just a few metres away as officers shout "move, move", and "watch out, watch out".
The attacker, now on the floor, is hit by several more police gunshots before an officer yells to the suspect "stop moving, stop moving", with the killer appearing to be still alive as one of their arms moves.
An officer screams "throw your hands away from the gun, get your hands away from the gun", while another says "suspect down, suspect down".
Hale's body is then shown lying next to the weapons, including a rifle, the assailant used in the deadly Monday morning attack on the second floor of the Covenant School in Tennessee.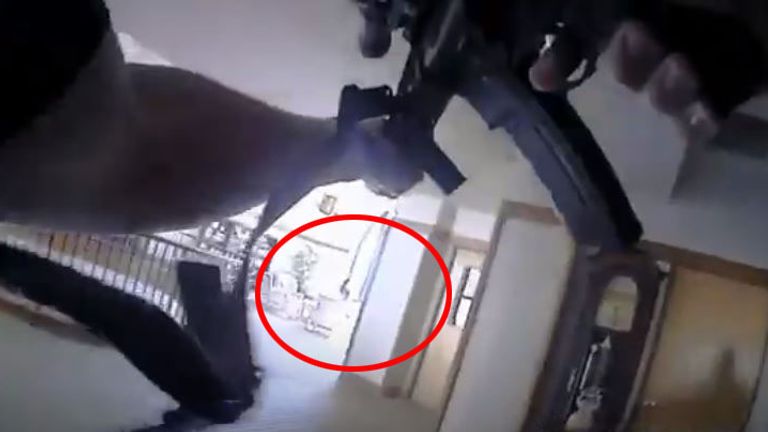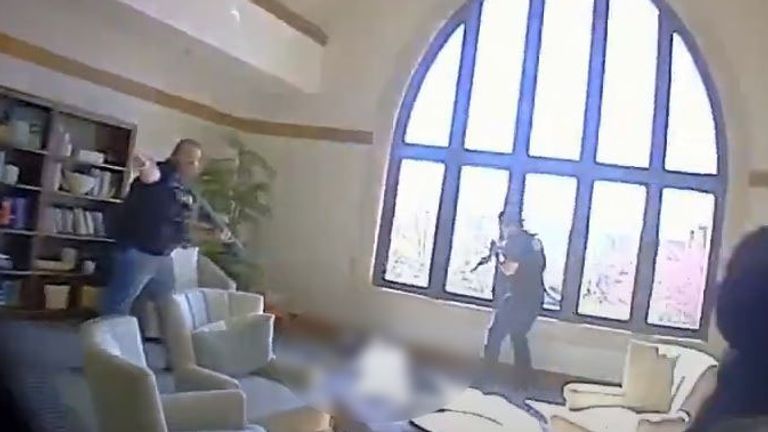 A second clip shows what happened from a different angle with footage from Officer Michael Collazo's bodycam. He is shown firing his pistol at Hale in the second volley of shots after the suspect was already on the ground.
Minutes earlier, the officers had stormed the building as video showed several going from empty classroom to empty classroom before making their way to the second floor.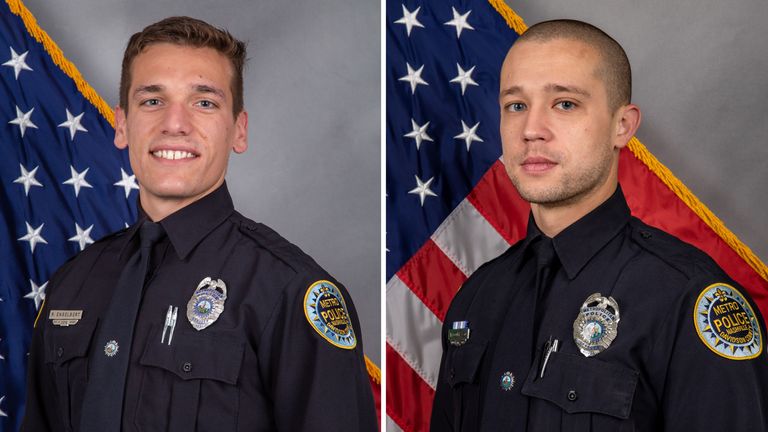 Multiple gunshots are heard in the footage as officers run down a hallway – past what appears to be a victim – and into a lounge area, where the suspect is seen dropping to the floor after being shot.
Police said the suspect was killed after a confrontation with officers.
Read more:
What we know about killer Audrey Hale
Video of Nashville school killer entering building
Why Nashville tragedy could have been even worse
The start of the six-minute police video shows Officer Engelbert retrieving a rifle from his car boot before a member of staff directs him to the entrance, telling him that the school is locked down but at least two children are not accounted for.
"Let's go! I need three!" the officer yells as he uses a key to unlock a door and enter the building, where alarms can be heard ringing.
Hale was described by officials as a "lone zealot", who lived in Nashville, and was armed with two assault-type weapons, and a handgun.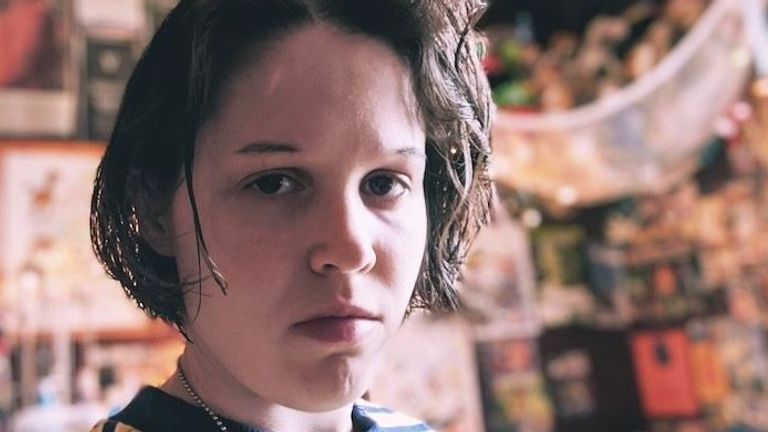 Hale had a manifesto and detailed maps of the school, and entered the building by shooting through its doors before the killings.
Police have also released video of the moment the attacker entered the school.
The six victims have been named as Evelyn Dieckhaus, Hallie Scruggs, and William Kinney, all aged nine, substitute teacher Cynthia Peak and school custodian Mike Hill, both 61, and 60-year-old Katherine Koonce, who was the headteacher.
Watch Gwyneth Paltrow in court over ski crash lawsuit