New York governor Andrew Cuomo is facing growing calls to resign after an investigation found he sexually harassed multiple current and former state government employees.
Two lawyers independent of his department spoke to 179 people, and found that his administration was a "hostile work environment" that was "rife with fear and intimidation".
Its findings have prompted a raft of fellow New York Democrats to call on Mr Cuomo to quit, including a number of members of Congress.
But the governor has rejected the findings, declaring: "I never touched anyone inappropriately. That is just not who I am and that's not who I have ever been."
State attorney general Letitia James announced the findings of the nearly five-month investigation on Tuesday.
As well as complainants, the investigators spoke to current and former members of the executive chamber, state troopers, and others who had regular interactions with the governor.
Speaking at a news conference, Ms James said: "These interviews and pieces of evidence revealed a deeply disturbing yet clear picture: governor Cuomo sexually harassed current and former state employees in violation of federal and state laws."
The investigation found that Mr Cuomo and his senior staff endeavoured to retaliate against a former employee who accused him of wrongdoing.
It was also determined that the governor harassed women outside government.
Ms James praised the "heroic" women who had come forward, saying the investigation would not have been possible without them.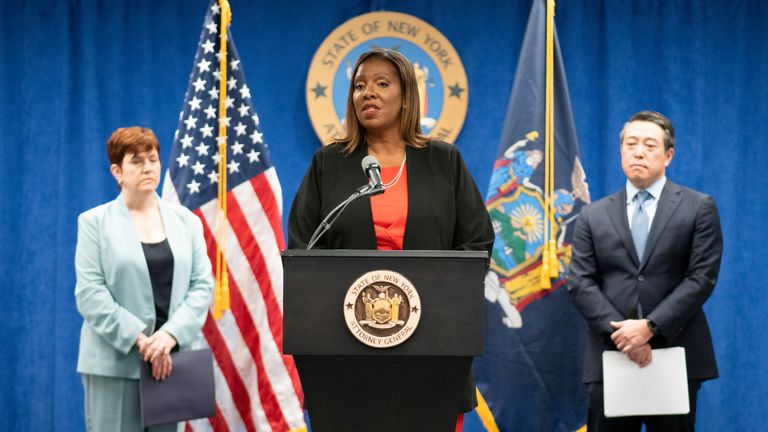 The allegations against Mr Cuomo, who has been governor since 2011, first emerged late last year.
There were multiple claims that he inappropriately touched and sexually harassed women who worked with him or whom he met at public events.
An aide in his office alleged that he groped her breast.
Another, Lindsey Boylan, said the governor kissed her on the lips following a meeting in his office and "would go out of his way to touch me on my lower back, arms and legs".
In the wake of Ms Boylan going public, the Cuomo administration released personnel memos to the media which revealed that she had quit her role after being confronted about complaints that she belittled and shouted at her staff.
She said those documents "were leaked to the media in an effort to smear me".
Other aides said they were subjected to unwelcome questions about sex and dating from the governor.
Today's report is deeply disturbing. For the good of New York, Governor Cuomo must resign.

My statement with @RepAOC, @RepMondaire, @RepBowman, @NydiaVelazquez, @RepMaloney, @RepRitchie, @RepYvetteClarke, @RepGraceMeng, @RepEspaillat, @RepBrianHiggins, and @RepKathleenRice. pic.twitter.com/pqu3VvQGRD

— Rep. Nadler (@RepJerryNadler) August 3, 2021
Charlotte Bennett, a former aide, said she was asked if she was open to sex with an older man.
Joon Kim, one of the lawyers leading the investigation, told the news conference: "Some suffered through unwanted touching, and grabbing of their most intimate body parts.
"Others suffered through repeated offensive, sexually suggestive, or gender-based comments.
"A number of them endured both. None of them welcomed it. And all of them found it disturbing, humiliating, uncomfortable and inappropriate."
There were calls for Mr Cuomo to quit when the allegations first emerged last year, but the governor has remained in post and begun raising money for a fourth term in office.
He has always denied touching anyone inappropriately, but did at first say he was sorry if his behaviour with women was "misinterpreted as unwanted flirtation".
March: 'I truly and deeply apologise'

However, he has adopted a more combative approach, saying he did nothing wrong and questioning the motives of his accusers and critics.
Mr Cuomo has also questioned the neutrality of the lawyers hired by the attorney general to investigate the allegations against him.
When Mr Kim was a federal prosecutor in Manhattan, he was involved in corruption investigations concerning members of Mr Cuomo's administration.
The New York State Assembly is looking into whether there are grounds to impeach the governor – and the attorney general's report is expected to play a key role in that process.
It has hired its own legal team to look into Mr Cuomo's conduct, as well as other allegations of wrongdoing that have been levelled against him.
The lower house of the state legislature is examining the help the governor got from top aides to write a book about the COVID-19 pandemic, special access that relatives got to COVID testing last year, and his administration's decision to initially withhold some data on nursing home deaths in the state from the public.
Big win for Joe Biden as Democrats land outright majority in the US Senate, NBC News projects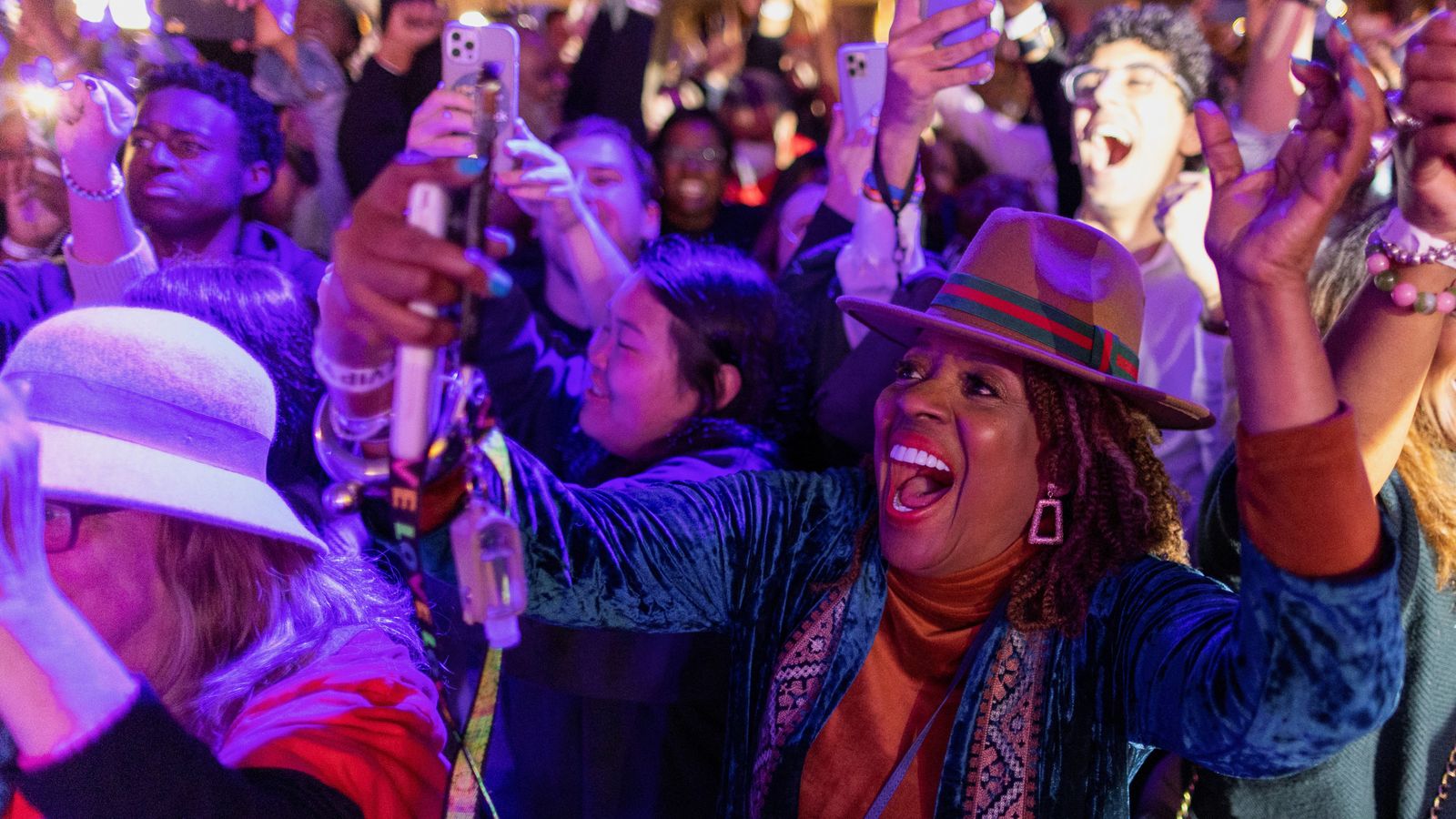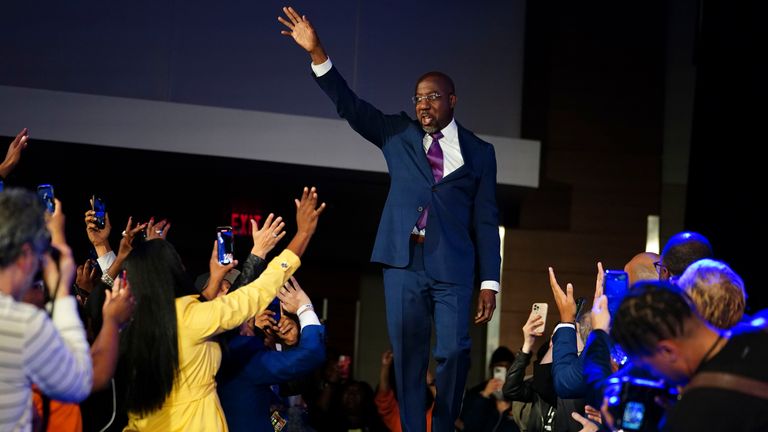 Democrat Raphael Warnock has been re-elected to the US Senate in a crucial win for President Joe Biden, NBC News has projected.
His expected victory gives Democrats an outright majority in the Senate after two years under a 50-50 divide, with Vice President Kamala Harris casting tie-breaking votes.
Mr Warnock defeated Republican rival Herschel Walker during the Georgia race – a former NFL star.
A run-off election was triggered because neither candidate had won an outright majority during the midterm elections last month.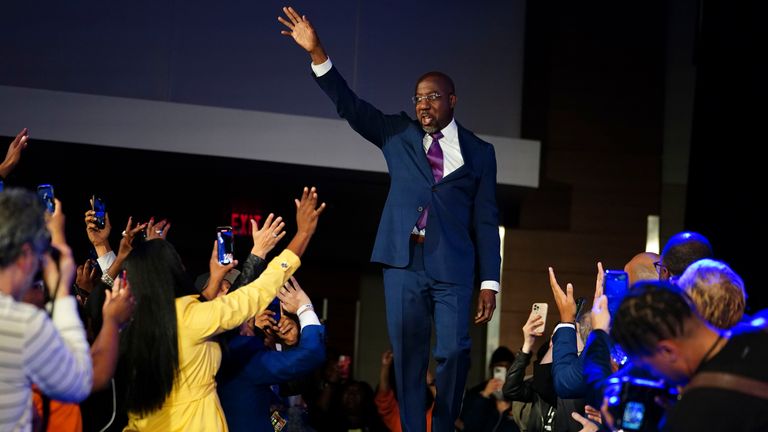 In his victory speech, Mr Warnock told supporters: "After a hard-fought campaign – or should I say campaigns – it is my honour to utter the four most powerful words ever spoken in a democracy: The people have spoken."
Mr Biden called him to offer his congratulations.
He tweeted: "Tonight Georgia voters stood up for our democracy, rejected Ultra MAGAism, and most importantly: sent a good man back to the Senate. Here's to six more years."
Mr Walker, an American football legend in the 1980s, was unable to overcome a bevy of damaging allegations, including claims he paid for two former girlfriends' abortions.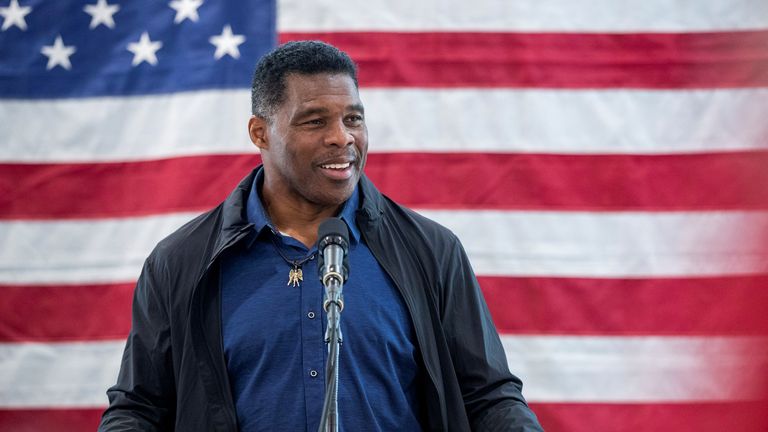 A multimillionaire businessman, he inflated his philanthropic activities and business achievements, including claiming his company employed hundreds of people and grossed tens of millions of dollars in sales annually, even though records indicate he had eight employees and averaged about $1.5m (£1.2m) a year.
He has suggested he has worked as a law enforcement officer and was a college (university) graduate, though he has done neither.
His Senate run was endorsed by former president Donald Trump.
Yet another signal America is moving away from Donald Trump as a political force
Having followed Herschel Walker on the campaign trail in Georgia, it is difficult to believe this race ever went to a runoff.
The former NFL star has consistently struggled to convey a coherent message, with badly delivered speeches in contrast with his opponent, Reverend Raphael Warnock, a preacher by trade who commands an audience.
Walker was handpicked as a nominee by the former president, Donald Trump, but his reputation was smashed to smithereens during the course of the campaign.
He ran on an anti-abortion pledge, yet two women emerged to allege he paid for them to have an abortion after they became pregnant by him (claims he denies). He also condemned absentee fathers, particularly in black households, but later acknowledged he has a son he never sees.
But his defeat is not only important for Democrats because of the rejection of his personal integrity – or lack thereof – and the "Make America Great Again" values he espoused.
It also means that – for the first time in Joe Biden's presidency – his party has an outright majority in the senate.
The new 51-49 split means Democrats can speed up judicial nominees and control committees in the Senate. But it also avoids a situation where one senator – in the past two years it has been Joe Manchin or Kyrsten Sinema – can wield their swing vote as a weapon.
Perhaps most significantly, though, it is yet another signal that America is moving away from Mr Trump as a political force.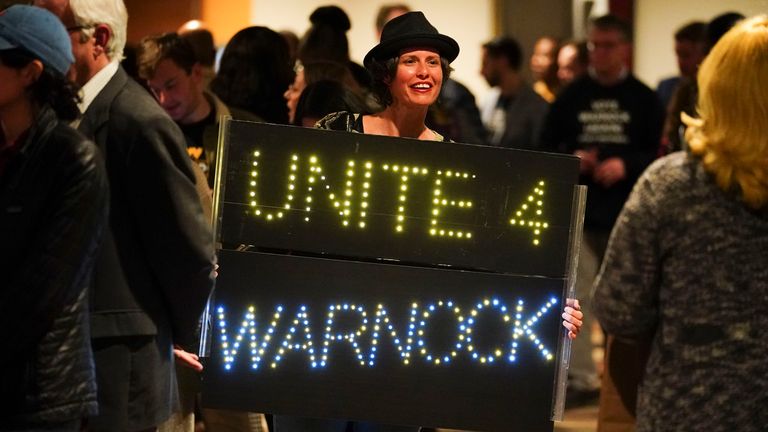 On the campaign, Mr Warnock, the state's first black senator, promoted his Senate accomplishments, touting a provision he sponsored to cap insulin costs for low income patients, and deals on infrastructure and maternal healthcare.
Senate majority leader Chuck Schumer said Mr Warnock's victory was one "against MAGA Republican extremist policies".
The closing weeks of the election period grew increasingly bitter. Mr Walker labelled Mr Warnock – senior pastor at Ebenezer Baptist Church in Atlanta, Georgia's capital – as a "hypocrite" and servile to President Joe Biden.
Although a Democrat, Mr Warnock had been attempting to distance himself from Mr Biden, whose approval ratings have lagged as inflation in the US remains high.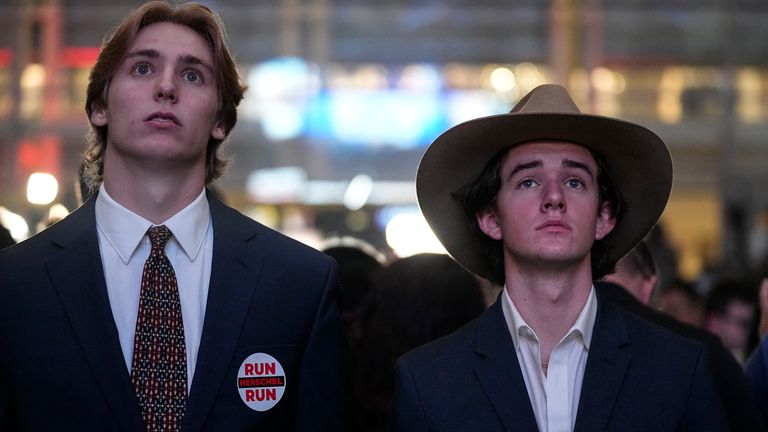 The Democrats' new outright majority in the Senate does not mean an end to divided government, as the Republicans narrowly flipped House control in recent midterms, but it does mean they will now hold control of powerful committees.
Donald Trump firm guilty of defrauding tax authorities for more than 15 years
Donald Trump's real estate company has been found guilty of running a criminal scheme to defraud tax authorities for 15 years.
The scheme operated by The Trump Organization included avoiding paying personal income taxes on perks such as rent-free apartments and luxury cars.
"The smorgasbord of benefits is designed to keep its top executives happy and loyal," prosecutor Joshua Steinglass told
jurors during his closing argument on Friday.
The firm, which operates hotels, golf courses and other real estate around the world had pleaded not guilty.
The former US president was not personally charged in the case.
The Trump Organization had argued that chief financial officer Allen Weisselberg, 75, ran the scheme to benefit himself.
He is on paid leave and testified that he received more than $1m in salary and bonus payments this year.
The firm will be sentenced on 13 January. Trump Organization lawyer Alan Futerfas told reporters the company would appeal.
While the firm now faces paying a fine, it is considered unlikely that it would cause serious damage to a company of its size. The group comprises about 500 business entities.
However, the conviction could make lenders and partners think twice.
The Trump Organization also faces a fraud lawsuit brought by New York state Attorney General Letitia James.
And Donald Trump himself is being investigated by the US Department of Justice over his handling of sensitive government documents after he left office in January 2021 – and attempts to overturn the November 2020 election, which he lost to Joe Biden.
Republican leader snubbed as police who defended US Capitol honoured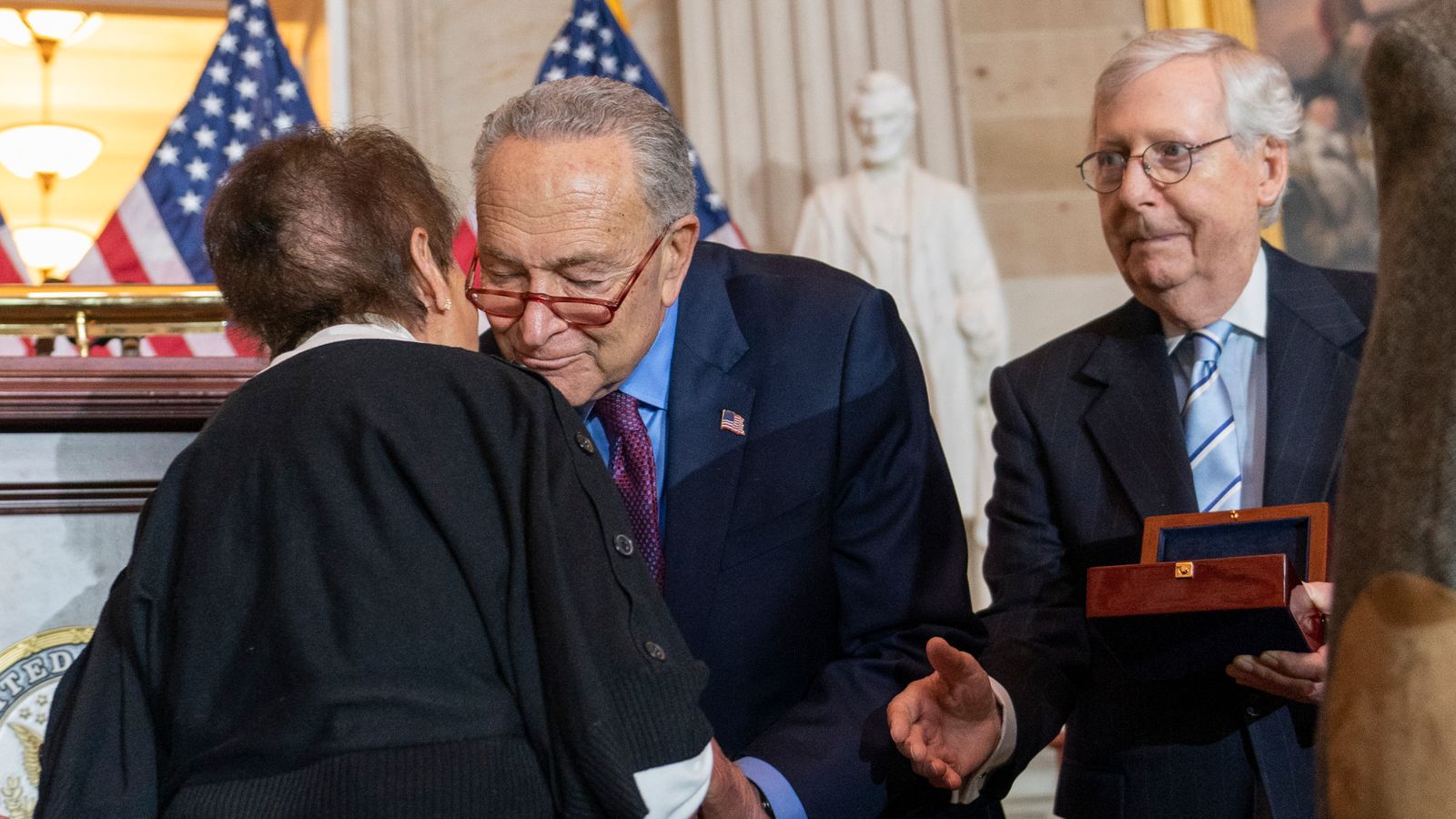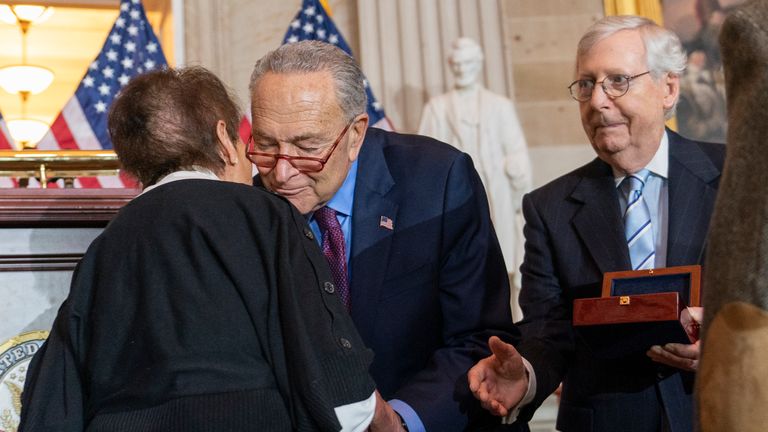 The Republicans' leader in the Senate has been snubbed by the family of a police officer who died following the US Capitol riots on 6 January 2021.
It happened during a ceremony held for officers who defended the Washington DC landmark against Donald Trump supporters.
The officers have been honoured with Congressional gold medals for "courageously answering the call to defend our democracy in one of the nation's darkest hours", House Speaker Nancy Pelosi said.
Senate Republican leader Mitch McConnell commented: "Thank you for having our backs. Thank you for saving our country. Thank you for not only being our friends, but our heroes."
But when the family of Brian Sicknick, who died after suffering two strokes on 7 January, passed Mr McConnell in a line-up, they refused to shake his outstretched hand.
In contrast, the Democrats' leader in the Senate, Chuck Schumer, received a kiss from Gladys Sicknick, the late officer's mother.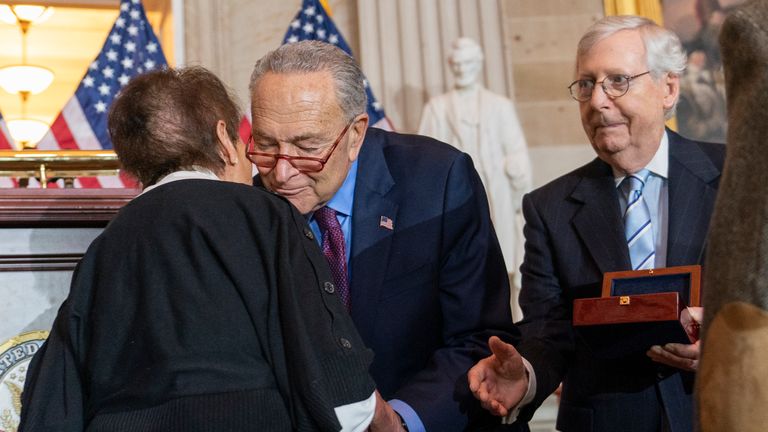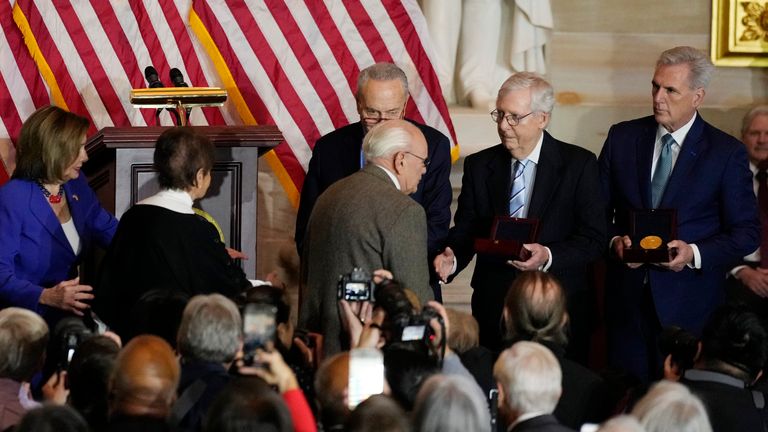 Read more:
Officer attacked by mob describes 'medieval battle scene'
Donald Trump issued with subpoena to testify at US Capitol riots probe
Recognising the hundreds of officers who were at the Capitol on 6 January, the medals will be placed in four locations: US Capitol Police headquarters, the Metropolitan Police Department, the Capitol and the Smithsonian Institution.
President Joe Biden said one was being placed at the Smithsonian museum "so all visitors can understand what happened that day".
"Many of us still carry the mental, physical and emotional scars," Metropolitan Police Chief Robert Contee said.
He told the officers: "It was your blood, your sweat and your tears that marked these grounds."
US Capitol Police Chief Thomas Manger called it a "day unlike any other in our nation's history – and for us".
He added: "It was a day defined by chaos, courage and tragic loss."