The UK has reported a "potential hijack" of a ship off the coast of the United Arab Emirates as a security source said a tanker appears to have been seized.
UK Maritime Trade Operations, a part of the Ministry of Defence, described the incident as a "potential hijack".
A group of eight or nine armed individuals are believed to have boarded the vessel, named Asphalt Princess, the security source told Sky News.
"It was an unauthorised boarding in the Gulf of Oman," the security source said.
There is no British link to the tanker.
It comes as the Associated Press reported that at least four vessels sent out warnings saying they had lost control of their steering.
Oil tankers called Queen Ematha, Golden Brilliant, Jag Pooja and Abyss all reported through their Automatic Identification System trackers they were "not under command", according to MarineTraffic.com.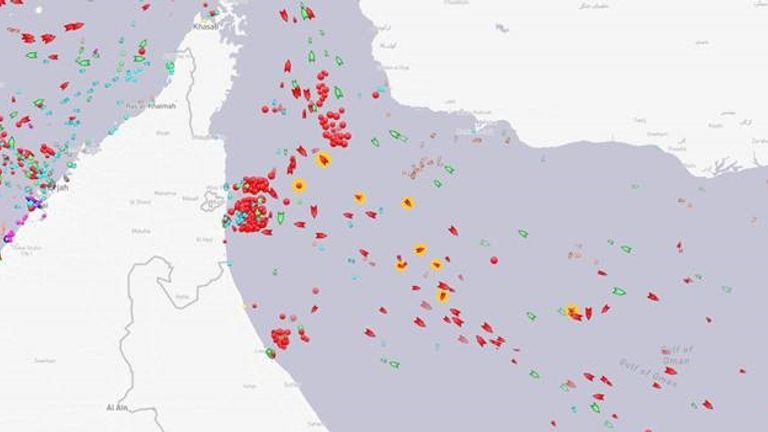 That typically means a vessel has lost power and can no longer steer.
It follows an attack on the Mercer Street vessel, which has been blamed on Iran.
Turkish election: Erdogan has once again proved critics wrong and out-manoeuvred his toughest challengers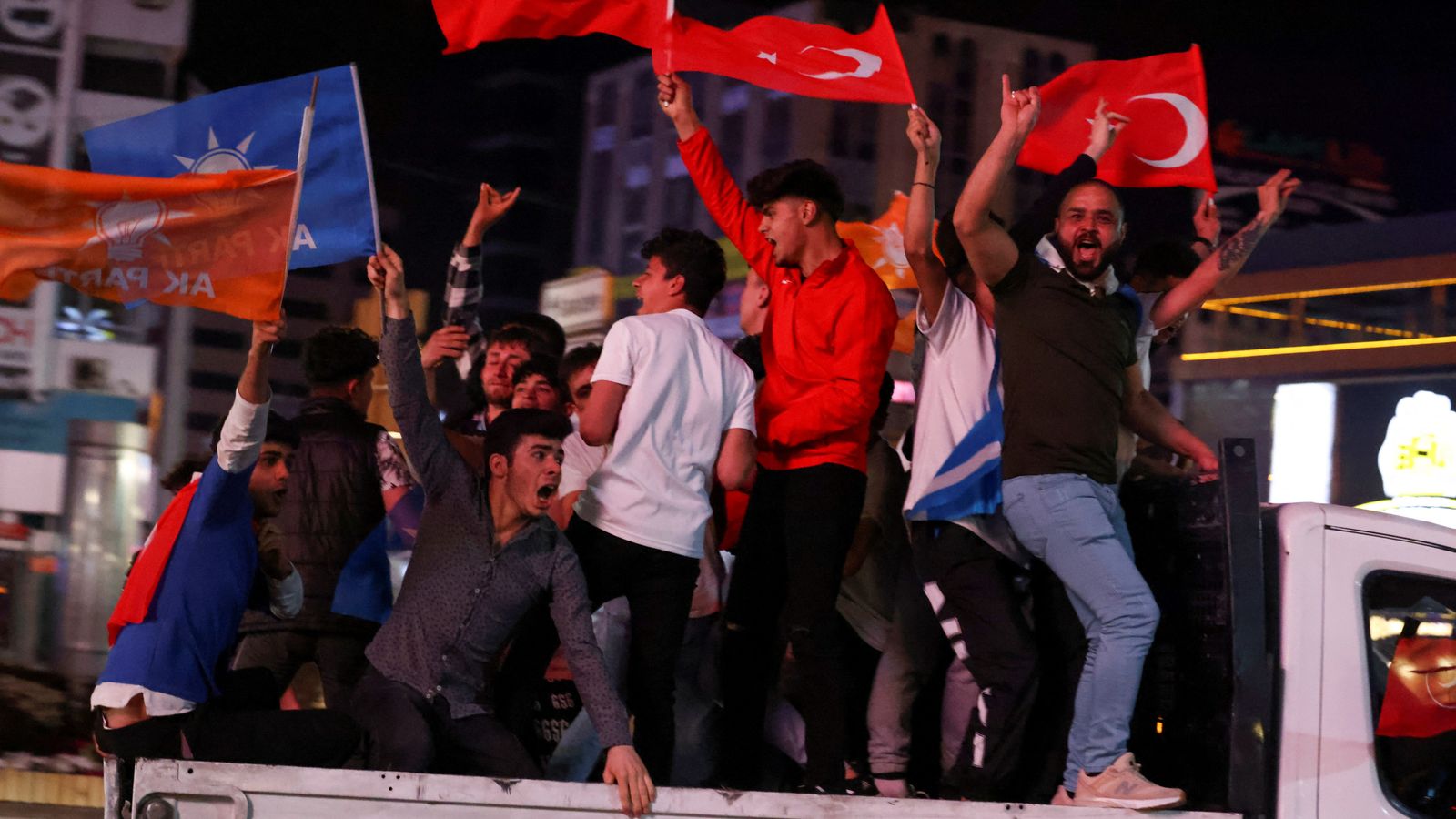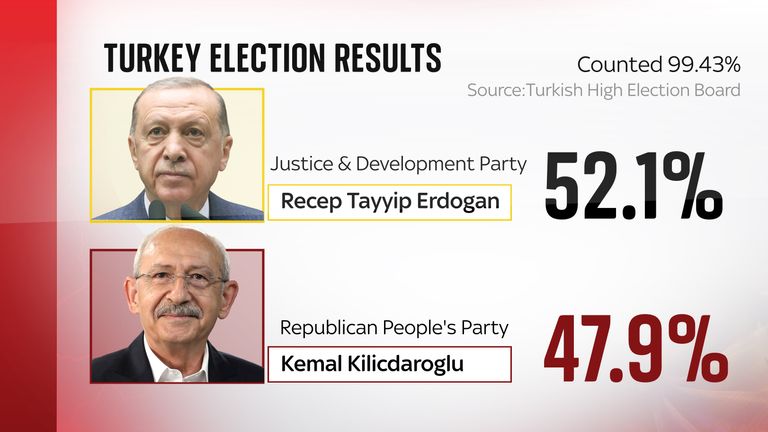 The man who revels in his image as Turkey's strongman took an early lead almost as soon as polls closed in the second round of voting for president.
Celebrations began long before the official declaration. But in truth, the dye was cast some time ago, before the election.
Recep Tayyip Erdogan's demeanour even before campaigning began for the unprecedented run-off has been one of a leader comfortably confident of securing his third decade in power in a country that holds a uniquely significant geographical position in the world.
Turkey election latest:
Erdogan thanks crowds as election officials declare him winner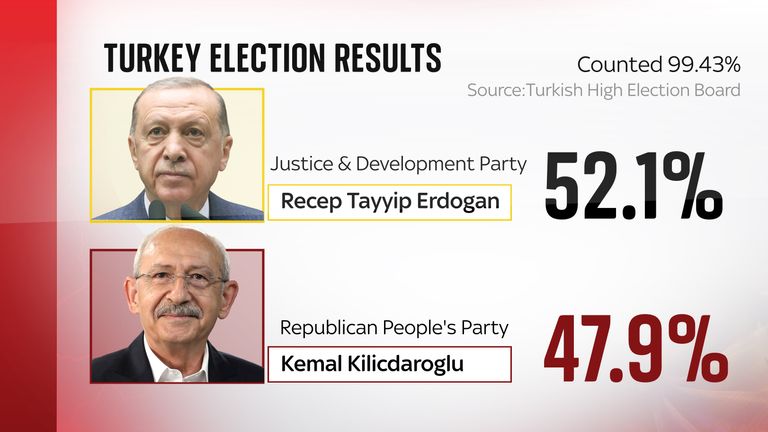 From the time he voted in the first round to extend his time as president, he appeared supremely relaxed about his chances of winning.
This was despite the polls showing him trailing behind his challenger, the leader of a six-party alliance called Kemal Kilicdoroglu.
Mr Erdogan's re-election comes in the teeth of a spiralling economy, rampant inflation and in the wake of a horrific natural disaster clouded by accusations his government was slow to respond.
"We are so happy," one of his fans told us outside his Istanbul home. "Our economy is good….OK, it's been bad for two years but we trust him and he will do his best."
"Bye bye Kemal," others told us. "Erdogan is our strong leader," was the mantra repeated to us over and over again.
The people gathered waving flags, setting off fireworks and singing and dancing down the roads leading to his home in the Uskudar district of the city were predominantly religious conservatives, many of them women, mostly wearing hijabs and conservative Muslim clothing.
"We love Erdogan," they told us.
Within an hour or so of polls closing, with just 55% of votes counted, the incumbent had already built a hefty lead, according to the state broadcaster TRT.
Sky's Alex Crawford reports from Istanbul as Turkey reacts to Erdogan claiming victory

That very early lead never seemed likely to change.
Later counting narrowed the gap somewhat but the sitting president still managed to secure more than half of the votes cast with his rival trailing roughly four points behind. (Latest official figures at the time of writing show 52.1% to Mr Erdogan and 47.8% for Mr Kilicdaroglu.)
This was the closest President Erdogan had come to being unseated was how the opposition and most Western media framed the outcome of the first round.
But in reality, the odds were always heavily stacked against any electoral upset or success by his rival.
Mr Erdogan has spent his two decades at the helm consolidating his power – cracking down on dissent, intimidating and jailing opposition politicians and journalists and ensuring the Turkish media is mostly state-controlled and compliant.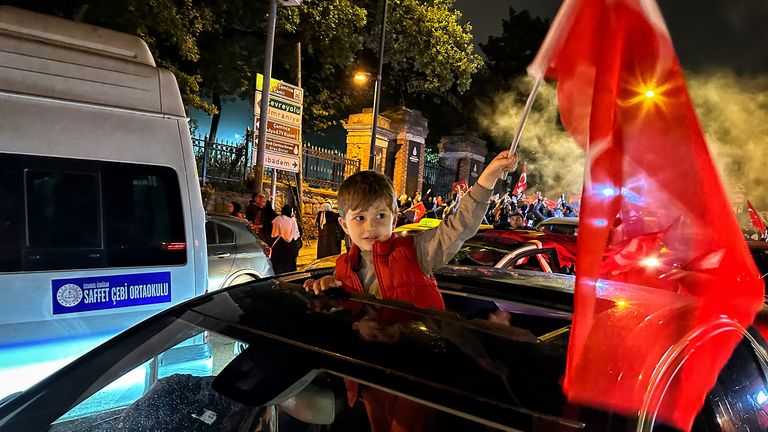 International observers in the country who were monitoring the initial vote criticised Mr Erdogan's use of state resources and his control of the media to unduly influence the electorate.
Once the dust has settled, they're likely to voice the same concerns this time around.
In his concession speech, Mr Kilicdoruglu called it the "most unjust election campaign ever" referring to the heavily-biased coverage of the president's campaign in most Turkish outlets rather than his.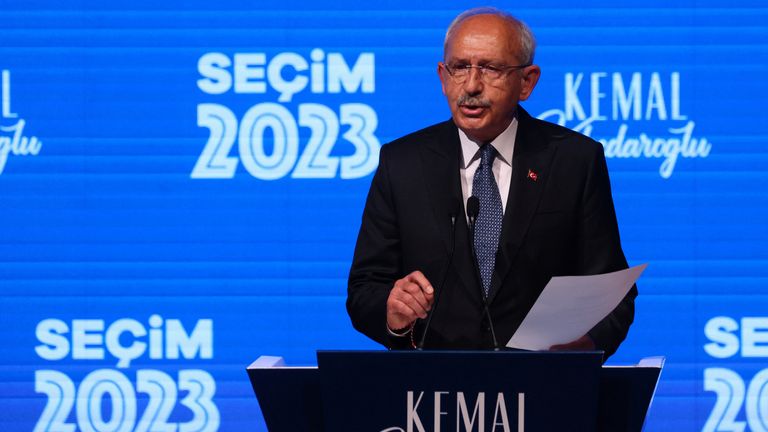 When we managed to get close enough to question the sitting leader about whether he'd accept the outcome of the vote whatever the result (in the first round), we were sharply rebuked by him for questioning his approach and his 'history' over the past 20 years.
"That is a very bad question," he told me.
"You don't know me and how I've been over the past 20 years," he scolded me as his security detail and political team rushed to move him on quickly.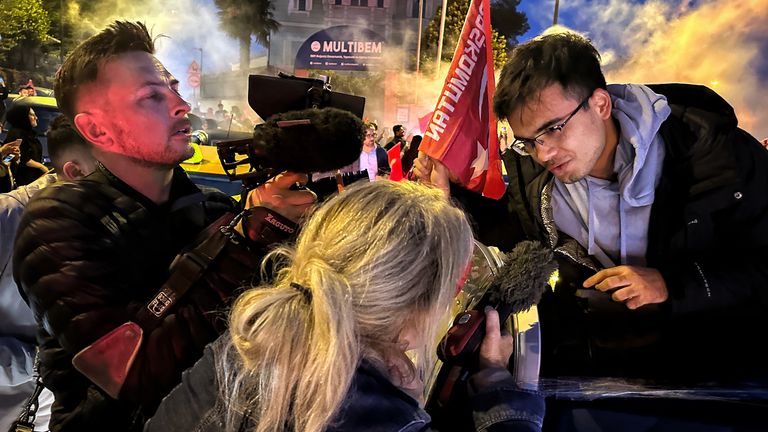 His critics believe his next five years in office are likely to see him take the country further down the autocratic path he embarked on several years ago.
It's a path made smoother after his AK Party gained 266 seats in the parliamentary elections, resulting in a commanding total of 321 including his coalition partners.
Read more:
Recep Tayyip Erdogan: Who is Turkey's president?
Who is Kemal Kilicdaroglu – the man who wanted to end Erdogan's reign?
If his campaigning over the past two weeks and his repeated criticism of how Western journalists have covered the elections are anything to go by, President Erdogan is likely to ratchet up his strained relationship with the foreign media and those nations critical of his leadership.
At one rally he told his supporters: "We are competing against those trying to disrupt the century of Turkey.
"Magazines have covers reading Erdogan must go. It's none of your business. The West cannot decide it. It is up to my nation."
President Erdogan speaking to crowds before victory was declared

Mr Erdogan's influence during his years in power on international affairs like the Russia-Ukraine war and the European migration crisis has been crucial. And he has used his position skilfully.
A largely suspicious West has seen him manoeuvre himself into a pivotal global spot – able to talk to the leaders of both Russia and Ukraine as well as America and Iran – and building essential bridges with key economic powers like Saudi Arabia, as well as sending peacekeeping troops to countries like Somalia and Libya.
He has visited African countries more times than any other non-African leader during his time in office.
Analysis:
The West will be disappointed with Erdogan's electoral success
As a member of NATO, he's shown he can wield considerable clout for political gain as he's demonstrated recently with the delayed but final acceptance of Finland into the club.
Turkey's acquiescence only came after Finland agreed to take a harder line against Kurdish dissidents and the Kurdish PKK party.
Now on his home turf, he has once again proved the critics wrong and outmanoeuvred his toughest challengers and his grip on power seems unassailable.
Turkey elections: Putin and Zelenskyy among world leaders to congratulate Erdogan on election victory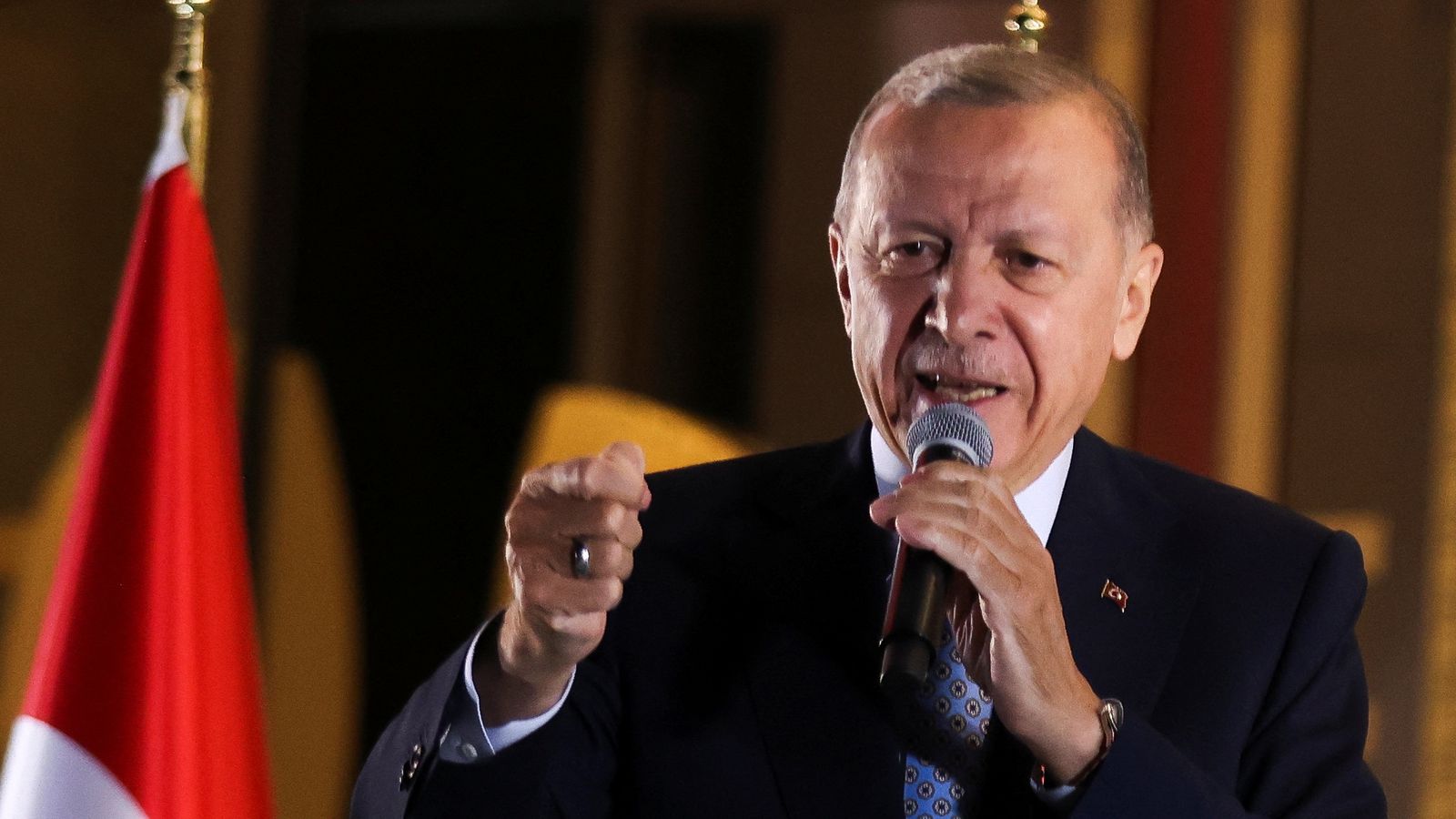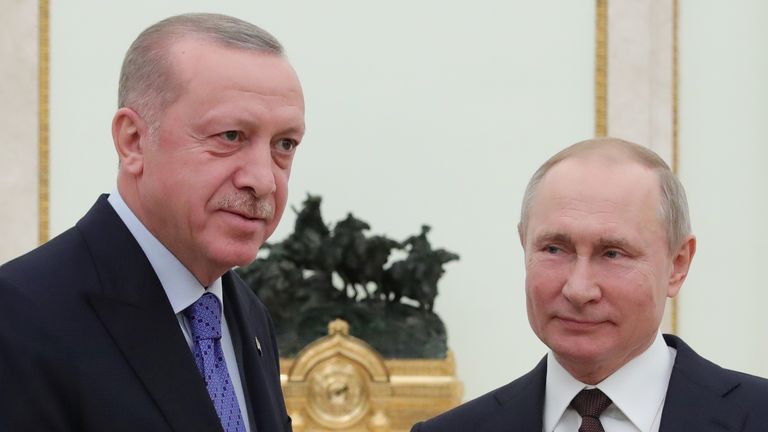 Vladimir Putin and Volodymyr Zelenskyy have joined world leaders in congratulating Turkish president Recep Tayyip Erdogan on his election win.
In a letter to president Erdogan celebrating his narrow run-off victory on Sunday, Mr Putin addressed the Turkish leader as "Dear Friend" and praised his efforts at strengthening Russian-Turkish relations.
"From the bottom of my heart I wish you new successes in such a responsible activity as the head of state, as well as good health and well-being," he added.
Mr Zelensky also offered his congratulations to Mr Erdogan and spoke of the need for the "further strengthening" of Ukraine and Turkey's "strategic" partnership.
He was joined by Western leaders, such as Rishi Sunak, Joe Biden and Emmanuel Macron, who took to Twitter to share congratulate Mr Erdogan on his election win.
Turkey holds an important position in world politics, in part because of its geographical location as the junction between Europe and Asia – in particular the Middle East.
With Russia's invasion of Ukraine, Turkey also holds increasing importance as the gatekeeper to the Black Sea and has been central in negotiating crucial deals to maintain the export of Ukrainian grain.
Though a NATO country – and one which has in the past pushed for European Union membership – Turkey maintains diplomatic relations with Russia.
In his letter of congratulations to Mr Erdogan, Mr Putin talked about the development of the joint Turkish-Russian Akkuyu nuclear power plant and the creation of a gas hub in Turkey.
'Russia must return land to Ukraine'
Mr Erdogan, however, has also in the past talked about the importance of maintaining Ukraine's territorial integrity and securing a peace deal to end the conflict.
In September last year, when asked whether Russia should be able to keep its territorial gains, he told US public broadcaster PBS: "No, and undoubtedly no.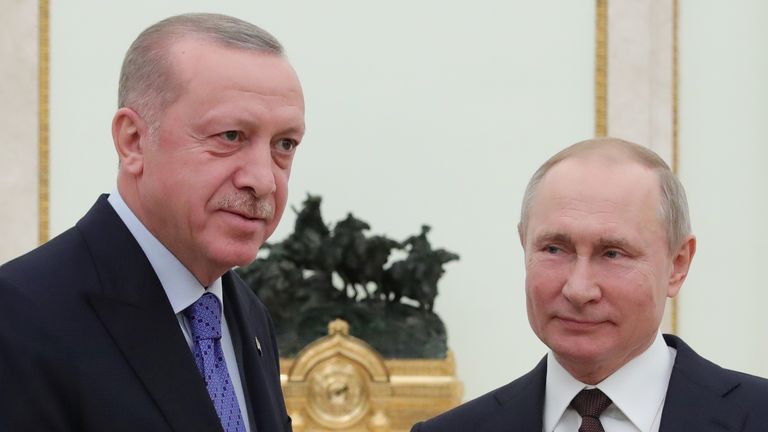 "If a peace is going to be established in Ukraine, of course, the returning of the land that was invaded will become really important. This is what is expected."
Turkey election latest:
Erdogan thanks crowds as election officials declare him winner
Western leaders, including the UK's prime minister, have also been keen to push the idea of a "strong relationship" between Turkey and the West.
In a statement, a Downing Street spokesperson said Mr Sunak and Mr Erodgan had spoken since his election victory was confirmed.
Turkey election: 'This is an historic vote'

"The prime minister reiterated the strong relationship between the United Kingdom and Turkey, as economic partners and close NATO allies," a spokesperson said.
"The leaders agreed to continue working closely together to address shared challenges."
Five more years
With 99% of the votes counted, Mr Erdogan, who served as prime minister from 2003 to 2014, won with a share of 52.1%.
It means he has secured a record-breaking third term as president and will serve at least five more years in power.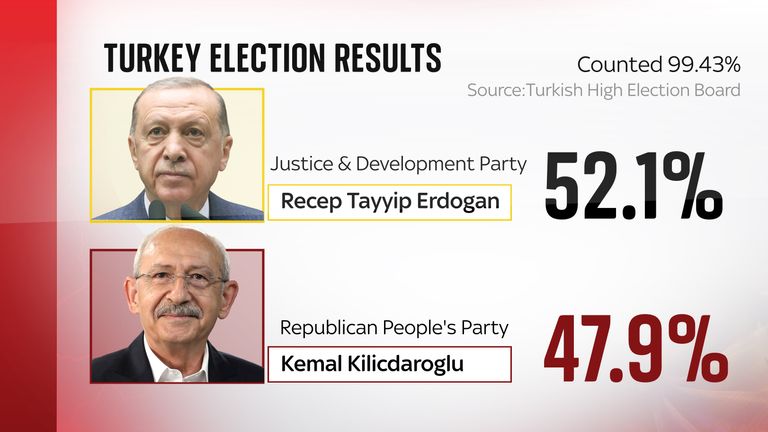 Polls closed at 5pm local time (3pm BST) and while votes were counted fast, for hours it remained too close to call. At one point, less than a percentage point separated the incumbent from his rival, Kemal Kilicdaroglu.
Shortly after 8pm local time (6pm BST) Mr Erdogan stepped out of his home and thanked people for "giving us the responsibility to rule for the next five years".
Opponent refuses to admit defeat
Kemal Kilicdaroglu took the stage earlier this evening, and in a rousing speech, he refused to admit defeat.
"I wasn't able to defend your rights," Kilicdaroglu began by saying. "I did not shirk against an unjust structure, I could not be a silent devil and I was not.
Erdogan: 'Bye, bye, bye Kemal'

"I could not stand quiet against millions of people becoming second-class citizens in this country.
"I could not let them stand all over your rights. For your children to go to bed hungry. For farmers to not to be able to produce. I could not allow these things."
He concluded by thanking the 25 million people who voted for him – and says the "battle continues".
First presidential run-off in Turkey's history
The pair were forced to go head-to-head when neither reached the required 50% of the vote in the first round on 14 May and Mr Erdogan's win will have profound consequences for Turkey, and the wider world.
The two candidates offered sharply different visions of the country's future and its recent past.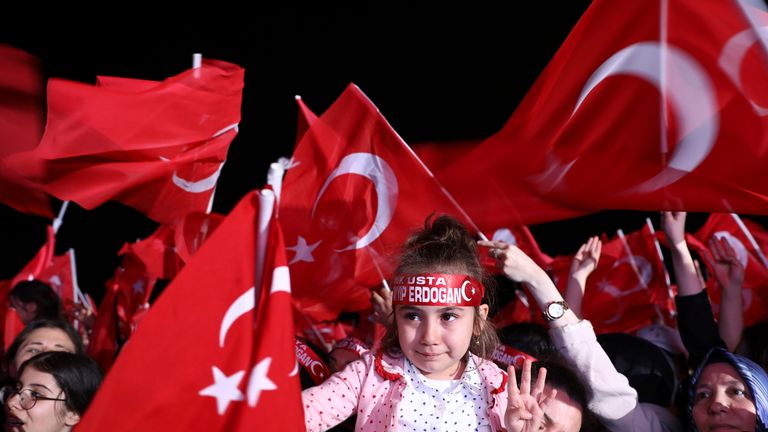 Mr Erdogan's government vetoed Sweden's bid to join NATO and purchased Russian missile-defence systems, which prompted the US to oust Turkey from a US-led fighter-jet project.
But it also helped broker a crucial deal that allowed Ukrainian grain shipments and averted a global food crisis.
Meanwhile, Mr Erdogan's 74-year-old challenger promised to restore a more democratic society.
Two dead and two missing as boat carrying British tourists overturns in whirlwind on Italian lake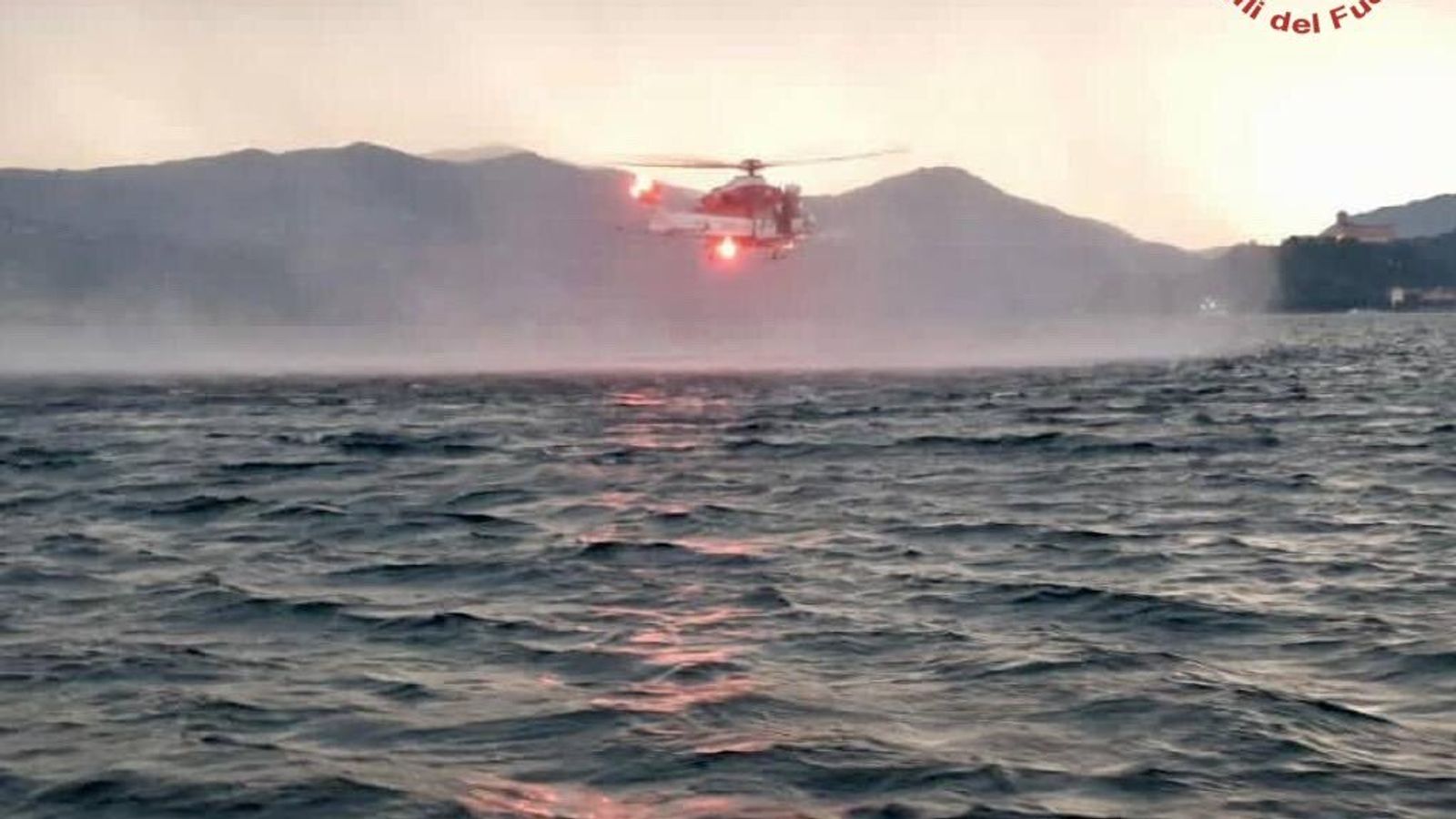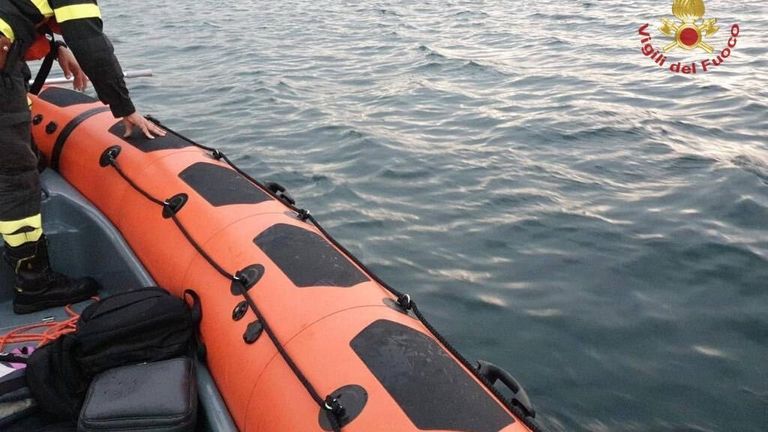 A boat carrying at least 20 tourists and crew members has overturned in a whirlwind on Italy's Lake Maggiore.
At least two people have died and two other remain missing, according to Italian media reports.
Italy's fire service said 19 people have been saved, with many reportedly managing to swim to shore.
Sky Italia reported that British passengers were aboard the vessel.
Rescue operations are continuing with divers, boats and a helicopter spotted at the scene.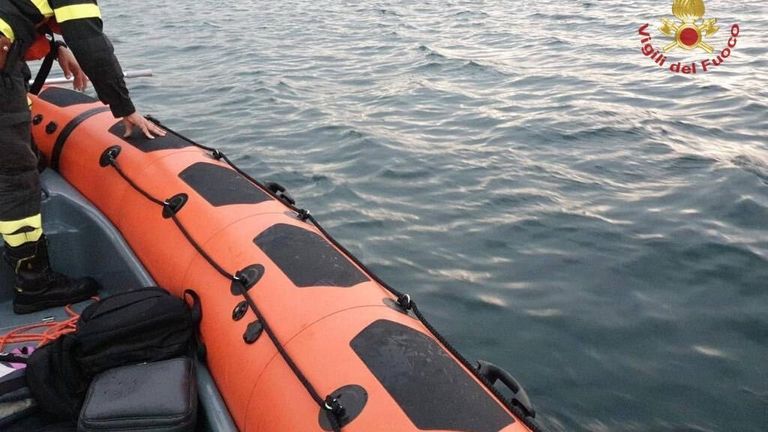 Firefighter video showed pieces of wood floating in the lake as a helicopter flew overhead.
The whirlwind was part of a storm system that hit the northern region of Lombardy on Sunday evening, forcing delays at the Malpensa airport.