Amazon's largest UK warehouse is being blockaded by climate activists in Black Friday protests.
Extinction Rebellion's Black Friday demonstration, with about 20 activists, started at 4am at the distribution centre in Dunfermline, Fife.
The group said it was also targeting Amazon sites in Doncaster, Darlington, Newcastle, Manchester, Peterborough, Derby, Coventry, Rugeley, Dartford, Bristol, Tilbury and Milton Keynes.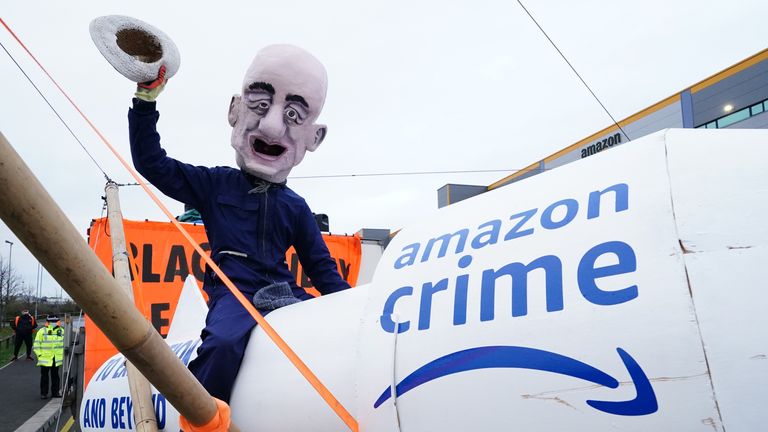 Protesters with "lock-ons" and placards have stopped lorries entering the Scottish site and some from leaving.
XR's spokesperson at the Dunfermline blockade, Meg Paton-Jones, said: "The police have one van on site and they are watching us.
"We started here at about 4am but are not blocking the employees' car park so the night shift can leave.
"We have good vibes and music."
An XR spokesperson added: "The action is intended to draw attention to Amazon's exploitative and environmentally destructive business practices, disregard for workers' rights in the name of company profits, as well as the wastefulness of Black Friday.
"The blockade is part of an international action by XR targeting 15 Amazon fulfilment centres in the UK, US, Germany and the Netherlands, aimed at highlighting Amazon's 'crimes'.
"This is happening in solidarity with activists and workers from the global Make Amazon Pay campaign, demanding better working conditions, clear environmental commitments, and for Amazon to pay their fair share of tax.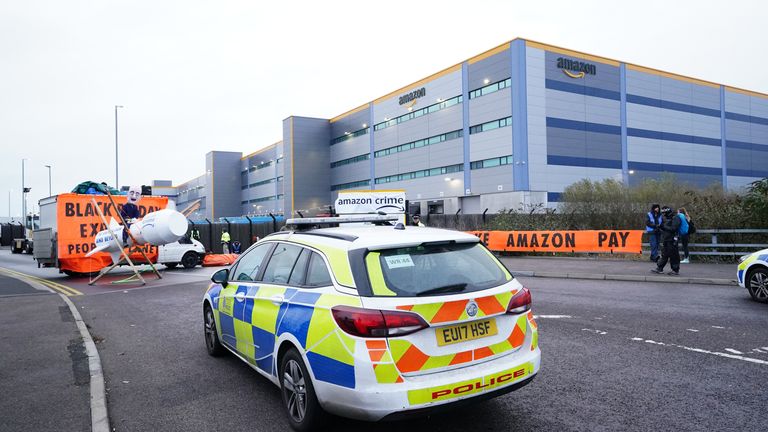 "Amazon continues to lobby the US government to fight against climate legislation while telling the public they are committed to green initiatives.
"They are committing the very definition of greenwash."
Protester Eleanor Harris, from Glasgow, said: "It is essential we move to a new model of economics that prioritises wellbeing and sustainability over profit.
"The era of exploitative throw-away capitalism will soon be over, either by changing to meet the challenges we now face or by the destruction of our global habitats and societies."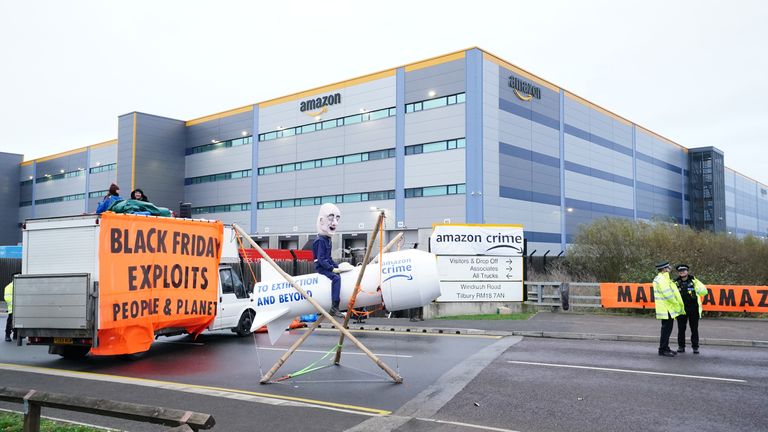 Maciej Walczuk, a 19-year-old student, said: "We have to recognise that the consumption in the global north is largely based upon the exploitation of the working class and the global south, while companies like Amazon make massive profits and contribute to worsening the climate and ecological crisis.
"We need a new system that respects people and the planet, instead of blindly chasing profit."
Sky News has contacted Amazon for comment.
:: Subscribe to ClimateCast on Spotify, Apple Podcasts, or Spreaker
The retailer is also facing criticism from unions over the health and safety of workers.
The GMB said Freedom of Information requests showed ambulance callouts for injuries and other health concerns at Amazon warehouses increased by almost 50% in the run-up to Black Friday.
Amazon said its critics were using incomplete information, insisting most ambulance callouts to its buildings were related to pre-existing conditions, not work-related incidents.
Number of landlords selling up rises by nearly 13% in four months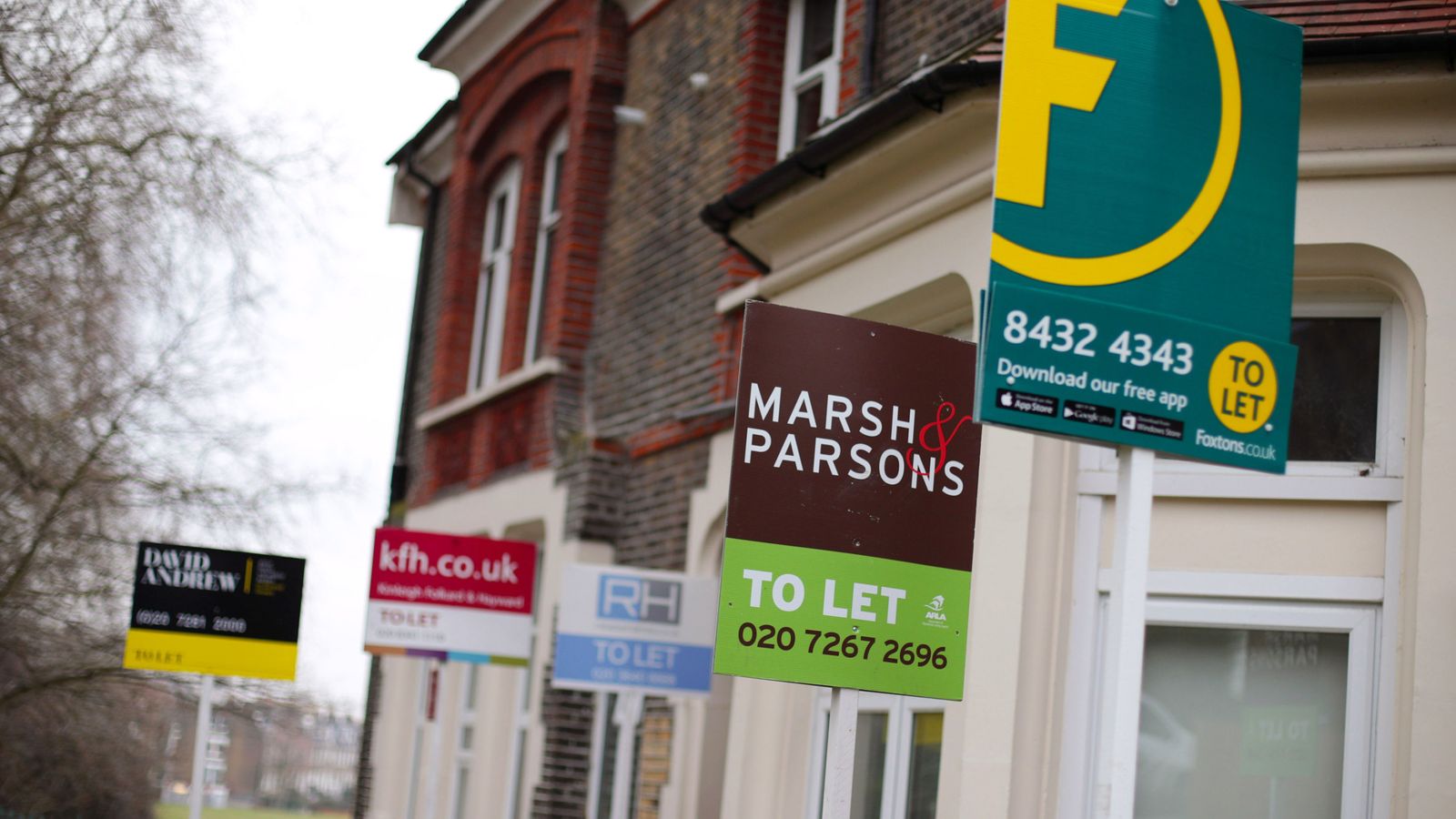 The number of landlords selling up has risen by nearly 13% in four months, Sky News has learned.
The statistics, given to us by the estate agents trade body Propertymark, show an increase from July to October.
Why should we care what happens to landlords?
In basic terms, if the landlord exodus continues we could end up with a housing crisis on our hands.
That is mainly because we have, as a country, become over-reliant on the private rental sector.
"Generation rent" is no longer your stereotypical "twenty-something" professional.
Now it's made up, increasingly, of older generations, even pensioners, alongside a rising number of "social" tenants.
Government figures show more than 25% of households renting privately are in receipt of housing benefits.
That is, quite simply, because we do not have enough social housing.
As a result we are seeing different "groups" of people converging, and all competing for the same space within the rental sector.
A lack of affordable housing is, at the same time, exerting pressure from another direction.
Despite a housing market dip with property prices falling, many households aspiring to own their own property are unable to save up.
Read more:
Nearly one million private renters in England under threat of eviction
No-fault evictions driving up homelessness rates in north of England
'Mission impossible'
Yoana Miteva, a British citizen who moved from Bulgaria to England twelve years ago, describes it as "mission impossible".
She has been working full time, even taking on a second job, to try to put money aside.
Rent rises have meant added financial pressure forcing her to move home, in addition to energy bills, the cost of living, and house price inflation overall,
Tearful, she tells me she feels "like a hamster in a wheel…running and running, I'm trying to run faster, taking a second and third job, and I'm still well behind".
As more landlords leave, rents rise as demand further outstrips supply.
The main reasons for landlords selling are down to mortgage rate rises and government legislation.
Private rented sector 'invisibly buckling' under pressure
Nathan Emerson, CEO of Propertymark, describes the private rented sector as "invisibly buckling" under increasing pressure for a while.
He says if the sector doesn't work for a landlord "they will simply sell, meaning there's one less home for a tenant".
Landlords themselves are asking for the government to step in and change the rules to help make it easier to create "viable" businesses.
Sean Gillespie, a landlord in Hull, says his colleagues are "jumping ship" because their rented properties are financially "unsustainable".
He asks: "How can landlords survive? They survive by putting rents up."
Government rules blamed for tax increases
Government rules are being blamed, specifically "Section 24", for tax increases which mean it's no longer possible to offset business costs.
Mr Gillespie says it is "absolutely destroying" the sector.
"We can't change the interest rates at the moment," he adds, "but we can repeal Section 24 which is the increased taxation since 2015… if landlords don't make any money, they can't run a business, can't provide housing, can't repair houses."
They may be generally unpopular, often vilified, but we need landlords.
If they disappear in increasing numbers, the question remains, without enough social or affordable housing – where will people live?
John Lewis reveals £500m plan to build 1,000 rental homes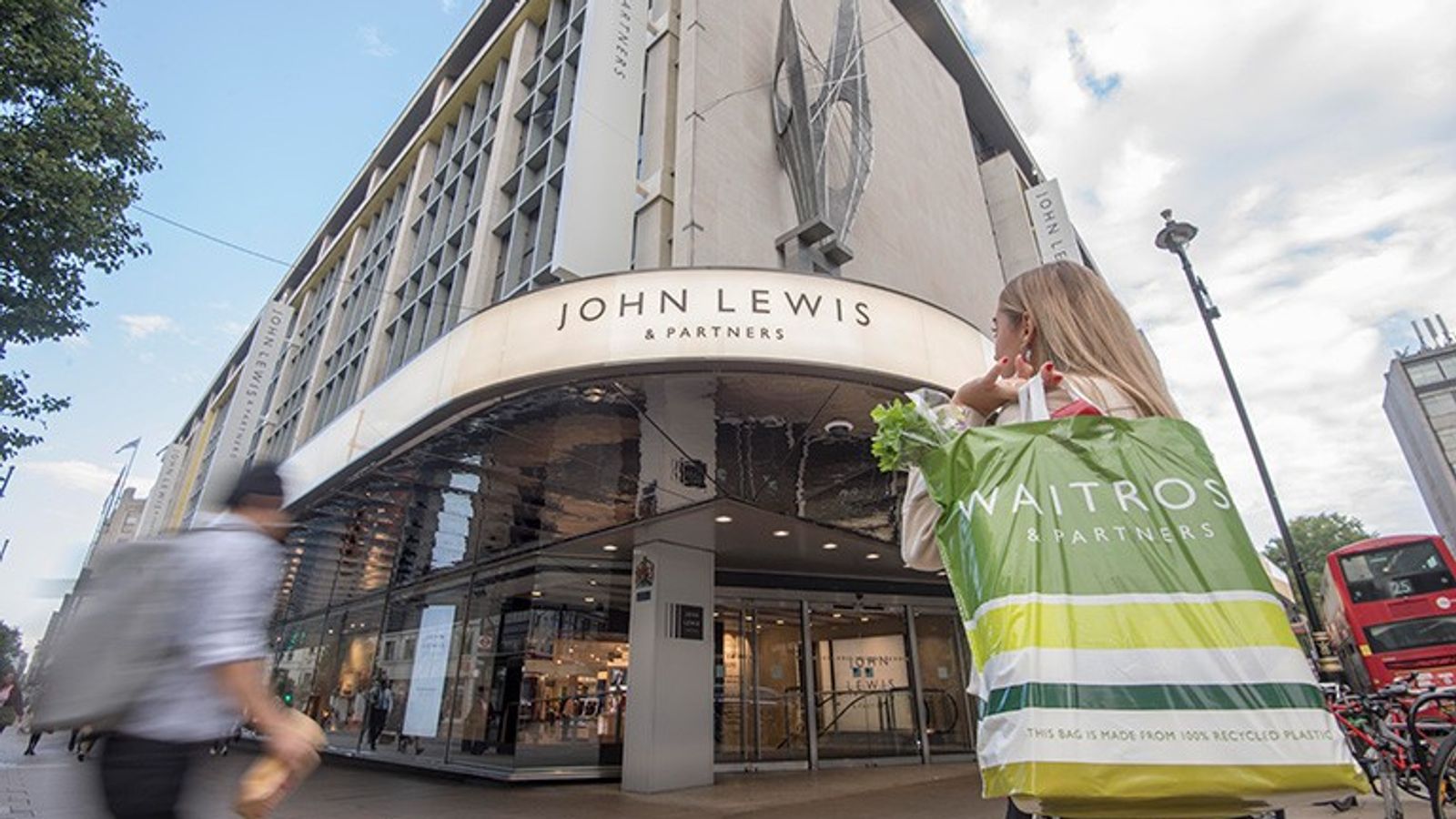 The John Lewis Partnership has revealed plans to build 1,000 rental properties on its land as part of a drive to diversify its business.
The employee-owned group, which is spearheaded by its eponymous department stores and Waitrose supermarkets, said a joint venture with investment firm abrdn aimed to achieve a tenth of its ambition to build 10,000 new homes over the next decade.
It would see John Lewis develop and manage the proposed new sites in Bromley and West Ealing in Greater London, which would require Waitrose shops to be redeveloped.
A vacant John Lewis warehouse, at Reading in Berkshire, would also be transformed under the plans.
The project, which is subject to planning permission, includes commitments to affordable housing and sustainability tied to its 2035 net-zero pledge, the partnership said.
"We want to create homes that will provide a stable income for the partnership, and moving into housing aligns with our purpose to make a positive difference for our partners, customers and communities", the statement added.
The sites were chosen according to their central location and proximity to transport links.
It announced the investment against a backdrop of record private rental costs, with tenants across the UK facing an average monthly bill of over £1,100 per month.
Across London, the figure is double that sum following a 22% year-on-year increase during the first nine months of 2022 according to estate agency Foxtons.
John Lewis said its plans would help ease a shortage of 75,000 rental homes in the capital.
Nina Bhatia, its executive director for strategy and commercial development, said: "Our partnership with abrdn is a major milestone in our ambition to create much-needed quality residential housing in our communities.
"Our residents can expect homes furnished by John Lewis with first-rate service and facilities.
"The move underlines our commitment to build on the strength of our brands to diversify beyond retail into areas where trust really matters."
Joules secures Next rescue with majority of stores and jobs saved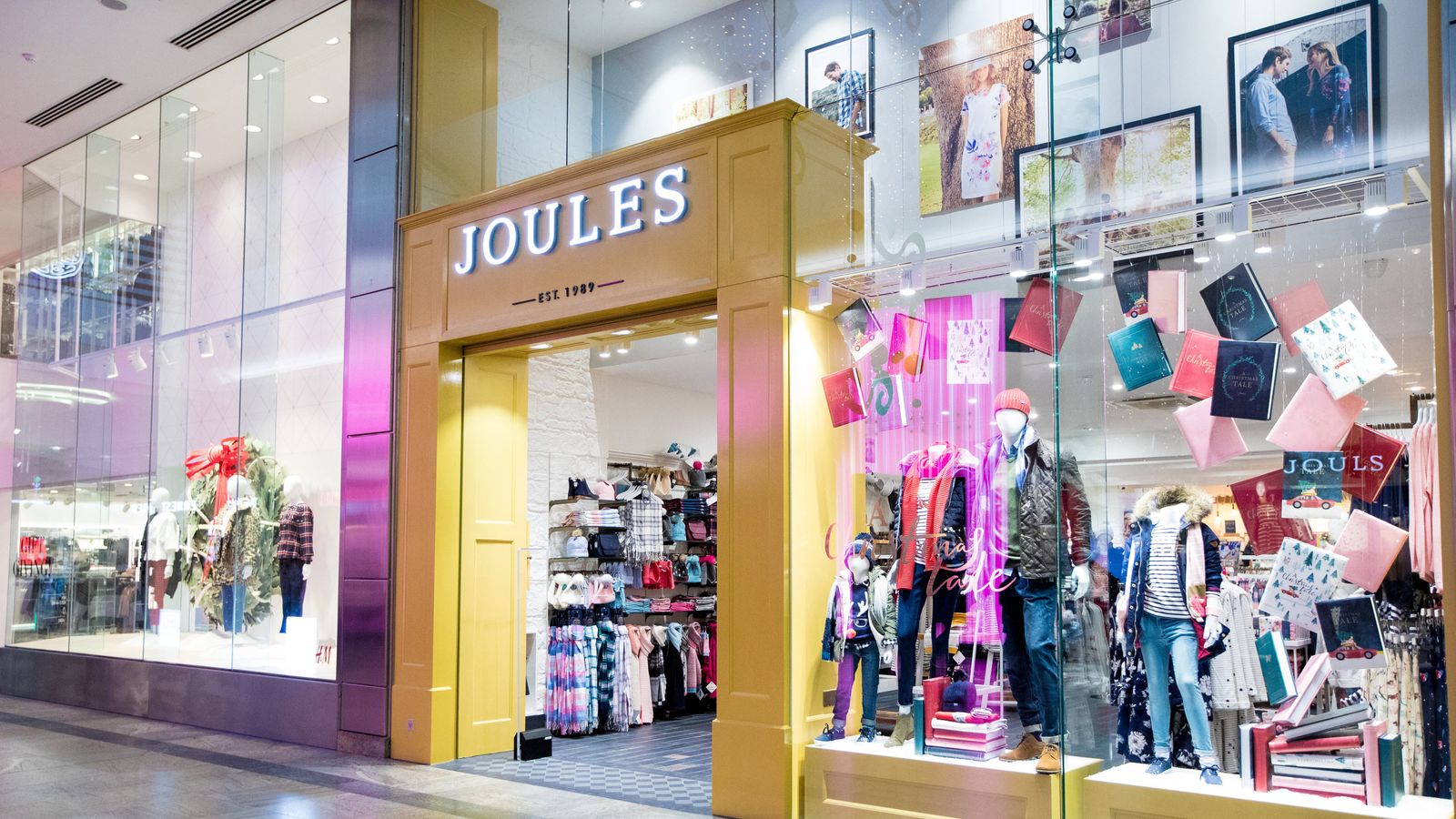 Collapsed fashion retailer Joules will live on after Next agreed a rescue deal that preserves most of its stores and jobs.
Under the deal Next will pick up 100 of its 132 stores and only 133 of 1,600 staff will lose their jobs.
TFG, the owner of the Hobbs, Whistles and Phase Eight womenswear brands, appeared to be the frontrunner on Wednesday in an auction process to secure an agreement with Joules' administrator, Interpath Advisory.
Joules is the second major UK acquisition for the fashion-to-homewares retailer in as many months.
Next snapped up the brand, website and intellectual property of Made.com on 9 November.
Joules had been trading as normal since a failure to secure new investment pushed it towards insolvency a fortnight ago.
The clothing, footwear and accessories retailer collapsed after its finances, profitability and cash generation came under pressure amid the cost of living crisis.
It had been in talks with both Next and TFG about new investment beforehand.