Authorities in the Netherlands have detected 13 cases of the Omicron coronavirus variant among passengers from South Africa.
Health officials said the infected people were on flights from the southern African nation earlier this week.
A total of 61 people on the planes tested positive for the virus – and 21% of those had Omicron.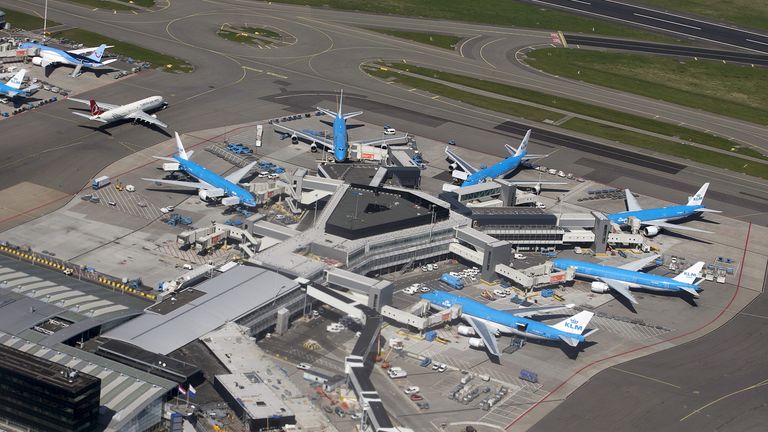 The two flights in question landed on Friday, arriving from South Africa at Amsterdam's Schipol airport – one of the busiest in Europe.
The Dutch health minister said it was possible that there were more cases of the new COVID variant in the country.
Travel advice for those arriving from the southern parts of Africa has now changed, but cases are already appearing around the world.
Authorities in the Netherlands are trying to get in contact with 5,000 other passengers who have arrived from South Africa, Botswana, Eswatini, Lesotho, Mozambique, Namibia or Zimbabwe since Monday.
So far, the Omicron variant has been identified in the UK, Germany, Italy, Belgium, Botswana, Israel, Hong Kong, Denmark and Australia.
Many nations are introducing restrictions on people who have arrived from or recently been in southern Africa.
Travel is also slowing to some other destinations – with the first Dubai Airlines flight to Tel Aviv, Israel delayed until further notice having been due to commence on 6 December.
Follow the Daily podcast on Apple Podcasts, Google Podcasts, Spotify, Spreaker
A new lockdown is due to start in the Netherlands this afternoon – a plan already in place due to a recent surge in cases there.
Bars, restaurants and most shops will be closing at 5pm.
Rishi Sunak says 'racism must be confronted' after Buckingham Palace row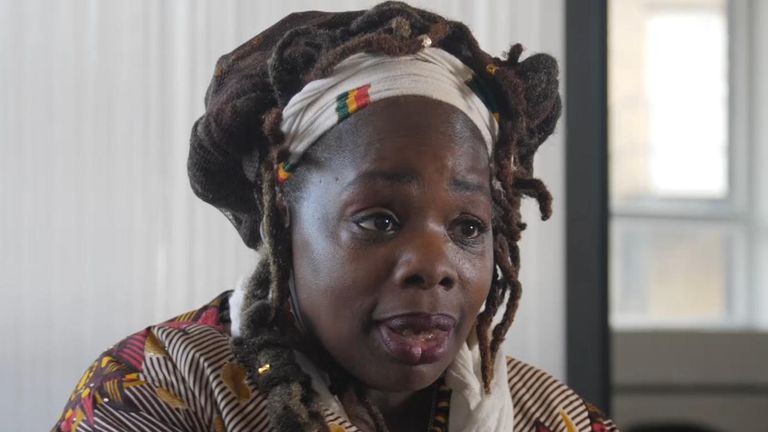 Prime Minister Rishi Sunak has said whenever we see racism "we must confront it" following the race row engulfing Buckingham Palace.
A black domestic abuse campaigner from London said she was repeatedly asked where she "really came from" by Prince William's godmother during a reception at the palace this week.
Although he refused to comment directly on the incident or anything to do with the monarchy, Mr Sunak said he has experienced racism but does not think what he experienced as a child would happen today – however, there is still work to be done.
"Our country's made incredible progress in tackling racism," he said.
"But the job is never done. And that's why whenever we see it, we must confront it.
"And it's right that we continually learn the lessons and move to a better future."
Lady Susan Hussey, who was the Queen's lady-in-waiting for more than 60 years, resigned from her role in the royal household and apologised over the incident during an event held on Tuesday by the Queen Consort.
Ngozi Fulani, chief executive of charity Sistah Space, said Lady Hussey moved her hair to see her name badge and asked her "what part of Africa" she was from after she told her several times she was British.
The charity boss earlier today told Sky News she felt abused, verbally attacked and "trapped" when Lady Hussey kept asking her where she was "really from".
Ms Fulani described the exchange with Lady Hussey, who was made a lady of the household after the Queen's death, as a "violation" and said it was abuse when she moved her hair.
'Institutional racism' at palace

"I was not giving the answer that she wanted me to give. And so we could not move on," Ms Fulani told Sky News.
"And it was when she said 'I knew you'd get there in the end' – that proved to me, you were determined to prove that I had no right to British citizenship.
"Now, that reminds me of the Windrush conversation, where 50 or 60 years on people who were born here, worked here or you know, have given so much, can just be thrown out.
"Now, abuse doesn't have to be physical. But if you move my hair without permission, to me, that's abuse.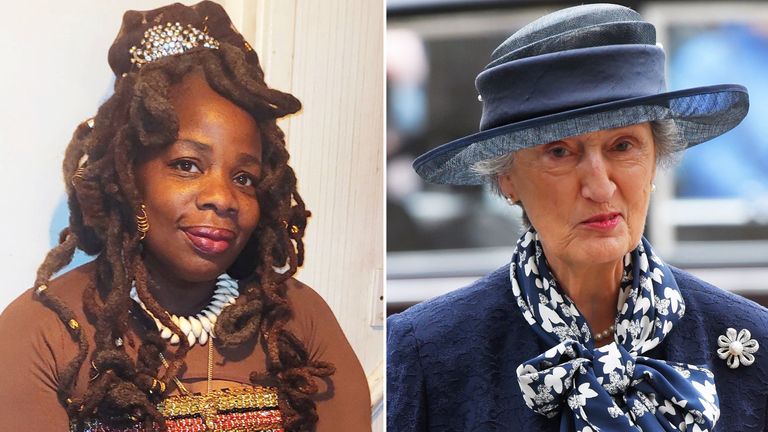 "When you verbally attack, because that to me is what it is – you are determined that the answer that I gave you is not one you want to hear, you do not recognise me as British.
"And until I acknowledge that I'm not, you're not going to stop. What do I do? What do I do at that point? So I become silent. And I hoped she would go away and she eventually did."
Read more:
Harry and Meghan's documentary trailer released
Who is Lady Susan Hussey?
Why Will and Kate's US trip matters


Prince William, who is on a three-day US visit with his wife Kate, is understood to agree it was right for Lady Hussey to step down from her honorary role as Lady of the Household with immediate effect.
A Kensington Palace spokesman told reporters in the US before the Prince and Princess of Wales' Boston trip – which has been overshadowed by the palace controversy – that Lady Hussey's comments were "unacceptable" and "racism has no place in our society".
Later, during an NBA game William and Kate attended, the royal couple were booed by some members of the crowd, and at an Earthshot Prize event, they heard a speech on race equality by a black reverend.
Germany knocked out of World Cup in Qatar after failing to qualify from Group E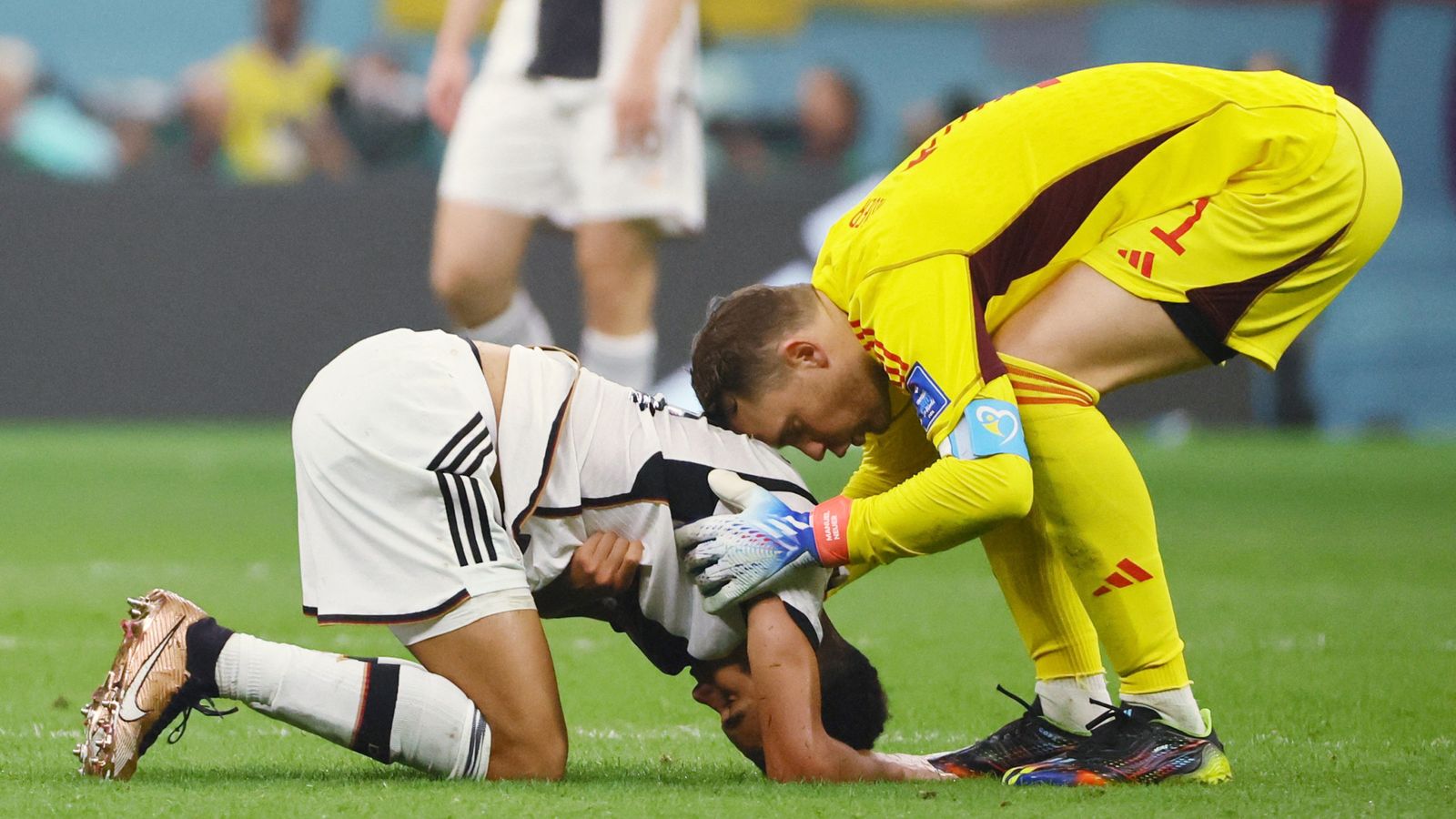 Germany have been knocked out of the World Cup, with a win against Costa Rica not enough to secure them a place in the last 16.
Hansi Flick's side came from behind to beat Costa Rica in their final group game 4-2.
On a thrilling night in Qatar, Japan beat Spain 2-1 in the other group game, meaning Germany's World Cup journey was over.
It means Japan top Group E, and Spain come second, with Costa Rica also failing to qualify.
Unions could coordinate strike action across NHS for 'maximum impact', GMB boss says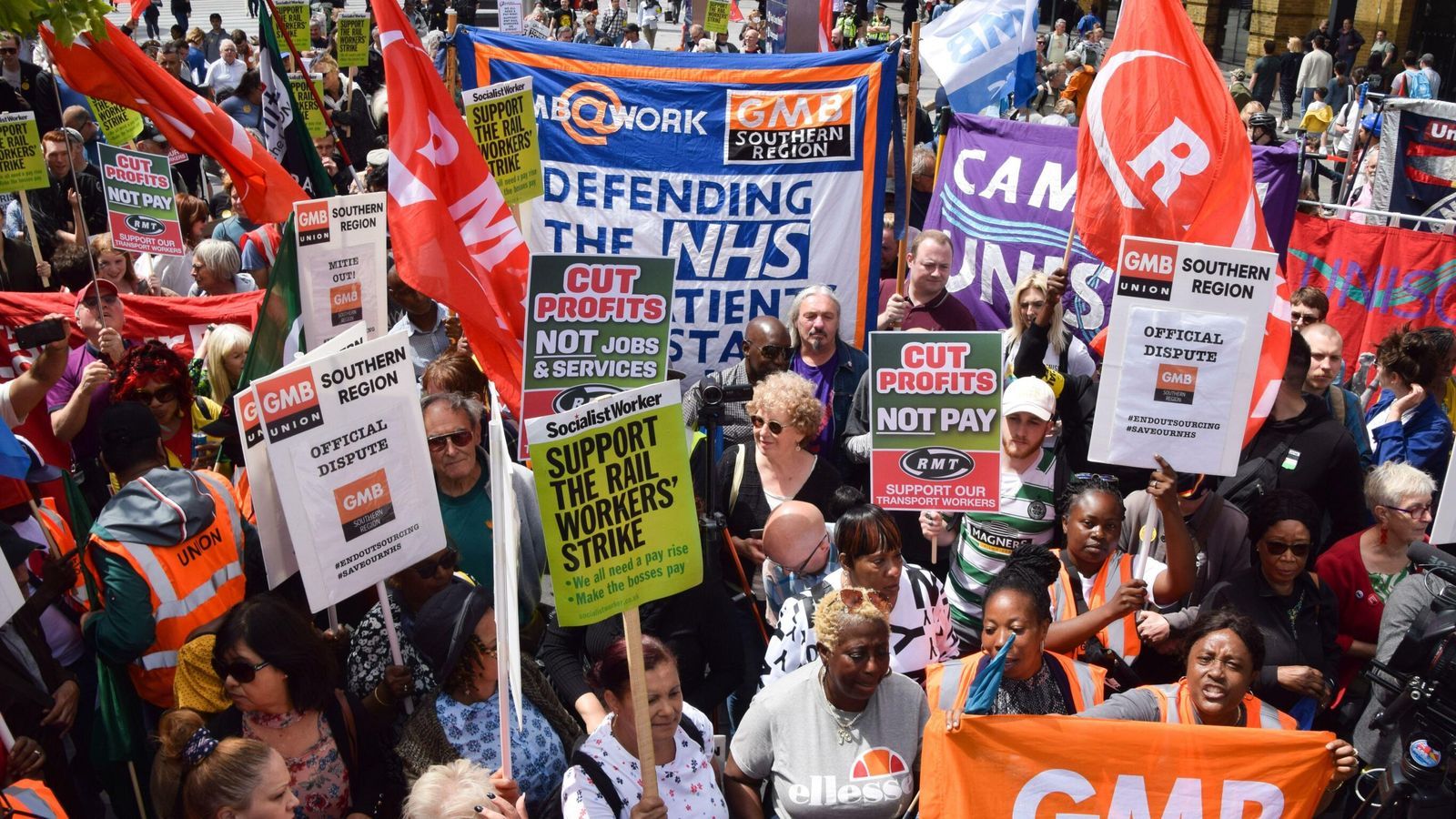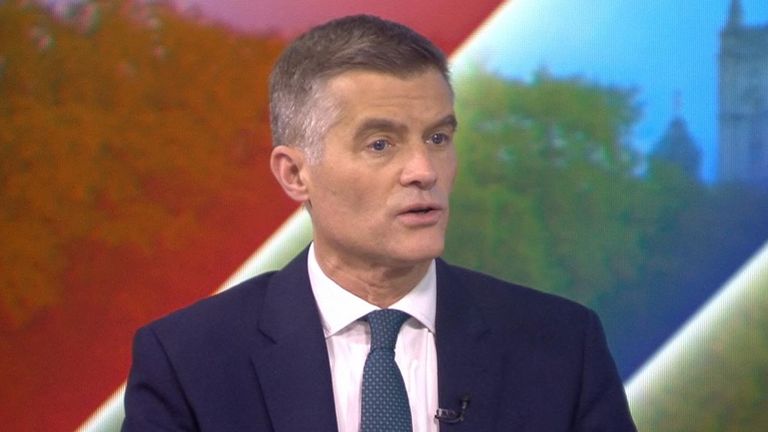 Union leaders could coordinate industrial action across the NHS this winter to cause "maximum impact", the head of the GMB has suggested.
Andy Prendergast, the GMB national secretary, said health workers have had enough of "public school boys who run the government and simply don't care" about their pay demands.
More than 10,000 ambulance workers from the GMB voted to strike yesterday, following in the footsteps of nurses in opting to walk out.
Union rejects claim granting pay rises will lead to spiralling inflation – politics live
Asked if there will be a "coordinated strike" in the health service, Mr Prendergast told Sky News: "We will be talking to the other unions.
"We know that the nurses have got their first ballot in over 100 years. We know that our colleagues in Unite, in Unison are currently delivering ballots.
"So we'll be looking to make sure this has the maximum impact."
It was put to Mr Prendergast that the safety of patients could not be guaranteed if there is coordinated strike action between unions and the NHS.
He argued their safety is not being guaranteed now due to the staffing crisis, with poor pay driving many out of the profession.
"One third of our members in the ambulance service believe that they have been involved in a delay that has led to a patient dying, so this isn't a situation where this is a service that runs perfectly well," he said.
NHS 'dying on its feet'
"This is a service that's dying on its feet and our members are actually standing up and the public of Britain should support them. This is a matter of a life or death situation."
Mr Prendergast said NHS workers "work extremely hard, often for wages that a lot of people wouldn't get out of bed for".
He added: "Ultimately they are saying enough is enough. It's time for them to take action. This is the one thing that they can do to try and improve patient safety, to try and improve the terms conditions, to try and deal with 135,000 vacancies that we have among a service that we rely on."
Paramedics, emergency care assistants, call handlers and other staff are set to walk out in nine trusts:
South West Ambulance Service
South East Coast Ambulance Service
North West Ambulance Service
South Central Ambulance Service
North East Ambulance Service
East Midlands Ambulance Service
West Midlands Ambulance Service
Welsh Ambulance Service
Yorkshire Ambulance Service
'Inflation-busting pay rises are unaffordable'

The industrial action is due to take place before Christmas, with the union planning to meet reps in the coming days to discuss dates.
Thousands of ambulance workers in Unison, the UK's biggest trade union, also intend to take industrial action before Christmas.
Up to 100,000 nurses from the Royal College of Nursing are also set to stage a mass walkout in December, one of the busiest months for the NHS.
The army has been placed on stand by in case it is needed to fill roles of NHS workers on strike days.
Coordinated strike 'can speed up negotiations'
Dr Emma Runswick of the British Medical Association told Sky News that coordination between unions will help protect patients as they can discuss between themselves how to cover urgent and emergency care.
She added that an effective coordinated strike "will help to speed up negotiations".
"We want there to be an impact on the employers and on the government to bring them to the table to negotiate with us. And if we coordinate and if we're effective, the government and employers will negotiate faster. And that's better for us and better for patients in the long term."
Dr Emma Runswick of the British Medical Association says an effective coordinated strike will help to speed up negotiations.

The UK is facing a wave of strikes this winter as workers from different industries are set to walk out over pay and conditions
Rail workers, civil servants, firefighters and teachers are among the tens of thousands expected to take industrial action as a recession grips the UK and the cost of living rises.
Read More:
Which industries are striking this winter and why?
Eurostar security staff to strike in December, RMT union announces
Wage price spiral 'nonsense'
Ministers have been criticised for refusing to negotiate with unions, with Business Secretary Grant Shapps saying meeting their pay demands would lead to a wage inflation "spiral".
Eddie Dempsey, assistant general secretary of the RMT, which covers the transport sector, rubbished that argument.
"This idea that there's going to be a wage spiral is nonsense because wages have been falling as a share of wealth in this country – what goes to wages and what goes to profits," he said.
Mr Dempsey said that now, wages only account for around 8% to 12% of unit costs.
He pointed to a study from the Bank of England which found there was no risk of wage-induced inflation across Western economies because people have got less money.
He claimed what the government is actually worried about "is a shift in class power".
"They're worried about trade unions and ordinary working people having the ability to bargain for better wages. That's what they're worried about."
Rail union 'hopeful' of deal to end strikes
Mr Dempsey said his union has been in negotiations for longer than six months and "every time we feel like we are making headway it has felt like the rug has been pulled out from under our feet".
However he said there is "definitely a change of tone" with the new Transport Secretary Mark Harper and the RMT is "hopeful" a deal can be reached.
Royal Mail workers are also locked in a bitter dispute over pay and conditions, with the CEO Simon Thompson accusing union leaders of "trying to destroy Christmas" by walking out.
He claimed striking workers had demonstrated "extraordinary behaviours" and that he has heard allegations of racism, sexism and violence.
Royal Mail CEO accused of 'lying'
Speaking during Sky's Q&A with union leaders, Dave Ward of the Communication Workers Union (CWU) accused Mr Thompson of "lying".
He said the union "welcomes an independent look at behaviours" of his members but the CEO's behaviour should also be investigated.
"He goes on (social media) every single day, including weekends. and he goads our members," Mr Ward said.
"He's brought in a team of union and worker busters and they're deliberately creating a psychological attack on every single worker.
"Go out and ask postal workers how they feel about this particular CEO."