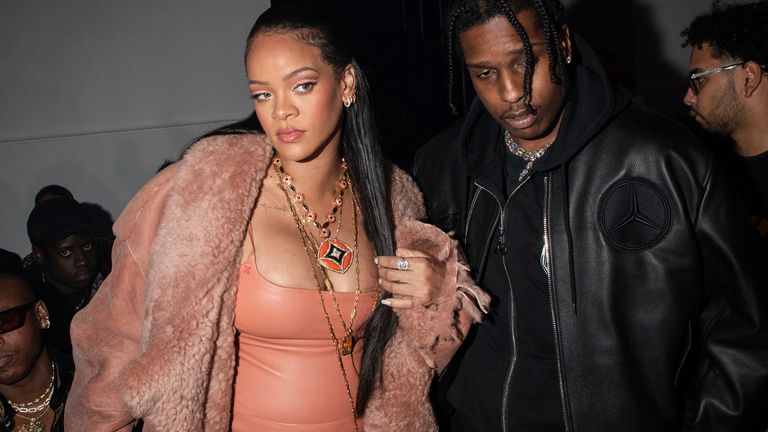 Rihanna will perform at the next Super Bowl halftime show, the NFL has announced.
The 34-year-old singer shared a photo of her hand holding an American football on Instagram and Twitter.
Soon afterwards it was reposted by her record label, Roc Nation, the NFL and Apple Music, which confirmed the news in a tweet.
Apple Music said: "It's ON. Rihanna will take the stage for the first ever Apple Music Super Bowl Halftime Show on 2.12.23."
The NFL confirmed the award-winning popstar will perform at the State Farm Stadium in Glendale, Arizona, in February.
The show was previously named the Pepsi Super Bowl Halftime Show, but Apple Music confirmed on Friday it was taking over as sponsor.
Jay-Z, founder of Roc Nation, said: "Rihanna is a generational talent, a woman of humble beginnings who has surpassed expectations at every turn. A person born on the small island of Barbados who became one of the most prominent artists ever. Self-made in business and entertainment."
Seth Dudowsky, NFL head of music, said: "We are thrilled to welcome Rihanna to the Apple Music Super Bowl Halftime Show stage.
"Rihanna is a once in a generation artist who has been a cultural force throughout her career. We look forward to collaborating with Rihanna, Roc Nation and Apple Music to bring fans another historic Halftime Show performance."
'Screaming'
Several stars commented on Rihanna's Instagram post shortly after the announcement to celebrate the news.
Singer Lizzo responded: "Screaming" while rapper Nadia Rose wrote: "LET'S GOOOOOO RIRI!!!!!!" followed by an American football and a goat emoji.
The show has previously been headlined by stars including 50 Cent, The Weeknd, Shakira and Jennifer Lopez.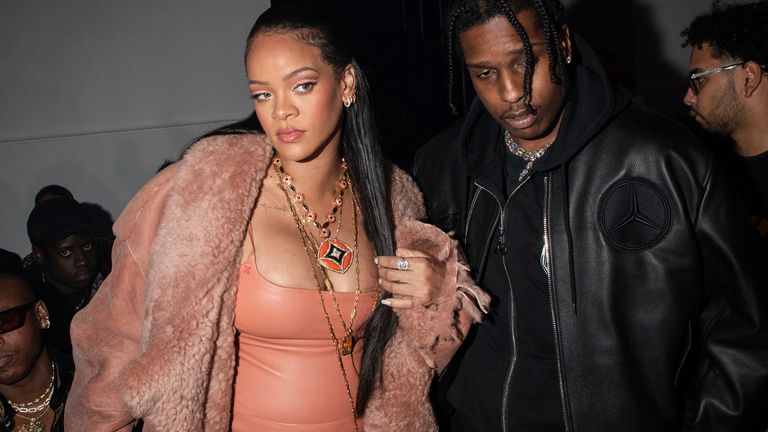 Rihanna declined to perform in the 2019 Super Bowl halftime show out of solidarity with former US football player Colin Kaepernick, who left the league two years earlier after he began to take the knee for the pre-game national anthem in protest at racial injustice in the US.
Earlier this year Rihanna gave birth to a child with her boyfriend, the rapper A$AP Rocky.
The halftime slot will be the Barbadian singer's first major live performance in many years.
Former United States secretary of state Henry Kissinger has died aged 100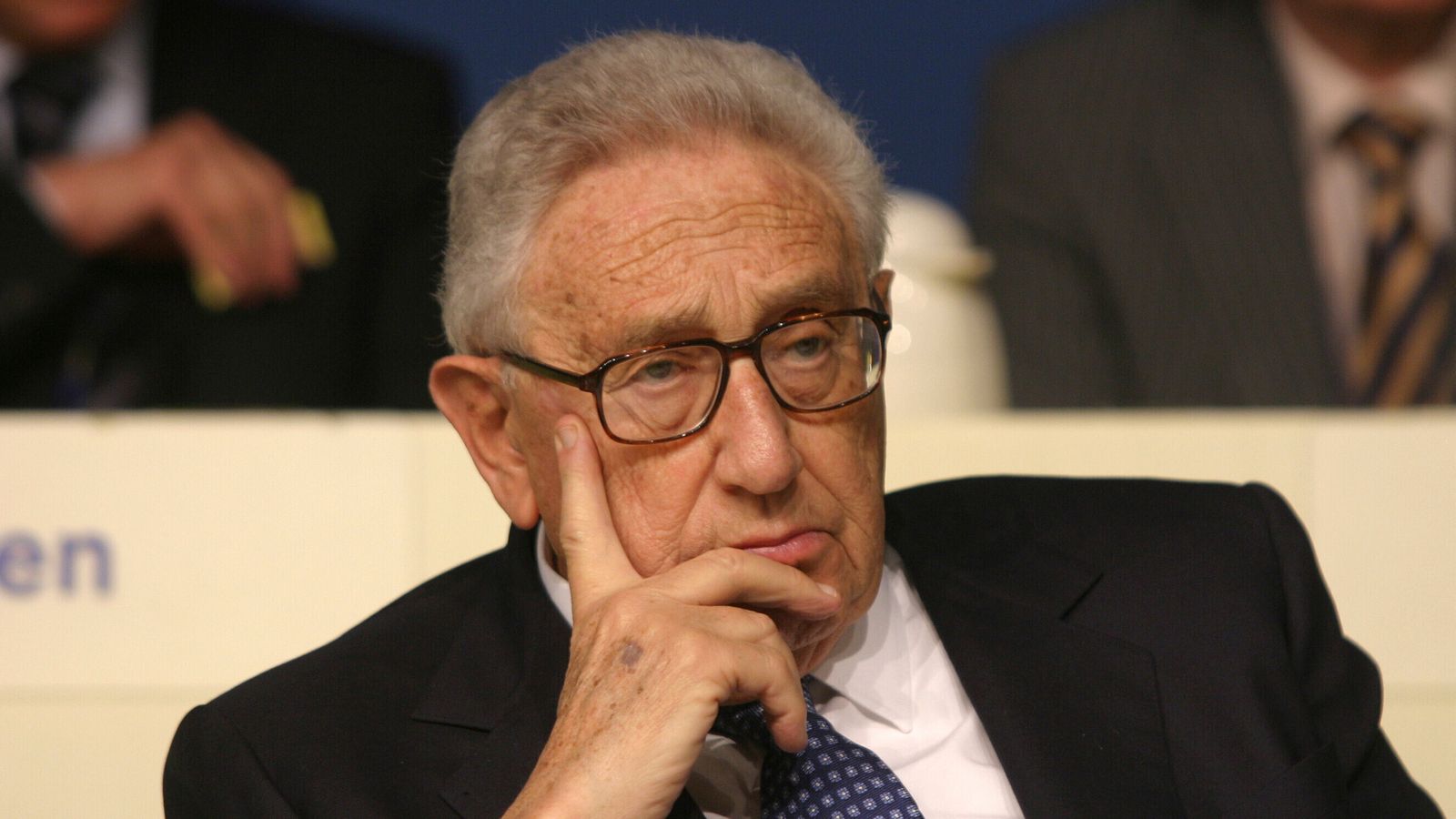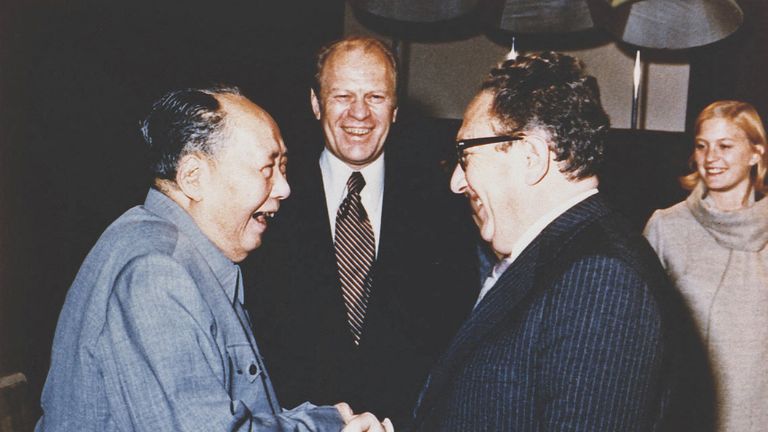 Former United States secretary of state Henry Kissinger has died aged 100.
He passed away at his home in Connecticut on Wednesday, according to a statement from Kissinger Associates Inc.
The veteran politician had major influence on American foreign policy under Presidents Richard Nixon and Gerald Ford.
Born in Germany in 1923, Mr Kissinger fled the Nazi regime with his family as a teenager and settled in the US in 1938.
During eight years as a national security adviser and secretary of state, Dr Kissinger was involved in major foreign policy events including the first example of "shuttle diplomacy" seeking peace in the Middle East, secret negotiations with China to defrost relations between the burgeoning superpowers and the instigation of the Paris peace talks seeking an end to the Vietnam conflict.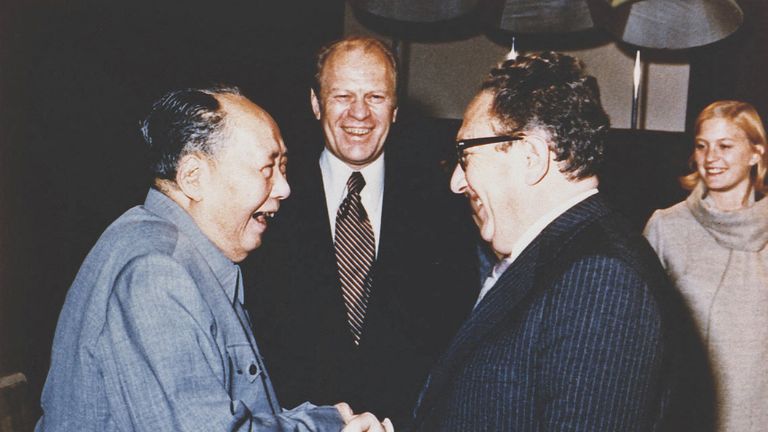 In 1973 he was jointly awarded the Nobel Peace Prize for his efforts to negotiate an end to the Vietnam War.
However, Dr Kissinger, along with President Nixon, also bore the brunt of criticism from the US's allies following the fall of Saigon to North Vietnamese forces in 1975 as the remaining US personnel fled what is now known as Ho Chi Minh City.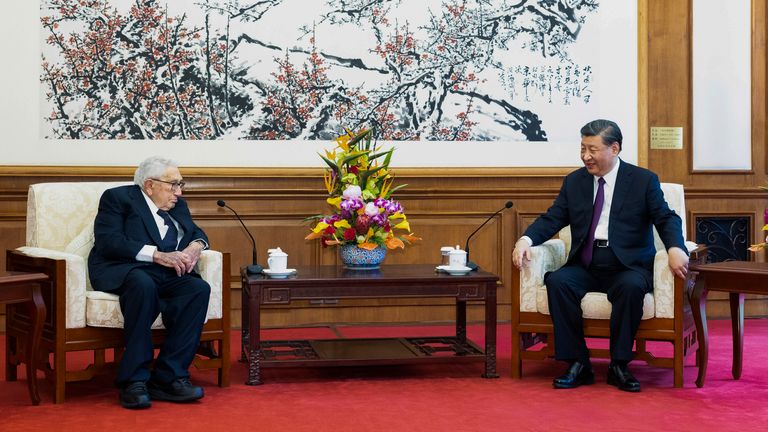 His influence over US diplomacy – which continued long after he left office – has not been without controversy, and some activists called for him to be prosecuted for war crimes.
He remained active in politics, even after his 100th birthday in May, attending meetings in the White House, publishing a book on leadership styles, and testifying before a Senate committee about the nuclear threat posed by North Korea.
In July 2023 he made a surprise visit to Beijing to meet Chinese President Xi Jinping.
During his early life, after becoming a naturalised US citizen in 1943, Dr Kissinger joined the US Army the same year and was awarded a Bronze Star.
He would go on to serve with US counter intelligence in occupied Germany.
Dr Kissinger earned his bachelor's, master's, and PhD degrees at Harvard University, where he taught international relations for almost 20 years before President Nixon appointed him national security advisor in 1969.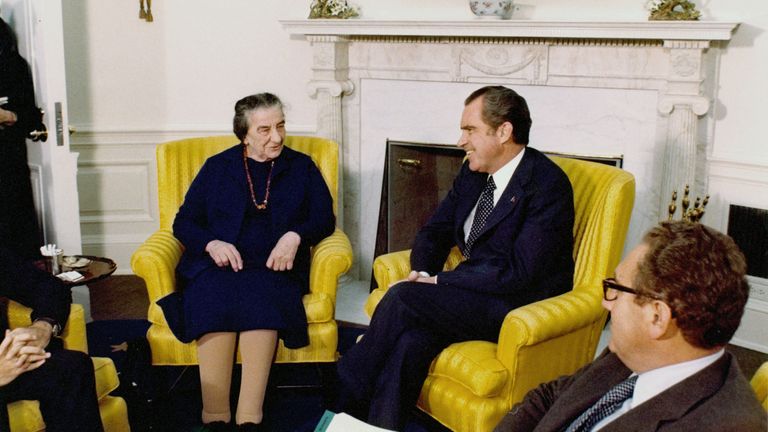 He is survived by his wife of nearly 50 years, Nancy Maginnes Kissinger, two children by his first marriage, David and Elizabeth, and five grandchildren.
According to the statement from Kissinger Associates: "He will be interred at a private family service. At a later date, there will be a memorial service in New York City."
Senator and former presidential candidate Mitt Romney paid tribute to Dr Kissinger on X describing him as a "great one" and saying: "Fortunate indeed is America for his lifetime of diplomacy, wisdom, and love of freedom."
Winston Lord, former US ambassador to China and Dr Kissinger's one time special assistant said: "The world has lost a tireless advocate for peace.
"America has lost a towering champion for the national interest. I have lost a cherished friend and mentor.
"Henry blended the European sense of tragedy and the American immigrant's sense of hope."
Cindy McCain, the wife of late Senator John McCain said: "Henry Kissinger was ever present in my late husband's life.
"While John was a POW and in the later years as a Senator & statesman.
"The McCain family will miss his wit, charm, and intelligence terribly."
US military aircraft with six people on board crashes off Japanese island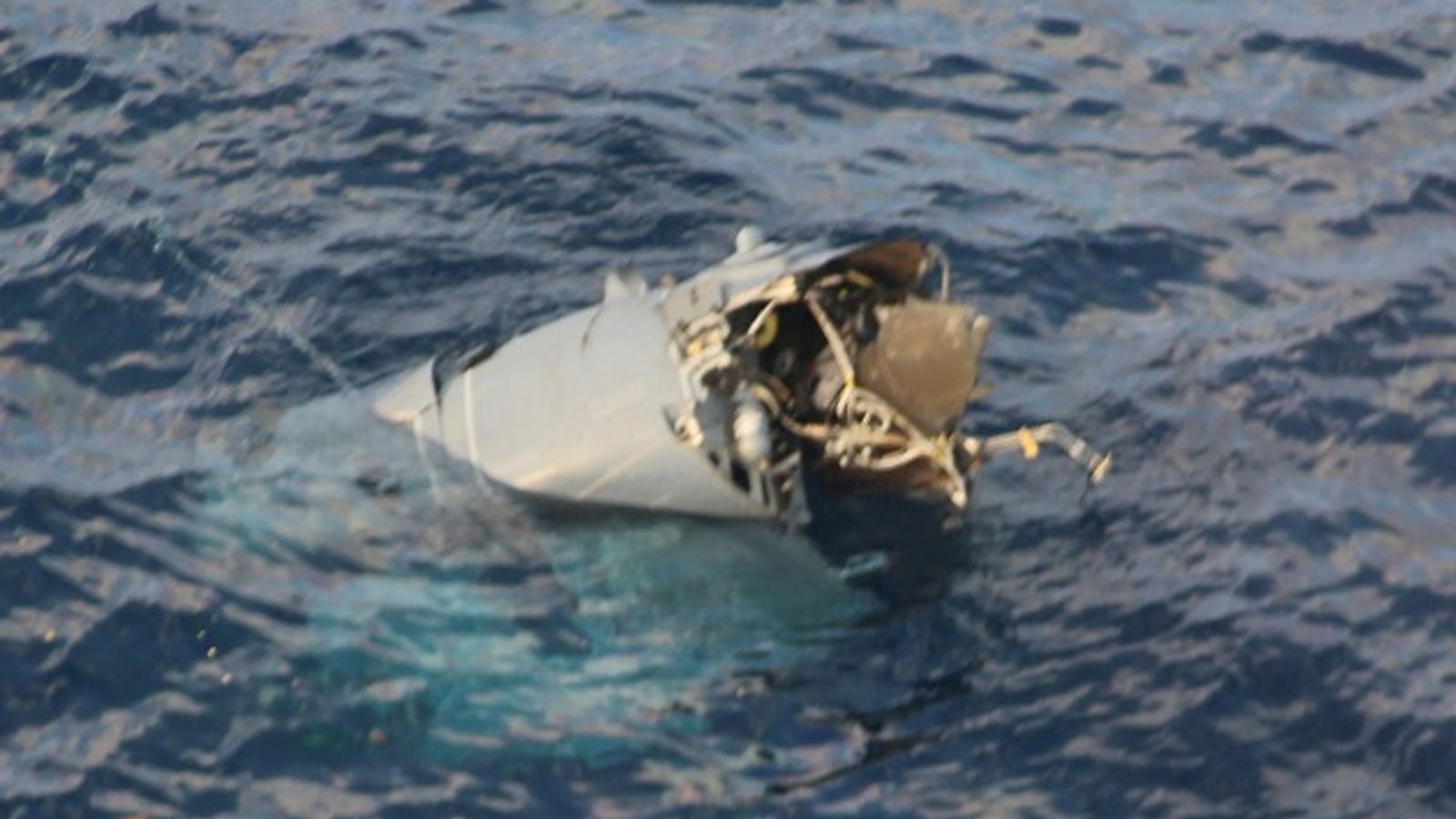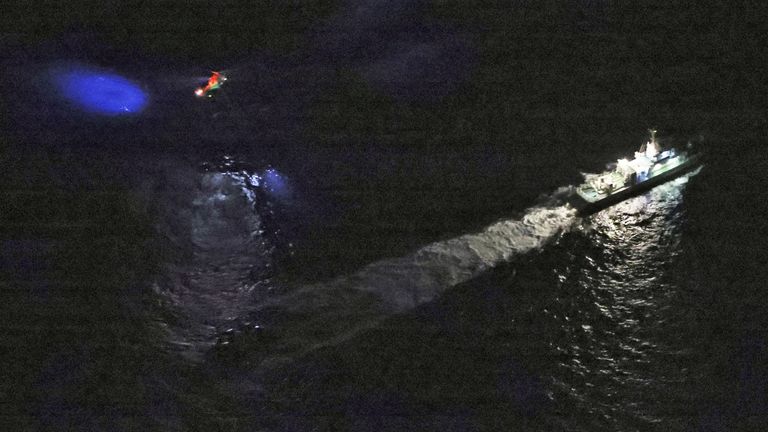 At least one person has died after a US military aircraft crashed off the coast of a Japanese island.
Six crew members were on board the Osprey aircraft when it crashed on Wednesday.
The Japanese coastguard said one crew member had been found – and was later pronounced dead – along with grey-coloured debris believed to be from the aircraft.
They were found at sea around half a mile off the eastern coast of Yakushima.
The cause of the crash and the status of the other people on the aircraft were not immediately known.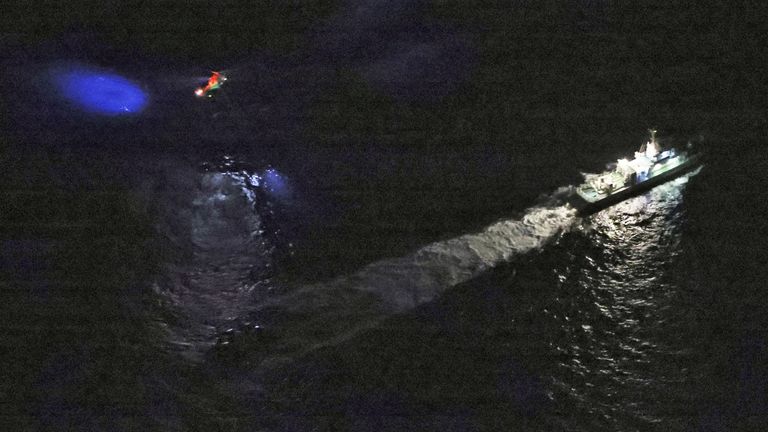 Fishing boats in the area found three people in the surrounding waters, a representative of a local fisheries cooperative said. Their condition is unknown.
Another Osprey landed safely at the island's airport on Wednesday, at around the time of the crash.
"The government will confirm information about the damage and place the highest priority on saving lives," Japan's chief cabinet secretary Hirokazu Matsuno told reporters.
The Osprey is a hybrid aircraft that takes off and lands like a helicopter, but during flight can rotate its propellers forward and cruise much faster like an aeroplane.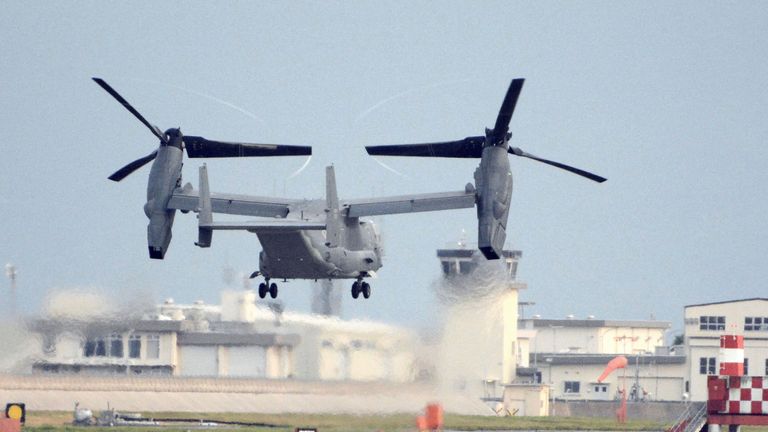 US and Japanese officials said the aircraft belonged to Yokota Air Base in western Tokyo.
In Okinawa, where about half of the 50,000 American troops in Japan are based, Governor Denny Tamaki told reporters he will ask the US military to suspend all Osprey flights in Japan.
In August, a US Osprey crashed off the coast of northern Australia, killing three Marines and seriously injuring five others.
Another crash-landed in the ocean off Japan's southern island of Okinawa in December 2016, prompting a temporary US military grounding of the aircraft.
It also comes after five US service members were killed after their aircraft suffered a "mishap" during a routine air refuelling mission in the eastern Mediterranean Sea.
Elon Musk accused of promoting 'Pizzagate' conspiracy theory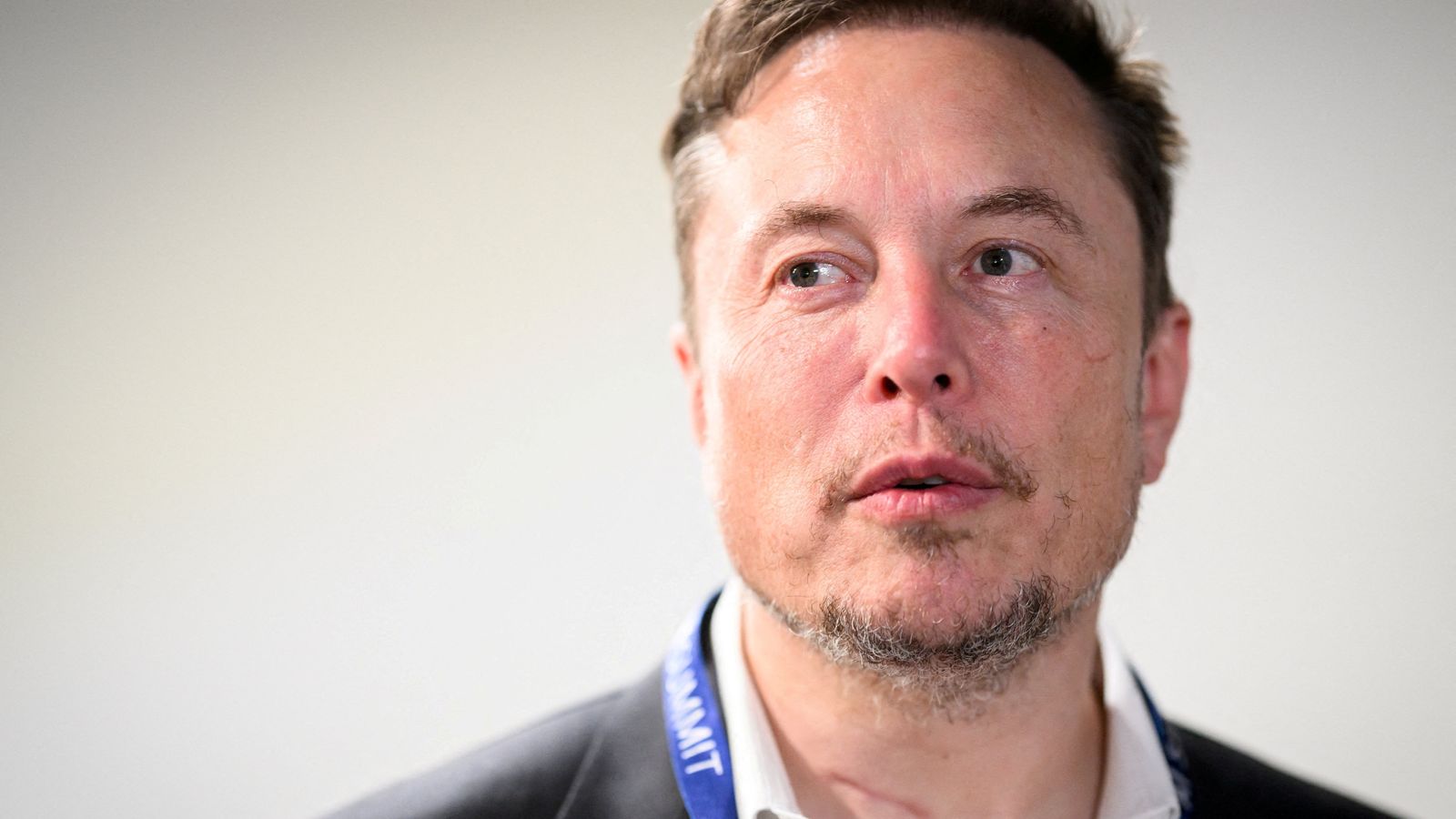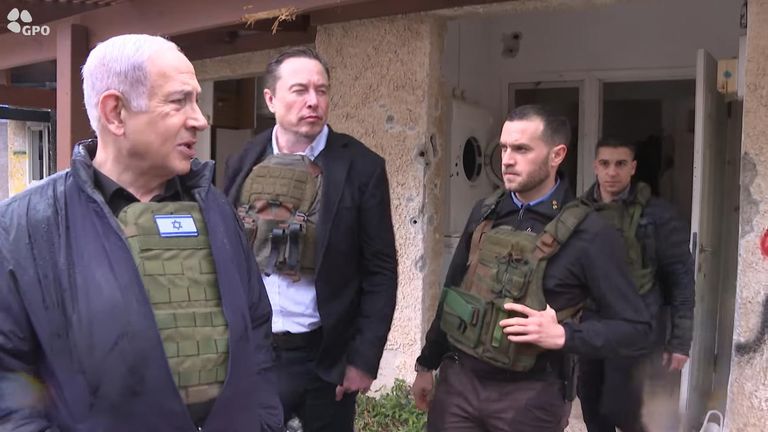 Elon Musk has been accused of promoting a long-debunked conspiracy theory which alleged high-profile Democrats ran a paedophile abuse ring from a Washington pizza restaurant.
The billionaire posted and later deleted a meme referencing "Pizzagate" on X on Tuesday, NBC News reports.
It was an image from TV show The Office, with fake dialogue superimposed on to the scene to make it look like the characters were arguing about whether the conspiracy was real.
"Does seem at least a little suspicious," Musk wrote.
His post was seen by NBC News – Sky's US partner network – before it was taken down.
The conspiracy began during the 2016 US election to smear Democrat candidate Hillary Clinton, and led to a man entering the pizza restaurant in question with an assault rifle.
It has previously been promoted by the likes of Alex Jones and former staff of Donald Trump.
NBC News reports Musk has replied to X posts about Pizzagate at least four times since 20 November.
They feature unfounded insinuations that journalists were involved.
No evidence has ever been uncovered that a child trafficking ring was being run from the pizzeria, or that Democrat politicians were involved and journalists covered it up.
Musk is a regular critic of the media and purveyor of conspiracies, including that aliens built the pyramids.
Last year, shortly after buying the platform formerly known as Twitter, he posted a link to an article featuring an unfounded rumour about an attack on Nancy Pelosi's husband.
More recently, he has been accused of endorsing an antisemitic conspiracy theory. It led to major advertisers pulling promotions from X and criticism from Israeli politicians.
Musk shown Hamas attack scene by PM

The SpaceX owner has since visited the country to be shown the scene of Hamas's attack on 7 October.
He has also sued a media watchdog group which alleged adverts from the likes of Disney and Warner Bros were appearing next to neo-Nazi and white nationalist content on his platform.
Sky News has contacted X for comment.