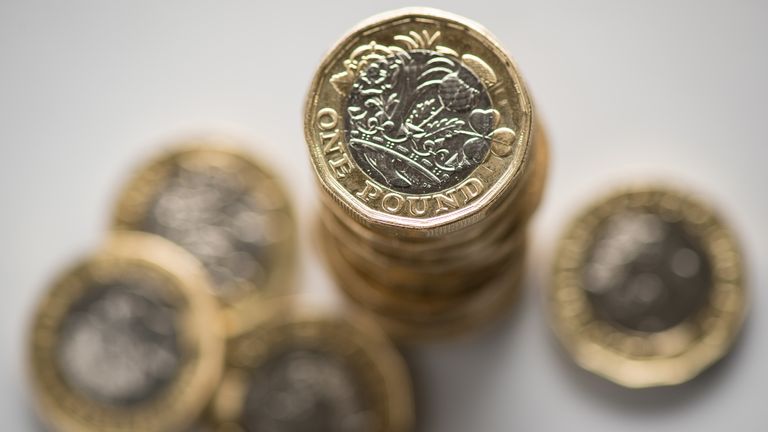 This is an extraordinary moment.
We'll get to the details in a moment but before we do let's not lose sight of the big picture.
The Bank of England has just stepped in to fix a part of the financial market which had broken following the government's mini-budget last Friday.
It has intervened – not with interest rate hikes but with an emergency financial stability operation – because part of the foundations for the economy had begun to malfunction.
I cannot remember another occasion like it.
Read more:
Bank of England aims to prevent 'material risk' to UK financial stability
Pension funds would have collapsed today if BoE hadn't intervened – economy news latest updates
Government departments asked to find 'efficiency savings'
We had interventions during the financial crash, but they were reactions to genuinely global movements. In this case, the UK's is the only market seeing a breakdown quite like this.
In this case the intervention was a direct reaction to UK economic policy. If the International Monetary Fund's statement last night seemed chastening, then this is a level up.
Now the details (in brief).
Much of Britain's financial markets rely on buying and selling of normally dull government bonds to manage risk over the long run.
This is part of the plumbing which allows money to flow from savers to borrowers. And it's especially important for the pensions industry, where funds are especially reliant on long dated bonds (those dated over 20 years).
Those bond yields spiked at an unprecedented rate after the government's announcements on Friday, sparking real problems for these so-called "liability driven investors".
It's a complicated and obscure part of the market, but it was getting close to a serious collapse. So the Bank has stepped in to buy those long-dated bonds and try to get it functioning again.
That might sound a lot like quantitative easing, but there are important (if ostensibly subtle) differences. QE was a pretty open-ended plan to boost the economy by getting cash flowing into people's pockets.
Bank of England takes action

This is a very specific (and time-limited, only two weeks) operation forensically focused on a few gummed-up categories of bonds.
Even so, there is a paradox here. Even as the Bank was in the process of trying to withdraw cash from the market, selling off the assets it bought in recent years as part of that QE scheme, it has been forced to do something which, at least to some extent, pushes in the opposite direction.
It has also been forced to pause its plan to reverse QE until October – though that may be the first of a number of pauses if the current instability persists.
Either way, this is a big moment. The Bank's statement on Monday was unusual. The IMF's statement on Tuesday was even more unusual.
Today's intervention is nearly unheard of. For it to be a direct response to UK government policy is nearly unthinkable.
Palace considering all options after Charles and Kate named in Archie 'skin colour' row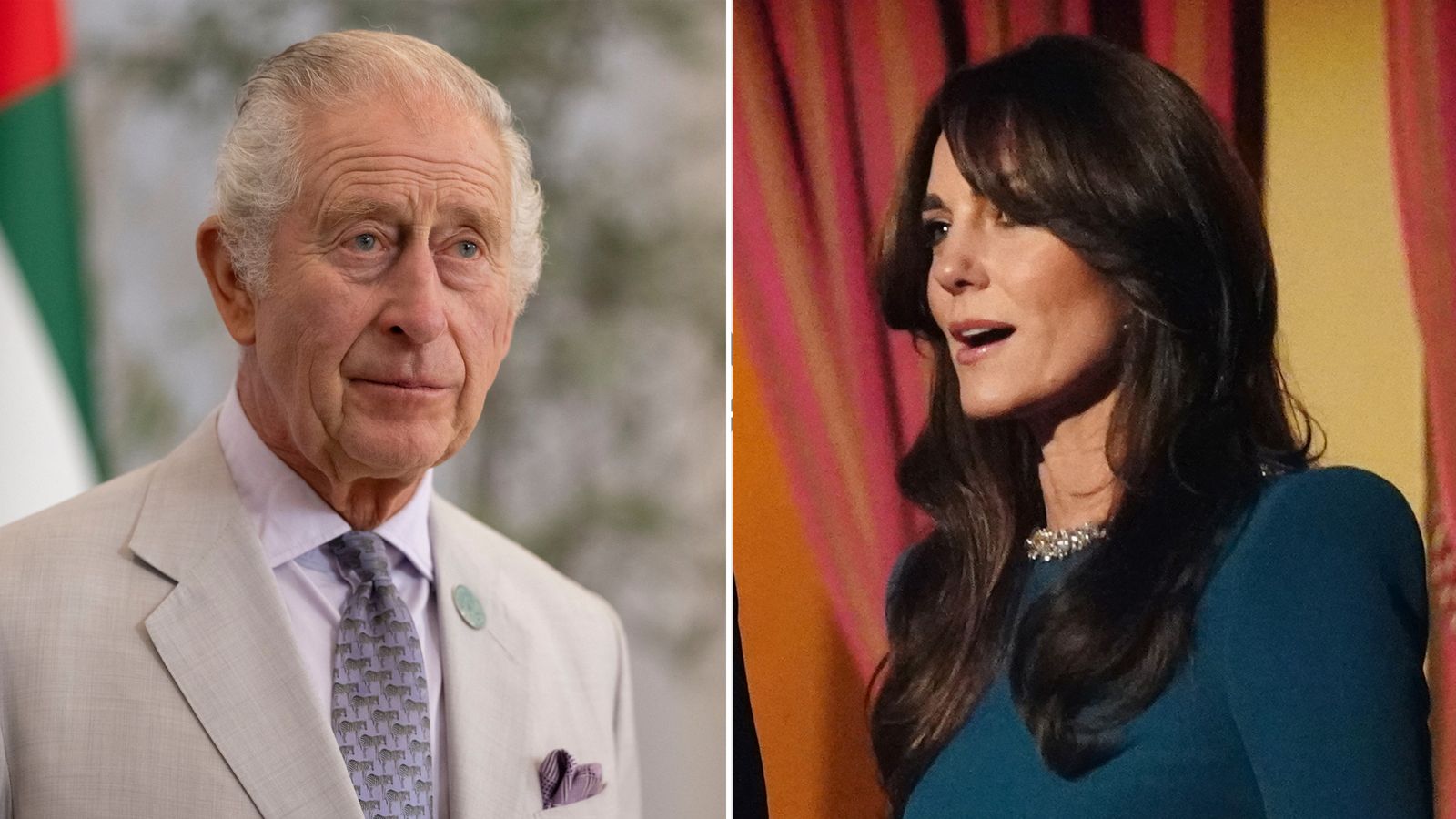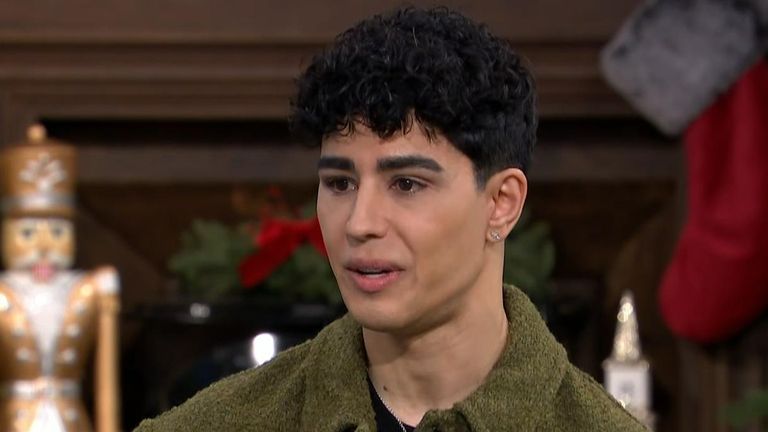 Buckingham Palace is considering whether it should take action after the King and Princess of Wales were named in the Dutch version of a new book as senior royals who questioned what skin colour Prince Archie would have.
When the unsubstantiated allegation first surfaced two years ago, the palace described it as fiction. And there has been no evidence that has been published since to suggest it is true.
But the row resurfaced on Tuesday after the names of the two senior royals were published in a Dutch translation of a book by Omid Scobie.
The writer said an investigation had been launched into how the names were included in the translated version of Endgame, which Dutch publisher, Xander Uitgevers, said had been pulled from shelves in the Netherlands due to an "error".
Omid Scobie: 'I'm obviously frustrated'

Mr Scobie insisted on Thursday that he had "never submitted a book that had their names in it" and that he was "frustrated" by the incident.
It comes as the King arrived in Dubai where he is due to deliver the opening address to the UN's Cop28 climate summit.
"I'm all right thank you very much, just about, having had a rather ancient birthday recently, recovering from the shock of that," the monarch, who celebrated his 75th birthday earlier this month, joked when he met Nigeria's President Bola Tinubu.
The Prince and Princess of Wales, meanwhile, were attending this year's Royal Variety Show at the Royal Albert Hall in London.
King Charles: 'I'm alright… just about'

What is the row about?
The claims were first made public in the Duke and Duchess of Sussex's March 2021 interview with Oprah Winfrey.
The duchess alleged in the interview that a member of the Royal Family had raised "concerns" about Archie's skin colour before he was born.
She said: "[There were] concerns and conversations about how dark his skin might be when he was born."
Winfrey replied: "There's a conversation with you?"
Meghan interjected: "With Harry."
Winfrey continued: "About how dark your baby is going to be?"
Meghan replied: "Potentially, and what that would mean and look like."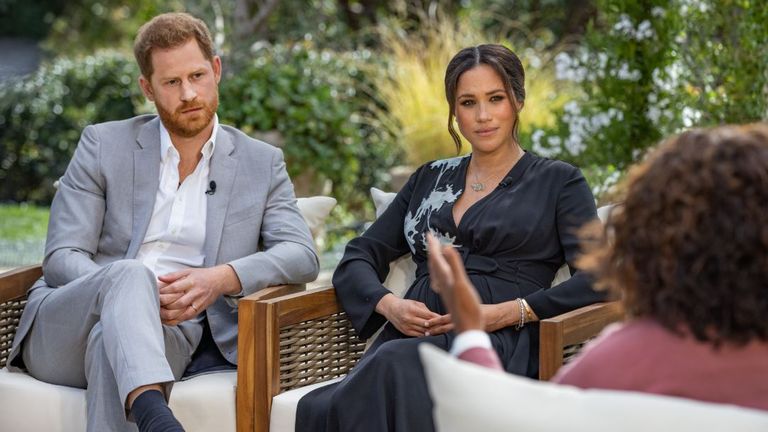 She refused to reveal who had made the comments, adding: "I think that would be very damaging to them."
Winfrey later revealed Harry had told her it was not Prince Philip or the late Queen.
The claim sparked headlines about a so-called "royal racist" and prompted a rare response from the royals, with Prince William saying: "We are very much not a racist family," when asked about the claim.
The Royal Family later followed up with a comment, in which they said that "whilst some recollections may vary", the issues brought up in the interview were "concerning" and would "be addressed".
Harry denies calling family 'racist'
In November 2021, American author Christopher Andersen alleged it was the King who made the comments on the day
Harry and Meghan's engagement was announced in November 2017.
He wrote in his book – Brothers And Wives: Inside The Private Lives of William, Kate, Harry and Meghan – that Charles said to Camilla: "I wonder what the children will look like?"
In response, a palace source told Sky News: "This is fiction and not worth further comment."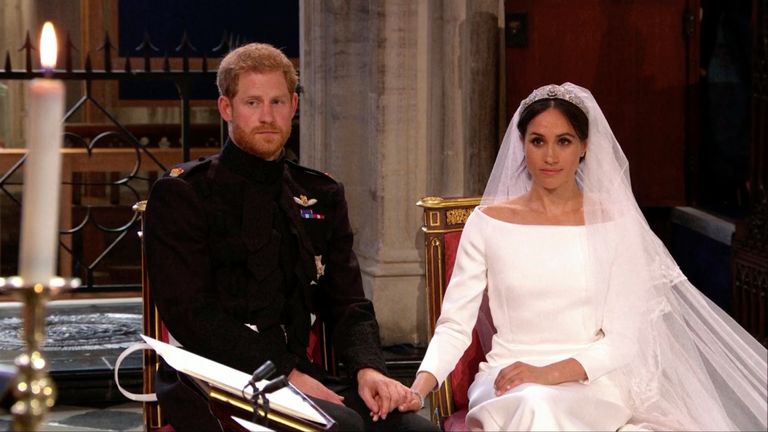 Read more:
Who is Omid Scobie and what are his links to the royals?
Five revelations from Omid Scobie's controversial new book
The row was raised again in January this year, when Harry denied the couple had called anyone racist.
When asked by ITV's Tom Bradby whether the couple had accused the Royal Family of racism, he said: "No I didn't. The
British press said that. Did Meghan ever mention they were racist?"
Mr Bradby responded: "She said there were troubling comments about…"
Harry replied: "That there were concerns about his skin colour."
Mr Bradby responded: "Right. Wouldn't you describe that as essentially racist?"
Harry replied: "I wouldn't. Not having lived in that family," before adding that there was a difference between "racism" and "unconscious bias".
What has Endgame said?
Mr Scobie's new book claimed the names of two senior royals allegedly involved were shared in a letter written by the Duchess of Sussex to the King in the aftermath of the interview.
In the UK version of the book, Mr Scobie writes: "Laws in the United Kingdom prevent me from reporting who they were."
However, a Dutch version of the book claimed the letter named the King and the Princess of Wales as the two people involved in the conversations.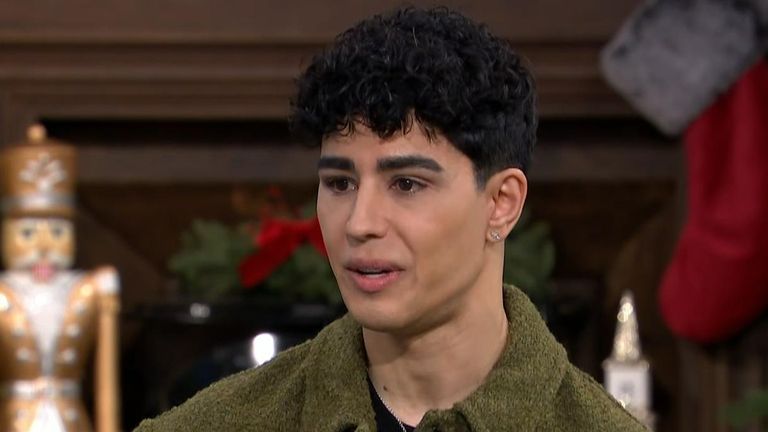 The Dutch publisher, Xander Uitgevers, said on Tuesday that sales of the book had been put on hold "temporarily" in the Netherlands over what it called an "error".
Mr Scobie, who previously co-authored the biography Finding Freedom about the Sussexes and their split from the Royal Family, denied publishing the names in any version of Endgame.
"The book is in several languages, and unfortunately I do not speak Dutch," he told chat show, RTL Boulevard.
"But if there are translation errors, the publisher will correct them.
"I wrote the English version. There was no version from me in which names were mentioned."
On Thursday, speaking on ITV's This Morning, Mr Scobie insisted: "I have never submitted a book that had their names in it."
He also said he has never used the word "racist" to describe the royals who allegedly questioned Archie's skin colour, describing the incident as "unconscious bias" in the book.
Following the publication of Endgame, TV presenter Piers Morgan named the two senior royals on his TalkTV show and social media account.
Mr Morgan, who made it clear he did not believe the allegations, said: "If Dutch people wandering into a bookshop can see these names, then you, the British people who actually pay for the royal family are entitled to know, too."
Representatives for the Duke and Duchess of Sussex have not responded to a request for comment.
The Pogues star Shane MacGowan, best known for Christmas hit Fairytale Of New York, dies at 65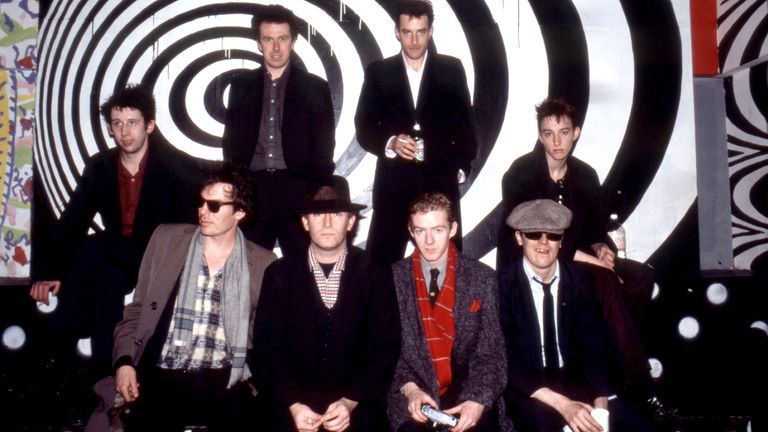 Musician and singer Shane MacGowan, best known as the frontman of The Pogues, has died at the age of 65.
His wife Victoria Mary Clarke said in a post on Instagram: "Shane will always be the light that I hold before me and the measure of my dreams and the love of my life."
The Irish star had suffered from several health issues in recent years.
Born in Kent on Christmas Day in 1957, MacGowan will forever be associated with the festive period thanks to The Pogues' 1987 hit, Fairytale Of New York, featuring the late Kirsty MacColl.
Throughout the 1980s and early '90s, the band also had hits including Dirty Old Town, The Irish Rover, A Pair Of Brown Eyes and A Rainy Night In Soho.
MacGowan was a punk rebel, almost as famous for his drinking and drug taking – and for the toll it took on his teeth – as he was for his music. But he was a gifted storyteller from a young age, winning a Daily Mirror literary prize when he was 13, and a scholarship to Westminster School for his essays.
"I didn't last there very long," he told the Guardian in a 2013 interview. "I got nicked for smoking a joint and was kicked out."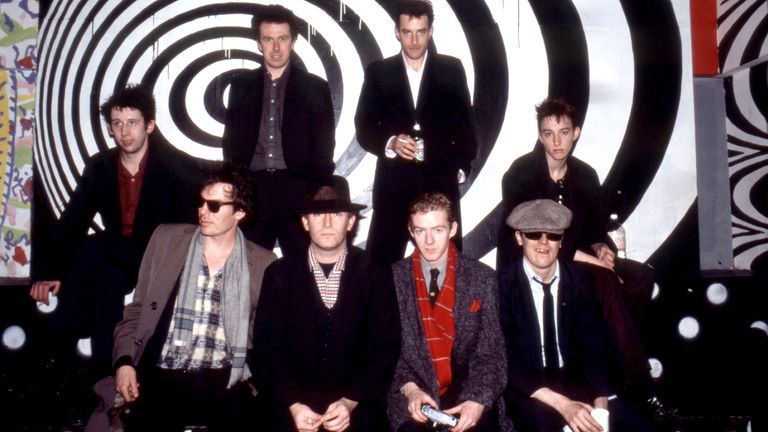 He had been unwell in recent years, receiving treatment in hospital for encephalitis in December 2022, and spending time in intensive care in the summer. He was back in hospital in November, with former bandmates Spider Stacy and Terry Woods among those who visisted him.
MacGowan had also used a wheelchair since 2015 following several falls, breaking his pelvis and then his right knee.
The singer married his long-term partner, journalist Victoria Mary Clarke, at a ceremony in Copenhagen in 2018, with his friend Johnny Depp playing guitar at their wedding.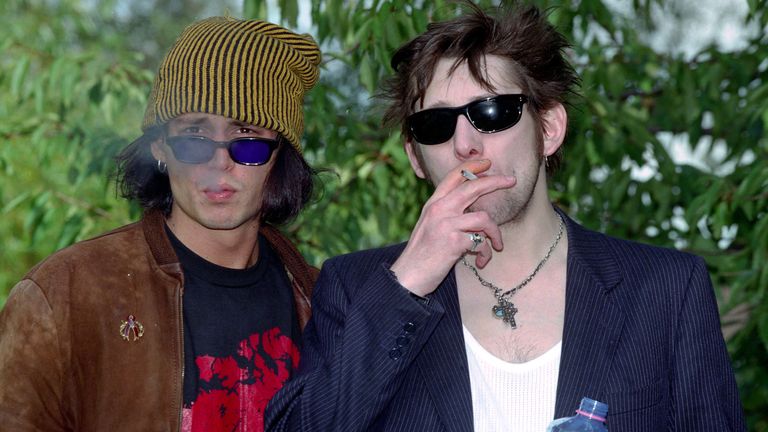 Writing for the Irish Independent ahead of their nuptials, about the first time she met MacGowan at the age of 16, Clarke said she was "awe-struck", before going on to detail a complicated relationship that "makes the Fairytale Of New York couple from Shane's Christmas song seem tame and orderly".
She said: "When you meet 'The One', you have a choice. You can dive in, marry them while you are infatuated with each other and hope for the best. Or you can wait until you are sure that the honeymoon phase has worn off and you are seeing each other in the light of having lived, no longer young, beautiful and indestructible."
Booking.com customers warned of 'well-designed scam' putting details for sale on dark web
Booking.com customers have been warned of a "well-designed scam" that has seen account details sold on the dark web.
Cybersecurity firm Secureworks said criminals are targeting the website's partner hotels to steal user details.
They then send phishing emails to the customers, claiming their reservation will be cancelled if they do not provide payment information urgently.
Rafe Pilling, director of threat intelligence at Secureworks, said the tactic was seeing a "high success rate", and Booking.com said it was aware some of its partners had been affected in recent months.
"While this breach was not on Booking.com, we understand the seriousness for those impacted, which is why our teams work diligently to support our partners in securing their systems as quickly as possible and helping any potentially impacted customers accordingly, including with recovering any lost funds," it said.
The scam unfolds in two phases, starting with hotels themselves being targeted by scam emails.
They often claim to be from a guest who has left valuable documents during their stay, who then sends a follow-up email directing the hotel to a Google Drive link purporting to show an image of the lost item.
The link actually contains malware called Vidar Infostealer, which allows the criminals to access the Booking.com account portal that people use to make their reservations.
From there, they can target the customers.
Look out for 'sense of urgency'
In one case involving a hotel in Scotland, a receptionist was duped by a scam caller who claimed to want to book a room for herself and her child with serious allergies.
They said it would be easier to email a document outlining the child's allergies to determine whether the hotel could accommodate them, and the attachment contained the malware.
It gathered details of all the hotel's Booking.com customers and sent them fraudulent emails saying they had 24 hours to pay.
Jude McCorry, chief executive of Scotland's Cyber and Fraud Centre, told Sky News it was a "well-designed scam" that less tech-savvy people would find it "very difficult" to identify.
She said a "sense of urgency" in demanding money was often a tell-tale sign that something could be wrong.
Secureworks has found Booking.com credentials being sold on dark web forums for up to $2,000 (£1,576).
It said the scam was not an easy one to close down because it relies on Booking.com and its partner hotels having effective controls in place, as well as employees and customers recognising the threat.
The company has recommended that hotels make staff aware and teach them how to identify such attacks, while customers should use multifactor authentication to protect their accounts.
They should also question any emails or app messages requesting payment details, and contact Booking.com or the hotel directly if they have concerns.
Read more tech news:
Nasty scams to avoid while shopping online
Astronomical first found in neighbouring galaxy
Elon Musk tells fleeing advertisers to 'go f*** yourself'
Booking.com said online fraud was a "pressing issue across many sectors" and the company has made "significant investments to limit the impact of these ever-evolving tactics".
"Due to the rigorous controls and the machine learning capabilities we employ, we are able to detect and block the overwhelming majority of suspicious activity before it impacts our partners or customers," it added.
"We have also been sharing additional tips and updates with our partners about what they can do to protect themselves and their businesses, along with the latest information on malware and phishing so that they are as up-to-date as possible on the latest trends that we're seeing.
"In terms of some practical steps that customers can take to remain safe online, we recommend vigilance and that people carefully check the payment policy details outlined in their booking confirmation.
"If a property or host appears to be asking for payment outside what's listed on their confirmation, they should reach out to our customer service team for support.
"Also, it's good to remember that no legitimate transaction will ever require a customer to provide their credit card details by phone, email, or text message (including WhatsApp)."