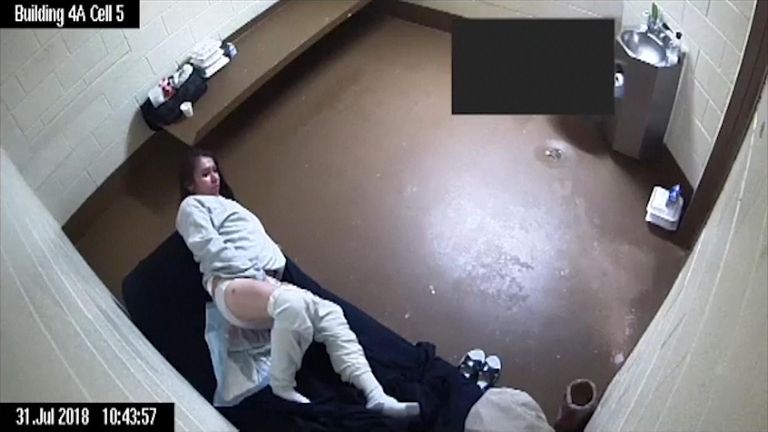 A woman who gave birth to her baby alone on the dirty concrete floor of her jail cell after six hours in labour claims her screams for help were ignored by staff.
Jazmin Valentine is suing the company that provided medical staff to Washington County jail in Hagerstown, Maryland, alleging nurses from Pennsylvania-based PrimeCare Medical, Inc, said she was withdrawing from drugs and was not in labour, and some jail staff laughed at her and said she was just trying to get out of her cell.
Ms Valentine claims she punched the walls of her solitary confinement unit, which lacked blankets or sheets, during her most painful contractions and removed what she believed was her baby's amniotic sac and slid it under her cell door to prove she was having a baby.
A fellow inmate who heard the woman's pleas and called Ms Valentine's boyfriend, who called the jail to plead with staffers to help her, the lawsuit said.
The nurses also ignored a concern raised by a jail deputy about Ms Valentine but he did not contact any superiors, according to the lawsuit.
He discovered Ms Valentine holding her baby girl in her cell around 15 minutes after she was born just after midnight on 4 July, 2021 and an ambulance was called to take them to hospital, the court documents say.
Ms Valentine, who had never given birth before, said she feared her baby would die and she might bleed to death while delivering her.
But realising no one was going to help her, she said she was determined to try to deliver the baby on her own.
"In my brain anything could happen," she said. "I felt like I was in the hands of the devil, honestly."
The lawsuit alleges Washington County, Maryland, its sheriff department and sheriff, as well as nurses and deputies at the jail, violated Ms Valentine's rights under state law and the US Constitution.
Ms Valentine was more than eight months pregnant when she was arrested for an alleged probation violation and taken to the jail the day before she went into labour, according to the lawsuit.
She was released several days later and her baby is doing well, she said.
The claim is similar to another filed in 2019 by a woman who gave birth alone in Denver's jail the year before – who claimed nurses and deputies ignored her cries for help during five hours of labour.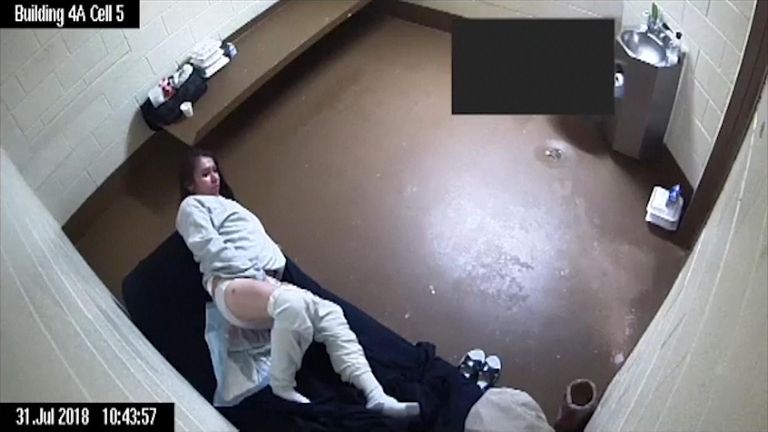 Surveillance footage showed Diana Sanchez crying out in agony before eventually lying on a narrow bed.
The footage was released by the same law firm which is now representing Ms Valentine.
After Ms Sanchez delivered her baby the Denver County Sheriff's Department, which runs the jail, said it changed its policy to ensure pregnant inmates who are in any stage of labour are immediately taken to hospital. Decisions about whether to move a pregnant inmate were previously left to jail nurses.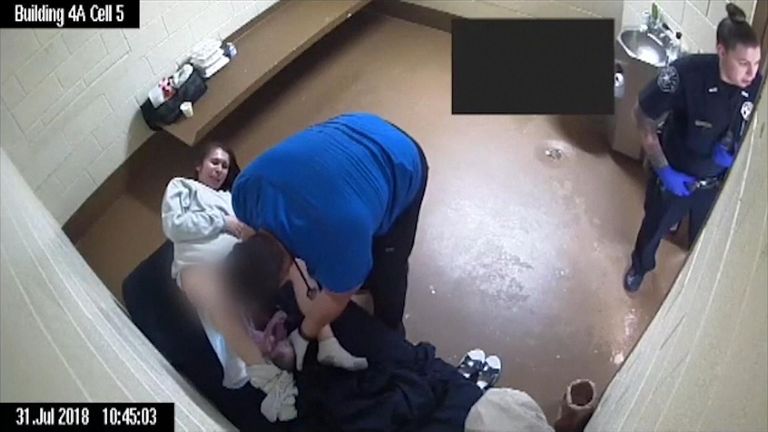 David Lane, whose law firm is involved in both cases, said he believes they highlight problems of privatising health care behind bars and the attitudes of correctional administrators.
"As long as jail and prison administrators view inmates as animals these kinds of things will continue to happen," he said.
New York prepares for possible protests if Donald Trump is arrested and charged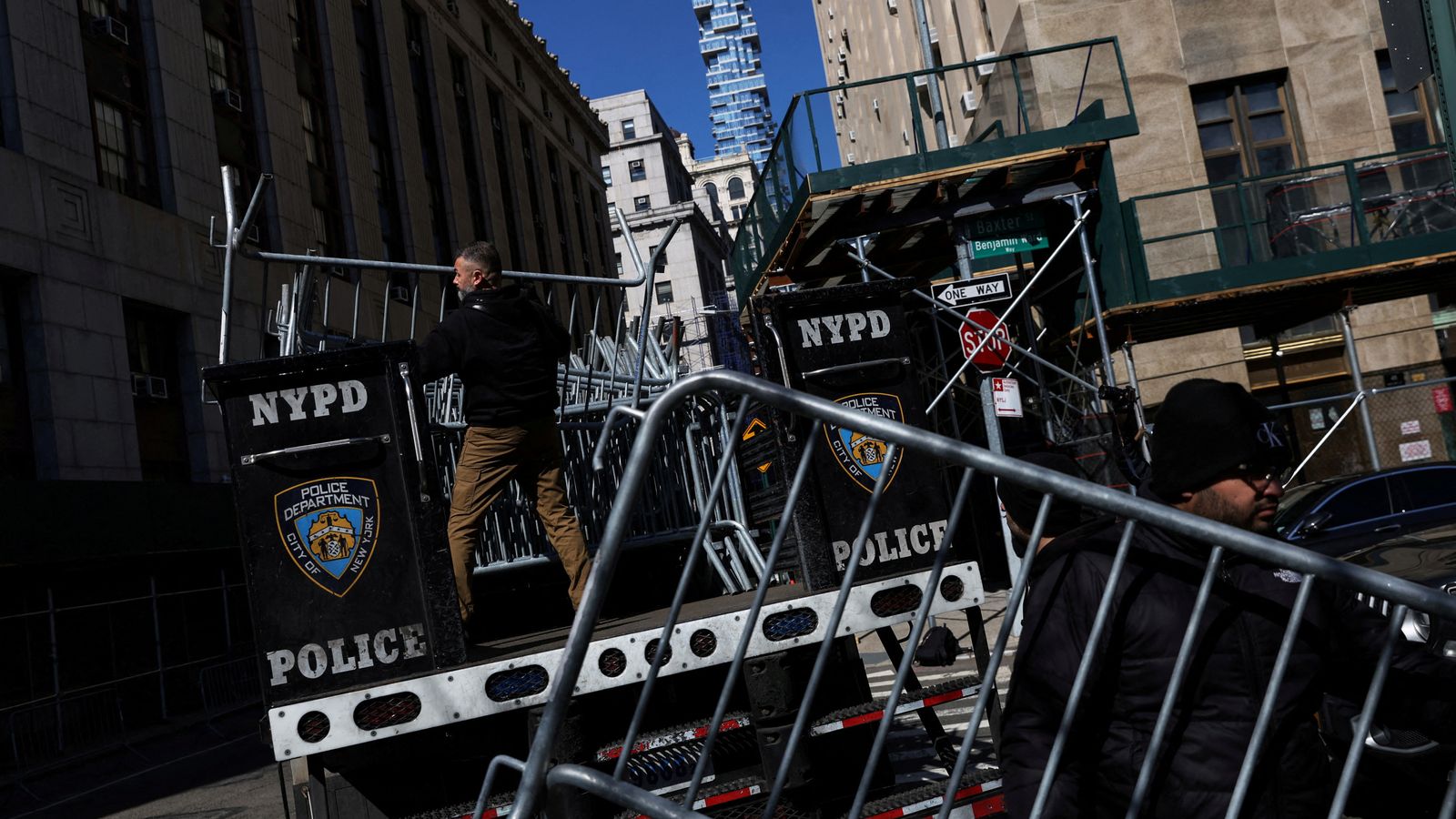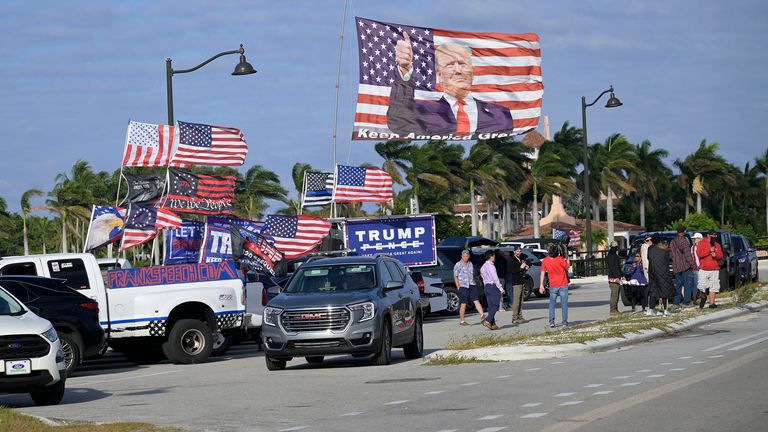 Barricades have been erected outside a New York court as the city prepares for the possibility Donald Trump could be arrested and charged over alleged hush money paid to porn star Stormy Daniels during his 2016 presidential campaign.
It would be the first criminal case brought against a former US president.
Crowds have already started to gather outside Trump Tower and Manhattan Criminal Court in New York, as well as Mr Trump's Mar-a-Lago estate in Florida.
On Saturday, Mr Trump urged followers on social media to protest against what he said was his looming arrest.
It has raised fears of a repeat of violent scenes seen at Capitol Hill after his 2020 presidential defeat.
New York Mayor Eric Adams told reporters police were monitoring social media and keeping an eye out for "inappropriate actions" in the city.
The New York Police Department said there were no known credible threats.
However, barricades have been erected outside Trump Tower and Manhattan Criminal Court for crowds and any trouble following the former president's claim his arrest is imminent.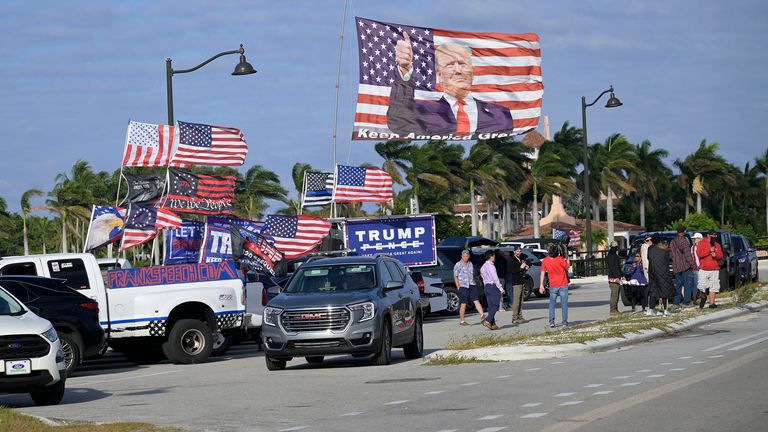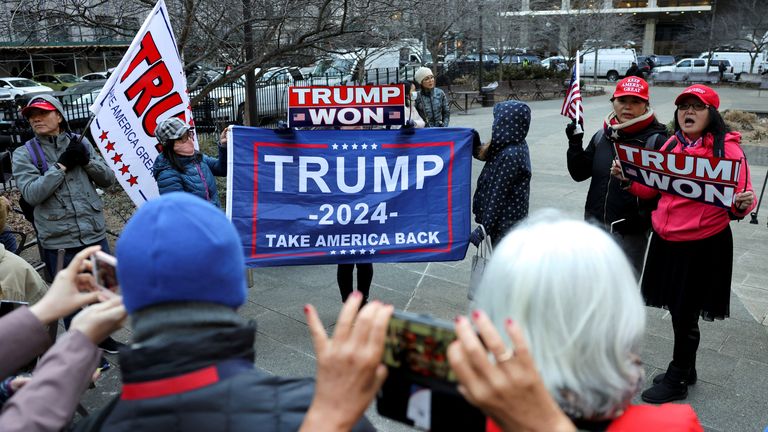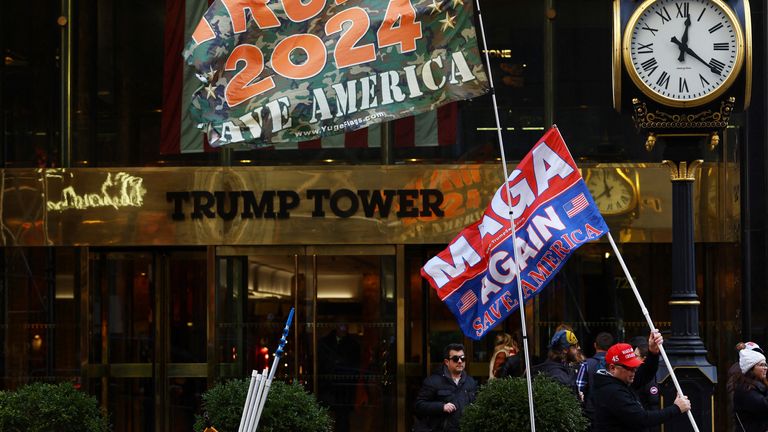 If charged, Mr Trump would likely have to travel from his Florida home for fingerprinting and other processing.
Law enforcement officials met on Monday to discuss the logistics, several media outlets reported.
Mr Trump's lawyer, Joseph Tacopina, told the Associated Press news agency that if the former president is indicted "we will follow the normal procedures".
A grand jury, which heard further testimony on Monday, could bring charges as soon as this week.
Mr Trump, who is seeking the Republican nomination for the White House again in 2024, had predicted he would be arrested on Tuesday.
Read more US news:
What happens if Donald Trump is arrested?
'Worrisome' deadly fungus spreading through US at alarming rate
Biden vows US will 'declassify' information about COVID's origins
Trump watches wrestling after arrest claim

On Monday the grand jury heard from a witness, lawyer Robert Costello. He said Mr Trump's former lawyer Michael Cohen had handled the hush-money payments without Mr Trump's involvement.
"Michael Cohen decided on his own – that's what he told us – on his own, to see if he could take care of this," Mr Costello told reporters following his testimony, at Mr Trump's legal team's request.
Mr Cohen, who testified twice before the grand jury, has said publicly Mr Trump directed him to make the payments on his behalf.
The investigation by Manhattan District Attorney Alvin Bragg is one of several legal challenges Mr Trump faces, including legal action over the 6 January, 2021, Capitol riots.
Mr Bragg's office has apparently been examining whether any state laws were broken in connection with the payments or the way Mr Trump's company compensated Mr Cohen for his work to keep the women's allegations quiet.
Mr Cohen pleaded guilty in 2018 to federal campaign finance violations tied to his arranging payments to Ms Daniels, whose legal name is Stephanie Clifford, and another woman in exchange for their silence about affairs they claimed with Mr Trump.
Mr Trump has denied any wrongdoing and that any such affairs took place.
Around 44% of Republicans say Mr Trump should drop out of the presidential race if he is indicted, according to a seven-day Reuters/Ipsos poll that concluded on Monday.
What happens if Donald Trump is arrested?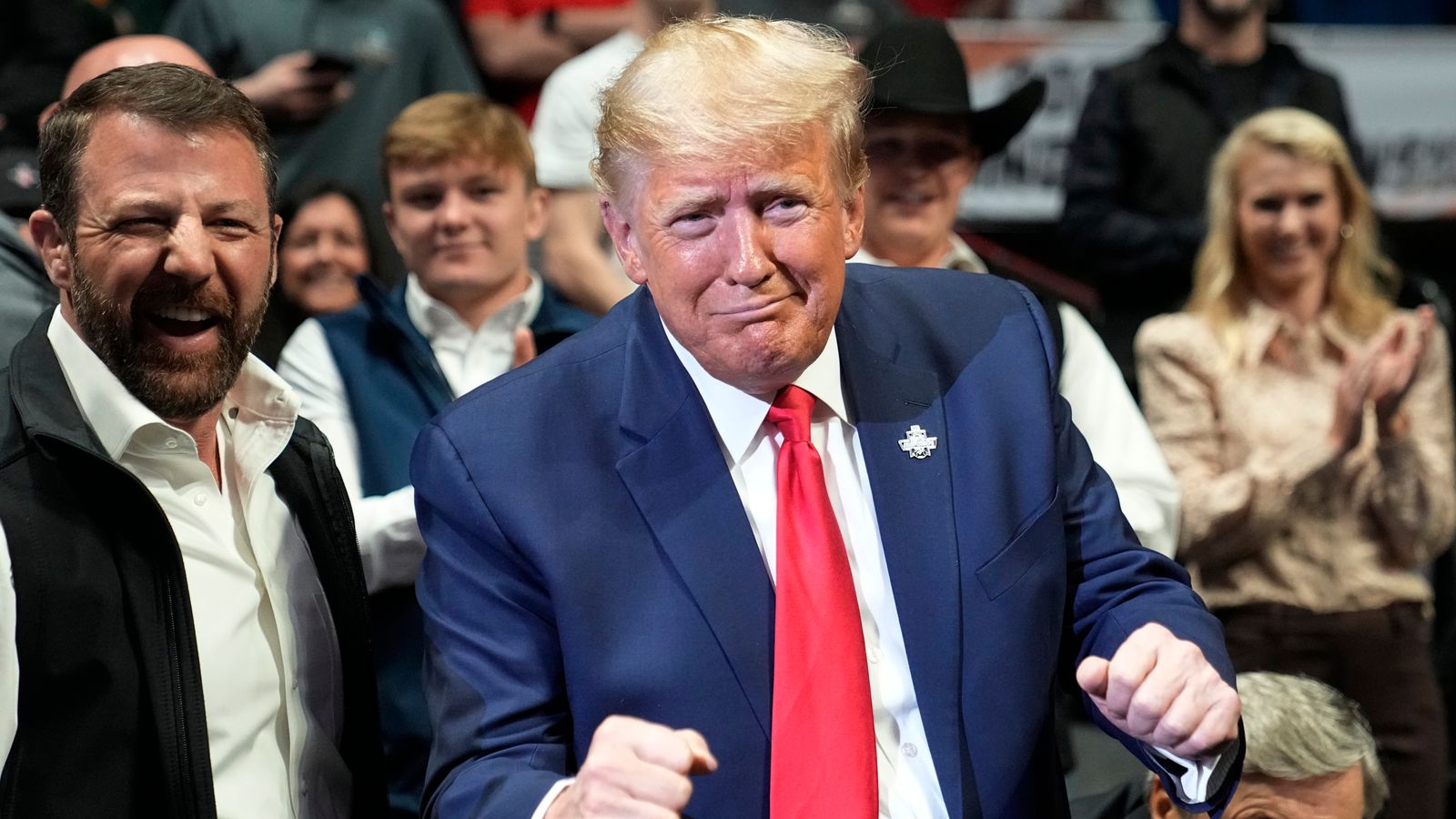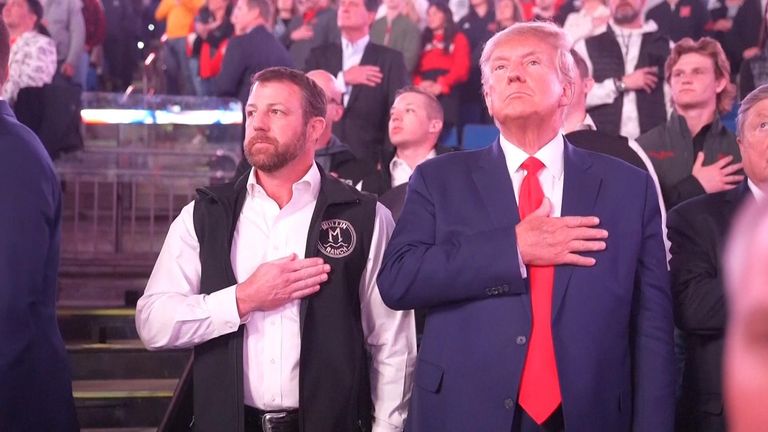 Donald Trump has claimed he is set to be arrested over an alleged hush money payment to adult film star Stormy Daniels.
If right in his assertion, the former US president could be charged by authorities in New York within days.
But what will happen if he is indicted – and how will both sides present their case?
What Trump has said
In a post on his Truth Social platform on Saturday, Mr Trump said he expected to be arrested on Tuesday and urged his supporters to protest against the authorities if he is detained and indicted.
He published a long statement describing the investigation as a "political witch-hunt trying to take down the leading candidate, by far, in the Republican Party".
"I did absolutely nothing wrong," he said, before criticising a "corrupt, depraved and weaponised justice system".
However, it's worth noting a spokesperson for Mr Trump said he had not been notified of any pending arrest.
The case – that the Republican made a payment to Ms Daniels towards the end of the 2016 presidential campaign in exchange for her silence over an alleged affair – is one of several related to Mr Trump.
Other ongoing cases include a Georgia election interference probe and two federal investigations into his role in the 6 January insurrection in the US Capitol.
Read more:
What has happened with Donald Trump's Facebook and Instagram pages?
Mike Pence won't commit to supporting Trump in 2024
Trump watches wrestling after arrest claim

What Trump will do
Mr Trump has accused Manhattan's district attorney Alvin Bragg, a Democrat, of targeting him for political gain, and may try to argue for the dismissal of the charges on those grounds.
He could also challenge whether the statute of limitations – five years in this instance – should have run out.
But in New York, the statute of limitations can be extended if the defendant has been out of state – Trump may argue that serving as US president should not apply.
Politically, how any possible indictment may affect Mr Trump's chances in the 2024 presidential election is unclear.
He could be the first former US president to face criminal prosecution – right as polls show him leading other potential rivals for the Republican nomination, including controversial Florida governor Ron DeSantis.
This could lead to the unprecedented situation in which Mr Trump would stand trial as he campaigns in 2024.
If elected, he would not have the power to pardon himself of criminal charges.
In any case, Mr Trump's lawyer Joe Tacopina told CNBC on Friday that he would surrender if charged. If he refused to come voluntarily, prosecutors could seek to have him extradited from Florida, where he currently lives.
In an ironic twist, as governor, Mr DeSantis would typically have to give formal approval for an extradition.
Read more:
Trump arrest 'would be politically motivated'
Trump pleads the fifth in 2022 deposition video

What prosecutors will do
The Manhattan District Attorney's office has spent nearly five years investigating Mr Trump.
It has presented evidence to a New York grand jury that relates to a £114,000 ($130,000) payment to Ms Daniels during the final days of the 2016 presidential campaign.
It is alleged the payment was given in exchange for Ms Daniels' silence about an affair between her and Mr Trump.
Mr Trump has denied the affair and accused Ms Daniels of extortion.
Any indictment by the district attorney's office would require Mr Trump to travel to its New York office to surrender.
But Mr Trump's lawyers will likely arrange a date and time with authorities, as it is a white-collar case. And then his mugshot and fingerprints would be taken before appearing for arraignment in court.
Mr Trump could also be charged with falsifying business records – typically classed as a misdemeanour – after he reimbursed his former attorney Michael Cohen for the payments, falsely recorded as legal services.
To elevate it to a felony, prosecutors would have to show Mr Trump falsified records to cover up a second crime.
In any case, legal experts have estimated that any trial of the former US president would be more than a year away.
That's why if it happened, it could coincide with the final months of a 2024 election in which Mr Trump seeks a controversial return to the White House.
'Worrisome' deadly fungus spreading through US at alarming rate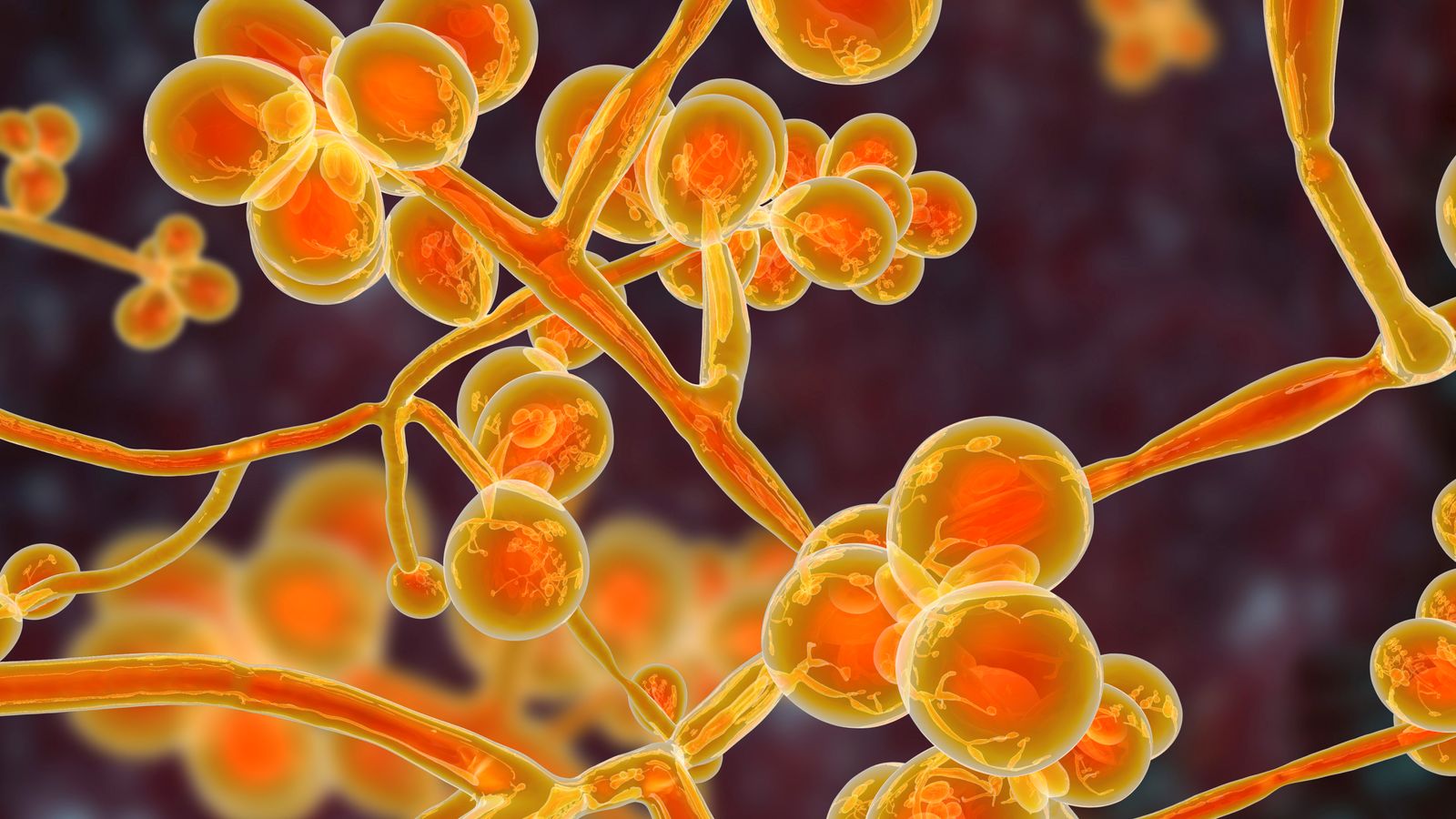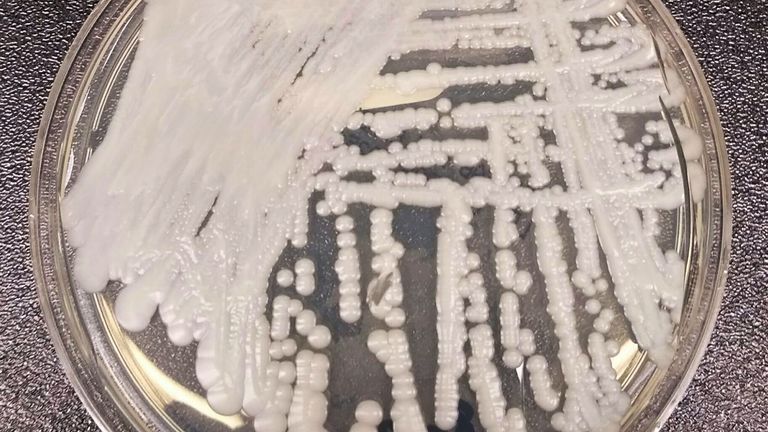 A drug-resistant and potentially deadly fungus is spreading rapidly through US health facilities, according to a government study.
Researchers from the Centres for Disease Control and Prevention (CDC) reported the fungus, a type of yeast called Candida auris or C. auris, can cause severe illness in people with weakened immune systems.
The number of people diagnosed, as well as the number who were found through screening to be carrying C. auris, has been rising at an alarming rate since the fungus was first reported in the US in 2016.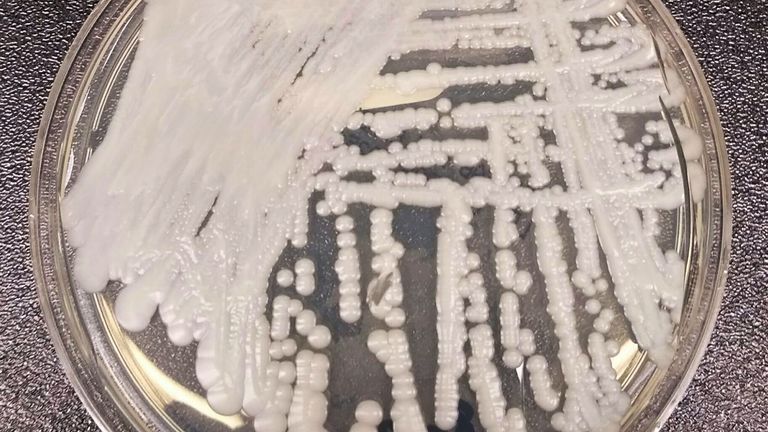 The fungus was identified in 2009 in Asia, but scientists have said C. auris first appeared around the world about a decade earlier.
Dr Meghan Lyman, chief medical officer of the CDC's mycotic diseases branch, said the increases, "especially in the most recent years, are really concerning to us".
"We've seen increases not just in areas of ongoing transmission, but also in new areas," she said.
Dr Lyman also said she was concerned about the increasing number of fungus samples resistant to the common treatments for it.
Dr Waleed Javaid, an epidemiologist and director of infection prevention and control at Mount Sinai Downtown in New York, said the fungus was "worrisome".
"But we don't want people who watched 'The Last Of Us' to think we're all going to die," Dr Javaid said.
"This is an infection that occurs in extremely ill individuals who are usually sick with a lot of other issues."
Read more:
Is The Last Of Us' real 'zombie' fungus an actual threat?
The fungus, which can be found on the skin and throughout the body, is not a threat to healthy people.
But about one-third of people who become sick with C. auris die.
The fungus has been detected in more than half of all US states. The number of infections in the US increased by 95% between 2020 and 2021.
Read more:
Species of fungus discovered in Scotland
Fungal infections 'increased significantly' during COVID pandemic
The new research comes as Mississippi is facing a growing outbreak of the fungus.
Since November, 12 people in the state have been infected with four "potentially associated deaths", according to the state's health department.