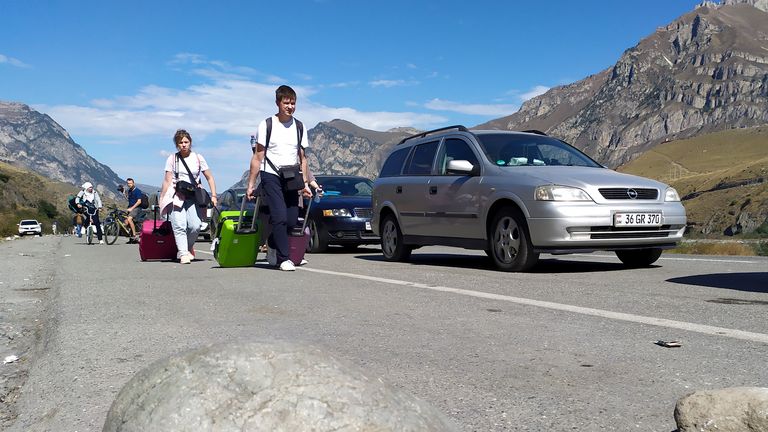 A married US Army doctor and an anaesthesiologist have been accused of conspiring to provide the Russian government with medical information about American soldiers and their relatives.
Major Jamie Lee Henry had a secret security clearance, while their spouse Anna Gabrielian is a Russian speaker who is affiliated with Johns Hopkins Hospital.
They are charged with offering sensitive information to an undercover FBI agent who was posing as a representative of the Russian Embassy.
'This is not our war' – Thousands flee Russia

According to the Justice Department, the FBI learned Gabrielian had volunteered assistance to Russia through its embassy in Washington.
It is alleged that Gabrielian met the undercover agent in a hotel room last month – and said "she was motivated by patriotism toward Russia to provide any assistance she could to Russia, even if it meant being fired or going to jail".
Gabrielian told the agent that she had reached out to the Russian Embassy by email and phone, offering Russia assistance from both her and her spouse Henry, the indictment says.
The indictment refers to Henry as male – but in 2015, they went public as the first openly transgender Army officer.
Marcia Murphy, a spokeswoman for the US attorney's office in Baltimore, said Henry referred to himself as a male in interactions with the undercover FBI agent.
It is also alleged that Henry had looked into volunteering to join the Russian army after the conflict in Ukraine began, but Russia wanted people with combat experience and Henry did not have any.
"The way I am viewing what is going on in Ukraine now, is that the United States is using Ukrainians as a proxy for their own hatred toward Russia," Henry allegedly added.
Gabrielian did express concern about her children, demanding they have a "nice flight to Turkey to go on vacation because I don't want to end in jail here with my kids being hostages over my head".
Ukraine war 'chosen by one man'

On 31 August, the FBI agent met Gabrielian and Henry at a hotel in Maryland, near Washington DC.
Gabrielian gave the agent medical information about the spouse of a person employed by the Office of Naval Intelligence – and highlighted a medical issue that Russia could exploit, the indictment claims.
Henry allegedly provided information on at least five individuals who were patients at Fort Bragg, including a retired Army officer, a current Department of Defence employee, the spouse of a US Army veteran, and two spouses of deceased US Army veterans.
Court records say Gabrielian and Henry have been arrested – it was unclear whether they have lawyers.
Hundreds of Russian protesters arrested

The defendants face a maximum sentence of five years in federal prison on the conspiracy charge and a maximum of 10 years in federal prison for each count of disclosing health information.
In a statement, a spokesperson for Johns Hopkins Medicine said: "We were shocked to learn about this news this morning and intend to fully cooperate with investigators."
Jeffrey Epstein's estate agrees to pay $105m to US Virgin Islands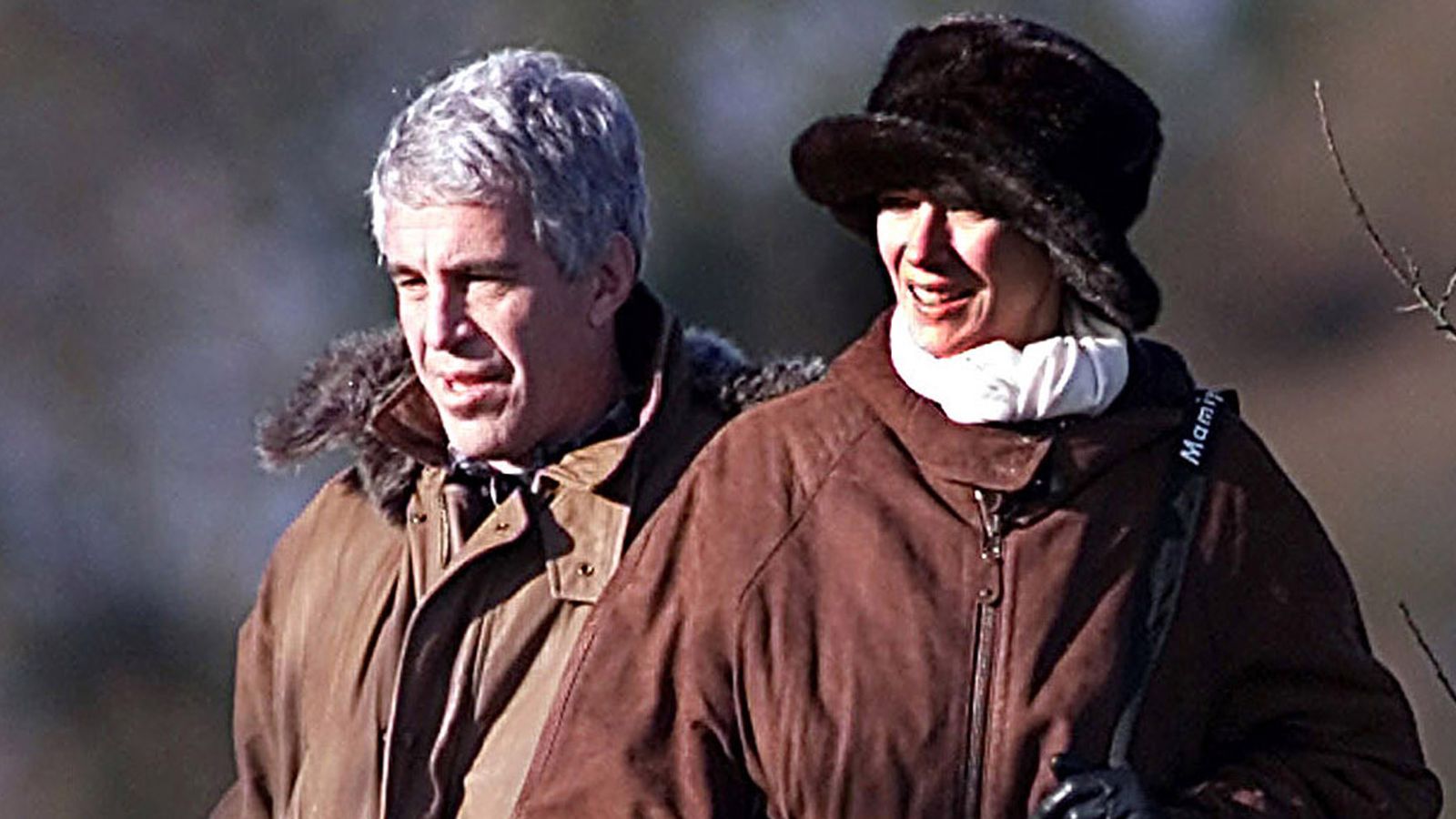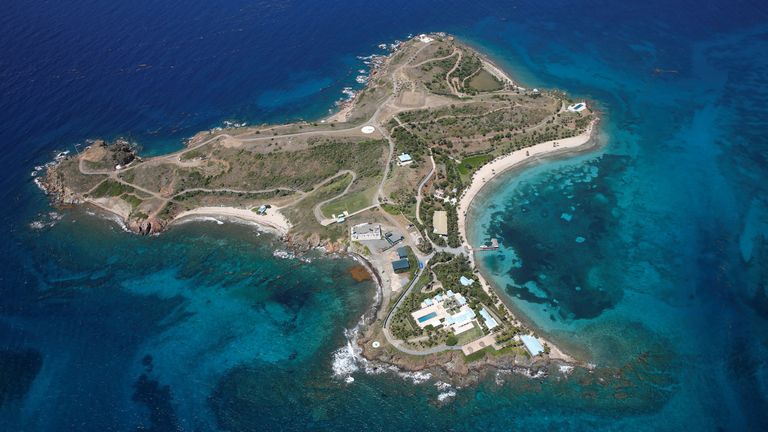 Jeffrey Epstein's estate has agreed to pay the US Virgin Islands more than $105m (£86.8m) as part of a settlement in a sex trafficking and child exploitation case.
As part of the agreement, the estate will also pay the US territory half the proceeds from the sale of Little St James, Epstein's private island which he bought in 1998 and allegedly used for many of his sexual crimes.
It will pay a further $450,000 (£372,000) to address damages on a separate island owned by the disgraced financier – with NBC quoting the US Department of Justice as saying he had "razed the remains of centuries-old historical structures of enslaved workers to make room for his development" there.
The settlement – which does not include any admission of wrongdoing – includes the return of more than $80m ($66m) in economic development tax benefits that Epstein and others had "fraudulently obtained to fuel his criminal enterprise".
Virgin Islands Attorney General Denise George said in a news release: "This settlement restores the faith of the people of the Virgin Islands that its laws will be enforced, without fear or favour, against those who break them.
"We are sending a clear message that the Virgin Islands will not serve as a haven for human trafficking."
In a statement reported by NBC, Epstein estate lawyer Daniel Weiner said: "The co-executors ultimately concluded that the settlement is in the best interests of the estate, including its creditors and claimants, to avoid the time, expense and inherent uncertainties of protracted litigation.
"The settlement is consistent with the co-executors' stated intent and practice since their appointments to those roles – to resolve claims related to any misconduct by Jeffrey Epstein in a manner sensitive to those who suffered harm."
Read more:
Ghislaine Maxwell being sued by law firm which claims it is owed more than $878,000
Prince Andrew and Virginia Giuffre settlement: What do we know and what happens next?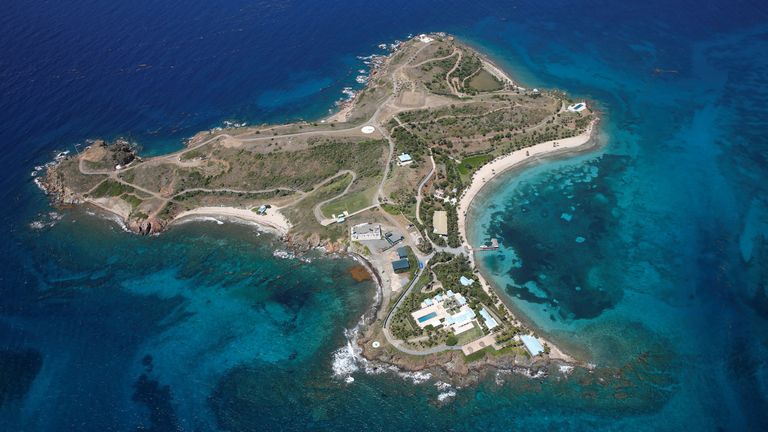 Mr Weiner also said the estate intends to "wind down its remaining activities" in the islands "as soon as practicable" and that $121m (£100m) had been paid in compensation to 136 people over Epstein's activities.
The Virgin Islands brought a civil claim against Epstein's estate in 2020, alleging he was behind a criminal enterprise through which young women and girls were trafficked, raped, sexually assaulted and held captive at Little St James.
Epstein was 66 when he killed himself in a Manhattan jail in 2019, a month after his arrest on sex trafficking charges.
That came more than a decade after his conviction for soliciting prostitution from a minor, for which he became a registered sex offender.
Last year, his former partner Ghislaine Maxwell was convicted of recruiting teenage girls for him to sexually abuse between 1994 and 2004.
She was sentenced to 20 years in jail.
Lecanemab: New Alzheimer's drug slows decline in memory – fuelling hope doctors will one day cure dementia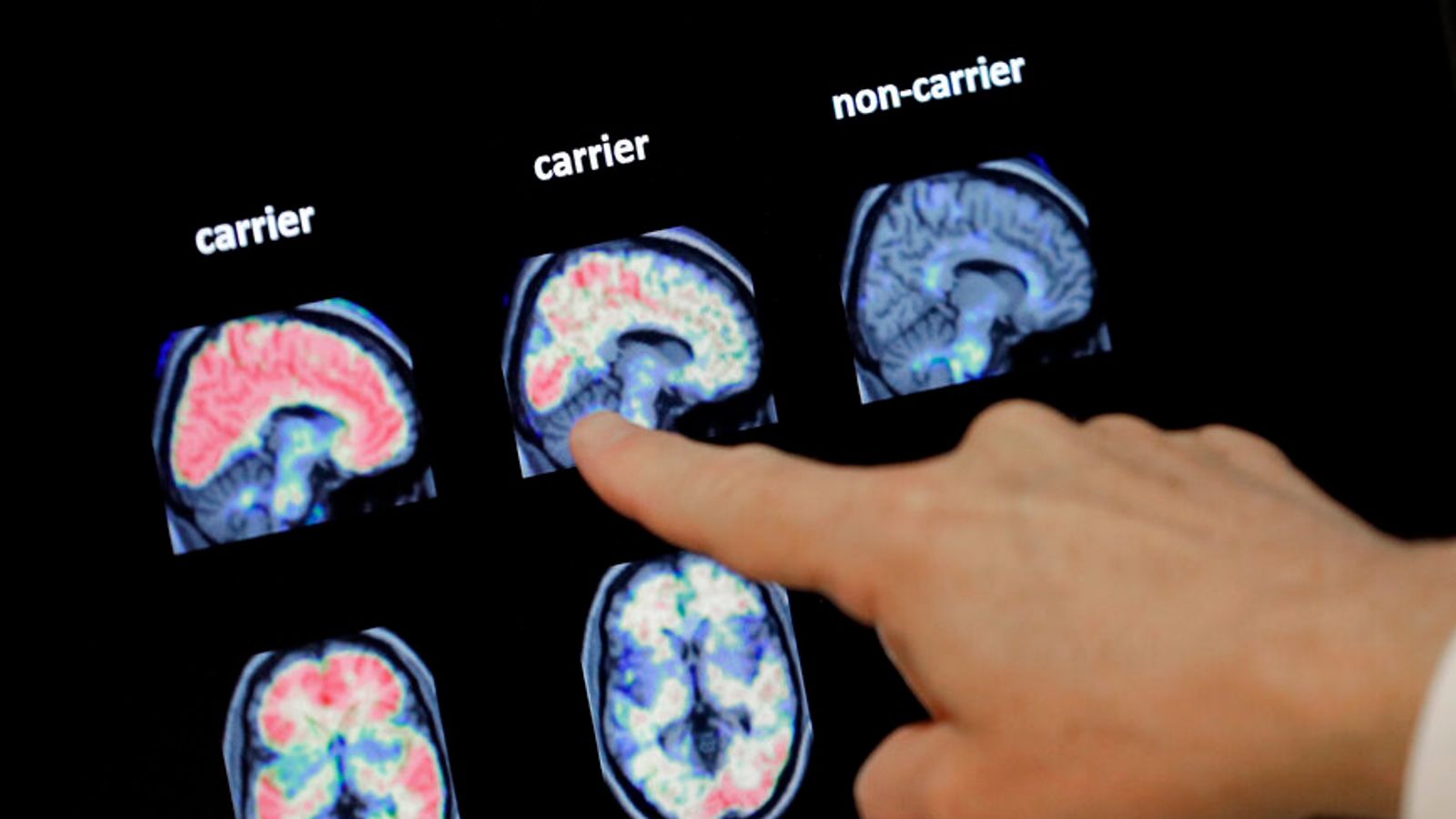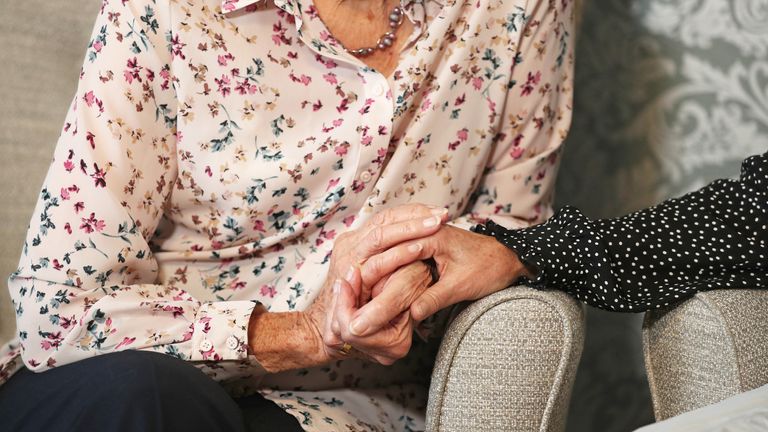 Doctors have hailed a "new era" of medicine after a study showed for the first time that a drug can slow the debilitating symptoms of Alzheimer's.
Results from the clinical trial also revealed that the drug lecanemab cleared clumps of a protein called amyloid – thought to be a key cause of the most common form of dementia – from patients' brains.
The data, published at a conference in San Francisco, led to an outpouring of optimism from scientists, many of whom had spent decades trying to understand what leads to the disease and find a treatment.
Rob Howard, professor of old age psychiatry at University College London, said the results were "wonderful and hope-filled" – adding: "At long last we have gained some traction on this most terrible and feared disease and the years of research and investment have finally paid off.
"It feels momentous and historic. This will encourage real optimism that dementia can be beaten and one day even cured."
The manufacturers of the drug released top-line results in a news release earlier in the autumn, but many doctors held back from celebrating until full results were released at the Clinical Trials on Alzheimer's Disease conference.
They showed that lecanemab slowed the decline in memory and mental agility by 27% in patients with mild Alzheimer's.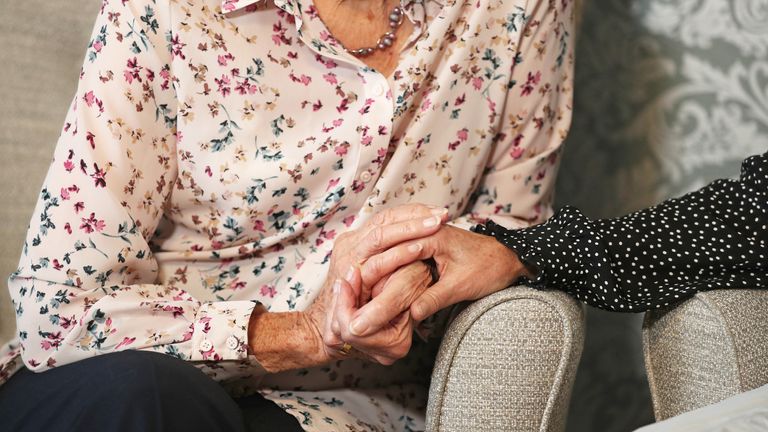 'Doctors are optimistic'
Critically, the drug removed so much of the amyloid protein that the patients wouldn't have had enough evidence of Alzheimer's disease on their brain scans to actually qualify for entry to the trial.
The study strongly suggests that the drug only starts to have a clinical effect once amyloid is reduced to low levels in the brain.
Results after 12 months of treatment suggested it was ineffective – but after 18 months, the effect was significant.
Doctors are optimistic that continued treatment will lead to even better results.
Professor Nick Fox, director of the Dementia Research Centre at University College London, said: "It confirms a new era of disease modification for Alzheimer's disease, an era that comes after more than 20 years of hard work by many, many people, with many disappointments along the way."
Read more:
Govt 'should provide dementia care insurance'
70,000 living with early onset dementia
Symptoms can start two years before diagnosis
Lecanemab is not a cure. But even slowing the progression of Alzheimer's disease would be game changing, delaying the need for specialist care and allowing people to spend more time with their families.
However, the drug has side effects.
One in eight patients given lecanemab suffered brain swelling and other changes, probably as a result of removing the amyloid protein. But most only had evidence of problems on brain scans. Fewer than one in 30 had actual symptoms such as headaches or confusion.
Some patients had bleeding in the brain, though deaths were no higher in those receiving treatment than those given a dummy drug.
Nevertheless, it underlines the need for careful monitoring of those on treatment.
Prof Fox said: "Any risk is clearly important, but I believe that many of my patients would be very willing to take such a risk.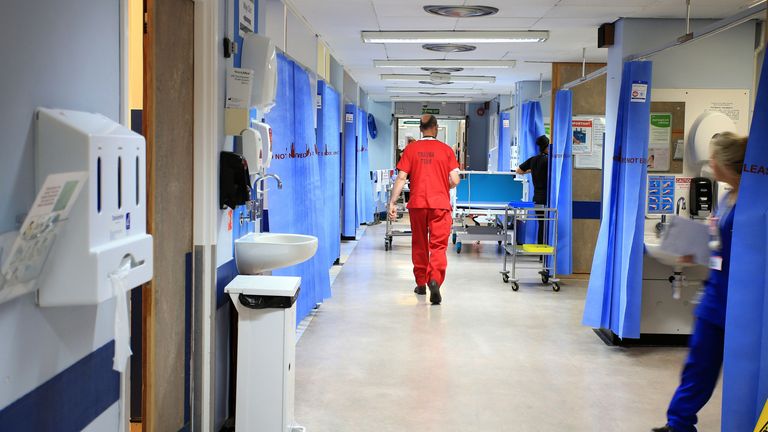 'Massive challenge for the NHS'
Doctors warned that lecanemab will be a massive challenge for the NHS, not just because the drug is given through an intravenous infusion every two weeks.
Most Alzheimer's patients are currently diagnosed when they have moderate symptoms – too late for treatment with lecanemab. And just 1% have their diagnosis confirmed by a brain scan or lumbar puncture, a biopsy of their spinal fluid.
Susan Kohlhaas, director of research at Alzheimer's Research UK said: "It's safe to say that the NHS is not ready for a new era of dementia treatment.
"We estimate that unless there are drastic changes in how people access specialist diagnostic tests for Alzheimer's disease, only 2% of people eligible for drugs like lecanemab will be able to access them."
Until now there have only been drugs that treated symptoms rather than the underlying cause. But if lecanemab is licensed for use on the NHS then delays in treatment will result in brain cells dying and the disease progressing.
Prof John Hardy, from the UK Dementia Research Institute in London said the drug had been "a long time coming".
He added: "I truly believe it represents the beginning of the end.
"The first step is the hardest, and we now know exactly what we need to do to develop effective drugs. It's exciting to think that future work will build on this, and we will soon have life-changing treatments to tackle this disease."
Landmark legislation to protect same-sex marriages passes US Senate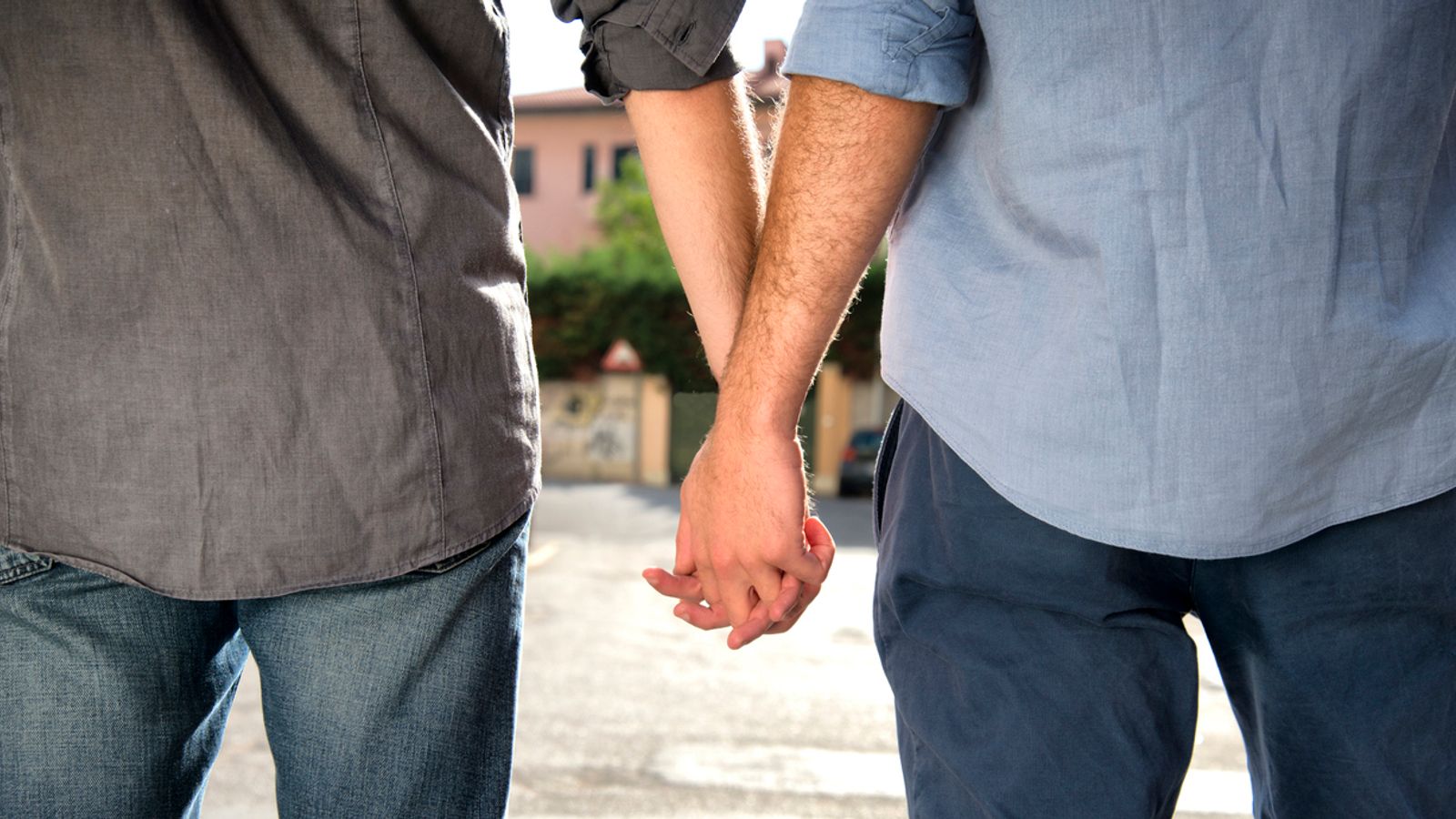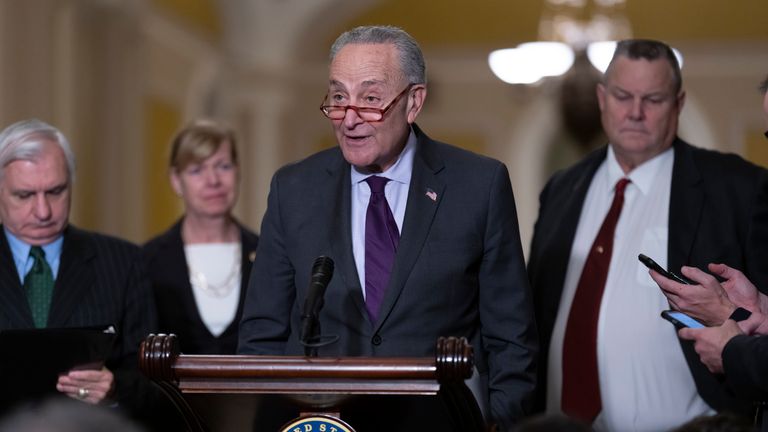 Landmark legislation to protect same-sex marriages has passed the US Senate in a significant show of bipartisan co-operation.
The bill, which ensures same-sex and interracial marriages are enshrined in federal law, was approved 61-36 on Tuesday, including support from 12 Republicans.
The bill's passage is a sign of shifting politics on same-sex marriages and will provide a measure of relief for the hundreds of thousands of couples who have married since the Supreme Court's 2015 decision that legalised gay marriage nationwide.
The bill has gained momentum since the Supreme Court's decision in June that overturned the federal right to an abortion – a ruling that included a concurring opinion from Justice Clarence Thomas that suggested same-sex marriage could also come under threat.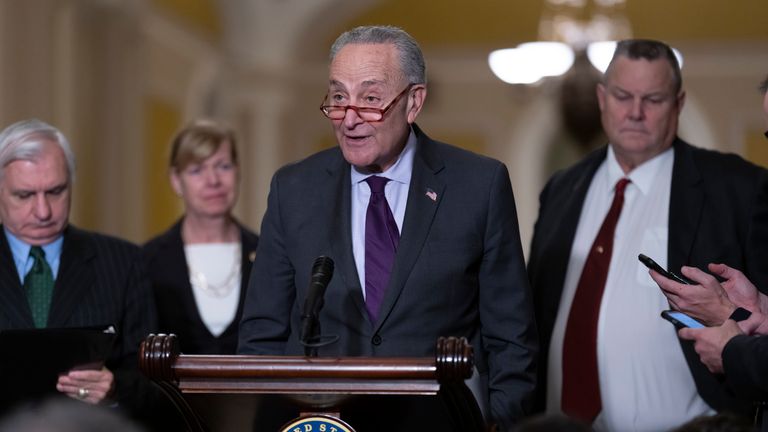 President Joe Biden praised the bipartisan vote and said he will sign the bill "promptly and proudly" if it is passed by the House of Representatives, which the Republicans won back in the midterm elections earlier this month.
He said the bill will ensure that LGBTQ youth "will grow up knowing that they, too, can lead full, happy lives and build families of their own".
Senate majority leader Chuck Schumer said the legislation was "a long time coming" and part of America's "difficult but inexorable march towards greater equality".
The legislation will not force any state to allow same-sex couples to marry.
However it will require states to recognize all marriages that were legal where they were performed, and protect current same-sex unions, if the Supreme Court's 2015 Obergefell v. Hodges decision were to be overturned.
Republicans voting for the legislation included: Thom Tillis and Richard Burr of North Carolina, Susan Collins of Maine, Rob Portman from Ohio, Todd Young of Indiana, Shelley Moore Capito of West Virginia, Mitt Romney of Utah, Joni Ernst of Iowa, Roy Blunt of Missouri, Cynthia Lummis of Wyoming and Lisa Murkowski and Dan Sullivan of Alaska.