Philadelphia Phillies slugger Bryce Harper had Tommy John surgery on his right elbow Wednesday, according to the team.
The procedure was performed by Dr. Neal ElAttrache in Los Angeles.
The Phillies said Harper is expected to return as a hitter only by the All-Star break and could return to playing right field by the end of the regular season.
Phillies president Dave Dombrowski had told reporters last week that Harper would have the elbow surgery, although it wasn't known if it would be of the Tommy John variety.
"We have no prognosis, really, until [the surgeon] goes into the elbow and takes a look at it," Dombrowski said then.
Harper tore his UCL in April, and it prevented him from playing in the field the rest of the season. He received a platelet-rich plasma injection in his right elbow in May and shifted to the designated hitter role thereafter.
Ohtani voted MLB's top DH for 3rd straight year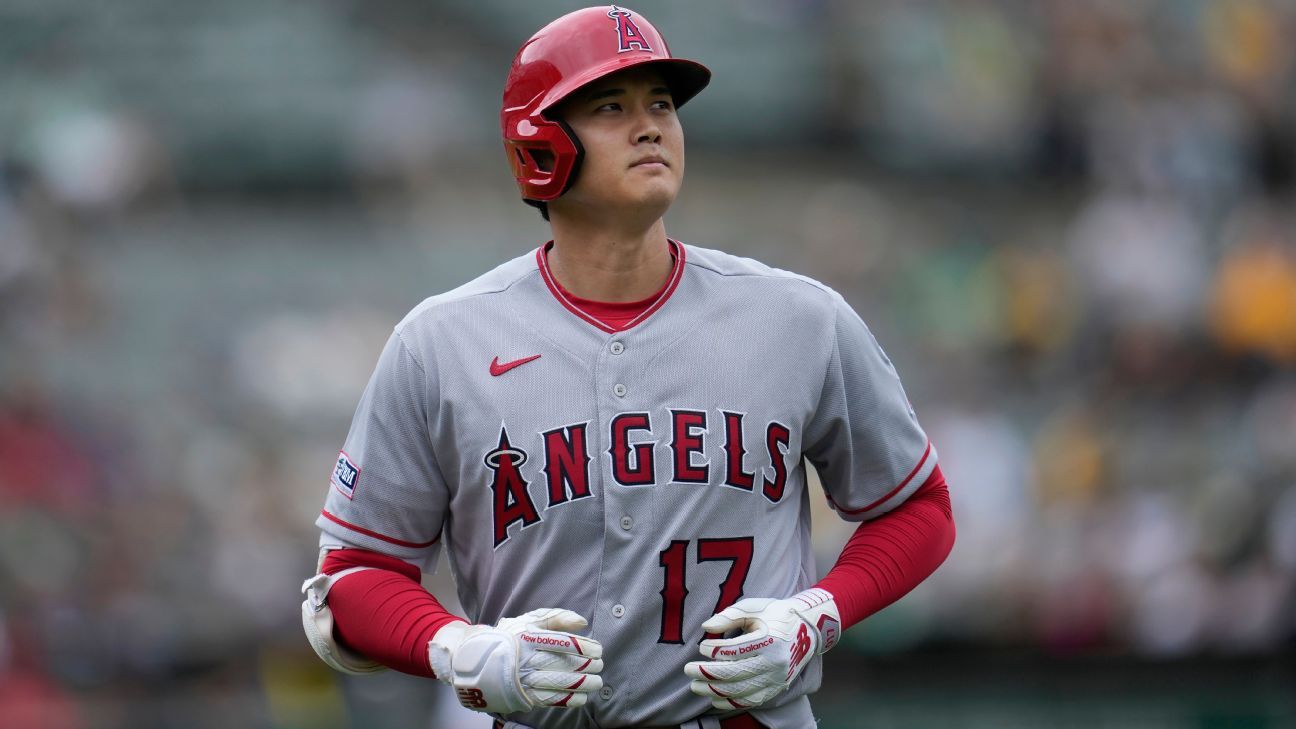 NEW YORK — Shohei Ohtani was voted the majors' best designated hitter on Thursday and joined David Ortiz as the only players to win the award three years in a row.
Ohtani won the Edgar Martinez Outstanding Designated Hitter Award after hitting .304 with an AL-high 44 homers, 96 RBI, eight triples and 20 stolen bases for the Los Angeles Angels in a season at the plate that ended Sept. 3 because of an oblique injury. The two-way star was 10-5 with a 3.14 ERA in 23 starts on the mound, striking out 167 and walking 55 in 132 innings before tearing the ulnar collateral ligament in his right elbow on Aug. 23.
Ortiz won the DH award five years in a row from 2003-07.
Ohtani finished ahead of Atlanta's Marcell Ozuna, Houston's Yordan Alvarez, Philadelphia's Bryce Harper and the Los Angeles Dodgers' J.D. Martinez in voting by beat writers, broadcasters and public relations departments. Players were eligible with 100 or more at-bats as a designated hitter.
The 29-year-old Ohtani became the first two-time unanimous MVP, winning the AL honor in 2021 and this year.
Ohtani and Martinez became free agents after the World Series.
Hype Trap Bet: Expect chaos in conference championship games
"Introduce a little anarchy, upset the established order and everything becomes chaos. I'm an agent of chaos. Oh, and you know the thing about chaos? It's fair."
I'm not going to advocate for the Joker's political ideologies from "The Dark Knight" — one of the best movies ever — but I am going to agree with how that quote can apply to the College Football Playoff. As an alum of a Division I-AA football school (shoutout to Villanova in the second round of the FCS playoffs this Saturday!) I don't have a significant attachment to FBS teams. My best friend went to Alabama for law school, so I dabble in Crimson Tide fandom here and there. But I mostly root for chaos and upsets.
Which could make this the best conference championship week of college football in quite some time.
Excluding the 2020 COVID-19-shortened season, only seven 1-loss Power 5 teams have missed the CFP (less than one per year). With the right amount of chaos, we could have four of them this year alone. Sure, that would require Iowa Hawkeyes to beat Michigan Wolverines, Louisville Cardinals to beat Florida State Seminoles, Alabama to beat Georgia Bulldogs, Oregon Ducks to beat Washington Huskies and Texas Longhorns to beat Oklahoma State Cowboys. But it's possible!
The betting public seems to be on the other side, expecting the status quo to continue. All 4 unbeaten teams were seeing the majority of tickets on the spread at ESPN BET as of Tuesday night.
The public seems to think chaos won't happen at all. The above scenarios paint a picture where we have four unbeatens and ZERO 1-loss Power 5 teams. In that situation, even the infamously indecisive Chidi Anagonye from The Good Place could pick the playoff teams without any stress.
But we need to have some chaos right? These head coaches have to earn their paychecks somehow. As the Joker notes, "If you're good at something, never do it for free."
Trend or Trap
We probably won't see Gotham descend into true chaos, but might there be a few upsets brewing? Here's a quick look at some of the notable betting storylines in Power 5 championship games this weekend.

No. 5 Oregon (-9.5, 65.5) at No. 3 Washington
Friday, 8 p.m. ET, Allegiant Stadium, Las Vegas, NV
Oregon is a 9.5-point favorite over Washington despite losing their first meeting this season. It's the first time since 2020 that a team has been at least a nine-point favorite in a same-season rematch after losing the first meeting. That year, Clemson won and covered an 11-point spread against Notre Dame in the ACC Championship Game.
This doesn't bode well for the Huskies, who clung to victory in Seattle but were significantly outplayed in most of the ways that are predictive moving forward. Washington was outgained by 126 yards, had nine fewer minutes of possession, and blew an 11-point lead. The Ducks were 0-3 on fourth down, including multiple possessions inside the 10-yard line and a third opportunity to seal the victory with 2 minutes left. Even after all that, Oregon missed a 43-yard field goal that would have sent the game to OT.
Washington deserved the win, and Michael Penix Jr. had his shining moment, but they were not the better team in October, and they won't be the better team in December. I can't wait for this game, but I would lean towards Oregon if forced to make a pick here. The Ducks are 9-2 ATS as a favorite this season and 15-3-1 ATS vs Washington since 2004 (including covering two months ago as 3.5-point dogs).
Washington is the hero the College Football Playoff deserves, but not the one it needs right now.

No. 1 Georgia at No. 8 Alabama (-5.5, 54.5)
Saturday, 4 p.m. ET, Mercedes-Benz Stadium, Atlanta, GA
This is the fourth time Alabama has been an underdog since 2010. All four of those games have been against Georgia.
The chart above paints a similar picture of Alabama as an underdog, occasionally sparking the upset and winning big, or losing by multiple scores.
Meanwhile, the Bulldogs are the Harvey Dent of college football. You either lose as an underdog, or you win so often that you see yourself become the villain. Georgia has lost just once in the last three calendar years, an SEC title game defeat to Alabama, which they avenged one month later.
Will the new Goliath fall? We'll find out on Saturday afternoon.
The Bets

"Two-Face": split bets on Georgia-Alabama
As I mentioned above, we've seen two versions of this Alabama team this season. We've also seen Georgia's offense look unstoppable for much of the last month since Brock Bowers returned. There's a reason the total opened at 49.5 and is now at 54.5 and pushing higher.
Ideally you could have gotten these bets in with more closing line value, but the concept is the same. I expect the over to hit, and I also expect Alabama to win outright, or Georgia to win in dominant fashion.
That means using Harvey Dent's lucky coin and grabbing significant plus-money odds on two separate outcomes. On one side, give me Alabama ML (+180) and over 54.5 (-115) parlayed together. On the other side, I'll take Georgia -11.5 (+175) and the over 54.5 (-115) in another parlay. Both would pay out over 4-to-1.
Place 0.5 units on each bet, so you have a full wager on the game, and if 1 of them hits, you're still going to win more than double your money.
One last parting nugget of info: Alabama is 6-5 outright and 6-4-1 against the spread as an underdog under Nick Saban. Breaking that down, all six outright wins are also covers. Which means in all five Saban losses as an underdog, they failed to cover the spread, which gives me more confidence in the split bet above.
SMU +3.5 (-115), SMU ML (+150), SMU -6.5 alt line
Another different way to balance out your bets is to use a "ladder" when you think the projection or line is way off the market.
In this scenario, ESPN Analytics has SMU as an 8.3-point favorite against Tulane in the AAC title game, listing the Mustangs as the 20th best team and the Green Wave as the 50th best team according to FPI.
You could simply say "I'm very confident SMU covers here" and leave it at that. You could also say "SMU should win this game, so I'll take the moneyline bet". Or a riskier bettor could take the exact FPI projection and find an alternate line for SMU -8.5.
Laddering allows you to mitigate risk on an overall bet while banking in some extra upside for a line that has the potential for extreme outcomes. My suggestion for this bet would be a half-unit on SMU to cover +3.5, and a quarter-unit on each of the next two options listed above.
If SMU wins by a touchdown or more, all 3 bets pay out and you profit a lot more thanks to the risk you took. If SMU covers but doesn't win, you end up about breakeven. But the reason for using less than full bets on each is that if SMU fails to cover the +3.5, you only lose one full unit rather than three all at once.
Champ Week preview: CFP stakes and matchups to watch in conference title games

The college football season end is near, but before the postseason commences, it's time to figure out where and when teams will be playing.
Bring on Championship Week, the week that is sure to clear up the College Football Playoff picture … or give the selection committee a lot to weigh should certain scenarios play out in this weekend's conference championship games.
It seems simple for the undefeated teams — Washington in the Pac-12, Georgia in the SEC, Michigan in the Big Ten and Florida State in the ACC — win and you're in. But a loss by any of those teams could mean a difficult decision for the committee.
Our writers break down what's at stake in the Pac-12, Big 12, SEC, Big Ten and ACC championship games, and matchups to watch in those games plus notable quotes from the week.

Champ Week: What's at stake
Pac-12
No. 5 Oregon (11-1) vs. No. 3 Washington (12-0)
Friday, 8 p.m. ET, ABC
Allegiant Stadium, Las Vegas
What's at stake: This is the most high-stakes Pac-12 championship game of all time considering both teams will have the reasonable expectation to go to the College Football Playoff with a win. For Washington, that's definitely the case. There is no scenario that exists that would see the Huskies get left out with a win. For Oregon, though, there's one nightmare scenario that could see them get left out even with a win Friday. If Alabama, Texas, Michigan and Florida State all win, the committee would then have three teams for two spots: Alabama (12-1, SEC champ); Texas (12-1, Big 12 champ); Oregon (12-1, Pac-12 champ). Texas beat Alabama on the road, so there is certainly plain logic to go with Texas over Alabama. If that's the determination, then you have Alabama vs. Oregon for the last spot and all bets are off.
Oregon wins if: The Ducks can maintain their level of play from the second half of the season. Since losing to Washington at Husky Stadium, Oregon has looked the better team. Bo Nix has played himself into a worthy Heisman recipient and has been surrounded by a team humming in all phases of the game. If the Ducks can get pressure on UW quarterback Michael Penix Jr. and get him off schedule in Las Vegas, it would bode well for them.
Washington wins if: It keeps riding the wave. It's easy to find justification for how Washington wins because it has won 19 straight. Even if some of the Huskies' recent victories haven't had the style points like those earlier in the year, this is just a team that makes plays — on both sides — when they matter. That matters. It also helps that receiver Rome Odunze has turned into one of the most clutch players in college football. Whenever the Huskies need a big play, he's the one they go to, and he has yet to let the team down.
X factor: UW running back Dillon Johnson. For all that has been made of Washington's passing attack, the value of Johnson has really been understated. Penix could get into trouble if UW is one-dimensional, which makes Johnson's role massive against the Ducks. — Kyle Bonagura
---
Big 12
No. 18 Oklahoma State (9-3) vs. No. 7 Texas (11-1)
Saturday, noon ET, ABC
AT&T Stadium, Arlington, Texas
What's at stake: The two teams did not meet during the regular season, and the only thing standing between Texas winning its first Big 12 championship since 2009 in its last year in the league is Mike Gundy, the same coach who beat Oklahoma in the last Bedlam game between those two schools. Gundy downplayed that angle this week, saying "Texas will be going to the SEC and we'll be in the Big 12 next year, no matter what," Gundy said. "The SEC vs. the Big 12 or Big Ten or Pac-12, I just don't think [the players] care. I don't think it's a factor." But Texas has made it a mission all year to avenge its past losses on the way out the door, with Steve Sarkisian saying his team has a "John Wick mentality." This game determines whether Texas stakes its claim to a College Football Playoff spot, while OSU has a chance to win its first Big 12 title ever and try to start the post-Texas/Oklahoma era on top of the league.
Texas wins if: The Longhorns stuff OSU running back Ollie Gordon II — the nation's leading rusher, with 1,580 yards and 20 TDs — and make quarterback Alan Bowman beat them. Oklahoma loaded the box against him and Gordon still got 138 yards and two TDs, but it took 33 carries and a lot of patience. Bowman came up big in that game, throwing for 334 yards. But 6-foot-3, 362-pound UT defensive lineman T'Vondre Sweat leads a cast of large humans up front who allow just 85 rushing yards per game, fifth-best nationally.
Oklahoma State wins if: The Cowboys can figure out a way to get Gordon going and open up the play-action game. OSU will have to try to wear down the Longhorns' front and make some headway on first and second down because Texas' defense is the best in the nation on third down, allowing a conversion just 26% of the time. And they'll have to hold on to the ball. Texas has scored 92 points off turnovers this season, fifth-most in the country. The only game where the Longhorns didn't score off a turnover was against Oklahoma in their one loss. Being able to run the ball and keep the Texas offense off the field would make a big difference for the Cowboys.
X factor: Quinn Ewers. The Longhorns' star quarterback is much improved this year, averaging 270.9 yards per game and completing 69.8% of his passes with 17 touchdowns to five interceptions. But last year against OSU on a windy day in Stillwater, he had arguably his roughest game for Texas, completing 19 of 49 passes with two TDs and three INTs as a 34-27 lead slipped away into a 41-34 loss. — Dave Wilson
---
SEC
No. 1 Georgia (12-0) vs. No. 8 Alabama (11-1)
Saturday, 4 p.m. ET, CBS
Mercedes-Benz Stadium, Atlanta
What's at stake: The loser is likely out of the College Football Playoff picture, with Alabama for sure gone if the Crimson Tide lose. There is a scenario where both teams could get in should Alabama win the game. The surest way would be for Texas to lose to Oklahoma State in the Big 12 championship game, Florida State to lose to Louisville in the ACC championship game and Washington to beat Oregon in the Pac-12 championship game. Georgia is a playoff lock with a win and would almost certainly secure its second consecutive No. 1 seed.
Georgia wins if: The Bulldogs play like they have all season on the offensive line and dictate the flow of the game. There's a lot to like about this Georgia team, but the offensive line has been the key, with three or four players who will play in the NFL. Quarterback Carson Beck has looked more in command each game, and one of the main reasons is that he has typically had clean pockets to throw from and plenty of time to throw. Georgia has allowed just two sacks in 12 games. If the Bulldogs are able to protect Beck and mix the run with the pass, keeping Alabama's pass rush at bay, the Tide will have a hard time matching scores with a Georgia team that has been excellent at finishing games this season.
Alabama wins if: The Crimson Tide stay out of third-and-long situations on offense and don't turn the ball over. Georgia ranks second in the country in third-down defense and feasts on offenses when they get behind the sticks on third down. Alabama quarterback Jalen Milroe has accounted for 26 touchdowns and turned the ball over just five times since his benching in Week 3 against South Florida. His ability to scramble and extend plays will be a big factor in this game. Georgia Tech quarterback Haynes King rushed for two touchdowns last week against Georgia, and Auburn's two quarterbacks, Payton Thorne and Robby Ashford, combined for 125 rushing yards in the Bulldogs' closest game of the season, a 27-24 win over Auburn on Sept. 30.
X factor: Both teams have some key players with injuries that make them questionable for the game and, at the very least, not full speed if they do play. Alabama's top running back, Jase McClellan, injured his left foot last week against Auburn and is day-to-day depending on how much he's able to practice this week. For Georgia, star tight end Brock Bowers had some soreness in his surgically repaired left ankle and didn't play last week against Georgia Tech. Offensive guard Tate Ratledge (knee) was also held out last week. Receivers Ladd McConkey (ankle) and Rara Thomas (foot) would also fall into the questionable category. — Chris Low
---
Big Ten
No. 2 Michigan (12-0) vs. No. 16 Iowa (10-2)
Saturday, 8 p.m. ET, Fox
Lucas Oil Stadium, Indianapolis
What's at stake: Michigan can secure its second consecutive 13-0 season, third College Football Playoff spot and third straight outright Big Ten title for the first time in team history. "It'd mean a great deal," said coach Jim Harbaugh, who will return to the sideline Saturday night after a three-game suspension imposed by the Big Ten. "So many [historic] things about this team, and they all talk about how there's more to do." Iowa can spoil Michigan's CFP chances and win its first outright Big Ten title since 1985 (first of any kind since 2004). A Hawkeyes win would send them to a New Year's Six bowl game.
Michigan wins if: The defensive line controls Iowa's run game and quarterback J.J. McCarthy builds on his efficient performance against Ohio State to give Michigan an early lead. McCarthy talked this week about being a natural risk-taker. "A lot of situations in football, if you miss that opportunity to take that chance, you won't ever get it back," he said. Like in the Ohio State game, McCarthy can take a few calculated gambles but not too many against an Iowa defense adept at jumping routes out of its zone sets. If Michigan makes Iowa play from behind and have to tackle Blake Corum and Donovan Edwards all night, it should win comfortably.
Iowa wins if: It holds the turnover edge by at least two, records a defensive or special teams touchdown, and shortens the game by extending drives and limiting possessions. Neither offense uses much tempo, so the Hawkeyes simply need to stay on the field. "The ABCs of how we do offense are: Possess the football, advance the football, score the football," offensive tackle Mason Richman said. "We always want to possess the ball. Shoot, if we can possess the ball for 40 minutes, that'd be great, and obviously, we'd feel pretty dominant, in that sense." The Hawkeyes are minus-1 in turnover margin for the season and simply can't afford any giveaways against the Wolverines.
X factors: Michigan defensive back Mike Sainristil and Iowa punter Tory Taylor. Sainristil, a former wide receiver, has become a playmaker in the back end for the Wolverines, recording five interceptions (returning two for touchdowns). Taylor, the inspiration for the "Punting Is Winning" T-shirts worn by Iowa fans, can change field position and bail out Iowa's offense. He averages 47.7 yards per punt, with 29 placed inside the opponents' 20-yard line.
---
ACC
No. 14 Louisville (10-2) vs. No. 4 Florida State (12-0)
Saturday, 8 p.m. ET, ABC
Bank of America Stadium, Charlotte, North Carolina
What's at stake: Florida State has a chance to reach its first College Football Playoff since 2014 with a win to finish off a 13-0 season. Although there has been much debate about what the committee will do with an undefeated Florida State team missing starting quarterback Jordan Travis, the latest CFP rankings have the Seminoles at No. 4 and in position to finish in the top four with a win over the Cardinals. Does margin of victory matter in this case? It should not, considering the Seminoles would have wins over three top-25 opponents (four if you consider Duke was ranked in the top 25 when the teams played). A Louisville victory secures its first Orange Bowl berth since 2007.
FSU wins if: It controls the line of scrimmage. With Travis out, Florida State relied on running back Trey Benson last week to help beat the Gators, and a dominant defensive front changed the tenor and demeanor in the second half. Florida State had six sacks and held Florida to 48 yards rushing after halftime. The challenge will be greater against a better Louisville offense, which has been dominant itself up front with its run game. Slowing down Jawhar Jordan and Isaac Guerendo and making Jack Plummer uncomfortable enough to make mistakes will be paramount. In its two losses this year, Louisville turned the ball over a combined six times. Creating turnovers is a must.
Louisville wins if: The Cardinals defense has been aggressive for most of the season — with 30 sacks and 54 tackles for loss on the year. Expect maybe even more against Florida State so the Cards can get after QB Tate Rodemaker and make him ineffective. Many of the Louisville defensive players have a familiarity with Rodemaker. He rallied Florida State to a win over the Cardinals last year when Travis got hurt during the game. To be as aggressive as possible, Louisville will have to get back to the way it played against the run in the first nine games. In two of the past three games, the Cards have allowed over 100 yards rushing — and in a loss to Kentucky last week, Ray Davis scored on a 37-yard run straight up the middle of the defense to win the game.
X factor: Keon Coleman. It is hard to call Coleman an X factor when he is so well known and established, but watch for him on special teams, where he has played a huge role for the Seminoles this season. His 34-yard punt return against Florida last week helped set up a go-ahead field goal. In a game that is expected to be close, a huge special teams play could be the difference. — Andrea Adelson

Matchups to watch
Pac-12: Troy Franklin and Tez Johnson vs. Washington's defensive backs. The Ducks have one of the more prolific wide receiver tandems in the sport with Franklin and Johnson combining for 2,291 receiving yards and 23 touchdowns this season. Franklin, in particular, has 15 catches of 30 yards or more and three of 60 yards or more. The Huskies' passing defense, however, has been a bit of a trick-or-treat unit this year. Although it ranks 124th in passing defense this season, it also has 15 interceptions so far (good enough to be tied for ninth in the country as a unit). Bo Nix has thrown only two interceptions all season, and although it's difficult to see how Washington can contain both Johnson and Franklin, if the Huskies can force Nix into an interception at some point, they might be able to overcome their defensive shortcomings in one play and change the complexion of the game. — Paolo Uggetti
Big 12: Ollie Gordon II vs. Texas' linebackers. Oklahoma State's offense is backward in a lot of ways, in that the Cowboys get their big plays from an all-or-nothing run game and their efficiency from a quick but mostly low-impact passing game. Gordon is the most explosive RB in college football, but if you're keeping him contained, OSU isn't creating chunk plays and is settling for field goals at best. Texas' linebackers — namely, Jaylan Ford and Anthony Hill Jr. — have been excellent in terms of big-play prevention in the run game, but OSU is going to have to create space for Gordon one way or another. There are almost no other realistic paths to victory. — Bill Connelly
SEC: Georgia's offensive line vs. Alabama's front seven on defense. Both units are really talented, but the Crimson Tide have to find a way to make the Bulldogs one-dimensional and pressure quarterback Carson Beck, who has been sacked only eight times this season and has completed 75% of his passes for 3,189 yards and 17 touchdowns when not pressured. The other key will be explosive plays. Alabama has given up far more than Nick Saban would like this season. The Tide have allowed 26 plays of 30 yards or longer, and only Arkansas, LSU, Florida and Vanderbilt have given up more in the SEC. Alabama needs to eliminate the big plays on defense and force Georgia to put together long drives. — Chris Low
Big Ten: Blake Corum and Donovan Edwards vs. Iowa's defense. When these two teams met in the Big Ten championship in 2021, Corum was a young back who finished the game with 74 yards and a touchdown while Hassan Haskins had 56 yards and two touchdowns in the 42-3 win. Edwards took a backward pass from then-quarterback Cade McNamara and threw a 75-yard touchdown pass to Roman Wilson. In last year's Big Ten championship game against Purdue, Edwards played without Corum, who was dealing with an injury, and exploded for 185 yards and a touchdown. The run game for Michigan is what drives this team, and it's going to face a tough test in Iowa's defense, which ranks 18th in rush yards allowed per game, giving up 106.4 yards. Corum is coming off the Ohio State game, where he had 88 rushing yards and two touchdowns and helped propel the Wolverines to the win. Corum and Edwards are hoping to do much of the same in this game against another good defense in Iowa. — Tom VanHaaren
ACC: Louisville DE Ashton Gillotte vs. FSU QB Tate Rodemaker. It is no secret Louisville will want to come after Rodemaker as much as possible. Here is where Gillotte comes in — as one of the top rush ends in the entire country. Gillotte has 14.5 tackles for loss, 11 sacks and 3 forced fumbles this season. His ability to create havoc is well known around the league. Florida State has done an exceptional job this season protecting the football — ranking No. 1 in the nation with only five turnovers all year. If Gillotte can get to Rodemaker and force a mistake, that could be a game-changer for the Cards. — Adelson

Quotes of the week
"My emotions, my focus has been with the team the entire time. It's been a tremendous season, right in the exact position that we hoped for, that we worked so hard to be in. It's onward now. We've accomplished many of our goals, but not all of them yet. … The next is winning the conference championship, so that's where our focus is. I would say it's good to be back, but I never left." — Michigan coach Jim Harbaugh on returning from a three-game suspension.
"No offense to Tim Tebow, but this guy's different. Tim was a different running style, a very different running style in terms of what they did and how they did things. This guy is like when I used to ask my sons who they were playing with on the Madden game, and they would say, 'I'm playing with the Ravens,' and I would say, 'Why are you playing with the Ravens?' And they would say, 'They've got Lamar Jackson, and nobody can tackle him.' Well, this guy is a bigger, physical version of that. He's playing at a different speed than everybody else." — Georgia coach Kirby Smart on Alabama QB Jalen Milroe.
"It's been a heck of a journey — to think about where we were when we first started in Year 1 and just kind of changing the culture and kind of building upon from Year 1 to Year 2. Some tough losses along the way, but I thought our culture just continued to build. We continued to bring in talent along the way. This year, the thing that I think we've been able to do is find ways to win." — Texas coach Steve Sarkisian on getting Texas to the Big 12 championship game in his third year in Austin.