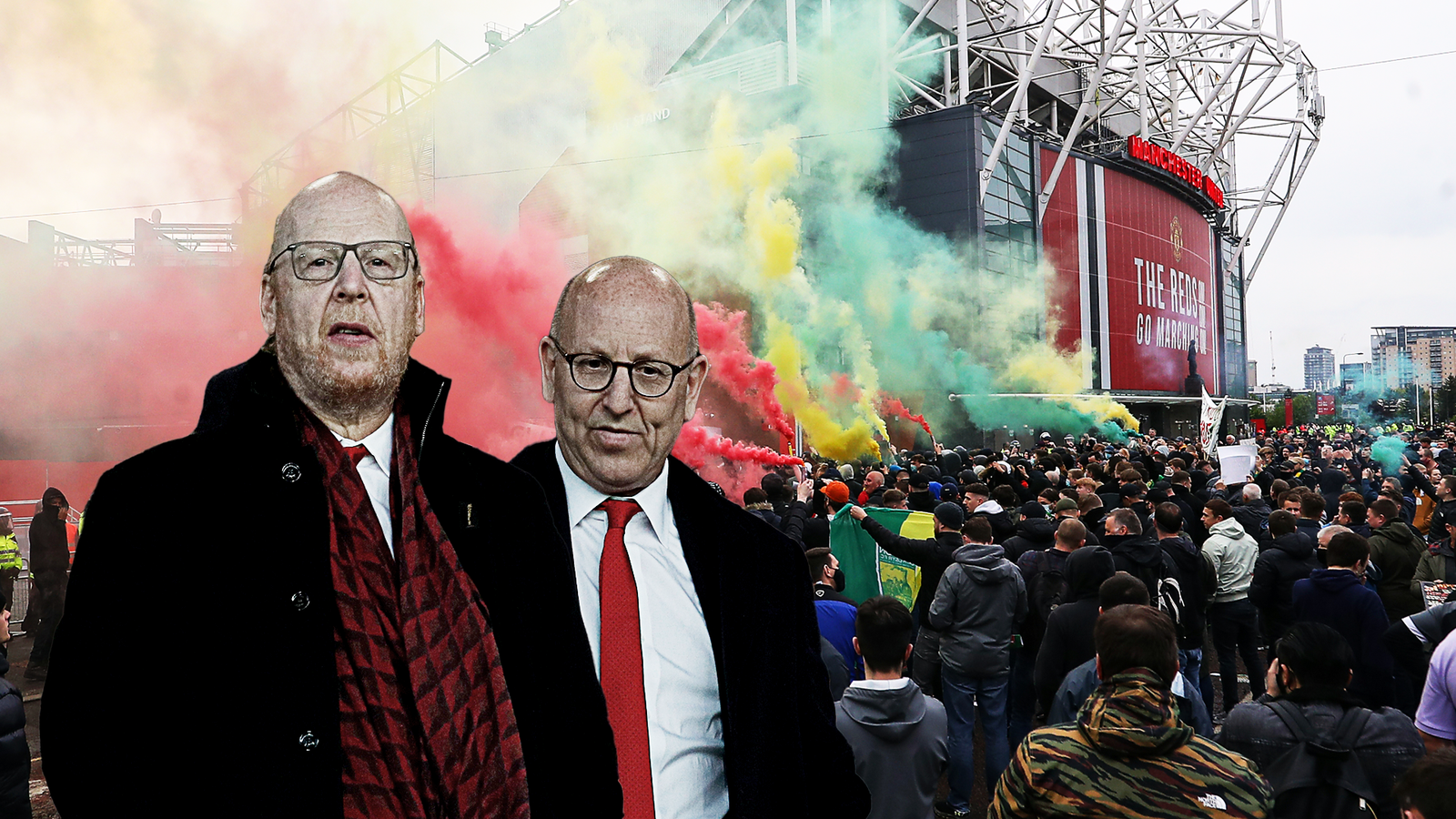 Manchester United: How 'scavenger' Glazers bought club – and left Old Trafford 'rusting' and in a 'mess'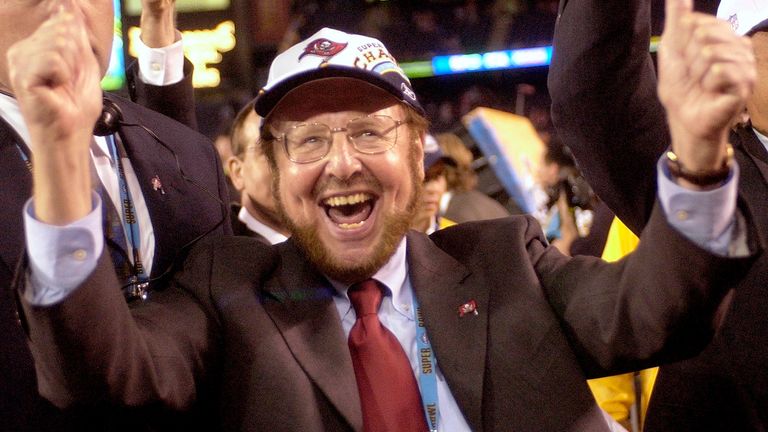 It's nearly 20 years since the American tycoon Malcolm Glazer bought his first stake in Manchester United – now his family's controversial tenure at the club could finally be coming to an end.
Chants of "Love United, hate Glazers" are regularly heard at Old Trafford and news that the owners are exploring a sale will delight many United supporters.
Here, Sky News tells the story of the Glazers' ownership of the Premier League club and explains why the family have been so unpopular with fans – even attracting criticism from one of their own star players, Cristiano Ronaldo, who left the club with immediate effect earlier today.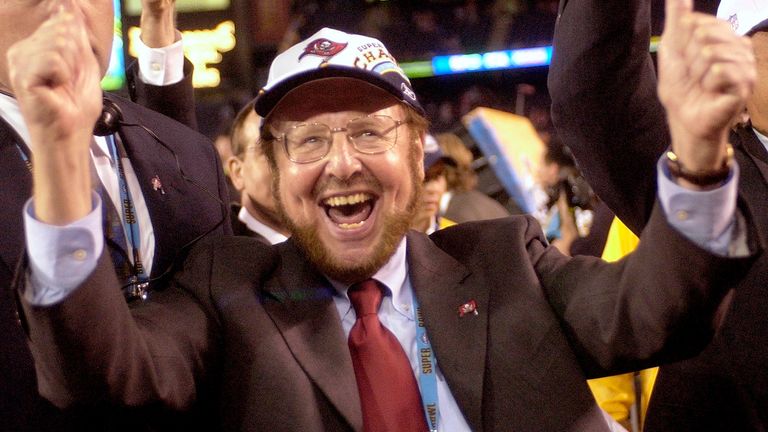 Glazers buy Man Utd – and saddle club with debt
Malcolm Glazer owned the Tampa Bay Buccaneers, an American football team that were then the Super Bowl champions, when he began his investment in United in March 2003.
At the time, United had dominated the Premier League and were one of the most successful clubs in the world, winning an array of silverware under Sir Alex Ferguson.
Glazer took full control of United in June 2005, but the deal was hugely unpopular with fans because it was financed primarily through loans secured against the club's assets.
Within a year of the leveraged buyout, Glazer had two strokes and his six children – Avram, Joel, Bryan, Kevin, Darcie and Edward – ran United, all of them sitting on the board of directors.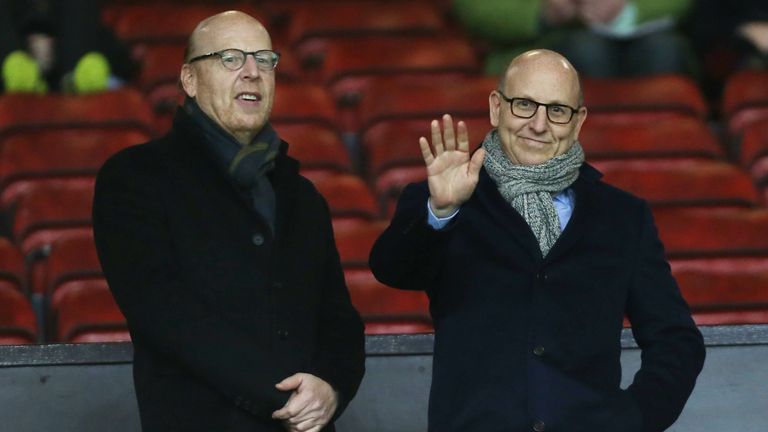 The Glazers' £790m takeover loaded United with debt that is now around £500m. The club were debt-free before the takeover.
Fans have been enraged by the more than £1bn it has cost the Glazers to service the debt, while cashing in themselves by receiving dividends from the club.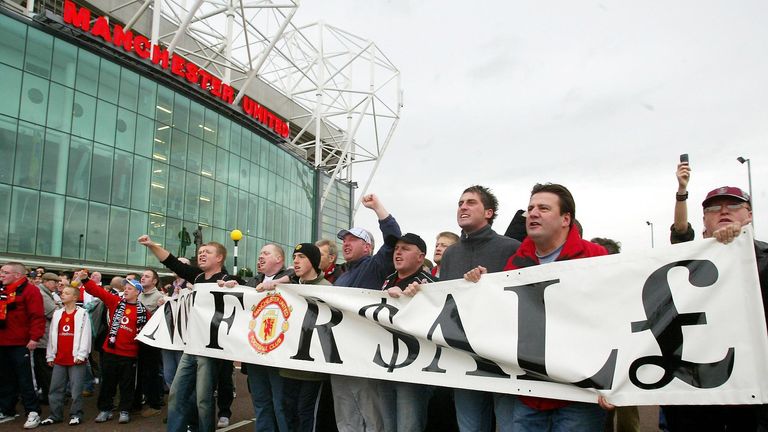 Fan protests and FC United formed
The Glazer family's first visit to Old Trafford ended in ugly and violent scenes in June 2005 as police clashed with supporters who had effectively barricaded United's new owners inside the stadium.
Joel, Avram and Bryan Glazer reportedly had to be smuggled down the players' tunnel and out of the ground in two police tactical aid vans for their own safety.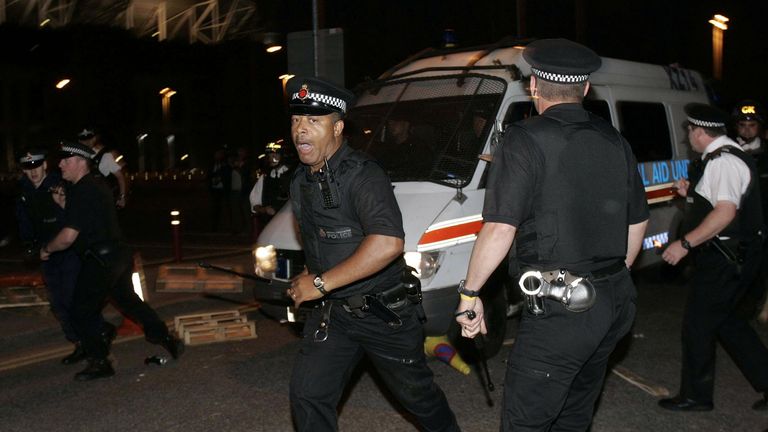 The Glazers' controversial takeover prompted a group of disaffected Man United supporters to form a new football club.
FC United began their first season in 2005-06 and now compete in the Northern Premier League Premier Division, the seventh tier of the English football league system.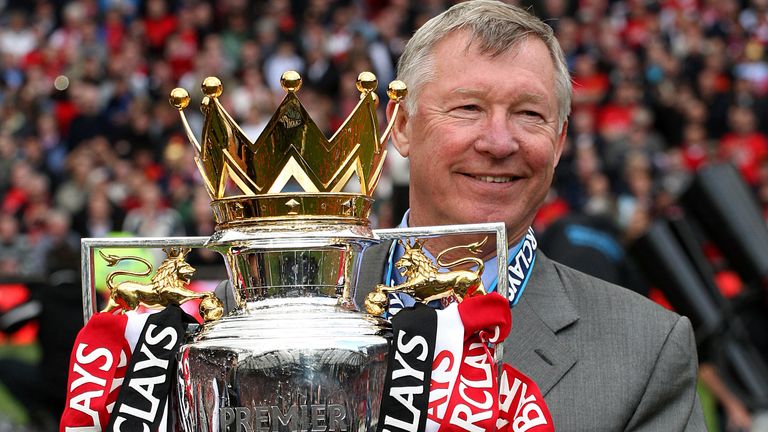 Success on the pitch
Under the continued management of Sir Alex, United initially remained successful under the Glazers' ownership, winning five Premier League titles in seven seasons between 2007 and 2013.
With star players Ronaldo and Wayne Rooney, United enjoyed a prolific three-year spell from 2007 to 2009, winning three Premier League titles, a Champions League trophy and the League Cup.
But fans' anger at the Glazers remained.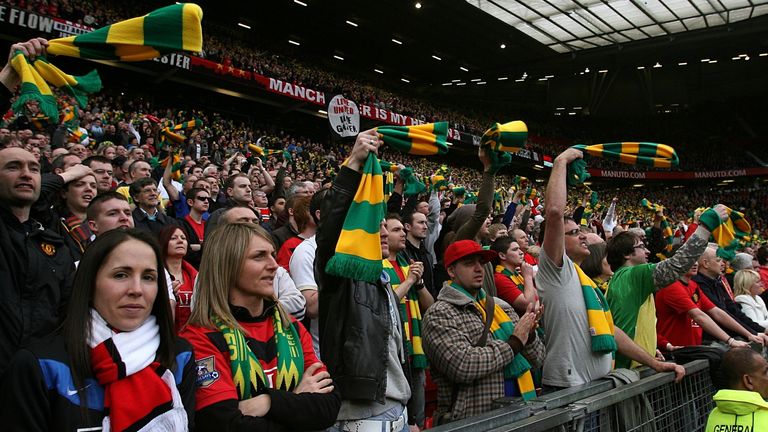 Green and gold scarf campaign
In 2010, United fans began donning yellow and green scarves to protest against the Glazers' ownership.
United are known for their famous red shirts, but the club was originally founded, in 1878, under the name Newton Heath Lancashire and Yorkshire Railway Football Club, which played in a bold yellow and green strip.
At the height of the protests, former United player David Beckham put on a green and gold scarf that was thrown on to the pitch during his return to Old Trafford with AC Milan in 2010.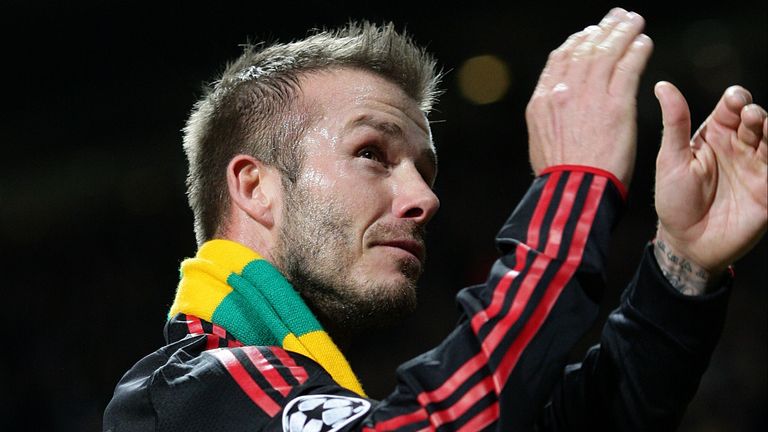 That night, Joel and Avram Glazer were inside the stadium but Beckham later distanced himself from the protest, saying the ownership of United was "not my business".
Red Knights takeover bid
A group of wealthy supporters were expected to make a bid of about £1bn for United in 2010, despite United insisting the Glazer family owners would "not entertain any offers".
The Red Knights group, which included former Football League chairman Keith Harris and Goldman Sachs chief economist Jim O'Neil, said that one of its priorities was to reduce debt levels at the club.
The proposed bid was put on hold after the group said media speculation of "inflated valuation aspirations" had hampered its plans.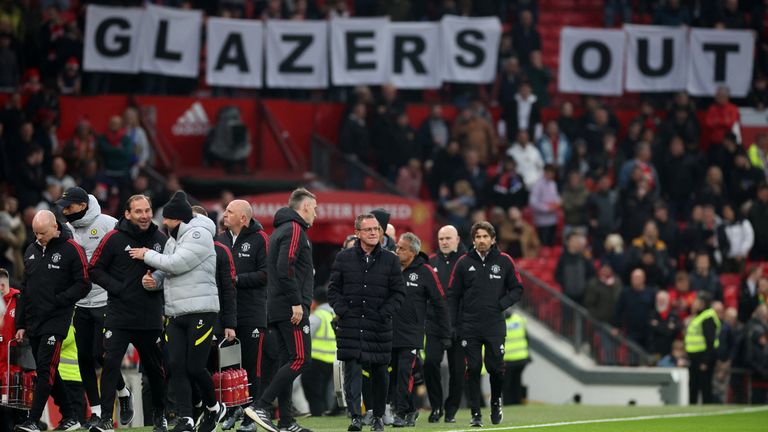 Post-Ferguson problems
Since Sir Alex called time on his illustrious managerial career nearly 10 years ago, United's form has gone downhill.
Despite appointing high-profile managers such as Jose Mourinho and Louis van Gaal, the club has failed to win the Premier League since 2013 – while spending more than £1bn on players in that time.
United have also not won a trophy since their Europa League triumph in 2017.
To make matters worse, arch rivals Manchester City and Liverpool have enjoyed huge success as they regularly compete for Premier League and Champions League titles.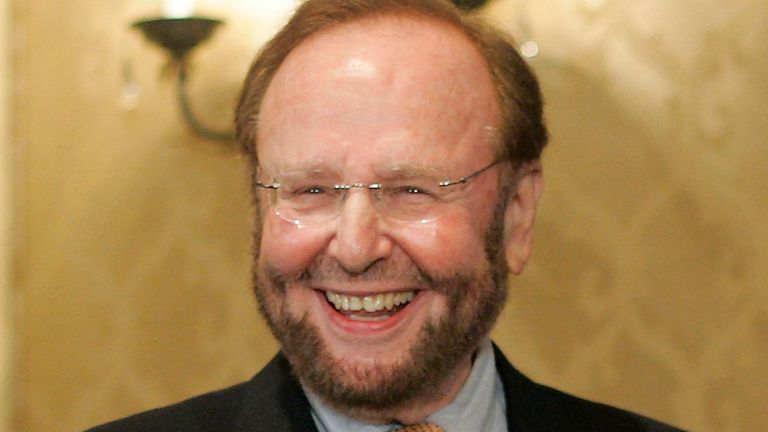 Malcolm Glazer death
Malcolm Glazer died in 2014 at the age of 85, having never visited Old Trafford during his ownership of the club.
Although he was a controversial figure in Manchester, tributes poured in from the US, where the businessman was hugely respected for turning Tampa Bay from a laughing stock into a Super Bowl-winning franchise.
After Glazer's death, NFL commissioner Roger Goodell said: "Malcolm Glazer was the guiding force behind the building of a Super Bowl-champion organisation.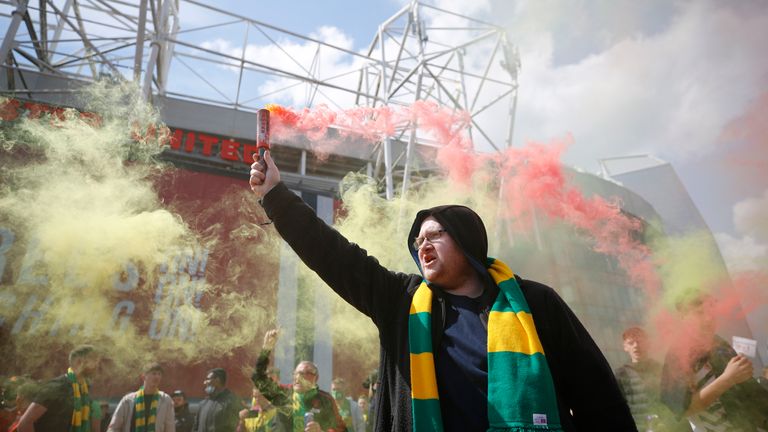 European Super League anger
The Glazers attracted more fury from United fans after taking a leading role in attempts to form a European Super League last year.
United, along with Liverpool, Manchester City, Arsenal, Chelsea and Tottenham, caused outrage with their plans to join the breakaway competition, in which the founding members would be exempt from relegation.
The six English clubs had planned to set up the league with Spanish sides Atletico Madrid, Barcelona and Real Madrid and Italy's AC Milan, Inter Milan and Juventus, in a group that some nicknamed the "dirty dozen".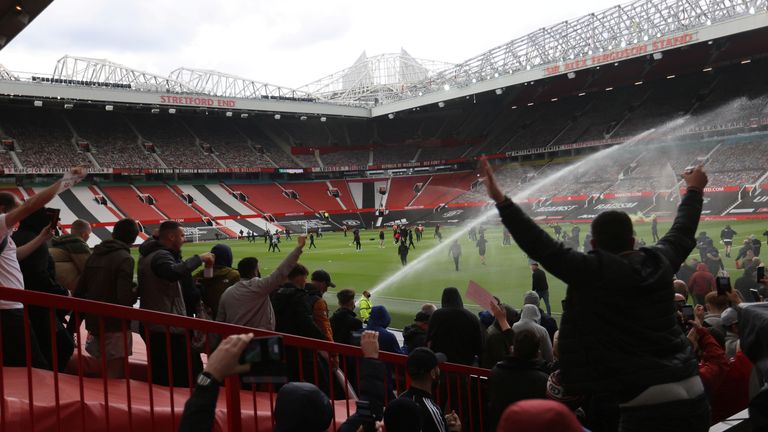 The proposal led to protests from football fans across England, with several hundred storming the Old Trafford pitch before United were due to play Liverpool, meaning the game had to be postponed.
After the clubs backed down Joel Glazer, who had been announced as a vice-chairman of the European Super League, "apologised unreservedly" to fans, saying: "We got it wrong."
His brother Avram refused to apologise after Sky News confronted him in Florida.
Sky News questions Avram Glazer over Man Utd

After the scandal, United's executive vice-chairman Ed Woodward announced he would be leaving the club, having been an unpopular figure with fans after a series of expensive signings with precious little success.
Neville brands Glazers 'scavengers'
Former Man United captain Gary Neville – who was a player at the club in 2005 when the Glazers took over – has been a vocal critic of the owners in recent months.
After the European Super League fiasco, Neville branded the Glazers "scavengers" who "need booting out of this football club and booting out of this country".
Gary Neville on the Glazers

"We have got to come together," he told Sky Sports.
"It might be too late, there'll be people at Manchester United, fans 15 years ago who will say it's too late.
"It's never too late, we have got to stop this. It is absolutely critical we do."
Neville has claimed Old Trafford is "rusting", with £1bn needed to rebuild the stadium, and the club is in a "mess".
"When a business is failing and it's not performing, it is the owners of that business [who are to blame]," Neville said after United were beaten 4-0 by Brentford this season.
"It is really simple. It is failing miserably.
"They took about £24m out of the club two months ago and they have now got a decrepit, rotting stadium, which is second-rate when it used to be the best in the world 15-20 years ago.
"You have got a football project where they haven't got a clue."
Neville said there has been a "toxic culture and atmosphere created at the club over a 10-year period" after the departures of Sir Alex and former United chief executive David Gill.
"It is a mess and it cannot carry on," he added.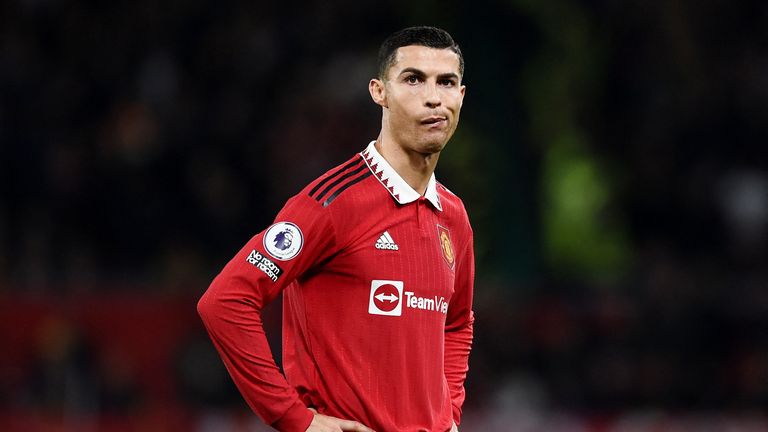 Ronaldo criticism
The latest high-profile criticism of the Glazers came from one of Manchester United's very own star players.
Ronaldo launched a blistering attack on the club's owners during an interview with Talk TV host Piers Morgan.
The Portugal star, who returned to United last year after 12 years away, claimed the Glazers "don't care about the club" and said it was a "marketing club".
"They will get money from the marketing – the sport, it's, they don't really care, in my opinion," he said.
Ronaldo also claimed United had not progressed as a club since the departure of Sir Alex in 2013.
Ronaldo defends explosive interview

"Nothing changed. Surprisingly," he said.
"Not only the pool, the jacuzzi, even the gym… Even some points, the technology, the kitchen, the chefs, which is, I appreciate, lovely persons.
"They stopped in a time, which surprised me a lot. I thought I will see different things… different, as I mentioned before, technology, infrastructure.
"But, unfortunately, we see many things that I used to see when I was 20, 21, 23. So, it surprised me a lot."
Since the interview last week, the club's lawyers had reportedly been looking at ways to bring Ronaldo's time at the club to an end and on Tuesday it was announced that he was leaving "by mutual agreement, with immediate effect".
Talk of sale and interest from Britain's richest man
Bloomberg reported in August that the Glazer family were considering selling a minority stake in United and preliminary discussions had been held about bringing in a new investor.
It also emerged that one of Britain's richest men, Sir Jim Ratcliffe, a boyhood United fan and a proven investor in sport through his Ineos company, had expressed an interest in buying the club.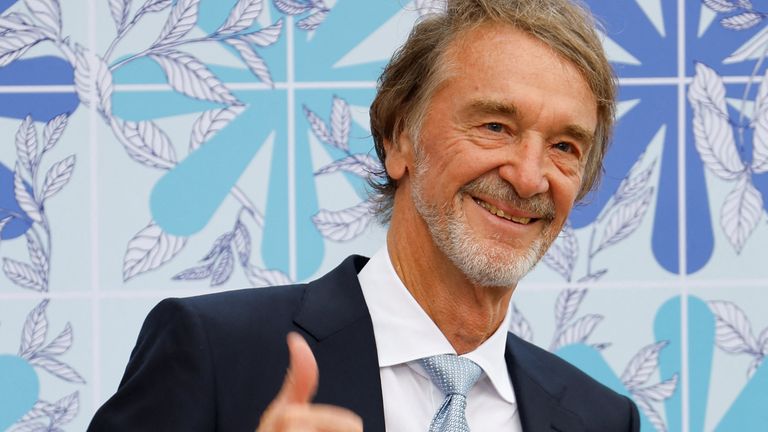 In October, he revealed he had met the Glazer family and was told they were not interested in selling Manchester United.
"I met Joel and Avram, and they are the nicest people," Sir Jim said.
"They are proper gentlemen, and they don't want to sell it. It is owned by the six children of the father and they don't want to sell."
Woman sets challenge to give Christmas gifts that don't cost a penny – and here are her top tips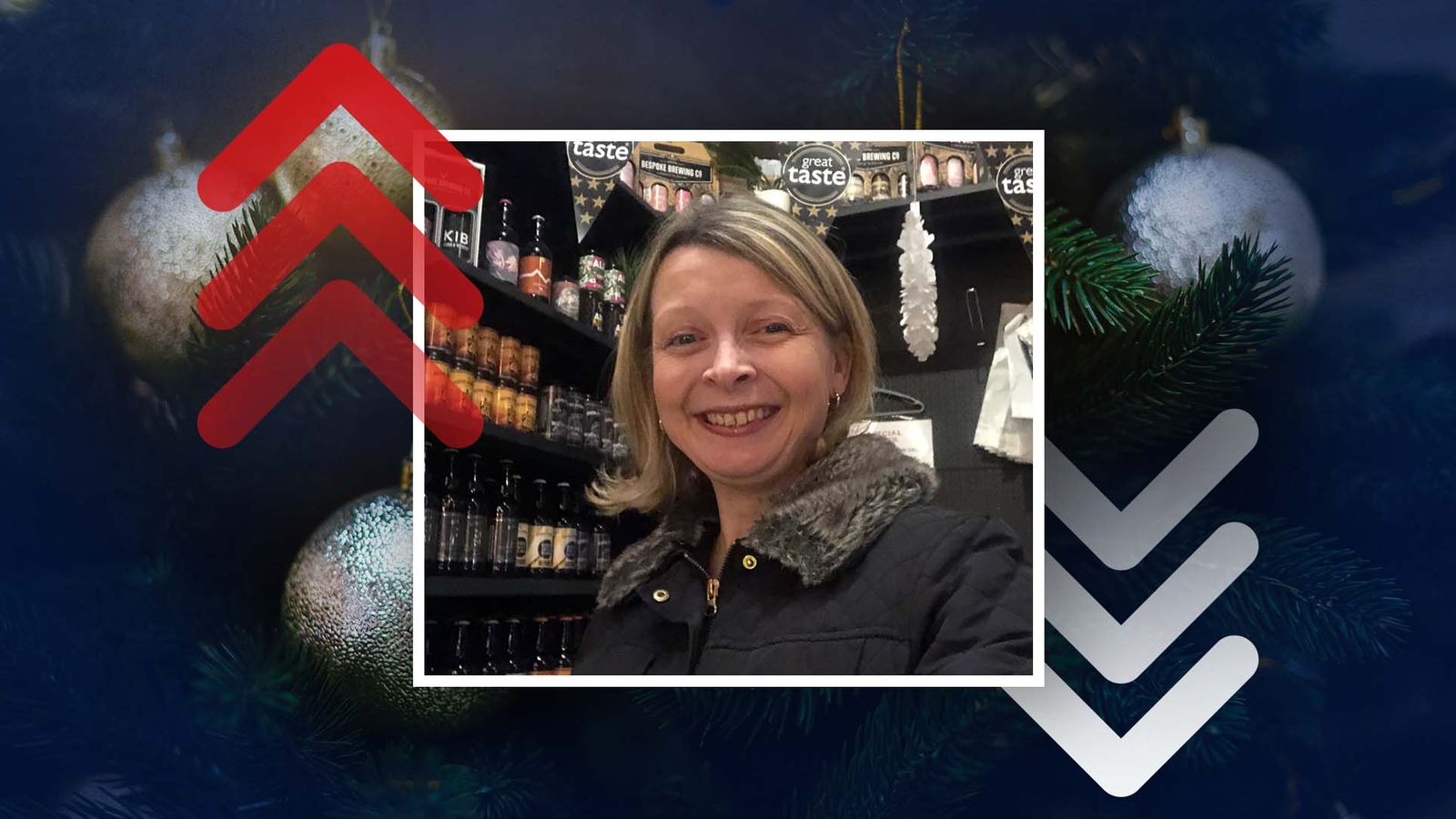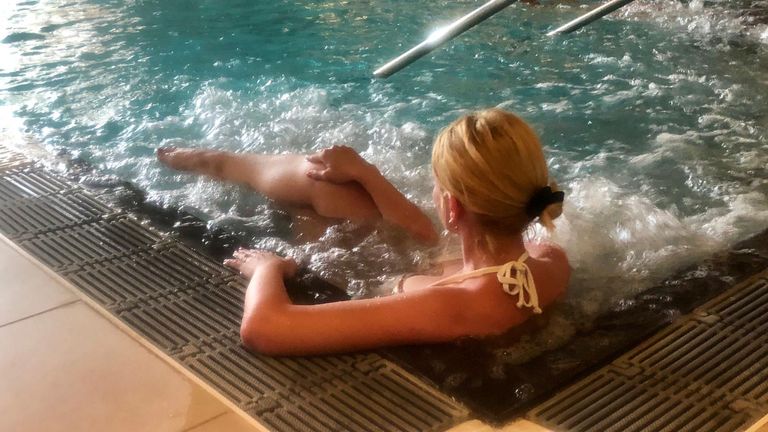 This year, Jane Hawkes has set herself a challenge – a totally free Christmas.
Not content with just getting a good Black Friday deal, the consumer champion, blogger and competition aficionado will be giving gifts this year that haven't cost her a penny.
"Why pay for Christmas when you can win it?" she said.
From Minecraft toys to mini Gucci perfumes, there are a whole host of freebies on offer for those willing to look.
"I could end up with a draw full of tat, or I could end up with a draw full of lovely little goodies I can distribute over Christmas," she told Sky News.
Websites, such as SuperLucky.me and The Latest Free Stuff do regular round-ups of available competitions, with most only taking a few clicks to enter. Setting up Google autofill makes the process even quicker. (As always, be careful who you give your details to – never give anyone your bank details, or send money online, regardless of what the deal says.)
Jane, who blogs about her experiences on Lady Janey, spends about an hour a day online looking for freebies and suggests setting up a secondary email if you don't want to overload your inbox with spam.
Free champagne, brewery tours, chocolates and flowers are just some of the items she has won in the past.
This Christmas she has already won a free Smeg kettle, £30 in Amazon vouchers, perfume samples and a beer gift set that she plans to give away.
Her latest trick is answering surveys about TV shows and radio she has listened to in exchange for entering prize draws.
Her advice to those hoping to follow in her footsteps was to make a list (and check it twice), so you can be sure you are only entering competitions for relevant prizes.
"You want to make sure you are using your time effectively, just like you would use your funds effectively," she said.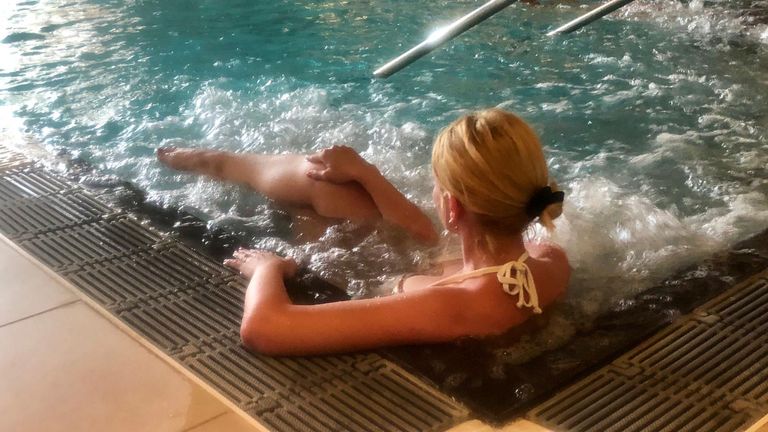 Another way to help with the cost this Christmas, she said, was to skill share with friends. She did some work on a friend's website, and in exchange, the friend gave her some fudge and brownie bombs her small business makes.
She also advises consumers to be picky this year – if something's not up to scratch, then politely complain, even if it is something as small as a button missing from a shirt.
"I have exacting standards and I am very honest," she said. "I think we l live in a world of mediocrity when it comes to customer service and we need to assert our rights a bit more."
This tactic scored her three spa days in Rome and two hampers of wine, chocolates, biscuits and posh popcorn – so perhaps it is advice worth heeding.
Family of Yusuf Mahmud Nazir, 5, who died after he was sent home from hospital not satisfied with investigation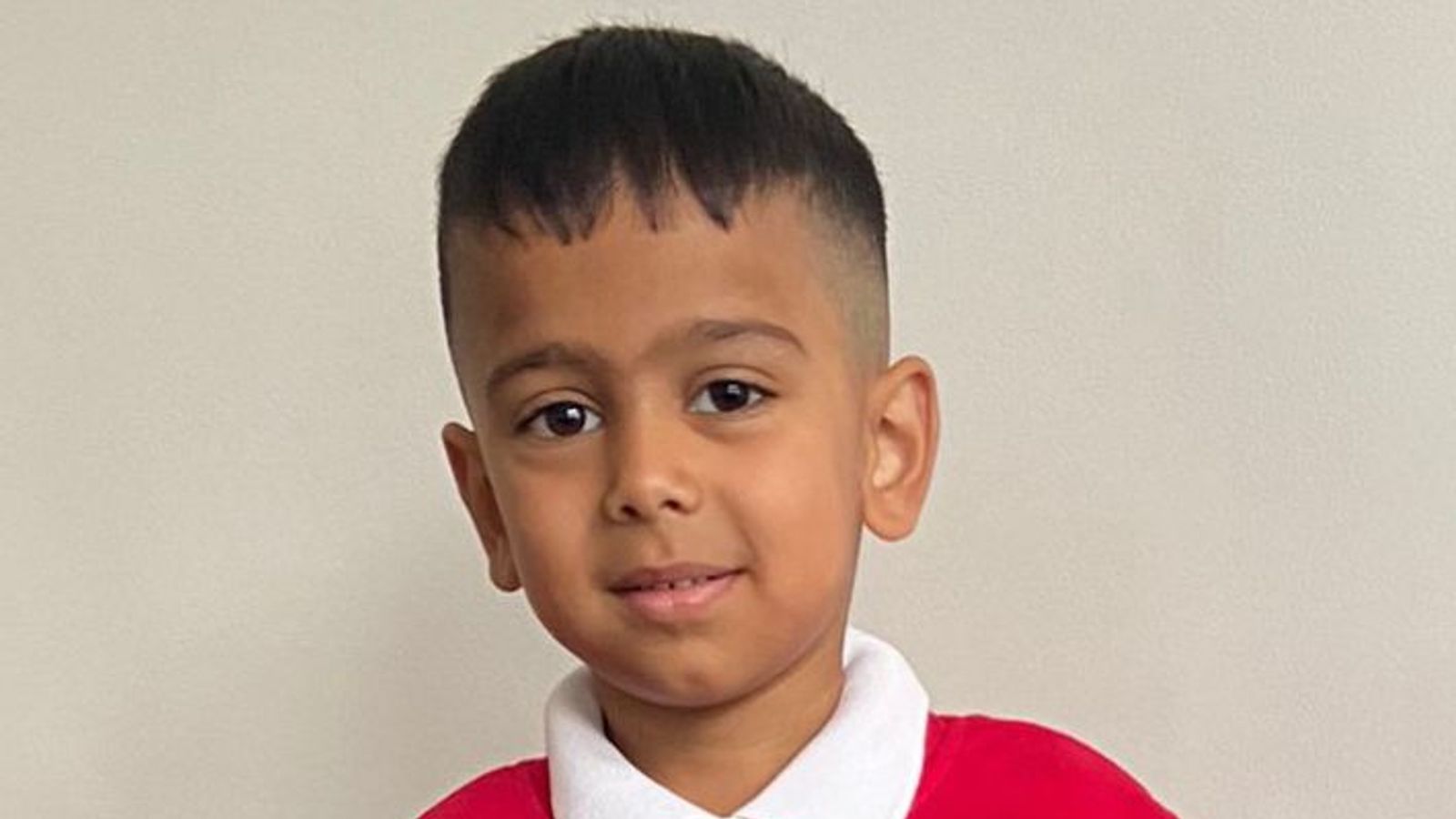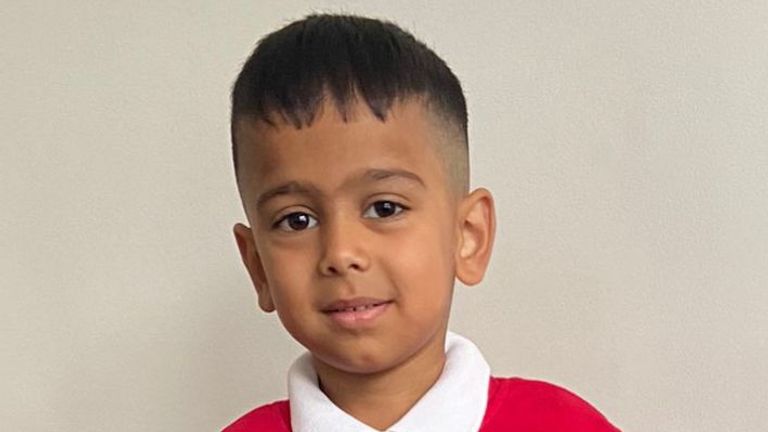 The grieving family of a five-year-old boy who died after being sent home from a hospital have said they are not satisfied with an investigation which will look into how he was treated.
Hospital bosses in South Yorkshire have said the inquiry will be led by independent investigators outside of the region but the family wants it to be "completely external" from the NHS.
Zaheer Ahmed, the uncle of Yusuf Mahmud Nazir, told Sky News he wants a "full independent investigation out of the NHS".
Mr Ahmed said the health service "want to do an external investigation by someone from the NHS outside of the district". He added: "We are still in the talks and we are requesting that it is completely external."
Mr Ahmed previously told Sky News that Yusuf would still be alive if the family had been listened to.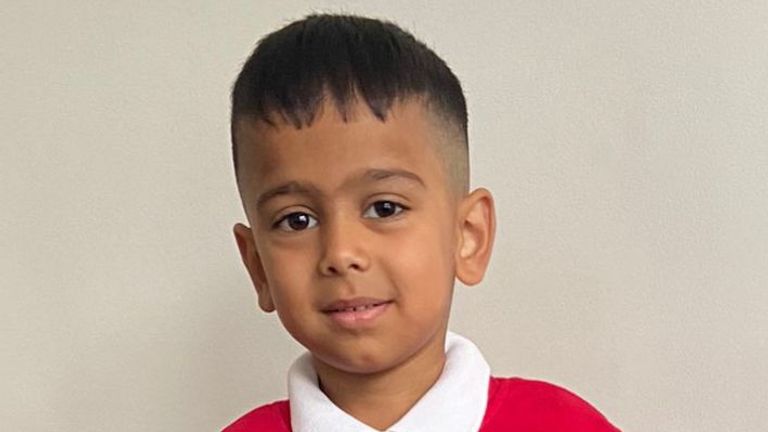 He said he "begged and begged" for his nephew to be admitted to Rotherham General Hospital due to a throat infection but was told "there are no beds and not enough doctors".
After the boy was examined there on Monday 14 November, he was sent home, even though the doctor treating his nephew said "it was the worst case of tonsillitis he had ever seen", according to Mr Ahmed.
At home, his condition deteriorated and he was later taken by ambulance to Sheffield Children's Hospital but it was too late to save the young boy's life.
The infection had spread to his lungs and caused multiple organ failure resulting in several cardiac arrests, and he died of pneumonia on Monday 21 November.
Hospital boss apologises
The chief executive of the Rotherham hospital, Dr Richard Jenkins, has now met Mr Ahmed and has apologised to him and the family.
Mr Ahmed said: "To me, it's an acknowledgment that 'we (the NHS) know we've made a mistake… and we're working on it very hard to rectify that mistake'.
"But that mistake should not have happened. It's cost the life of Yusuf."
Mr Ahmed said more was needed.
"We want action to be done, the apology aside, we want answers, why has it cost Yusuf's life, who's responsible for it, what's going to get done, what's been done?"
Mr Ahmed said he had been told by NHS officials that since Yusuf's death, the hospital has brought in another paediatric doctor to work in the A&E department and has cut waiting times for children there.
He said that on the evening when Yusuf was examined, there were 93 children in A&E and only one doctor to see them.
'We want the truth'
Mr Ahmed said: "We want the hospital to reveal the truth to everybody. We want answers, for them to make changes and put stuff in place, so no other family suffers, no other child suffers, no other human suffers."
Dr Jenkins said in a letter to the family's MP Sarah Champion that he has spoken to Yusuf's uncle to "directly express my condolences and to apologise to the family".
Dr Jenkins wrote: "We have all been devastated to hear the family's account of their experience of care and the ultimate death of Yusuf in Sheffield.
"It is vital that a thorough and independently conducted investigation takes place as soon as possible so the family can have answers to their concerns and we can identify where changes need to be made.
"Clearly assessment of clinical care and decisions requires the right expertise, so I am liaising with regional NHS England colleagues to identify appropriate independent investigators from outside South Yorkshire."
In the letter, Dr Jenkins also explained the investigation "will involve the family in this so we can be sure that all their concerns will be fully addressed".
Yusuf first complained of a sore throat on 13 November. His parents took him to their GP, who prescribed antibiotics.
The next day, when their son's health did not improve, they drove him to the emergency department of Rotherham General Hospital.
Dr Jenkins said the investigation aims to cover the "whole pathway of Yusuf's care, including both attendances with his GP, the Rotherham hospital attendance at the urgent and emergency care centre and subsequent contact from the family, the Yorkshire Ambulance Service and Sheffield Children's Hospital".
Stevie Nicks leads tributes after bandmate Christine McVie dies aged 79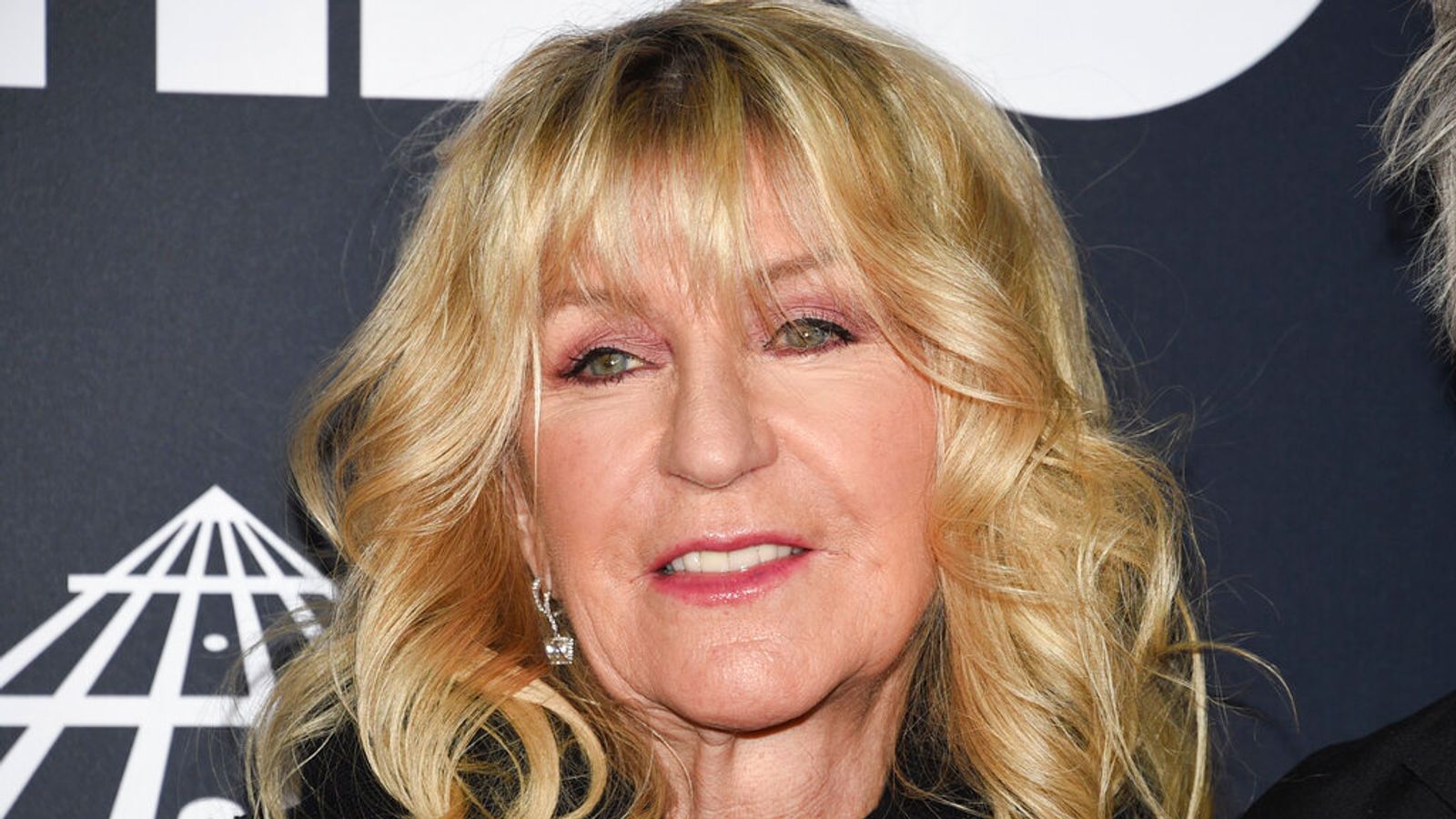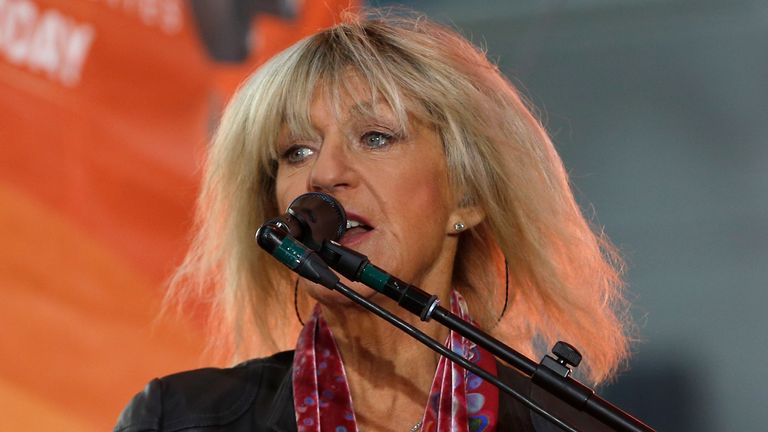 Fleetwood Mac's Stevie Nicks has led tributes to bandmate Christine McVie, who has has died aged 79, saying she had wanted to sing to her one last time.
The British-American rock band, founded in London in 1967, sold more than 100 million records worldwide, making them one of the most successful groups ever.
In a post on Facebook, McVie's family wrote: "It is with a heavy heart we are informing you of Christine's death.
"She passed away peacefully at hospital this morning, Wednesday, November 30th 2022, following a short illness. She was in the company of her family."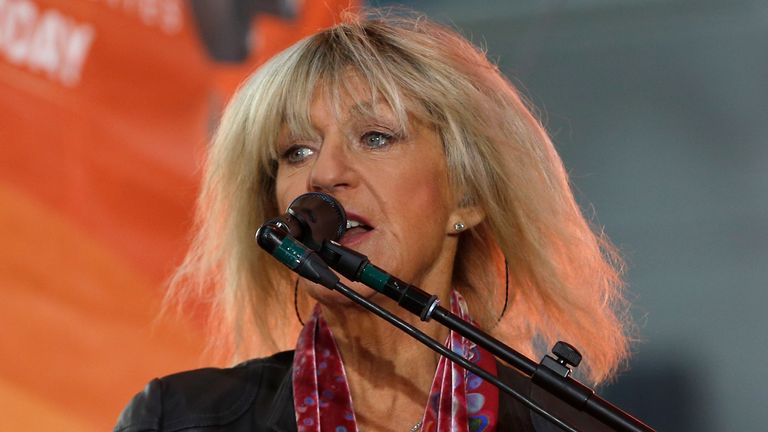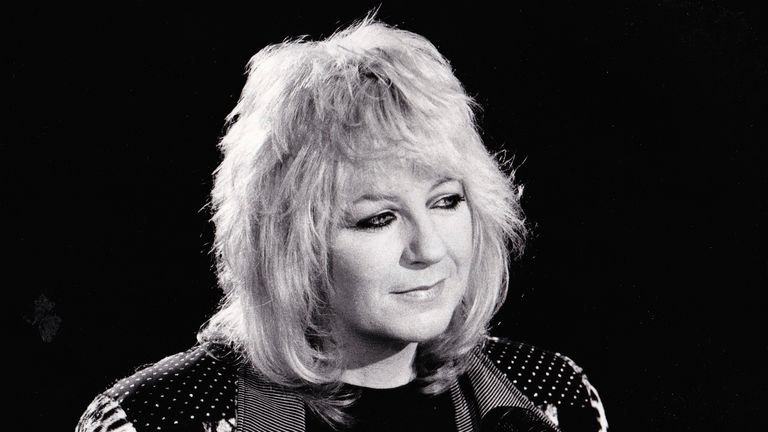 The statement continued by asking for the family's privacy to be respected at "this extremely painful time" and for everyone to remember the "revered musician who was loved universally".
Bandmate Stevie Nicks paid tribute, tweeting a heartfelt handwritten note: "A few hours ago I was told that my best friend in the whole world since the first day of 1975, had passed away.
"I didn't even know she was ill… until late Saturday night.
"I wanted to be in London; I wanted to get to London – but we were told to wait. So, since Saturday, one song has been swirling around in my head, over and over and over.
"I thought I might possibly get to sing it to her, and so, I'm singing to her now. I always knew I would need these words one day."
She then wrote the lyrics to Hallelujah by Haim, a song about the death of a friend.
One of the best selling albums of all time
Among Fleetwood Mac's best-known songs are Dreams, Go Your Own Way and Everywhere.
Singer-songwriter and keyboardist McVie penned Songbird, one of the band's most famous tracks, as well as Oh Daddy, Little Lies and Don't Stop.
She was sole writer of four of the tracks on their best selling album Rumours, which was released in 1977 and went on to become one of the most successful albums of all time – selling more than 40 million copies worldwide.
She also co-wrote the album's The Chain, which had a second life as the theme to the Formula One BBC TV coverage from the late 1970s, on and off until the 2015.
Many of the songs on Rumours documented the break up of McVie and her husband John McVie – along with the split of fellow singer/songwriters Stevie Nicks and Lindsey Buckingham, adding to the album's notoriety.
The singles released from Rumours didn't chart very high in the UK at the time, but it has gone on to be regarded as one of the best long players ever, featuring in numerous lists of top albums.
McVie was among the eight members of the band who were inducted into the Rock & Roll Hall of Fame in 1998, and she left the band a short time later following the death of her father.
She had a successful solo career and reunited with her bandmates in 2013 after a 15-year hiatus.
In 2017, she revealed that she had retreated from the world and developed agoraphobia after leaving Fleetwood Mac and moving from California to Kent.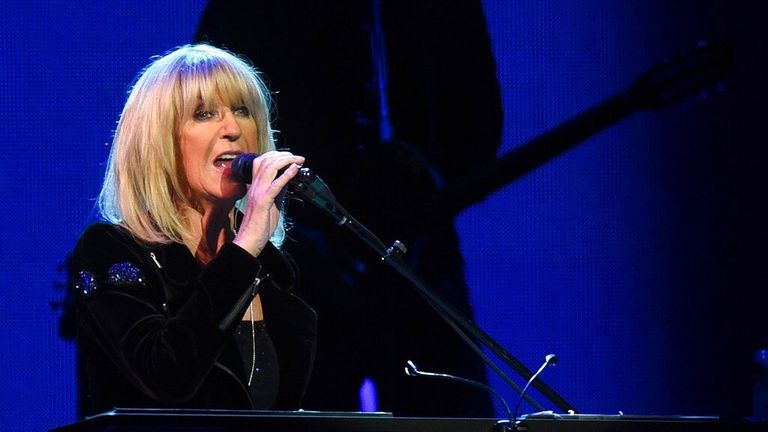 'The best musician anyone could have'
A message on the band's Twitter page read: "There are no words to describe our sadness at the passing of Christine McVie. She was truly one-of-a-kind, special and talented beyond measure.
"She was the best musician anyone could have in their band and the best friend anyone could have in their life.
"We were so lucky to have a life with her. Individually and together, we cherished Christine deeply and are thankful for the amazing memories we have."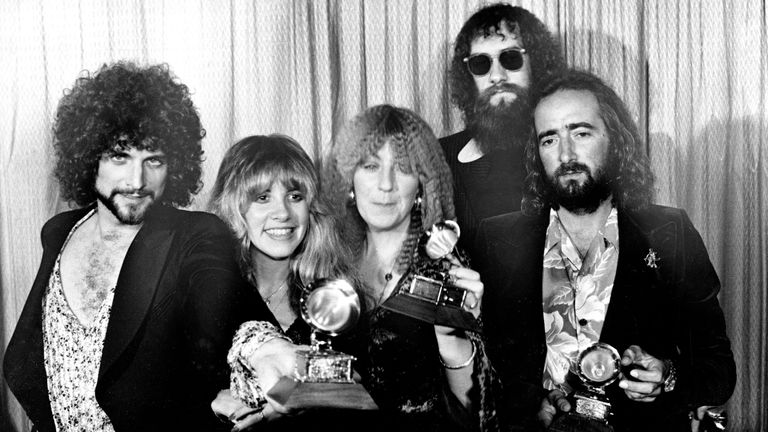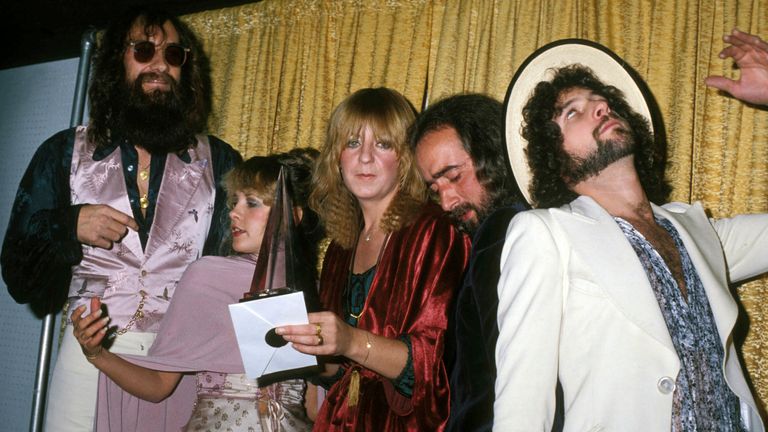 Many others in the music world also paid tribute to her, with Sheryl Crow saying: "So sad to hear of Christine McVie going on to heaven. The world feels weird without her here. What a legend and an icon and an amazing human being."
Bette Midler added on Twitter: "#ChristineMcVie has left us. What memories, what joy, and what a legacy…"
Duran Duran said: "So so sad to hear about Christine McVie an artist I held dear and close to my heart. One of the greatest all time songwriters, singers, and band members, she radiated both purity and sass in equal measure, bringing light to the music of the 70s."
Harry Styles posted a black and white picture of the singer/songwriter on his Instagram stories, with a black loveheart emoji and a white dove emoji.
Born Christine Perfect in Bouth, Lancashire, McVie played piano in her childhood, but set aside her classical training once she heard early rock'n'roll numbers by Fats Domino and others.
She had moderate success with a band called Chicken Shack and as a solo artist before her marriage to John McVie, after which she joined Fleetwood Mac in 1970.
McVie's death comes two years after Fleetwood Mac co-founder Peter Green died at the age of 73.