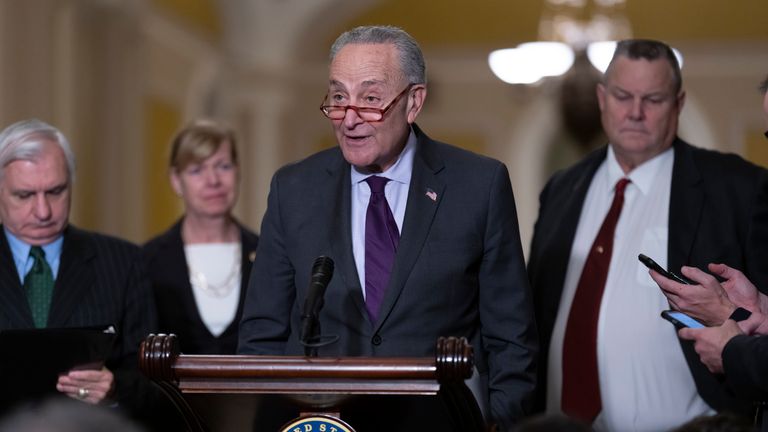 Landmark legislation to protect same-sex marriages has passed the US Senate in a significant show of bipartisan co-operation.
The bill, which ensures same-sex and interracial marriages are enshrined in federal law, was approved 61-36 on Tuesday, including support from 12 Republicans.
The bill's passage is a sign of shifting politics on same-sex marriages and will provide a measure of relief for the hundreds of thousands of couples who have married since the Supreme Court's 2015 decision that legalised gay marriage nationwide.
The bill has gained momentum since the Supreme Court's decision in June that overturned the federal right to an abortion – a ruling that included a concurring opinion from Justice Clarence Thomas that suggested same-sex marriage could also come under threat.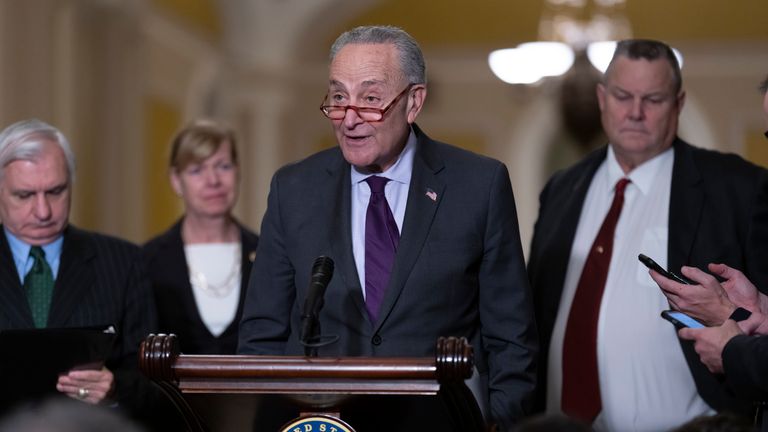 President Joe Biden praised the bipartisan vote and said he will sign the bill "promptly and proudly" if it is passed by the House of Representatives, which the Republicans won back in the midterm elections earlier this month.
He said the bill will ensure that LGBTQ youth "will grow up knowing that they, too, can lead full, happy lives and build families of their own".
Senate majority leader Chuck Schumer said the legislation was "a long time coming" and part of America's "difficult but inexorable march towards greater equality".
The legislation will not force any state to allow same-sex couples to marry.
However it will require states to recognize all marriages that were legal where they were performed, and protect current same-sex unions, if the Supreme Court's 2015 Obergefell v. Hodges decision were to be overturned.
Republicans voting for the legislation included: Thom Tillis and Richard Burr of North Carolina, Susan Collins of Maine, Rob Portman from Ohio, Todd Young of Indiana, Shelley Moore Capito of West Virginia, Mitt Romney of Utah, Joni Ernst of Iowa, Roy Blunt of Missouri, Cynthia Lummis of Wyoming and Lisa Murkowski and Dan Sullivan of Alaska.
Tyre Nichols: Last words of US man who died after police 'beating' were 'mum, mum, mum', says lawyer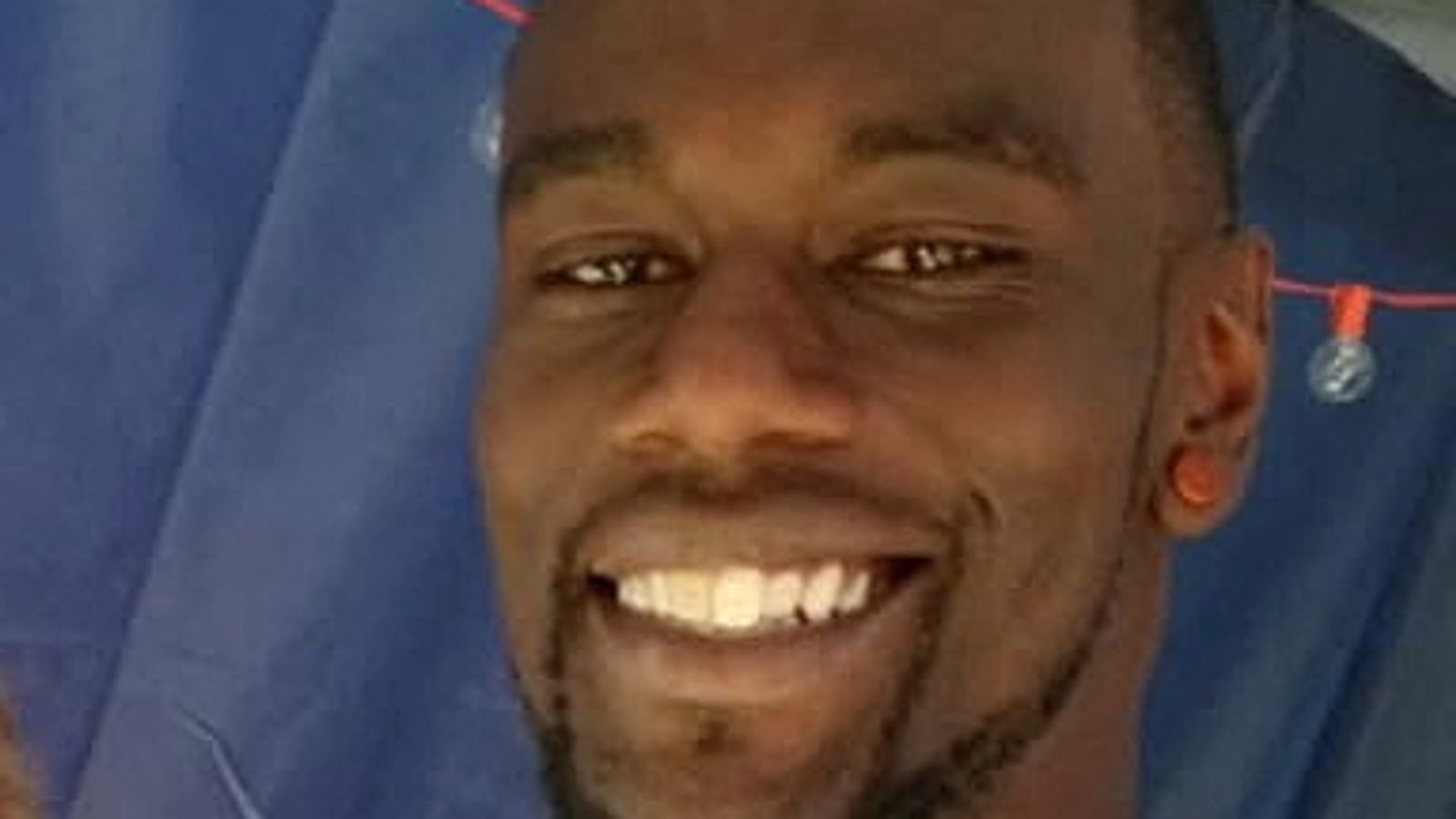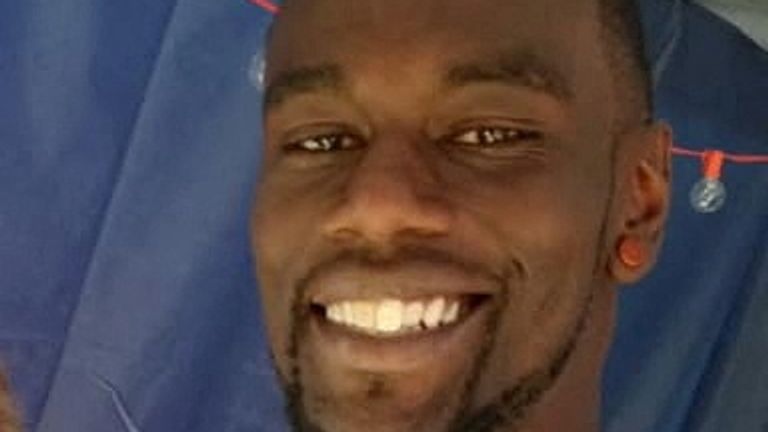 The final words of a US motorist who died after he was allegedly beaten by five police officers were "mum, mum, mum", according to a lawyer.
Tyre Nichols, 29, passed away in hospital three days after the confrontation following a traffic stop in the city of Memphis, Tennessee, on 7 January.
Bodycam footage of the altercation is expected to be released later on Friday evening.
His family said the "very horrific" video showed officers savagely beating the FedEx worker for three minutes in an assault their lawyers likened to the Los Angeles police attack on motorist Rodney King in 1991.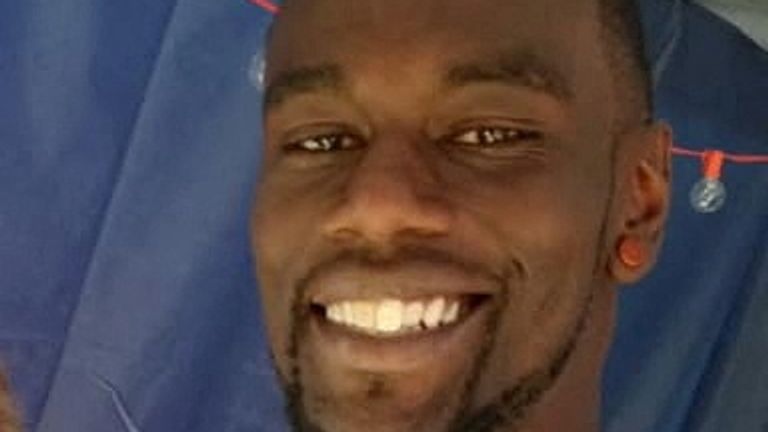 Five sacked officers, who are all black, have been charged with second-degree murder and other crimes, including assault, kidnapping, official misconduct and official oppression, over Mr Nichols's death.
Civil rights lawyer Ben Crump, who is representing his family, said when the public watches the footage they will see him calling out for his mother.
He said: "When you all see this video, you're going to see Tyre Nichols calling out for his mum.
"He calls out three times for his mother. His last words on this earth are, 'mum, mum, mum'. He's screaming for her. When you think about that kidnapping charge, he said 'I just want to go home'."
"It's a traffic stop for God's sake. A simple traffic stop."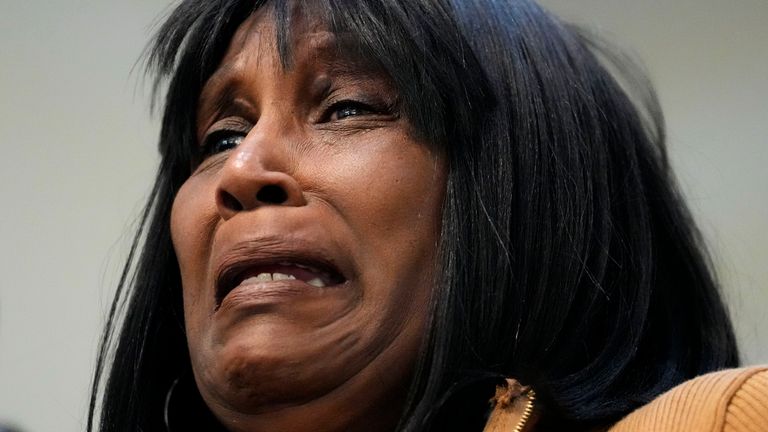 Mr Nichols's mother, RowVaughn Wells, told reporters: "For a mother to know their child was calling them in their need and I wasn't there for him. Do you know how I feel right now? Because I wasn't there for my son."
Ms Wells recalled she had "a really bad pain in my stomach" and once she found out what happened she realised "that was my son's pain that I was feeling".
"For me to find out my son was calling my name, you have no clue how I feel right now," she added, struggling to hold back tears.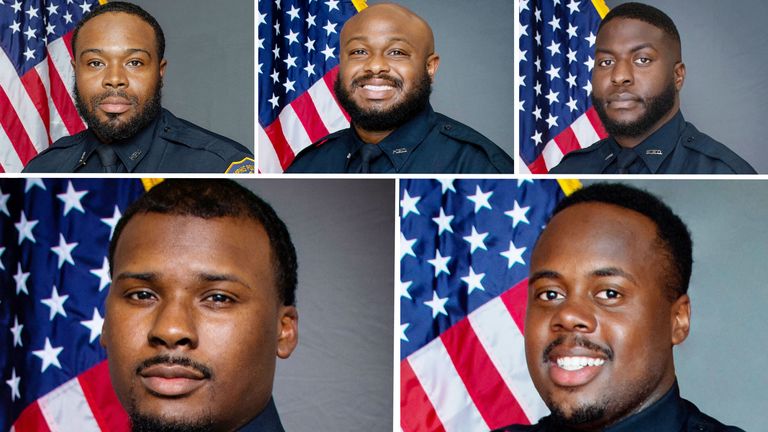 She also said she had not yet seen the video but urged anyone with children not to let them watch it.
"I have never seen the video but what I have heard is very horrific."
She added the charged officers had "disgraced their families".
"I want to say to the five police officers who murdered my son, you also disgraced your own families when you did this.
"But I am going to pray for you and your families. Because this shouldn't have happened. We want justice for my son."
She has pleaded for peaceful protests.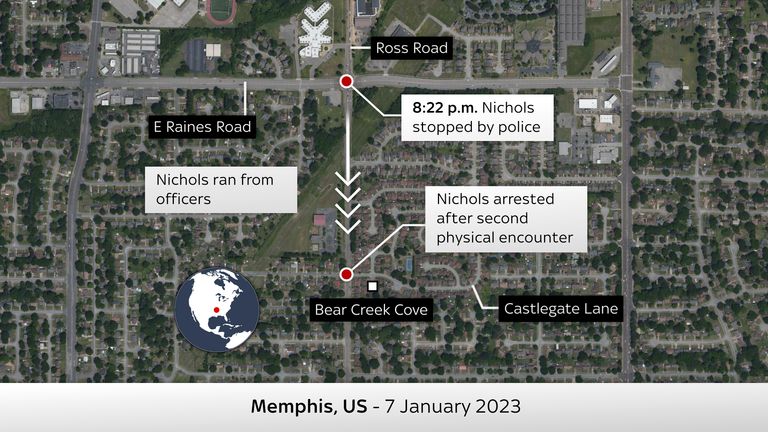 Police pulled Mr Nichols over for alleged reckless driving before there was an "altercation" where officers used pepper spray on him, according to Shelby County district attorney Steve Mulroy.
Mr Nichols then tried to flee on foot and another altercation followed, he added.
His family say the officers beat him and the injuries he sustained during the encounter led to his death.
Relatives accuse police of causing him to have a heart attack and kidney failure. Authorities have only said he experienced a medical emergency.
The officers were assigned to the 'scorpion' unit which focuses on violent street crime. The family's lawyers want it to be disbanded.
Memphis police chief Cerelyn Davis has said the department will review scorpion and other specialised units.
President Joe Biden said the Nichols family and the city of Memphis deserve "a swift, full and transparent investigation".
"Public trust is the foundation of public safety, and there are still too many places in America today where the bonds of trust are frayed or broken," he added.
Moment of hammer attack on Paul Pelosi shown in new police bodycam video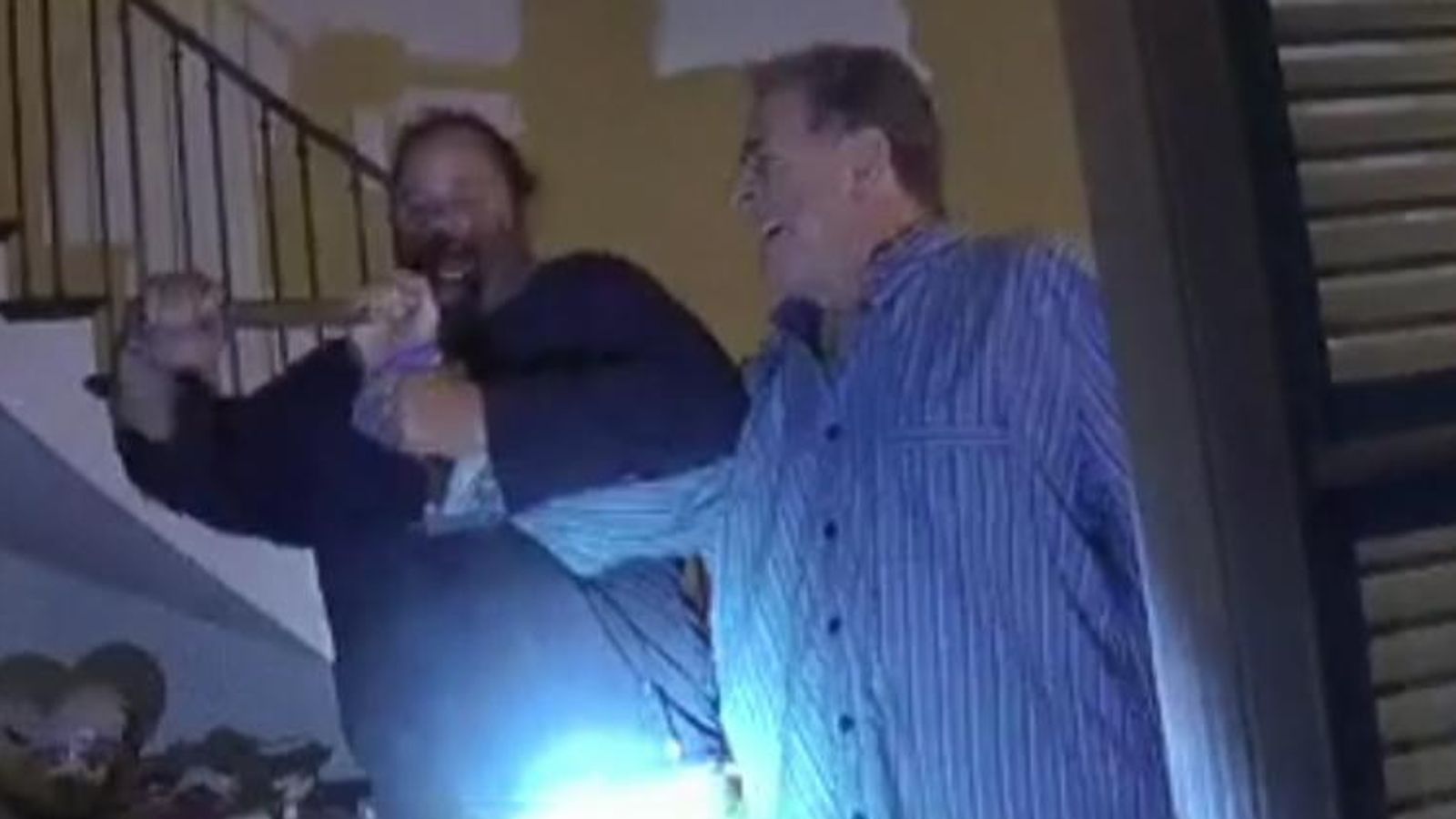 Police bodycam video has been released showing the moment a man attacked Nancy Pelosi's husband with a hammer in his San Francisco home.
Officers knock repeatedly on the front door – when it opens Mr Pelosi is holding the head of the hammer while the intruder is gripping the handle and trying to prise the 82-year-old's hand away.
Mr Pelosi refuses to let go, before the suspect suddenly seizes control and lunges at him with the weapon.
It's at this point Sky News has decided to stop the footage.
Police rush in, jump on the attacker and push him face down on the ground as Mr Pelosi lies motionless next to him.
The 28 October attack knocked Mr Pelosi unconscious and he had surgery to repair a skull fracture and serious injuries to his arm and hands.
Former US House speaker Nancy Pelosi, one of the most senior politicians in the US, was David DePape's intended target but was in Washington at the time.
She said on Friday that she wasn't going to watch the video.
"I have not heard the 911 call. I have not heard the confession. I have not seen the break-in. And I have absolutely no intention of seeing the deadly assault on my husband," she said.
Mrs Pelosi said her husband was "making progress" but it will "take more time".
The video is part of evidence newly released after journalists challenged a decision to keep it out of public view.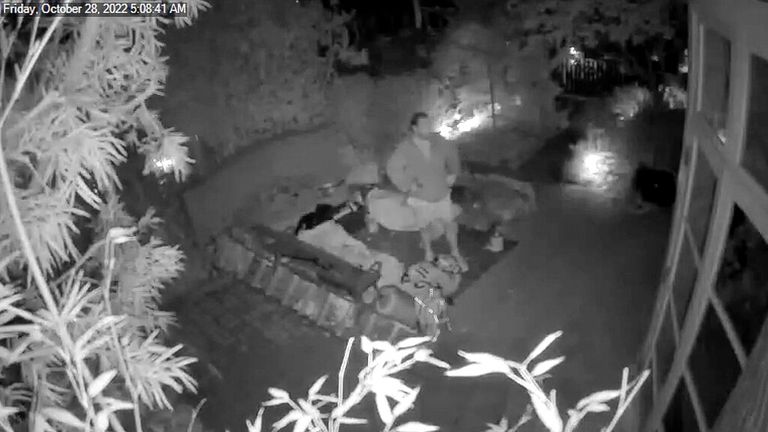 It also includes some of Mr Pelosi's 911 call, images from police surveillance cameras and video from DePape's police interview.
The surveillance video shows the suspect using a hammer to smash the glass of a door to get into the house.
DePape, 42, denies all the charges against him. They include attempted kidnapping, attempted murder, elder abuse and burglary.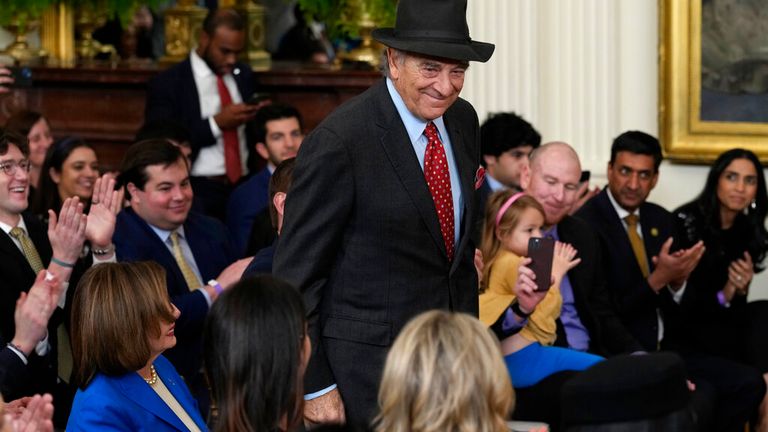 Police said he told them there was "evil in Washington" and that he planned to hold Mrs Pelosi hostage for allegedly lying to the public.
He also believed the discredited theory that the US election was stolen from Donald Trump.
Court documents also reveal he told officers he was on a "suicide mission" while in interviews DePape named Tom Hanks as among other targets.
Immigration officials identified him as a Canadian citizen who was in the US illegally after entering as a visitor.
Daniel Harris: British teenage extremist whose videos were linked to two mass murders in US jailed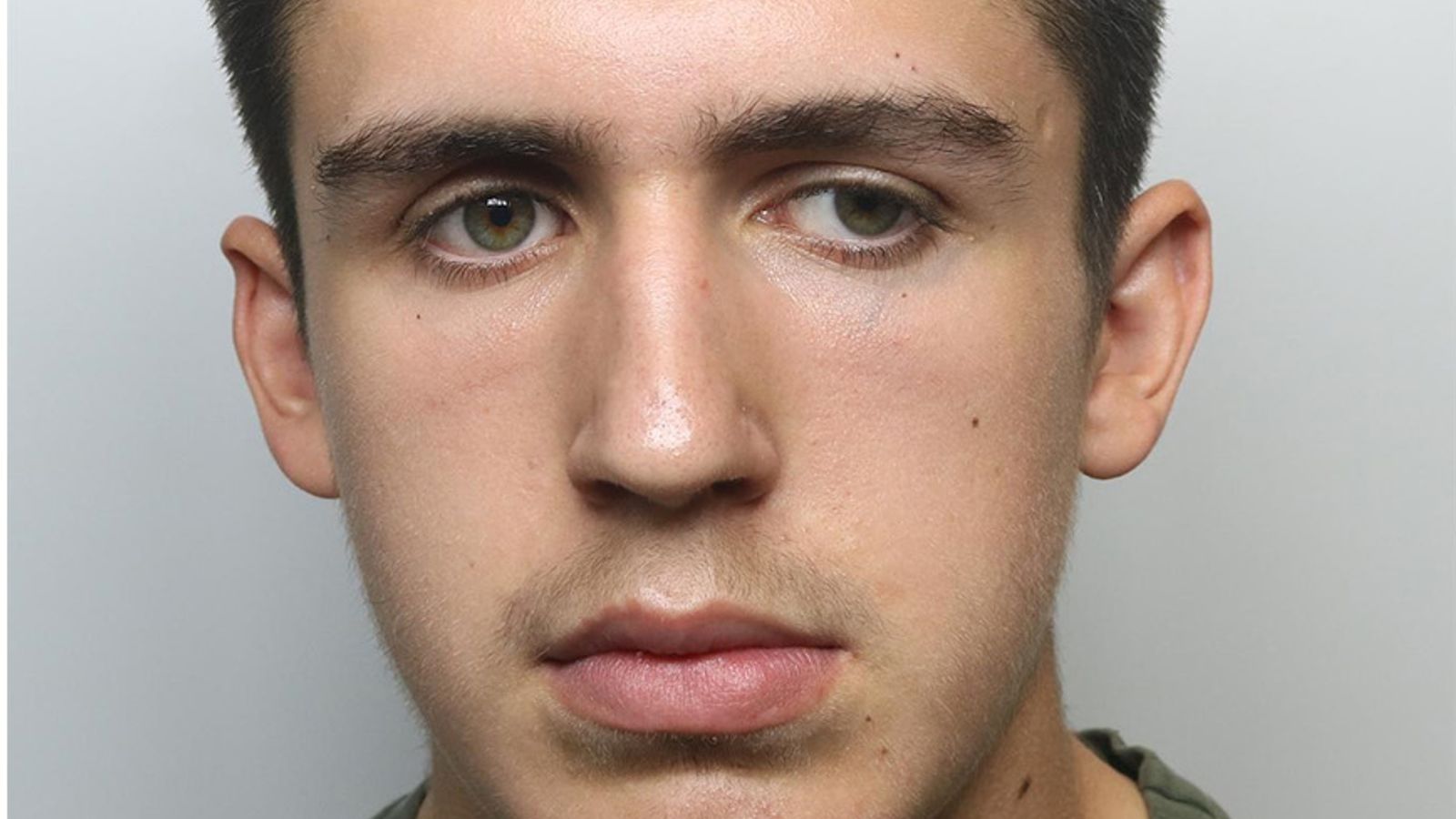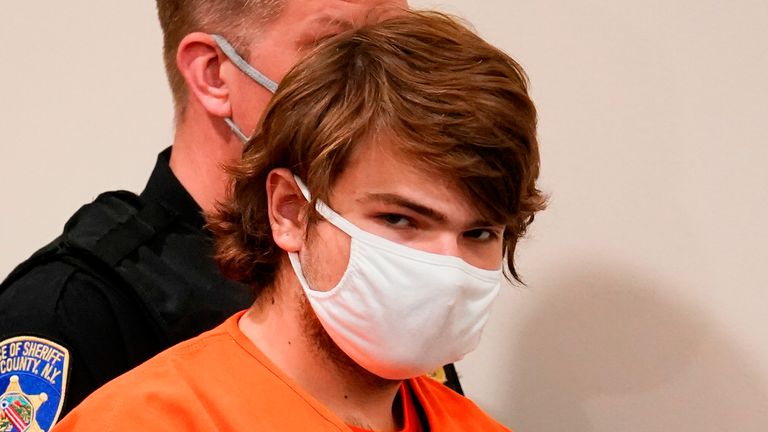 A British teenage extremist has been jailed after his far-right videos were linked to two mass murders in the US.
Daniel Harris used an online platform called World Truth Videos to disseminate a "call to arms" for his violent racist beliefs, a court heard.
The 19-year-old from Glossop in Derbyshire was convicted of five counts of encouraging terrorism and one of possessing a 3D printer for the purposes of terrorism after a trial at Manchester Crown Court.
He was sentenced to 11-and-a-half years in jail, and a further 3 years on licence.
Prosecutors said US mass killer Payton Gendron was "encouraged and, in part, motivated to do what he did" by Harris.
Gendron murdered 10 black people in a mass shooting in Buffalo, New York, in May 2022 while livestreaming the attack. Within hours, Harris produced a video celebrating the killing spree.
Gendron, 19, had left a comment on one of Harris's videos two months before the mass shooting, saying: "You are not alone my friend :)".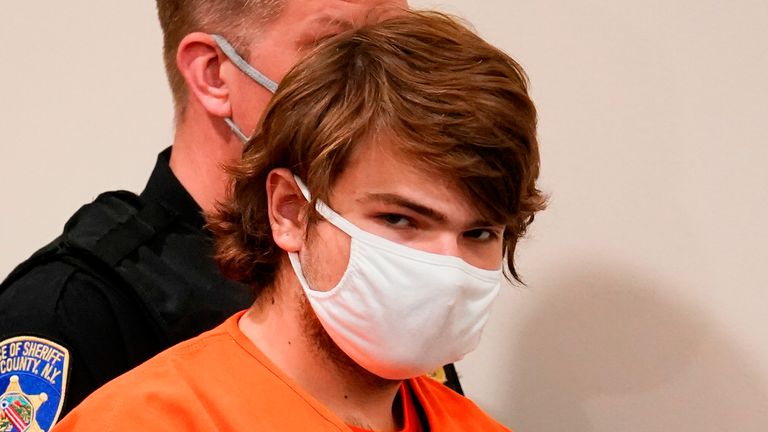 The video included lessons to be learned from Brenton Tarrant, who livestreamed an attack in which he killed 51 people at mosques in New Zealand in March 2019.
Gendron had also taken an image from another of Harris's videos and used it as the main image on his "manifesto".
Prosecutor Joe Allman said Gendron was "inspired" by Harris's material.
The British teenager also influenced Anderson Lee Aldrich, the only suspect in a shooting at a gay bar in Colorado, the court was told.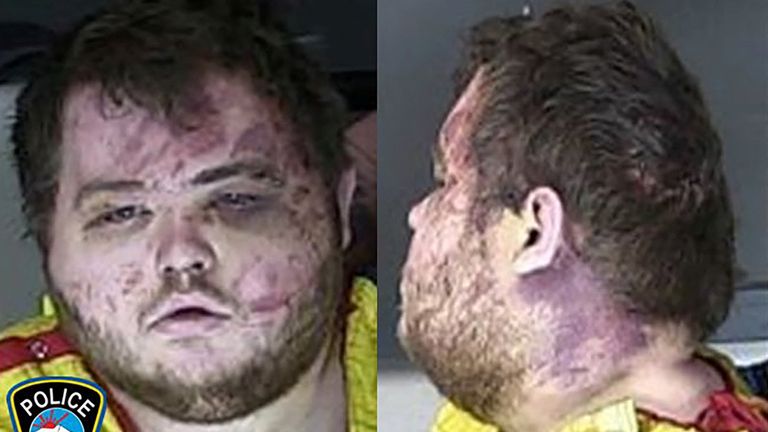 Aldrich, 22, allegedly killed five people during an indiscriminate firearms attack in Colorado Springs, in November last year – while Harris was on trial in the UK.
Aldrich – who is yet to enter pleas over the Colorado shooting – "accessed material" produced by Harris, Mr Allman said.
The prosecutor told the court one of Harris's videos was posted on the "brother site" to a website with links to what appeared to be a livestream of Aldrich preparing to carry out the attacks.
Mr Allman said: "The Crown say it demonstrates that individuals of the greatest concern have accessed the material produced by Mr Harris."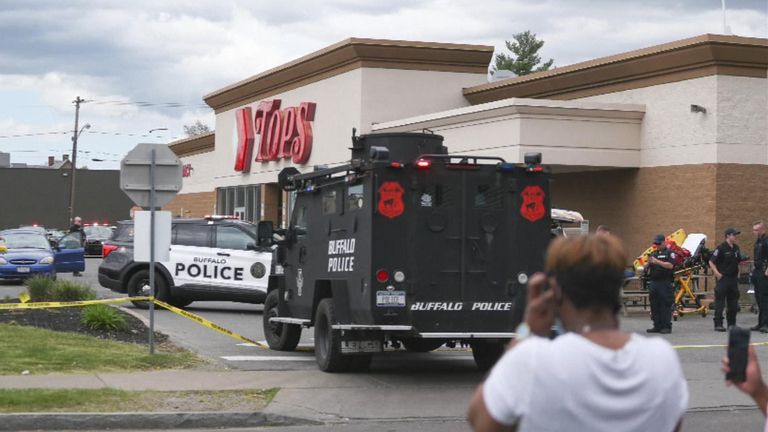 Read more:
What is 'great replacement theory' in Buffalo killer's manifesto?
Buffalo shooting 'fuelled by diet of hate'
Harris was described in court as an "influential online propagandist for a violent and deeply racist ideology".
His videos glorified mass killings and were "tantamount to a call to arms to those who shared, or who could be persuaded to share Mr Harris's world view," Mr Allman said.
Under the pseudonym "BookAnon", Harris's videos "encouraged and gave instructions for carrying out acts of terror against those deemed not to be part of the white European race," the court heard.
One video showed how to make an assault rifle using a 3D printer and when police raided Harris's grandfather's house, they found that he had begun making the parts himself.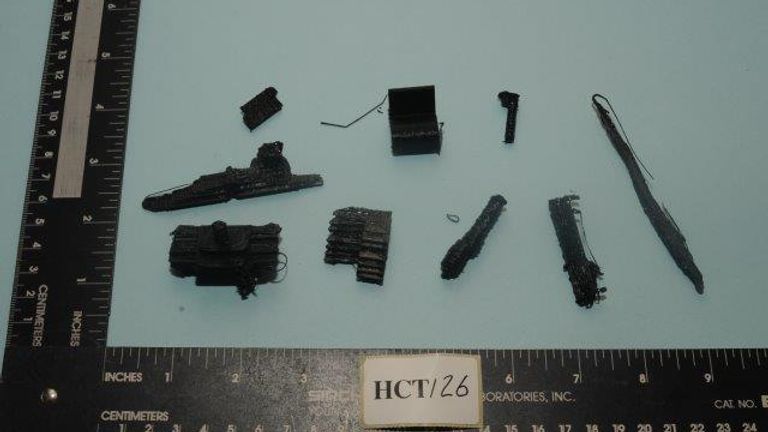 'Toxic rhetoric with untold influence'
After the teenager's conviction, Detective Inspector Chris Brett said attempts were initially made to engage with Harris through the Prevent programme, which aims to stop people becoming terrorists.
"It soon became clear he was pretending to be deradicalised whilst encouraging terrorism online," Mr Brett added.
"The threat he caused meant we had to act in order to ensure the safety of the wider public."
Mr Brett said Harris "clearly demonstrated a disdain for law enforcement and public order, as well as an admiration for those who had committed atrocities in terrorist attacks overseas".
"By posting these videos online, Harris' toxic rhetoric could have had untold influence on countless people across the world – such actions will not be tolerated," the senior officer said.
He added that officers made "the rather chilling discovery of attempts to make component parts of a firearm printed from his 3D printer" during a search, which "showed a clear intent to create a deadly weapon".