Buyers are increasingly struggling to afford homes despite prices falling faster, according to a closely watched report.
Average prices fell by 1.4% last month, up from a 0.9% drop the month before, Nationwide Building Society found.
The mortgage lender said it was the biggest monthly drop since June 2020.
It took the annual pace of price growth to 4.4% from 7.2% and the average cost of a home to £263,788.
The findings build on wider evidence of a marked slowdown, partly linked to rising flexible mortgage rates after successive rises to Bank rate by the Bank of England since December last year to tackle soaring inflation.
Nationwide said it was clear that wider mortgage conditions were yet to recover from the financial market meltdown that followed the Truss government's mini-budget growth plan in September, which hammered confidence in the UK's public finances.
Lenders withdrew offers and temporarily halted deals as the value of the pound hit a record low and borrowing costs surged.
Fixed term rates have taken time to ease back towards pre-growth plan levels, damaging affordability.
It has been exacerbated by the wider cost of living crisis, with pay growth lagging far behind the pace of price increases in the economy.
Property website Zoopla reported this week that homes had been typically selling for 3% below their asking price in recent weeks and warned that figure was likely to deteriorate further next year.
Robert Gardner, Nationwide's chief economist, said: "While financial market conditions have stabilised, interest rates for new mortgages remain elevated and the market has lost a significant degree of momentum."
Click to subscribe to The Ian King Business Podcast wherever you get your podcasts
He added: "Housing affordability for potential buyers and home movers has become much more stretched at a time when household finances are already under pressure from high inflation.
"The market looks set to remain subdued in the coming quarters. Inflation is set to remain high for some time and Bank rate is likely to rise further as the Bank of England seeks to ensure demand in the economy slows to relieve domestic price pressures."
Government homes in on £5bn cladding settlement with housebuilders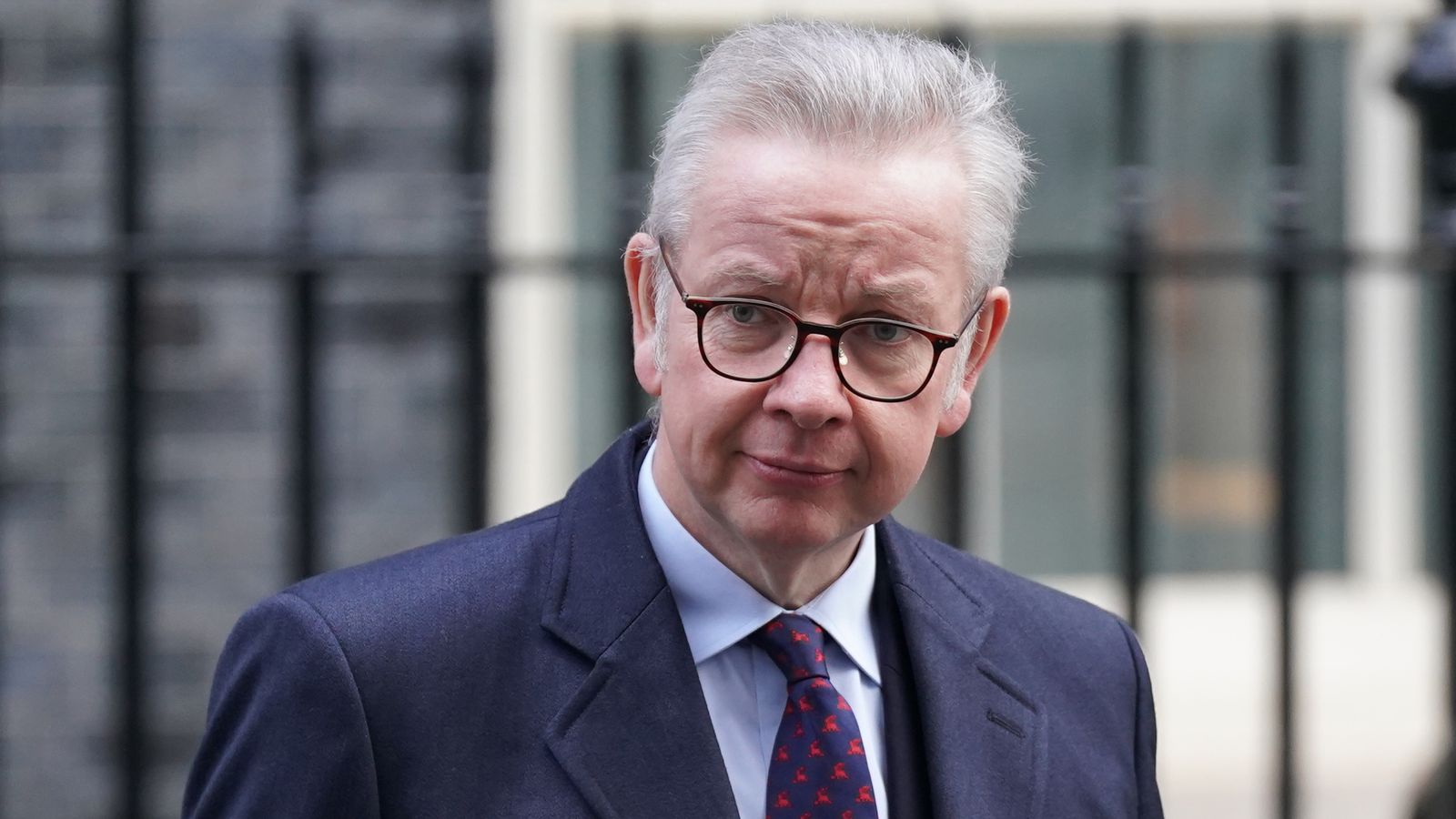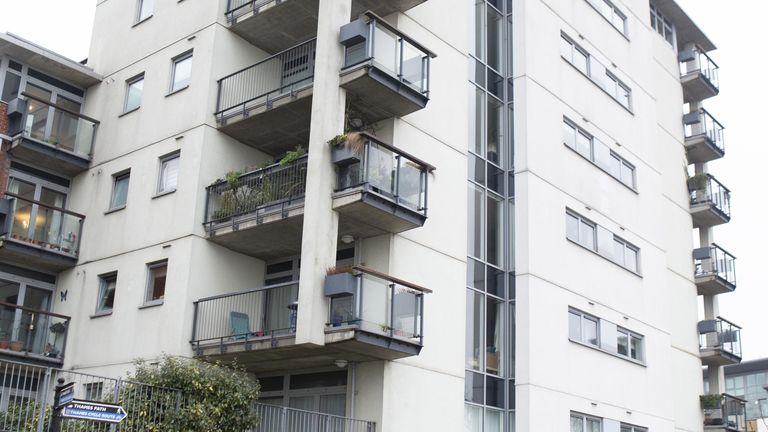 Michael Gove, the levelling up secretary, is closing in on a multibillion pound deal with Britain's biggest housebuilders to help resolve the national cladding crisis exposed by the 2017 Grenfell Tower disaster.
Sky News has learnt that major companies including Barratt Developments and Persimmon are preparing for the imminent signing of a legally binding contract with the government that could ultimately cost the industry £5bn or more.
One executive said they expected the final contract to be signed and unveiled as soon as next week, although they cautioned that the timing remained fluid.
Last year, dozens of developers signed a pledge to fix buildings constructed since the early 1990s, with revisions to the deal with government in recent weeks having focused on the scope of companies' exposure.
The City watchdog is thought to have been involved in discussions with the industry about whether signing the contract would require the approval of shareholders in listed companies such as Barratt, Persimmon and Taylor Wimpey.
Sources have estimated the cost of the new Residential Property Developers Tax at up to £3bn and the bill for self-remediation at around £2bn.
A further tax on the industry could raise £3bn, industry executives have concluded, leading some companies and investors to warn that the sector risks seeing a flight of capital.
Earlier this month, the Department for Levelling Up, Housing and Communities said it was "finalising the legally binding contracts that developers will sign to fix their unsafe buildings, and expect them to do so very soon.
"We will not accept any backsliding on their commitments.
"It is building owners' legal responsibility to make sure that all buildings are safe."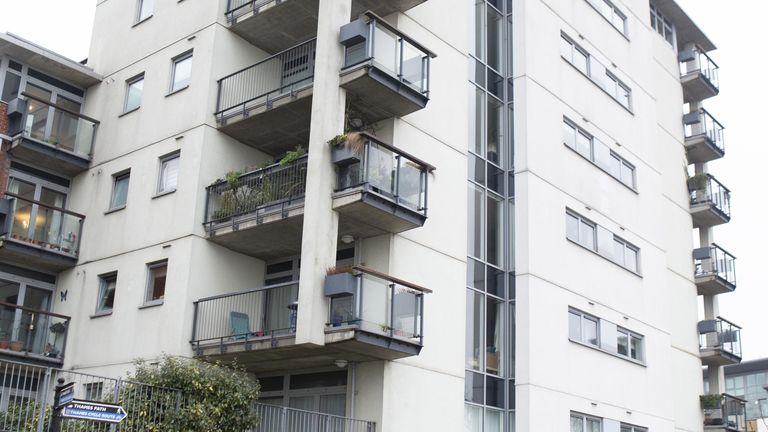 FTSE-100 housebuilders have already taken significant financial provisions in their accounts to prepare for the signing of the final government contract.
Some have flagged during recent earnings calls with analysts that they expected an imminent settlement.
"In signing the pledge, we're saying that we essentially had a commitment that we wanted to sign up to the legal agreement," David Thomas, Barratt's chief executive, told analysts this month.
" There's been a process of discussion regarding the legal agreement that has been ongoing since June last year, so we think we're getting close to the government publishing the legal agreement, and we would expect in due course that we would sign up to that."
Read more:
Grenfell inquiry finds shoddy workmanship and unsafe cladding
Homebuilders pledge to pay £5bn towards fire safety costs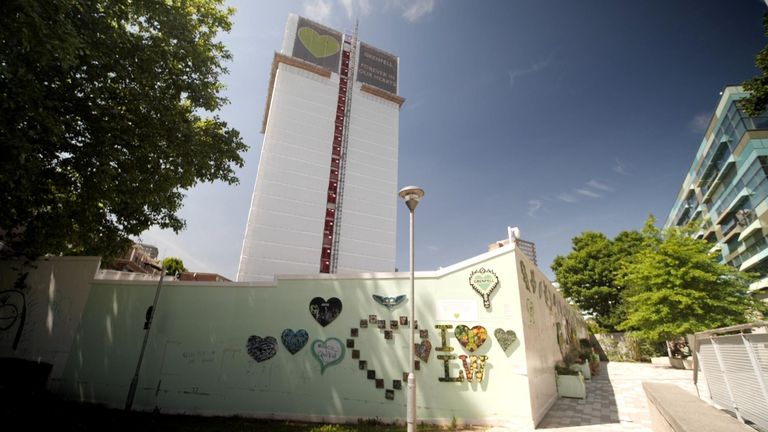 A spokesman for the Home Builders Federation (HBF) said: "The pledge [signed last year] demonstrated the industry's commitment to play its part in ensuring leaseholders don't pay for work needed to make buildings safe.
"We have been working constructively with government to ensure the detailed contract reflects the commitments of the pledge and we await a final version.
"UK housebuilders are taking responsibility and are well progressed with remediating their own buildings and are already paying another £3bn to fund work on buildings built by foreign companies and others.
"Government now needs to deliver on commitments to secure contributions from foreign builders and the material providers at the heart of this issue and avoid targeting UK housebuilders further for buildings built by others".
Chancellor Jeremy Hunt set to declare that dire predictions about UK's future are 'wrong'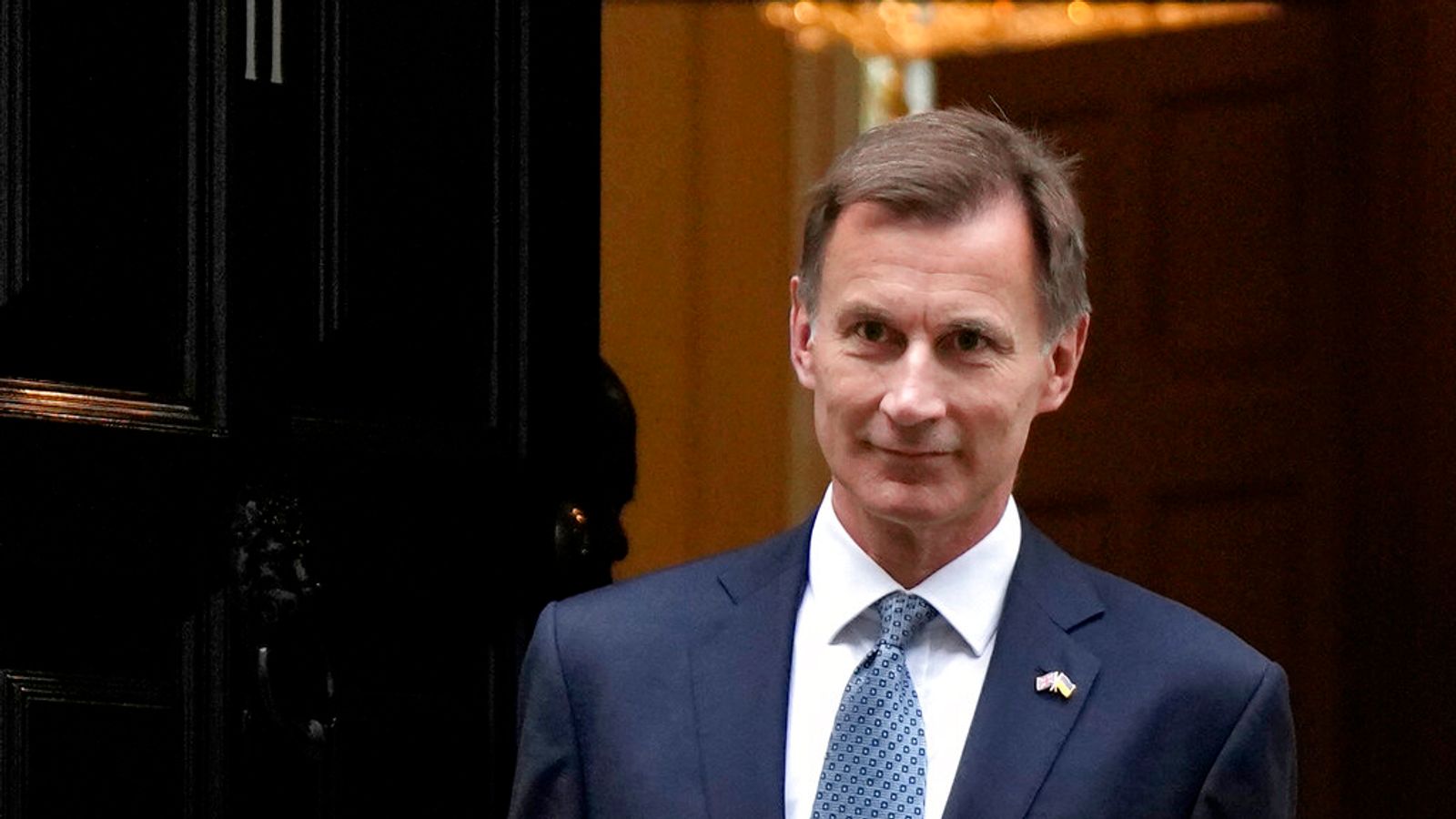 The chancellor will dismiss "gloom" about the prospects for the UK economy and say the government will bring about long-term prosperity in a plan "energised" by Brexit.
Mr Hunt will deliver an upbeat message in a keynote speech today, where he will say the government has a plan to use "British genius and British hard work" to boost economic growth and make the country "the world's next Silicon Valley".
He will go on to say the UK is "poised to play a leading role in Europe and across the world in the growth sectors which will define this century".
According to advance extracts from his speech released by the Treasury, he will also say "declinism about Britain was wrong in the past and it is wrong today".
Speaking at Bloomberg's European headquarters in London, Mr Hunt is also expected to continue to resist calls from some Tory MPs for tax cuts to kickstart flagging economic growth.
Instead he will say the UK should exploit the opportunities provided by the UK's withdrawal from the EU to raise productivity while using the proceeds of growth to support public services.
Mr Hunt will say that some of the "gloom" about the current economic outlook is based on statistics that "do not reflect the whole picture".
"Like every G7 country, our growth was slower in the years after the financial crisis than the years before it," he will say.
"But since 2010, the UK has grown faster than France, Japan and Italy. Since the Brexit referendum, we have grown at about the same rate as Germany.
"If we look further ahead, the case for declinism becomes weaker still. The UK is poised to play a leading role in Europe and across the world in the growth sectors which will define this century."
Mr Hunt will also say: "Our plan for the years that follow is long-term prosperity based on British genius and British hard work.
"(And) world-beating enterprises to make Britain the world's next Silicon Valley."
The chancellor will add: "It is a plan necessitated, energised and made possible by Brexit which will succeed if it becomes a catalyst for the bold choices we need to take.
"Our plan for growth is a plan built on the freedoms which Brexit provides. It is a plan to raise productivity.
"It is a plan to use the proceeds of growth to support our public services at home, to support businesses in the new low-carbon economy and to support democracy abroad.
"It is the right course for our country and the role in the world to which we aspire."
Mr Hunt will also use his speech to announce that the government is to proceed with reforms to so-called "Solvency II" – an EU directive that governs the amount of funds British insurers are required to hold in reserve.
The Treasury pointed to an estimate by the Association of British Insurers which suggested the changes could unlock up to £100bn of private investment into UK infrastructure and clean energy – such as nuclear power – over the coming decade.
His address will come after a cabinet away day at Chequers yesterday, where Mr Hunt told ministers they must maintain their "disciplined approach" if they are to get inflation under control.
The chancellor is facing calls from some Tory MPs to cut taxes in his budget in March to inject growth into the economy.
But at Chequers, both he and Prime Minister Rishi Sunak emphasised the priority remained inflation which was only predicted to fall because of the "tough decisions" taken to stabilise the economy following former PM Liz Truss's catastrophic mini-budget tax giveaway.
"The chancellor said it would be necessary to retain this disciplined approach in order to reduce inflation, because it is the greatest driver of the cost of living," according to a No 10 readout of the meeting.
UK car production slumps to 66-year low but improvement expected ahead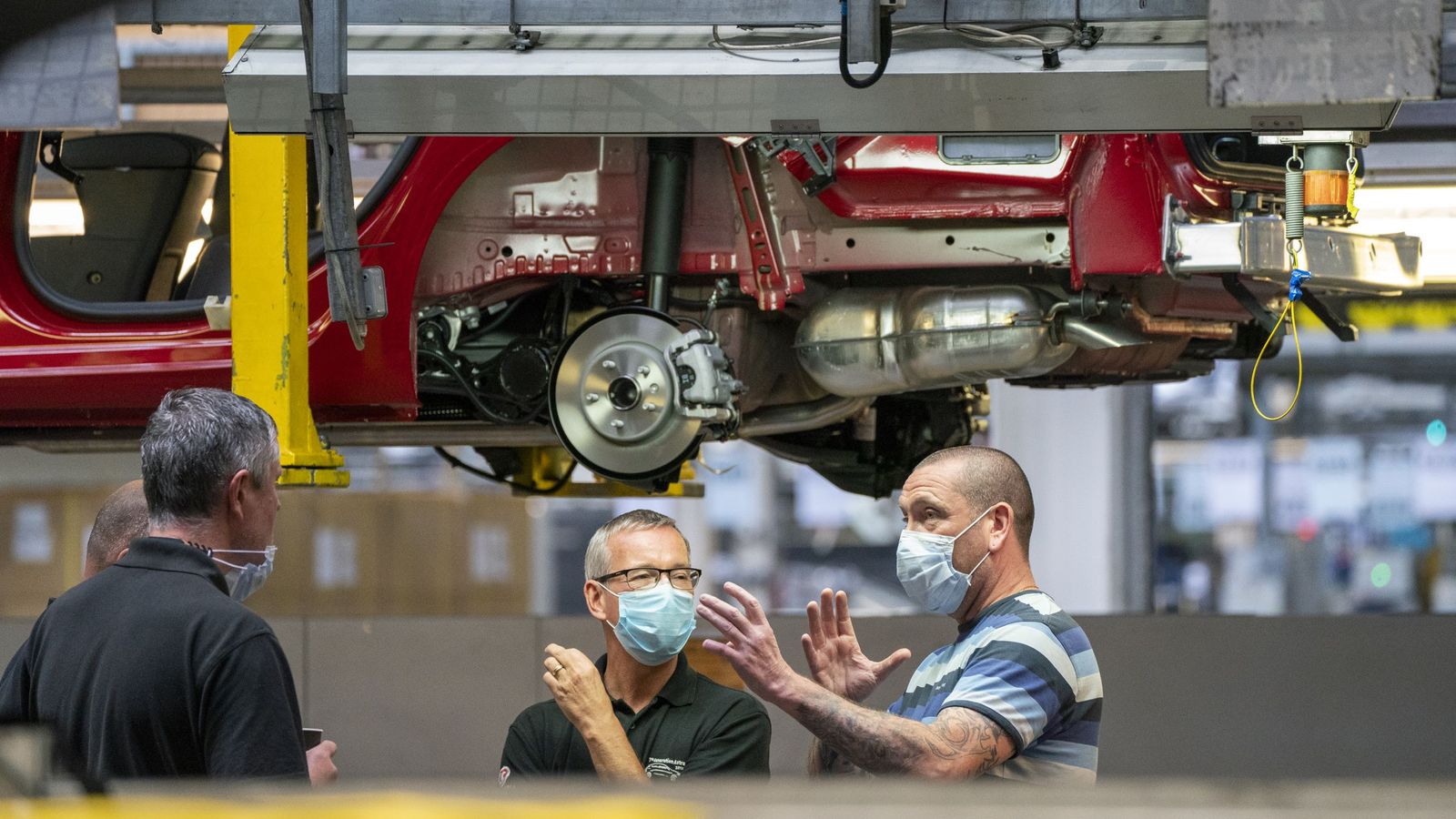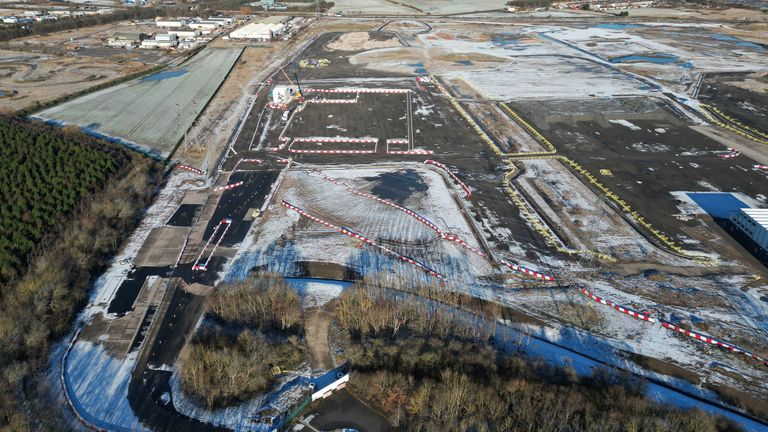 UK car production fell to its lowest level since 1956 last year, according to industry figures showing that the global shortage of parts continued to drag on performance.
The Society of Motor Manufacturers and Traders (SMMT) had already reported how the sale of new vehicles in 2022 was severely damaged by the lack of key components, particularly semiconductor chips.
COVID-led supply chain disruption harmed the ability of UK factories to drive availability to meet demand, though there is optimism the worst is now behind the sector.
Although 2022 will not be considered a success, there was limited progress in efforts to produce more zero emission or more climate-friendly vehicles as the clock ticks down towards the 2030 ban on the sale of new cars powered by diesel and petrol.
A total of 775,014 cars were built in 2022, the SMMT said.
That was down almost 10% from the 859,575 made during the previous year and 40.5% below pre-COVID crisis levels in 2019.
The SMMT said the figures were distorted by the closure of Honda's factory in Swindon in July 2021 and the decision by Stellantis to stop producing the Vauxhall Astra in Ellesmere Port in April 2022 to produce electric vans instead.
The bright spark was the production of 234,066 fully electric, or battery electric vehicles (BEV), plug-in hybrids (PHEV) and hybrid (HEV) electric vehicles.
It was a record total, with combined production up 4.5% versus 2021.
Hybrids and BEVs accounted for 30.2% of all car production, the SMMT said.
Independent forecasts suggest the reopening of the Chinese economy from COVID restrictions should help drive a 15% increase in UK output this year as crucial chips become more readily available.
There are challenges.
These include the risk of investment flowing to the United States due to heavy government subsidies.
The collapse of the Britishvolt electric vehicle battery start-up has also raised fears over the domestic supply chain ahead of the 2030 deadline.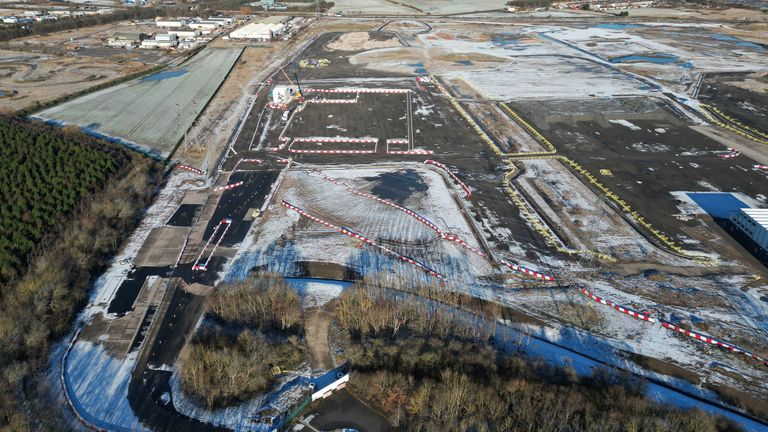 Mike Hawes, chief executive of the SMMT, said: "The potential for this sector to deliver economic growth by building more of these zero-emission models is self-evident; however, we must make the right decisions now.
"This means shaping a strategy to drive rapid upscaling of UK battery production and the shift to electric vehicles based on the UK automotive sector's fundamental strengths – a highly skilled and flexible workforce, engineering excellence, technical innovation and productivity levels that are among the best in Europe."
A government spokesperson said of the state of affairs: "We are determined to ensure the UK remains one of the best locations in the world for automotive manufacturing.
"Our success is evidenced by the £1bn investment in Sunderland in 2021, and we are building on this through a major investment programme to electrify our supply chain and create jobs."