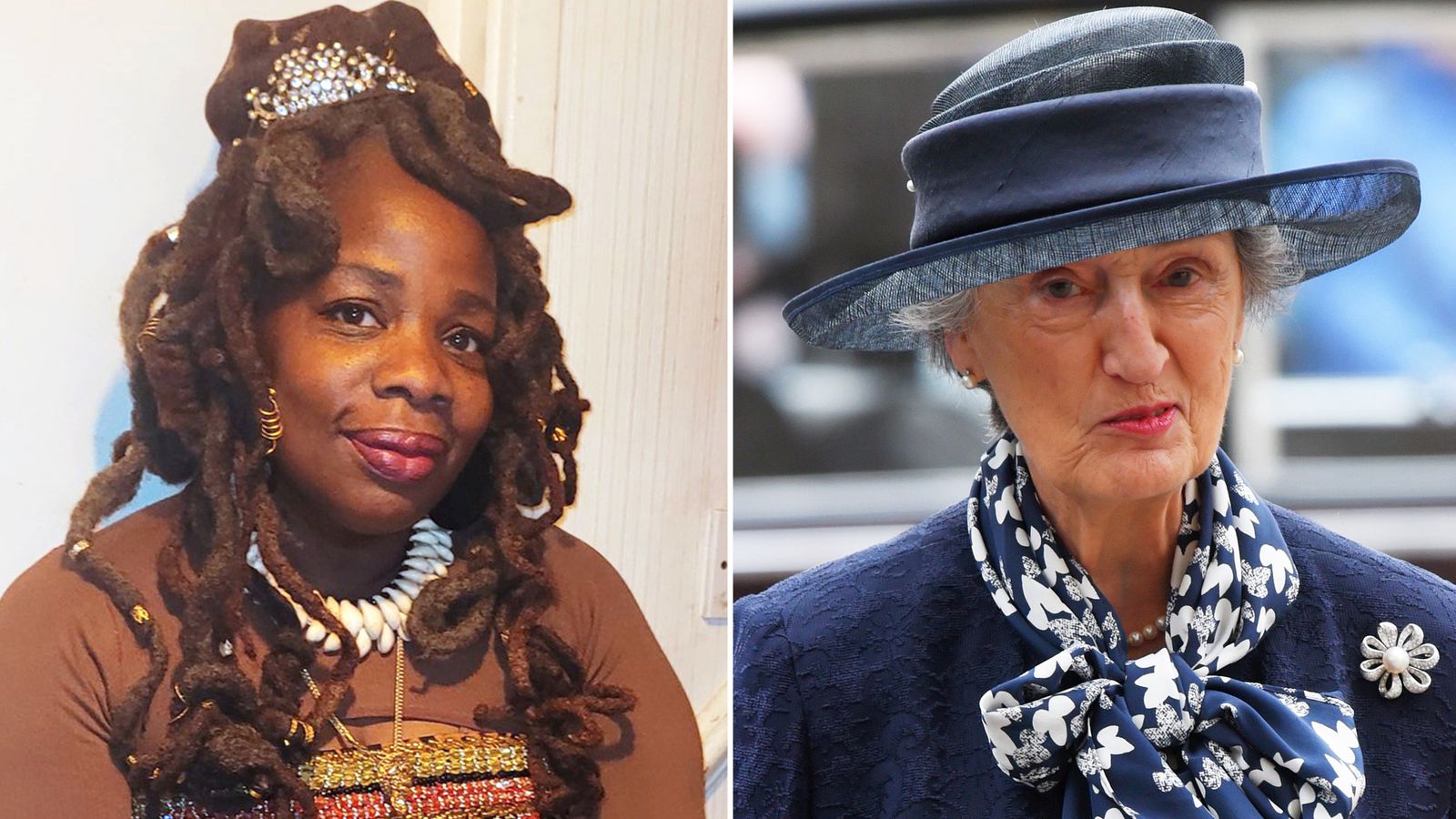 Charity boss Ngozi Fulani says she felt abused and 'trapped' during Buckingham Palace exchange with Lady Susan Hussey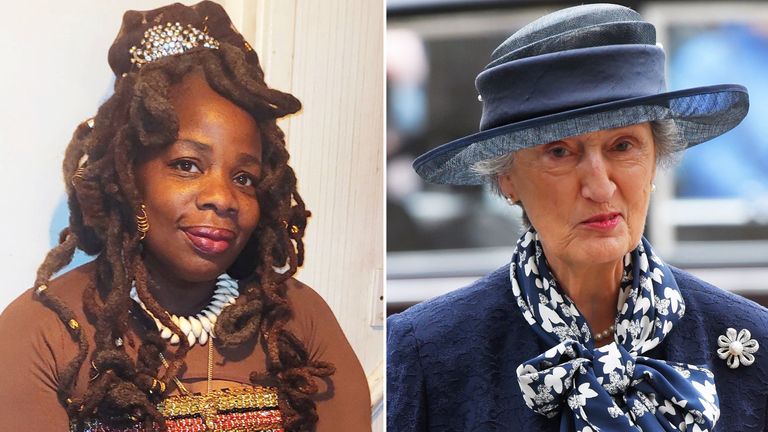 A black domestic abuse campaigner who was repeatedly asked where she "really came from" by Prince William's godmother said she felt abused, verbally attacked and "trapped".
Ngozi Fulani, founder of the charity Sistah Space, works as an advocate for survivors of domestic abuse and described the exchange as a "violation".
"I was not giving the answer that she wanted me to give. And so we could not move on," Ms Fulani told Sky News.
"And it was when she said 'I knew you'd get there in the end' – that proved to me, you were determined to prove that I had no right to British citizenship.
"Now, that reminds me of the Windrush conversation, where 50 or 60 years on people who were born here, worked here or you know, have given so much, can just be thrown out."
Lady Susan Hussey resigned from her role in the royal household and apologised over the incident at an event at Buckingham Palace on Tuesday hosted by the Queen Consort.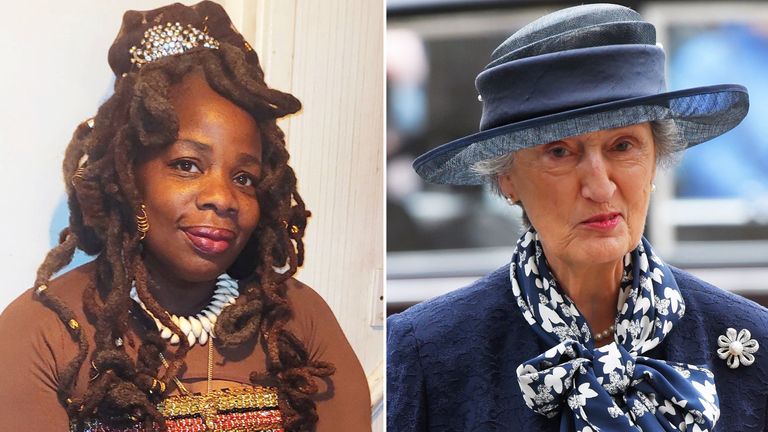 Describing how Lady Hussey touched her hair to see her name badge, the charity boss said: "Now, abuse doesn't have to be physical. But if you move my hair without permission, to me, that's abuse.
"When you verbally attack, because that to me is what it is – you are determined that the answer that I gave you is not one you want to hear, you do not recognise me as British.
"And until I acknowledge that I'm not, you're not going to stop. What do I do? What do I do at that point? So I become silent. And I hoped she would go away and she eventually did."
Asked how she felt about the conversation, she said: "I was the victim if you will, of an offence, of racism.
"When this happens, and it's so direct, and in a space like that, I kind of felt trapped in that space."
Asked if Buckingham Palace had contacted her, she said: "I haven't heard anything from anybody. Maybe they've attempted to but they haven't got through to me or to Sistah Space."
Hussey 'interrogated' Fulani – witness

Read more:
Harry and Meghan's documentary trailer released
Lady Susan Hussey resigns from palace duties
Who is Lady Susan Hussey?
'Institutional racism in palace'
Pressed if there was a deeper problem, she replied: "So institutional racism, racism is a problem all over the UK. It's in the police. It's been established. It's in the fire brigade/department, that's established. It's even in parts of the NHS. It's a problem. And it's in Buckingham Palace, one person isn't responsible.
"They need to review their whole policy on equality and race. They need to have a conversation with the people who say they are affected."
She said it had been a "difficult couple of days for various reasons".
"One is, I'm still processing what happened at Buckingham Palace and the outrage that has followed has been interesting," she said.
"Racism has no place in a venue that's supposed to be a safe space for everybody, regardless of their background."
William distances himself from race row
Buckingham Palace said it took the matter "extremely seriously" and had investigated immediately.
Prince William, who is on a three-day US visit with his wife Kate, is understood to agree it was right for Lady Hussey to step down from her honorary role as Lady of the Household with immediate effect.
Before he had landed in the US, the prince was told about his godmother's comments.
A Kensington Palace spokesman told reporters in the US before the Prince and Princess of Wales' Boston trip – which has been overshadowed by the palace controversy – that Lady Hussey's comments were "unacceptable" and "racism has no place in our society".
Later, during an NBA game William and Kate attended, the royal couple were booed by some members of the crowd, and at an Earthshot Prize event, they heard a speech on race equality by a black reverend.
Lady Hussey, who served as the Queen's lady in waiting for more than 60 years, has offered her "profound apologies for the hurt caused".
However, the monarchy has faced allegations of institutional racism since Ms Fulani revealed what had happened.
Lawyer 'also asked about ethnicity'
Nazir Afzal, the University of Manchester chancellor, who was also at the palace reception, said he too was questioned by Lady Hussey about his origins.
The former chief crown prosecutor for the North West, tweeted: "I was at the Buckingham Palace reception at which Lady Hussey questioned the heritage of a brilliant [domestic violence] expert Ngozi Fulani.
"She only asked me my heritage once and seemed to accept my answer – Manchester currently!
"Racism is never far away though."
Downing Street declined to comment on the incident.
Pressed on whether the prime minister believed it was right for Lady Hussey to quit, Rishi Sunak's official spokesman said: "It's not one I've spoken to him about.
"It is a matter for the Palace and you'll know they have issued a statement on it."
Last year the Duchess of Sussex claimed that a member of the royal household asked her about what colour skin her son Archie would have before he was born.
Man dies after being crushed by pop-up telescopic urinal in London's West End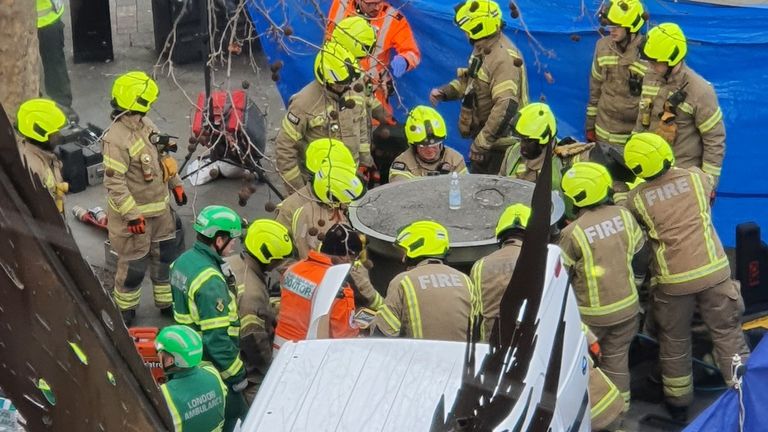 A maintenance worker in central London has died after being crushed by a hydraulic telescopic urinal – one that's kept underground during the day and kept out overnight.
Emergency services were called to Cambridge Circus in the West End just after 1pm on Friday to reports of a "seriously injured" man.
The incident took place outside the Palace Theatre, home to Harry Potter And The Cursed Child.
Firefighters, ambulance crews and an air ambulance were deployed at 1.05pm and police were called five minutes later.
Emergency services tried to save the man, who has not been named, but he died at the scene.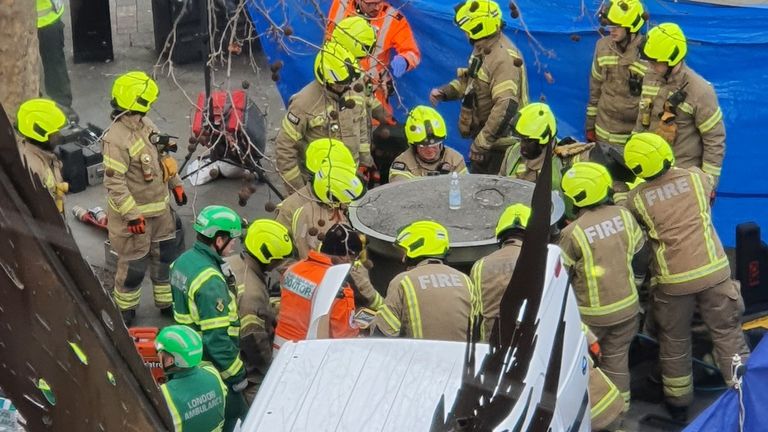 In a statement on Twitter, Metropolitan Police said: "We're sorry to have to update that, despite the efforts of emergency services, the man who was critically injured in Cambridge Circus was pronounced dead at the scene.
"His next of kin have been informed. Cordons remain in place at the location.
"Police were called at around 1.10pm on Friday January 27, to a seriously injured man at Cambridge Circus, W1.
"The man is thought to have sustained crush injuries while working on a telescopic urinal at the location."
A London Ambulance Service spokesman said: "We were called today at 1.05pm to reports of an incident on Shaftesbury Avenue, Charing Cross.
"We sent a number of resources to the scene, including an ambulance crew, members of our hazardous area response team, members of our tactical response unit and a medic in a fast response car.
"We also dispatched London's Air Ambulance."
Roads in the area have been closed.
The telescopic or hydraulic urinal is a pop-up urinal that comes out of the ground at night and is stored underground during the day.
Wynter Andrews: Nottingham University Hospitals NHS trust fined £800,000 over baby's death 23 minutes after birth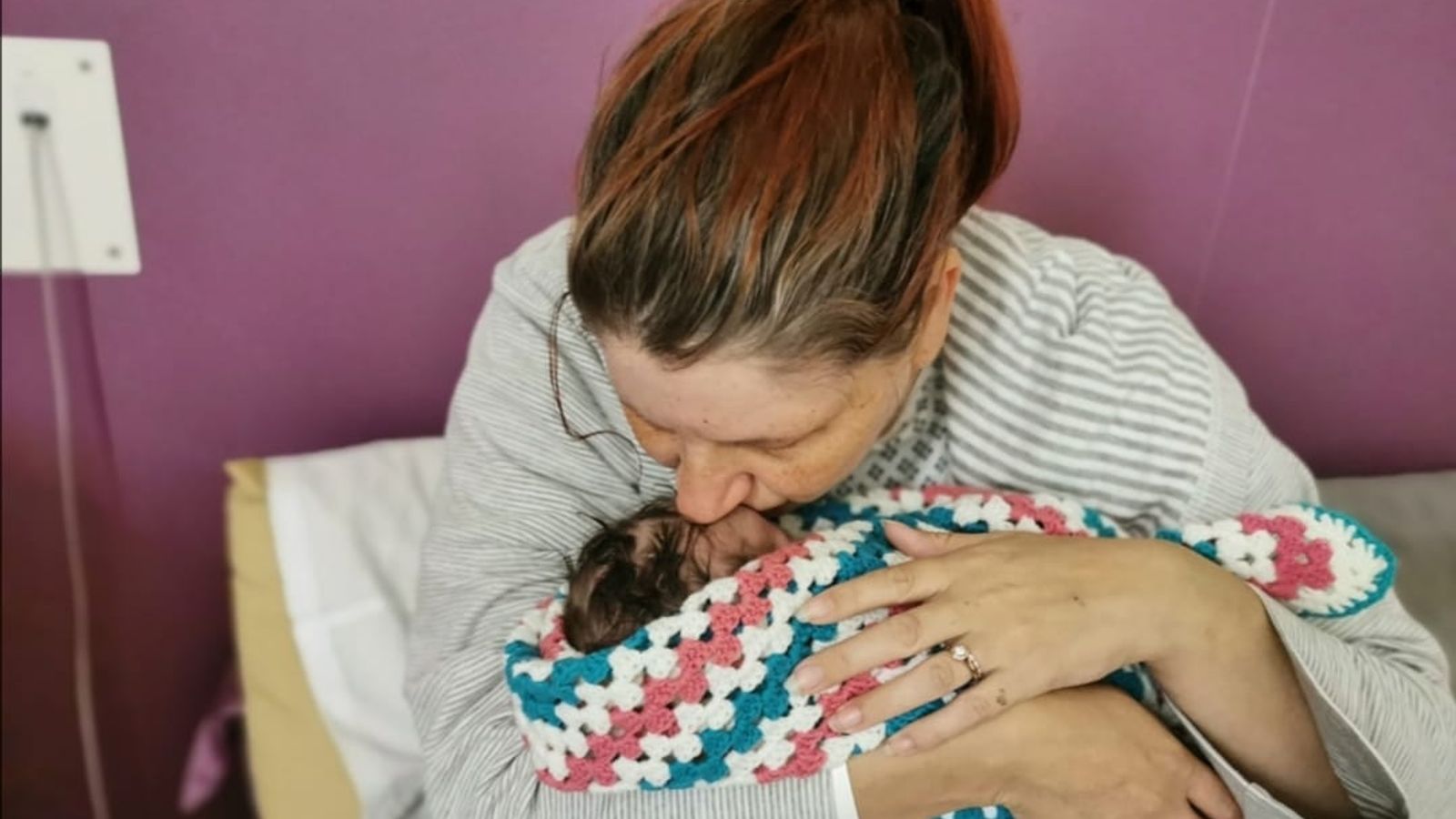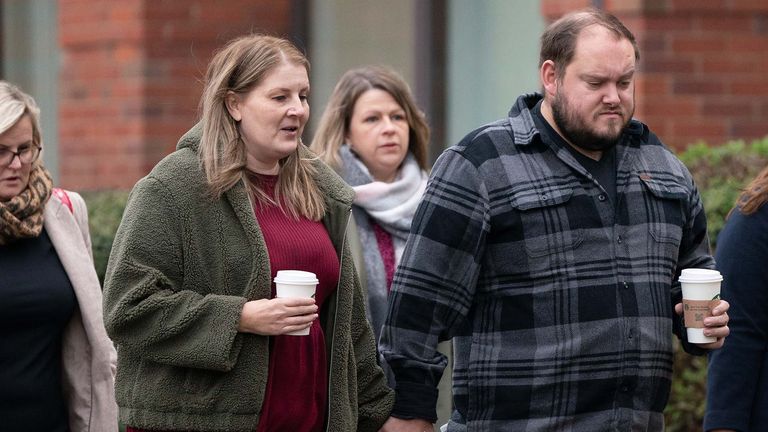 An NHS trust has been fined £800,000 for a "catalogue of failings and errors" that led to the death of a baby 23 minutes after she was born.
Wynter Andrews died in the arms of her parents, Sarah and Gary Andrews, on 15 September 2019 due to a lack of oxygen to the brain, shortly after an emergency Caesarean section at the Queen's Medical Centre in Nottingham.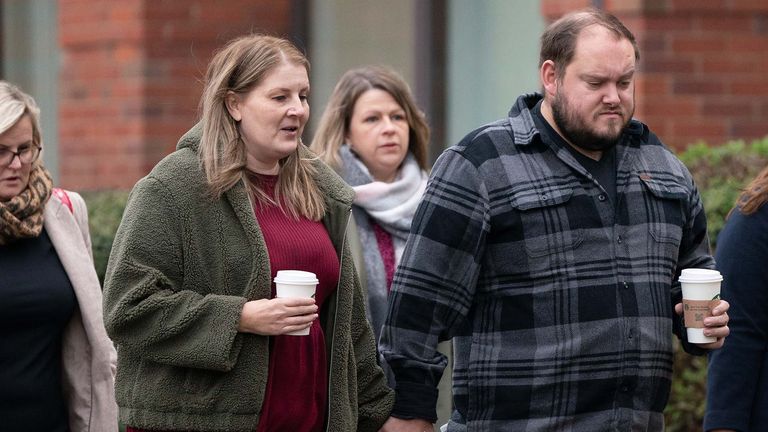 Nottingham University Hospitals (NUH) NHS Trust had admitted two counts of failing to provide safe care and treatment resulting in harm and loss at a court hearing on Wednesday.
Sentencing at the city's magistrates' court on Friday, district judge Grace Leong said: "The catalogue of failings and errors exposed Mrs Andrews and her baby to a significant risk of harm which was avoidable, and such errors ultimately resulted in the death of Wynter and post-traumatic stress for Mrs Andrews and Mr Andrews.
"My assessment is that the level of culpability is high, where offences on Wynter and Mrs Andrews are concerned.
"There were systems in place, but there were so many procedures and practices where guidance was not followed or adhered to or implemented."
District judge Leong added the "systematic failures" were "more than sufficient" to cause harm to Wynter and her mother.
She said the total fine, combining the sums for offences against both Wynter and Mrs Andrews, would have been £1.2m, but this was reduced to £800,000 due to the trust's early guilty pleas.
The judge also said she was "acutely aware" any fine would have to be paid out of public funds which would otherwise be spent on patient care.
The trust, which will pay prosecution costs of £13,668.65 and a victim surcharge of £181, has asked for two years to pay the fine.
Read more:
Why maternity scandals keep happening
Baby deaths mystery from 1930s solved
Speaking outside the court, Mrs Andrews said she hoped the significant fine "sends a clear message to trust managers that they must hold patient safety in the highest regard".
She added: "Sadly, we are not the only family harmed the trust's failings.
"We feel that this sentence isn't just for Wynter, but it's for all the other babies that have gone before and after her."
Mrs Andrews has previously said she was "failed in the most cruel way" by the trust and its management had been "repeatedly warned by staff about safety at the unit" but "failed to act".
The Care Quality Commission (CQC), which inspects health services in England, said last July that it would prosecute the trust.
The maternity unit at the QMC was rated as inadequate by the CQC, with the hospital overall rated as requiring improvement, when it was inspected last March.
Mrs Andrews was admitted to hospital on 14 September 2019, her planned due date, after an "uncomplicated" pregnancy.
An induced labour planned for 7 September was cancelled on her request, but an investigation later found this was signed off by a midwife without consulting an obstetrician, and limited reasoning was given for the decision in medical notes.
Once Mrs Andrews was in labour, Wynter's heartbeat was described as "suspicious" by doctors, who decided to deliver her via caesarean section.
After complications during the surgery, she was delivered in a "poor" condition and died 23 minutes and 30 seconds later despite "extensive efforts" to resuscitate her.
Jeremy Hunt confirms HS2 will reach central London after reports it might stop in suburbs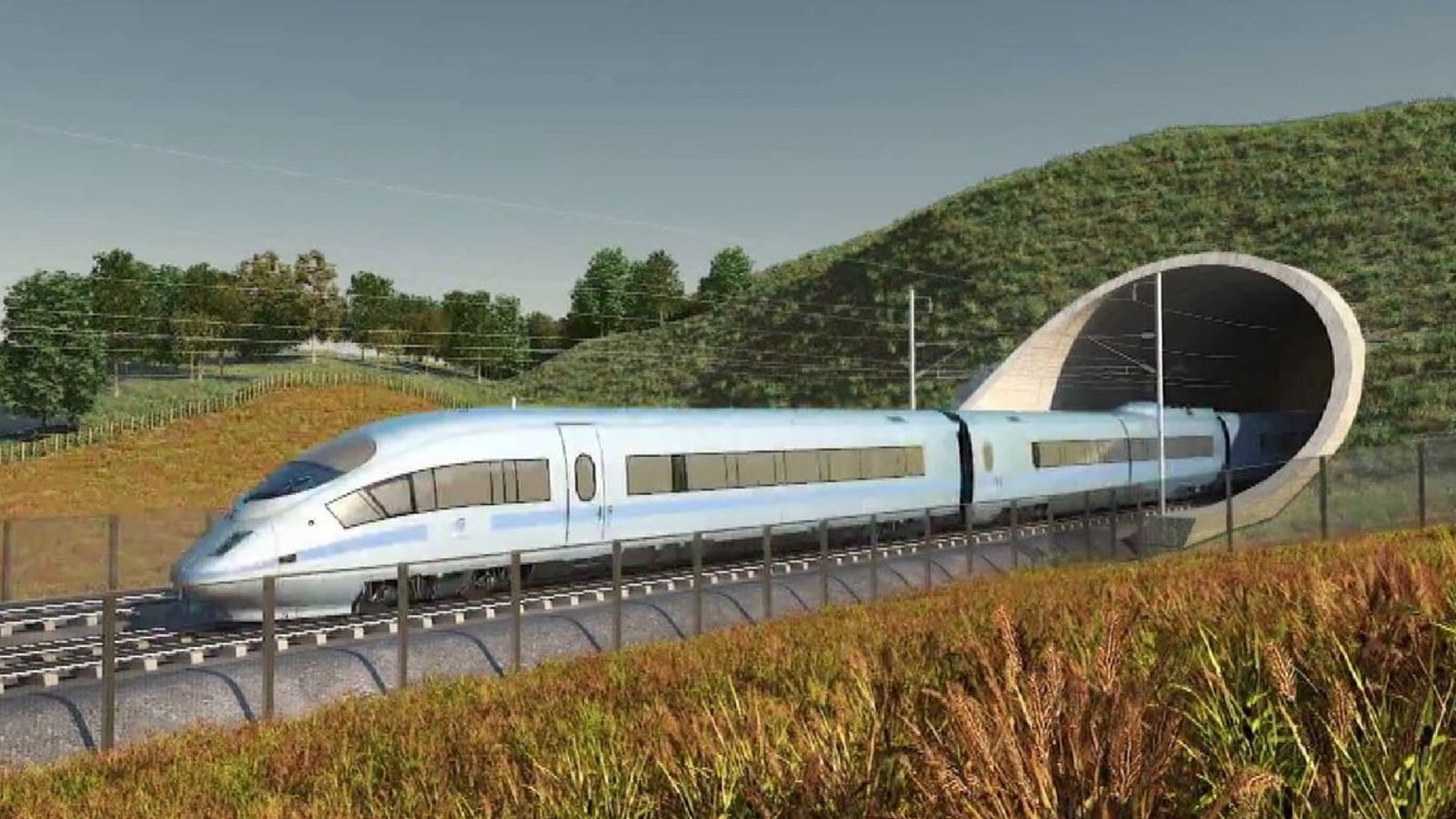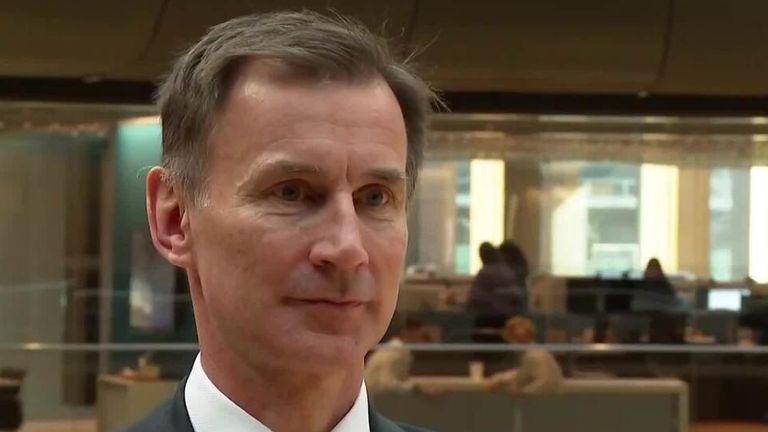 HS2 will end at Euston after reports the high speed line could stop before reaching central London, the chancellor has confirmed.
Jeremy Hunt said he did not see "any conceivable circumstance" the original plan would not be followed and that he was "incredibly proud" of the work going ahead.
The end-point of the line came into question after a report in the Sun, claiming the last leg of HS2 could be scrapped and replaced with a new hub at Old Oak Common in the suburbs of west London.
Politics live: 'Best tax cut right now is cut to inflation,' says Hunt
This would leave passengers having to finish their journey into the centre of the capital on the new Elizabeth underground line.
The government did not deny the reports or that a two to five-year delay to the entire project – currently due to be completed between 2029 and 2033 – was being considered due to record high inflation impacting costs.
However, when asked if he and the government were committed to the line ending in Euston as planned, Mr Hunt said: "Yes we are."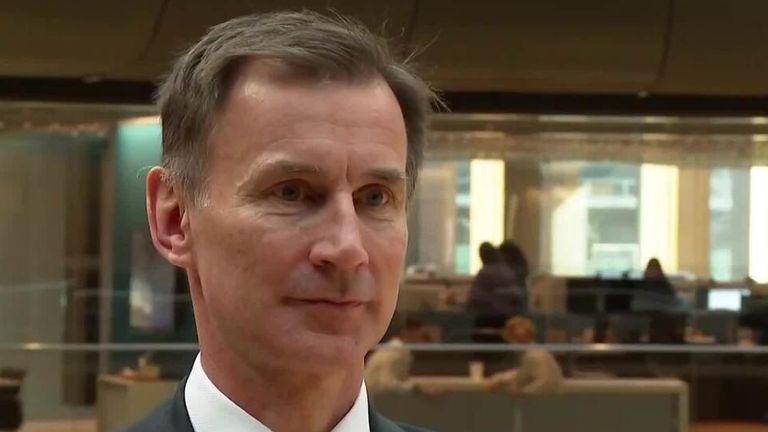 The chancellor added: "I don't see any conceivable circumstance in which that would not end up at Euston and indeed I prioritised HS2 in the autumn statement.
"We have not got a good record in this country of delivering complex, expensive infrastructure quickly but I'm incredibly proud that for the first time in this last decade under a Conservative government we have shovels in the ground, we are building HS2 and we are going to make it happen."
Planning your route into London
Making the the final southern destination for HS2 a station at Old Oak Common – which is yet to be built – could well have saved the government billions.
But what would the impact have been on passengers?
Let's say Euston is your final destination.
You would get off at the new station, which will be fairly close to Hammersmith in west London, and take the Elizabeth Line to Tottenham Court Road – a journey of around 15 minutes.
From there, you could take the Northern Line two stops to Euston.
Or, if you're feeling energetic, it would be a 20-minute walk.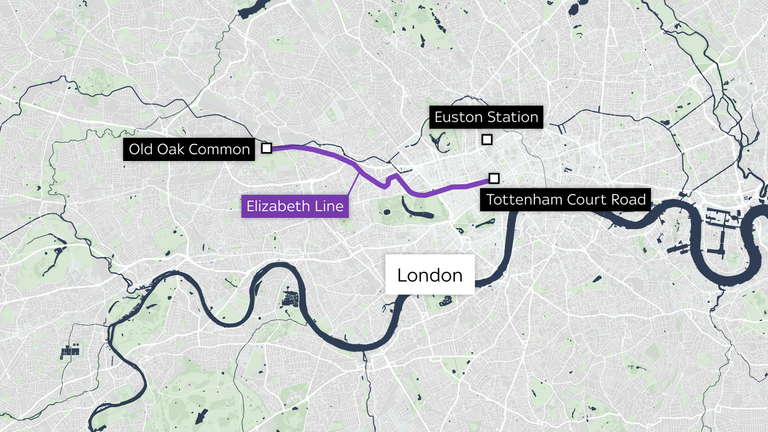 The HS2 project has been dogged by criticism over its financial and environmental impact.
In October 2021, Levelling Up Secretary Michael Gove suggested capital investment for the line would be reviewed.
But after being installed at Number 11, Mr Hunt subsequently backed the project.
The target cost of Phase 1 between London and Birmingham was £40.3bn at 2019 prices, despite an overall budget of £55.7bn being set just four years earlier.
Penny Gaines from campaign group Stop HS2 said it is "not at all surprising" that costs were spiralling out of control.
"These reports just show that there are so many problems with HS2," she added. "It's being delayed further and further so the cost is going up, it should be cancelled in its entirety as soon as possible."