US country music star Jake Flint has died unexpectedly at the age of 37, just hours after getting married.
The Oklahoma-based singer/songwriter died in his sleep after he tied the knot with wife Brenda on Saturday.
His heartbroken bride posted on Facebook: "We should be going through wedding photos but instead, I have to pick out clothes to bury my husband in.
"People aren't meant to feel this much pain.
"My heart is gone and I just really need him to come back.
"I can't take much more. I need him here."
She also shared a picture of the couple dancing after their nuptials on Facebook, writing "I don't understand."
Mr Flint's publicist, Clif Doyal, said the musician died in his sleep in the early hours of the morning on Sunday, 27 November.
"Flint had exchanged wedding vows with Brenda Wilson on Saturday. He was 37.
"No official cause of death has been determined."
In a statement shared by Mr Doyal, Mr Flint's family said they were "broken" over the "tragic loss" of their beloved son, brother, uncle and partner, known to them as Jacob.
"He valued his family, friendships and living life to the fullest, which was evident in his songwriting.
"Every person who knew him has a story of his wit, charm, talent and compassion.
"We are so grateful for the outpouring of support and the many beautiful tributes that have been shared about the impact Jacob had on many lives.
"While we grieve what we know could have been, we are grateful that his talent and love live on in his songs."
A service for Mr Flint will take place on Monday at Cedar Point Church in Claremore, Oklahoma.
Instead of flowers, the family have requested donations to the Red Dirt Relief Fund, an organisation which provides emergency assistance funding grants to musicians in need.
A fundraising campaign has also been launched to raise money for the family of Mr Flint, described as a "great man in our music community."
The musician was in the middle of a multi-state tour and had been scheduled to perform in Claremore on Friday.
His former manager, Brenda Cline, said she "loved him much like a son", hailing him as the "funniest, most hilarious, hardest working, dedicated artist I have ever worked with in my career."
"Jake has a million friends and I'm not sure how everyone will cope with this tragic loss," she wrote on Facebook.
"This is going to be incredibly difficult for so many. We love you Jake and in our hearts forever."
Alan Cumming gives back OBE over links to 'toxic' British Empire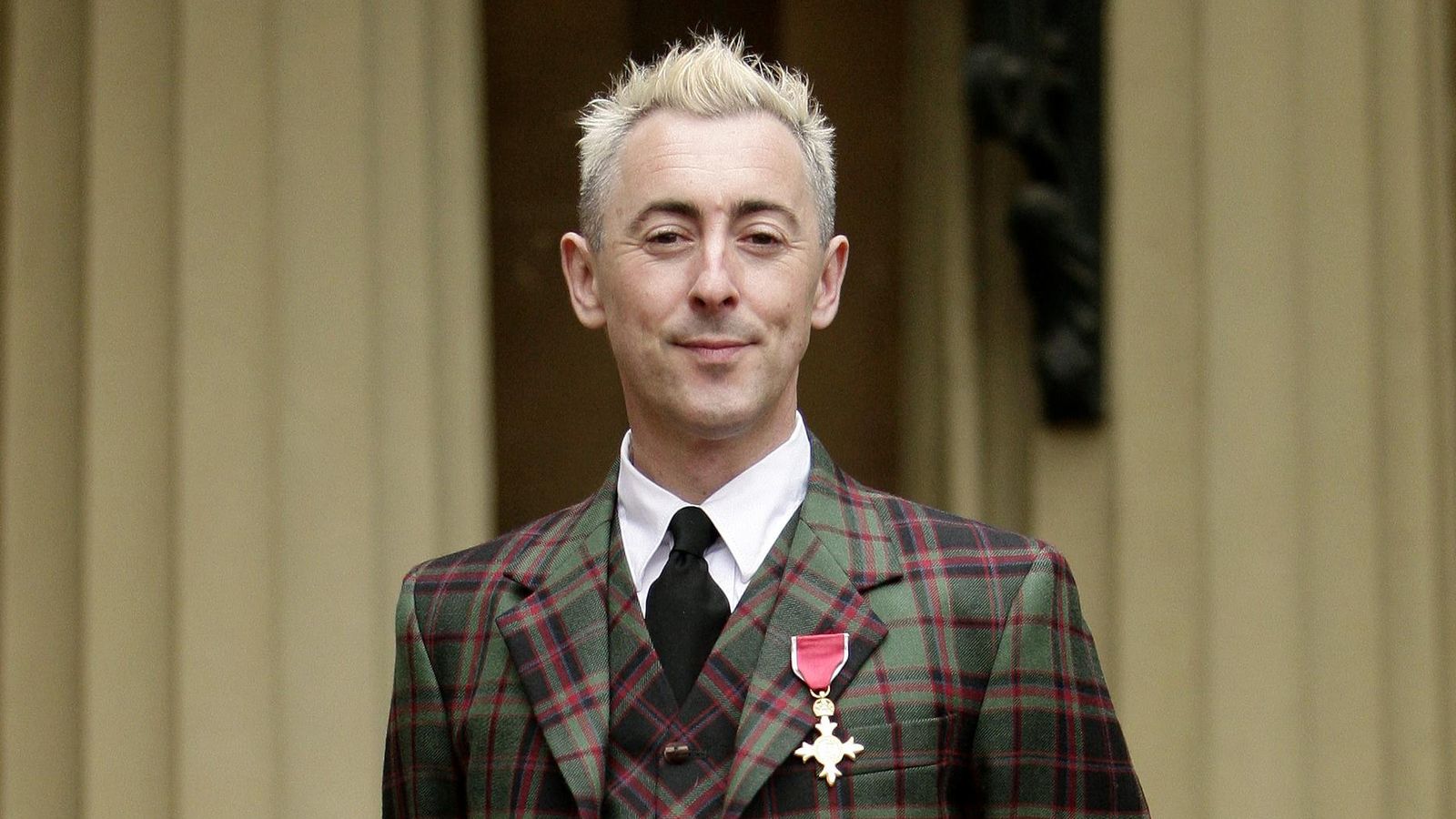 Alan Cumming has given back his OBE, expressing concern over its links to what he describes as the "toxicity" of the British Empire.
The actor said he had made the decision to return the award after listening to conversations about the future of the Royal Family after the Queen's death.
Cumming was made an OBE in 2009 as part of the Queen's birthday honours, being recognised for acting, as well as the work he does to campaign for LGBTQ+ rights in the US.
He said at the time that he was "shocked and delighted" to be given the honour.
Writing on Instagram on his 58th birthday, he said: "The Queen's death and the ensuing conversations about the role of monarchy and especially the way the British Empire profited at the expense (and death) of indigenous peoples across the world really opened my eyes.
"Fourteen years ago, I was incredibly grateful to receive it in the 2009 Queen's birthday honours list, for it was awarded not just for my job as an actor but 'for activism for equal rights for the gay and lesbian community, USA'.
"Back then the Defence of Marriage Act ensured that same-sex couples couldn't get married or enjoy the same basic legal rights as straight people, and Don't Ask, Don't Tell ensured that openly gay, lesbian or bisexual people were barred from serving in the military."
Read more:
11 people who said no to honours over the years
Church progress on same-sex marriage 'will be glacial'
Elton John cancels gig with minutes to go because of rain
He added: "Thankfully, times and laws in the US have changed, and the great good the award brought to the LGBTQ+ cause back in 2009 is now less potent than the misgivings I have being associated with the toxicity of empire (OBE stands for Officer of the British Empire).
"So, I returned my award, explained my reasons and reiterated my great gratitude for being given it in the first place. I'm now back to being plain old Alan Cumming again. Happy birthday to me!"
Cumming is best known for his roles in Goldeneye and the Spy Kids trilogy, as well as for his stage work, with his credits including Cabaret, for which he won a Tony Award, and Endgame.
Sandi Toksvig says archbishop told her progress on same-sex marriage in Church of England will be 'glacial'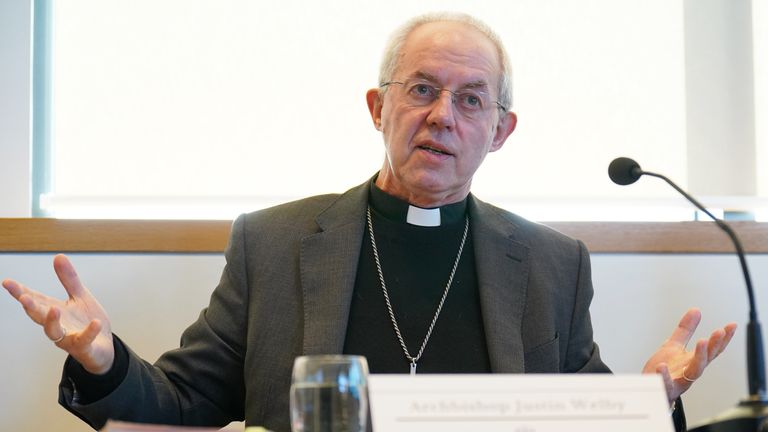 The Archbishop of Canterbury has conceded progress on same-sex marriage in the Church of England would be "glacial", Sandi Toksvig has said.
The comedian revealed she had met Justin Welby for a "long-promised coffee" and the meeting had been "calm and considered", but the church's current position was "untenable".
In a video she said it was clear the "Church of England and the society it purports to represent are not remotely in step".
They met after she expressed her dismay last year that Mr Welby had reaffirmed the validity of a 1998 declaration by the church that gay sex was a sin.
The archbishop has recently said he welcomed the Church of England's proposals to bless same-sex married couples, but said he would not personally carry them out due to his "pastoral relationship for the whole communion".
"Yesterday I went to have coffee, tea, actually, with the Archbishop of Canterbury, not a sentence I thought would ever come out of my mouth," Toksvig said in her video.
"From our very calm and considered conversation yesterday, it is very clear that the State's Church of England and the society it purports to represent are not remotely in step.
"Justin was keen for me to see that they are moving forward, but conceded that any progress, as I would see it, if it happens at all, will be glacial."
She said it was also "very clear" opposing factions of the worldwide Anglican Communion were being "in part held together at the expense of the human rights of the LGBT+ community".
"It's not okay. And I said so," she said.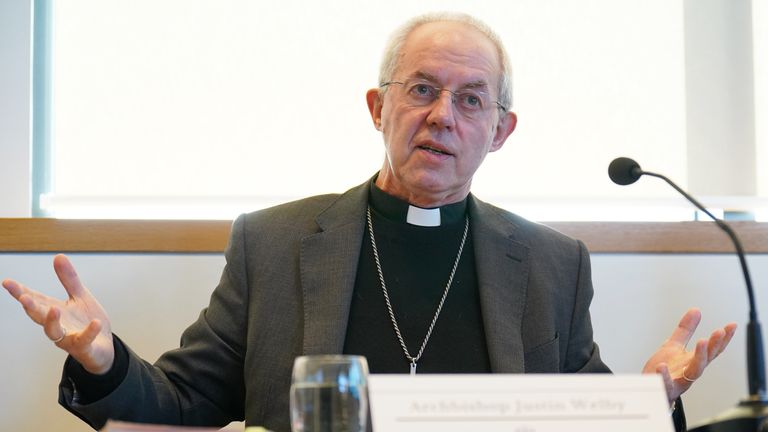 Toksvig asked Archbishop to come out as gay ally
She continued: "I asked Justin if he could just come out. I don't mean to make a surprise announcement about his sexuality, but come out as a gay ally.
"Basically, to come up for love, love for all without exceptions, and not the current Orwellian position, where it would seem we are all created equal, but some are more equal than others.
"I hope that will happen, but I do not intend to wait upon the church.
"In the next few weeks, I will be reaching out to the LGBT+ community and all our allies to see what can be done.
"The present position is untenable. In the meantime, please. Let's all come out for love."
'Church deeply divided' on same-sex marriage

Church apologises for 'shameful' treatment of LGBTQI+ people
Last week the church formally apologised for its "shameful" treatment of LGBTQI+ people.
It came after it said it would refuse to allow same-sex couples to get married in its churches, but would bless same-sex civil marriages for the first time.
Kanye West a 'danger to my children', Jewish comedian David Baddiel says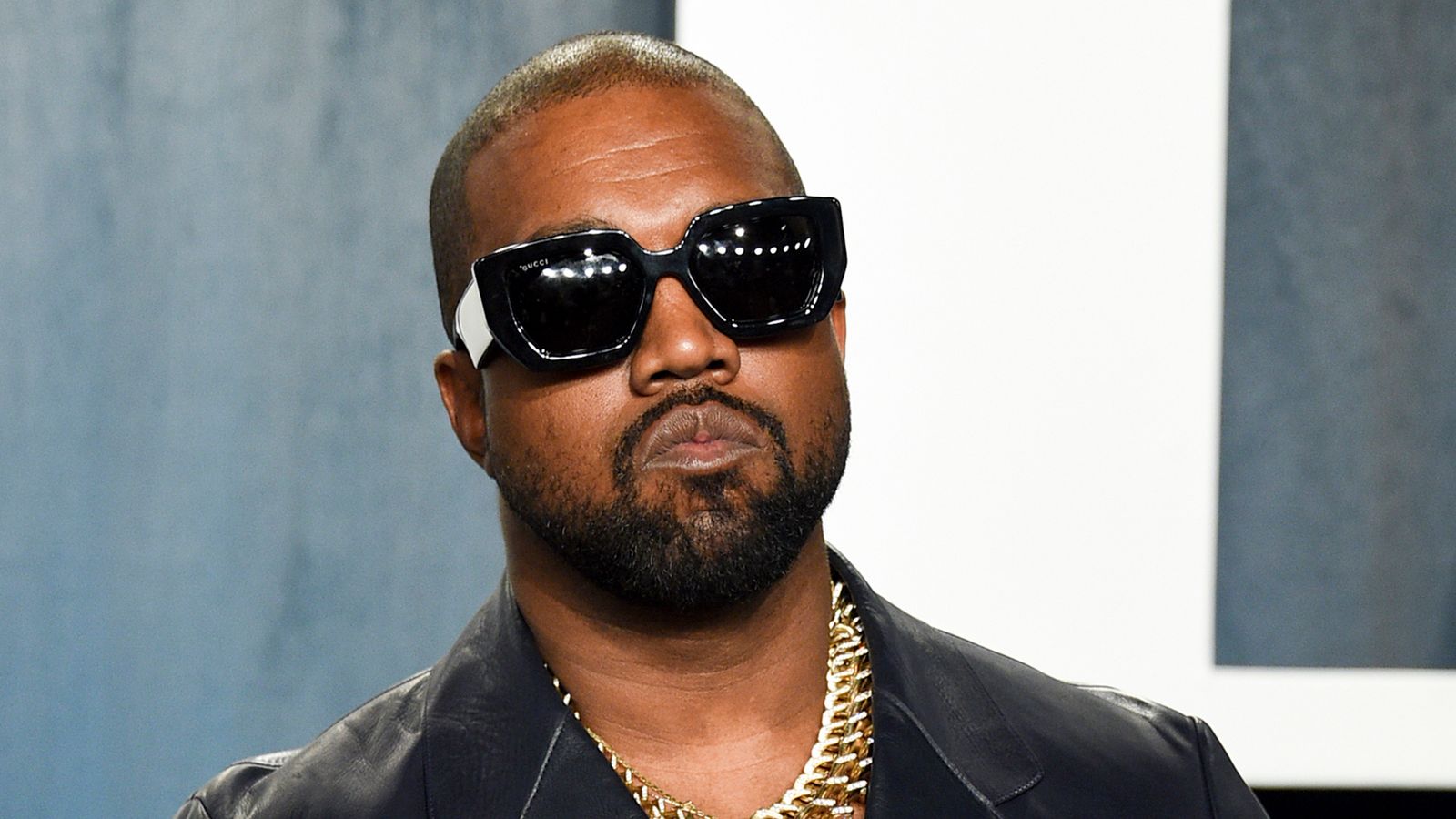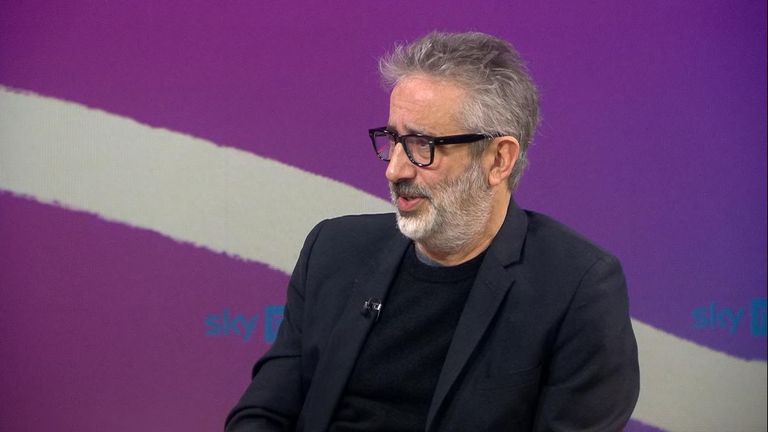 Allowing Kanye West to start tweeting again would be "dangerous for Jews" and "dangerous for my children", David Baddiel has told Sky News.
The Jewish author and comedian also said he considers the musician to be racist.
West is currently suspended from Twitter for tweeting an image of a swastika hours after praising Nazi dictator Adolf Hitler.
The musician, 45, posted the grossly offensive image only two weeks after being allowed back on the site following a previous ban.
Baddiel said he understood why Twitter owner Elon Musk might consider another reprieve for the rapper.
"Kanye being let back onto that platform seems to be part of Elon Musk trying to make (it) less dominated by the progressive left," Baddiel told the Beth Rigby Interviews programme.
"I'm not bothered about those arguments. I'm bothered about what is dangerous for Jews. What is dangerous for my children.
"I do think it's dangerous. I think it's actively dangerous."
Beth Rigby Interviews… David Baddiel

Regarding West's motivation, Baddiel said antisemitism is "often seen by people as punching up".
He continued: "So they don't see it as racism, because what they see is that Jews are powerful.
"So Kanye will say things like, Jews are in control of the music business, I'm finally throwing off the shackles of how Jews won't let me speak about this, because they're in control."
West has previously accused record producer Sean "Diddy" Combs of being controlled by "the Jewish people" in a post on Instagram.
Baddiel went on: "It comes from a sense of, this is a rebel yell against a race that is controlling us, and the problem with that is it doesn't sound like a far-right person saying 'look at these scum, I'm just going to kill them'.
"It sounds like someone fighting the good fight. And that is actually what Hitler, who Kanye has said he's an admirer of, that is also how Hitler sounded to some people."
In an interview with the conspiracy theorist, Alex Jones, West said: "I like Hitler."
West retains the ability to influence people, Baddiel said. "Kanye, because he's a brilliant hip hop artist, has got a really powerful voice," he pointed out.
Asked whether West is racist, Baddiel said: "I think what he said is antisemitic. And I think antisemitism is racism. Yes."
Read more:
Kanye West returns to Twitter with 'shalom' post – six weeks after antisemitism ban
Adidas ends partnership with Kanye West over rapper's 'hateful and dangerous' comments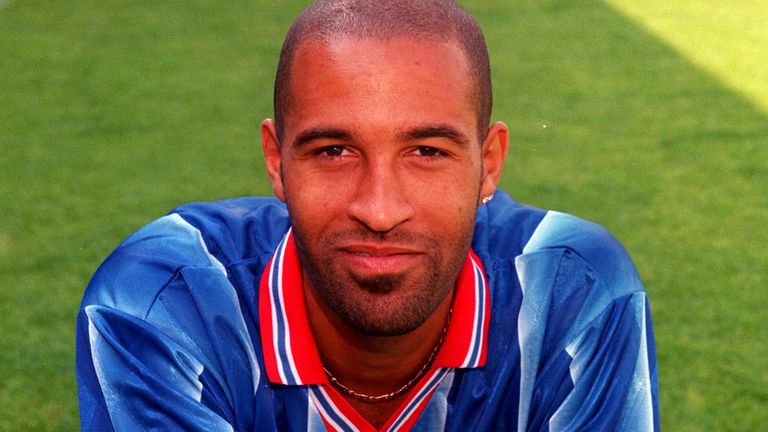 Baddiel also discussed his recent apology to the ex-footballer Jason Lee, for the way he portrayed him in sketches in his 1990s television series Fantasy Football League.
"As I became more aware of racism directed against me, as well as being hurt or upset by that, or thinking this is weird, this clearly really racist thing – that I am guilty of the same thing," he said.
"And that brought it home to me over time, over much too much time, that I should apologise to Jason Lee.
"When I (made a) documentary, I thought I should go and film a face-to-face apology. And thankfully Jason was up for doing that, and it was really difficult. He didn't in any way let me off."
Baddiel said he "felt terrible", "totally felt terrible".
He told Beth Rigby: "At the end of it, I went up to him, and I just said, look, sorry again, and thank you for seeing me.
"And he just shook my hand and said, no, it's done now.
"Meaning we've done it now, and we can move on. Which is important for me, and important for him.
"It was difficult. It should be difficult."