Dozens of NHS "traffic control centres" are live across England in a move aimed at managing pressure on the service more effectively.
The 42 "winter war rooms" use data such as A&E performance, waiting times, staff levels, ambulance response times and bed occupancy.
That data allows staff to divert ambulances away from full hospitals and towards ones with more space, where patients have a better chance of being seen quickly.
The centres were announced in October as part of a wider plan.
They will run seven days a week – fully staffed during the day, with on-call arrangements at night.
Professor Sir Stephen Powis, NHS national medical director, said: "These locally delivered control centres are just one part of our wide-ranging preparations for winter but will play a vital role in the sharing and use of vital information to drive smarter decision-making by local NHS teams.
"From Maidstone to Lincoln, less than six weeks after we issued our national guidance, we have teams across England working around the clock monitoring and responding to information and insights from frontline services to help spread resources and make the best possible decisions for both staff and patients.
"With recent data hitting home the significant pressure staff are facing – with 10 times the flu cases in hospital than we saw going into winter last year and thousands of beds taken up by patients medically fit for discharge – it has never been more important for the NHS to introduce these important and innovative planning measures ahead of what is likely to be one of our most challenging winters yet."
Read more:
Record number of people waiting at least four hours in A&E, NHS England data shows
Heart attack and stroke patients waiting half an hour longer for ambulances than pre-pandemic
The average response time in September for the most urgent incidents (people with life-threatening illnesses or injuries) was nine minutes and 19 seconds, against a seven-minute target.
Ambulances also took an average of 47 minutes and 59 seconds in September to respond to emergency calls such as burns, epilepsy and strokes – well above the target of 18 minutes.
And things do not get easier after the ambulance crew has reached the patient – accident and emergency departments are also under strain, with ambulances often facing lengthy waits to transfer patients into hospital.
NHS England has announced a number of other plans in recent weeks for services aimed at easing the pressure on hospitals.
Read more:
NHS leaders more concerned about this winter than any previous one
10,000 ambulance workers vote to strike in England Wales, GMB union says
An expansion of the falls response services will mean more people can be treated in their own homes, a move estimated to free up 55,000 ambulance trips each year.
Local "respiratory infections hubs" will offer patients same-day care for COVID-19, flu, acute bronchitis and pneumonia – again aimed at minimising the number of unnecessary trips to hospital.
Click to subscribe to the Sky News Daily wherever you get your podcasts
Miriam Deakin, director of policy and strategy at NHS Providers, said the control centres could help ease pressure on urgent and emergency services, but added: "Urgent action is also still needed to tackle workforce shortages, staff exhaustion and burnout, and the inability to free up capacity by discharging medically fit patients in a safe and timely way."
Man dies after being crushed by pop-up telescopic urinal in London's West End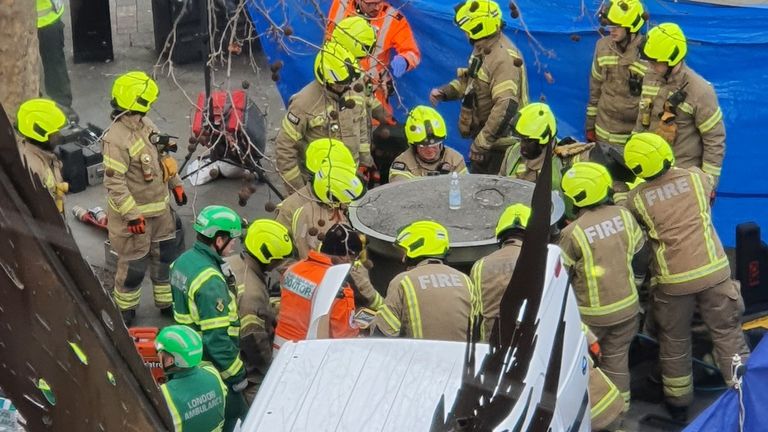 A maintenance worker in central London has died after being crushed by a hydraulic telescopic urinal – one that's kept underground during the day and kept out overnight.
Emergency services were called to Cambridge Circus in the West End just after 1pm on Friday to reports of a "seriously injured" man.
The incident took place outside the Palace Theatre, home to Harry Potter And The Cursed Child.
Firefighters, ambulance crews and an air ambulance were deployed at 1.05pm and police were called five minutes later.
Emergency services tried to save the man, who has not been named, but he died at the scene.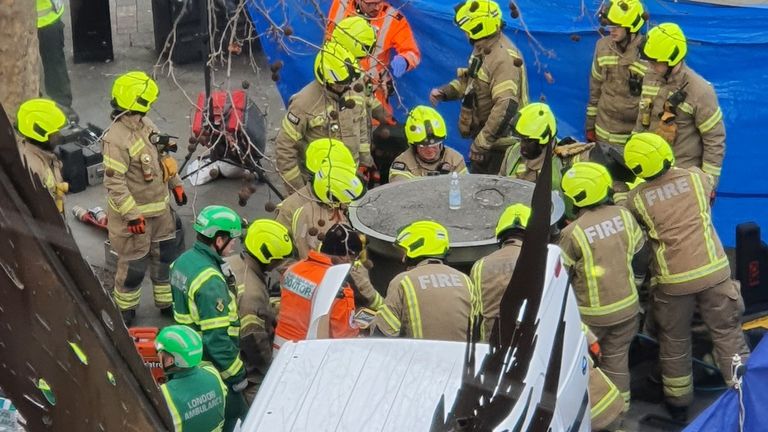 In a statement on Twitter, Metropolitan Police said: "We're sorry to have to update that, despite the efforts of emergency services, the man who was critically injured in Cambridge Circus was pronounced dead at the scene.
"His next of kin have been informed. Cordons remain in place at the location.
"Police were called at around 1.10pm on Friday January 27, to a seriously injured man at Cambridge Circus, W1.
"The man is thought to have sustained crush injuries while working on a telescopic urinal at the location."
A London Ambulance Service spokesman said: "We were called today at 1.05pm to reports of an incident on Shaftesbury Avenue, Charing Cross.
"We sent a number of resources to the scene, including an ambulance crew, members of our hazardous area response team, members of our tactical response unit and a medic in a fast response car.
"We also dispatched London's Air Ambulance."
Roads in the area have been closed.
The telescopic or hydraulic urinal is a pop-up urinal that comes out of the ground at night and is stored underground during the day.
Wynter Andrews: Nottingham University Hospitals NHS trust fined £800,000 over baby's death 23 minutes after birth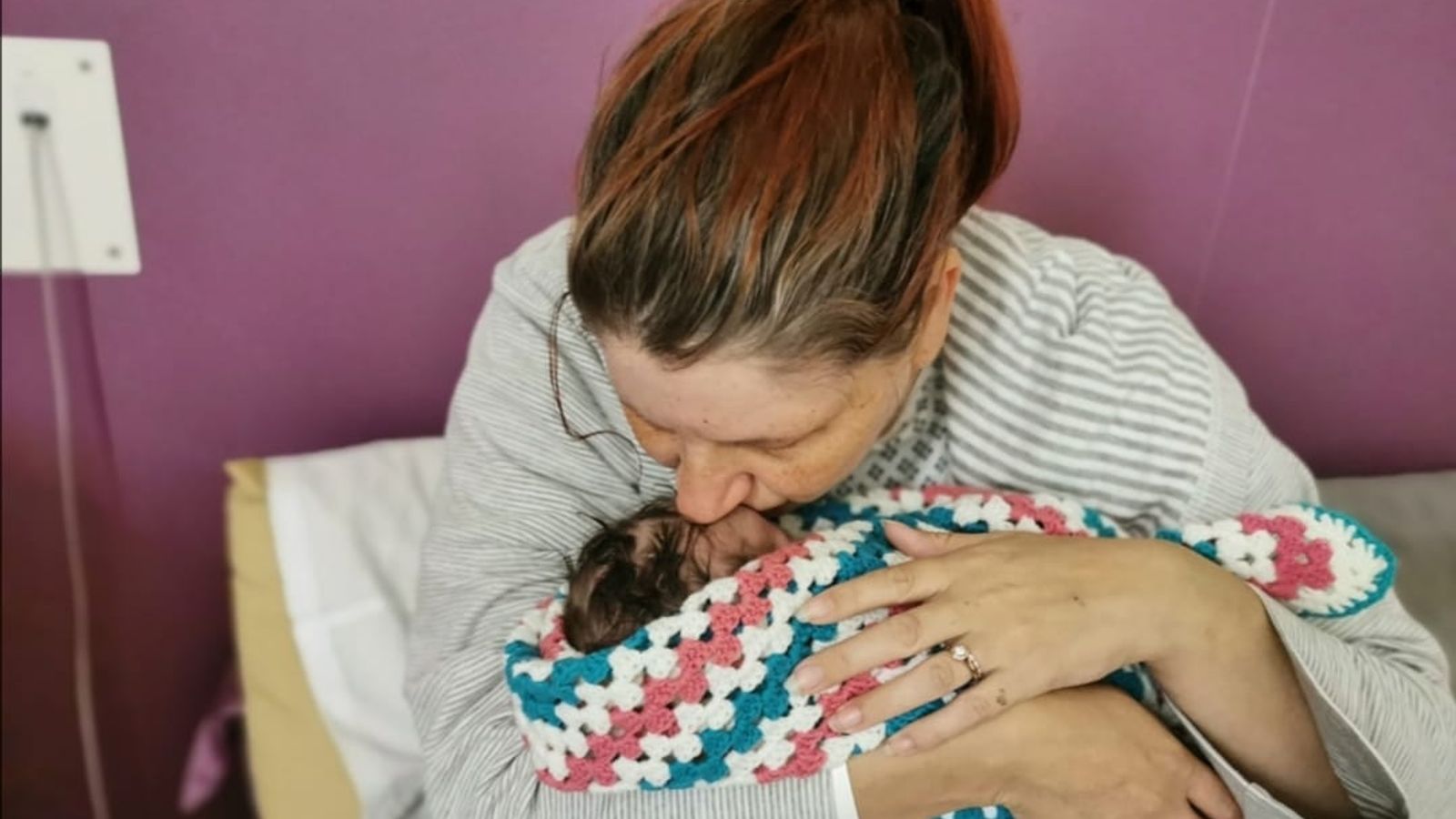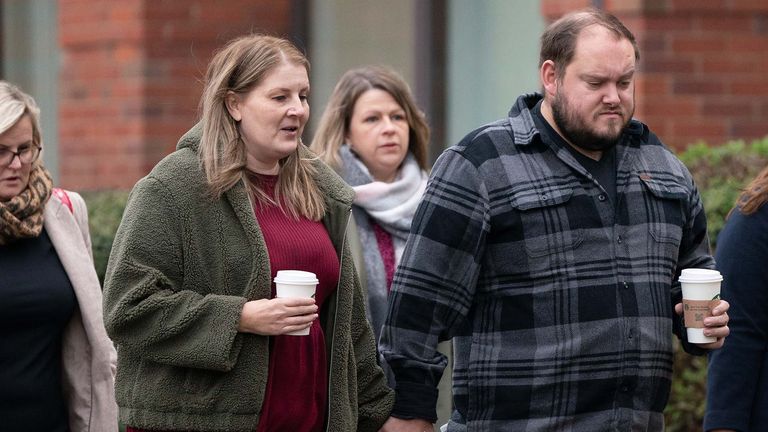 An NHS trust has been fined £800,000 for a "catalogue of failings and errors" that led to the death of a baby 23 minutes after she was born.
Wynter Andrews died in the arms of her parents, Sarah and Gary Andrews, on 15 September 2019 due to a lack of oxygen to the brain, shortly after an emergency Caesarean section at the Queen's Medical Centre in Nottingham.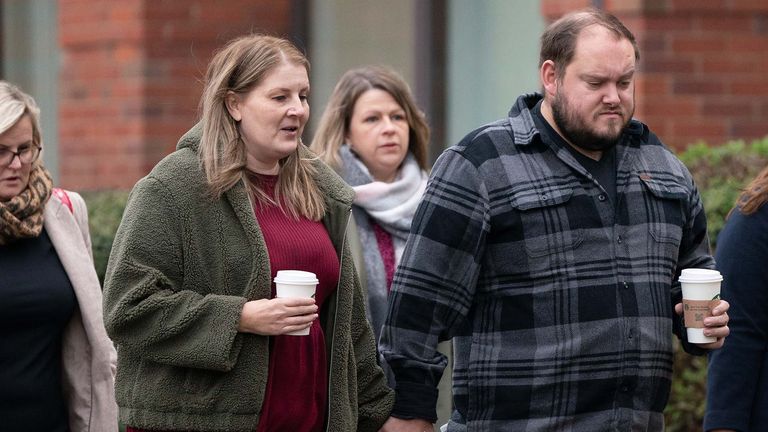 Nottingham University Hospitals (NUH) NHS Trust had admitted two counts of failing to provide safe care and treatment resulting in harm and loss at a court hearing on Wednesday.
Sentencing at the city's magistrates' court on Friday, district judge Grace Leong said: "The catalogue of failings and errors exposed Mrs Andrews and her baby to a significant risk of harm which was avoidable, and such errors ultimately resulted in the death of Wynter and post-traumatic stress for Mrs Andrews and Mr Andrews.
"My assessment is that the level of culpability is high, where offences on Wynter and Mrs Andrews are concerned.
"There were systems in place, but there were so many procedures and practices where guidance was not followed or adhered to or implemented."
District judge Leong added the "systematic failures" were "more than sufficient" to cause harm to Wynter and her mother.
She said the total fine, combining the sums for offences against both Wynter and Mrs Andrews, would have been £1.2m, but this was reduced to £800,000 due to the trust's early guilty pleas.
The judge also said she was "acutely aware" any fine would have to be paid out of public funds which would otherwise be spent on patient care.
The trust, which will pay prosecution costs of £13,668.65 and a victim surcharge of £181, has asked for two years to pay the fine.
Read more:
Why maternity scandals keep happening
Baby deaths mystery from 1930s solved
Speaking outside the court, Mrs Andrews said she hoped the significant fine "sends a clear message to trust managers that they must hold patient safety in the highest regard".
She added: "Sadly, we are not the only family harmed the trust's failings.
"We feel that this sentence isn't just for Wynter, but it's for all the other babies that have gone before and after her."
Mrs Andrews has previously said she was "failed in the most cruel way" by the trust and its management had been "repeatedly warned by staff about safety at the unit" but "failed to act".
The Care Quality Commission (CQC), which inspects health services in England, said last July that it would prosecute the trust.
The maternity unit at the QMC was rated as inadequate by the CQC, with the hospital overall rated as requiring improvement, when it was inspected last March.
Mrs Andrews was admitted to hospital on 14 September 2019, her planned due date, after an "uncomplicated" pregnancy.
An induced labour planned for 7 September was cancelled on her request, but an investigation later found this was signed off by a midwife without consulting an obstetrician, and limited reasoning was given for the decision in medical notes.
Once Mrs Andrews was in labour, Wynter's heartbeat was described as "suspicious" by doctors, who decided to deliver her via caesarean section.
After complications during the surgery, she was delivered in a "poor" condition and died 23 minutes and 30 seconds later despite "extensive efforts" to resuscitate her.
Jeremy Hunt confirms HS2 will reach central London after reports it might stop in suburbs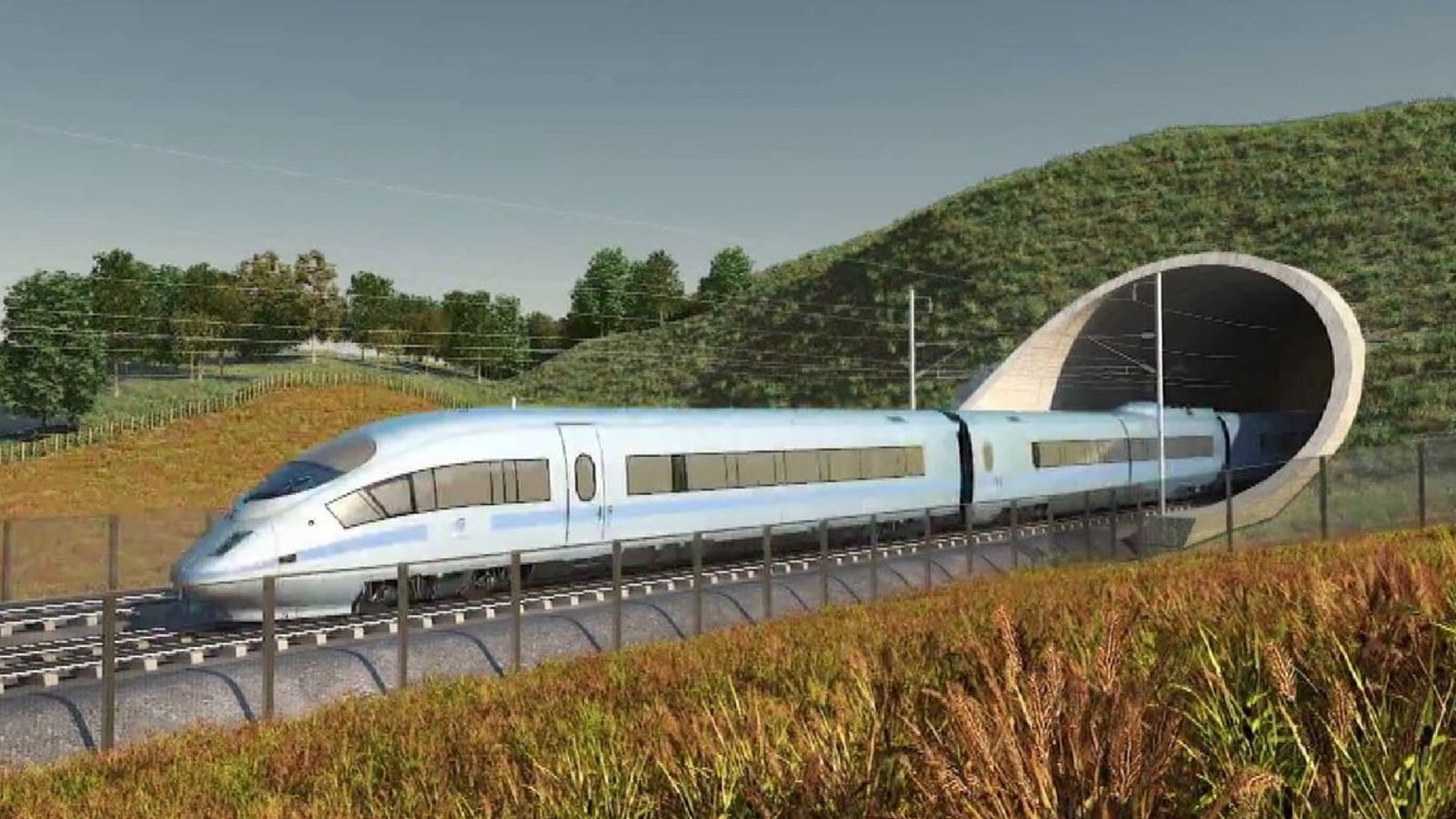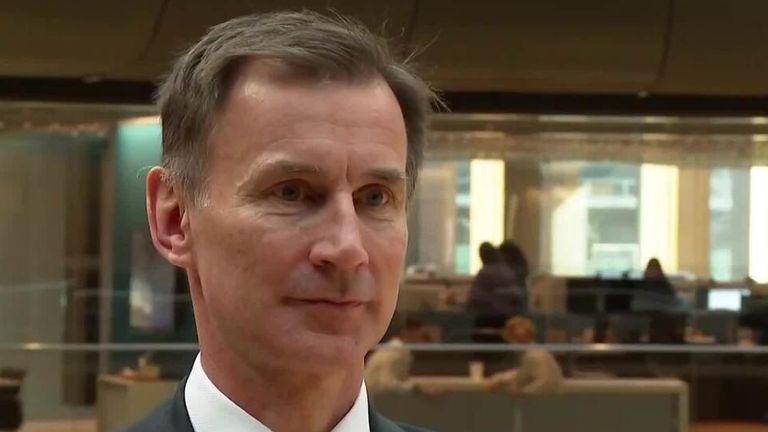 HS2 will end at Euston after reports the high speed line could stop before reaching central London, the chancellor has confirmed.
Jeremy Hunt said he did not see "any conceivable circumstance" the original plan would not be followed and that he was "incredibly proud" of the work going ahead.
The end-point of the line came into question after a report in the Sun, claiming the last leg of HS2 could be scrapped and replaced with a new hub at Old Oak Common in the suburbs of west London.
Politics live: 'Best tax cut right now is cut to inflation,' says Hunt
This would leave passengers having to finish their journey into the centre of the capital on the new Elizabeth underground line.
The government did not deny the reports or that a two to five-year delay to the entire project – currently due to be completed between 2029 and 2033 – was being considered due to record high inflation impacting costs.
However, when asked if he and the government were committed to the line ending in Euston as planned, Mr Hunt said: "Yes we are."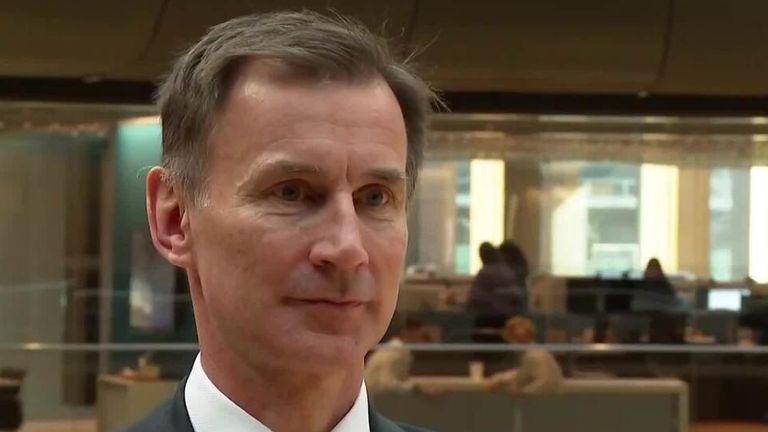 The chancellor added: "I don't see any conceivable circumstance in which that would not end up at Euston and indeed I prioritised HS2 in the autumn statement.
"We have not got a good record in this country of delivering complex, expensive infrastructure quickly but I'm incredibly proud that for the first time in this last decade under a Conservative government we have shovels in the ground, we are building HS2 and we are going to make it happen."
Planning your route into London
Making the the final southern destination for HS2 a station at Old Oak Common – which is yet to be built – could well have saved the government billions.
But what would the impact have been on passengers?
Let's say Euston is your final destination.
You would get off at the new station, which will be fairly close to Hammersmith in west London, and take the Elizabeth Line to Tottenham Court Road – a journey of around 15 minutes.
From there, you could take the Northern Line two stops to Euston.
Or, if you're feeling energetic, it would be a 20-minute walk.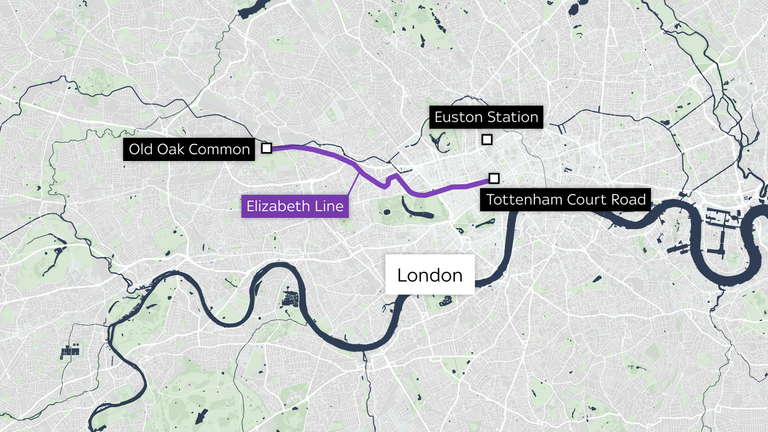 The HS2 project has been dogged by criticism over its financial and environmental impact.
In October 2021, Levelling Up Secretary Michael Gove suggested capital investment for the line would be reviewed.
But after being installed at Number 11, Mr Hunt subsequently backed the project.
The target cost of Phase 1 between London and Birmingham was £40.3bn at 2019 prices, despite an overall budget of £55.7bn being set just four years earlier.
Penny Gaines from campaign group Stop HS2 said it is "not at all surprising" that costs were spiralling out of control.
"These reports just show that there are so many problems with HS2," she added. "It's being delayed further and further so the cost is going up, it should be cancelled in its entirety as soon as possible."