UK health officials are advising schools on how to combat Strep A infections after the deaths of four children.
The UK Health Security Agency (UKHSA) has said that the figures for the disease are higher this year compared to the previous two.
The increase in cases is likely the result of the withdrawal of measures implemented during the COVID pandemic, they add.
The UKHSA advises those who come down with the illness to exclude themselves from nursery, school or work for at least 24 hours after they start antibiotic treatment.
What is Strep A – or GAS?
Strep A – or Group A streptococcus (GAS) – is a type of bacterium found in the throat and on the skin and in most people does not cause any symptoms – known as being "colonised", the NHS says.
However, it can cause a range different illnesses of the nose, throat and lungs.
It can be spread through coughs, sneezes and skin-to-skin contact.
Those carrying the bacteria may have no symptoms, but are just as likely to pass on Strep A as those who have fallen ill.
Symptoms for Strep A include pain when swallowing, fever, swollen tonsils with white patches, swollen neck glands, a high temperature or a skin rash.
The bacteria can also cause any of the following:
tonsillitis
pharyngitis
scarlet fever
skin infections like impetigo or erysipelas
cellulitis
pneumonia
Most cases of throat infection will get better on their own without treatment. Skin infections may require antibiotics.
However, GAS can also, on occasion, cause very severe infections – known as invasive GAS (iGAS).
What is iGAS?
Invasive GAS disease happens when the bacterium gets past the body's natural defences and enters parts of the body where it is not usually found, like through the blood, deep muscle or lungs.
The most severe forms of invasive GAS disease are Streptococcal Toxic Shock Syndrome – symptoms of which include high fever, low blood pressure, scarlet fever, kidney or liver damage and vomiting and diarrhoea – and Necrotising Fasciitis or "flesh-eating disease", which is an infection that causes tissue to become destroyed and requires surgery. Both of these are rare, but Toxic Shock Syndrome has a high death rate.
Treatments include different types of antibiotics, and depending on how severe the symptoms are, blood transfusions may be given.
What are the symptoms of iGAS?
Early signs and symptoms of invasive GAS include:
high fever
severe muscle aches
pain in one area of the body
redness at the site of a wound
vomiting or diarrhoea
How common is it in the UK?
iGAS disease is rare. There are between two and four cases per 100,000 people each year.
Ashish Joshi, Sky News health correspondent, said: "Parents need to be vigilant but not unduly concerned.
"While there is an uptick in cases, there haven't been many over the last few years because the COVID pandemic meant there were restrictions on people's movement."
He added: "It is a very common bug that children and adults can pick up, although the tragedies we are aware of tells there is a higher amount of more dangerous cases affecting children in a more dangerous way.
"But we mustn't be alarmed, and mustn't be saying all children will become ill and some may die.
"That said, it's important that parents, who will naturally be worried, should just be vigilant of the signs."
Is Strep A (GAS) dangerous and am I at any increased risk of this disease?
It can be a serious illness, but if treated promptly with antibiotics, it is less of a threat. After at least 24 hours of antibiotics, it is generally thought to no longer be contagious.
People at risk of catching the infection include those who are:
in close contact with someone that has Strep A
over the age of 65
have HIV
use steroids or other drugs
have diabetes, heart disease or cancer
Which version of Strep A has caused the children to die?
So far, four school-age children have died.
The deaths of a child in Ealing, west London, and a child in Buckinghamshire have been confirmed as iGAS, according to the UKHSA.
It's not yet clear if this is also true for the other two children.
One was a pupil at a primary school near Cardiff, and another was a pupil at Ashford Church of England School in Surrey.
What should you do if you have symptoms?
Contact your GP and get medical advice straight away if you believe you or your child have symptoms of either GAS or iGAS.
Strep throat should be different from a regular sore throat, as the pain can come on quickly.
In response to the latest outbreak, a UK Health Security Agency (UKHSA) spokesman said: "As part of our public health response to last week's tragic news, we issued some general information about the signs and symptoms of scarlet fever, which is not uncommon, to schools in the vicinity of Ashford Primary.
"A number of other illnesses typically circulate at this time of year and parents, school and nursery staff are advised to be aware of the symptoms, to keep up with vaccinations and to seek advice from NHS 111 if they have concerns."
Man dies after being crushed by pop-up telescopic urinal in London's West End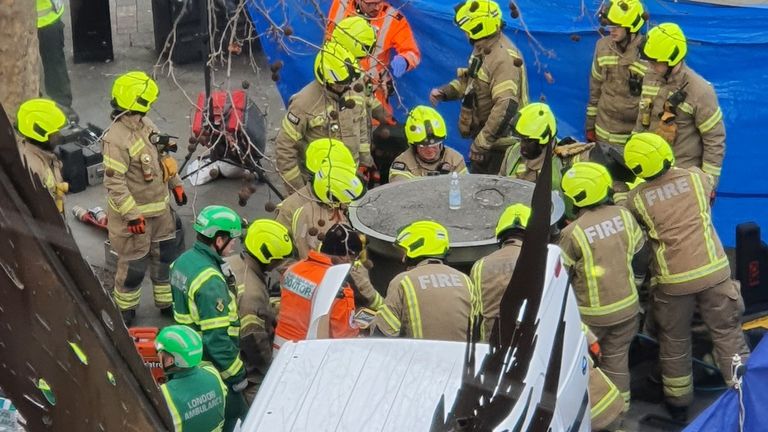 A maintenance worker in central London has died after being crushed by a hydraulic telescopic urinal – one that's kept underground during the day and kept out overnight.
Emergency services were called to Cambridge Circus in the West End just after 1pm on Friday to reports of a "seriously injured" man.
The incident took place outside the Palace Theatre, home to Harry Potter And The Cursed Child.
Firefighters, ambulance crews and an air ambulance were deployed at 1.05pm and police were called five minutes later.
Emergency services tried to save the man, who has not been named, but he died at the scene.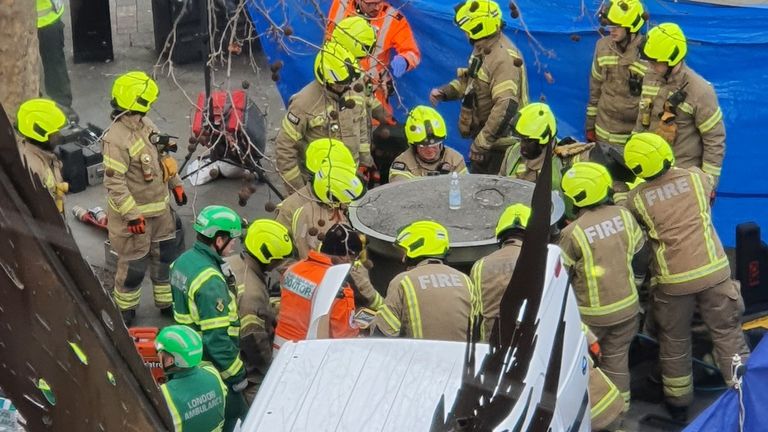 In a statement on Twitter, Metropolitan Police said: "We're sorry to have to update that, despite the efforts of emergency services, the man who was critically injured in Cambridge Circus was pronounced dead at the scene.
"His next of kin have been informed. Cordons remain in place at the location.
"Police were called at around 1.10pm on Friday January 27, to a seriously injured man at Cambridge Circus, W1.
"The man is thought to have sustained crush injuries while working on a telescopic urinal at the location."
A London Ambulance Service spokesman said: "We were called today at 1.05pm to reports of an incident on Shaftesbury Avenue, Charing Cross.
"We sent a number of resources to the scene, including an ambulance crew, members of our hazardous area response team, members of our tactical response unit and a medic in a fast response car.
"We also dispatched London's Air Ambulance."
Roads in the area have been closed.
The telescopic or hydraulic urinal is a pop-up urinal that comes out of the ground at night and is stored underground during the day.
Wynter Andrews: Nottingham University Hospitals NHS trust fined £800,000 over baby's death 23 minutes after birth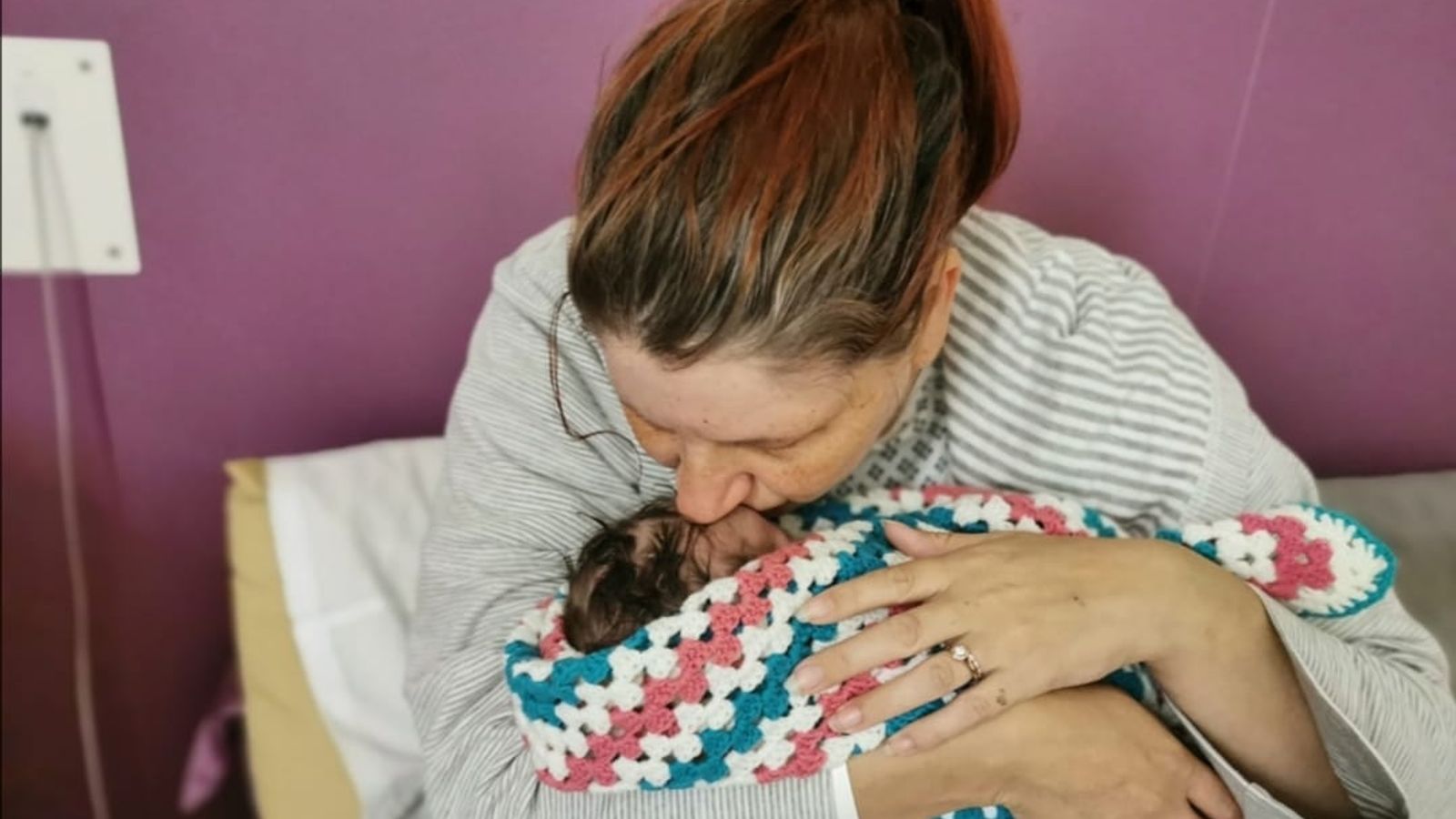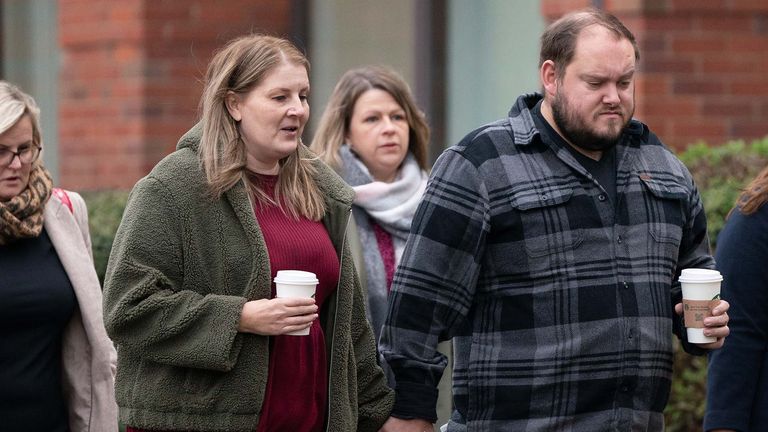 An NHS trust has been fined £800,000 for a "catalogue of failings and errors" that led to the death of a baby 23 minutes after she was born.
Wynter Andrews died in the arms of her parents, Sarah and Gary Andrews, on 15 September 2019 due to a lack of oxygen to the brain, shortly after an emergency Caesarean section at the Queen's Medical Centre in Nottingham.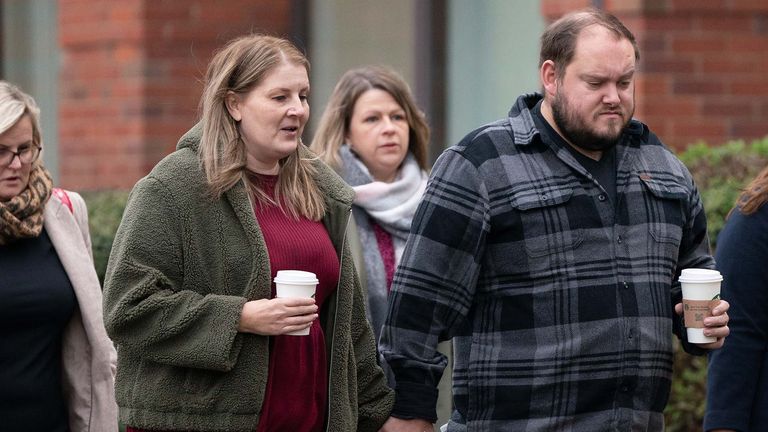 Nottingham University Hospitals (NUH) NHS Trust had admitted two counts of failing to provide safe care and treatment resulting in harm and loss at a court hearing on Wednesday.
Sentencing at the city's magistrates' court on Friday, district judge Grace Leong said: "The catalogue of failings and errors exposed Mrs Andrews and her baby to a significant risk of harm which was avoidable, and such errors ultimately resulted in the death of Wynter and post-traumatic stress for Mrs Andrews and Mr Andrews.
"My assessment is that the level of culpability is high, where offences on Wynter and Mrs Andrews are concerned.
"There were systems in place, but there were so many procedures and practices where guidance was not followed or adhered to or implemented."
District judge Leong added the "systematic failures" were "more than sufficient" to cause harm to Wynter and her mother.
She said the total fine, combining the sums for offences against both Wynter and Mrs Andrews, would have been £1.2m, but this was reduced to £800,000 due to the trust's early guilty pleas.
The judge also said she was "acutely aware" any fine would have to be paid out of public funds which would otherwise be spent on patient care.
The trust, which will pay prosecution costs of £13,668.65 and a victim surcharge of £181, has asked for two years to pay the fine.
Read more:
Why maternity scandals keep happening
Baby deaths mystery from 1930s solved
Speaking outside the court, Mrs Andrews said she hoped the significant fine "sends a clear message to trust managers that they must hold patient safety in the highest regard".
She added: "Sadly, we are not the only family harmed the trust's failings.
"We feel that this sentence isn't just for Wynter, but it's for all the other babies that have gone before and after her."
Mrs Andrews has previously said she was "failed in the most cruel way" by the trust and its management had been "repeatedly warned by staff about safety at the unit" but "failed to act".
The Care Quality Commission (CQC), which inspects health services in England, said last July that it would prosecute the trust.
The maternity unit at the QMC was rated as inadequate by the CQC, with the hospital overall rated as requiring improvement, when it was inspected last March.
Mrs Andrews was admitted to hospital on 14 September 2019, her planned due date, after an "uncomplicated" pregnancy.
An induced labour planned for 7 September was cancelled on her request, but an investigation later found this was signed off by a midwife without consulting an obstetrician, and limited reasoning was given for the decision in medical notes.
Once Mrs Andrews was in labour, Wynter's heartbeat was described as "suspicious" by doctors, who decided to deliver her via caesarean section.
After complications during the surgery, she was delivered in a "poor" condition and died 23 minutes and 30 seconds later despite "extensive efforts" to resuscitate her.
Jeremy Hunt confirms HS2 will reach central London after reports it might stop in suburbs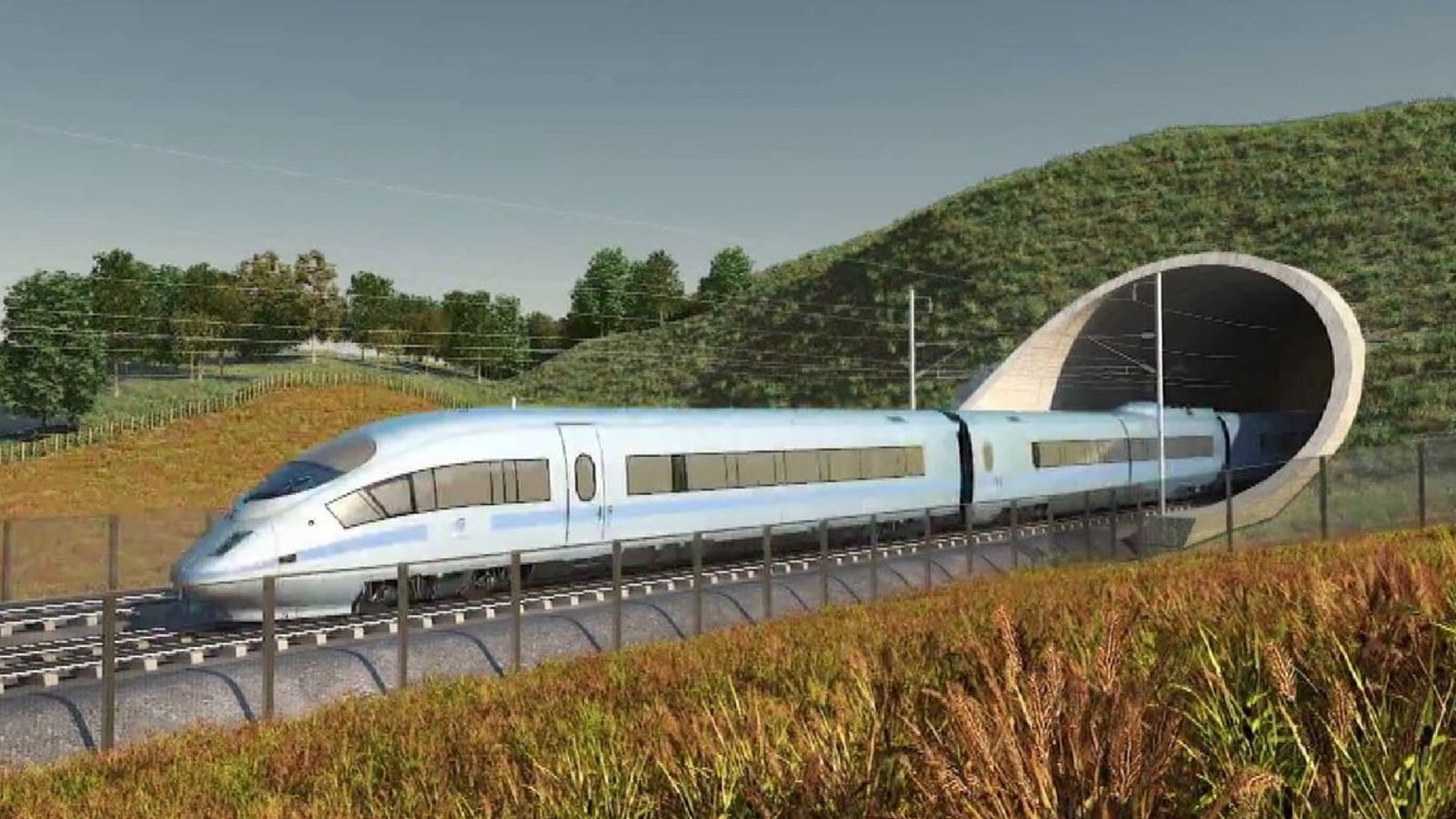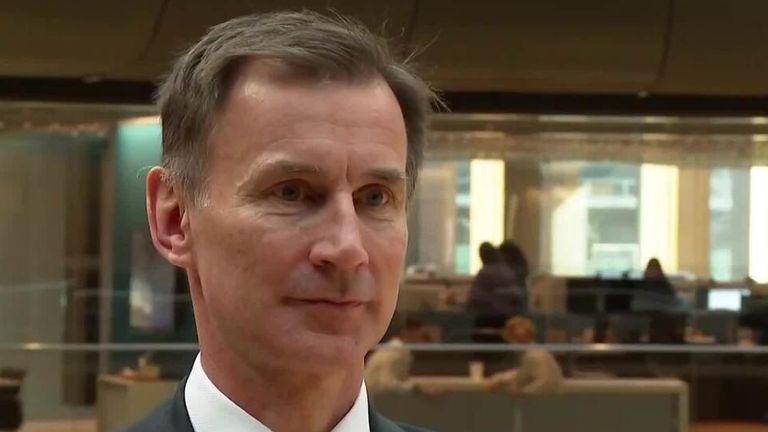 HS2 will end at Euston after reports the high speed line could stop before reaching central London, the chancellor has confirmed.
Jeremy Hunt said he did not see "any conceivable circumstance" the original plan would not be followed and that he was "incredibly proud" of the work going ahead.
The end-point of the line came into question after a report in the Sun, claiming the last leg of HS2 could be scrapped and replaced with a new hub at Old Oak Common in the suburbs of west London.
Politics live: 'Best tax cut right now is cut to inflation,' says Hunt
This would leave passengers having to finish their journey into the centre of the capital on the new Elizabeth underground line.
The government did not deny the reports or that a two to five-year delay to the entire project – currently due to be completed between 2029 and 2033 – was being considered due to record high inflation impacting costs.
However, when asked if he and the government were committed to the line ending in Euston as planned, Mr Hunt said: "Yes we are."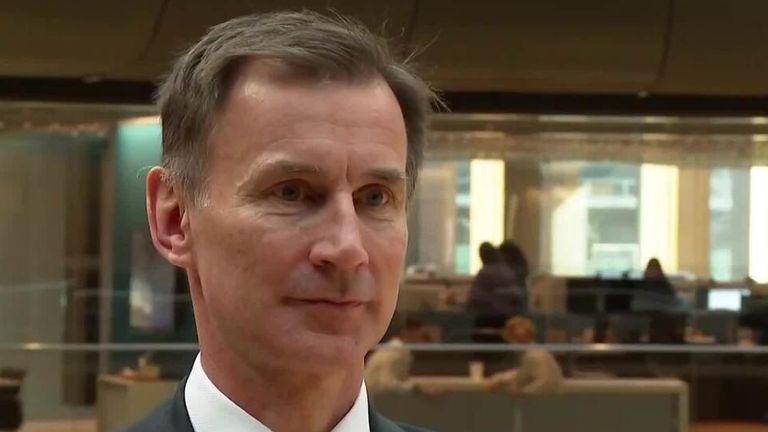 The chancellor added: "I don't see any conceivable circumstance in which that would not end up at Euston and indeed I prioritised HS2 in the autumn statement.
"We have not got a good record in this country of delivering complex, expensive infrastructure quickly but I'm incredibly proud that for the first time in this last decade under a Conservative government we have shovels in the ground, we are building HS2 and we are going to make it happen."
Planning your route into London
Making the the final southern destination for HS2 a station at Old Oak Common – which is yet to be built – could well have saved the government billions.
But what would the impact have been on passengers?
Let's say Euston is your final destination.
You would get off at the new station, which will be fairly close to Hammersmith in west London, and take the Elizabeth Line to Tottenham Court Road – a journey of around 15 minutes.
From there, you could take the Northern Line two stops to Euston.
Or, if you're feeling energetic, it would be a 20-minute walk.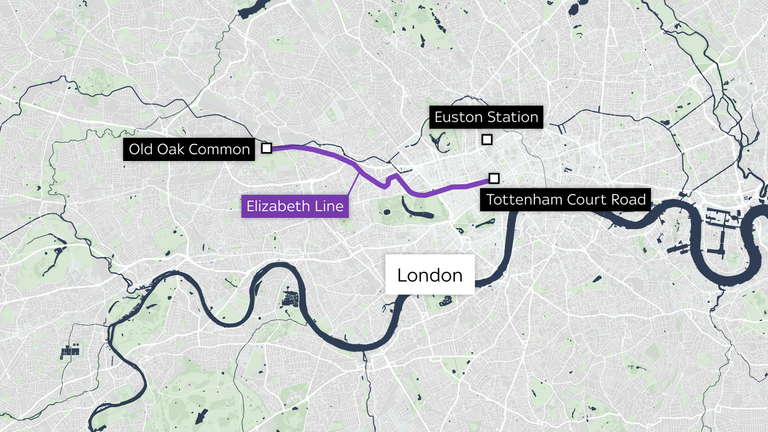 The HS2 project has been dogged by criticism over its financial and environmental impact.
In October 2021, Levelling Up Secretary Michael Gove suggested capital investment for the line would be reviewed.
But after being installed at Number 11, Mr Hunt subsequently backed the project.
The target cost of Phase 1 between London and Birmingham was £40.3bn at 2019 prices, despite an overall budget of £55.7bn being set just four years earlier.
Penny Gaines from campaign group Stop HS2 said it is "not at all surprising" that costs were spiralling out of control.
"These reports just show that there are so many problems with HS2," she added. "It's being delayed further and further so the cost is going up, it should be cancelled in its entirety as soon as possible."