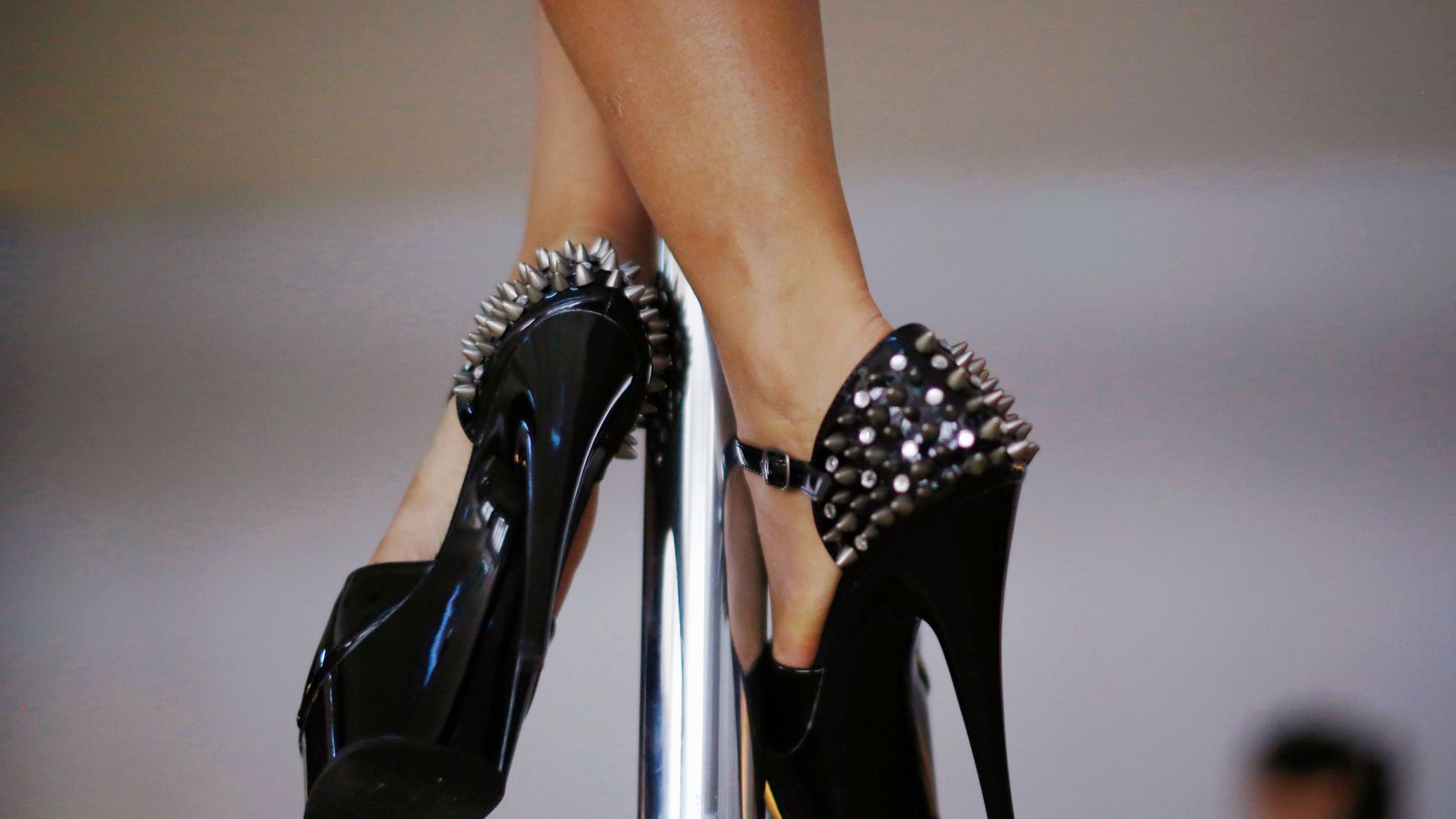 'Feminists can't tell us what to do with our bodies': Sex workers fight council strip club ban in Edinburgh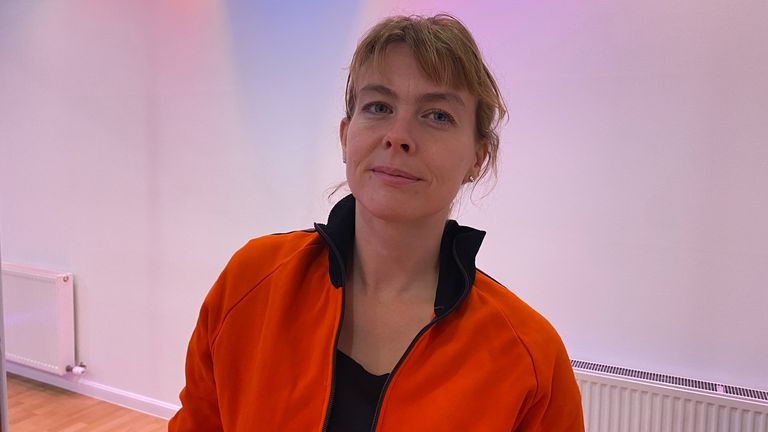 Strippers in Edinburgh have told Sky News the council's decision to ban sexual entertainment venues (SEVs) will financially devastate them, as the clubs and the union launch a judicial review to challenge the shutdown of the city's clubs.
Three Edinburgh clubs (Baby Dolls, The Western and Burke and Hare) and the United Sex Workers (USW) union argue the council vote to limit the number of licensed venues to zero from April 2023 will force the industry underground, making it riskier for the women.
'It should be my choice'
Edinburgh dancer Sasha told Sky News the choice should be hers to make.
"I think it is our right to choose that and I don't think it's right for feminists to tell women what they should and shouldn't be doing with their bodies, what jobs they should do, and what jobs they shouldn't do," she said.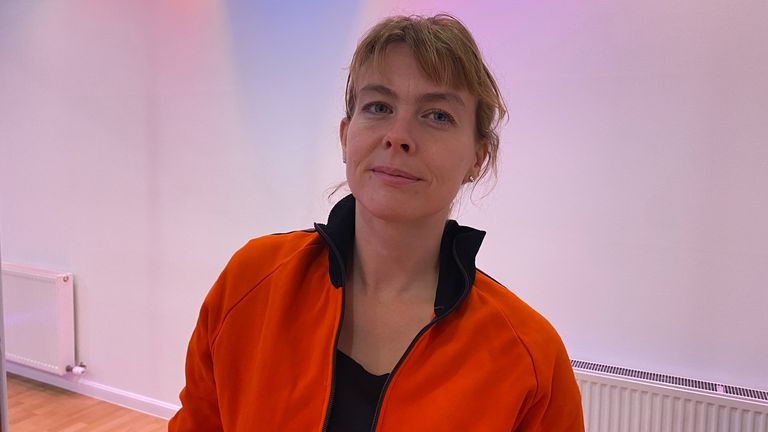 Sasha added that working as a stripper means good money and flexible shifts that helps her as a mother.
"As a parent, I just find it very flexible and there's a potential for it to be well paid, so it ticks a lot of boxes for me. Particularly the flexibility, the money is never guaranteed, but the flexibility is great."
Sasha doesn't believe changing what she does is an option.
"It's not that easy, we've been doing what we're doing, most of us, for years – and that's our trade, it's our industry and that's what we want to continue doing to make money."
'Epitome of the patriarchy'
However, for those campaigning for the ban of strip clubs, they say the choice to do this work shouldn't be available.
Former Labour councillor and writer Susan Dalgety believes the council's decision is right for women.
"As a feminist, I think that men paying us for sexual favours is the worst kind of exploitation of our bodies," she said.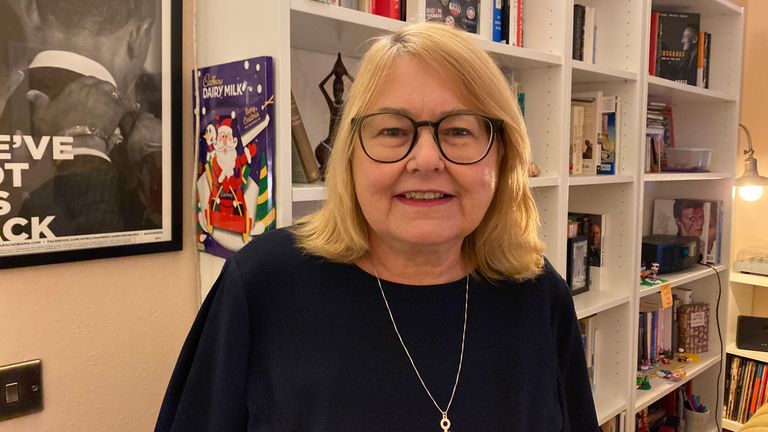 "And it is the epitome of the patriarchy that men are much more powerful in society than women, and that all we are there for is either to reproduce the next generation or for the sexual entertainment of men.
"All Edinburgh is doing is saying that in our city we do not want to legitimise sexual entertainment. It's living pornography.
"It is young women taking their clothes off and dancing sexually for the pleasure of men."
Read more on Sky News:
How can I save £100 off my energy bills?
No-fault evictions driving up homelessness rates in this region
Ms Dalgety's views have changed. As a young councillor, she believed such clubs should exist and be properly regulated for the safety of women.
In the 1990s, she voted to licence saunas "knowing full well that they were brothels".
"Edinburgh was the epicentre of the AIDS epidemic in the UK in the late 1980s and early 1990s, and it was spread through the drug using community," she said.
"So it was in the heterosexual community and sex workers, unfortunately, were at a much higher risk of it," Ms Dalgety said, adding the policy choice back then was "a public health decision", but now she thinks the very existence of any sexual entertainment venue is problematic.
Forcing women into dangerous conditions
Mina from the USW union told Sky News that exploitation isn't found in the clubs; instead, it is in forcing women into working minimum wage jobs.
"The patriarchy exists across all aspects of society, so clearly stripping is not free from that. However, it is the dancer's decision to choose that form of work, they're not being exploited," she said.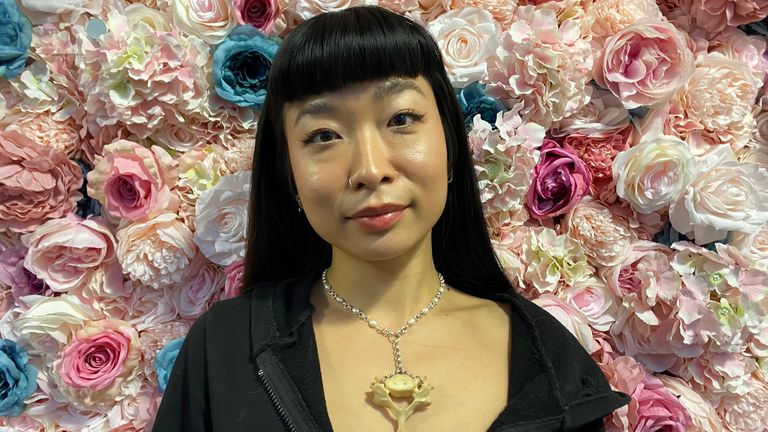 "United Sex Workers take the position that shutting down legal, regulated place of work for dancers who are primarily women would force them to work more dangerous conditions, especially in a cost of living crisis.
"Sex workers are not to be blamed for exploitation of actual violence because it splits women into particles of good and bad. And it's never that simple, and it's not fair."
Previously, sex workers have told Sky News that the cost of living crisis means they are unable to say no to dangerous clients.
Decision is for 'prevention of crime and disorder'
In a statement, Edinburgh City Council told Sky News the decision to close down the strip clubs was for the "preservation of public safety and the prevention of crime and disorder" and that "SEVs can still apply for a licence and a committee would consider them against the agreed policy".
The judicial review decision is expected to take several weeks, possibly months.
Alan Cumming gives back OBE over links to 'toxic' British Empire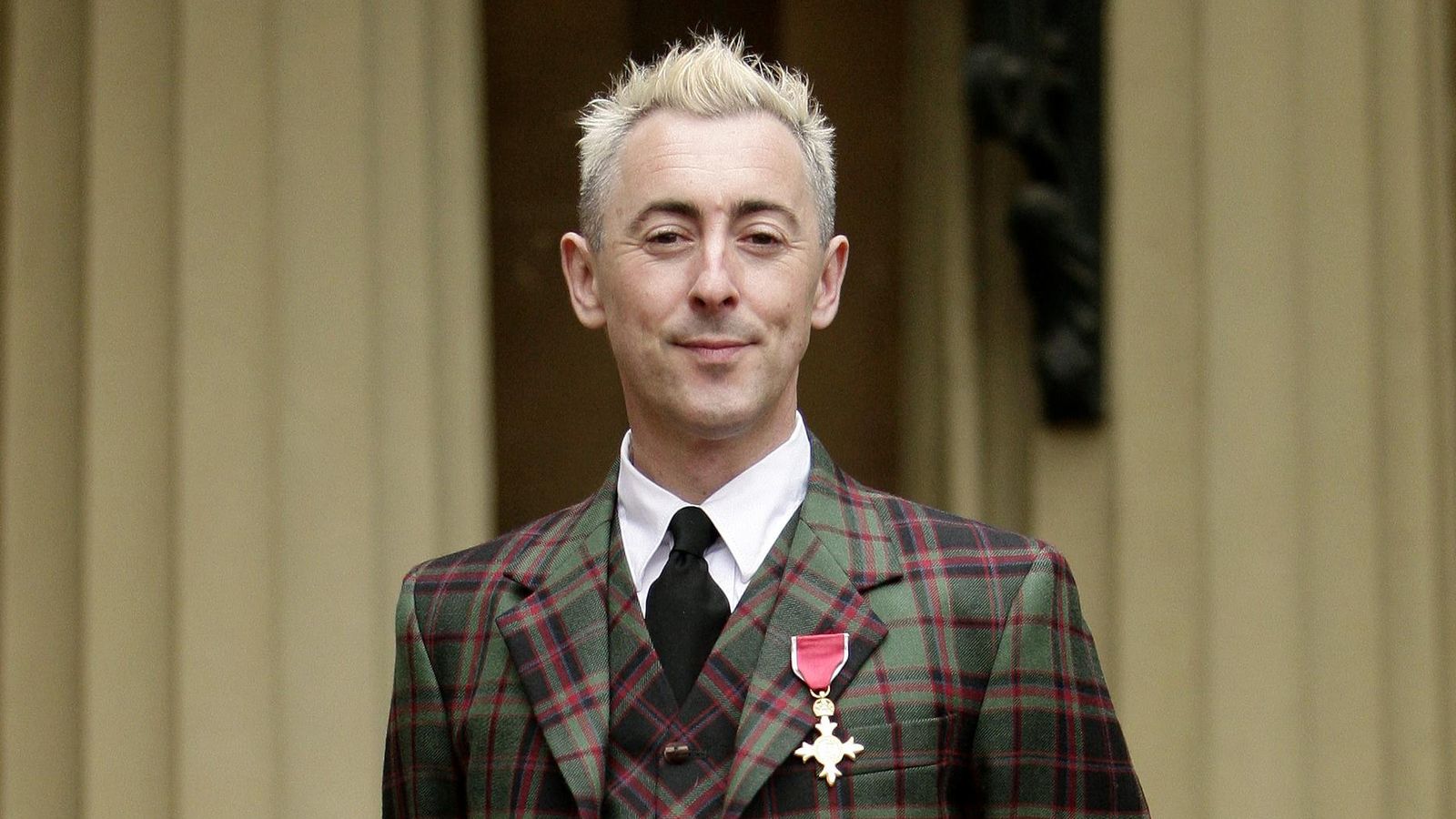 Alan Cumming has given back his OBE, expressing concern over its links to what he describes as the "toxicity" of the British Empire.
The actor said he had made the decision to return the award after listening to conversations about the future of the Royal Family after the Queen's death.
Cumming was made an OBE in 2009 as part of the Queen's birthday honours, being recognised for acting, as well as the work he does to campaign for LGBTQ+ rights in the US.
He said at the time that he was "shocked and delighted" to be given the honour.
Writing on Instagram on his 58th birthday, he said: "The Queen's death and the ensuing conversations about the role of monarchy and especially the way the British Empire profited at the expense (and death) of indigenous peoples across the world really opened my eyes.
"Fourteen years ago, I was incredibly grateful to receive it in the 2009 Queen's birthday honours list, for it was awarded not just for my job as an actor but 'for activism for equal rights for the gay and lesbian community, USA'.
"Back then the Defence of Marriage Act ensured that same-sex couples couldn't get married or enjoy the same basic legal rights as straight people, and Don't Ask, Don't Tell ensured that openly gay, lesbian or bisexual people were barred from serving in the military."
Read more:
11 people who said no to honours over the years
Church progress on same-sex marriage 'will be glacial'
Elton John cancels gig with minutes to go because of rain
He added: "Thankfully, times and laws in the US have changed, and the great good the award brought to the LGBTQ+ cause back in 2009 is now less potent than the misgivings I have being associated with the toxicity of empire (OBE stands for Officer of the British Empire).
"So, I returned my award, explained my reasons and reiterated my great gratitude for being given it in the first place. I'm now back to being plain old Alan Cumming again. Happy birthday to me!"
Cumming is best known for his roles in Goldeneye and the Spy Kids trilogy, as well as for his stage work, with his credits including Cabaret, for which he won a Tony Award, and Endgame.
Sandi Toksvig says archbishop told her progress on same-sex marriage in Church of England will be 'glacial'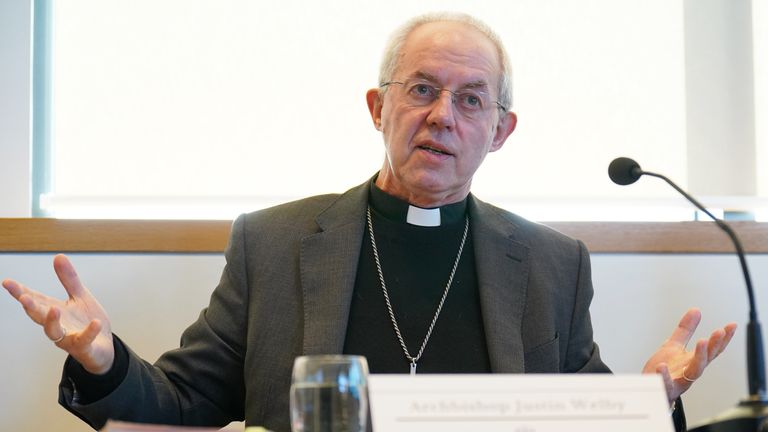 The Archbishop of Canterbury has conceded progress on same-sex marriage in the Church of England would be "glacial", Sandi Toksvig has said.
The comedian revealed she had met Justin Welby for a "long-promised coffee" and the meeting had been "calm and considered", but the church's current position was "untenable".
In a video she said it was clear the "Church of England and the society it purports to represent are not remotely in step".
They met after she expressed her dismay last year that Mr Welby had reaffirmed the validity of a 1998 declaration by the church that gay sex was a sin.
The archbishop has recently said he welcomed the Church of England's proposals to bless same-sex married couples, but said he would not personally carry them out due to his "pastoral relationship for the whole communion".
"Yesterday I went to have coffee, tea, actually, with the Archbishop of Canterbury, not a sentence I thought would ever come out of my mouth," Toksvig said in her video.
"From our very calm and considered conversation yesterday, it is very clear that the State's Church of England and the society it purports to represent are not remotely in step.
"Justin was keen for me to see that they are moving forward, but conceded that any progress, as I would see it, if it happens at all, will be glacial."
She said it was also "very clear" opposing factions of the worldwide Anglican Communion were being "in part held together at the expense of the human rights of the LGBT+ community".
"It's not okay. And I said so," she said.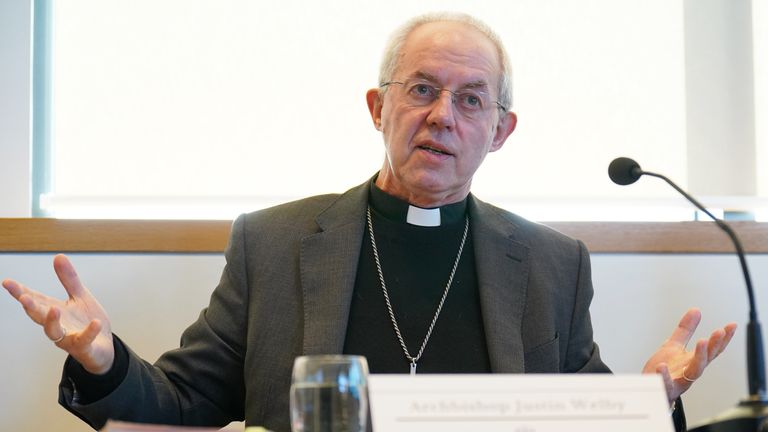 Toksvig asked Archbishop to come out as gay ally
She continued: "I asked Justin if he could just come out. I don't mean to make a surprise announcement about his sexuality, but come out as a gay ally.
"Basically, to come up for love, love for all without exceptions, and not the current Orwellian position, where it would seem we are all created equal, but some are more equal than others.
"I hope that will happen, but I do not intend to wait upon the church.
"In the next few weeks, I will be reaching out to the LGBT+ community and all our allies to see what can be done.
"The present position is untenable. In the meantime, please. Let's all come out for love."
'Church deeply divided' on same-sex marriage

Church apologises for 'shameful' treatment of LGBTQI+ people
Last week the church formally apologised for its "shameful" treatment of LGBTQI+ people.
It came after it said it would refuse to allow same-sex couples to get married in its churches, but would bless same-sex civil marriages for the first time.
Kanye West a 'danger to my children', Jewish comedian David Baddiel says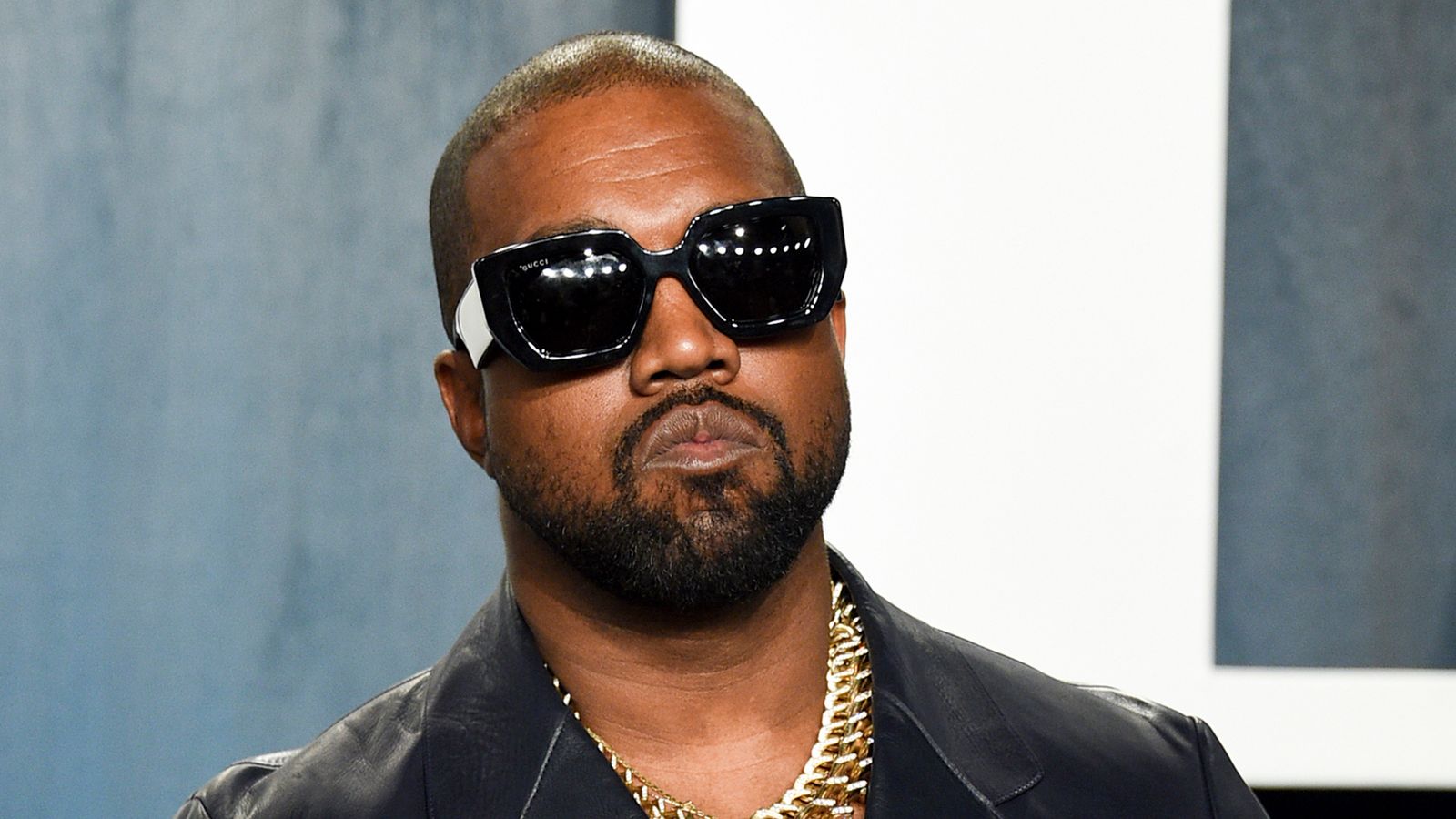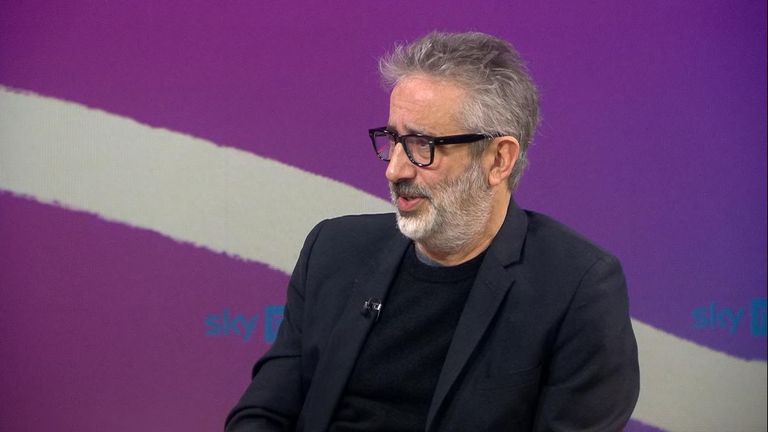 Allowing Kanye West to start tweeting again would be "dangerous for Jews" and "dangerous for my children", David Baddiel has told Sky News.
The Jewish author and comedian also said he considers the musician to be racist.
West is currently suspended from Twitter for tweeting an image of a swastika hours after praising Nazi dictator Adolf Hitler.
The musician, 45, posted the grossly offensive image only two weeks after being allowed back on the site following a previous ban.
Baddiel said he understood why Twitter owner Elon Musk might consider another reprieve for the rapper.
"Kanye being let back onto that platform seems to be part of Elon Musk trying to make (it) less dominated by the progressive left," Baddiel told the Beth Rigby Interviews programme.
"I'm not bothered about those arguments. I'm bothered about what is dangerous for Jews. What is dangerous for my children.
"I do think it's dangerous. I think it's actively dangerous."
Beth Rigby Interviews… David Baddiel

Regarding West's motivation, Baddiel said antisemitism is "often seen by people as punching up".
He continued: "So they don't see it as racism, because what they see is that Jews are powerful.
"So Kanye will say things like, Jews are in control of the music business, I'm finally throwing off the shackles of how Jews won't let me speak about this, because they're in control."
West has previously accused record producer Sean "Diddy" Combs of being controlled by "the Jewish people" in a post on Instagram.
Baddiel went on: "It comes from a sense of, this is a rebel yell against a race that is controlling us, and the problem with that is it doesn't sound like a far-right person saying 'look at these scum, I'm just going to kill them'.
"It sounds like someone fighting the good fight. And that is actually what Hitler, who Kanye has said he's an admirer of, that is also how Hitler sounded to some people."
In an interview with the conspiracy theorist, Alex Jones, West said: "I like Hitler."
West retains the ability to influence people, Baddiel said. "Kanye, because he's a brilliant hip hop artist, has got a really powerful voice," he pointed out.
Asked whether West is racist, Baddiel said: "I think what he said is antisemitic. And I think antisemitism is racism. Yes."
Read more:
Kanye West returns to Twitter with 'shalom' post – six weeks after antisemitism ban
Adidas ends partnership with Kanye West over rapper's 'hateful and dangerous' comments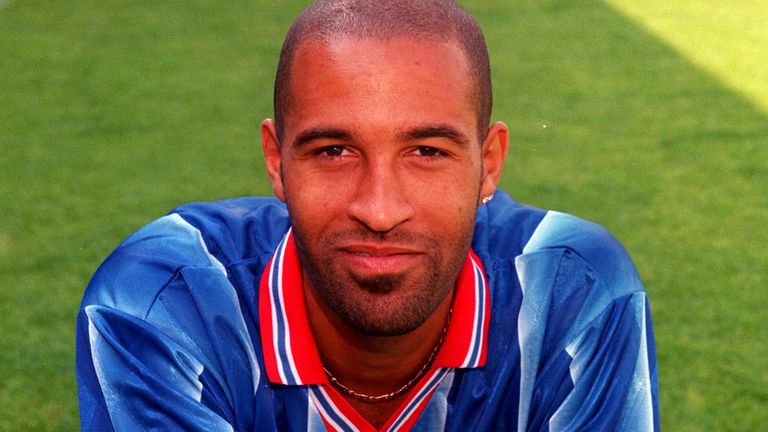 Baddiel also discussed his recent apology to the ex-footballer Jason Lee, for the way he portrayed him in sketches in his 1990s television series Fantasy Football League.
"As I became more aware of racism directed against me, as well as being hurt or upset by that, or thinking this is weird, this clearly really racist thing – that I am guilty of the same thing," he said.
"And that brought it home to me over time, over much too much time, that I should apologise to Jason Lee.
"When I (made a) documentary, I thought I should go and film a face-to-face apology. And thankfully Jason was up for doing that, and it was really difficult. He didn't in any way let me off."
Baddiel said he "felt terrible", "totally felt terrible".
He told Beth Rigby: "At the end of it, I went up to him, and I just said, look, sorry again, and thank you for seeing me.
"And he just shook my hand and said, no, it's done now.
"Meaning we've done it now, and we can move on. Which is important for me, and important for him.
"It was difficult. It should be difficult."