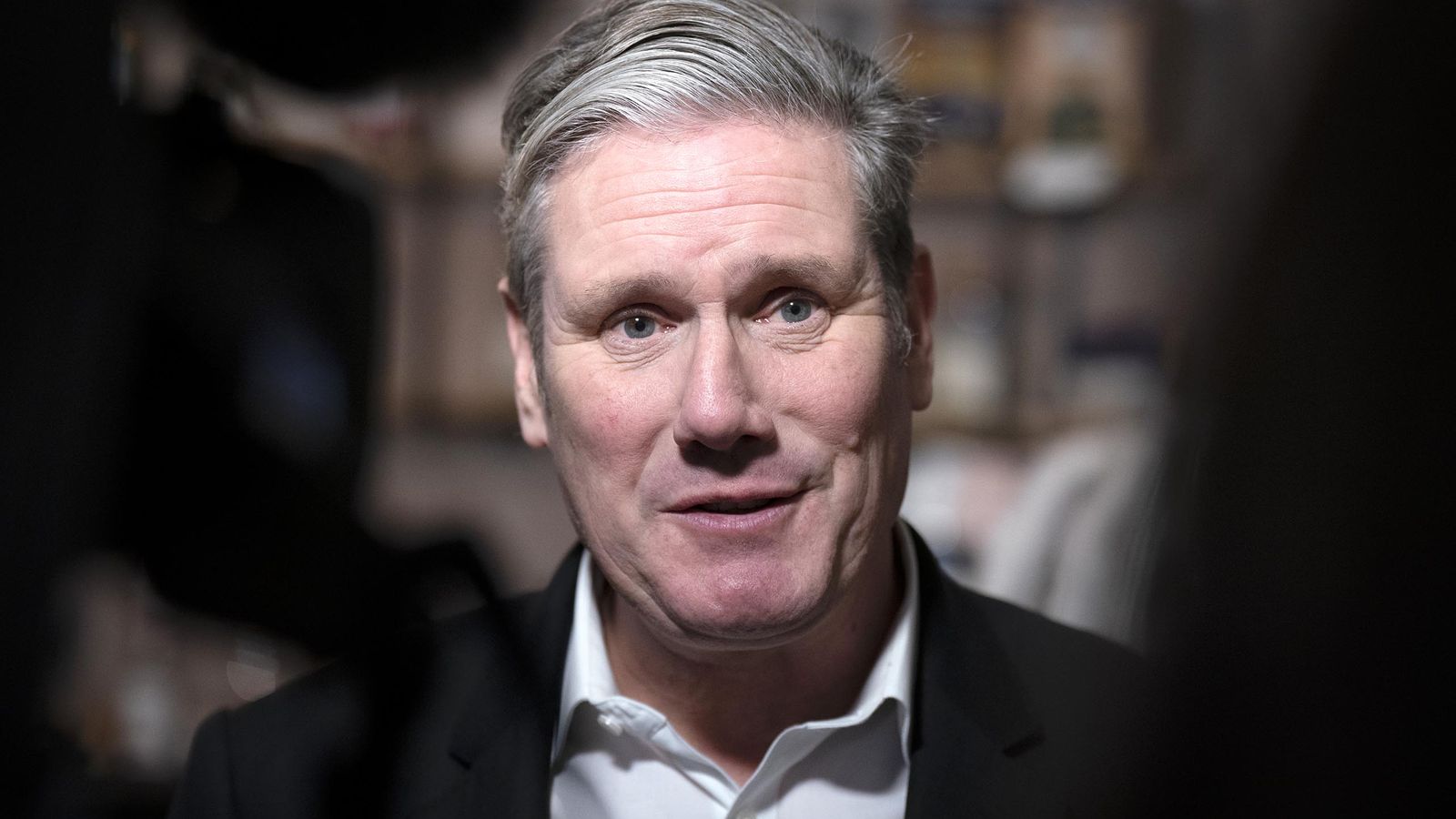 Sir Keir Starmer to pledge 'biggest ever' transfer of power as Labour report outlines sweeping reform plans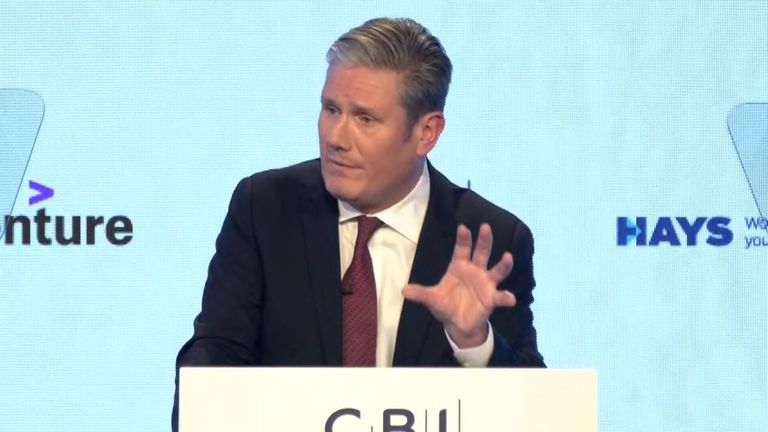 Sir Keir Starmer will promise the "biggest ever transfer of power from Westminster to the British people", as the Labour leader launches a report recommending handing new economic, taxation and law-making powers to mayors and devolved governments.
The report on the UK's future, carried out by former prime minister Gordon Brown, also recommends sweeping constitutional reform in an attempt to "clean up politics".
It includes replacing the House of Lords with a democratic chamber, banning almost all second jobs for MPs, and moving 50,000 civil servants – 10% of the workforce – out of London.
The decentralisation of power and money away from Westminster will be pitched as a continuation of Tony Blair's reforms and Labour's answer to the Tories' levelling up agenda – as Sir Keir looks to pitch himself as a prime minister-in-waiting with a serious plan for Britain.
But the Labour leader will not accept any of the recommendations on Monday when he launches the report, arguing instead that they will now be consulted on, raising obvious questions as to whether policy proposals will match the rhetoric should Labour win the next election.
However, a source close to the Labour leader insisted that Sir Keir wouldn't have let recommendations reach the final report if he wasn't minded on implementing them.
He described the report as a "blueprint" to address these issues and "work out where to go in the next two years".
"We're serious about implementation," said a Labour figure.
"This is methodical, Keir Starmer working through how you pull the levers."
'We have to make Brexit work'

What else is in Starmer's plan?
Labour's view is that George Osborne's Northern Powerhouse or Boris Johnson's levelling up agenda were the right ambition but failed to grasp that it only works if power is devolved away from Westminster, rather than handing out pots of money from London.
As such, one key recommendation of the commission will be to end the system of distributing funds from Whitehall, with money instead being devolved to local areas to make those decisions.
Within the 40 recommendations in the report are plans to give devolved governments, mayors and local authorities new powers over transport and housing, economic development and job creation.
Sir Keir also wants to develop 300 "economic clusters" around the country – from precision medicine in Glasgow to creative media in Bristol and Bath – with the aim of doubling growth in the UK.
The report, commissioned by Sir Keir two years ago, will also recommend transferring 50,000 civil servants – just over 10% of the current workforce – out of Whitehall in order to devolve decision-making and jobs out of London.
Sir Keir also wants to "clean up" politics and bring in reform.
As such, he's likely to back proposals to end MPs from having second jobs and introduce new rules to "end the undue influence of wealth and foreign money" in politics.
Read more:
Tories should be extremely worried by swing in Chester by-election
Sir Keir's dig over private school tax stirs up hornet's nest that could leave him stung
The Labour leader also wants to "get rid of the indefensible House of Lords" with the report recommending a new, democratically elected second chamber to represent the regions and nations of the UK.
However, the Labour leader has suggested he might not be able to do this until Labour wins a second term, raising questions as to whether such a commitment would appear in the next Labour manifesto.
Speaking at the launch of this report in Leeds on Monday, Sir Keir is expected to say that the "centre hasn't delivered" as he pledges to "rebalance the economy and bring about higher standards in public life".
The Labour leader will also frame this report as a response to both the Brexit and Scottish independence referendums.
"I argued for remain. But I couldn't disagree with the basic case that many leave voters made to me. They wanted democratic control over their lives," Sir Keir will say, arguing these frustrations of "a Westminster system that seems remote" was also a drive for the 2014 independence referendum.
"People know Britain needs change. But they are never going to get it from the Tories.
"I am determined that, with Labour, people will get the change they deserve."
Tyre Nichols: Last words of US man who died after police 'beating' were 'mum, mum, mum', says lawyer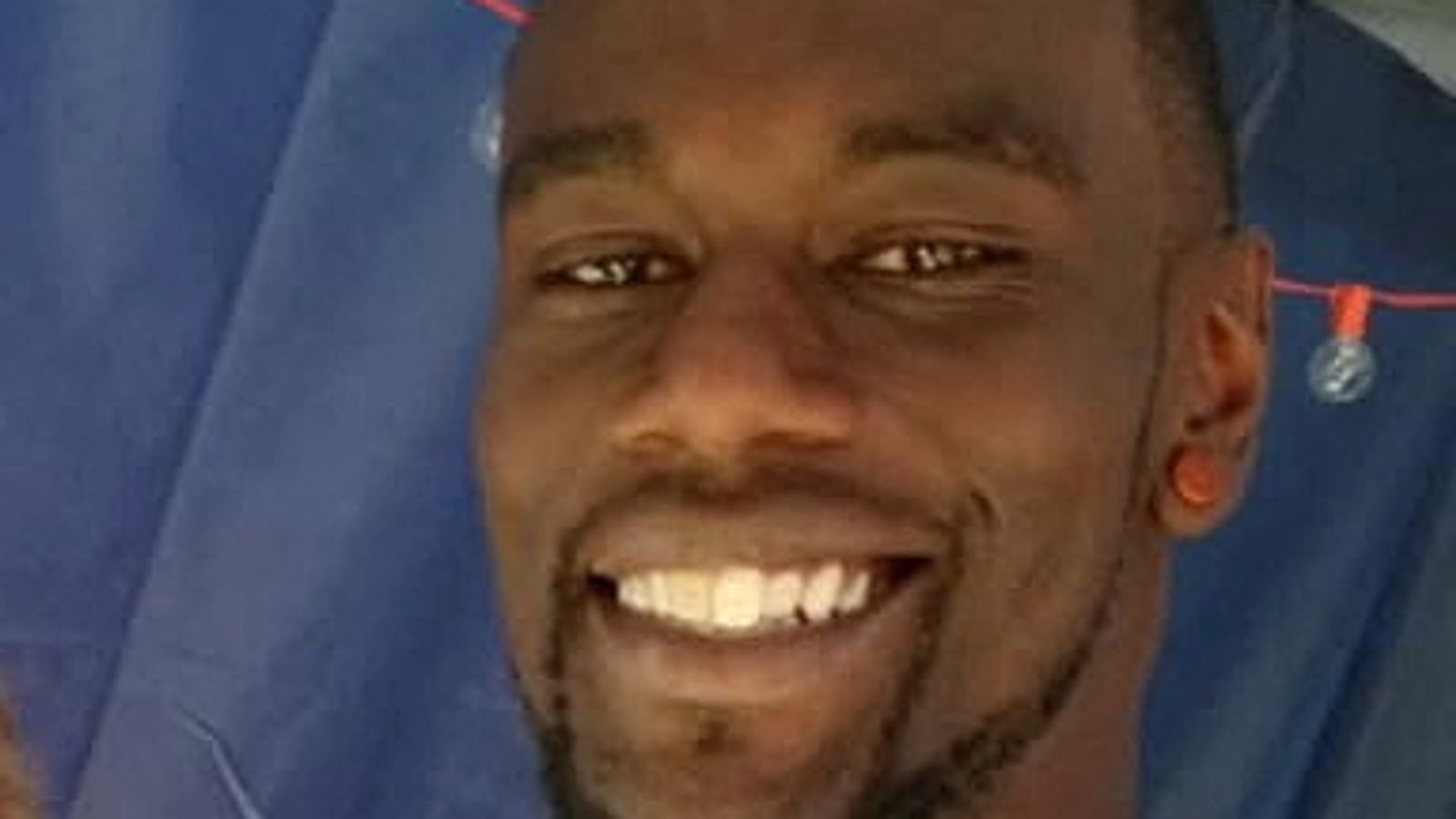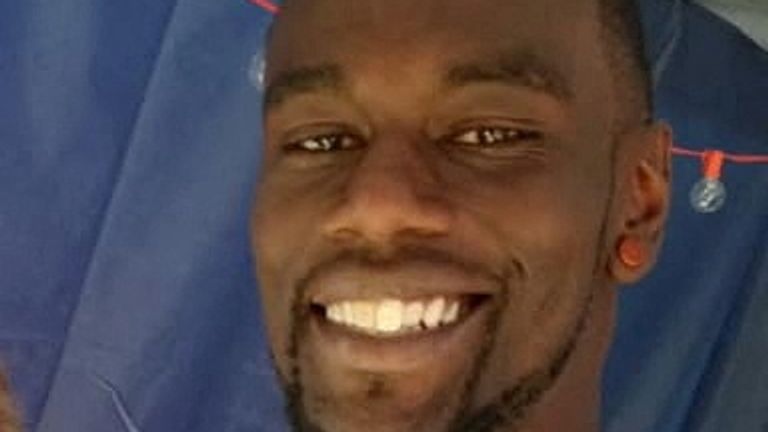 The final words of a US motorist who died after he was allegedly beaten by five police officers were "mum, mum, mum", according to a lawyer.
Tyre Nichols, 29, passed away in hospital three days after the confrontation following a traffic stop in the city of Memphis, Tennessee, on 7 January.
Bodycam footage of the altercation is expected to be released later on Friday evening.
His family said the "very horrific" video showed officers savagely beating the FedEx worker for three minutes in an assault their lawyers likened to the Los Angeles police attack on motorist Rodney King in 1991.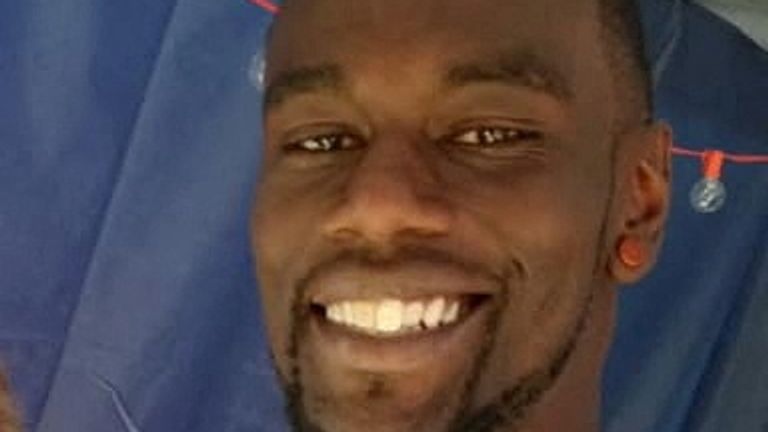 Five sacked officers, who are all black, have been charged with second-degree murder and other crimes, including assault, kidnapping, official misconduct and official oppression, over Mr Nichols's death.
Civil rights lawyer Ben Crump, who is representing his family, said when the public watches the footage they will see him calling out for his mother.
He said: "When you all see this video, you're going to see Tyre Nichols calling out for his mum.
"He calls out three times for his mother. His last words on this earth are, 'mum, mum, mum'. He's screaming for her. When you think about that kidnapping charge, he said 'I just want to go home'."
"It's a traffic stop for God's sake. A simple traffic stop."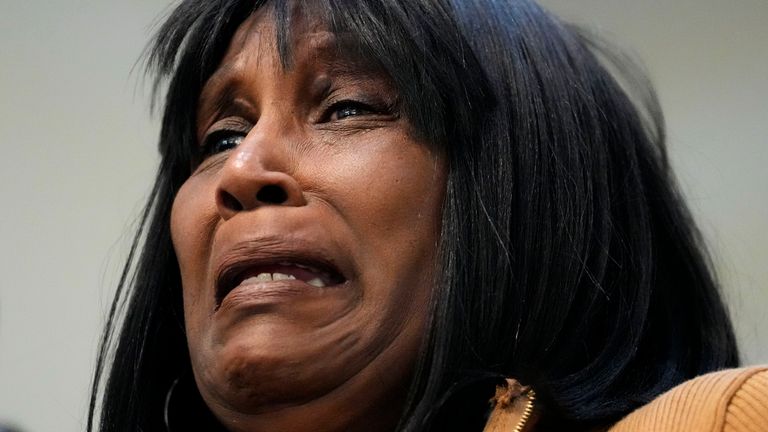 Mr Nichols's mother, RowVaughn Wells, told reporters: "For a mother to know their child was calling them in their need and I wasn't there for him. Do you know how I feel right now? Because I wasn't there for my son."
Ms Wells recalled she had "a really bad pain in my stomach" and once she found out what happened she realised "that was my son's pain that I was feeling".
"For me to find out my son was calling my name, you have no clue how I feel right now," she added, struggling to hold back tears.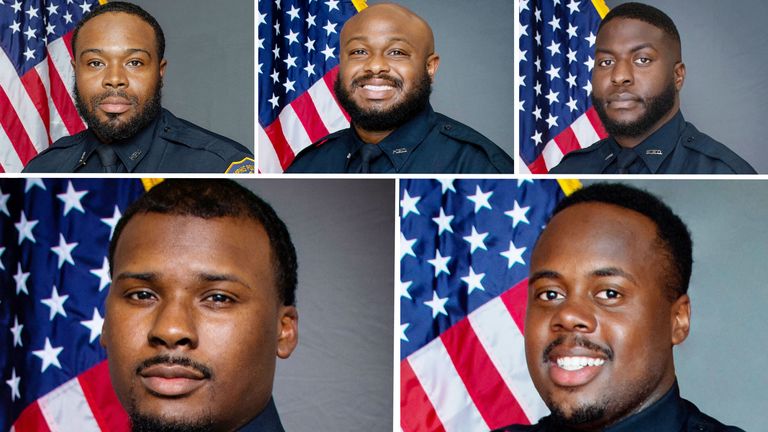 She also said she had not yet seen the video but urged anyone with children not to let them watch it.
"I have never seen the video but what I have heard is very horrific."
She added the charged officers had "disgraced their families".
"I want to say to the five police officers who murdered my son, you also disgraced your own families when you did this.
"But I am going to pray for you and your families. Because this shouldn't have happened. We want justice for my son."
She has pleaded for peaceful protests.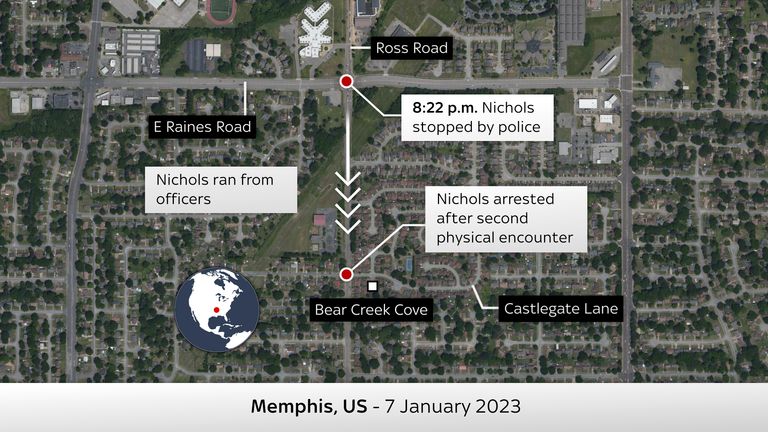 Police pulled Mr Nichols over for alleged reckless driving before there was an "altercation" where officers used pepper spray on him, according to Shelby County district attorney Steve Mulroy.
Mr Nichols then tried to flee on foot and another altercation followed, he added.
His family say the officers beat him and the injuries he sustained during the encounter led to his death.
Relatives accuse police of causing him to have a heart attack and kidney failure. Authorities have only said he experienced a medical emergency.
The officers were assigned to the 'scorpion' unit which focuses on violent street crime. The family's lawyers want it to be disbanded.
Memphis police chief Cerelyn Davis has said the department will review scorpion and other specialised units.
President Joe Biden said the Nichols family and the city of Memphis deserve "a swift, full and transparent investigation".
"Public trust is the foundation of public safety, and there are still too many places in America today where the bonds of trust are frayed or broken," he added.
Palestinian militants 'ready to die' as prospect of all-out war increases after West Bank clashes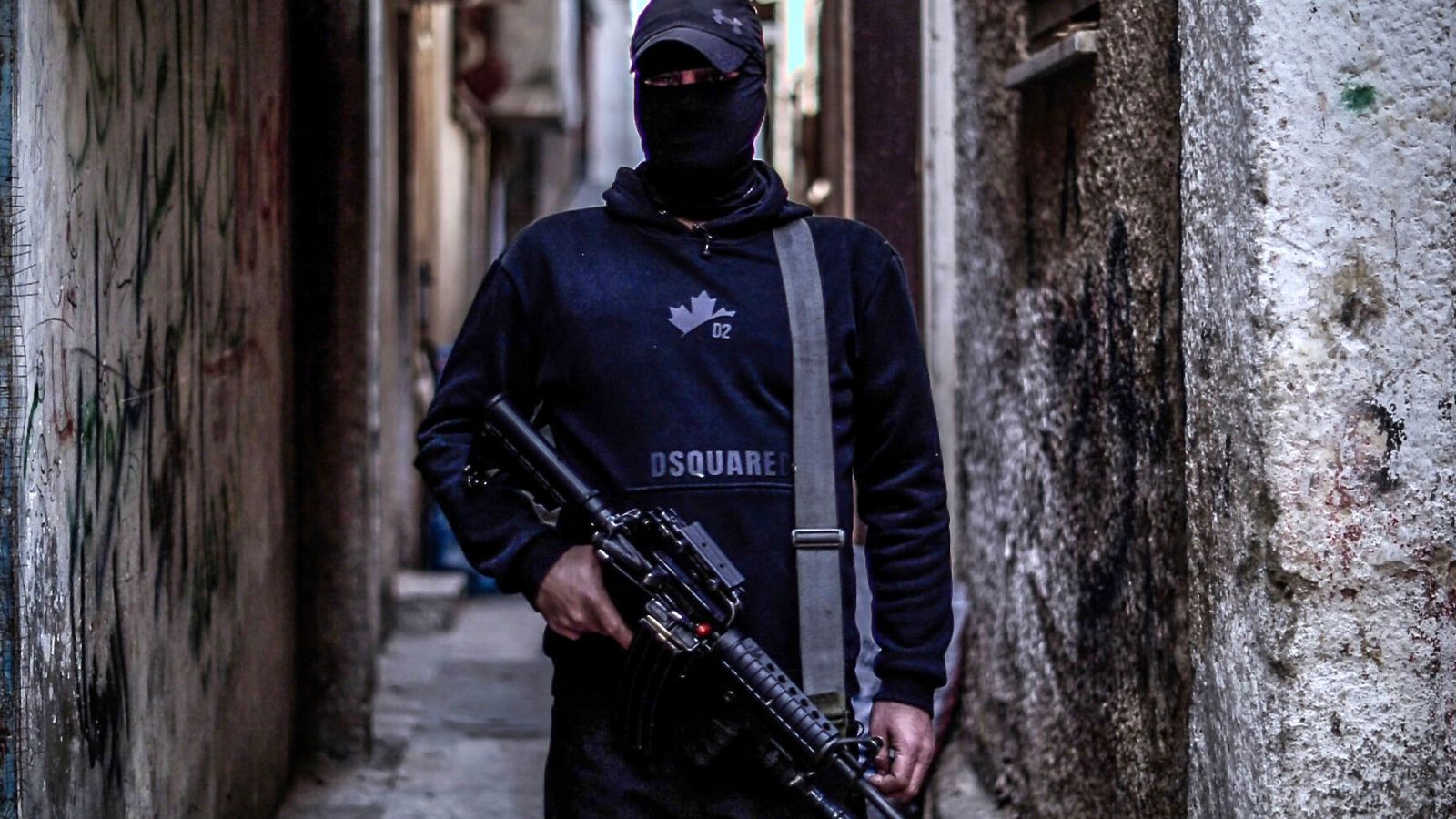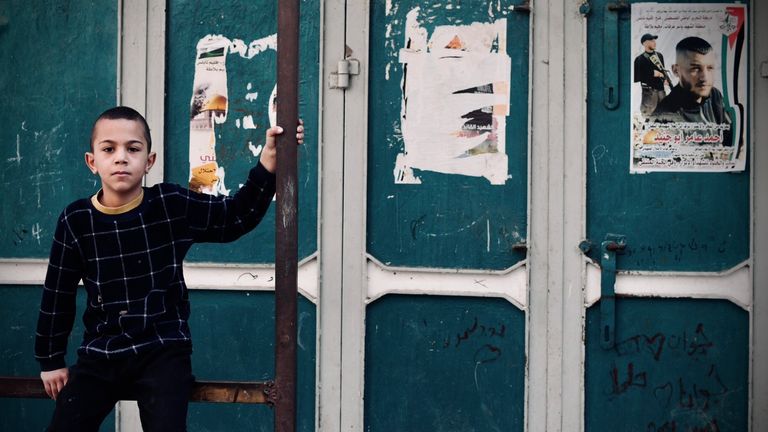 The alleyways that run inside the Balata refugee camp are narrow, claustrophobic and full of uncollected rubbish.
Posters celebrating dead militants are stuck to the walls. Children are everywhere – more than half the population of the camp is under 25.
We were escorted to meet fighters from Al Aqsa Martyrs' Brigade, one of the largest and oldest militant groups in the West Bank.
They are a proscribed terror group by Israel, the EU and US, but not the UK.
Out front, I turned a corner and they were there – dressed all in black, M16 assault rifles in hand and balaclavas covering their faces.
They are young men, heavily armed and say they are ready to die defending their land.
We made our introductions and then moved down another alleyway – an Israeli military lookout post was on the hill above us; snipers watch every move in the camp below.
"We're seeing an escalation by the [Israeli] occupation forces across camps in the West Bank, especially in Jenin and Balata," one of the militants tells me.
"Most of the operations are carried out by the Israeli special forces. Yesterday, two of our men were killed in clashes when they entered inside the camp."
The fighters are relaxed. This is their stronghold.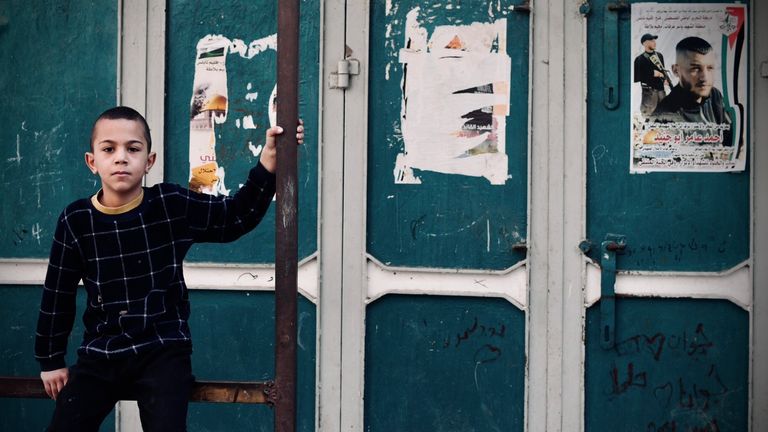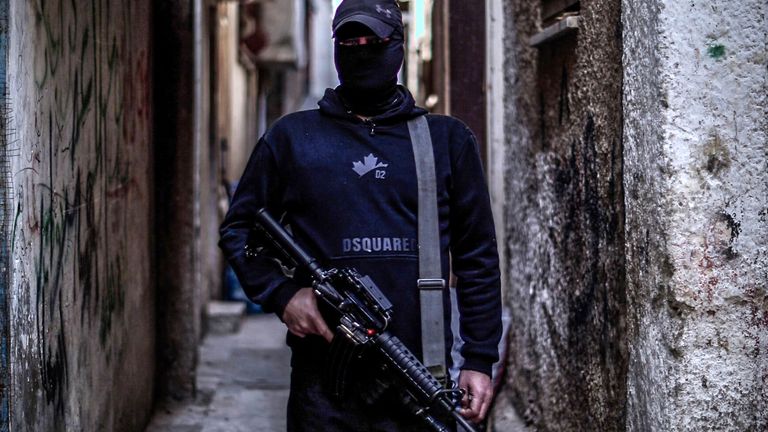 CCTV cameras seem to be everywhere, they joke it's like Paris or London; the militia has its own reconnaissance unit that watches for undercover Israeli special forces entering the camp.
Violent clashes have been more frequent in recent months – 2022 was the deadliest year since 2005 and already 2023, only a few weeks old, is more deadly still.
After nine Palestinians, mostly militants, were killed in an Israeli counter-terror raid on Thursday, the prospect of another all-out war is closer.
One of those killed was a 61-year old woman, Magda Obaid, caught in the crossfire.
The IDF says it's investigating her death, but the list of unexplained civilian fatalities is growing.
"I think because of the policies of the right-wing Israeli government there will be an escalation in the West Bank," the militant from Al Aqsa Martyrs' Brigades predicts.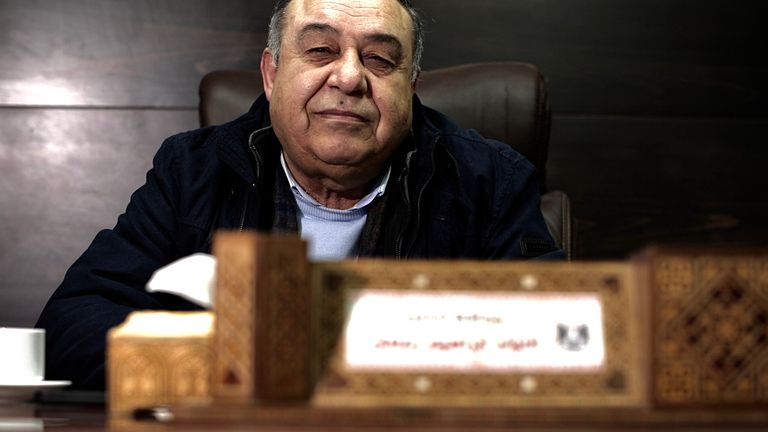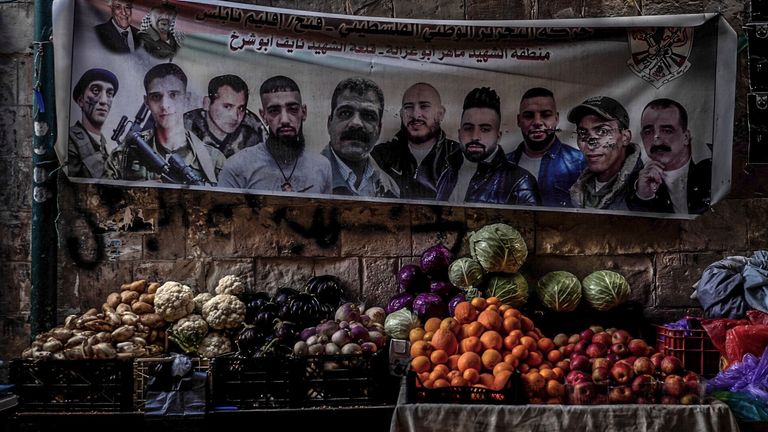 Read more:
Israel shoots down rockets fired from Gaza after deadly raid
Tensions rise as Israel hardens policies towards Palestinians
Talk of a new uprising, a third intifada, which has been so often threatened in recent years, is emerging again.
"I think that there is an intifada coming," Ibrahim Ramadan, governor of Nablus tells me.
"Why? There is not any hope among my people. The Palestinian people need hope, small hope for their freedom."
The deputy mayor of Nablus, Dr Husam Shakhshiris, is more sanguine but equally blunt in his assessment of the current situation.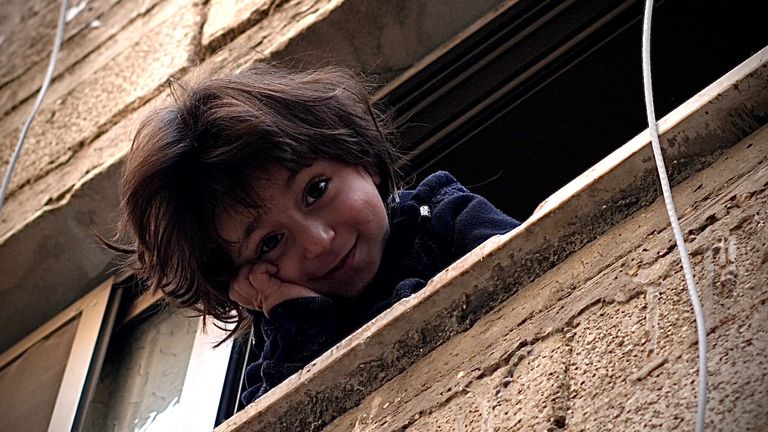 "It [Nablus] is occupied by the state of Israel. The Israeli army is entering the city everyday," he says.
"We have two military camps on top [of the surrounding hills], we have seven settlements surrounding Nablus city connected by bus routes, and it's easy for the Israelis to close the city and prevent the movement in and out of the city."
As we walk around the city together, Dr Husam is clearly popular. Residents stop to greet him.
Unlike the militants we met, he has the wisdom of age and is thoughtful and considered in his words, but no less damning of Israel.
"How bad is it?" I ask him.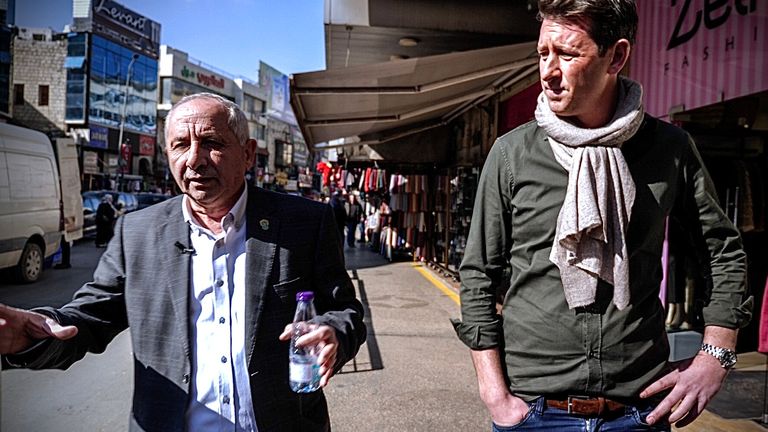 "This is bad. I see all the time in the past that there was hope to have a peace solution, to have a two-state solution implemented, especially after Oslo," says Dr Husam.
"Now we don't see this hope, we don't see a peaceful solution and we are stuck in these contours created by the policies of the state of Israel. They don't see or recognise our national right of self-determination.
"It is the worst situation in my life."
Violence in Israel and the West Bank goes in cycles.
Right now, any prospect of peace talks, or even a two-state solution, feels a long way off.
Neither side is in the mood to talk or to compromise, and so for many Palestinians fighting seems like the only route to more freedoms.
Seven dead after shooting at synagogue in Jerusalem, Israeli police say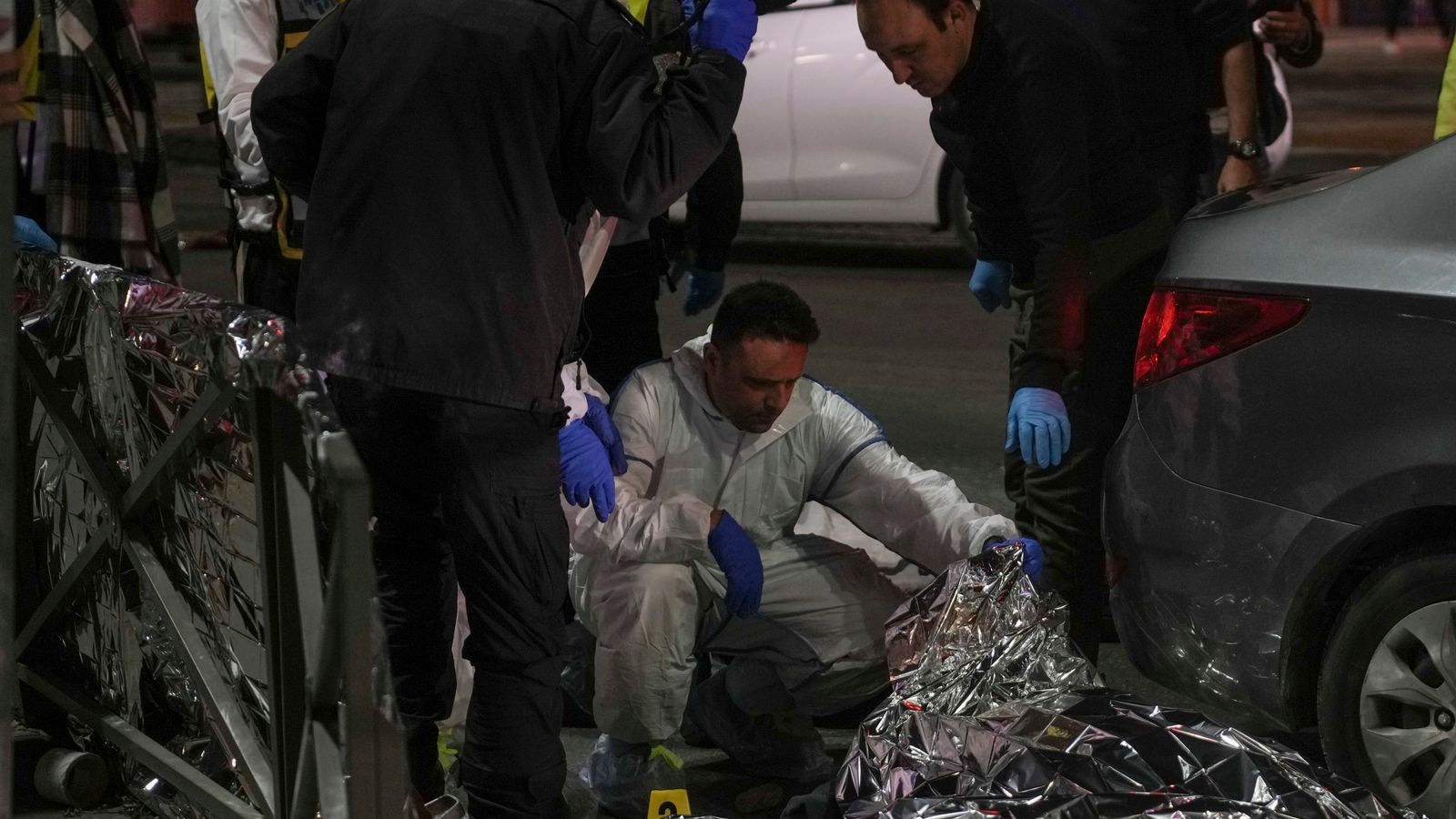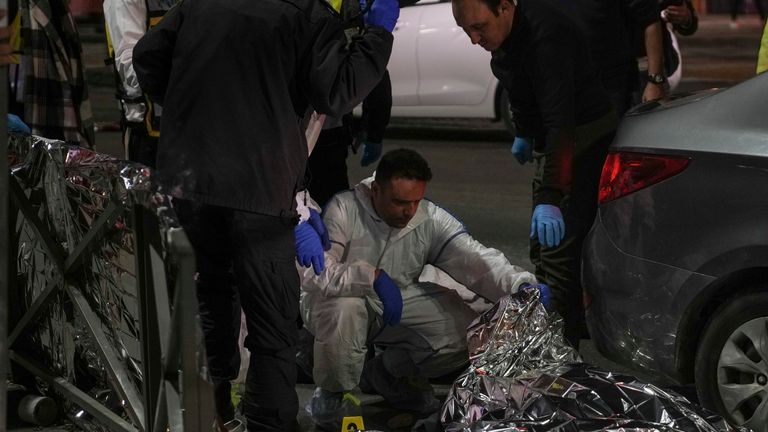 Seven people have been killed and several injured in a shooting at a synagogue in Jerusalem, according to Israeli police.
The gunman was shot and killed and a large police presence was at the scene.
Several others were injured in the shooting, including a 70-year-old woman in critical condition and a 14-year-old boy in serious condition, the medical service said.
Israeli police described it as a "terror attack" and said it took place in a synagogue in Neve Yaakov, considered by Israelis to be a neighbourhood within Jerusalem, while Palestinians and most of the international community consider it occupied land illegally annexed after the Six-Day War in 1967.
They said the attacker was a "terrorist who was neutralised by the police force" and described him as a 21-year-old resident of East Jerusalem who "carried out the attack at the scene alone".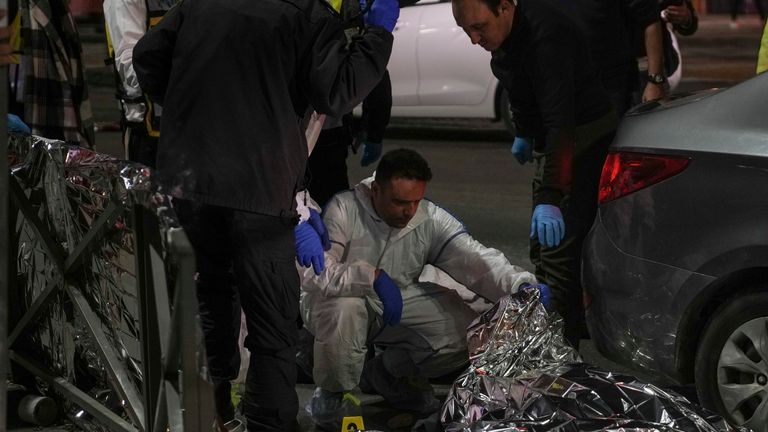 It comes after a deadly raid by the Israeli military yesterday that killed nine Palestinians in the occupied West Bank. A 10th was later killed north of Jerusalem.
Gaza militants then fired rockets and Israel responded with air strikes overnight. There were no reports of injuries.
Earlier today Palestinians marched in anger as they buried the last of the people killed by Israeli fire.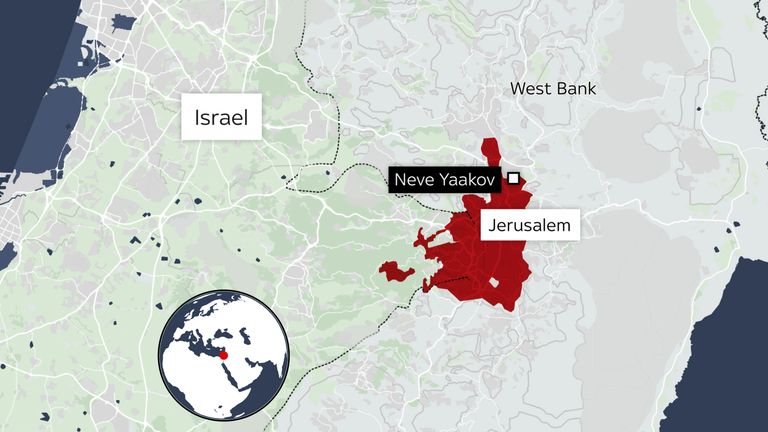 Hamas spokesperson Hazem Qassem told Reuters: "This operation is a response to the crime conducted by the occupation in Jenin and a natural response to the occupation's criminal actions", though he stopped short of claiming the attack.
The Palestinian Islamic Jihad also praised but did not claim the attack.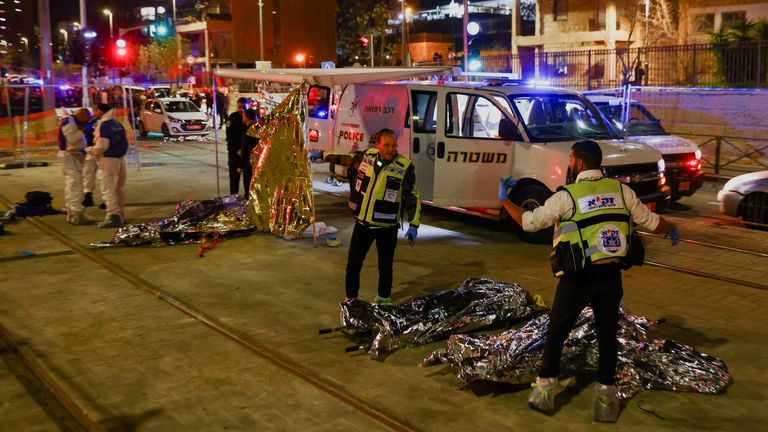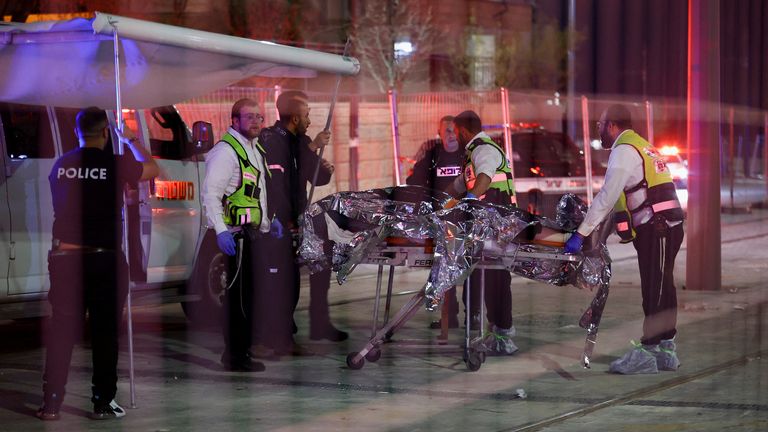 Speaking from near the scene Sky correspondent Alistair Bunkall said: "We've seen some ambulances leaving the scene as we've been here in the last half an hour or so.
"Things are incredibly tense. There have been flashbangs set off just up the road from us in the Palestinian neighbourhood."
"And it comes of course on International Holocaust Memorial Day, the attack happened just hours after the start of Shabbat, the Israeli day of rest, and it comes barely 24 hours after 10 people were killed in the West Bank yesterday, including nine in an Israeli special forces raid in the northern West Bank city of Jenin."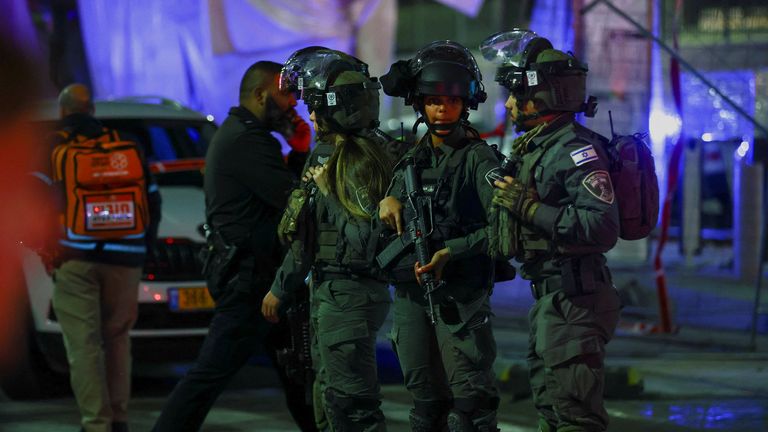 The United States condemned the "apparent terrorist attack", with US State Department deputy spokesperson Vedant Patel said he did not expect changes to Secretary of State Antony Blinken's visit to Israel next week.
"This is absolutely horrific. Our thoughts, prayers and condolences go out to those killed by this heinous act of violence. We condemn this apparent terrorist attack in the strongest terms. Our commitment to Israel's security remains ironclad," he said.