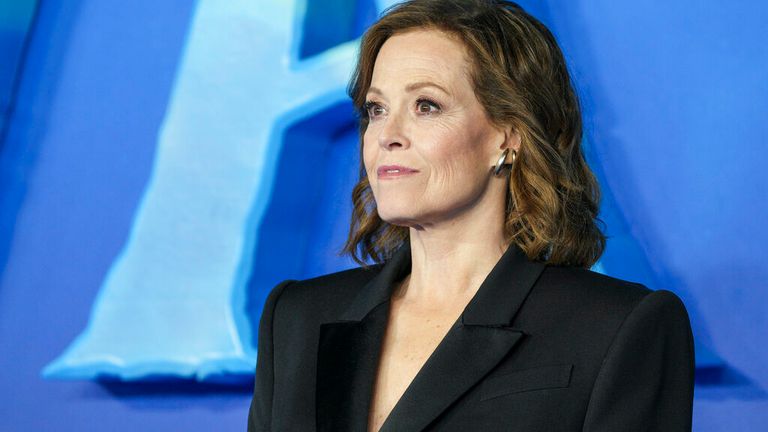 Thirteen years on, James Cameron's mega-budget Avatar sequel opens in cinemas next week, hoping to illicit that same appetite in cinemagoers for the 3D magic of the first.
While the medium has fallen out of favour, it remains Cameron's preferred choice of viewing.
But not only will cinemagoers need 3D glasses – coming in at a whopping three hours and 10 minutes, it also requires stamina.
Click to subscribe to Backstage wherever you get your podcasts
With production costs totalling around £285m (up there with the most expensive films ever made), to make it worth Disney's while, the epic has to at least end up making it into the top five highest grossing movies of all time.
To do so, it needs audiences to want to see it more than once, which perhaps isn't too unreasonable when you factor in that a huge amount of the money generated in both of Cameron's previous blockbusters – Titanic and the first Avatar – came from cinemagoers paying to see the film's multiple times.
But in a cost of living crisis do we have the cash now?
The film sees Sam Worthington return to the role of Na'vi leader Jake Sully and is rooted around the family he now has with warrior Neytiri, played by Zoe Saldana.
"The movie's mighty," Worthington told Sky News.
"It's a mighty film, and very heart-wrenching.
"We all went through a pandemic together as a whole world, and that's a connection that we all have to each other… and it's about us being connected as individuals – I think that's very important to relate to and really take to heart."
Thanks to the magic of motion capture, Sigourney Weaver returns, playing Jake Sulley's adoptive teenage daughter.
'I needed to see it twice'

"It's an experience so immersive and also takes your breath away," she told Sky News, adding that she will need to see the film once more to get the full experience from it.
The sequel also features Kate Winslet in the cast as the matriarch of an ocean-bound clan.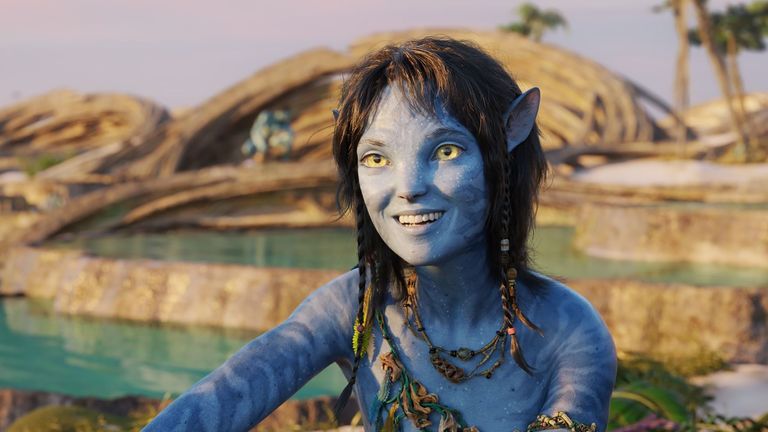 For the Oscar-winning actress it was a chance to work, once again, with the filmmaker who put her on the Titanic:
"He (Cameron) asked and I said yes. Why on earth would I not?," she told Sky News.
"Also, my children would never have allowed me to. They were like… just do it."
Kate Winslet on accepting Avatar role

Cameron, who overtook his own movie, Titanic, with Avatar as the highest grossing film ever in 2009, has already set the wheels in motion for the next films in the franchise – and spent much of the last decade preparing.
"It was a lot of time spent working on the script for four movies, production design for four movies, a bunch of new technology we needed," he said.
"And then we started at full tilt five years ago… and then we shot two movies, actually part of the third one."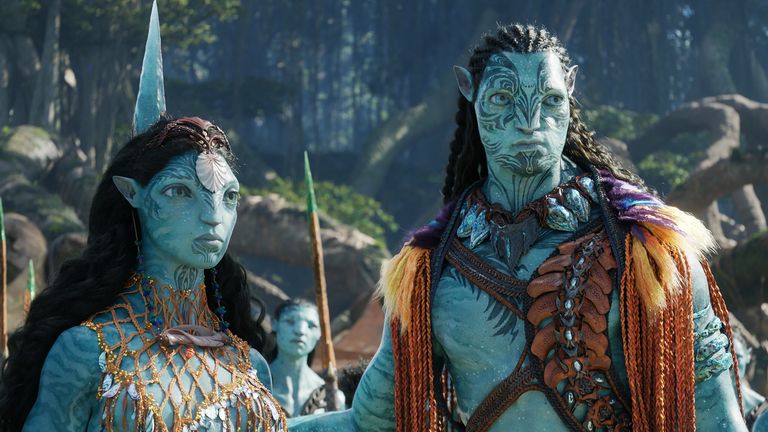 Cameron also describes his new sci-fi epic as a "love letter to the oceans".
"A lot of people [in 2009] picked up on the messaging around the rainforest and around the plight of indigenous cultures around the world.
"We have that in spades now because nothing has really got that much better – in the meantime, this one is my love letter to the oceans and a cry for people everywhere to be responsible for guardianship of the oceans."
Right now the Na'vi's survival might just depend on what happens off-screen more than on.
Avatar: The Way of Water is in cinemas on 16 December.
Eurovision: Former Sex Pistols' frontman John Lydon fails to win place representing Ireland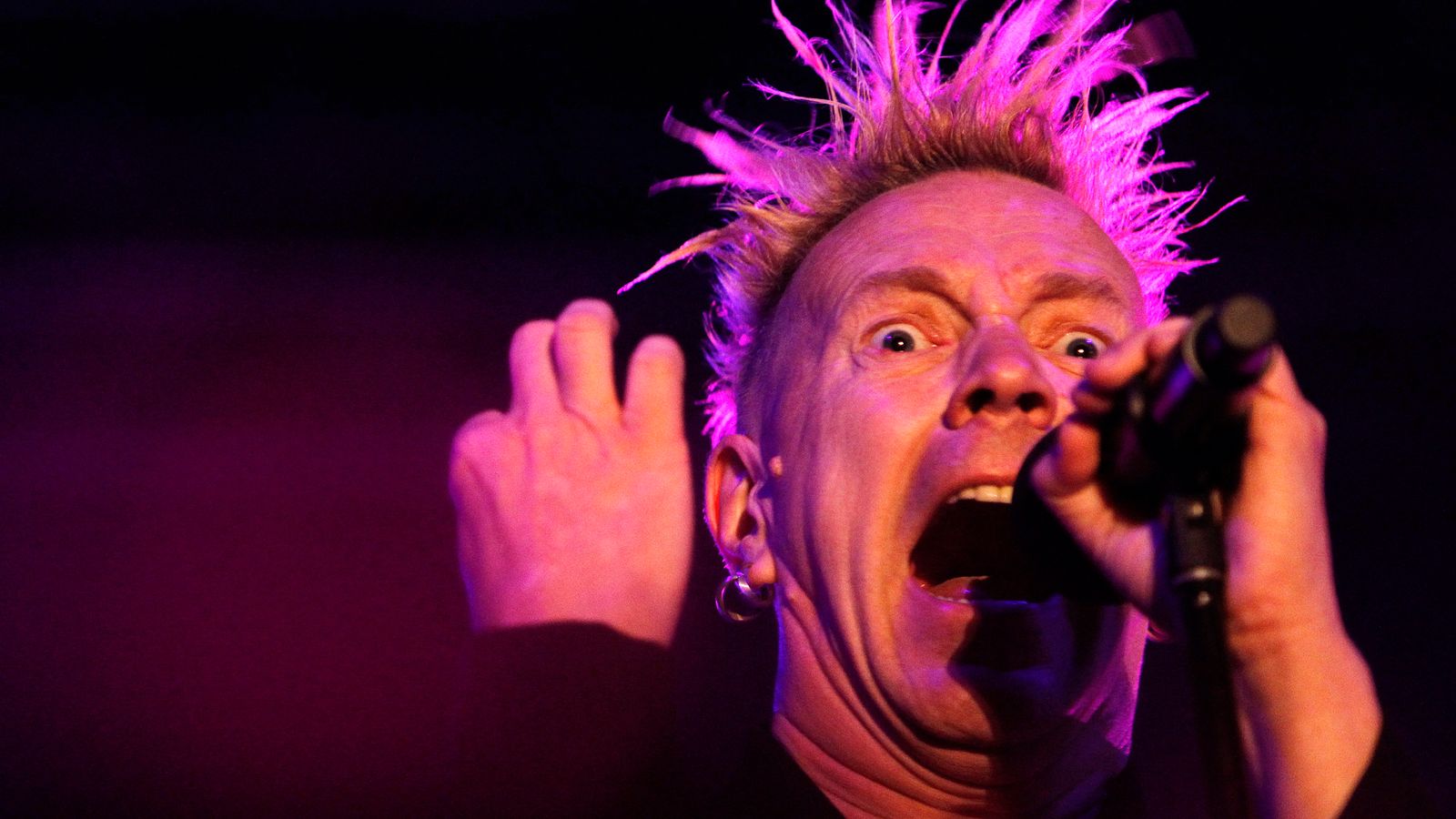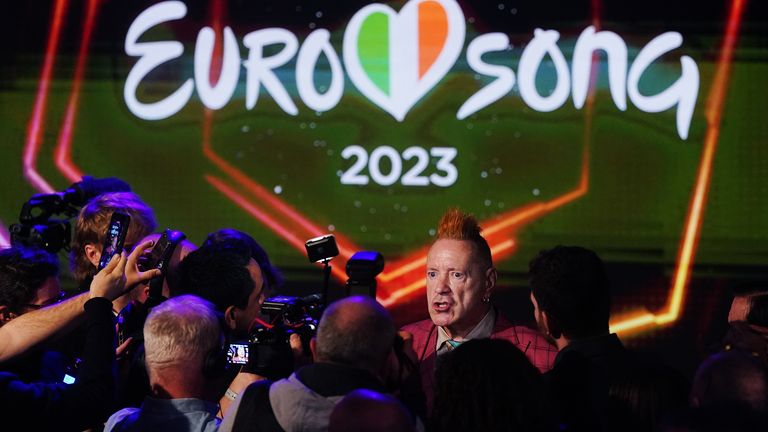 Former Sex Pistols' frontman John Lydon has failed in his bid to represent Ireland in the Eurovision Song Contest.
His band Public Image Ltd (PiL), the post-punk band formed by Lydon following the break-up of the Sex Pistols, finished fourth out of six acts in Ireland's Eurosong competition to select its entry to this year's contest.
They were beaten by rock band Wild Youth's song We Are One who will compete at the contest in Liverpool in May.
The result was decided in three parts – a public vote, a national jury and an international jury.
PiL's entry was an emotional ballad called Hawaii, which he described as a love letter to his wife Nora, who is living with Alzheimer's disease.
In the song, Lydon, formerly known as Johnny Rotten, reflects on their happiest moments over their 40-year marriage including their time in Hawaii.
Before the contest, he said: "It means the world to me, this is our last few years of coherence together. And I miss her like mad.
"I miss my missus, if you keep voting for me I'm going to miss her even more."
Read more: When is the song contest, who's hosting and when can I get tickets?
He said he was still "terrified of mugging it up, getting it wrong, letting people down – mostly letting Nora down".
He spoke fondly of watching Eurovision as a child, saying: "This is something that I watched when I was young with my parents. I remember Johnny Logan, I remember Cliff Richard, I remember Sandy Shaw.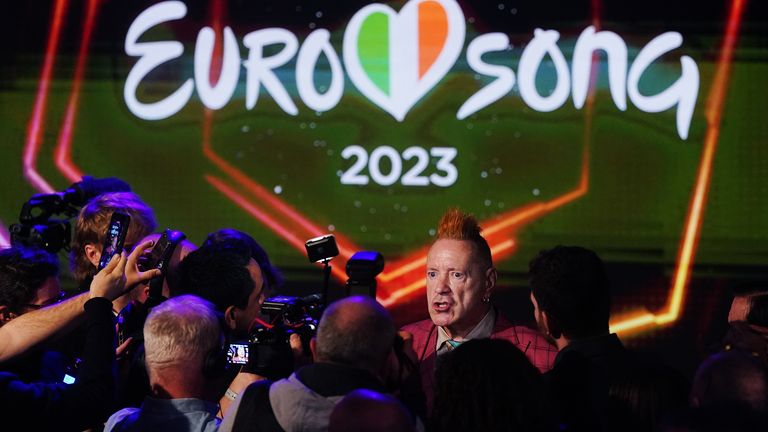 "It's as good as any other way of listening to music, I don't have any prejudices about things like that."
He added that he chose Ireland "because I'm as much Irish as anybody else by blood".
Read more: Eurovision announces viewers across the rest of the world can vote in next year's contest
PiL was formed in the late 1970s and has scored five UK top 20 albums.
The band is also planning to release a new album in 2023 – their first since 2015.
Click to subscribe to Backstage wherever you get your podcasts
The UK is yet to announce details of potential entrants to Eurovision.
Liverpool is the host city for this year's contest after organisers said it would be unsafe to host the competition in Ukraine after Kalush Orchestra's 2022 win.
Since the UK's Sam Ryder finished second last, the BBC stepped in to host the contest instead.
Julian Sands: 'Intermittent' aerial searches to continue after bad weather hampered earlier efforts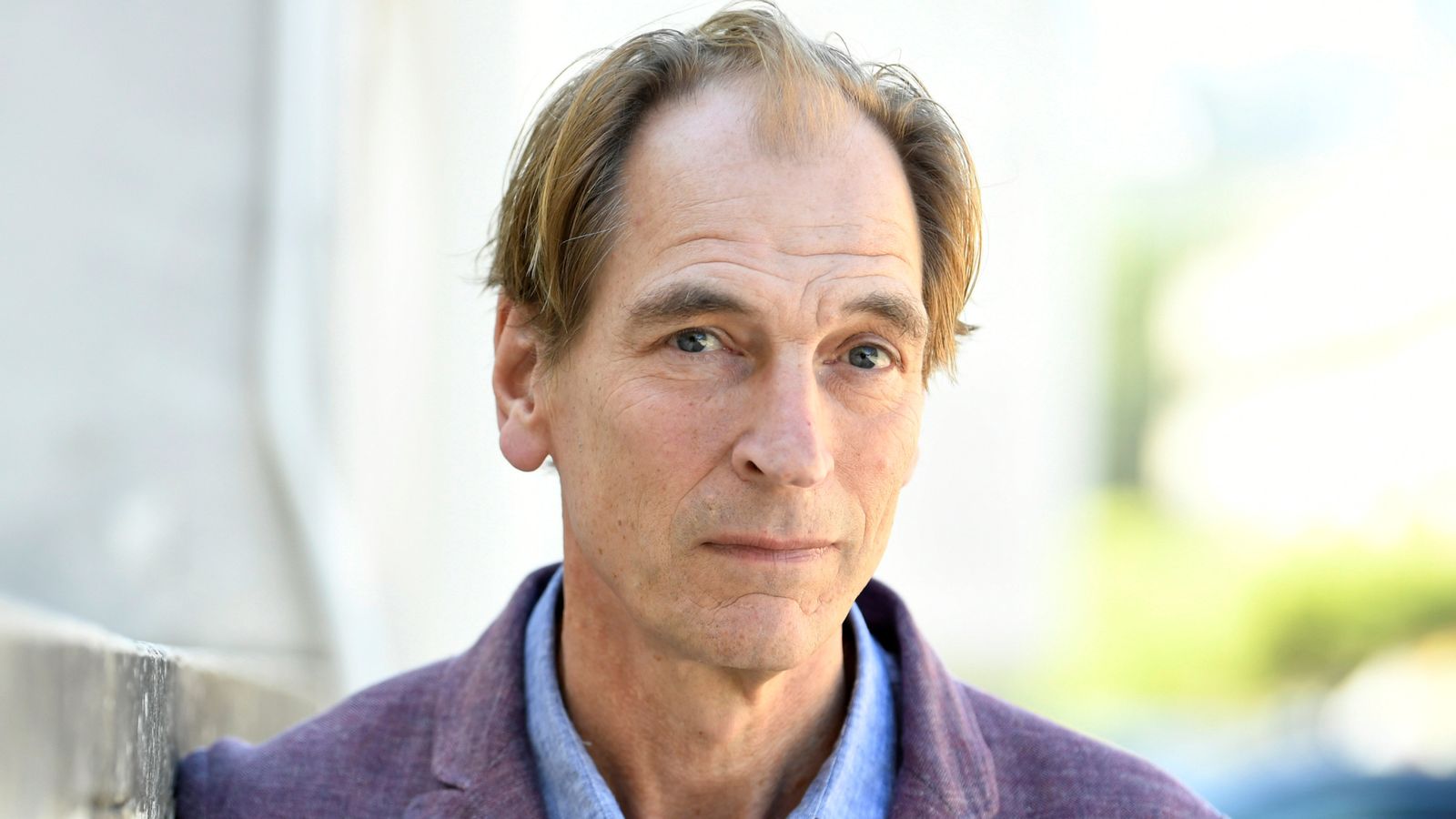 Aerial patrols are still being carried out "intermittently" in the search for missing British actor Julian Sands who went missing three weeks ago in California.
Normally, similar searches would be downgraded after 10 days, the San Bernardino County Sheriff's Department said.
However, because bad weather has so far hampered efforts, it has been decided to extend the search period.
"Our Aviation Division continues to patrol that area, intermittently, in search of Mr Sands," a spokesman said.
"Typically, we search for 10 days before downgrading to a passive search. In this case, with the weather precluding a continuous search, we extended those plans.
"While weather and mountain conditions continue to be an issue, we will resume ground searches once weather conditions permit and as the snow melts."
Sands, 65, was reported missing on 13 January after he failed to return from a hike in the Mount Baldy region of the San Gabriel mountains.
Numerous searches for the actor have since been undertaken on foot and by air by both local and state-level agencies.
Authorities have previously used a Recco device, which is able to detect electronics and credit cards, in the hope of establishing a more exact area in which to focus search efforts.
Last weekend, Sand's hiking partner and friend Kevin Ryan said it was obvious "something has gone wrong" but that the actor's advanced experience and skill would "hopefully" see his safe return.
Fashion designer Paco Rabanne – known for his flamboyant Space Age designs – dies aged 88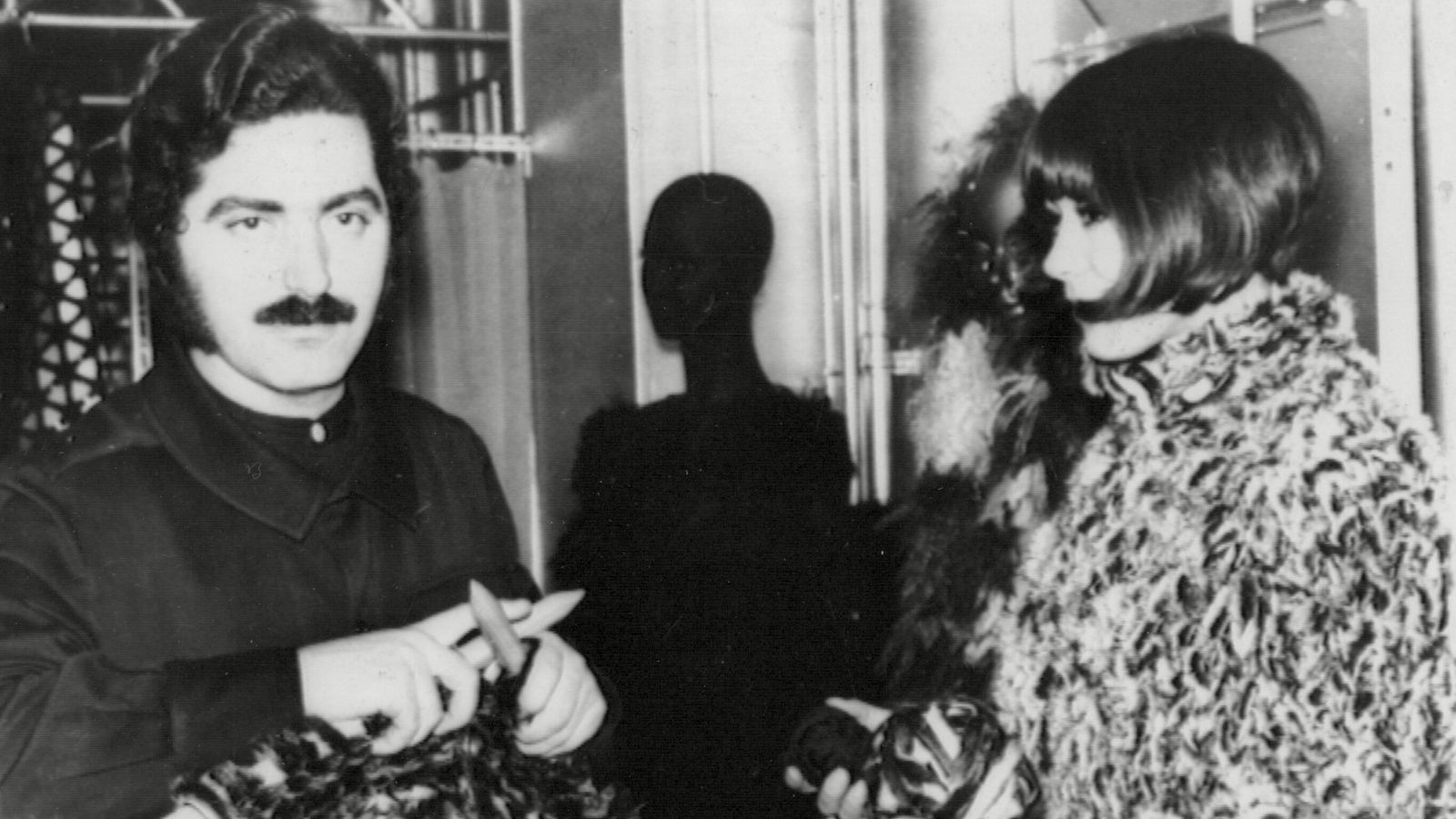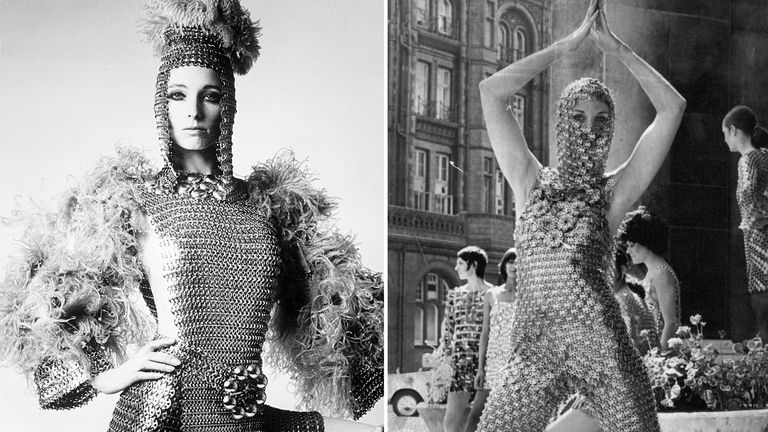 Paco Rabanne, the Spanish-born designer, has died at the age of 88 in Portsall, Brittany.
The death of Francisco Rabaneda y Cuervo – Rabanne's birth name – was confirmed by a spokesperson for Spanish group Puig, which controls the Paco Rabanne label he exited two decades ago.
He founded his namesake brand in1966, and while it is now best-known for is aftershaves and perfumes, it was his Space Age designs in the 1960s, that first brought him to the attention of many.
A statement shared on the fashion house's official Instagram account said: "The House of Paco Rabanne wishes to honour our visionary designer and founder who passed away today at the age of 88.
"Among the most seminal fashion figures of the 20th century, his legacy will remain a constant source of inspiration.
"We are grateful to Monsieur Rabanne for establishing our avant-garde heritage and defining a future of limitless possibilities."
Dubbed an "enfant terrible" in his early years, he helped upset the status quo of the Paris fashion scene, alongside fellow French designers Pierre Cardin and Andre Courreges.
His flamboyant designs frequently used unconventional material such as metal, paper, and plastic, with his first collection aptly titled: "Manifesto: 12 unwearable dresses in contemporary materials".
Presented by barefoot models on a catwalk in a luxury Paris hotel, the collection included a chain mail-inspired silver minidress made of aluminium plates, which was worn over a flesh-coloured bodysuit.
Baroness Helen Bachofen von Echt went on to wear the dress to a party in New York where she danced with Frank Sinatra, according to the V&A museum.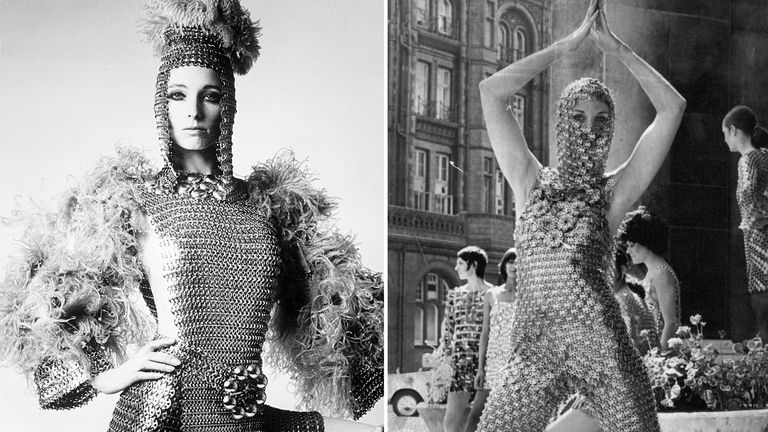 Embracing cutting edge materials and modern ways of working, he used plyers rather than a needle and thread to create the craft outfits, which made from strips of plastic linked with metal rings.
The collection – which simultaneously looked both futuristic and medieval – has gone on to inspire numerous contemporary designers.
He famously created the green costume worn by Jane Fonda in the 1968 cult-classic science-fiction film Barbarella, with numerous celebrities including Beyonce, Taylor Swift and Blackpink all going on to wear his clothes.
Commenting on the influential 1966 show, president of Puig's beauty and fashion division Jose Manuel Albesa said: "Paco Rabanne made transgression magnetic. Who else could induce fashionable Parisian women (to) clamour for dresses made of plastic and metal."
Rabanne teamed up with Spain's Puig family in the late 1960s, launching his collection of perfumes and scents, which would go on to serve as a springboard for the company's international expansion and vast commercial success.
His debut fragrance, Calandre, is still available today, and his Lady Million Eau de Parfum – presented in a distinctive bottle in the shape of a gold ingot – remains a best-seller.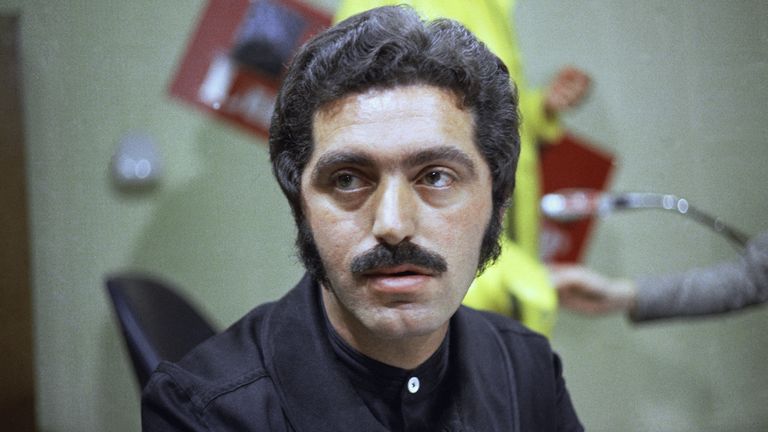 Born in 1934 in the Basque Country, in the western Pyrenees, he escaped the Spanish Civil War by fleeing to France at the age of five alongside his mother, who was a head seamstress at Balenciaga.
He initially studied architecture at the Ecole des Beaux Arts in Paris, before beginning his fashion career in the early 1960s.
He started his career sketching high end handbags and shoes, before branching into fashion and jewellery, selling his large plastic accessories and buttons to to couture houses.
Reflective of the mid-1960s cultural climate, his garments used post-war industrial materials – creating a trademark chunky and bold look. His architectural background also shone out in much of his work.
After a three-decade long career, Rabanne stepped back from the design house in 1999.
In 2010, the designer was made an Officier de la Legion d'Honneur in France, the country's highest civilian award.