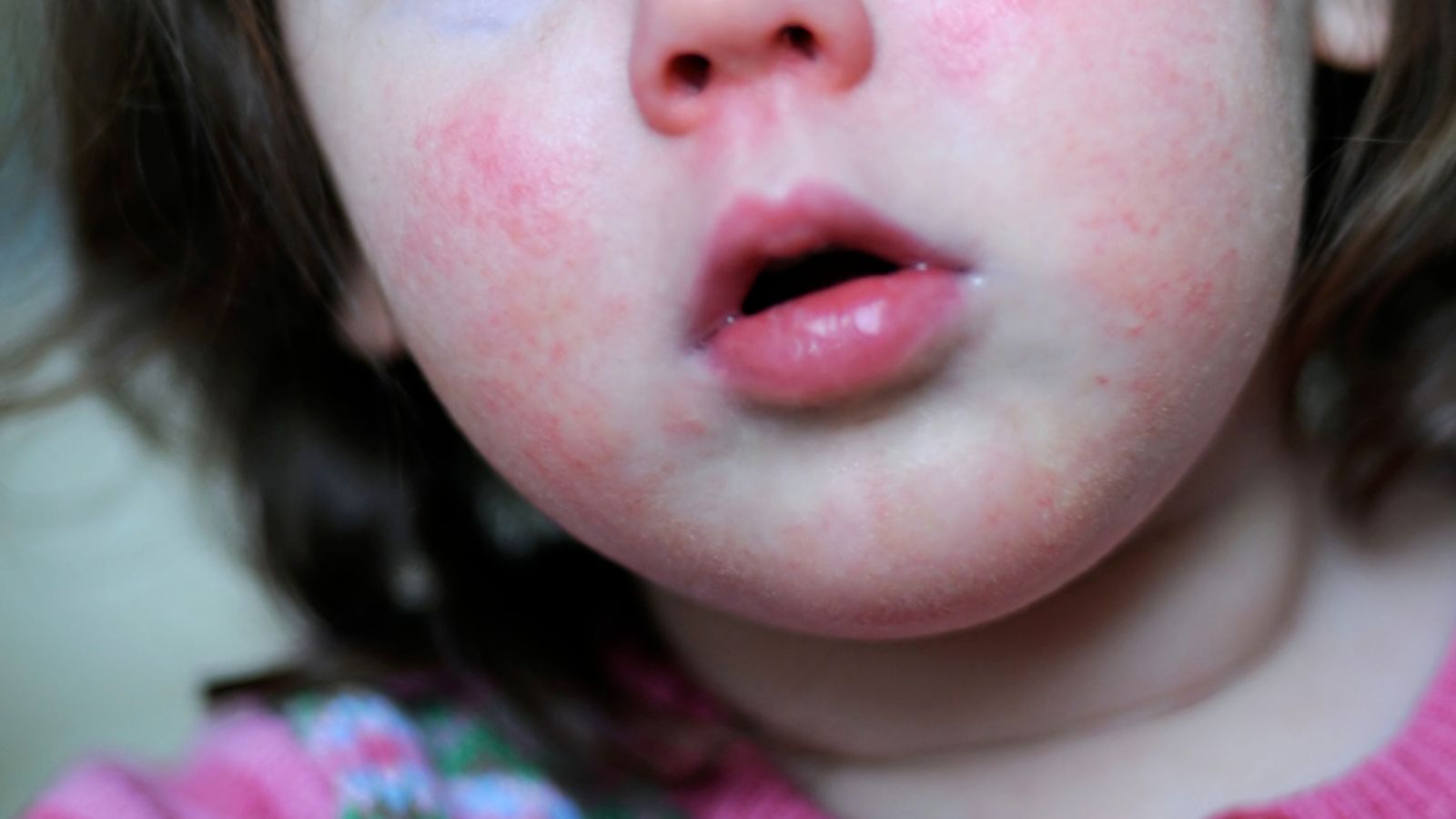 Strep A: Pharmacies warn of penicillin shortage as parents urged not to self-diagnose their children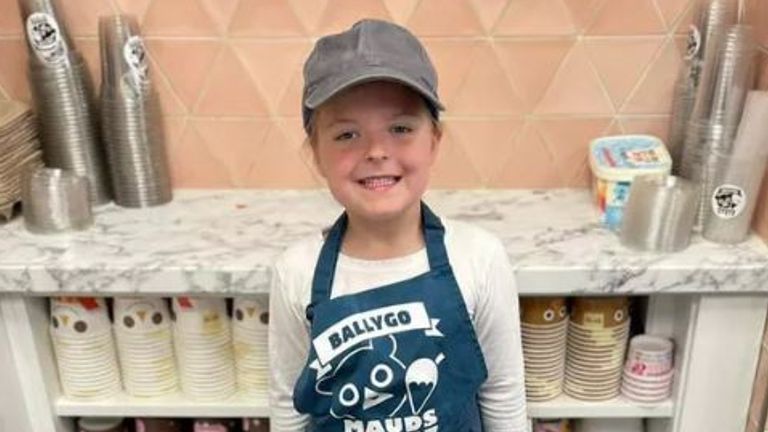 A senior pharmacist says a penicillin shortage is leading to fears that some prescriptions will not be filled as seasonal sickness levels continue to rise.
Pharmacy director Zeshan Rehmani criticised the Department of Health for being "out of touch" after it mooted proposals to give antibiotics to children in schools to help fend off illnesses including Strep A – saying: "There's no drugs. Today, we haven't been able to get any penicillin in stock at all."
His warning comes amid concerns some parents have been resorting to using old or out-of-date antibiotics they have found at home to treat their children.
Ninth child dies in Strep A outbreak

That led to Thorrun Govind, chair of the Royal Pharmaceutical Society, cautioning against self-diagnosis and urging parents to talk to their GP instead.
She has warned leftover antibiotics must be returned to pharmacies as there is a risk that children could be given an incorrect dose.
Nine children in the UK are known to have died in a recent outbreak of a form of Strep A, an infection that is usually mild and treated easily with the antibiotic amoxicillin.
But an invasive form of the bacteria known as iGAS has increased this year – particularly in those under the age of 10.
Share your story about the NHS
Schools 'may' get Strep A antibiotics

The National Pharmacy Association confirmed there had been a spike in demand for some antibiotics, including those used to treat Strep A infection in children.
A statement said: "Pharmacies are having to work very hard to obtain stocks of these antibiotics, and some lines are temporarily unavailable.
"We have been advised by wholesalers that most lines will be replenished soon, but we cannot say exactly when that will be.
"As always, pharmacists will continue to work with local GPs to help people get the medicines they need as promptly as possible, which may require a change of prescription."
Mr Rehmani, whose pharmacy is in Manchester, told Sky News' Inzamam Rashid: "When we hear stories about possibly giving antibiotics to children in schools, it just shows how out of touch the Department of Health is with on-the-ground pharmacy."
He added: "Pharmacists across the country are thinking we haven't got enough penicillin to fill our prescriptions, let alone handing it out to schools."
Read more:
What is Strep A and what are the symptoms?
Strep A generally causes mild infections – why the spate of deaths now?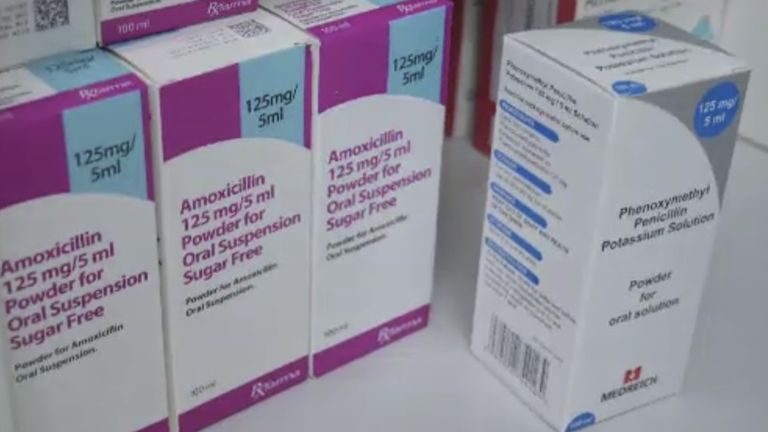 'No shortage'
Health minister Maria Caulfield said a cross-party briefing had been held for MPs on Strep A, and she denied there was a shortage of antibiotics.
She said: "We want to reassure parents if their children do have symptoms, and they are concerned to seek help – GPs are ready, A&E departments are ready, and also we have directors of public health proactively going into schools where there are cases.
"There is no shortage of antibiotics we want to reassure people on that, and we're keeping an eye on that on a daily basis."
Dr Colin Brown, UKHSA deputy director, told Sky News there was "long-standing guidance" that enables health protection teams to assess the situation in schools and nurseries to consider antibiotic prophylaxis for "either a group of children in certain classes or an entire nursery school".
Following the death of at least nine children across the UK, Dr Brown reiterated there was no evidence to suggest there had been a change to the circulating strains of Strep A to make them more severe.
He suggested it was a lack of mixing due to the COVID-19 pandemic in addition to the susceptibility in children that was "bringing forward the normal scarlet fever season" to this side of Christmas.
Nicola Bulley's partner says it is as though 'she vanished into thin air' following 45-year-old's disappearance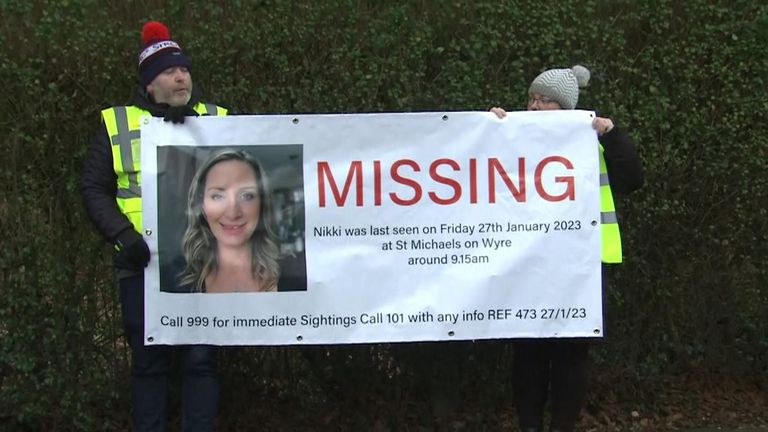 The partner of missing dog walker Nicola Bulley has said it is as though "she has vanished into thin air".
Speaking near the scene where the mother-of-two was last seen, Paul Ansell said he will "never lose hope", one week after she disappeared.
He also said he kept playing "every scenario" in his head "around and around" and that his focus was on supporting their two daughters.
Signs displayed for missing Nicola Bulley

The search is continuing for the 45-year-old, whose phone was found on a bench still connected to a work call and with her springer spaniel dog running loose.
She was last seen on 27 January at about 9.10am on a path by the River Wyre in the Lancashire village of St Michael's on Wyre.
Police believe Nicola Bulley fell into the River Wyre

Ms Bulley, 45, a mortgage adviser, had just dropped her two young daughters, aged six and nine, at school.
Mr Ansell said: "I don't know how I am coping. I don't want to think about that. I am just focused on the girls."
Nicola's girls 'are really missing her'

The 44-year-old engineer added: "Every single scenario comes to a brick wall. Every single one of them.
"All we are doing is sitting there going round and round and round through each scenario.
He went on: "We're never, ever going to lose hope, of course we're not, but it is as though she has vanished into thin air.
"It's just insane."
Timeline of Nicola's disappearance
Lancashire Constabulary has now confirmed Nicola's movements in the run-up to her disappearance on Friday 27 January.
8.43am – Ms Bulley walked along the path by the River Wyre, having dropped her children off at school.
8:47am – A dog-walker – somebody who knows Ms Bulley – saw her walking around the lower field with her dog. Their two dogs interacted briefly before the witness left the field via the river path.
8.53am – Ms Bulley sent an email to her boss.
9.01am – Ms Bulley logged into a work conference call on Microsoft Teams.
9.10am – A witness – someone who knows Ms Bulley – saw her on the upper field walking her dog, Willow. The dog was not in its harness and off its lead. This is the last confirmed sighting of Ms Bulley.
9.20am – Police believe Nicola's phone was left on a bench by the river.
9.30am – The conference call ended but Ms Bulley stayed logged on.
9.33am – Ms Bulley's mobile phone was found on the bench by another dog walker. Her dog was found running between the bench and a gate to the field. The dog's harness was found on the grass between the bench and the river's edge. This witness then made inquiries as to who owned the phone and spoke with people who recognised the dog as Ms Bulley's.
10.50am – Ms Bulley's family and the school her children attend were alerted about the situation. Lancashire Constabulary said they believe Ms Bulley fell into the river and their investigation is focusing on the 10-minute window between 9.10am and 9.20am where she is unaccounted for.
Mr Ansell also thanked the local community for their "amazing" support and said it had given the family "a great amount of comfort".
Members of the local community on Friday stood by the side of the road holding signs bearing Ms Bulley's photo, urging people to contact police with information.
On Thursday Ms Bulley's heartbroken sister Louise Cunningham told Sky News: "It feels like I'm just stuck in a nightmare".
Nicola's family 'stuck in nightmare'

In the interview, her family made an emotional appeal to anyone who may have seen her or knows where she is to come forward and speak to police.
Lancashire Police, who have launched a major search operation, said that despite "unanswered questions", people should not "speculate or spread false rumours" about the disappearance.
The force said they do not believe any crime has been committed and are treating the incident as a missing person inquiry.
COVID-19: People urged to book booster appointments before vaccine programme scaled down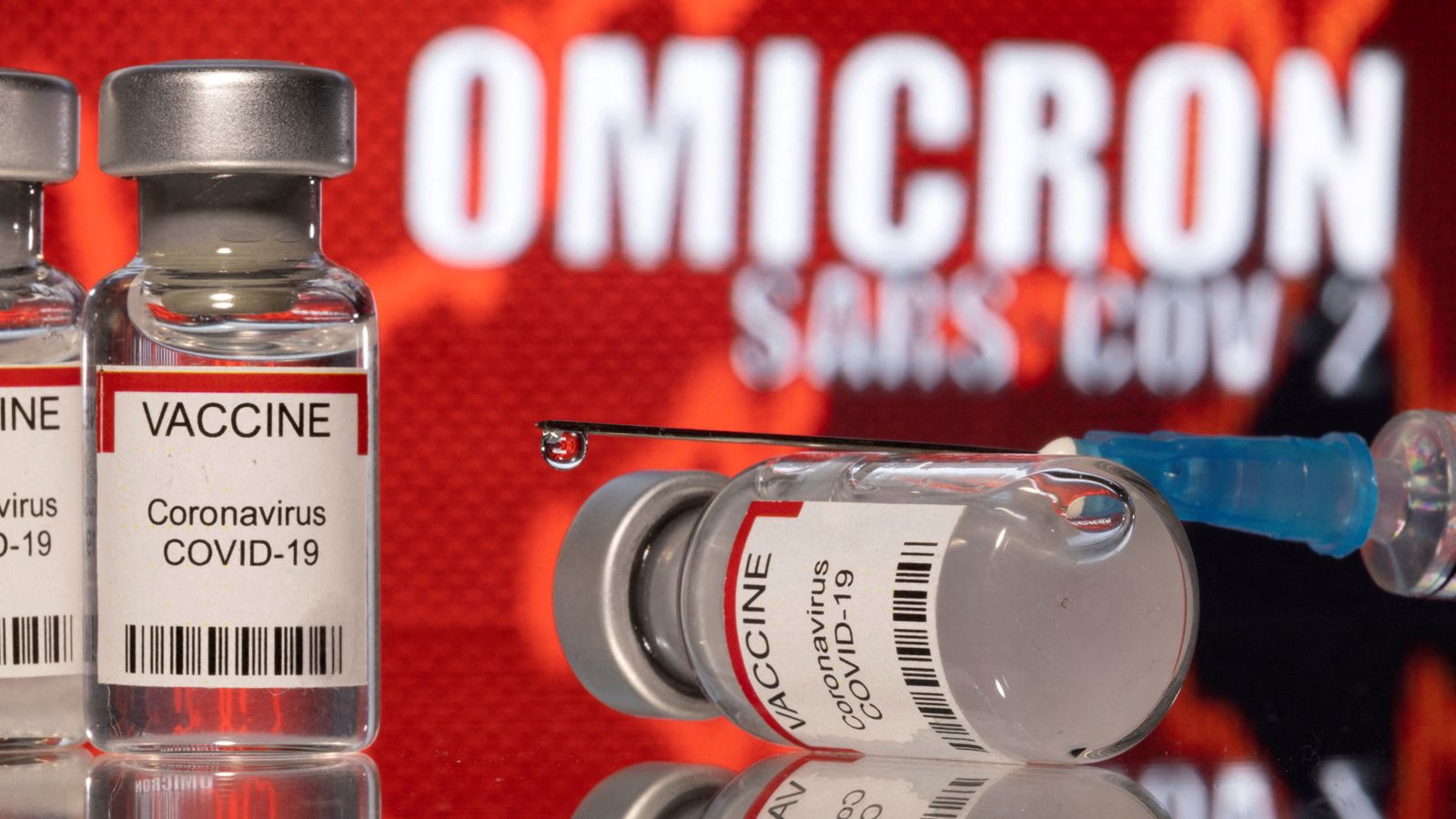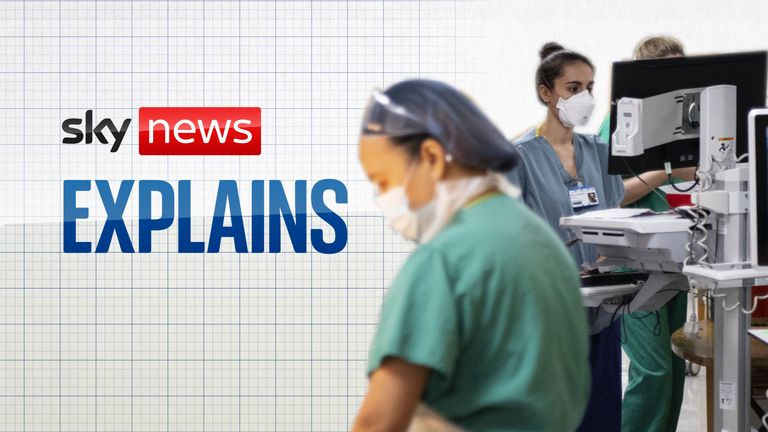 People are being urged to book one of the hundreds of thousands of COVID booster appointments still available before the NHS scales down its vaccination programme and focuses on at-risk patients.
More than 400,000 appointments are available at 2,800 sites across England until Sunday 12 February, the last of the autumn booster campaign.
The date is also the final opportunity for 16 to 49-year-olds, who are not considered at-risk and have not yet had a booster, to get the jab – in line with updated guidance from government advisory group the Joint Committee on Vaccination and Immunisation (JCVI).
The body of scientific experts has recommended adopting a more targeted approach to those at risk of serious illness, ahead of a potential spring booster campaign for the most vulnerable and another autumn programme.
So far more than 17.3 million people have come forward for a booster shot this winter, according to NHS England.
More than 144 million doses of the vaccine have now been delivered since grandmother Maggie Keenan made history as the first person in the world to receive the vaccine outside of a trial.
A smaller programme allowing severely immunosuppressed people to book for first, second and third doses will continue after 12 February.
If you are an NHS worker and would like to share your experiences with us anonymously, please email NHSstories@sky.uk
The JCVI has advised that the primary COVID vaccine course should be withdrawn this year for healthy people aged five to 49.
England's chief medical officer Professor Chris Whitty stressed the importance of being protected against COVID.
He told Sky News: "We know that having the third vaccination, a booster, is a very important part of immunity to COVID and it provides additional protection, even if people have had COVID or had their first vaccination.
"So the autumn programme which includes the ability for everyone to come forward, is coming to an end on 12 February and I'd encourage anybody who's not taken up the offer to do so before then."
Click to subscribe to the Sky News Daily wherever you get your podcasts
NHS director of vaccinations and screening Steve Russell said: "Whether you have had previous doses or a bout of COVID, we know that a booster is the best way to maintain protection against serious illness from COVID for yourself and your loved ones."
Mr Russell also hailed NHS staff for working really hard to deliver a combined 38 million flu and COVID doses this winter "amid record pressures on emergency services, providing crucial protection and keeping thousands out of hospital."
What's behind the NHS crisis?

Read more:
COVID infections rise in schools – but total level is lowest in four months
NHS expands 111 service to reduce pressure on hospitals
Health Secretary Steve Barclay also urged anyone who hasn't had their first booster, or is eligible for an autumn booster, to come forward.
"Our hardworking NHS staff and volunteers have done an incredible job getting jabs into arms and they're on hand to top up your immunity and keep you and your loved ones protected," he said.
HMS Portland: Royal Navy sailors rushed to hospital after drinking 'contaminated' water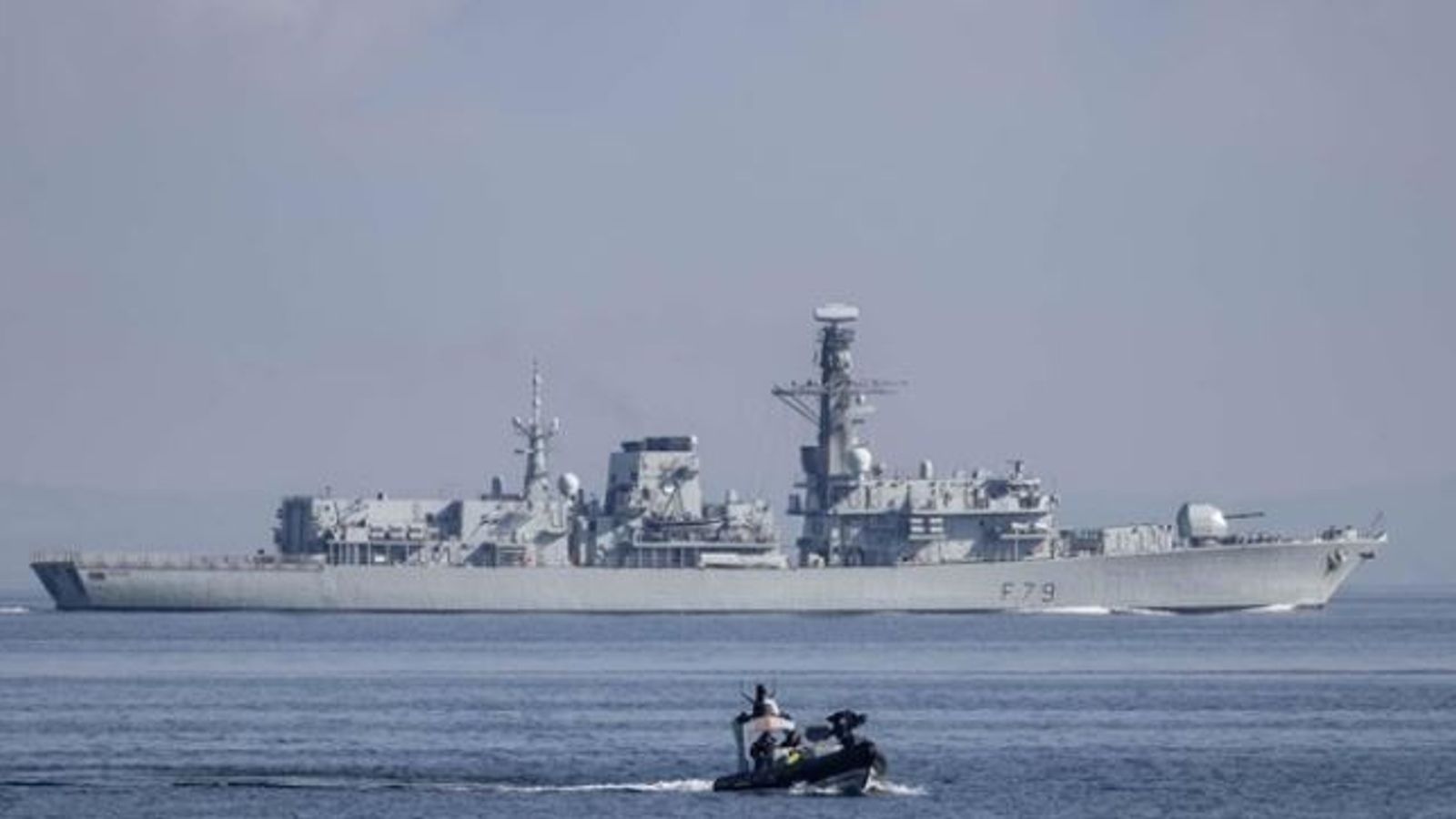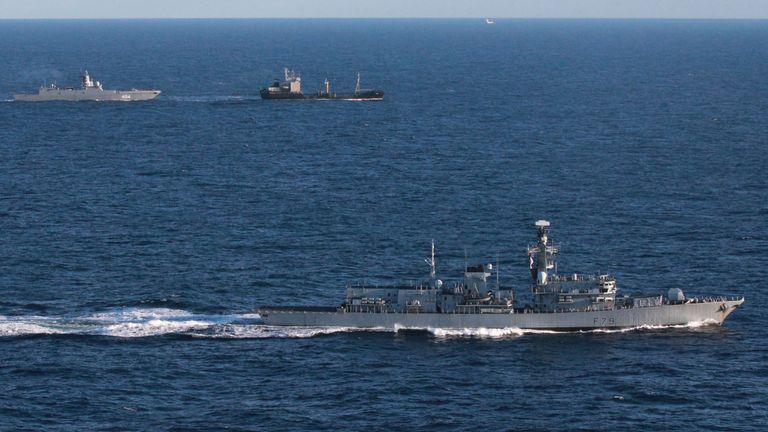 Several sailors have been taken to hospital after their Royal Navy frigate suffered an "issue" with one of its fresh water systems.
HMS Portland was forced to return to Portsmouth Naval Base following the incident and an investigation is now under way.
It was reported that the drinking water on board the ship had been contaminated, which may have been down to human error involving the cleaning system.
It is believed the cleaning system to the water supply could have flowed the wrong way.
Following the incident, a Royal Navy spokesperson said in a statement: "We can confirm that HMS Portland has returned to HMNB Portsmouth as a precautionary measure, following an issue with one of the ship's fresh water systems.
"The health and safety of our personnel is of the utmost importance and we are taking a number of measures to safeguard the ship's company whilst the issue is investigated."
He added: "A small number of personnel were taken to hospital as a precaution and HMS Richmond has been stood up to cover any contingencies."
HMS Portland – which underwent a major refit in 2021 – is adept at surface warfare operations as well as hunting submarines, according to the navy website.
It is a Type 23 frigate that last month tracked the movements of a Russian warship in the North Sea.
HMS Portland monitored the Russian guided missile frigate Admiral Gorshkov and accompanying tanker Kama as they sailed in international waters close to the UK.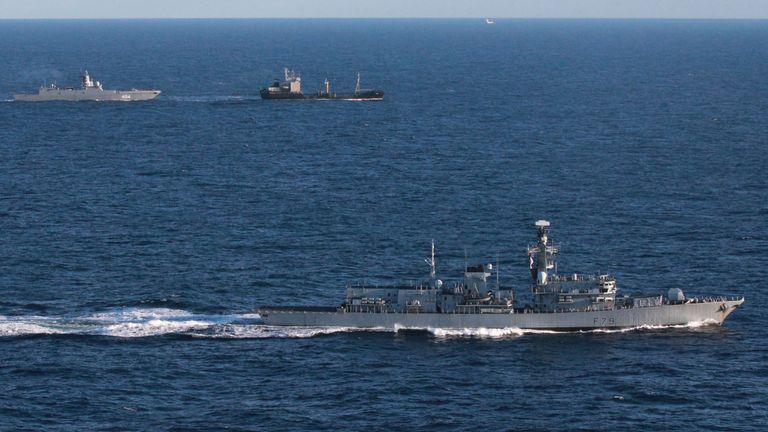 Read more:
Why spectre of British military becoming a 'hollow force' is now a reality – analysis
Broken down £3bn warship to return to base with one propeller for repairs
The Type 23 frigate joined the Norwegian coast guard vessel Bergen, as the Russian ships transited south through the Norwegian Sea.
Based at HMNB Devonport in Plymouth, HMS Portland was launched in 1999.
It weighs 4,900 tonnes, is 133 metres long and has a top speed of more than 28 knots.