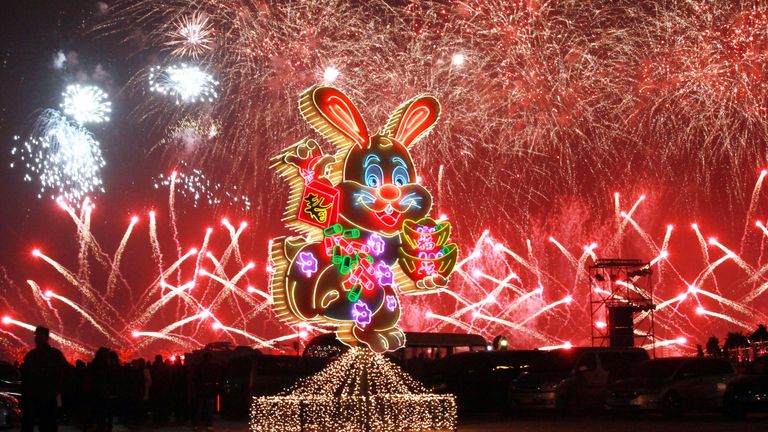 Lunar New Year, also known as Chinese New Year, is celebrated over multiple days and marks the beginning of the coming 12 months on the traditional lunisolar calendar.
The occasion is observed by many people of Chinese descent and is also commemorated in other countries across Asia, including South Korea, Japan, Indonesia, Malaysia, Philippines and Singapore.
Here, Sky News takes a look at this year's celebrations – and how it's significant.
What is this year's Zodiac animal?
Ending the year of the Water Tiger, which is seen as a symbol of strength, braveness and exorcising evils, the 2023 Lunar New Year is set to welcome the Year of the Rabbit.
The Rabbit is the fourth animal in the zodiac sequence of 12, and is seen as the luckiest.
People born in the year of the Rabbit are believed to be vigilant, witty, quick-minded and ingenious.
The animal is also said to signify mercy, elegance and beauty.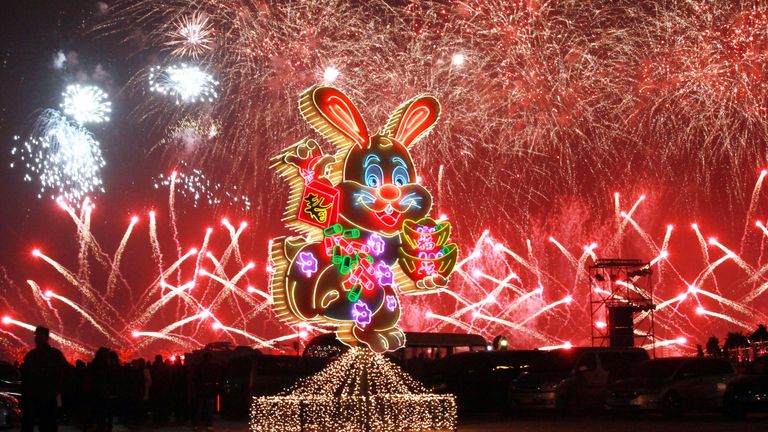 In the Chinese five-element theory, it is believed that each zodiac sign has one of the five elements: Metal, wood, water, fire or earth.
These elements rotate for each year on which the sign falls, meaning they come every 60 years.
This year is the Water Rabbit, which last came in 1903 and 1963.
There are five types of rabbit, each said to have different characteristics – and those associated with the Water Rabbit suggest believers in the Chinese lunisolar calendar who were born in those years may not be entirely pleased.
The traits linked to each of the rabbits are:
Water Rabbit: Gentle and amicable, but has a weak mindset
Wood Rabbit: Clever and quick-witted, but selfish
Fire Rabbit: Broad-minded, smart and flexible
Earth Rabbit: Straightforward, ambitious and hard-working
Metal Rabbit: Kind-hearted, lively and enthusiastic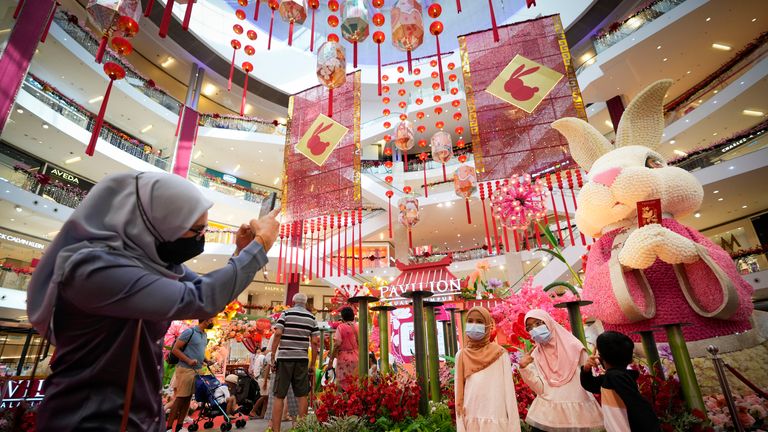 When is the 2023 Lunar New Year?
The Year of the Tiger ends on 21 January and the Year of the Rabbit begins the following day, on 22 January.
How Chinese New Year celebrated?
One of the most important holidays in the Chinese calendar, the Lunar New Year kicks off a 15-day festival of celebrations in China and among Chinese communities around the world.
Commonly known in China as Spring Festival, people in the country get seven consecutive days off each year to mark the occasion.
During this period, there are a number of traditions.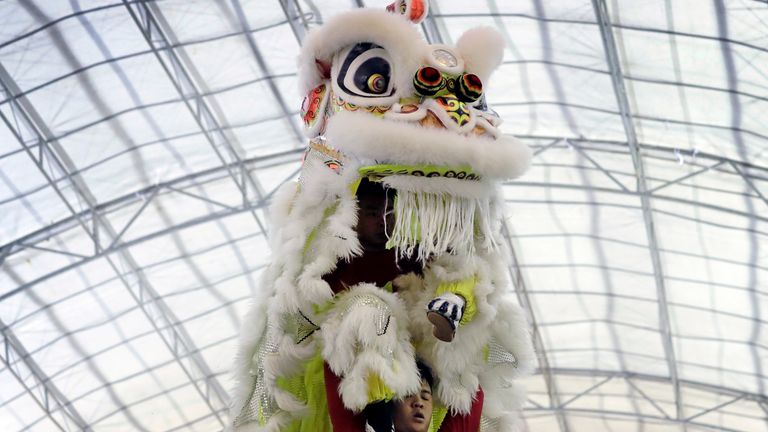 Festivities get under way with a lion dance, in which performers mimic a lion's movements while in a lion costume – with the animal symbolising power, wisdom, and superiority.
The performers move with the rhythm of the beating of the drum, cymbals and gong. The loud sounds are intended to scare away evil spirits and welcome the lion to bring in good fortune.
A dragon dance is the highlight of the celebration in many areas, as the dragon is a symbol of good fortune.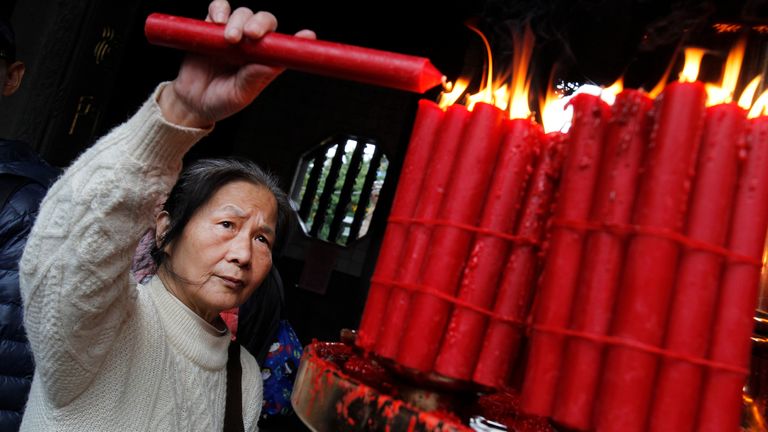 Other traditions include people cleaning their homes thoroughly to rid the household of bad luck.
Some eat specially prepared foods on certain days during the celebrations, which are also supposed to bring good luck.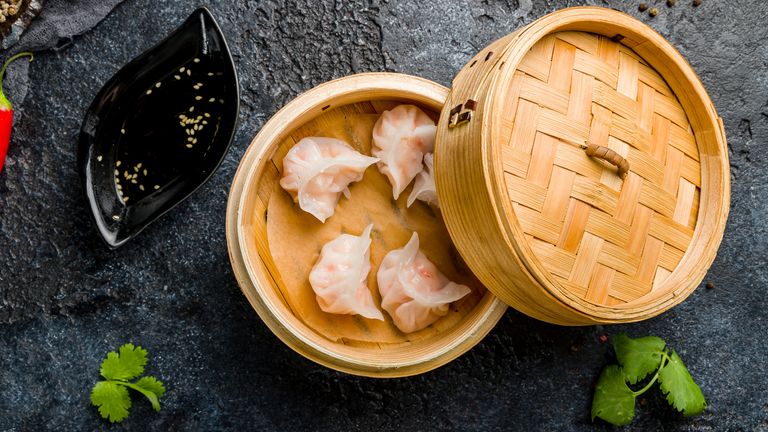 They include dumplings, which are often eaten on Chinese New Year's eve and symbolise wealth, and sweet rice balls – a symbol of family togetherness.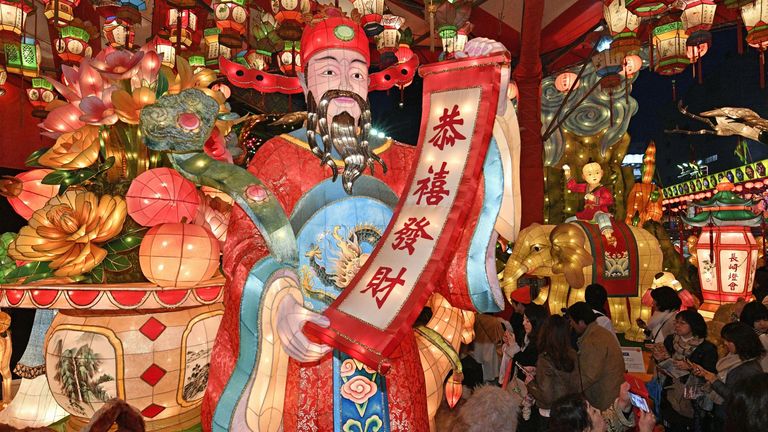 The last event of the celebration is called the Lantern Festival, during which people hang glowing lanterns in temples or carry them during parades.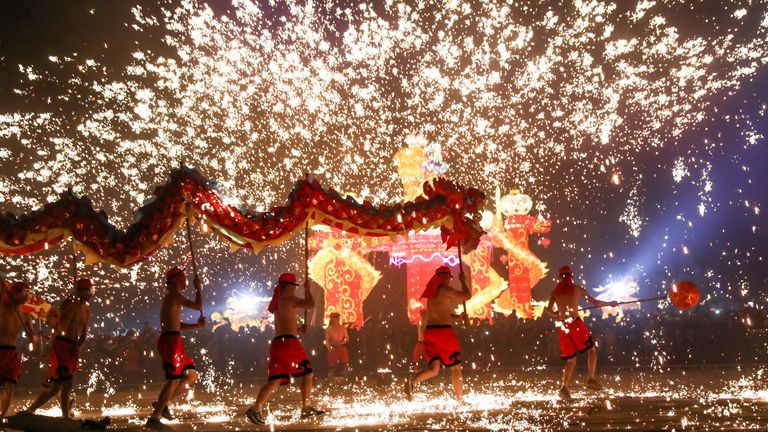 The festival also involves people lighting candles while praying in temples.
Firework displays take place that feature Datiehua folk art – which sees burning hot iron water sprayed to form a display of fireworks. The art originated in the Song Dynasty and is now part of cultural heritage across the country.
Tyre Nichols: Last words of US man who died after police 'beating' were 'mum, mum, mum', says lawyer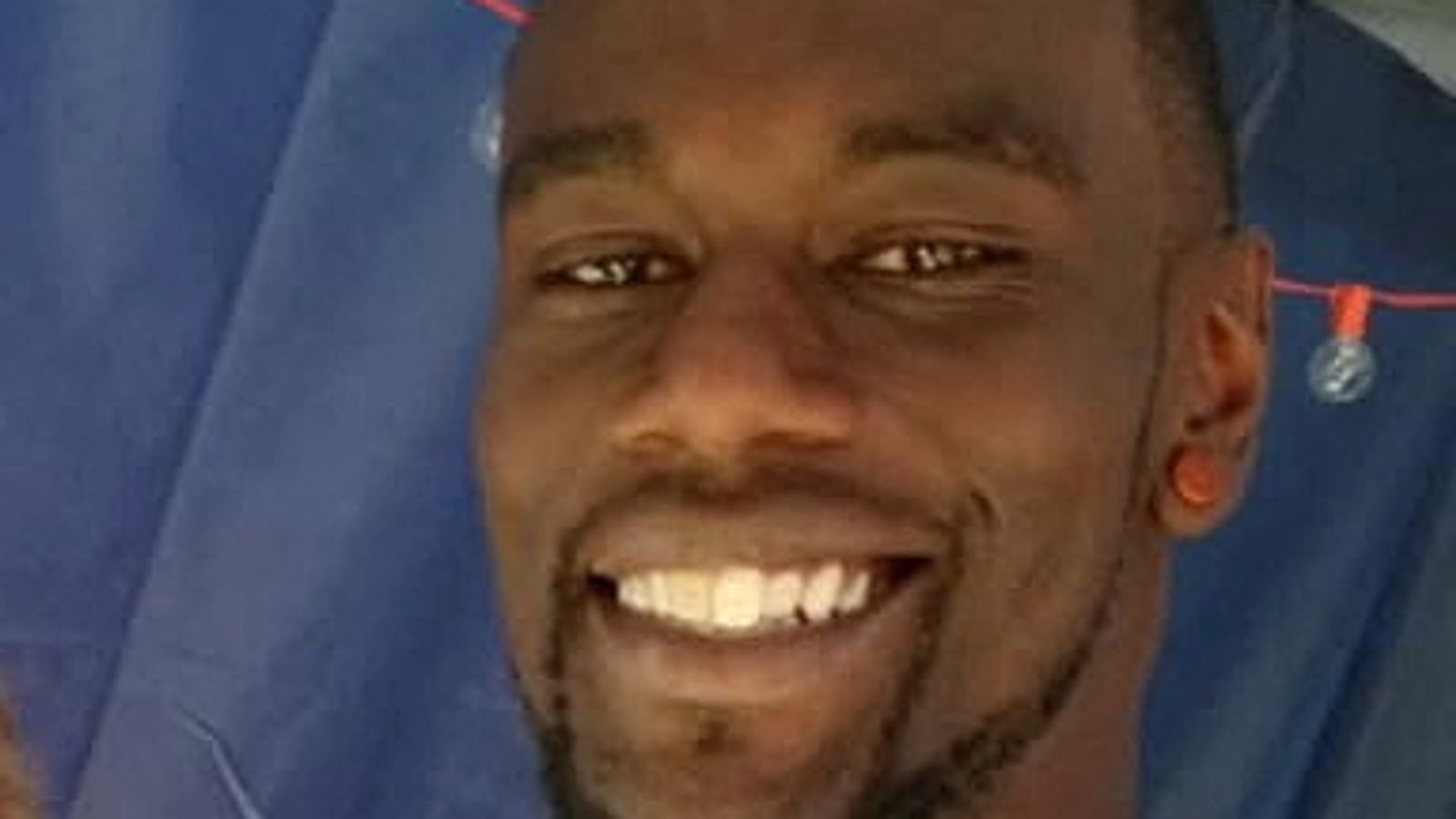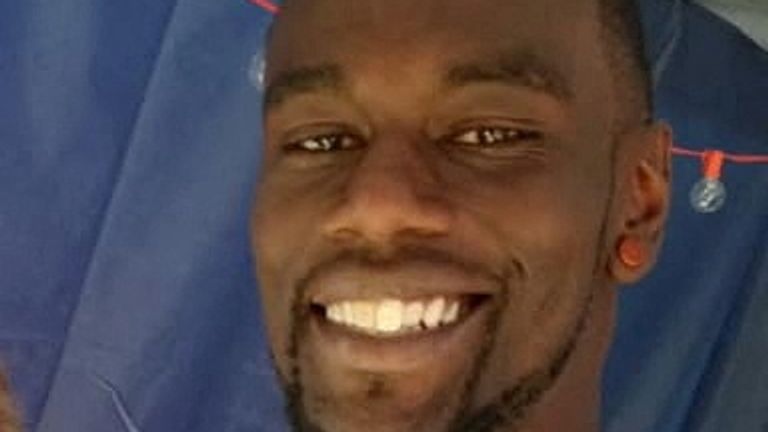 The final words of a US motorist who died after he was allegedly beaten by five police officers were "mum, mum, mum", according to a lawyer.
Tyre Nichols, 29, passed away in hospital three days after the confrontation following a traffic stop in the city of Memphis, Tennessee, on 7 January.
Bodycam footage of the altercation is expected to be released later on Friday evening.
His family said the "very horrific" video showed officers savagely beating the FedEx worker for three minutes in an assault their lawyers likened to the Los Angeles police attack on motorist Rodney King in 1991.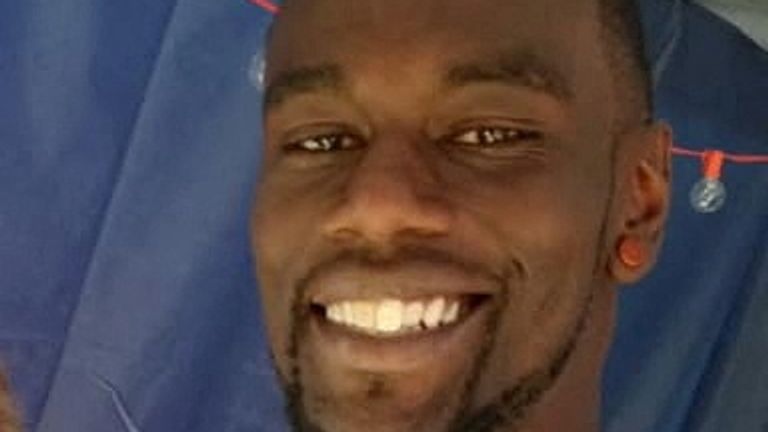 Five sacked officers, who are all black, have been charged with second-degree murder and other crimes, including assault, kidnapping, official misconduct and official oppression, over Mr Nichols's death.
Civil rights lawyer Ben Crump, who is representing his family, said when the public watches the footage they will see him calling out for his mother.
He said: "When you all see this video, you're going to see Tyre Nichols calling out for his mum.
"He calls out three times for his mother. His last words on this earth are, 'mum, mum, mum'. He's screaming for her. When you think about that kidnapping charge, he said 'I just want to go home'."
"It's a traffic stop for God's sake. A simple traffic stop."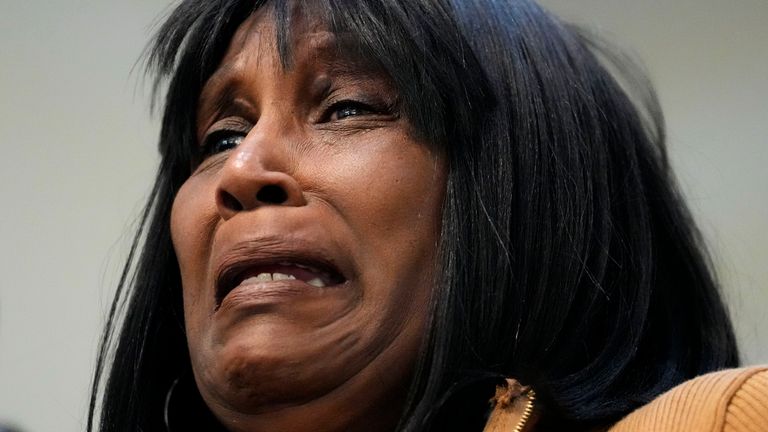 Mr Nichols's mother, RowVaughn Wells, told reporters: "For a mother to know their child was calling them in their need and I wasn't there for him. Do you know how I feel right now? Because I wasn't there for my son."
Ms Wells recalled she had "a really bad pain in my stomach" and once she found out what happened she realised "that was my son's pain that I was feeling".
"For me to find out my son was calling my name, you have no clue how I feel right now," she added, struggling to hold back tears.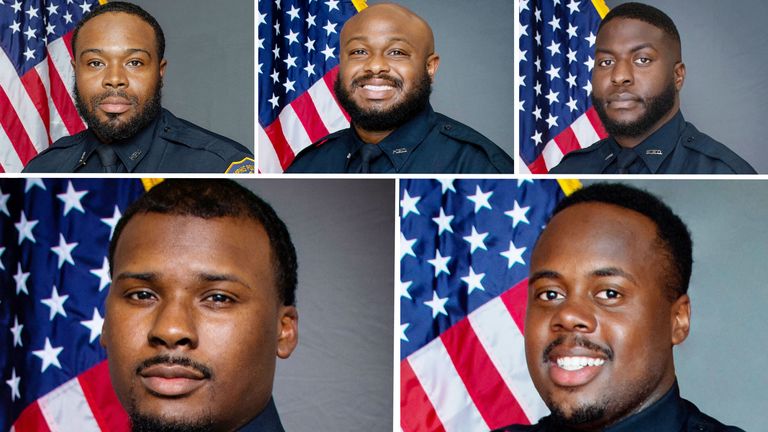 She also said she had not yet seen the video but urged anyone with children not to let them watch it.
"I have never seen the video but what I have heard is very horrific."
She added the charged officers had "disgraced their families".
"I want to say to the five police officers who murdered my son, you also disgraced your own families when you did this.
"But I am going to pray for you and your families. Because this shouldn't have happened. We want justice for my son."
She has pleaded for peaceful protests.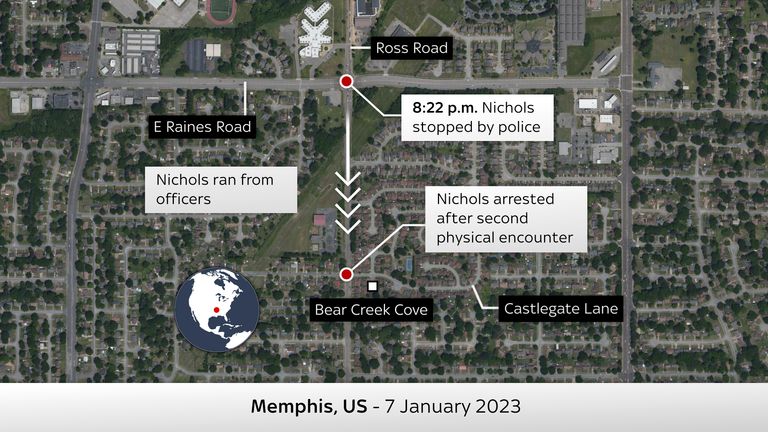 Police pulled Mr Nichols over for alleged reckless driving before there was an "altercation" where officers used pepper spray on him, according to Shelby County district attorney Steve Mulroy.
Mr Nichols then tried to flee on foot and another altercation followed, he added.
His family say the officers beat him and the injuries he sustained during the encounter led to his death.
Relatives accuse police of causing him to have a heart attack and kidney failure. Authorities have only said he experienced a medical emergency.
The officers were assigned to the 'scorpion' unit which focuses on violent street crime. The family's lawyers want it to be disbanded.
Memphis police chief Cerelyn Davis has said the department will review scorpion and other specialised units.
President Joe Biden said the Nichols family and the city of Memphis deserve "a swift, full and transparent investigation".
"Public trust is the foundation of public safety, and there are still too many places in America today where the bonds of trust are frayed or broken," he added.
Palestinian militants 'ready to die' as prospect of all-out war increases after West Bank clashes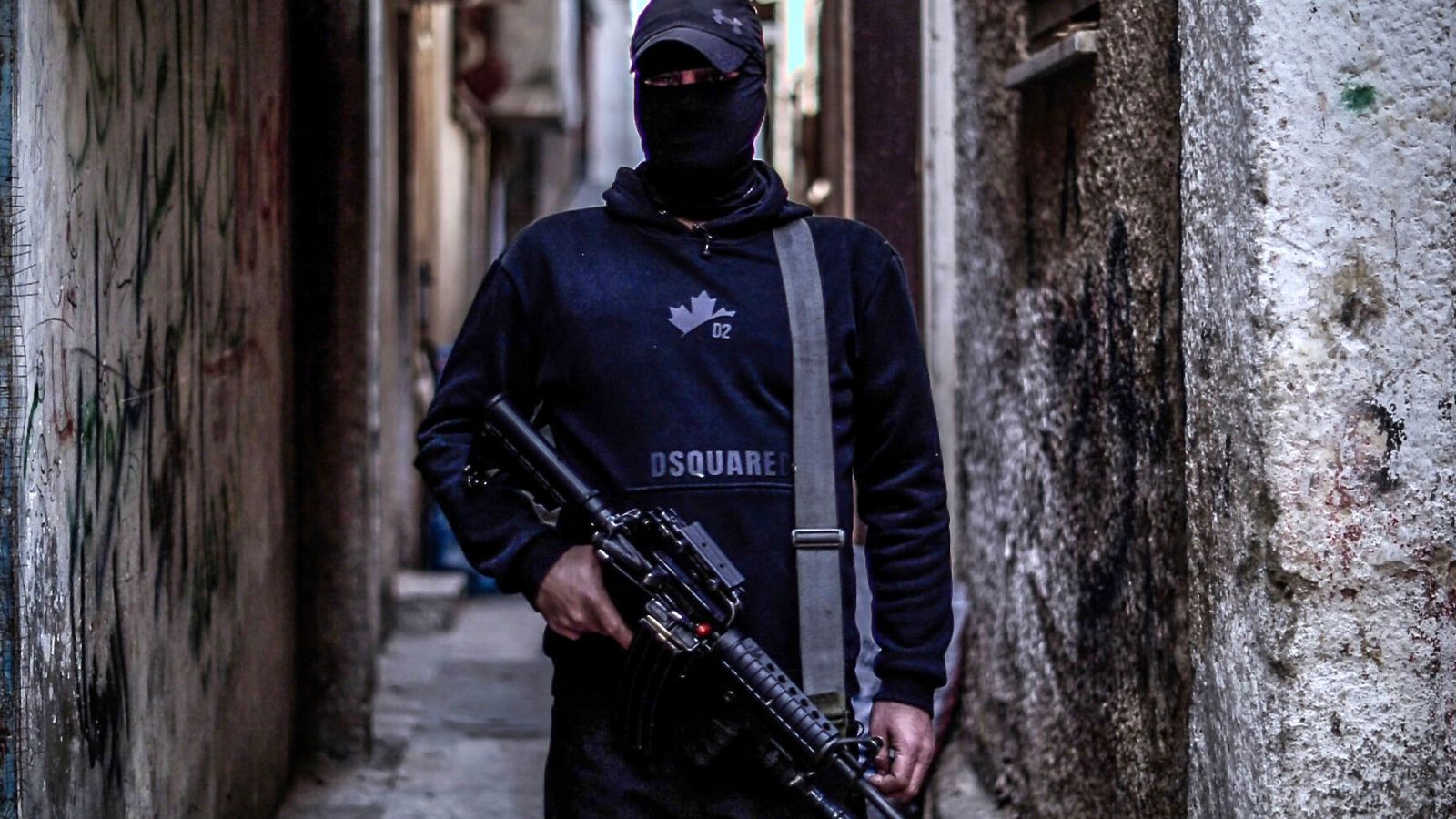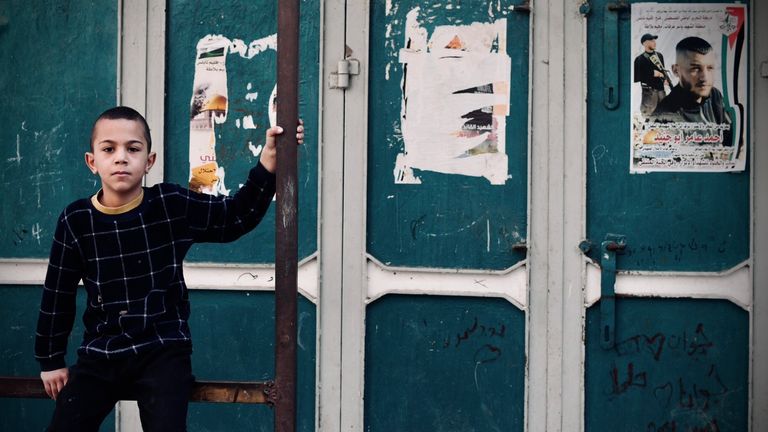 The alleyways that run inside the Balata refugee camp are narrow, claustrophobic and full of uncollected rubbish.
Posters celebrating dead militants are stuck to the walls. Children are everywhere – more than half the population of the camp is under 25.
We were escorted to meet fighters from Al Aqsa Martyrs' Brigade, one of the largest and oldest militant groups in the West Bank.
They are a proscribed terror group by Israel, the EU and US, but not the UK.
Out front, I turned a corner and they were there – dressed all in black, M16 assault rifles in hand and balaclavas covering their faces.
They are young men, heavily armed and say they are ready to die defending their land.
We made our introductions and then moved down another alleyway – an Israeli military lookout post was on the hill above us; snipers watch every move in the camp below.
"We're seeing an escalation by the [Israeli] occupation forces across camps in the West Bank, especially in Jenin and Balata," one of the militants tells me.
"Most of the operations are carried out by the Israeli special forces. Yesterday, two of our men were killed in clashes when they entered inside the camp."
The fighters are relaxed. This is their stronghold.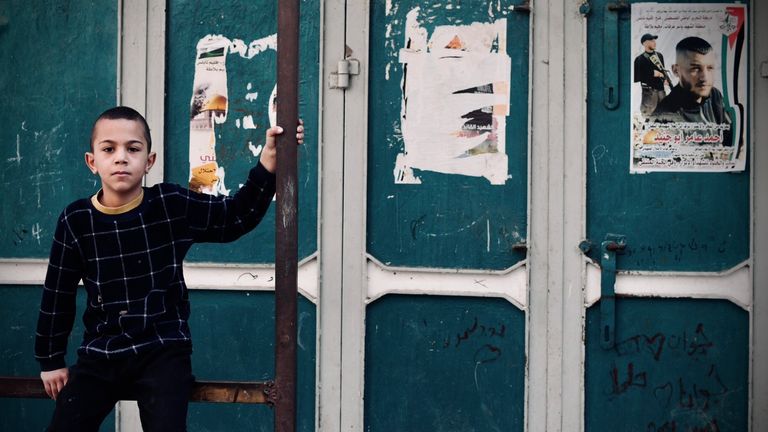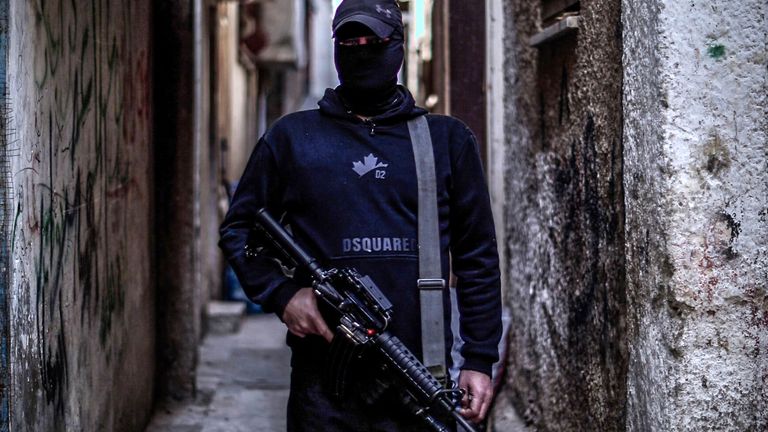 CCTV cameras seem to be everywhere, they joke it's like Paris or London; the militia has its own reconnaissance unit that watches for undercover Israeli special forces entering the camp.
Violent clashes have been more frequent in recent months – 2022 was the deadliest year since 2005 and already 2023, only a few weeks old, is more deadly still.
After nine Palestinians, mostly militants, were killed in an Israeli counter-terror raid on Thursday, the prospect of another all-out war is closer.
One of those killed was a 61-year old woman, Magda Obaid, caught in the crossfire.
The IDF says it's investigating her death, but the list of unexplained civilian fatalities is growing.
"I think because of the policies of the right-wing Israeli government there will be an escalation in the West Bank," the militant from Al Aqsa Martyrs' Brigades predicts.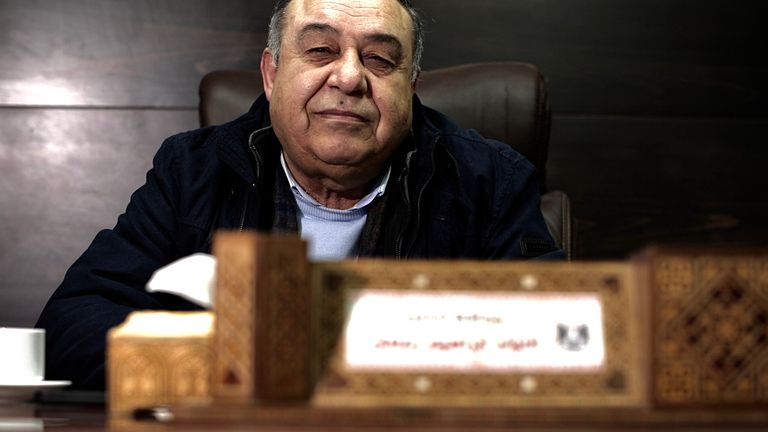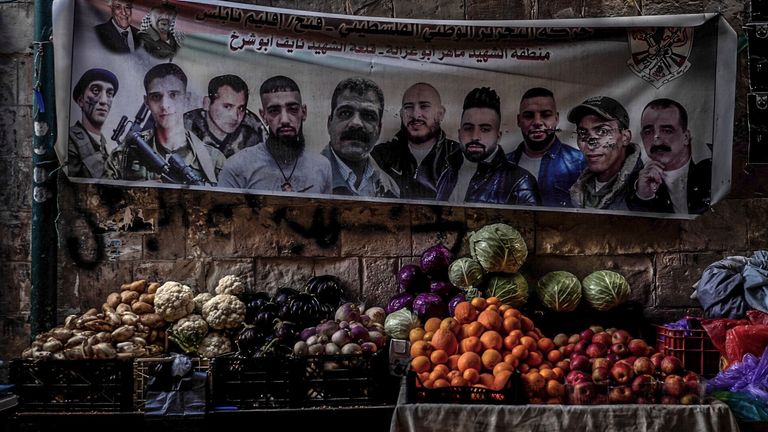 Read more:
Israel shoots down rockets fired from Gaza after deadly raid
Tensions rise as Israel hardens policies towards Palestinians
Talk of a new uprising, a third intifada, which has been so often threatened in recent years, is emerging again.
"I think that there is an intifada coming," Ibrahim Ramadan, governor of Nablus tells me.
"Why? There is not any hope among my people. The Palestinian people need hope, small hope for their freedom."
The deputy mayor of Nablus, Dr Husam Shakhshiris, is more sanguine but equally blunt in his assessment of the current situation.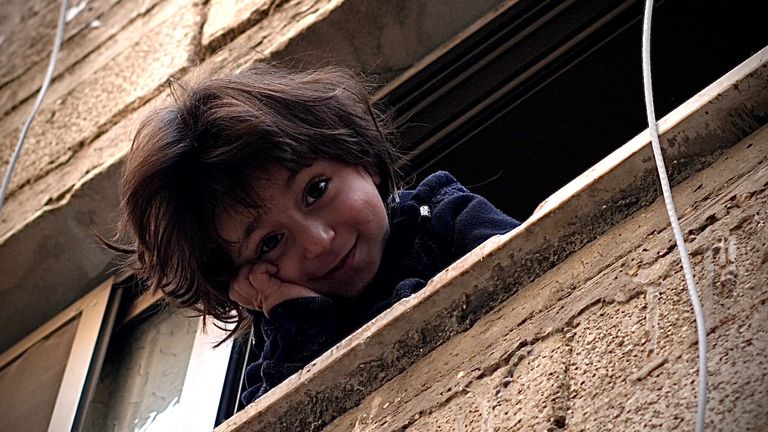 "It [Nablus] is occupied by the state of Israel. The Israeli army is entering the city everyday," he says.
"We have two military camps on top [of the surrounding hills], we have seven settlements surrounding Nablus city connected by bus routes, and it's easy for the Israelis to close the city and prevent the movement in and out of the city."
As we walk around the city together, Dr Husam is clearly popular. Residents stop to greet him.
Unlike the militants we met, he has the wisdom of age and is thoughtful and considered in his words, but no less damning of Israel.
"How bad is it?" I ask him.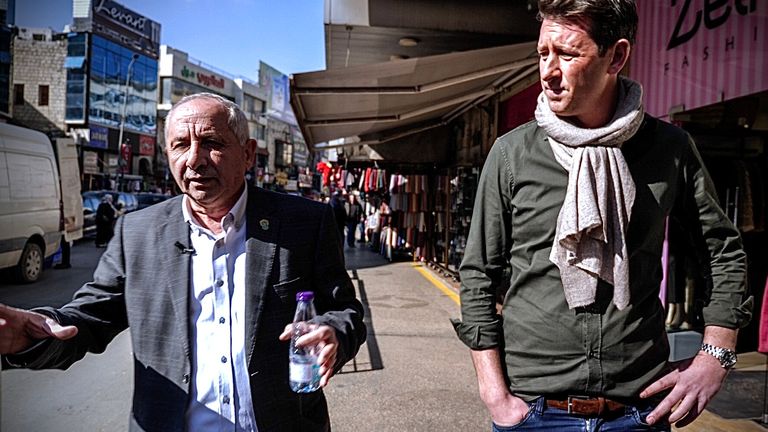 "This is bad. I see all the time in the past that there was hope to have a peace solution, to have a two-state solution implemented, especially after Oslo," says Dr Husam.
"Now we don't see this hope, we don't see a peaceful solution and we are stuck in these contours created by the policies of the state of Israel. They don't see or recognise our national right of self-determination.
"It is the worst situation in my life."
Violence in Israel and the West Bank goes in cycles.
Right now, any prospect of peace talks, or even a two-state solution, feels a long way off.
Neither side is in the mood to talk or to compromise, and so for many Palestinians fighting seems like the only route to more freedoms.
Seven dead after shooting at synagogue in Jerusalem, Israeli police say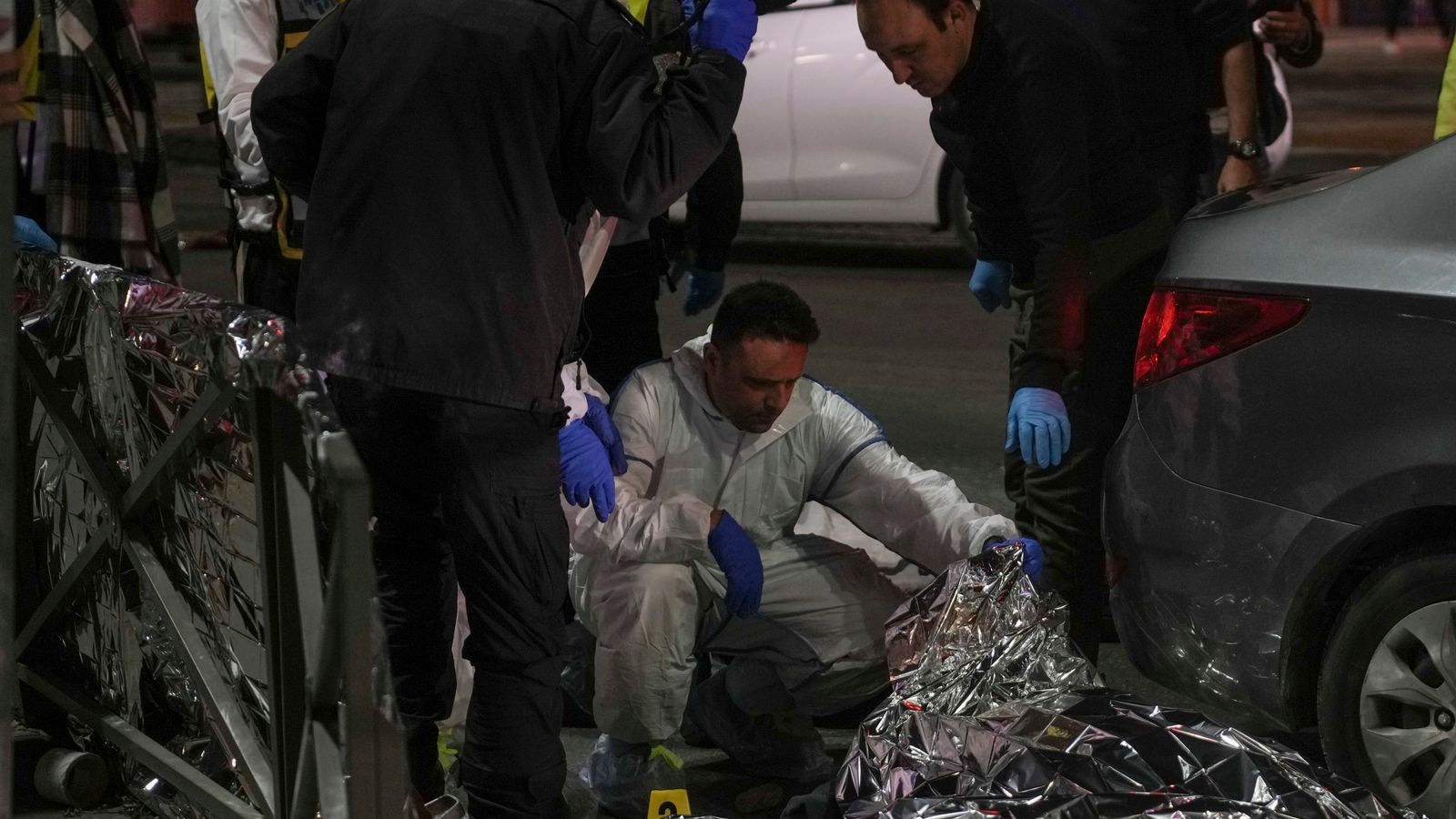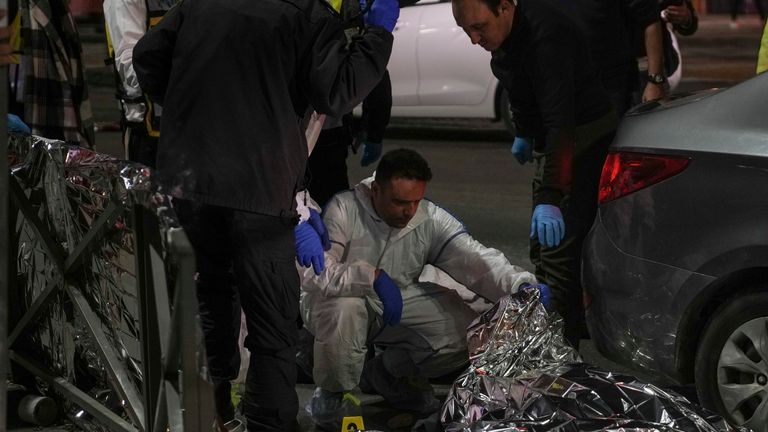 Seven people have been killed and several injured in a shooting at a synagogue in Jerusalem, according to Israeli police.
The gunman was shot and killed and a large police presence was at the scene.
Several others were injured in the shooting, including a 70-year-old woman in critical condition and a 14-year-old boy in serious condition, the medical service said.
Israeli police described it as a "terror attack" and said it took place in a synagogue in Neve Yaakov, considered by Israelis to be a neighbourhood within Jerusalem, while Palestinians and most of the international community consider it occupied land illegally annexed after the Six-Day War in 1967.
They said the attacker was a "terrorist who was neutralised by the police force" and described him as a 21-year-old resident of East Jerusalem who "carried out the attack at the scene alone".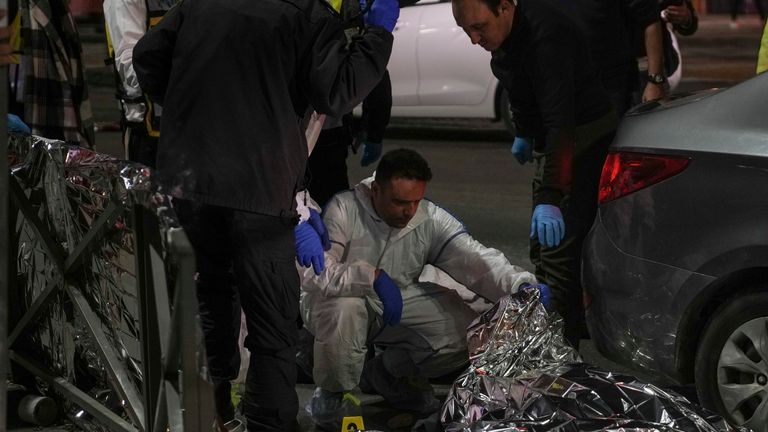 It comes after a deadly raid by the Israeli military yesterday that killed nine Palestinians in the occupied West Bank. A 10th was later killed north of Jerusalem.
Gaza militants then fired rockets and Israel responded with air strikes overnight. There were no reports of injuries.
Earlier today Palestinians marched in anger as they buried the last of the people killed by Israeli fire.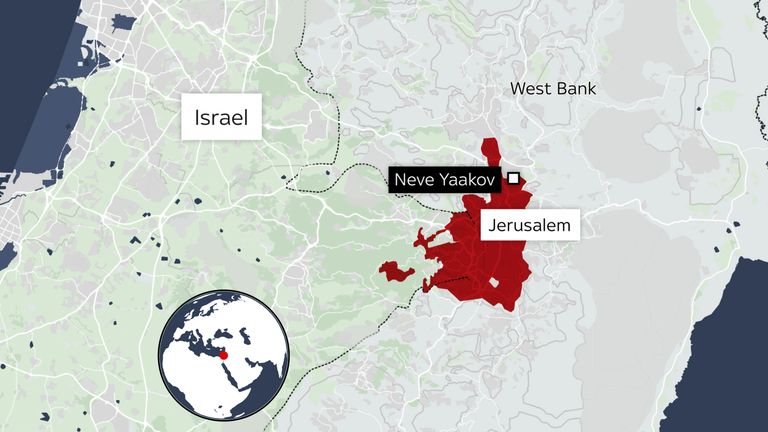 Hamas spokesperson Hazem Qassem told Reuters: "This operation is a response to the crime conducted by the occupation in Jenin and a natural response to the occupation's criminal actions", though he stopped short of claiming the attack.
The Palestinian Islamic Jihad also praised but did not claim the attack.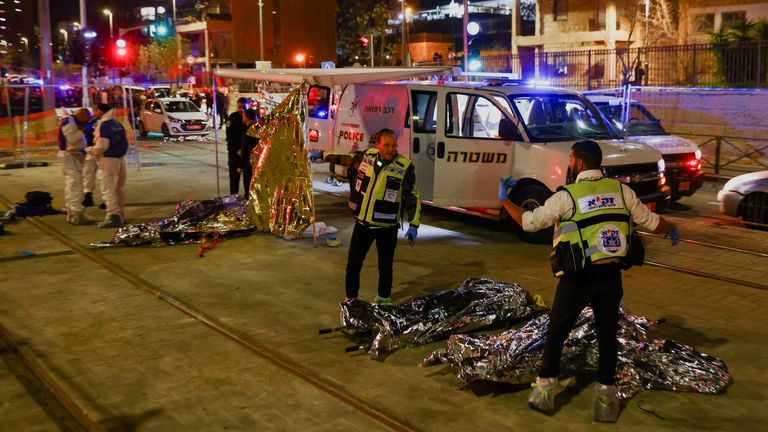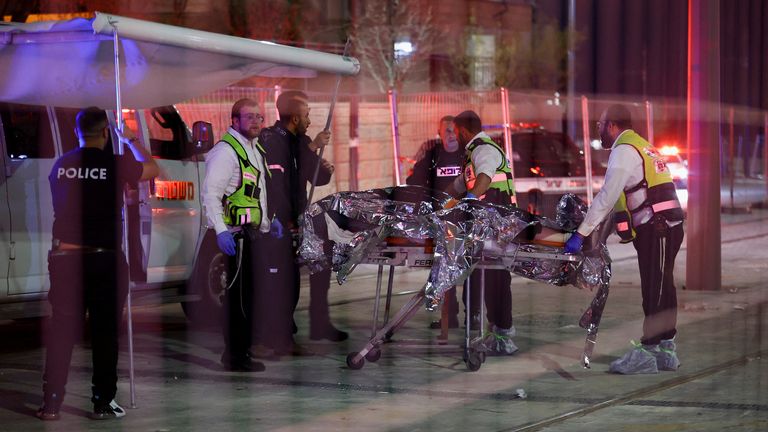 Speaking from near the scene Sky correspondent Alistair Bunkall said: "We've seen some ambulances leaving the scene as we've been here in the last half an hour or so.
"Things are incredibly tense. There have been flashbangs set off just up the road from us in the Palestinian neighbourhood."
"And it comes of course on International Holocaust Memorial Day, the attack happened just hours after the start of Shabbat, the Israeli day of rest, and it comes barely 24 hours after 10 people were killed in the West Bank yesterday, including nine in an Israeli special forces raid in the northern West Bank city of Jenin."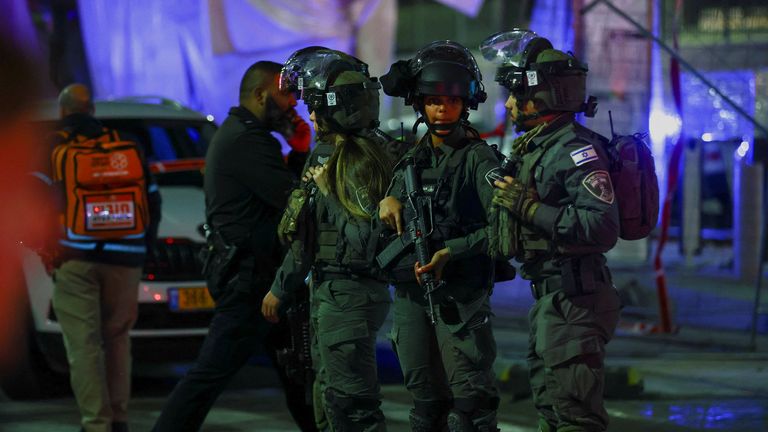 The United States condemned the "apparent terrorist attack", with US State Department deputy spokesperson Vedant Patel said he did not expect changes to Secretary of State Antony Blinken's visit to Israel next week.
"This is absolutely horrific. Our thoughts, prayers and condolences go out to those killed by this heinous act of violence. We condemn this apparent terrorist attack in the strongest terms. Our commitment to Israel's security remains ironclad," he said.