Lots of Great Choices But One Size Wont Fit All A full-size 1911, decked out with many of today's popular features. This example is a stainless .45 ACP Kimber Eclipse, factory equipped with adjustable night sights.
The U.S. Military is now into their second generation of standard-issue pistols since the Government Model 1911 was phased out. Replaced by the M-9 (Beretta M-92 FS) in 1985, the M17/18 (Sig P320) came next during 2017. Thus, except for those long in the tooth with military handgun experience, the 1911 is probably regarded more as an abstract relic by many veterans.
That may be true, but the Government Model is still a strong contender in the civilian market. Available in numerous calibers and sizes, many are true eye candy.
Polymer pistols enjoy strong sales, but the seemingly immortal Model 1911 Government Model still soldiers on. In fact, nowadays, old slab-sides has even been hybridized, one recent example being Springfield Armorys high-capacity Prodigy. And like the majority of todays single-stacks, this high-cap rendition incorporates features that were previously custom extras.
Prior to (and even well into) the debut of the Glock, many commercial Government Models started life pretty much as their military counterparts had. Three nearly obligatory upgrades were extended (beavertail) grip safeties, larger thumb safety pads, and a better set of sights the latter the topic of this post. 1911 Sights – Many Options Basic G.I. Sights
A genuine U.S. issued Government Model is a Spartan example of todays possibilities. In fact, for those of us old enough to have carried one, the forty-five was already dated, the most recent issued specimens dating to World War II.
Lord knows mine had certainly seen its share of hard knocks, as evidenced by its appearance – and interesting history. Captured (actually recaptured) from an opponent no longer in need of its use, unlike some other battlefield pickups we frequently encountered, it was still configured as issued at some point during its murky past. I wish Id recorded its markings, but priorities were different at the time.
After giving my new acquisition a thorough going over, it became my constant companion. Through some creative scrounging, I eventually accumulated a large stash of .45 Hardball rounds and magazines. The .45 is arguably one of several useful calibers to own, but one remaining loose end was the pistols bore, which showed heavily worn rifling. That problem was solved through dumb luck when, during a trip to the rear, I managed to score a new barrel. Today Id obsess over its fitting and confirm the results via careful range testing.
Ignorance being bliss, I simply dropped in the replacement barrel and proceeded to ventilate an ammo can from around twenty paces. More luck: A satisfying seven-round group formed directly above the pistols sights and, from that point on, the old G.I. .45 performed admirably.
Back to the subject at hand, I never remotely considered its sights a hindrance. I attribute this to the following: At the time, my eyes were a whole lot younger. When I finally handed my trusty old Government Model off to a buddy, they, along with the rest of me, were only 21 years old. Related to the above, Im a product of the era preceding computers, tablets and blue screens. During my pre-military days, phones had rotary dials and cords. Most households had televisions (initially black & white), but programming was limited to three networks received via rabbit ears or roof antennas. The expectation was, kids would either be in school or outdoors during daylight hours, with evenings reserved for homework. Result: My tender baby blues hadnt been fried by steady exposure to electronics.
Earlier on, both of my parents were Word War II veterans who grew up without any visually based electronics other than incandescent lighting – still a novelty in many regions of the U.S. when they were kids. And the Model 1911 predates them both.
Im betting the sights of my Grandfathers Navy-issued World War I version were perfectly adequate for his non-light-polluted eyes. Lots of other old handguns from that period have seemingly rudimentary sights. True enough by todays standards, but maybe their owners could actually see! The fabled U.S. Government Model .45 as it appeared in 1911. Produced by Colt and configured as issued prior to the A-1 version, this example may have been through World War 1. By today's standards its sights are rudimentary appendages but, during that era, many shooters may have had better eyes.
Anyhow, those days are long gone. And on a personal note, the issued sights of my old 1911 would be close to useless for my now aged eyes.
Good news: Due to the ongoing popularity of this pistol, there are lots of great aiming choices today almost too many. The options include fixed or adjustable sights configured as three-dot versions, fiber optics, night sights, and even small battery-powered red dot units. Where to begin? Red Dot Sights
Today, the aiming system for many shooters young and old is a miniaturized red dot sight (MRDS). These small electronic sights have advanced from novelty status to mainstream – to the point where many currently produced pistols are now offered with optics ready slides, or as fully decked-out packages. However, pickings are still lean among traditional 1911 offerings. And, as far as Im concerned, thats okay. Heck, even with an aluminum frame a standard-size 5-inch version is already quite a handful.
Previous size issues have been addressed through todays genre of carry-friendly pistols, many of which are striker-fired compact 9mms. Thus, manufacturers of 1911s, aiming to please, now offer a number of competing smaller versions chambered for not only .45 ACP, but also 9mm. However, unlike the growing list of other compact pistols, optics-ready versions are conspicuously absent.
The reason probably boils down to reliable function. As originally designed, the Government Model was engineered to fire .45 Automatic Colt Pistol cartridges. The platform has since been adapted to fire a number of other calibers, but function-wise, the .45 ACP has always been the gold standard.
And, across the board, reliability becomes increasingly problematic commensurate with decreasing size, due to greater slide velocities and steeper unlocking angles. Fortunately, thanks to stiff demand and the ensuing R&D, most of these issues have now been overcome, and most of todays smaller 1911s will run reliably – in their factory form.
But, when it comes to MRDS offerings, among Kimbers extensive line, the only listed option is a Custom Shop 10mm version, (equipped with a Leupold Delta Point Pro). Likewise, Springfield Armory has a generous listing of 1911s, however, their MRDS platform is the high-cap Prodigy.
That said, the 1911 has been adapted to accommodate small optical systems. Beyond MRDS base adapters, existing slides can be machined (at considerable expense), or they can be purchased pre-machined from reputable sources such as Ed Brown: Ed brown 1911 Government Slide.
The great feature of Browns full-sized slide is, its machined for Trijicons 1911 RMR Mount, which ships with an integral night-sight and a dovetailed (NS green) front. The sights are tall enough to co-witness (lower 1/3) with Trijicons excellent RMR dot sights, providing the best of both worlds.
Playing it safe, a satisfactory installation will likely require the services of a competent gunsmith possessing the correct sight fixtures. Attempt to install a dovetailed night sight with a hammer and brass drift and you may discover its Tritium lamp is suddenly kaput. Also, theres the associated expenses. Labor aside, the slide costs around $352, and the RMR mount is $211. Factor in more money for slide components.
Alternate solutions include small aftermarket bases designed to fit factory rear sight slots, something Id just as soon skip – at least for defensive purposes. Durable Iron Sight Options
Jumping back in time, if I ould only add one upgrade to my battle-worn G.I. .45, it would have to be a foolproof set of iron sights, effective in all lighting conditions to include darkness. In fight-mode, durability would take top-billing over precise aiming.
Based on good results with two sight sets on a pair of small S&W polymer pistols (a 9mm Shield and .380 Bodyguard), Id look hard at XD Sights Big Dots for a 1911. The front sight is humongous, but its express design nevertheless affords more precision than one might expect and its also fast. An XS Big Dot Sight set shown here atop an S&W .380 Bodyguard. Although highly visible, they almost look too basic to provide any degree of accuracy. But in reality, they work surprisingly well.
Another route, circling back to Kimber, their Rapide comes factory-equipped with a set of TRUGLO TFX Pro Day/Night Sights. As for the sights themselves, if you log on to TRUGLOs site, you can peruse Truglo's 1911 offerings. While youre at it, note the slide cuts which are listed as Novak LoMount patterns. Kimber's full-size .45 ACP Rapide (top) ships with TRUGLO's TFX Pro Day/Night Sights featuring fiber-optic & Tritium elements. Its smaller 9mm cousin, the 9mm Micro 9 ESV, is sold with Kimber's low-profile night sights. Sights & Slides
The above is no more than a tiny sampler of the myriad sight possibilities. Nowadays, more 1911s are probably produced with slides machined to accept sights other than those of the original Colt/ Government Model. Rear Sights
Todays more common 1911 slide cuts correspond with the following sights:
Novak LoMount Introduced by Novak Designs in 1985, these streamlined low profile rear sights quickly caught on for defensive use, to the point where they became factory-issue for a number of pistol manufacturers. The line has since expanded to include versions for standard G.I. slides, as well as adjustable Novak models. See the variety of Novak sights.
As originally conceived by Novak, the sloping rear sight can sit low in a slide because it nests in a proprietary cut. But it wasnt the first designed for use in an altered slide. The Novak rear sight (L) is a night-sight version equipped with Tritium inserts that glow 24/7. Elevation is fixed but windage adjustments can be made after loosening the sight's central setscrew. The fully adjustable BoMar (R) has softened blade corners but it's really more of a target sight.
Elliason For many years the 1911 has been brought to a fine level of accuracy through careful fitting of its barrel, bushing, slide and frame, etc. Better sights were part of the package so, when Colt introduced a factory Gold Cup National Match version, it was sold with an adjustable rear sight. Recessed into its slide via a proprietary longitudinal slot, several iterations progressed to include a 1965 Eliasson design secured with a somewhat fragile cross-pin.
BoMar BMCS The emergence of the BoMar design provided a stronger low-mounted alternative to the Gold Cups sights. Although BoMar is no longer in business, fortunately for us, the design continues to thrive. Its offered by several manufacturers, using a unique inset crosswise slide cut. Commonly seen atop serious competition 1911s, its also adaptable to defensive roles through the use of melted sight blades featuring Tritium inserts. A closeup view of a Bo-Mar sight. The serrated windage and elevation screws provide precise clicks permitting regulated adjustments. It sits low on the slide thanks to its unique "dovetail" pattern. Sometimes referred to as a "BoMar", the firm is no longer in business, but a number of other manufacturers now produce it.
LPA TRT Similar to the BoMar pattern, the elevation screw is located differently, another proprietary design.
The takeaway: Particularly when upgrading to todays great rear sight options, much like MRDS footprints, there is no universal size. But, thanks to the Internet, the necessary information is only a click away. Front Sights
The 1911s original front sight was staked, using a stem that protruded through the slide. Done right its secure enough (not all of em are). Two 1911 front sight examples. The sight on the Government Model slide to the right is attached via the original staking system. The dovetailed version is mounted to a "melted" slide, softened for snag-free holster use.
Replacements are available, but today, more slides feature horizontal dovetail cuts compatible with numerous useful designs. Beyond the various aiming options, different heights will usually correct elevation errors. However, because many are super-tight fits, as noted above, a properly designed fixture is the ticket to a damage-free installation. Also, since dovetail cuts can vary, matching combinations are required. There's no missing this Remington 1911's highly visible fiber-optic front sight – at least, not during daylight hours! Although less durable than an all-steel type, if the element breaks the sight's body will probably survive. A new element can easily be installed (including one of a different color) with a nail-clipper and Butane lighter. Lasers
Today, most lights and lasers are mounted to pistols via their integral accessory rails. The process is simple, but a new holster will probably be necessary. Say you already have an older pistol, possibly a 1911 of vintage stock. Assuming it runs reliably, one easy-to-install aiming upgrade is a laser.
As long as the pistol is built to spec, its grip panels can be exchanged a set of Crimson Trace Laser grips. Its a simple kitchen table job requiring no more than a screwdriver. The laser can be zeroed off the iron sights without firing a shot (verify through some shooting), and a standard holster will probably work just fine. A holster friendly set of Crimson Trace Laser Grips attached to a compact Kimber Covert .45 ACP 1911. The laser's emitter is located in the upper front corner of the grip panel. Activation is per the pressure pad below the pistol's trigger guard.
If a rail is preferred you can buy a 1911 so equipped, but the pistol will gain weight and need a different holster. Parting Shots
For precise shooting, my hands-down favorite set of 1911 sights consist of a black BoMar adjustable rear (0.115 wide notch) paired with a narrow (0.110), highly visible green fiber-optic front. But, with defense as a top priority, durability should lead, followed closely by fast acquisition in all lighting conditions. And if the rear sight incorporates a shelf permitting a single-handed slide rack, so much the better. Generally, these designs will be fixed, but some adjustable versions can be reasonable picks. BoMar type night sight variations: The Kimber Eclipse set (L) has a horizontal bar, useful insurance against alignment mix-ups during low light situations. Wilson's "pyramid" design is less likely to snag but still presents a clean sight picture.
A Wilson KZ-9 on hand here is such an example: Like the STI (now Stacatto 2011), this 4-inch 1911 is an earlier hybrid high-cap design. I ordered it with Wilsons BoMar-type Tritium pyramid rear (0.125 notch) and, because it's a defensive pistol, its Tritium front sight is a bolder 0.125 fast to pick up on the move. The night-sights of a 4 single-stack Kimber I owned produced high hits. That issue was resolved by replacing its Novak-type fixed rear with an adjustable Miniature Machine unit. An example of a small retrofitted rear sight. Initially equipped with a fixed Novak-type night-sight rear, this 4″ Kimber 9mm shot high. Point of impact was corrected via the adjustable Miniature Machine unit, complete with Tritium elements.
If starting from scratch, the simplest route is a 1911 already set up to meet personal needs. If it may serve more as a foundation for future upgrades, a factory-dovetailed front sight is worthwhile. Stick with mainstream domestic manufacturers and the dovetails will offer no surprises.
And beliee me, Im only scratching the surface! Google 1911 Sights and fasten your seatbelt. Maybe, sit on your wallet, too! For more information about the 1911 and other handguns, here's a link to Handguns: A Buyer's and Shooter's Guide. Handguns: A Buyer's and Shooter's Guide (Survival Guns) Markwith, Steve (Author)English (Publication Language) $19.95 Buy on Amazon

British Army has 'fallen behind' and 'needs investment' – Defence Secretary Ben Wallace tells Sky News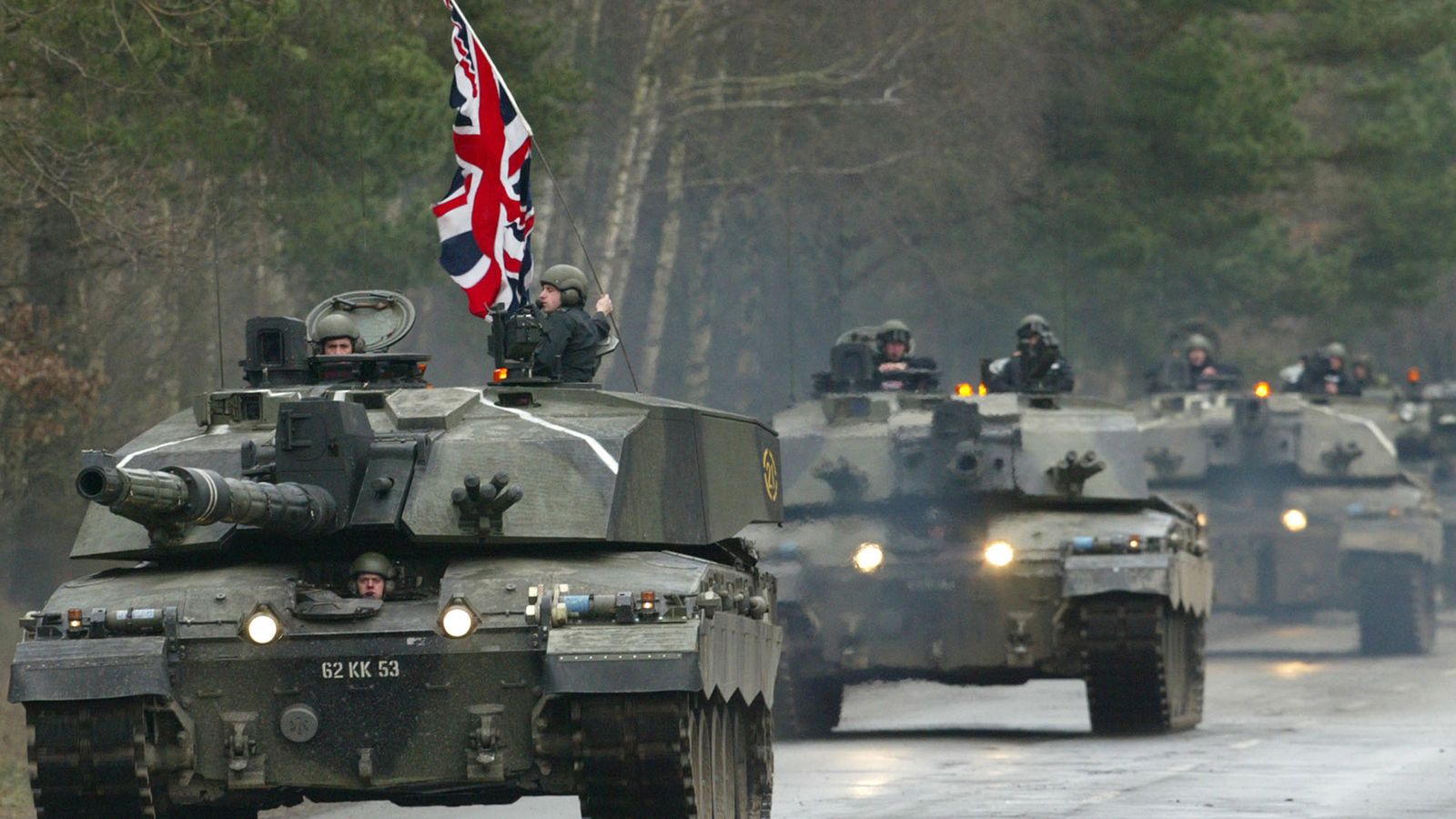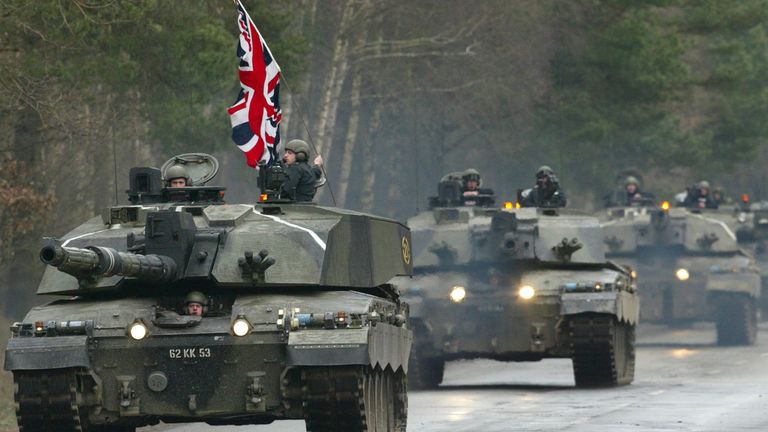 Defence Secretary Ben Wallace has told Sky News that the British Army has "fallen behind its peer group" and "needs investment".
It comes after Sky News yesterday revealed a US general privately told Mr Wallace that the UK's armed forces are no longer regarded as a top-level fighting force.
Defence sources revealed the US general said this decline in war-fighting capability needed to be reversed faster than planned in the wake of Russia's war in Ukraine.
US criticism of UK military 'will be music to Putin's ears' – Ukraine war latest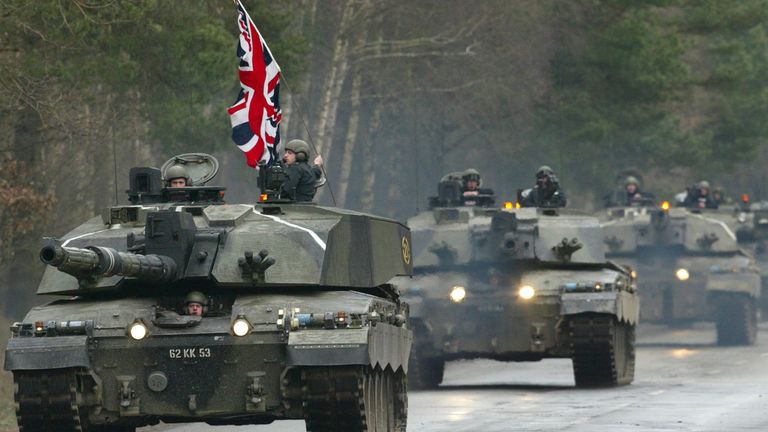 They told Sky News' defence and security editor Deborah Haynes this should include increasing the defence budget by at least £3bn a year and halting a plan to shrink the size of the army further.
Mr Wallace agreed on the need for "urgent recapitalisation", but said the government was already investing £34bn into the army's equipment plan between now and 2033.
"The criticism of 'it needs to happen now' is these things don't 'happen now'," he said. "There's no magic wand, there's no factories whirring away like car factories where you just press buttons and they come.
"There are only about two countries on the earth that can sustain almost constant production lines – that's China and the United States. Of course we can seek to buy from abroad, but then there won't be a UK defence and aerospace industry and we won't be able to necessarily give our troops the exact equipment they want, so we always have to make that balance."
Mr Wallace also said countries across Europe were facing "challenges" with their supply chains, adding: "That is what that new money is going towards and that's why it is important to send a signal to industry to say we are investing – that's what we did with the defence command paper in 2020 and we will continue to do so."
Read more:
US general warns British Army no longer top-level fighting force, defence sources reveal
Sending Ukraine tanks weakens UK forces, says Army's top general
UK orders thousands of new anti-tank weapons in £229m deal
Speaking in the Commons earlier, his defence minister James Heappey said Prime Minister Rishi Sunak and Chancellor Jeremy Hunt understand the army is "in urgent need of recapitalisation" and "there is a budget coming".
Downing Street said the PM still believes the British Army is a "top-level fighting force" despite the US general's warning.
Asked about the US general's private comments on Monday, the prime minister's official spokesman said "yes" to Mr Sunak believing that the British Army is a top-level fighting force.
He said the government is "ensuring our armed forces have the equipment and capability they need to meet the threats of tomorrow including through a fully funded £242bn 10-year equipment plan".
British army is still 'formidable'

Former secretary general of NATO, Lord Robertson, also disagreed with the US general's view.
He said: "The fact is that the British armed forces might have been weakened recently but they are still a formidable fighting force – and I think our country can be proud of them."
Sky News also asked the Pentagon where it places the British army and whether it is becoming too weak to perform its role as a NATO member.
Defense Spokesman, Brigadier-General Patrick Ryder said: " The United Kingdom is an exceptionally capable and committed ally in NATO and has been second only to the United States in providing military aid to Ukraine.
"The unparalleled defence and security alliance between the US and the UK continues to promote stability and prosperity worldwide."
Earlier today, Conservative defence committee chairman Tobias Ellwood said people should be "very concerned" about the armed forces' current capabilities.
Tory MP: Army is in a 'dire state'

The senior Tory called on the government to reverse "swathing cuts" to the army because its equipment has become "obsolete".
Mr Ellwood said there had been "huge investments" into the Royal Navy and Royal Air Force in recent years, but added: "The army is in a dire state."
He continued: "Our army is simply too small, we have cut down by 10,000 troops."
European powers like France and Germany have announced plans to boost defence spending significantly following Russia's full-scale invasion of Ukraine last year.
Why is the British Army shrinking?

Mr Sunak has yet to make any meaningful pledge to expand his defence coffers, instead pursuing a "refresh" of a review of defence policy that is due to be published on 7 March ahead of a spring budget that will signal whether there is any new money for the military.
The crisis in defence has been a generation in the making following repeated reductions in the size of the three armed services since the end of the Cold War by successive Conservative, coalition and Labour governments to save money for peacetime priorities.
British Army 'no longer top level'

In 2020, Boris Johnson, as prime minister, increased defence spending by £16bn – the biggest uplift since the Cold War, but not enough to plug the gaps.
Mr Sunak has so far resisted calls to follow his predecessor, Liz Truss, to lift defence spending to 3% of GDP by 2030 up from just over 2% at present.
Firefighters and teachers to strike over pay as public sector walkouts continue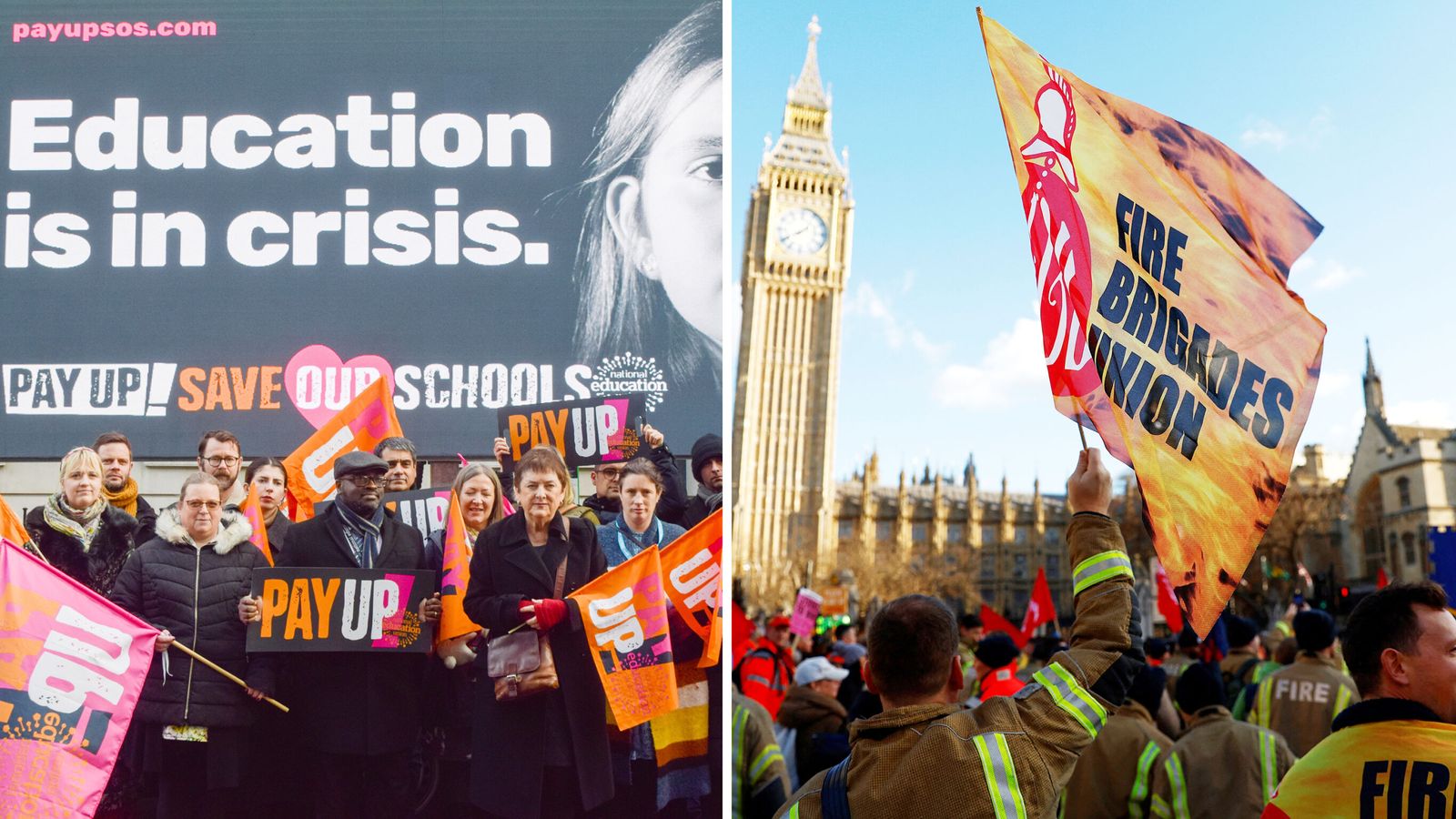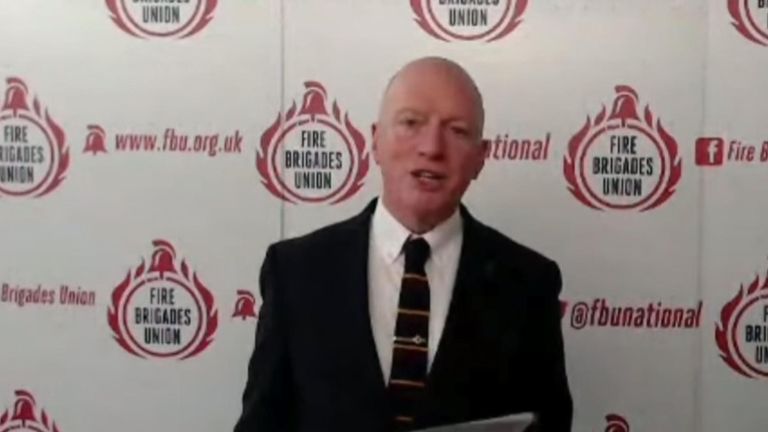 Teachers and firefighters are the latest public sector workers to announce they will go on strike in disputes over pay.
The biggest teachers' strike in years will go ahead after unions said the education secretary "squandered the opportunity" to avoid action – while firefighters have voted overwhelmingly to walkout after experiencing what their union says is a 12% drop in real-terms earnings.
The latest strikes have been announced as Sky News polling suggests support for trade unions is rising, even though walkouts are bringing public services to a standstill.
The teachers' strike comes after last-minute talks were held by Education Secretary Gillian Keegan on Monday in a bid to resolve the pay dispute before planned strikes this week.
Members of the National Education Union (NEU) in England and Wales will now walk out on Wednesday, with more industrial action planned in the following weeks.
Wednesday's strike is expected to include up to half a million workers, with teachers due to be joined by train drivers, civil servants, university lecturers, bus drivers and security guards from seven trade unions in what will be the biggest day of industrial action in more than a decade.
Government 'squandered' chance to avoid strike by teachers
The NEU has announced seven days of strikes in England and Wales in February and March, with the walkout on Wednesday expected to affect over 23,000 schools.
Mary Bousted and Kevin Courtney, joint general secretaries of the NEU, said: "Gillian Keegan has squandered an opportunity to avoid strike action on Wednesday.
"The government has been unwilling to seriously engage with the causes of strike action.
"Real-terms pay cuts and cuts in pay relativities are leading to a recruitment and retention crisis with which the education secretary so far seems incapable of getting a grip.
"Training targets are routinely missed, year on year. This is having consequences for learning, with disruption every day to children's education."
Read more:
Almost one in five UK adults eating food past its use-by date
Who is taking action and when
Sunak says pay rise for nurses would make inflation worse
Meanwhile, a headteachers' union boss has described the talks with Ms Keegan as "deeply disappointing".
Geoff Barton, general secretary of the Association of School and College Leaders (ASCL), said: "Parents will have been looking for the government to avert the planned strike on Wednesday.
"Instead, the government continues to talk around the issues rather than putting anything on the table which allows for any meaningful negotiation."
Mr Barton added: "We are sorry to report that there is therefore no resolution to the dispute and the strike is set to go ahead."
Education Secretary Gillian Keegan said after talks failed: "It is hugely disappointing the NEU is continuing with strike action. These strikes will have a significant impact on children's education, especially following the disruption of the past two years, and are creating huge uncertainly for parents.
"With talks ongoing on a range of issues, including around future pay, workload, behaviour and recruitment and retention, it is clear that strikes are not being used as a last resort.
"I have been clear today that unions do not need to strike to meet with me. I also reiterated my call to union leaders to ask their members to let headteachers know if they intend to strike, helping schools to minimise the impact on children."
Firefighters likely to strike for first time in nearly 20 years
Firefighters vote for strike action

Firefighters also overwhelmingly backed strike action, with 88% voting yes on a 73% turnout, it was announced today.
The Fire Brigades Union (FBU) said it has given the government and employers 10 days to to come up with an improved offer which could be put to a vote of members in an effort to avoid strikes.
The last time there was a nationwide walkout by firefighters was in 2003.
Firefighters have experienced a 12% drop in real-terms earnings since 2010, the union says, while around one in five firefighter jobs have been cut in the same period.
It comes after members rejected an offer of a 5% pay increase in November, which unions argued was below-inflation and would be felt as a real-terms cut by workers.
The FBU argued polling has previously shown there is strong public support for strike action by firefighters, with around three in five people backing action.
FBU general secretary Matt Wrack said: "This is an absolute last resort for our members. The responsibility for any disruption to services lies squarely with fire service employers and government ministers.
"Rishi Sunak's government has refused to make funding available for a decent pay offer to firefighters and control staff.
"Firefighters were among Britain's COVID heroes who kept frontline services going during the pandemic. The prime minister has badly misjudged the public mood by imposing pay cuts on key workers."
The strike announcement comes after research by the FBU and the University of Central Lancashire found firefighters are more likely to die of cancer than the general public.
Stanford scientists figured out why lithium metal batteries fail
Researchers at Stanford University and the US Department of Energy's SLAC National Accelerator Laboratory have identified what causes lithium metal batteries to short-circuit and fail – and this could help avoid the problem in future battery production.
As a result of this discovery, energy-dense, fast-charging, nonflammable lithium metal batteries that last a long time could overcome the main barriers to their use in EVs, among other benefits.
Lithium metal batteries with solid electrolytes are lightweight, inflammable, pack a lot of energy, and can be recharged very quickly. There's just been a short-circuiting problem that causes them to fail.
But researchers appear to have pinpointed the problem. In a paper published in the journal Nature Energy, titled, "Mechanical regulation of lithium intrusion probability in garnet solid electrolytes," researchers cited mechanical stress, especially during potent recharging, to be the cause of failure.
Senior author William Chueh explains:
Just modest indentation, bending or twisting of the batteries can cause nanoscopic fissures in the materials to open and lithium to intrude into the solid electrolyte, causing it to short circuit.

Even dust or other impurities introduced in manufacturing can generate enough stress to cause failure.
Colead author Xin Xu likened it to the way a pothole appears in pavement. Through rain and snow, car tires pound water into the tiny, preexisting imperfections in the pavement, producing ever-widening cracks that grow over time.
Xu said:
Lithium is actually a soft material, but, like the water in the pothole analogy, all it takes is pressure to widen the gap and cause a failure.
So the researchers are now looking at ways to use these very same mechanical forces to toughen the material during manufacturing, much like a blacksmith anneals a blade during production. They're also looking at ways to coat the electrolyte surface to prevent cracks or repair them if they emerge.
Scientists around the world working to develop new solid electrolyte rechargeable batteries can design around the problem, or even turn the discovery to their advantage, as scientists at Stanford are now researching. 
Main image section: Cube3D
Read more: Porsche to design 3D-printed battery gigafactories for Sakuu
---
UnderstandSolar is a free service that links you to top-rated solar installers in your region for personalized solar estimates. Tesla now offers price matching, so it's important to shop for the best quotes. Click here to learn more and get your quotes. — *ad.
FTC: We use income earning auto affiliate links. More.