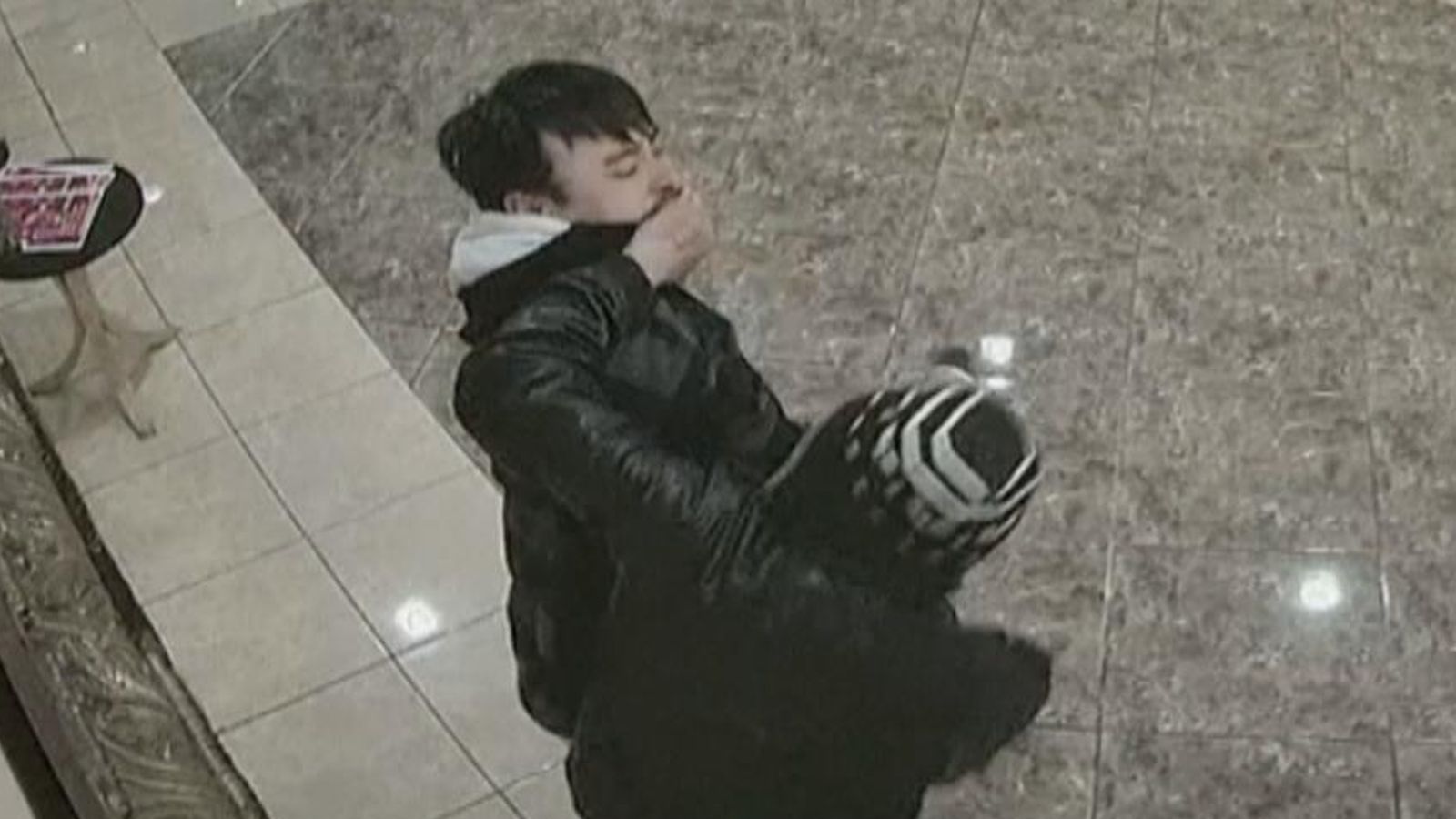 California shooting: 11 confirmed dead after Chinese New Year attack, as CCTV shows 'hero' confronting gunman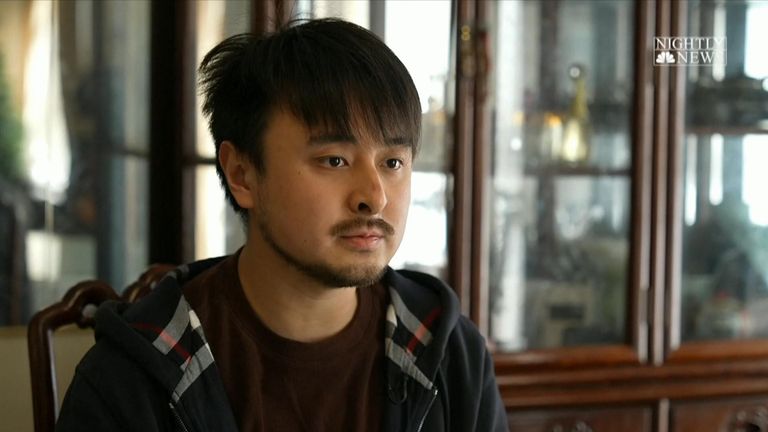 CCTV has been released showing a member of the public disarming a gunman in California – just minutes after he fatally shot 11 people at a nearby Chinese New Year celebration.
Brandon Tsay, 26, has been hailed as a hero for disarming Huu Can Tran at the Lai Ballroom in Alhambra.
In the footage, Mr Tsay can be seen confronting the gunman in what appears to be an empty lobby in the dance hall.
An armed man, dressed in dark clothing and a hat, walks out of the picture and about 30 seconds later is seen struggling with Mr Tsay.
He manages to take the gun away from the attacker who then punches him in the head.
The men continue to struggle before Mr Tsay pushes Tran off him – leaving the assailant with no option but to escape.
Hero who disarmed gunman says he 'froze up'

'This was the moment to disarm him'
Speaking to NBC News, Mr Tsay said the attacker entered the venue and pointed the gun directly at him.
"There was a moment I actually froze up, because I was, I had the belief that I was gonna die, like my life was ending here, at that very moment.
"But something amazing happened, a miracle actually.
"He started to try to prep his weapon so he could shoot everybody, but then it dawned on me that this was the moment to disarm him.
"I could do something here that could protect everybody and potentially save myself.
"I was thinking about my family and my friends – what their life would be like without me."
Governor Gavin Newsom met Mr Tsay on Monday describing him as a "true hero".
"This remarkable young man who without any hesitation – though with moments of fear – took it upon himself to save countless lives.
"Who knows how many lives he saved."
Just 20 minutes earlier, 72-year-old Tran had entered the Star Ballroom Dance Studio in Monterey Park – killing 11 people and wounding nine others.
All but one of the victims were 60 or older, according to the Los Angeles Coroner's Office.
A total of 42 rounds were fired in Monterey Park, Mr Luna said, adding that a large capacity magazine was found at the scene.
Eyewitness: A community beginning to grieve
The Star Dance Studio has become the focal point for Monterey Park as a community begins to grieve. At regular intervals people, young and old, come to lay flowers at the front door.
Since it opened 30 years ago it has been a place where people are taught all different styles of dance – including ballroom, waltz and samba – by highly qualified instructors, some of them champions in their discipline.
Most of the people who trained here are retirees in their 50s, 60s and 70s – including Jenny, who has been coming here for several years.
"I was going to be here on Saturday night but because it was New Year I had a dinner with my family," she says. "I woke up on Sunday to hundreds of texts saying 'Are you okay? Are you alive?'"
One of those killed in the shooting was a long-time instructor at the studio, a man known as Mr Ma.
"It was a very family-oriented place because Mr Ma treated us as family members and best friends," says Jenny, who declined to give her surname. "We really like to come here to dance and to socialise to get to know people. It is good because it keeps us fit and healthy. I am trying not to think about what happened because I am so sad."
Lauren Woods, a Tango instructor, saw Mr Ma for the final time on Saturday afternoon as many people celebrated the Lunar New Year in Monterey Park.
"I got to see Ma for the last time as he helped me find parking since the Monterey Park streets were packed in celebration to the Lunar New Year festivities," she wrote on Facebook. "I will always remember Mr Ma and the way we communicated to each other.
"His English was not great, but he'd always say, 'My teacher! My teacher!' Always kiss my cheeks and say 'Love You! Love you!' He was so adorable to me and I could tell he was the heart of Star Ballroom."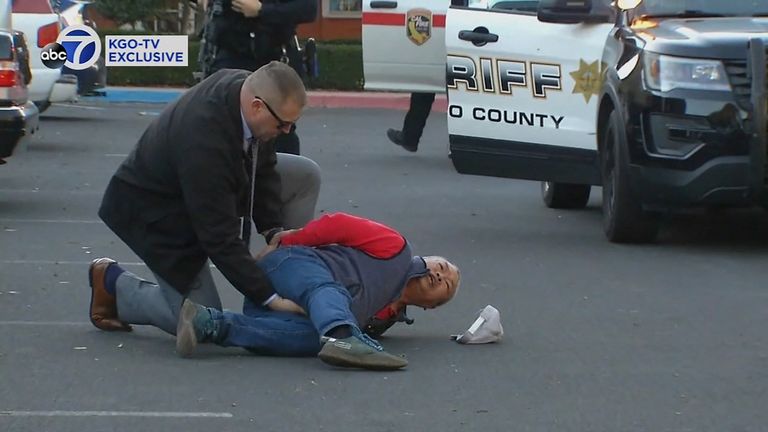 Seven killed in Half Moon Bay shooting
Meanwhile, a suspect is in custody after seven people were killed in two related shootings at a mushroom farm and a trucking firm in a coastal community south of San Francisco.
Officials said four people were killed at the farm and three at the trucking business on the outskirts of Half Moon Bay, a city about 30 miles south of San Francisco.
The police have arrested 67-year-old Zhao Chunli in connection with the shooting.
It was not immediately clear how the locations were connected, though it is believed the suspect worked for one of the businesses.
Tyre Nichols' mother says she's 'not going to stop' until those responsible for her son's death face justice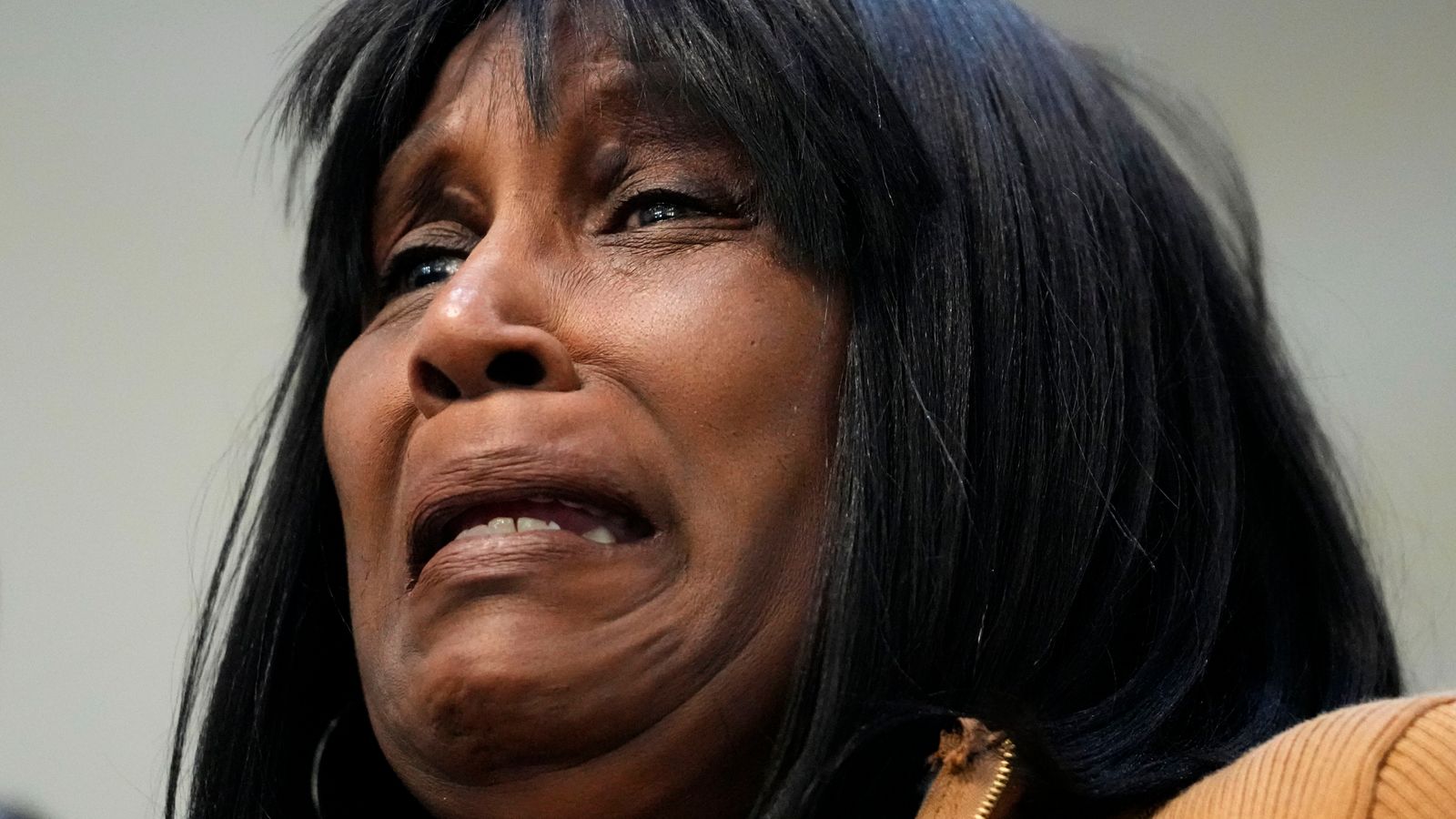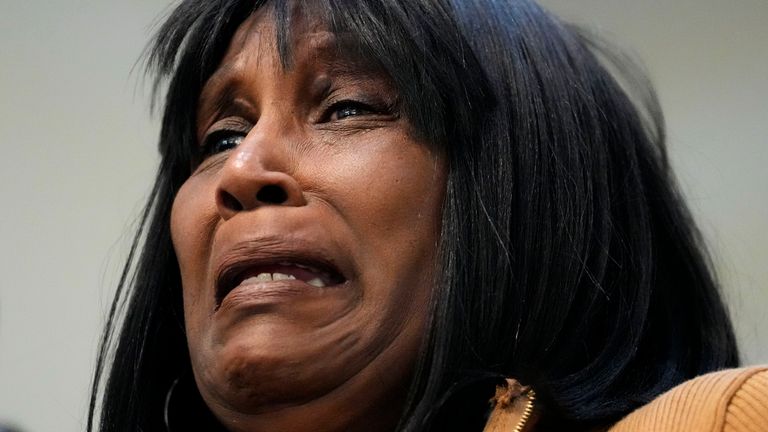 The mother of Tyre Nichols has said she is "not going to stop" until every person responsible for her son's death "is prosecuted to the fullest of law".
RowVaughn Wells was speaking to US news network MSNBC a day after Memphis Police released bodycam footage showing her son screaming "mom, mom" several times as he was attacked by officers.
Ms Wells said: "I believe in my heart that my son was on assignment from God. He finished his assignment and God took him back home.
"Even though this tragedy happened to my son, I truly believe that there is going to be a greater good that comes out of this.
"And that is what keeps me going to get this justice for my son, because I'm not going to stop until every person that had anything to do with my son's death is prosecuted to the fullest of the law."
Warning: This article contains violent images
Ms Wells went on to say that the officers she believes killed her son had "shamed their own families" and continued: "You shame your communities. You just brought a bad taste to everybody's mouth.
"I hate the fact that it was five black men that actually did this to another black man. My son probably was their age.
"They just brought disgrace to themselves. I'm not an evil person, my son is not an evil person…. I pray for (the officers') families, because their families didn't deserve any of this either."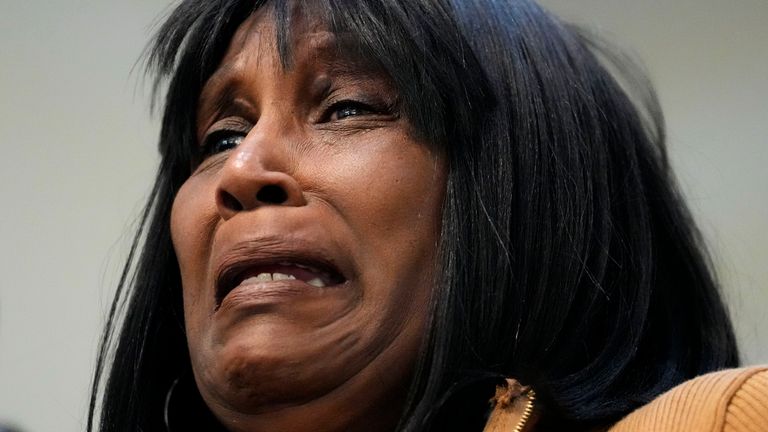 Ms Wells and Mr Nichols' stepfather also repeated their call for people to protest in a non-violent way.
Mr Nichol's mother earlier said in the same interview: "Tyre was a beautiful person, he was full of life, as you can see he loved to skateboard, he loved to watch the sunsets. He was a great dad.
"He was just a good person. There's no perfect person in this world, but he was close to it."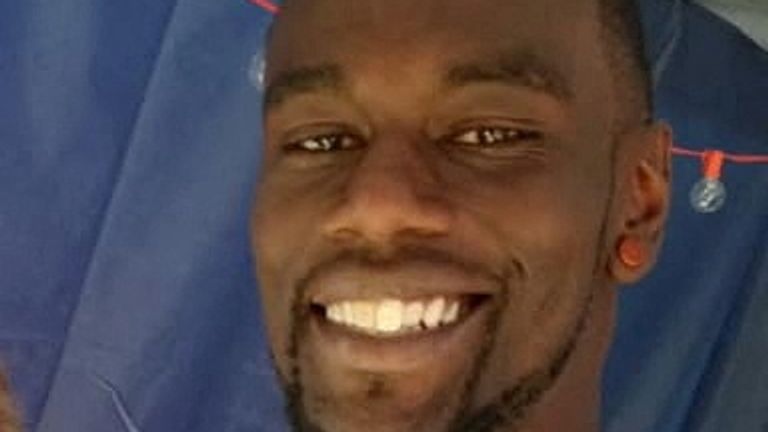 Ms Wells has spoken after Memphis Police announced the SCORPION (Street Crimes Operations to Restore Peace in Our Neighbourhoods) unit, that the five officers charged with murder over the father-of-one's death were members of, has been "permanently deactivated".
Memphis Police said in a statement: "In the process of listening intently to the family of Tyre Nichols, community leaders, and the uninvolved officers who have done quality work in their assignments, it is in the best interest of all to permanently deactivate the SCORPION unit.
"The officers currently assigned to the unit agree unreservedly with this next step.
"While the heinous actions of a few casts a cloud of dishonour on the title SCORPION, it is imperative that we, the Memphis Police Department take proactive steps in the healing process for all impacted."
The move comes after Memphis Police released bodycam footage showing Mr Nichols screaming for his mother while being beaten by officers.
The footage shows police attacked the 29-year-old for three minutes while shouting profanities at him.
Mr Nichols was 80 yards (73 metres) from his family home, according to his mother.
Police have released four separate videos cut into one hour-long clip, including police bodycam footage and footage from a CCTV camera.
Five officers have been charged with second-degree murder and other crimes, including assault, kidnapping, official misconduct and official oppression over Mr Nichols' death.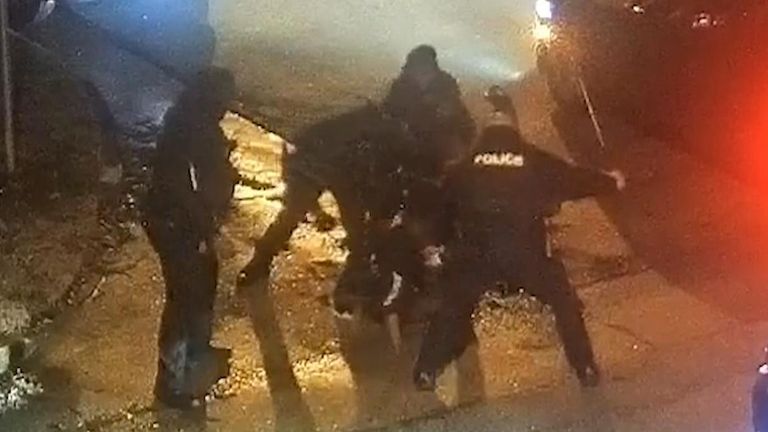 In the footage of the attack, one camera shows the initial police stop at an intersection in Memphis, Tennessee.
"I'm going to baton the f*** out of you," one officer can be heard saying. His body camera shows him raise his baton while at least one other officer holds Mr Nichols.
After the first officer roughly pulls Mr Nichols out of his car just after 8:20pm on 7 January this year, the FedEx worker can be heard saying "I didn't do anything" as a group of officers begins to wrestle him to the ground.
"Get on the ground!," one officer yells, as another is heard shouting: "Tase him! Tase him!"
The father-of-one calmly replied soon after being wrestled to the pavement: "OK, I'm on the ground."
Moments later, as the officers continue to shout, Mr Nichols says: "Man, I am on the ground."
An officer yells: "Put your hands behind your back before I break your (expletive)."
Moments later an officer shouts: "Put your hands behind your back before I break them."
"You guys are really doing a lot right now," Mr Nichols says loudly to the officers. "I'm just trying to go home."
"Stop, I'm not doing anything," he yells moments later.
Read more:
What is Scorpion, the police unit at the centre of Tyre Nichols' death?
Timeline of violent arrest
Arrest video is sickening indictment of policing that night
The camera is briefly obscured and then Mr Nichols can be seen running as an officer fires a Taser at him. The officers then start chasing Mr Nichols.
He is then punched, kicked and hit with a baton. After the beating, officers mill about for several minutes while Mr Nichols lies propped up against the car, then slumps onto the street.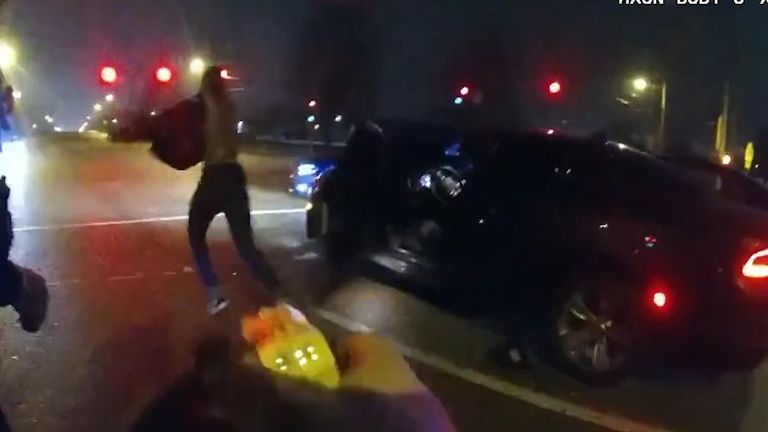 Emergency workers with what looks like medical equipment attend, but do not immediately intervene.
He died on 10 January, three days after the violent arrest.
The officers involved have been dismissed by Memphis Police Department's Chief of Police, Cerelyn Davis.
Ms Davis, who became the force's first black female boss in 2021, previously called for "sweeping changes and police reform" in the aftermath of the 2020 murder of George Floyd in Minneapolis.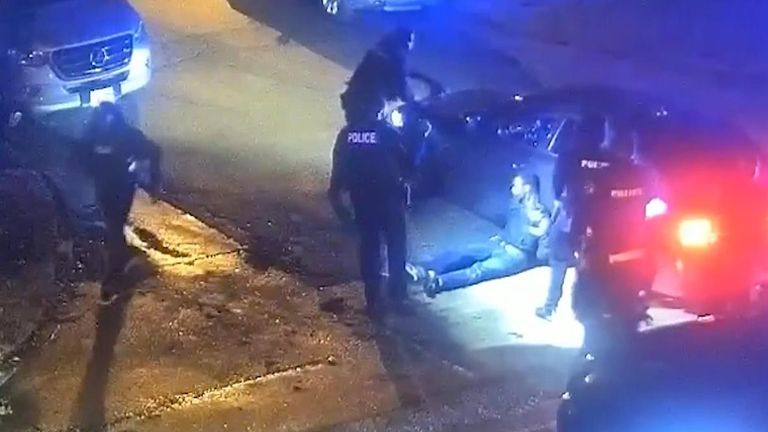 Meanwhile, influential civil rights campaigner Al Sharpton said the US has a "new clock" on police accountability following the quick arrest and firing of five officers charged over the death of Mr Nichols.
Speaking at a rally in Harlem, New York, Reverend Sharpton also rejected the idea that there was no race element to the fatal beating of Mr Nichols by the officers just because they themselves are black.
Making a speech at a weekly National Action Network rally, he said: "So there's a new precedent set now 'cos this black women police chief messed you up now – 'cos she said I'm not waiting on nothing – arrest them, fire them.
"You now got a new clock on police accountability. We don't want to hear no year investigation."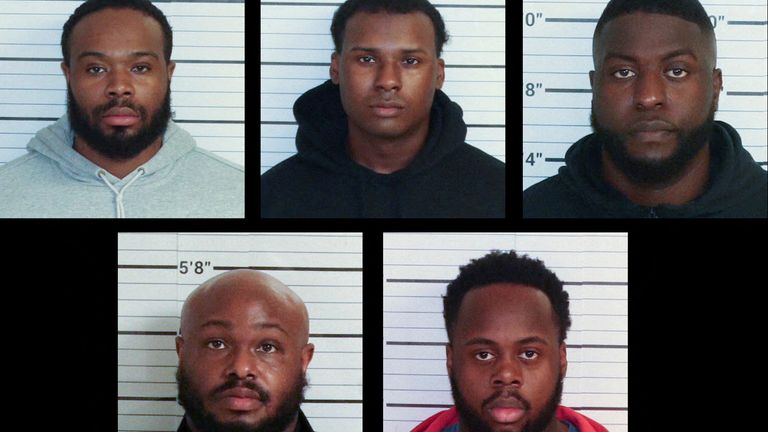 Addressing the involvement of race, he said: "One person said to me well at least it ain't about race.
"I said the race part of it is those black guys thought they could get away with doing it to a black guy.
"You know you couldn't get away with doing that in Tennessee to a white guy – and you won't get away with doing it to a black guy either."
Meanwhile, at a news conference of city leaders held on Saturday, state representative Joe Towns Jr, echoed the comments of Reverend Sharpton on the force's prompt investigation.
He also said police chief Ms Davis had his full support, praising her for taking "swift action".
The comments came as a memorial fund set up in the aftermath of Mr Nichols topped $535,000 (£433,000).
'They killed a man who looked like me'

The GoFundMe page, set up by Mr Nichols' mother, is aimed at helping to pay for a memorial skate park in his honour, as well as to allow his family time off from their jobs to grieve and seek justice.
Protests are taking place in at least nine cities across the US – including Memphis – after the bodycam footage was released.
Mr Nichols' mother had earlier warned supporters of the "horrific" nature of the video but pleaded for peace saying "tearing up the streets" is "not what my son stood for".
US President Joe Biden said he was "outraged and deeply pained to see the horrific video of the beating that resulted in Tyre Nichols' death".
"It is yet another painful reminder of the profound fear and trauma, the pain, and the exhaustion that black and brown Americans experience every single day," he added.
What is Scorpion, the now disbanded police unit at the centre of Tyre Nichols' death?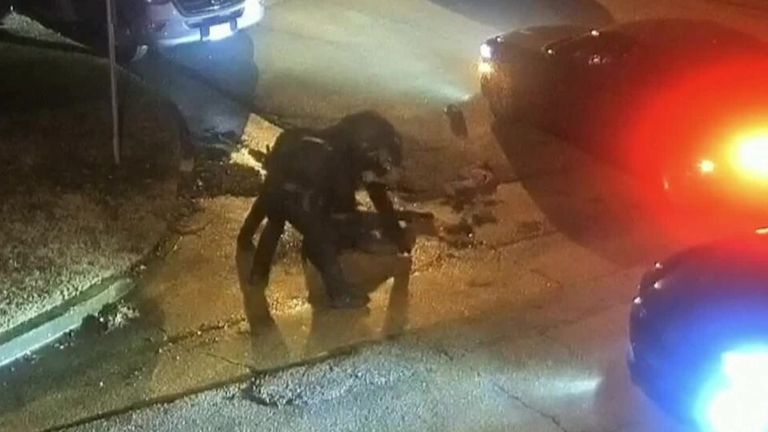 When Memphis, a city in southwest Tennessee, had a record number of homicides in 2021 for the second year in a row, many were calling for action.
Attention turned to the Memphis Police Department to tackle the murder rate, which led to the creation of the Scorpion Unit in October 2021.
"MPD's New SCORPION UNIT Launched!" read a post on the department's Facebook page, along with a video clip showing a group of officers in tactical vests at a roll call.
The name stands for the Street Crimes Operation to Restore Peace In Our Neighborhoods – yet officers from that same unit were responsible for the brutal assault of Tyre Nichols this month during a traffic stop for alleged reckless driving.
Warning: This article contains violent images
Memphis authorities have released video footage of Tyre Nichols being held down by officers and struck repeatedly as he screamed for his mother.

"The Scorpion unit was involved," Steve Mulroy, the District Attorney for Shelby County, Tennessee, confirmed on Thursday when he announced the murder charges against five officers.
Police Chief Cerelyn Davis, who has called the attack "heinous, reckless and inhumane", announced on Saturday that after "listening intently" to Nichols' relatives, community leaders and uninvolved officers, she felt "it is in the best interest of all to permanently deactivate the Scorpion unit."
A unit designed for 'crime suppression'
The Scorpion unit was created in October 2021 under the police department's Organised Crime Unit after a record 346 homicides were reported in 2021 – up from 332 the previous year.
Made up of 40 officers divided into four 10-member teams, the unit was tasked with addressing violent crime and investigating car thefts and gangs.
In January last year, Mayor Jim Strickland promoted the unit as part of the solution to the high homicide rate, stating that in its first three months, it had made hundreds of arrests and seized hundreds of cars and weapons.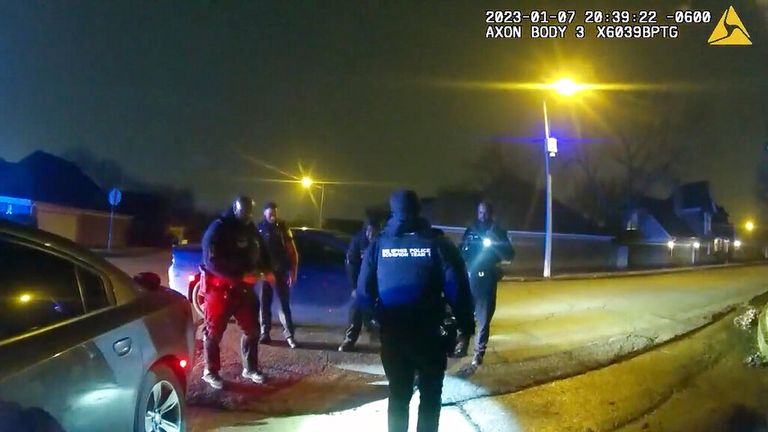 Its operations were flaunted on the police department's Facebook page: arrests that began with traffic stops, escalated into more serious confrontations and ended with arrests of people for drugs and guns.
'Police do what they can to arrest people'
Mark LeSure, a former Memphis police sergeant who retired in 2021, said he had begun to see a large number of relatively inexperienced officers being put on specialised units as other members of the force quit.
Mr LeSure added that the units did not have enough senior staff members training the new officers.
"Rookies were getting put on specialised units where they had no business being," he said.
Two of the five officers involved in the assault on Mr Nichols, who are aged between 24 and 32-years-old, had been on the job for a couple of years, and the others no more than six years.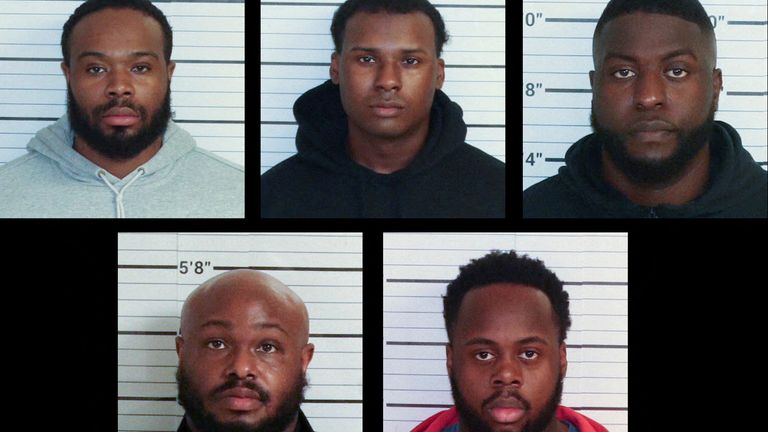 Mr LeSure said some of his former colleagues who are still at the department have told him that the Scorpion unit, which launched after he retired, is known for having a "zero tolerance" policy on crime – which he said meant the officers "do what they can to arrest people".
Read more:
'New clock' on police accountability after officers sacked within weeks of fatal beating
Timeline of violent arrest
Arrest video is sickening indictment of policing that night
Police initially said Mr Nichols had been stopped for reckless driving on 7 January and that a "confrontation" occurred in an effort to detain him.
However, Ms Davis said a review of the incident could not "substantiate" the reckless driving claim.
He died three days after the assault.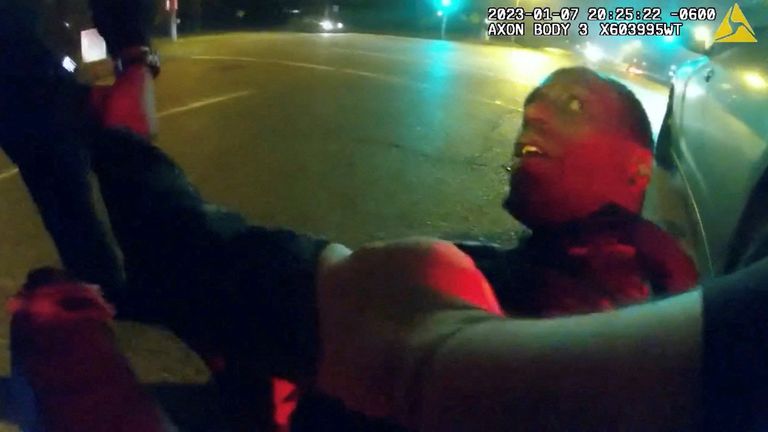 'Unit is an excuse to harass everyday residents'
E. Winslow Chapman, the director of the police department from 1976 to 1983, said that when he was leading the force officers were not considered for specialised units without at least seven years on the job.
Mr Chapman said: "You're using officers to send a message that we're here and we're not going to tolerate criminal activity anymore… and it can very easily go overboard, which it obviously did in this case."
Chelsea Glass, a community organiser in Memphis who is an advocate for criminal justice reform, called Scorpion a street crime-fighting team relying on traffic stops as excuses to find violent criminals and weapons.
"They harass everyday residents, and they're calling this high-level policing," he said.
"But it's really just stop-and-frisk on wheels. It doesn't matter what name you slap on it."
What do we know about the officers?
The five officers have been charged with second-degree murder, official misconduct, aggravated kidnapping, official oppression and aggravated assault.
Here is what is known about each one.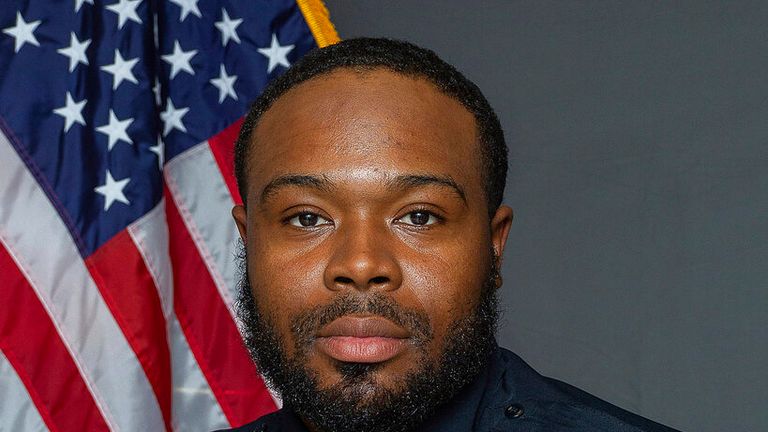 Demetrius Haley, 30
Haley joined the Memphis Police Department in August 2020.
He previously worked as a corrections officer for the Shelby County Corrections Department and was accused of assaulting an inmate.
The lawsuit against him was dismissed as the inmate failed to complete all the paperwork.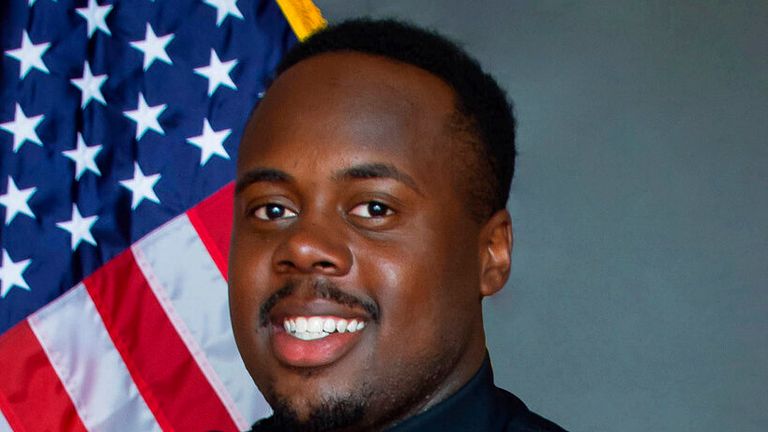 Tadarrius Bean, 24
Bean was also hired in August 2020 having previously worked at a fast food restaurant and a telecoms company AT&T, according to his LinkedIn profile.
It says he studied criminal justice and law enforcement at the University of Mississippi from 2016 until 2020, and did an internship with the campus police department.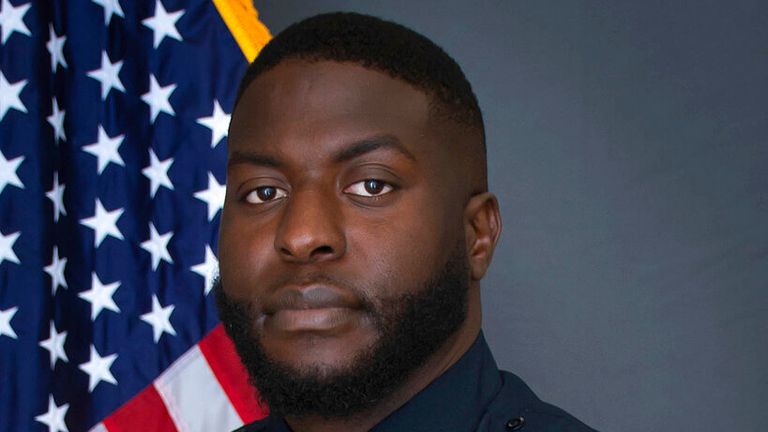 Emmitt Martin III, 30
Martin was hired by the Memphis Police Department in March 2018.
Joshua Harper, a pastor in Memphis, said he followed Martin on social media and that the man depicted in court papers "is not the person that I know".
"I was shocked only for a second because I understood that he was a police officer and I know behind the badge that anything can happen when anyone has power and authority," Harper said.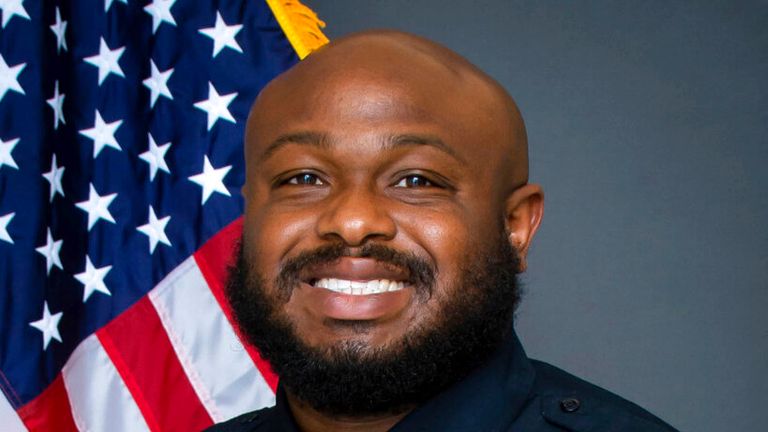 Desmond Mills Jr, 32
Mills was hired by the Memphis Police Department in March 2017.
He was nicknamed "Box" when he played American football for West Virginia State University.
One of his former coaches, Kip Shaw, said: "When I saw the news, I was just shocked. I've been coaching a long time and you just never know. I told my wife, 'That man played for us at West Virginia State'."
Justin Smith, 28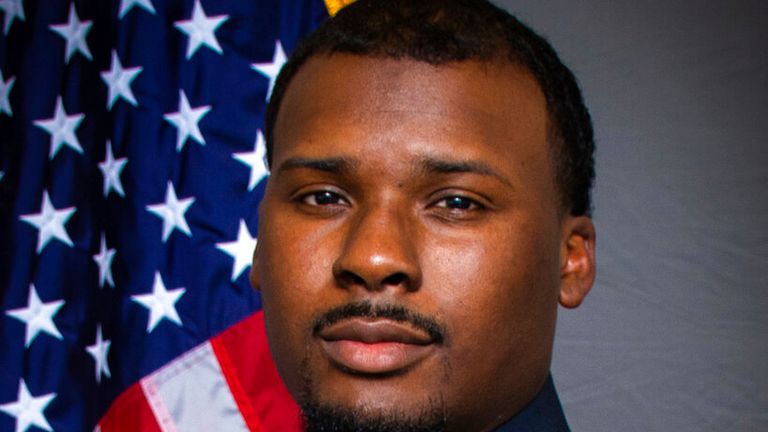 Smith was hired by the Memphis Police Department in March 2018.
Following his arrest, Smith posted his $250,000 bail and was released from custody Thursday night.
Punched, kicked and tasered: Timeline of violent arrest of Tyre Nichols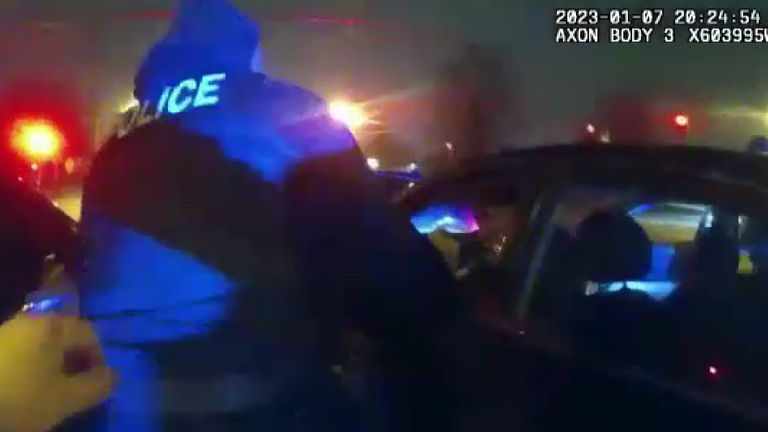 Tyre Nichols was punched, kicked and tasered, beaten with a baton and had pepper spray used on him during a violent arrest by police in Memphis, video footage shows.
The father-of-one died three days after the beating he received on 7 January and five officers have been charged with second-degree murder.
Police initially said Mr Nichols had been stopped for reckless driving and that a "confrontation" occurred in an effort to detain him.
However Memphis police chief Cerelyn "CJ" Davis said a review of the incident could not "substantiate" the reckless driving claim.
Here is a timeline of the crucial moments from the footage – released by police – that recorded events from 8.24pm to 9pm.
8:24pm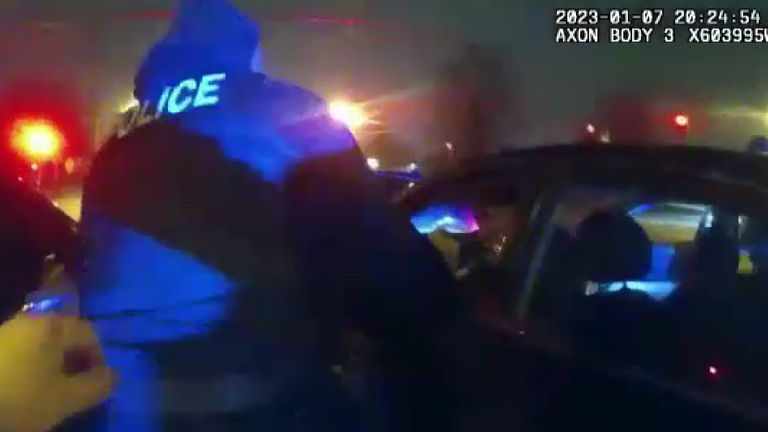 This is the first sight of Mr Nichols' car, already stopped at a junction where two officers order him to get out of his vehicle.
One of the officers opens the driver's door and drags the 29-year-old out.
Mr Nichols can be heard telling them: "Damn, I didn't do anything."
8.25pm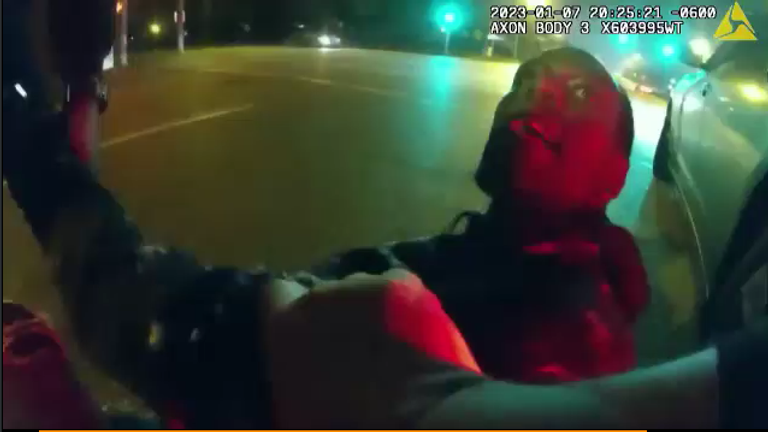 As he is forced to the ground and sworn at, Mr Nicols can be heard trying to pacify the police saying: "All right, all right."
One of the officers tells him: "I'm going to tase your ass."
Mr Nichols says: "All right, I'm on the ground… Stop, stop… You guys are really doing a lot right now. I'm just trying to go home… Stop. I'm not doing anything."
He then breaks free and runs away in the direction of his mother's house.
An officer fires his Taser and police chase after him.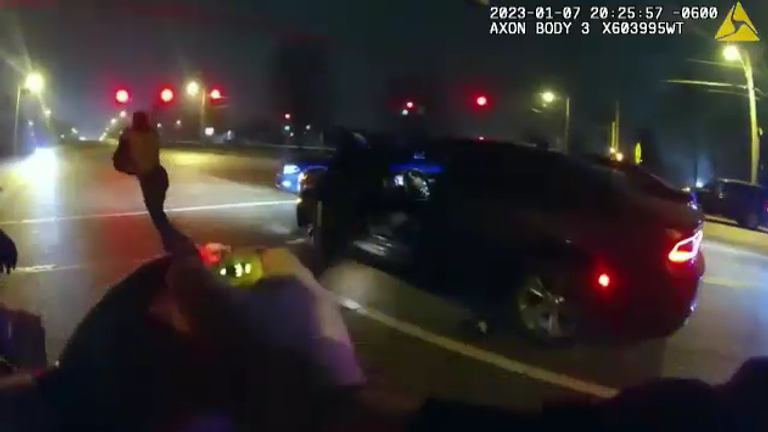 8.26pm to 8.31pm
There is no video of Mr Nichols during this time, when apparently two officers catch and detain Mr Nichols.
8:31pm
Mr Nichols is seen on the ground being subdued by two officers, less than half a mile from where the traffic stop happened.
8:33pm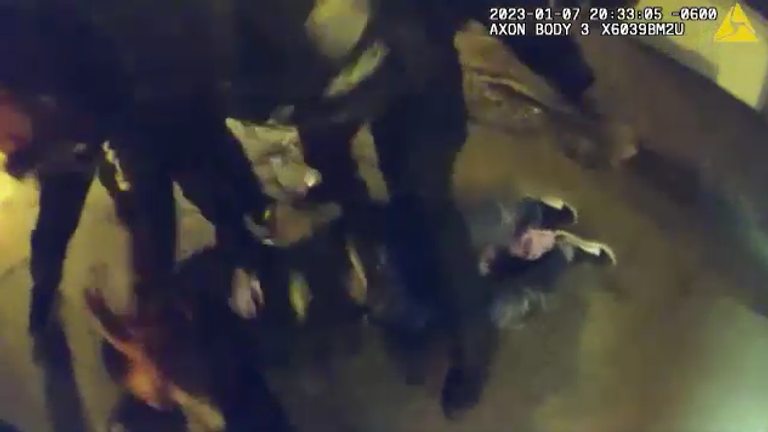 A third officer arrives on the scene.
One of them says: "Do you want to get sprayed again?"
Two officers can then be seen punching and slapping Mr Nichols as he lies on the ground trying to protect his head from the blows and screaming: "Mom. Mom."
The newly arrived officer tells his colleagues to "watch out" before spraying Mr Nichols, who again cried out: "Mom. Mom."
His mother's house is just a short distance away.
An officer then orders Mr Nichols to "give me your hands."
A fourth policeman arrives on the scene.
Mr Nichols is then sprayed again which apparently also hits another officer, who can be heard swearing.
8.34pm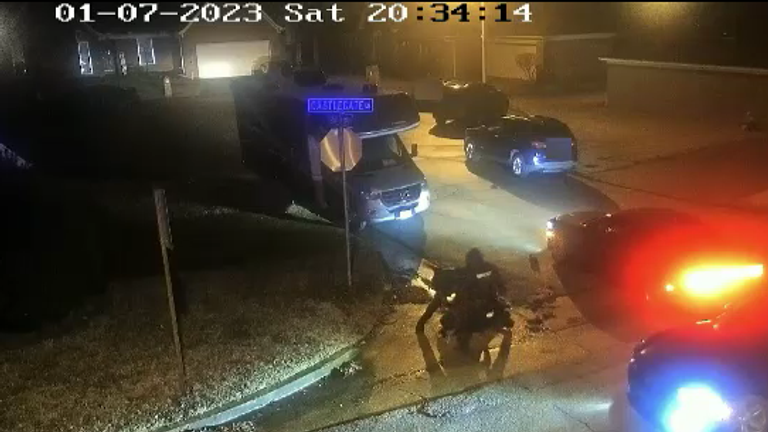 One of the officers kicks Mr Nichols in the face twice.
The officer who had stepped away returns and says, "I'm going to baton the f*** out of you" raising his stick.
8.35pm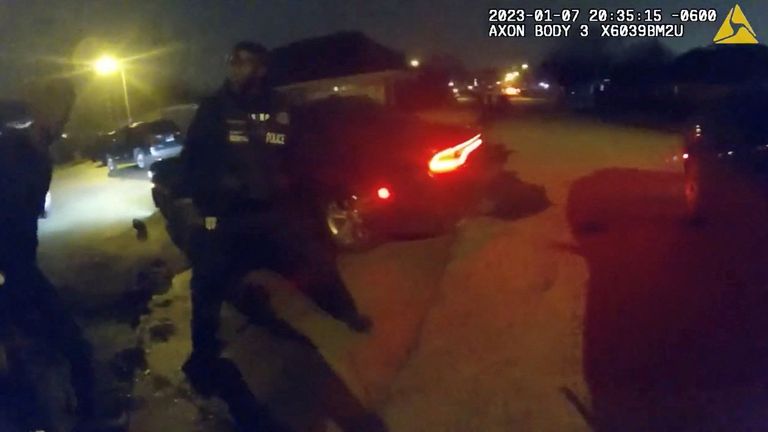 The officer with the baton hits Mr Nichols with it three times as other officers begin to stand him up.
One officer punches Mr Nichols at least five times in the head while two others hold him up.
He falls to the ground and officers hold him down.
8.36pm
A fifth officer arrives on scene and kicks Mr Nichols, before another officer kicks him.
A sixth and seventh officer arrive who appear to observe the scene. One of them makes a call on his radio.
8.37pm
Officers step back with Mr Nichols now in handcuffs.
8:38pm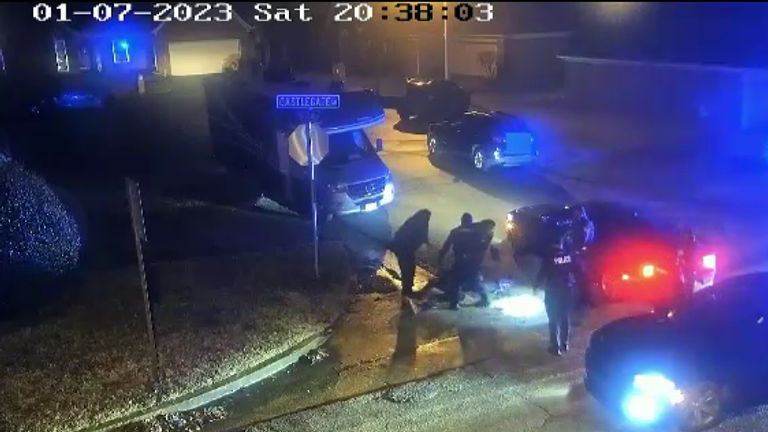 Mr Nichols is dragged across the ground and propped sitting up against a patrol car.
8.40pm
Officers stand around discussing the incident, laughing and joking.
One complains about having hurt his leg.
8.41pm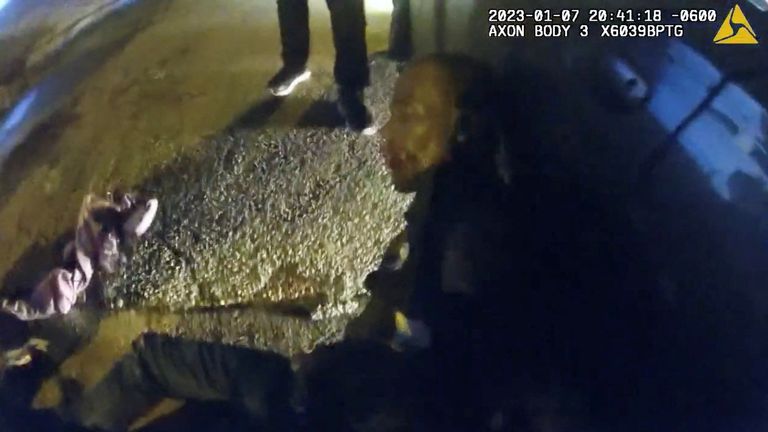 Mr Nichols slumps to his right to the ground.
"Hey, sit up, bro," one officer says. Mr Nichols is grabbed by the arm and pulled back into a sitting position.
Two emergency medical staff arrive but is unclear what treatment if any is given.
8.41pm to 8.55pm
Mr Nichols remains on the ground as officers mill around.
One leans down and tells him: "You can't go nowhere."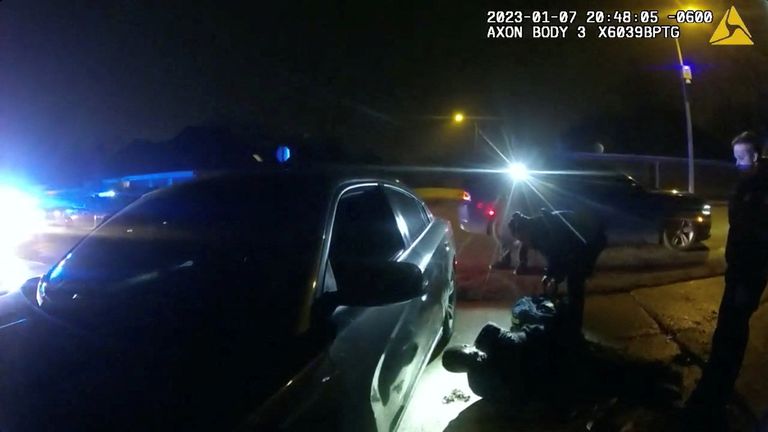 8.55pm to 9pm
Emergency workers appear to begin tending to Mr Nichols again as he is propped up against the police car.
9pm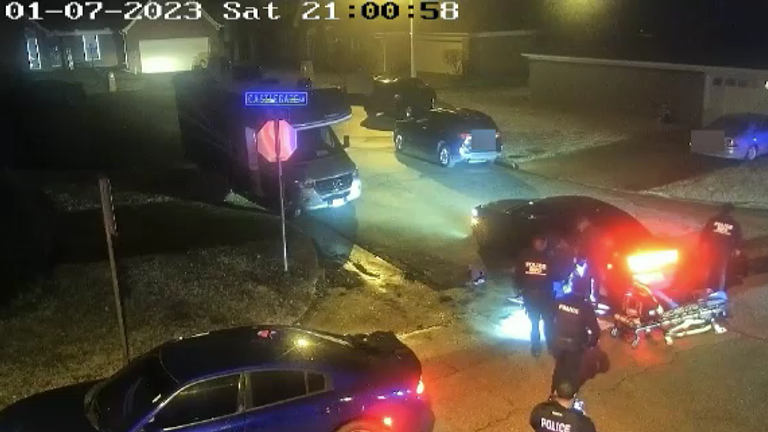 A stretcher is wheeled into the area and two minutes later an ambulance arrives.
9.18pm
Mr Nichols complains of difficulty breathing and is taken to hospital.
A post-mortem examination later reveals he "suffered excessive bleeding caused by a severe beating".