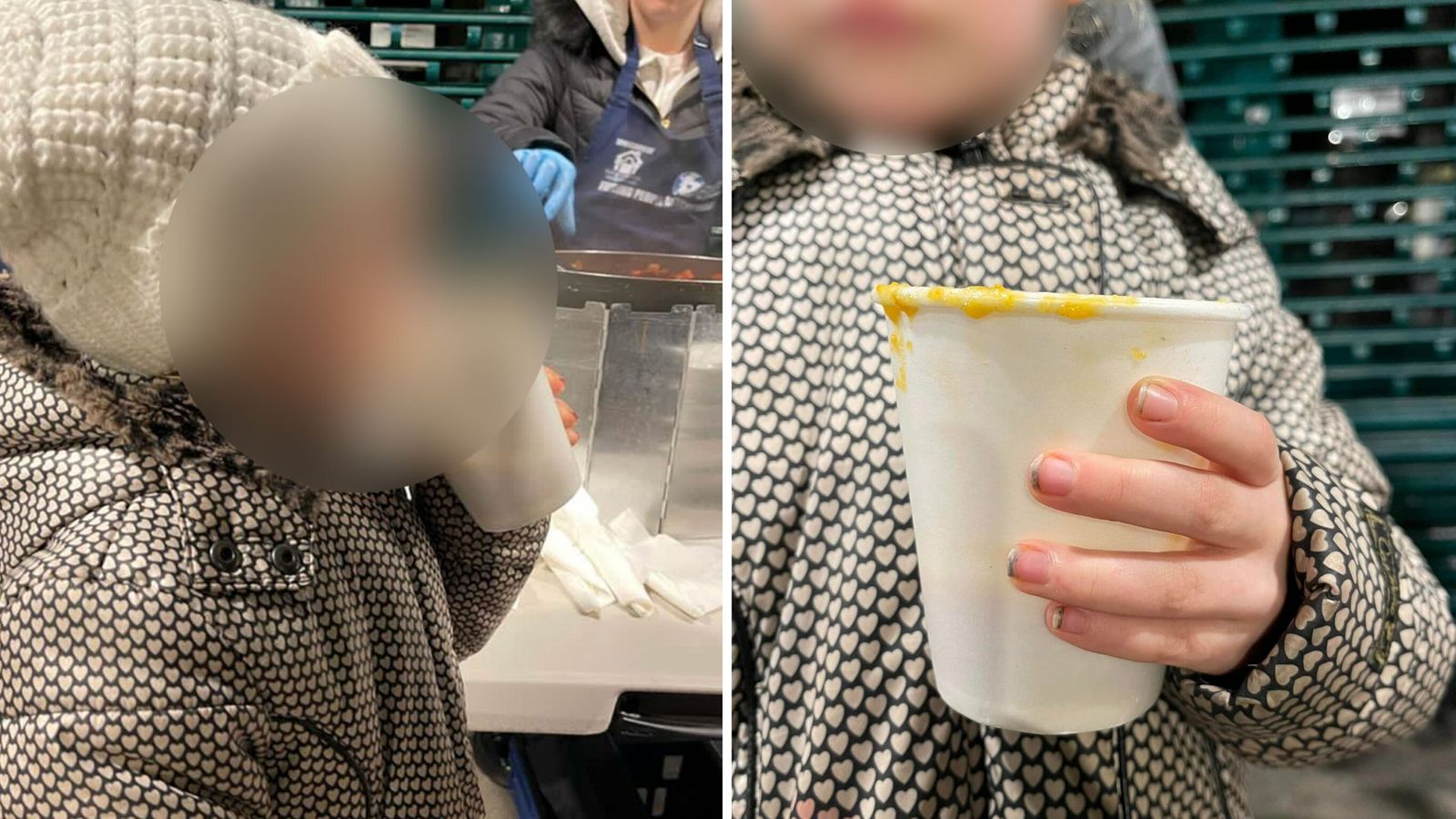 'Children as young as three' queueing for food at night soup kitchen in Glasgow, says charity boss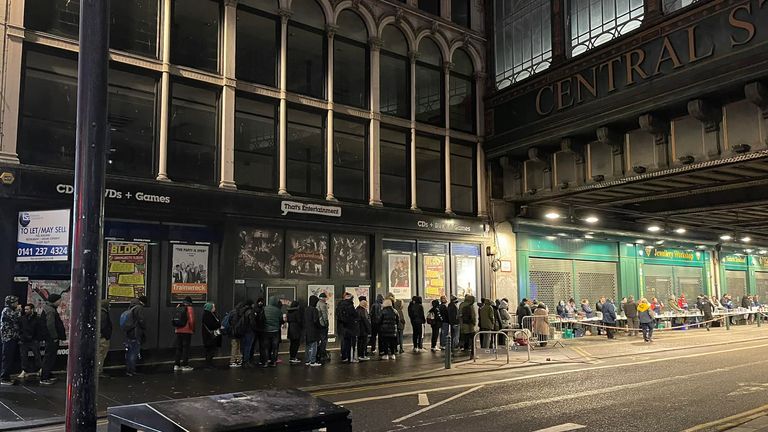 A homelessness charity boss has said he was shocked to see more than 10 children lining up for hot food at a Glasgow soup kitchen.
Colin McInnes, who co-founded Homeless Project Scotland in 2019, said it was a "reflection on today's politicians".
Mr McInnes claimed there were youngsters as young as three who had been brought along by their parents, as well as a child in a pram on Friday night.
He told Sky News: "It was a big shocker to us. My message to politicians is this: They need to step up and deal with this or step aside and let someone else deal with it."
Homeless Project Scotland (HPS) runs a soup kitchen seven nights a week under Glasgow's Hielanman's Umbrella next to Central Station in the city centre.
Mr McInnes claimed one mum made the trip from Paisley in Renfrewshire more than 10 miles away to stock up on food.
The charity chief added that he has noticed more people filling up bags with food so as they can freeze it to use later in the week.
He said: "We're feeding 310 people a day. We're the largest soup kitchen in Scotland and what's extremely difficult to understand is that it's only 20 minutes from Nicola Sturgeon's constituency."
The First Minister, who is MSP for Glasgow Southside, was reportedly invited to visit the soup kitchen more than a year ago but is yet to take up the offer.
A Scottish government spokesperson said: "The first minister regularly visits and engages with different organisations and groups to help inform the Scottish government's efforts to tackle homelessness and the housing secretary visited Homeless Project Scotland last year.
"We're taking action to end homelessness in Scotland once and for all, and are working closely with Glasgow City Health and Social Care Partnership, including meeting with them regularly to keep up to date with developments in the city."
The Scottish government added it is providing £52.5m to support local authorities in implementing rapid housing and Housing First approaches. Earlier this month it announced a further £2.4m to help those struggling to buy food amid the cost of living crisis.
Read more:
Missing couple and baby sleeping in tent, police say
Two reasons behind big rise in house sales collapsing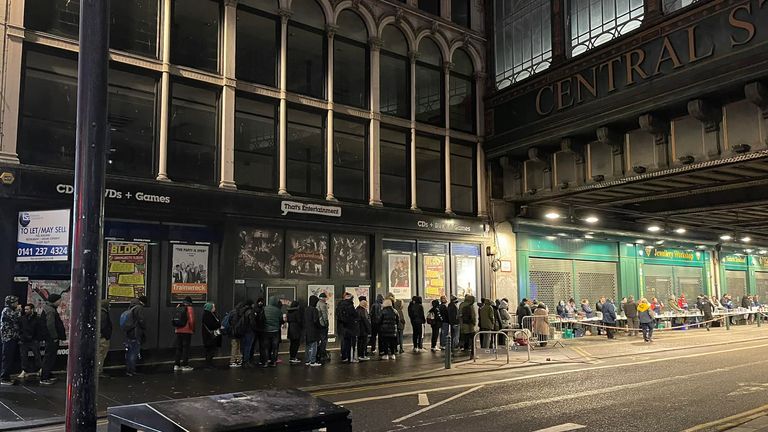 As well as the soup kitchen, Homeless Project Scotland also distributes sim cards for free phone calls and hygiene packages to those in need.
At the weekend, the charity's street team was sent to Edinburgh after a "high level" of rough sleepers were reported to its helpline.
Sky News has contacted City of Edinburgh Council for comment.
Mr McInnes said: "Edinburgh was pretty horrific. People are walking about with quilts under their arms – a quilt under your arm and a soggy pavement is not a home."
The Scotland-wide charity, which has 1,800 volunteers, uses money donated by members of the public to buy and cook food for the Glasgow soup kitchen.
It is currently on the lookout for a building in which to create a welfare centre that is open 24-hours a day, seven days a week.
Mr McInnes said: "It might give people hope and that sense of warmth that someone cares about them. We're not looking for a building for free, just one that's affordable."
The charity is appealing to Glasgow City Council, the Scottish government and private landlords for help.
Glasgow City Council said it has tried to find a building, however none of the options so far have been deemed suitable by the charity.
A spokesperson said: "We have tried to find a suitable building for HPS to host their evening soup kitchen, but they have rejected the three options offered to them.
"HPS recently told us they now want somewhere that can open round-the-clock with a capacity for over 200 people.
"We are very sorry, but we just don't have a place that matches the revised requirements set out by HPS."
Nitazenes: The new synthetic opioids stronger than heroin that are being cut into drugs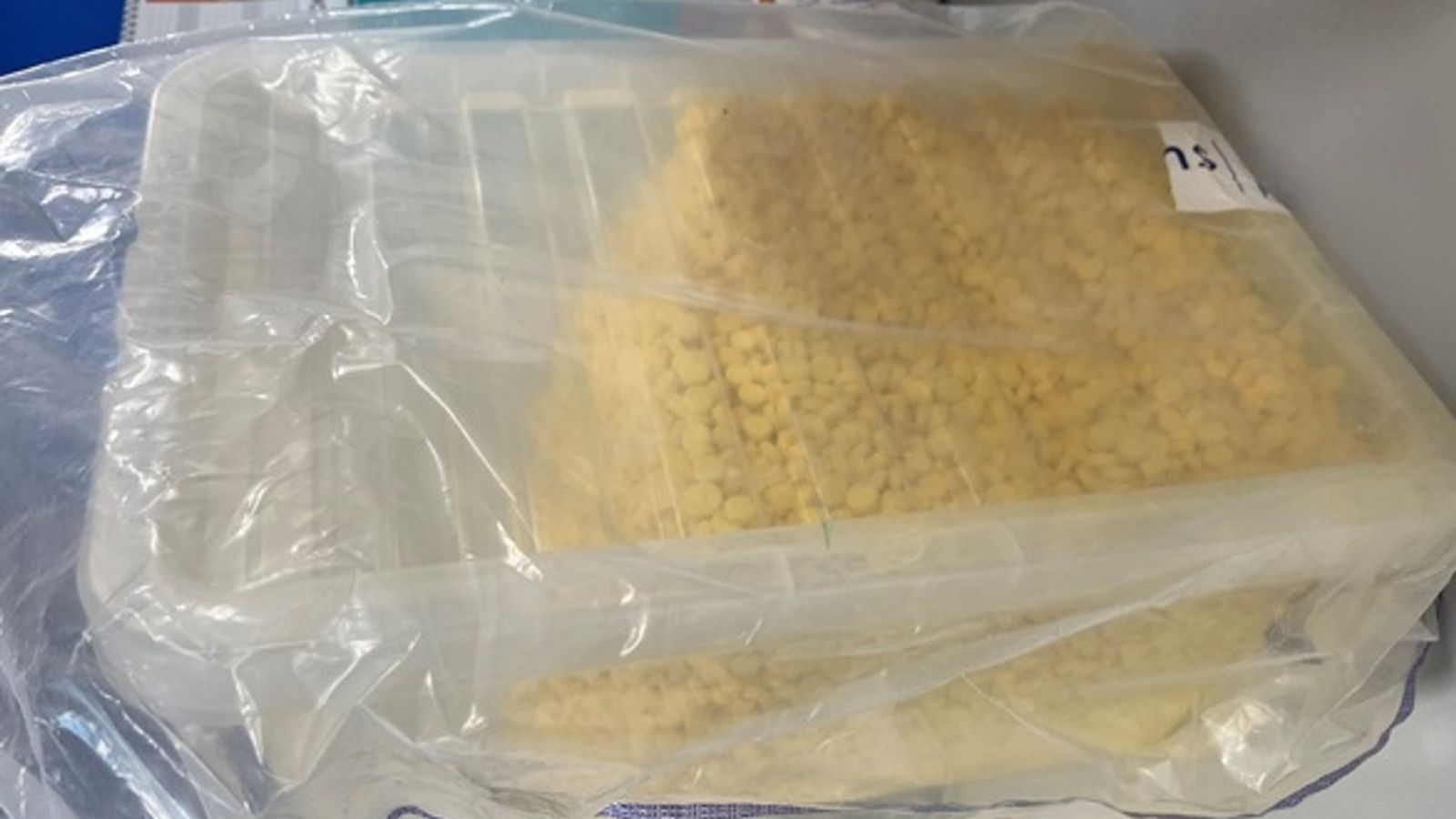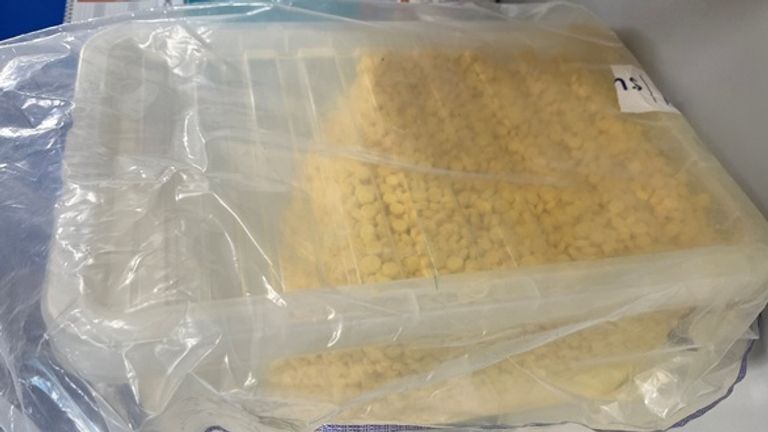 Charlotte, not her real name, wanders back and forth with her empty coffee cup held out towards the tide of commuters coming through the barriers.
Rush hour at Whitechapel underground station is the best time of day for the small, frail, 23-year-old to earn enough change to pay for her next hit.
She's agitated, but for the briefest moment agrees to talk. I ask if any symptoms from her drug use have changed recently. "I've got holes in my legs," she says. "There's no skin, just holes. It's painful."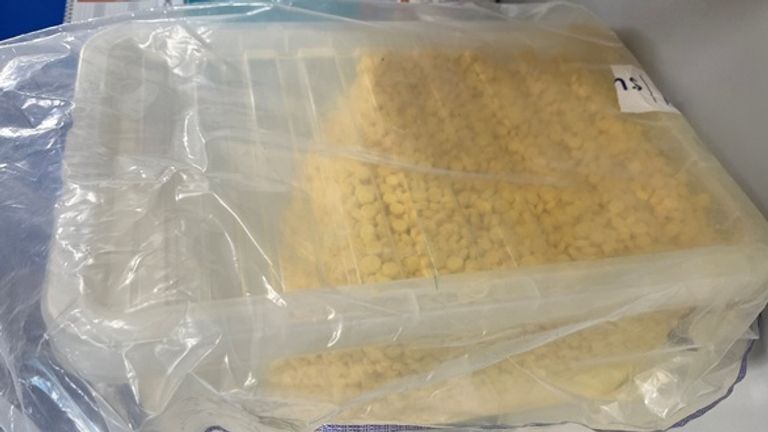 Her legs are bandaged. She says the strange bores in her flesh have only appeared in the last few months and is unsure why.
But drug charity workers are convinced this is a symptom of a terrifying evolution in the drug market – a growing prevalence of dangerous synthetic opioids being cut into drugs like heroin.
The deadliest, nitazenes, are the newest killer on the streets.
"I'm seeing people coughing up blood. I'm seeing people dying," says crack cocaine user Rory, who we meet in Aldgate in East London.
"Any drug you are buying off the street you're taking a risk. These people are in it for the money and the purer it is, the less they make – so they are putting other stuff in it."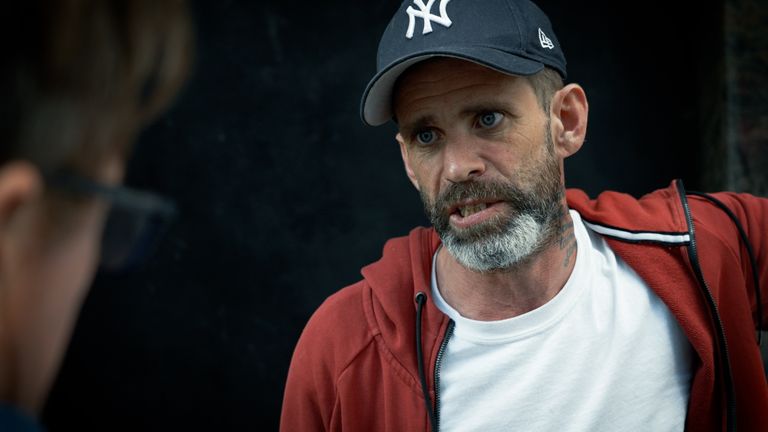 The opioid fentanyl is 50 times stronger than heroin and is the primary drug in North America, where synthetic opioids are estimated to have caused 75,000 deaths in the US last year.
Nitazenes have similar properties to fentanyl, but can be up to 300 times stronger than heroin. Only this week, several have been classified as Class A drugs.
First detected in the UK from a sample of white powder found in the back of a taxi in Wakefield in April 2021, nitazenes have since been found in heroin, cannabis, cocaine, in a vape and most prevalently in black market pills sold as the anti-anxiety drug diazepam.
'Substantial risk of overdose, hospitalisation, and death'
In October, a police raid on a "sophisticated factory" in Waltham Forest recovered approximately 150,000 nitazene tablets, the largest-ever recovered stash of synthetic opioids. Eleven people were arrested.
Detective Superintendent Helen Rance, who is leading the investigation, said: "Synthetic opioids have been detected in batches of heroin found in London and across the UK; they substantially raise the risk of incredibly serious harm to the user and are believed to be linked to a number of deaths."
Recently, the opioid is thought to have been cut into a batch of drugs in Dublin, causing 57 people to overdose within a few days.
Professor Eamon Keenan, from the Health Safety Executive, said: "These pose a substantial risk of overdose, hospitalisation, and death."
Meg Jones, director of social justice charity Cranstoun, said: "We are seeing nitazenes pop up in pockets all over the UK and it is incredibly concerning."
She added: "There are an increasing number of synthetic opioids being detected in drugs that people thought were very different. We need to see government action quickly on this, because we are sleepwalking into what I would deem to be a public health crisis, and we are not prepared for it in the UK at all."
Action means more testing and provision of drugs that can counter the effects of opioid overdose.
Read more:
The killer painkiller
Opioid that's 500 times stronger than morphine faces tougher controls after 25 deaths
Taliban crackdown means drugs produced in UK are more deadly
Outreach worker Abdirahim Hassan, founder of East London community group Coffee Afrik, agrees. He showed me a video of a young woman who appears to have overdosed. She is slumped unconscious on the pavement in Whitechapel.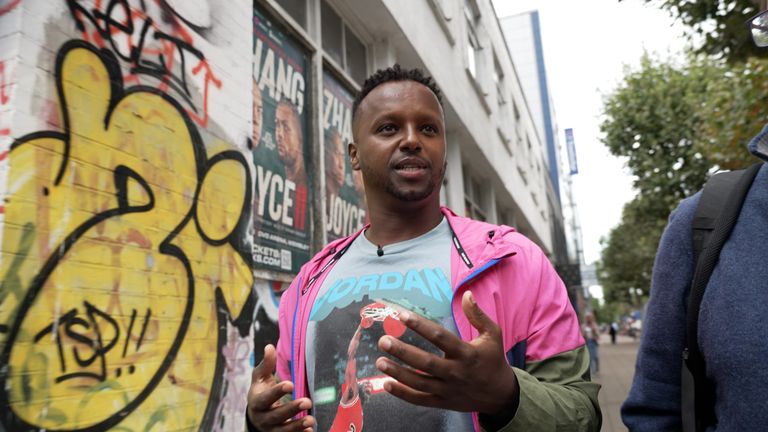 Her body is in the prayer position, her torso flat over her knees, her face pressed against the ground. "She's just frozen. Her eyes are closed, and people are just walking past," said Abdirahim. "She's a young woman, maybe 24, somebody's daughter."
Abdirahim said a crackdown on heroin production by the Taliban has successfully stemmed the flow of heroin from Afghanistan which had previously provided 95% of the UK heroin market. That's led to a boom in the easier to produce, more deadly synthetics.
"What it means is there's a much higher risk of overdose and death," he said. "But it's a cheaper product and more potent so people are in greater crisis and there is not enough testing."
Birmingham also saw a spike in the detection of nitazenes. Sky News was given access to a unique project in West Midlands police cells, run by the charity Cranstoun.
Steve Whitby is a drug and alcohol worker who visits suspects in their cells. The idea is that drug rehabilitation services reach out to offer support to addicts while they are in police custody.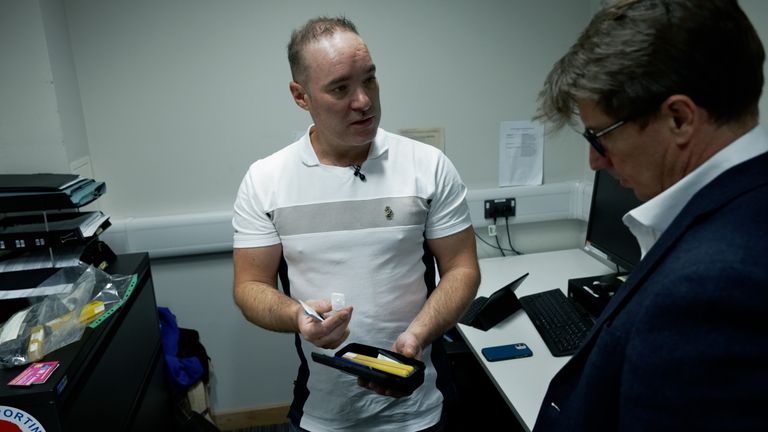 On one cell visit, Steve warns an addict, who is also a suspected shoplifter, about the dangers of nitazenes. He told him: "So these are synthetic drugs that dealers are putting into heroin – but it's causing lots of people to die from overdose."
He told the man he shouldn't take drugs alone and that he will leave a kit with his belongings which includes two syringes of naloxone, an antidote of opioid overdose. He explained the man will have to teach whoever is with him how to use it.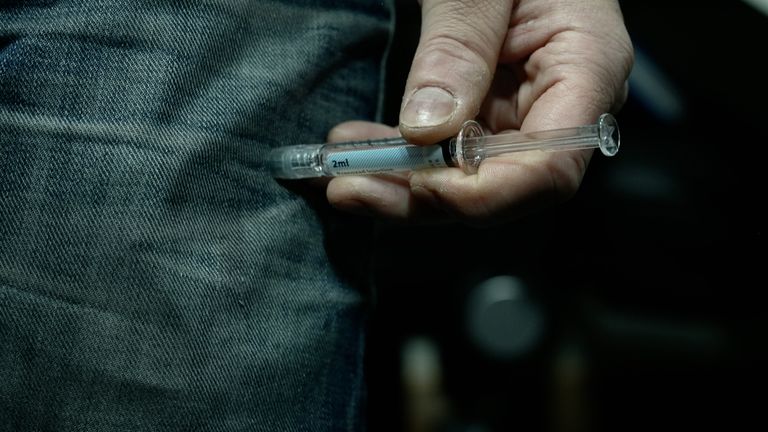 This pilot in Birmingham is believed to be the first time naloxone has been given to addicts in custody, and the charity said this needs to become a national provision.
The Cranstoun programme in police custody suites is funded by the West Midlands police and crime commissioner.
"In essence, this saves more lives than any other intervention," said Steve as he demonstrated how to inject the clear liquid into the side of the thigh.
He said sometimes it's dispensed to the children of addicts so they can save their parents lives if they overdose.
As such a newcomer to the UK market and often concealed as something else, there is little data about the prevalence of nitazenes.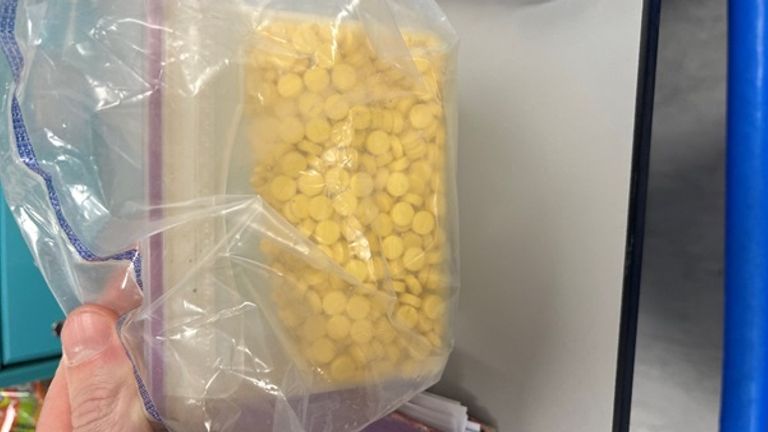 The opioid is even more dangerous for those who have never taken it before
However, Wedinos, a service based in Wales where people can send in their drugs anonymously, to get them tested for what they contain, has started to increasingly detect it in other illicit drugs.
They only found nitazenes five times in 2021, but have discovered it 57 times so far this year. It was in what users thought was cannabis in Manchester and cannabis vape liquid in Portsmouth.
They've been found most often in what users thought were the black market versions of the anti-anxiety drug diazepam, and pain medication oxycodone, 21 times each.
They are even more dangerous to people who don't already use opioids, and therefore have no tolerance.
The reported side effects include hallucinations, irregular heartbeat, chest pains, nosebleeds, vomiting, memory loss, aggression, and overdose.
Back on the streets of Whitechapel, another heroin addict, called Rebel, sits waiting for her methadone script outside a drug rehabilitation centre.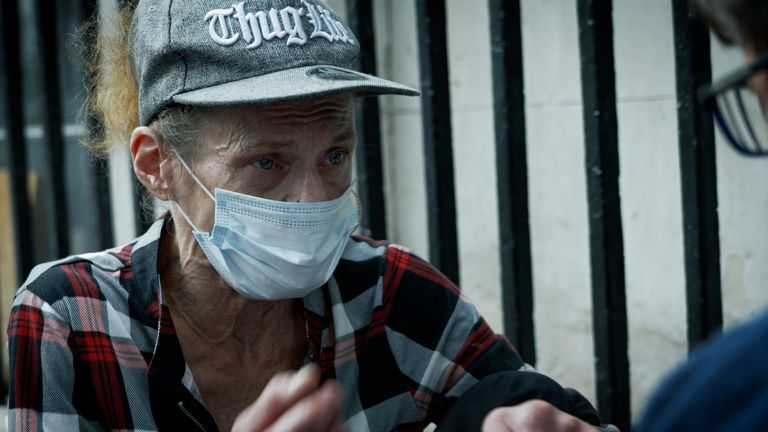 She said heroin has changed. She hates the synthetics, describing them as a waste of money and said they don't work, but she agrees that not knowing what she's using makes life more dangerous. Health workers have run urine tests and warned her of other substances cut into her drugs.
"They text me and tell me something is cut in it – it's really bad." Rebel becomes emotional talking about the impact of her addiction. "I'm 60 now. I don't want to die a junkie," she said.
This week, 15 new synthetic opioids were categorised as Class A drugs by the government, but that doesn't make them any easier for drug users to detect.
A dangerous market has become more deadly. Users like Rebel are rolling the dice every day.
UK weather: New yellow warnings for snow and ice across country including parts of Cumbria and Kent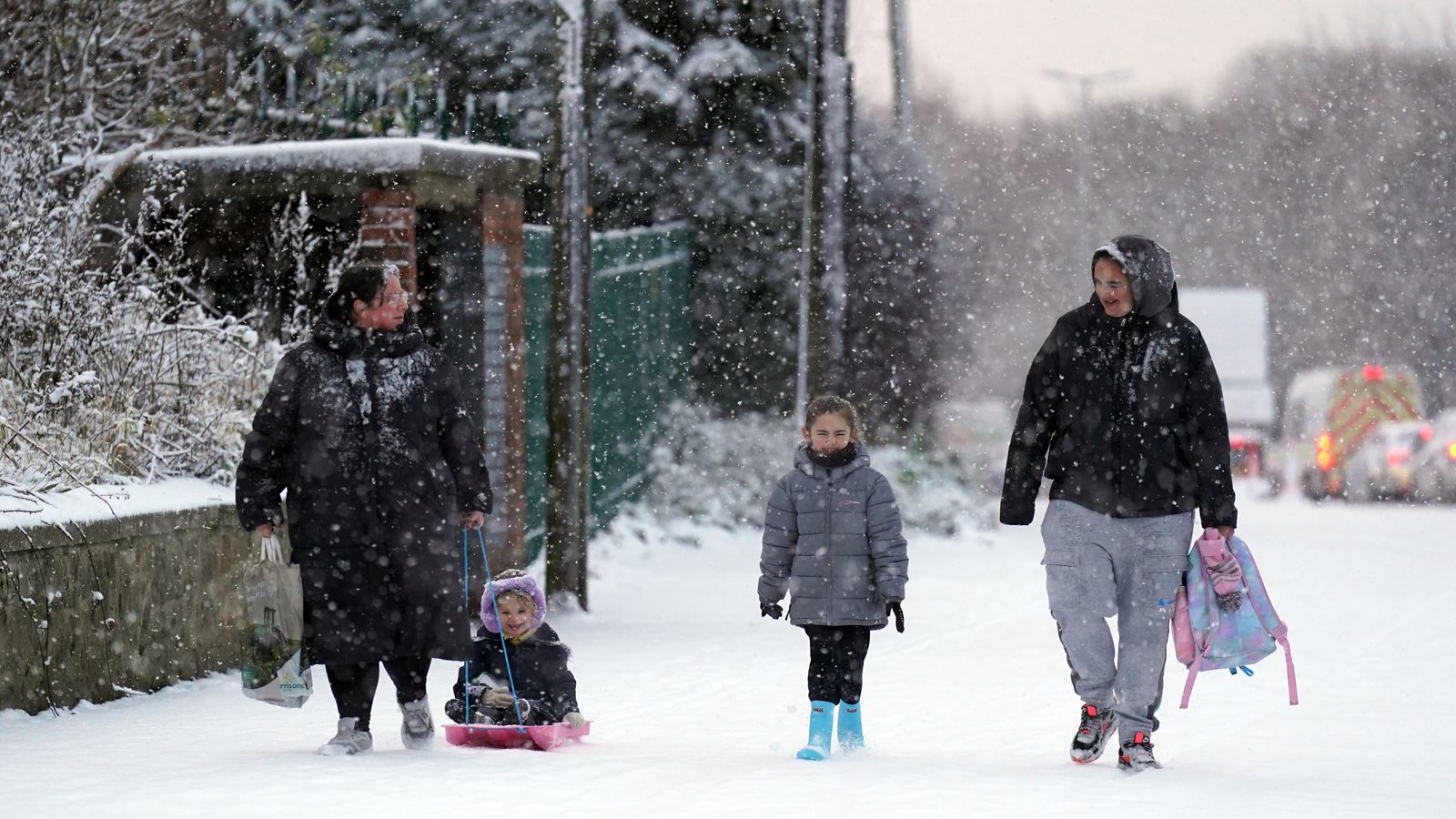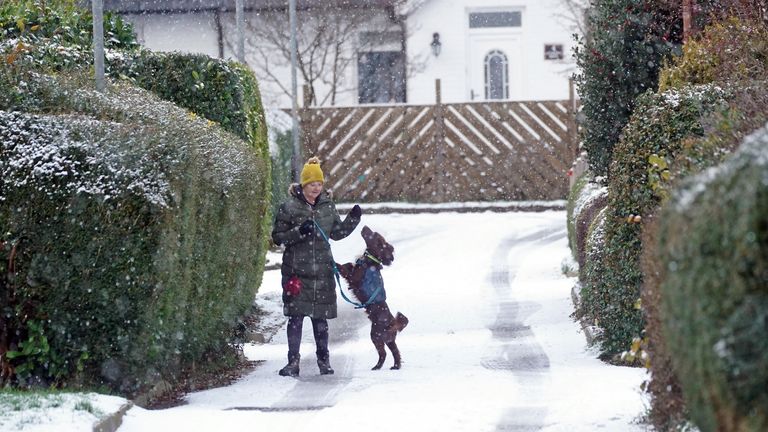 There is a risk of snow and ice for parts of the UK today and going into the weekend, with the Met Office issuing new weather warnings.
The Met Office has issued new yellow weather warnings for snow and ice across northern Scotland and in parts of the country's south.
The warnings also stretch down the eastern coast of England – from Newcastle-upon-Tyne to below London – and are in effect from 5pm tonight until 10am on Saturday morning.
Wintry showers will lead to some icy patches and snow cover, the forecaster said.
People could suffer injuries from slips and falls on icy surfaces, while motorists may face treacherous conditions and public transport services are likely to experience delays.
The new alerts have been issued after three previous yellow weather warnings were in place until 11am this morning.
Check the latest weather forecast where you are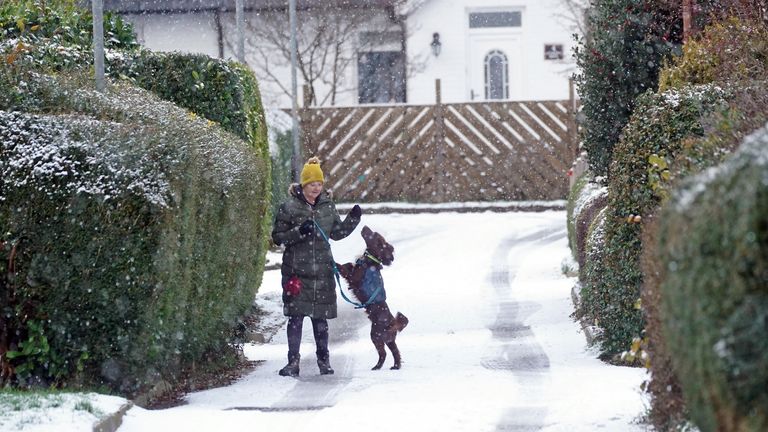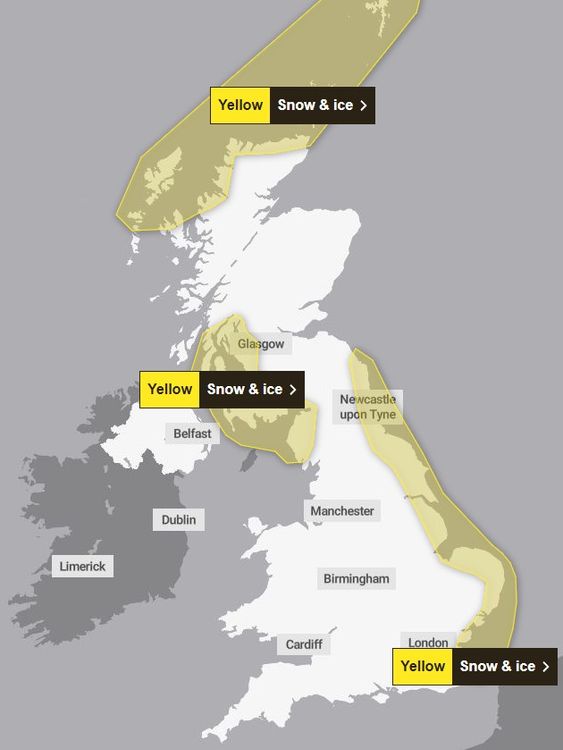 New warnings follow days of disruption
The bout of wintry weather made its presence felt on Thursday, with dozens of schools in Cornwall either partially or fully closed.
At the other end of England, several crashes were also reported on County Durham's roads because of snow.
A widespread frost was forecast for this morning, with overnight temperatures plunging to -6C in southwest England, -8C in Wales, and -10C in Scotland.
Those freezing temperatures are likely to return this evening and into Saturday.
Sky News weather presenter, Kirsty McCabe, said: "At the moment, outbreaks of rain, sleet and snow are set to move in from the west on Saturday night.
"This awkward mix will push eastwards across parts of England and Wales.
"Snow is most likely over the Welsh hills but could fall to lower levels overnight as the temperatures drop well below freezing.
"As well as a risk of snow, there is the potential for icy stretches and freezing rain (which causes black ice on roads).
"Other wintry hazards this weekend include freezing fog, which is likely to linger and make it feel even colder."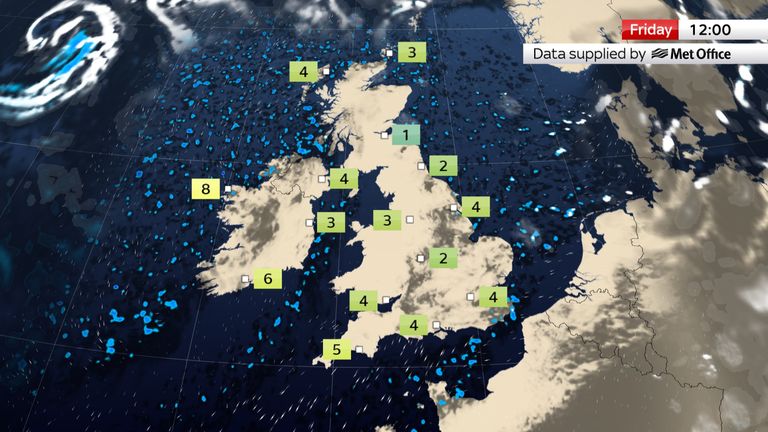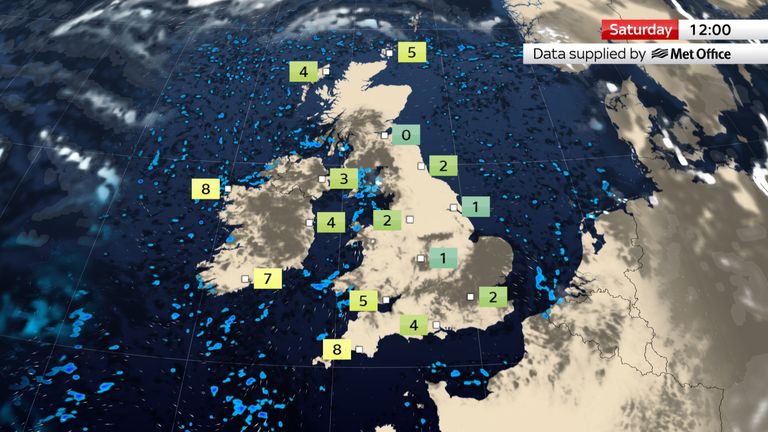 Health and transport risks ahead
The UK Health Security Agency has issued amber cold health alerts in five regions – the East Midlands, West Midlands, North West, North East, and Yorkshire and the Humber – until 5 December.
It fears there could be a "significant" impact across the health and social care sector.
According to the Met Office, the UK is likely to remain in a northeasterly airflow for several days to come, meaning it will stay cold well into next week.
Read more from Sky News:
Sex And The City actress dies
Ronaldo facing a $1bn lawsuit
National Highways is urging motorists to plan their journeys, keep an eye on the weather forecast, and take extra care on the roads.
Its national network manager Dale Hipkiss said: "Freezing conditions bring so many hazards such as snow and ice.
"Please take every possible step to understand your journey in advance and allow extra time when travelling.
"Keeping a kit of essential items like a torch and warm clothes in your vehicle can be vital."
Omid Scobie dismisses need to say sorry to Royal Family after book 'error' named King and Kate in 'skin colour' row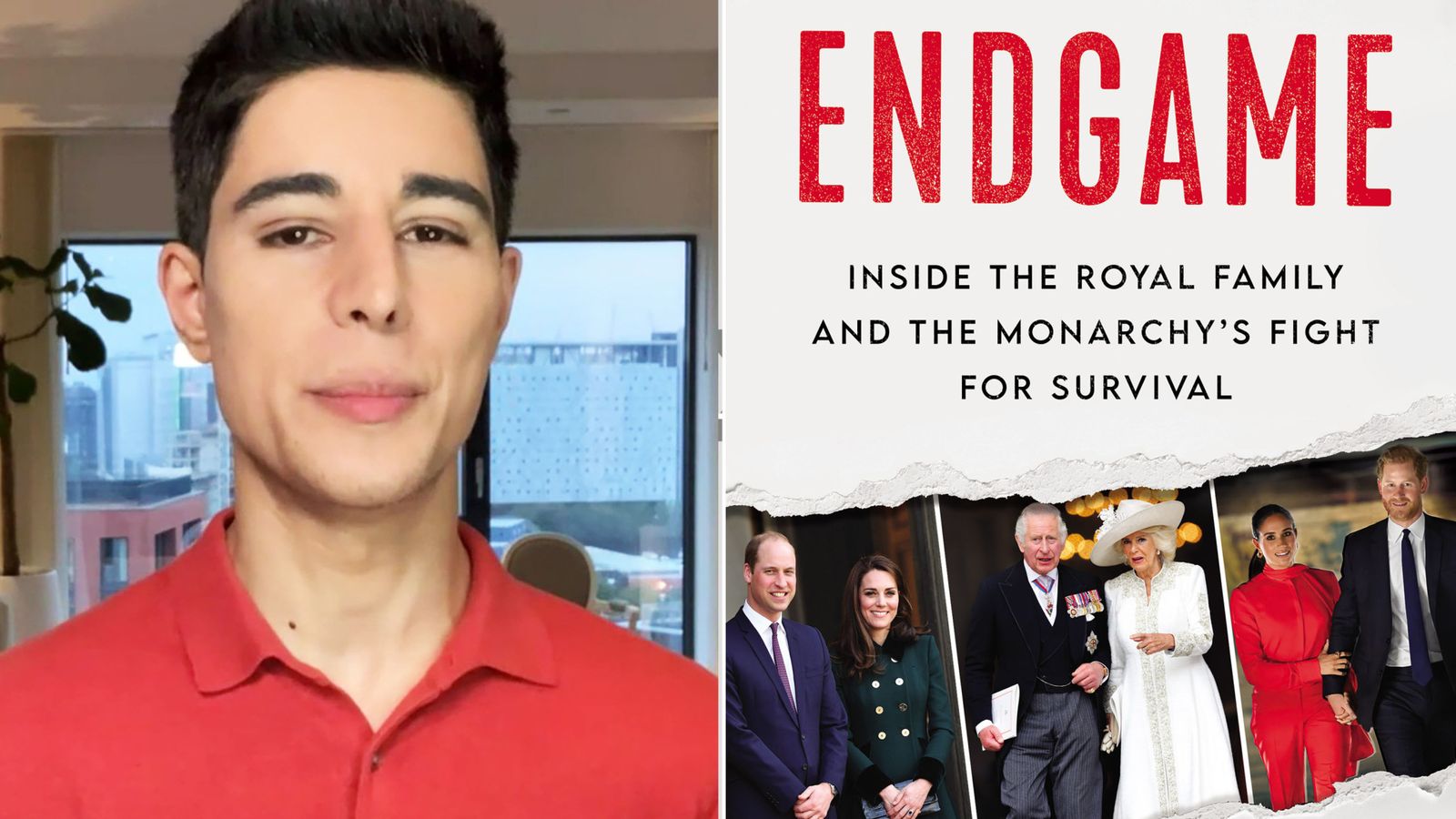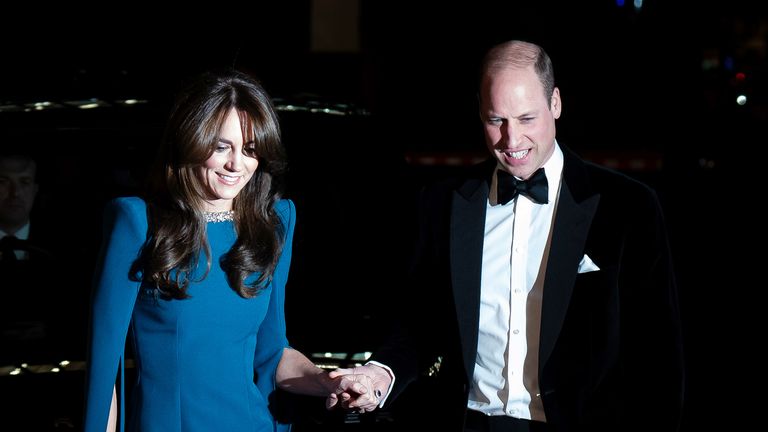 Omid Scobie has refused to apologise to the Royal Family after the King and Princess of Wales were named in his new book as the senior royals alleged to have questioned the skin colour of Prince Harry and Meghan's son before he was born.
The royal biographer has been at the centre of a media storm after copies of Endgame were temporarily pulled from shelves in the Netherlands over what the publisher, Xander Uitgevers, called an "error".
When asked on Thursday if he wanted to apologise to the Royal Family, the 42-year-old said: "It is not for me to apologise, as I still want to know what has happened.
"[The buck] does not stop with me, there are irresponsible people in this country that have broken the law and repeated names that should never have been broken."
Having previously insisted that he never submitted a book that included the names, Mr Scobie swore on Thursday that the incident was not part of a publicity stunt.
"On my and my family's life," he said, when quizzed by Newsnight's Victoria Derbyshire.
He added: "It is serious, I feel hurt by some of the conspiracy theories that this is a publicity stunt and that I am in cahoots with my 'pal' – all of this is frustrating."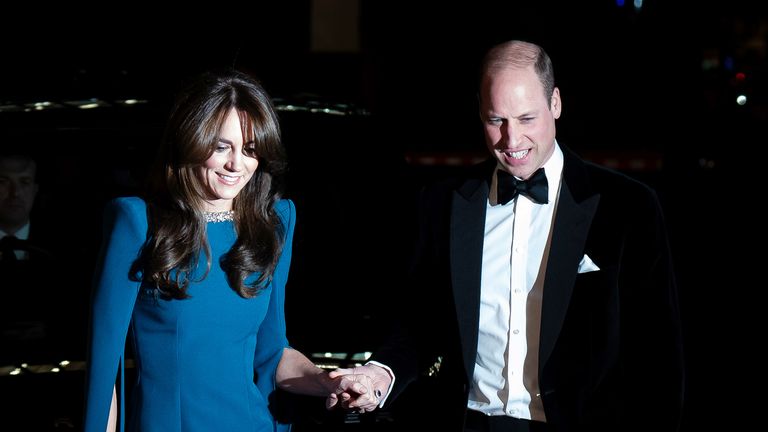 The writer said he has received 20 death threats in the past week due to the scandal.
"Having done this job full-time for six years, I am used to it," he said. "The skin is thick, but it is sad that has become the norm."
The unsubstantiated allegation against the Royal Family was first made by the Duchess of Sussex in her March 2021 interview with Oprah Winfrey in which she said a senior member raised "concerns" about her son Archie's skin colour before he was born.
Read more:
Who is Omid Scobie?
Endgame 'error' won't help Harry and Meghan
Five revelations from the controversial new book
Mr Scobie's book claims that, in the aftermath of the Oprah interview, Meghan wrote a letter to the King expressing concern about unconscious bias in the Royal Family.
In the UK version of Endgame, Mr Scobie wrote that in her letter to the King, Meghan revealed "two identities" of those "involved in the exchange".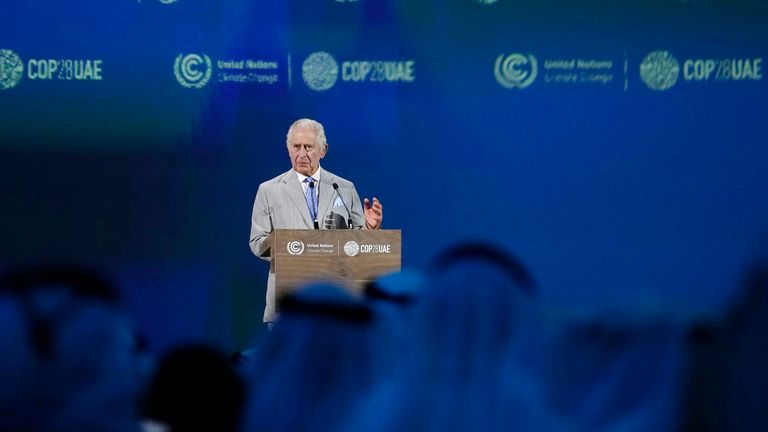 "Laws in the United Kingdom prevent me from reporting who they were," he wrote in the book.
There has been no evidence that has been published since to suggest the allegations are true.
Archie 'skin colour' row is 'nonsense'

Sky News presenter and anti-racism campaigner Sir Trevor Phillips called the story "nonsense", adding that there is not a family of colour in the "entire world" who has not had a similar conversation.
"I have a grandson who is absolutely gorgeous and of course, we as a family talked about if he was going to look more like his mother, who looks like me, or his father who is of Puerto Rican heritage," the broadcaster told Sky News Breakfast on Friday.
"In the same way that your family would talk about hair colour or eye colour. We all have the same hair, the thing that is different about us is skin colour. It is a mark of excitement."
Speculating about how and if the conversation actually took place within the Royal Family, Sir Trevor said: "What I expect someone might have been saying is 'I really hope this baby looks more like her than him'."
On Thursday, Mr Scobie reiterated that an investigation has been launched into how the names were included in the translated version of his book and that he "looks forward to finding out more about it".
Meanwhile, Buckingham Palace said it is considering whether it should take action.