Crypto Analyst Michal van de Poppe predicts that the second half of 2023 won't be kind to crypto markets.
What Happened: The analyst tweeted that the markets remain in a recessionary period. He anticipates that the second half of the year won't be great but in between there we'll be having some more relief.
See Also: Best Crypto Day Trading Strategies
Definitely, the markets are still into a recession to occur.
Probably second half of the year won't be great, but in between there we'll be having some more relief.#Bitcoin could run towards $35K and #altcoins could blast even further for a 3-5x return.
Time it accordingly. Michal van de Poppe (@CryptoMichNL) January 24, 2023
According to the analyst, there's a good likelihood of Bitcoin BTC/USD soaring toward $35,000, while altcoins may experience price increases of three to five times.Time it accordingly, he said.
In another tweet, Poppe said that the current correction should come to an end in the coming days with a slow grind upward followed by one last sweep.
Some slow grind upwards and then one more sweep in the coming days and the correction should be over and we'll continue the party.
Seems about right. Michal van de Poppe (@CryptoMichNL) January 25, 2023
Poppe, on Tuesday, said Bitcoin has failed to break through the crucial resistance level of $23,100. As a result, it is likely to test and sweep through the support level of $22,300 before any potential continuation of its upwards trend.
Price Action: Bitcoin was trading at $22,741, down 1.57% in the last 24 hours, according to Benzinga Pro data.
Read Next: Bitcoin, Ethereum, Dogecoin Slide: Analyst Says Apex Crypto In For 'Very Interesting' Rally Or Short-Term Pullback

Richard Curtis on his new Christmas film reboot – and why he won't remake Love Actually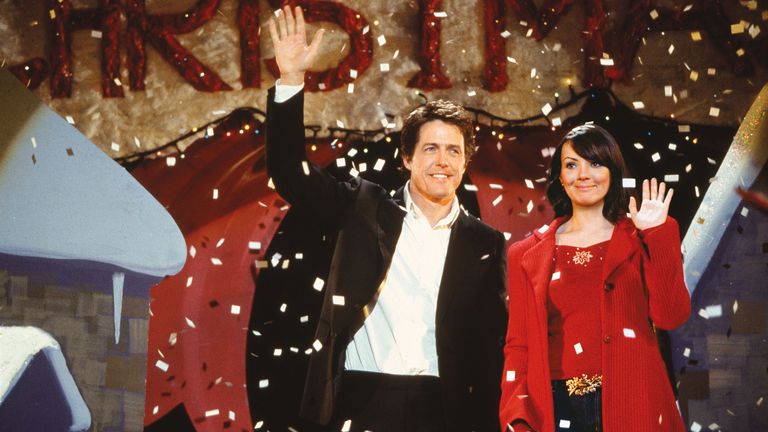 Twenty years ago rom-com writer Richard Curtis brought out a Christmas film that went on to become a staple part of festive watching for many.
Love Actually didn't necessarily win over critics but it was a hit with audiences and is a regular fixture on the best Christmas film lists.
Now Curtis has returned to the genre to write a re-make of his 1991 TV movie Bernard And The Genie – but says he has no plans to remake the other festive film he's known for.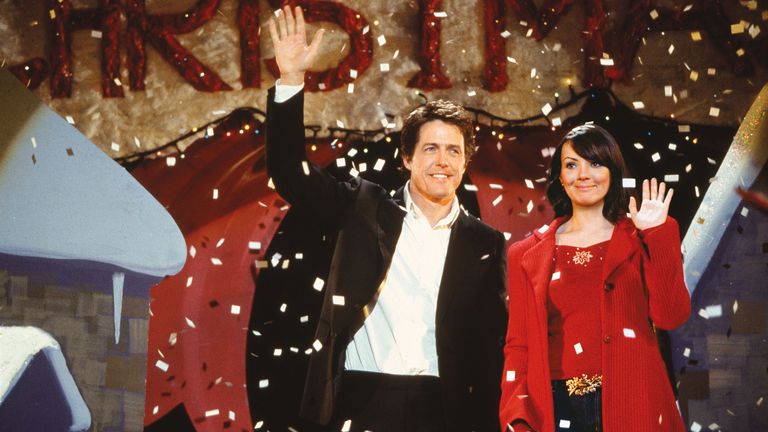 "No, I've thought about whether I ever want to do a multi [story film] – I love movies with lots and lots of characters in it," the writer told Sky News' Backstage podcast.
"But I think I'd be pretty sure to make sure it wasn't set at Christmas this time.
"I think I've probably done my Christmas multi-stories story."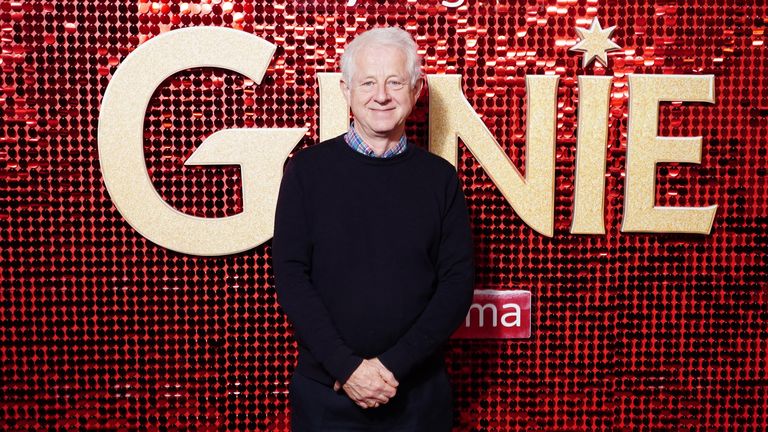 His new film Genie is a comedy about Bernard – a man struggling professionally and personally who tries to make changes to his life with the help of a magical being.
It draws on the work it's based on, but brings it up to date, and sees it set in a new location, and with one female lead rather than two men.
He says it was soon after 1991's Bernard And The Genie came out that he thought about re-writing it.
"Funnily enough, I actually wrote my sort of first draft of this about five years after the original film, and then I let it lie," he said.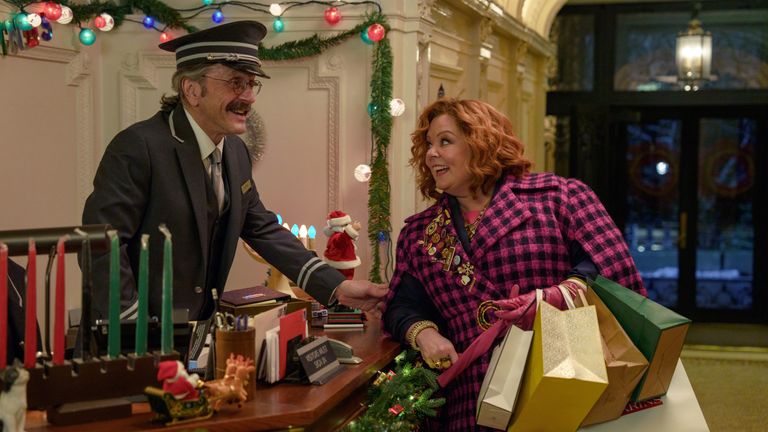 "And I just thought I would love to do another Christmas movie, and so I took it out and refreshed it in many ways, particularly having a female Genie and moving it to New York.
"But it's been in my head for a long time and I always think the best projects are the ones that have had time to stew.
Updating work for modern audiences isn't unusual – Roald Dahl's books have seen changes made to them to reflect contemporary attitudes and Genie is by no means the only film being given a modern twist.
Curtis says it makes sense that work is refreshed as audiences evolve.
"I think in many areas tastes have changed and we're more aware of things that we should say – we should talk about climate change all the time if we possibly can – and things that, you know, it's no longer right or polite in any way to say," he explained.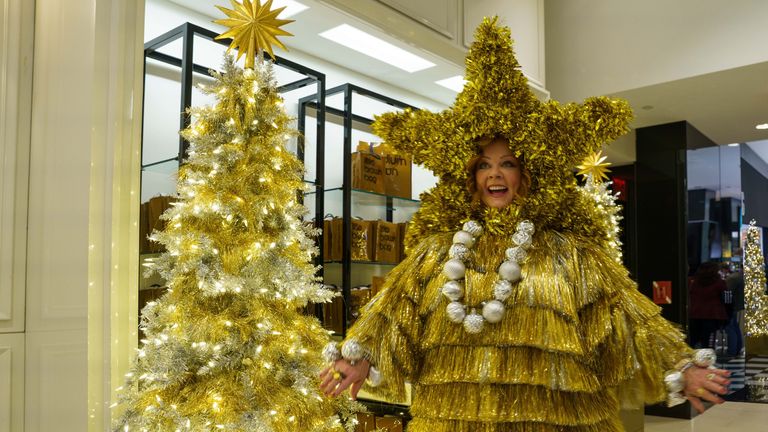 "So as I write, I've always got my 20-year-old daughter on my shoulder saying 'Dad are you sure?'"
He says that updating the Genie to be a woman in his new film gave a new perspective to the character who is trying to help Bernard with his marital issues.
"My original version – like when I first wrote a script of this – had the Genie as a man again," Curtis admitted.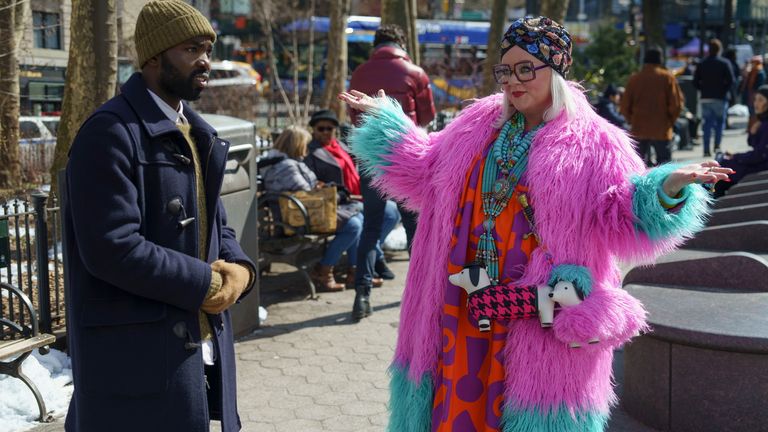 "And so just to be able to come back to it and have to look at every line and say, 'Is this the right one? Is this the right attitude? What would she know?'
"And I particularly love the fact that she's trying to fix a marriage and she's a woman who probably knows more about how Bernard's wife feels than Bernard does."
Click to subscribe to Backstage wherever you get your podcasts
While Curtis may not have plans to update Love Actually, he perhaps hasn't ruled out setting something during another holiday – joking that he could have some fun with Halloween.
"The happy version of Halloween or just killing off most of the cast?" he queried.
"I'd like to kill off Hugh Grant in one of my films – that would be a real joy."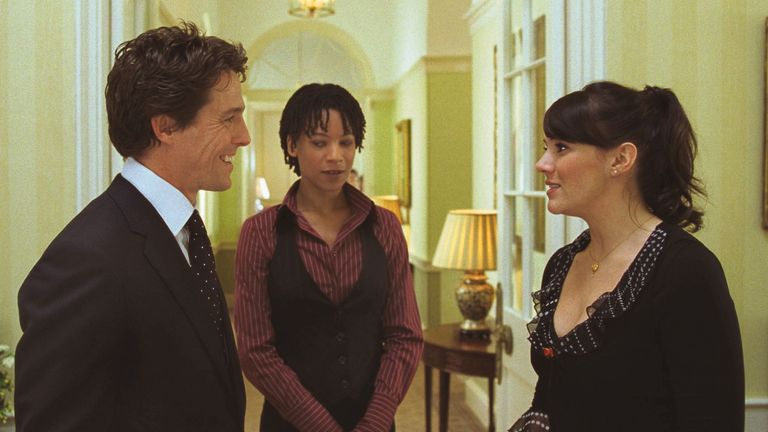 Genie is out on Sky Cinema and streaming service NOW. For more on the film listen to the latest episode of Backstage, the film and TV podcast from Sky News.
Could Snapchat have a solution to the Elgin Marbles row?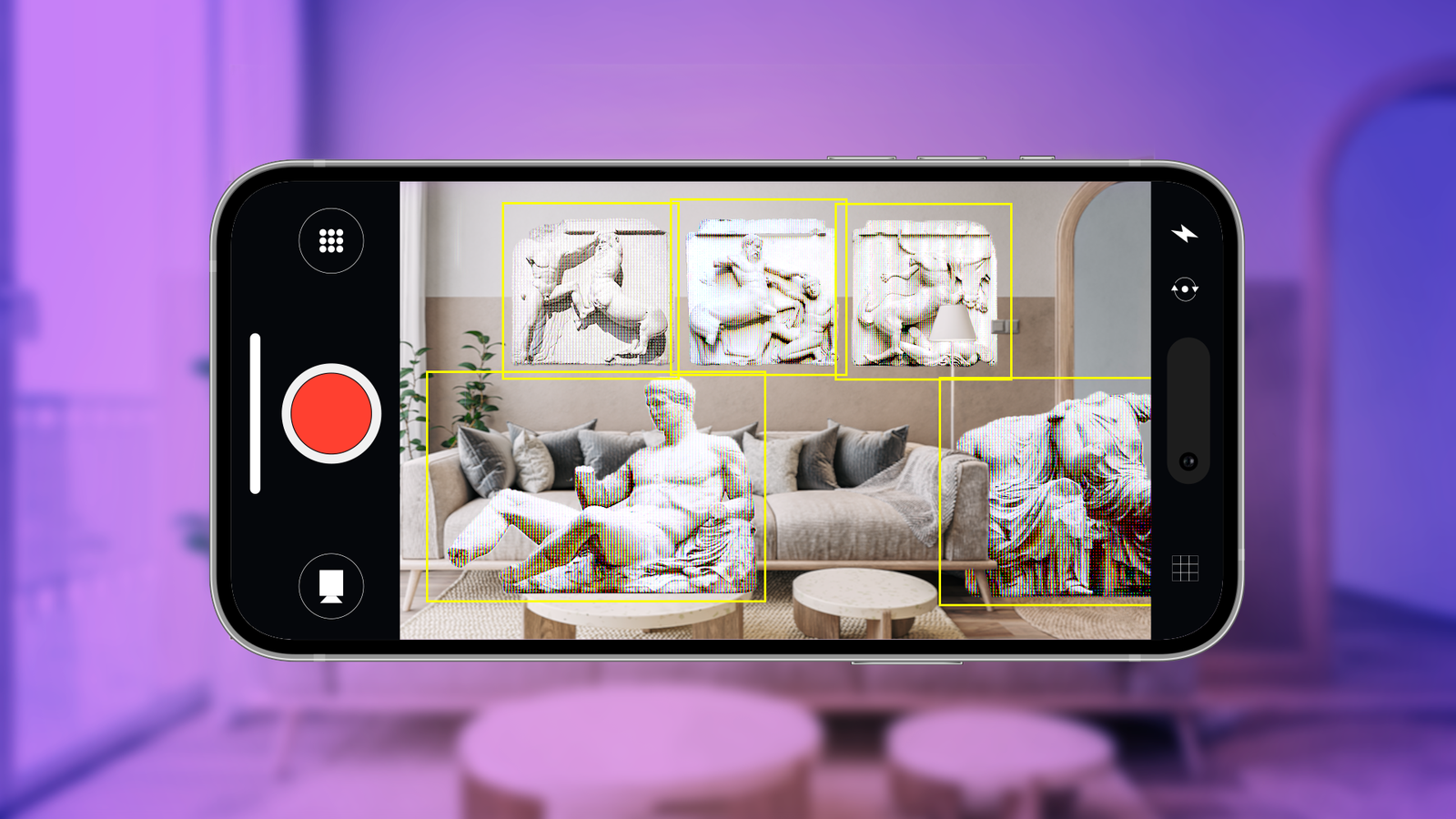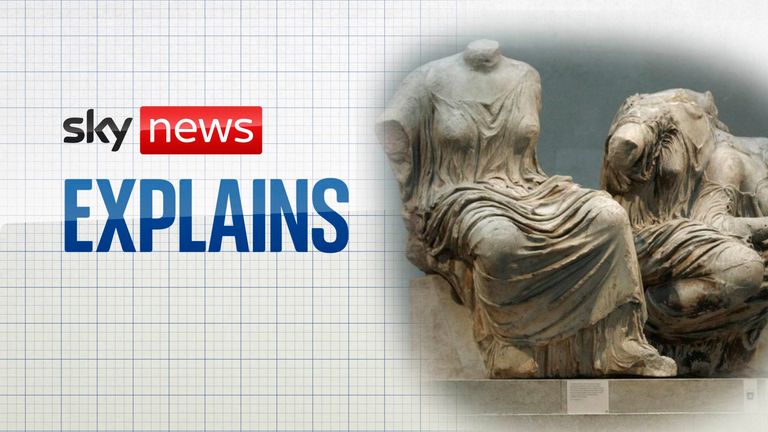 Rishi Sunak is known to love tech, so could it offer a way out of his awkward diplomatic row with Greece over the Elgin Marbles?
The augmented reality (AR) boffins at Snap think it could.
The creators of the app most people associate with wearing silly filters have branched out into culture and the arts, offering new ways for visitors to experience history at some of the world's most illustrious museums and galleries.
Snap's AR has been used to reinvent exhibitions at Amsterdam's Rijksmuseum, Miami's trendy Art Basel fair, London's Design Museum, and most recently the iconic Louvre in Paris.
The museum's department of Egyptian antiquities now features 3D reconstructions of long-lost artwork and other historic monuments, viewable on phones via QR codes or the Snapchat camera.
If it's good enough for the Louvre, could it be good enough for the British Museum, and allow the Elgin Marbles to return to Greece?
Read more:
What are the Elgin Marbles and why are they in the British Museum?
Why did the King wear a tie covered in Greek flags?
What's the Elgin Marbles row about?

History in your hands
"We have initiated discussions," jokes Donatien Bozon, director of Snap's AR studio in Paris.
His 14-strong team was formed last year with the mission of bringing AR to art, culture, and education, proving Snapchat's tech can go well beyond putting virtual dog ears on your friends.
Cultural institutions showed interest in tapping into the app's audience of 750 million users, he says, as well as bringing new experiences to regular visitors – all without needing any extra physical space.
"We were convinced we could not only leverage the front camera of the phone," he says, referring to Snapchat's common use case as a selfie-driven messaging app, "but also the back camera."
"You can augment the world," he adds. "And open up so many opportunities."
Also at the Louvre sits a digital twin of the 222-tonne granite Luxor Obelisks. Built for Egypt's Luxor Temple during Ramesses II's reign, one was later moved to the Place de la Concorde in Paris.
But it had initially been considered for a spot in the Louvre's courtyard. And so in their own bid to rewrite history, the museum worked with Snap to "remove the constraint of physics" and have one installed virtually.
Point your phone's camera towards the spot where it could have stood, and so it appears.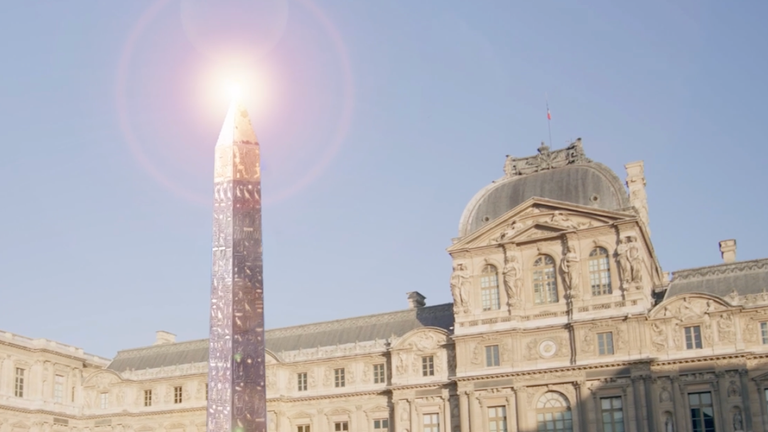 Where tradition meets technology
Not that AR could ever truly replace the real thing.
"It's in the name," says Bozon. "It's augmenting the experience, not replacing it."
Probably not actually a satisfying solution to the Elgin Marbles row, then.
But the British Museum has dabbled in AR. Primarily aimed at children, it lets guests embark on AR-driven tours through the Roman Empire and Parthenon using Samsung tablets.
The British Library has also leveraged the tech for its own exhibitions, as some of the world's oldest institutions, proudly steeped in tradition, look to keep up with the times.
Qi Pan, Snap's director of computer vision, says AR lets them "do things that were not possible before".
His London team is responsible for how the firm's tech actually works, both on phones and in a hypothetical future where millions of us walk around wearing futuristic spectacles.
"A lot of AR today is on mobile, where we're limited by seeing it through a small rectangle," he says.
"AR glasses will let you see it directly in the world around you."
Accessible artwork
Despite previous attempts at such lenses from the likes of Google and Snap itself having failed to achieve a mainstream breakthrough, Pan is confident AR is on the cusp of a "hardware paradigm shift".
Apple's upcoming mixed reality headset may help prove him right, though likely not while priced at £2,800.
For now, the appeal of AR artwork is its accessibility – not just for users who just need a phone to experience it, but also the creators behind what they see.
By teaching himself how to create AR art at home during the COVID-19 pandemic, British artist Doddz went from school struggles to a six-figure salary.
Traditionalists might cry foul, but his success seems testament to a fresh take on artwork that people can view anywhere and take with them too.
Bozon says: "Ten years ago you wouldn't bet on being a YouTuber as a real job.
"Ten years from now, building in AR will be a real job for thousands of people."
Let's hope the marbles row is over by then too.
Boris Johnson to admit he 'unquestionably made mistakes' at COVID inquiry – report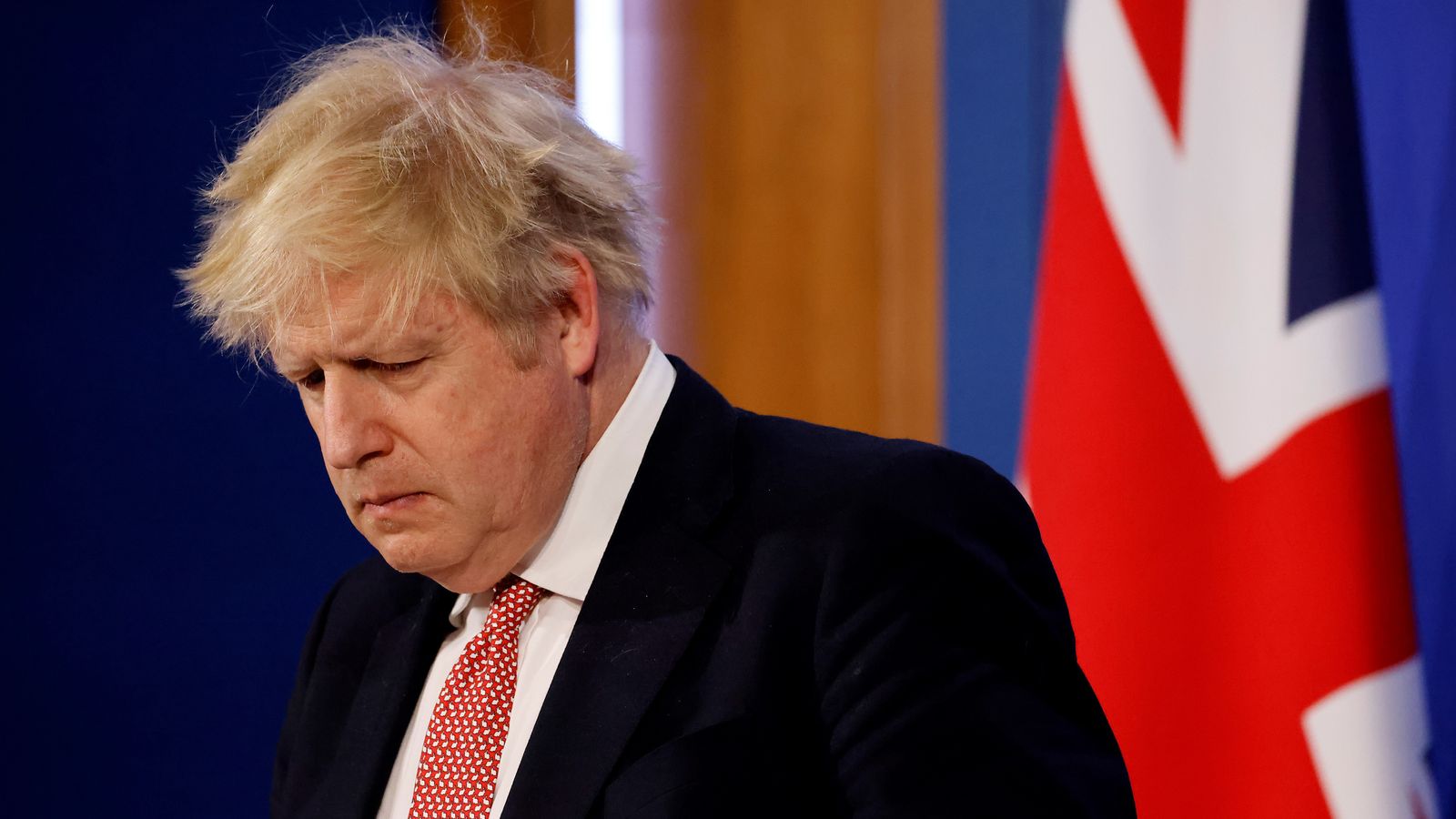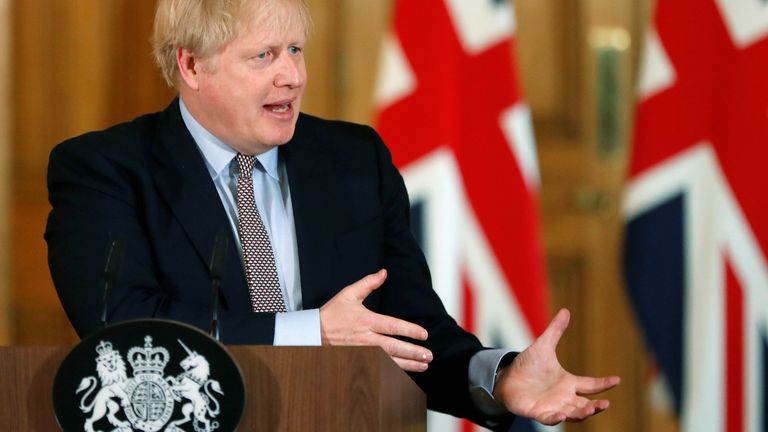 Boris Johnson will reportedly tell the COVID inquiry that he "unquestionably made mistakes" during the pandemic, but his decisions helped save tens of thousands of lives.
The former prime minister is due to give evidence next week – and according to The Times, he will issue an "unreserved apology" and admit his government was "initially far too complacent" about the threats posed by the virus.
Mr Johnson is expected to express regret for boasting about shaking hands with patients on a coronavirus ward and defend the timings of the UK's three lockdowns.
March 2020: 'I shook hands with everybody'

He is set to argue that failing to act would have caused thousands more "miserable and unnecessary deaths – some of them in hospital car parks and corridors".
Last month, England's chief medical officer Professor Chris Whitty told the inquiry that he believes the first lockdown in March 2020 came "a bit too late".
'First lockdown was a bit too late'

But The Times is reporting that Mr Johnson will claim Prof Whitty was "instrumental in arguing for a delay" – and the possibility of a lockdown was first discussed three weeks before it was enforced.
The ex-PM is also expected to deny saying that he had a "let it rip" attitude towards COVID, with a view to achieving herd immunity.
Mr Johnson is expected to face difficult questions on multiple issues – including partygate, his communications with government colleagues, and the evidence heard so far.
Read more from Sky News:
Two rescued after house explosion in Edinburgh
Why did King wear a tie covered in Greek flags?
June 2023: What was in the partygate report?

The report suggests that the former politician is preparing to argue that his WhatsApp messages have been taken out of context, meaning "dark humour is lost or morphs into mockery".
Eat Out to Help Out is also likely to be discussed, amid claims that the government's COVID-19 taskforce was "blindsided" when the controversial scheme was announced.
'Blindsided' by Eat Out to Help Out

Mr Johnson is expected to argue that the policy was "properly discussed" with Prof Whitty and former chief scientific adviser Sir Patrick Vallance.
According to the newspaper, then chancellor Rishi Sunak and de facto chief of staff Dominic Cummings are both set to be largely absent from Mr Johnson's written testimony, which is likely to be published after his appearance in front of the inquiry.
Cummings says PM was known as a 'trolley'

Aides to Mr Johnson have said they were not responsible for briefing The Times.
A spokesman was quoted as saying: "Boris Johnson will be at the COVID inquiry next week and is looking forward to assisting the inquiry with its important work."