Crypto Analyst Michal van de Poppe predicts that the second half of 2023 won't be kind to crypto markets.
What Happened: The analyst tweeted that the markets remain in a recessionary period. He anticipates that the second half of the year won't be great but in between there we'll be having some more relief.
See Also: Best Crypto Day Trading Strategies
Definitely, the markets are still into a recession to occur.
Probably second half of the year won't be great, but in between there we'll be having some more relief.#Bitcoin could run towards $35K and #altcoins could blast even further for a 3-5x return.
Time it accordingly. Michal van de Poppe (@CryptoMichNL) January 24, 2023
According to the analyst, there's a good likelihood of Bitcoin BTC/USD soaring toward $35,000, while altcoins may experience price increases of three to five times.Time it accordingly, he said.
In another tweet, Poppe said that the current correction should come to an end in the coming days with a slow grind upward followed by one last sweep.
Some slow grind upwards and then one more sweep in the coming days and the correction should be over and we'll continue the party.
Seems about right. Michal van de Poppe (@CryptoMichNL) January 25, 2023
Poppe, on Tuesday, said Bitcoin has failed to break through the crucial resistance level of $23,100. As a result, it is likely to test and sweep through the support level of $22,300 before any potential continuation of its upwards trend.
Price Action: Bitcoin was trading at $22,741, down 1.57% in the last 24 hours, according to Benzinga Pro data.
Read Next: Bitcoin, Ethereum, Dogecoin Slide: Analyst Says Apex Crypto In For 'Very Interesting' Rally Or Short-Term Pullback

British Army has 'fallen behind' and 'needs investment' – Defence Secretary Ben Wallace tells Sky News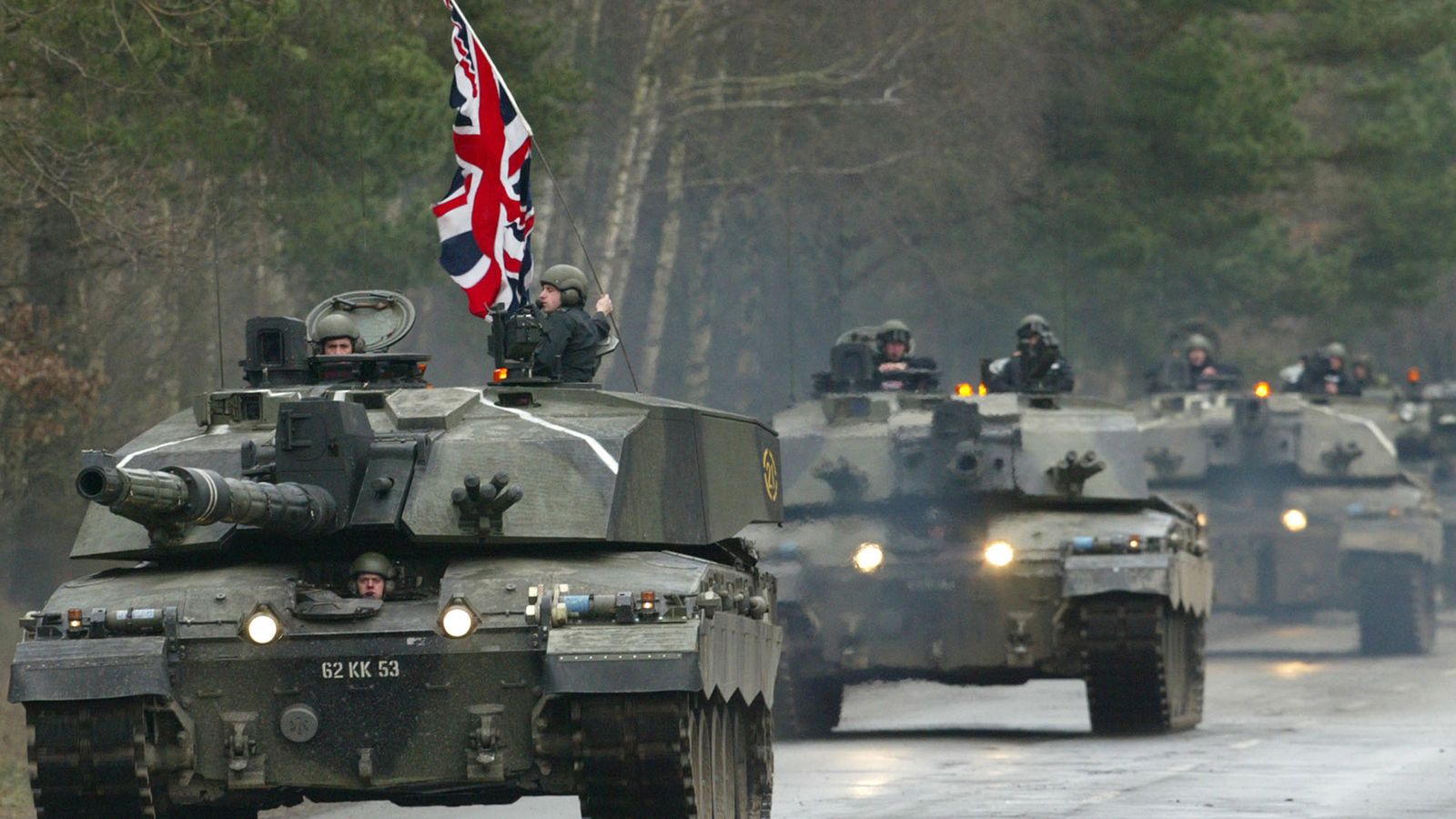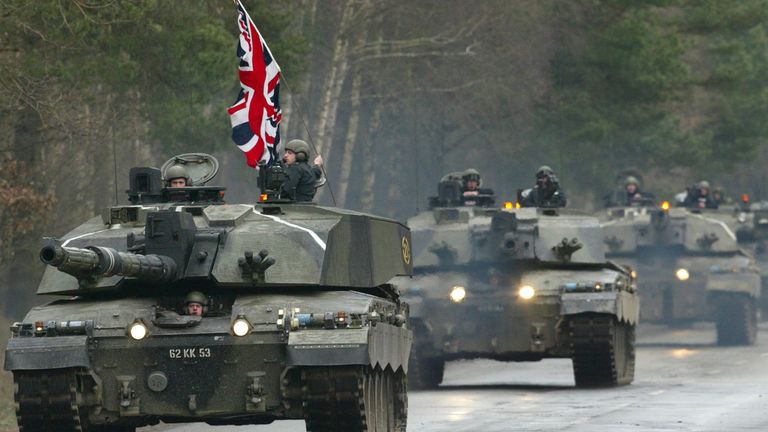 Defence Secretary Ben Wallace has told Sky News that the British Army has "fallen behind its peer group" and "needs investment".
It comes after Sky News yesterday revealed a US general privately told Mr Wallace that the UK's armed forces are no longer regarded as a top-level fighting force.
Defence sources revealed the US general said this decline in war-fighting capability needed to be reversed faster than planned in the wake of Russia's war in Ukraine.
US criticism of UK military 'will be music to Putin's ears' – Ukraine war latest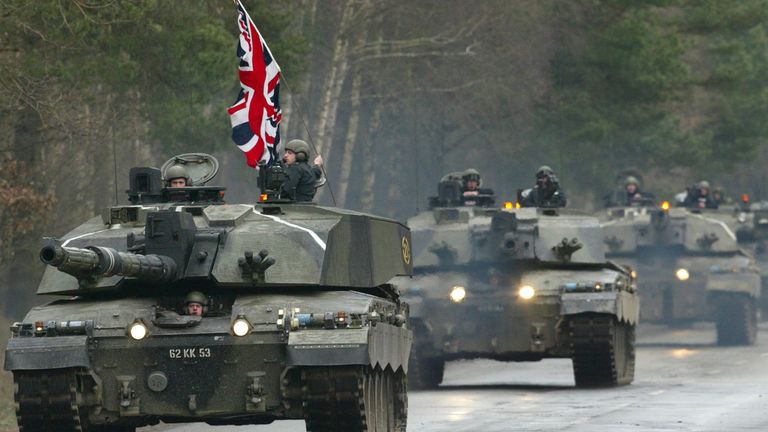 They told Sky News' defence and security editor Deborah Haynes this should include increasing the defence budget by at least £3bn a year and halting a plan to shrink the size of the army further.
Mr Wallace agreed on the need for "urgent recapitalisation", but said the government was already investing £34bn into the army's equipment plan between now and 2033.
"The criticism of 'it needs to happen now' is these things don't 'happen now'," he said. "There's no magic wand, there's no factories whirring away like car factories where you just press buttons and they come.
"There are only about two countries on the earth that can sustain almost constant production lines – that's China and the United States. Of course we can seek to buy from abroad, but then there won't be a UK defence and aerospace industry and we won't be able to necessarily give our troops the exact equipment they want, so we always have to make that balance."
Mr Wallace also said countries across Europe were facing "challenges" with their supply chains, adding: "That is what that new money is going towards and that's why it is important to send a signal to industry to say we are investing – that's what we did with the defence command paper in 2020 and we will continue to do so."
Read more:
US general warns British Army no longer top-level fighting force, defence sources reveal
Sending Ukraine tanks weakens UK forces, says Army's top general
UK orders thousands of new anti-tank weapons in £229m deal
Speaking in the Commons earlier, his defence minister James Heappey said Prime Minister Rishi Sunak and Chancellor Jeremy Hunt understand the army is "in urgent need of recapitalisation" and "there is a budget coming".
Downing Street said the PM still believes the British Army is a "top-level fighting force" despite the US general's warning.
Asked about the US general's private comments on Monday, the prime minister's official spokesman said "yes" to Mr Sunak believing that the British Army is a top-level fighting force.
He said the government is "ensuring our armed forces have the equipment and capability they need to meet the threats of tomorrow including through a fully funded £242bn 10-year equipment plan".
British army is still 'formidable'

Former secretary general of NATO, Lord Robertson, also disagreed with the US general's view.
He said: "The fact is that the British armed forces might have been weakened recently but they are still a formidable fighting force – and I think our country can be proud of them."
Sky News also asked the Pentagon where it places the British army and whether it is becoming too weak to perform its role as a NATO member.
Defense Spokesman, Brigadier-General Patrick Ryder said: " The United Kingdom is an exceptionally capable and committed ally in NATO and has been second only to the United States in providing military aid to Ukraine.
"The unparalleled defence and security alliance between the US and the UK continues to promote stability and prosperity worldwide."
Earlier today, Conservative defence committee chairman Tobias Ellwood said people should be "very concerned" about the armed forces' current capabilities.
Tory MP: Army is in a 'dire state'

The senior Tory called on the government to reverse "swathing cuts" to the army because its equipment has become "obsolete".
Mr Ellwood said there had been "huge investments" into the Royal Navy and Royal Air Force in recent years, but added: "The army is in a dire state."
He continued: "Our army is simply too small, we have cut down by 10,000 troops."
European powers like France and Germany have announced plans to boost defence spending significantly following Russia's full-scale invasion of Ukraine last year.
Why is the British Army shrinking?

Mr Sunak has yet to make any meaningful pledge to expand his defence coffers, instead pursuing a "refresh" of a review of defence policy that is due to be published on 7 March ahead of a spring budget that will signal whether there is any new money for the military.
The crisis in defence has been a generation in the making following repeated reductions in the size of the three armed services since the end of the Cold War by successive Conservative, coalition and Labour governments to save money for peacetime priorities.
British Army 'no longer top level'

In 2020, Boris Johnson, as prime minister, increased defence spending by £16bn – the biggest uplift since the Cold War, but not enough to plug the gaps.
Mr Sunak has so far resisted calls to follow his predecessor, Liz Truss, to lift defence spending to 3% of GDP by 2030 up from just over 2% at present.
Firefighters and teachers to strike over pay as public sector walkouts continue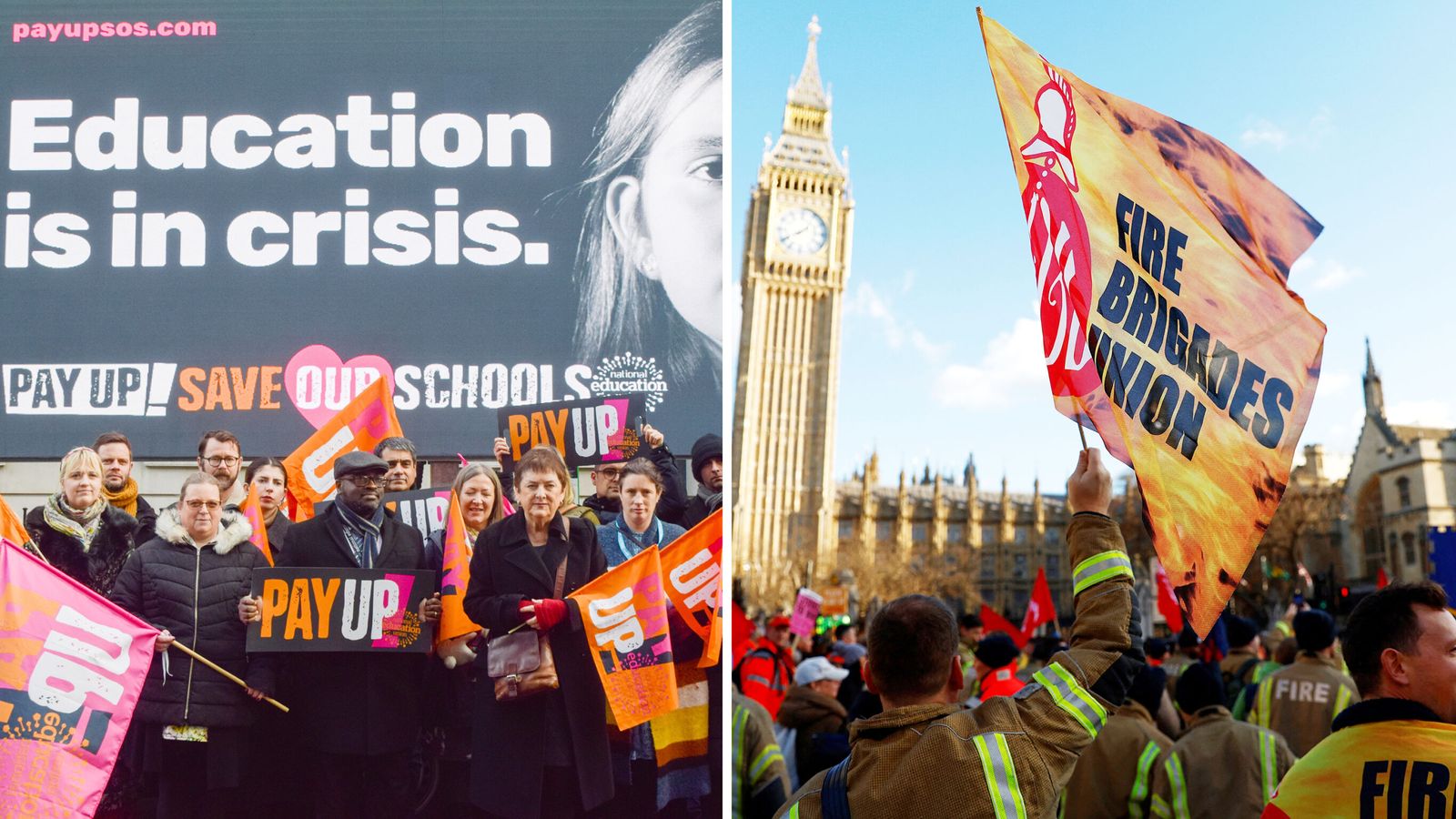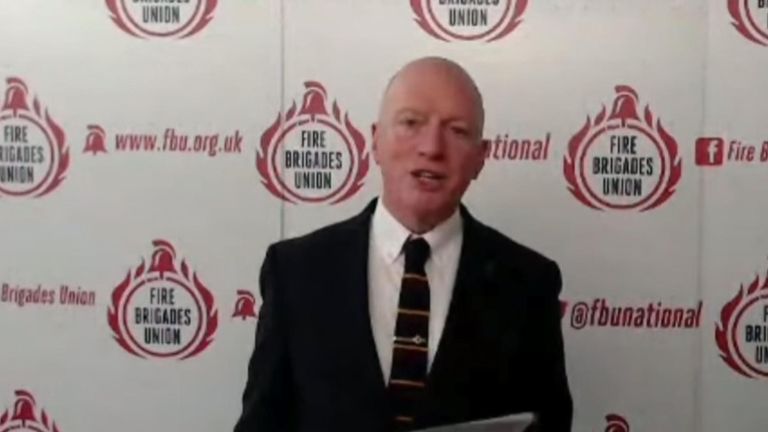 Teachers and firefighters are the latest public sector workers to announce they will go on strike in disputes over pay.
The biggest teachers' strike in years will go ahead after unions said the education secretary "squandered the opportunity" to avoid action – while firefighters have voted overwhelmingly to walkout after experiencing what their union says is a 12% drop in real-terms earnings.
The latest strikes have been announced as Sky News polling suggests support for trade unions is rising, even though walkouts are bringing public services to a standstill.
The teachers' strike comes after last-minute talks were held by Education Secretary Gillian Keegan on Monday in a bid to resolve the pay dispute before planned strikes this week.
Members of the National Education Union (NEU) in England and Wales will now walk out on Wednesday, with more industrial action planned in the following weeks.
Wednesday's strike is expected to include up to half a million workers, with teachers due to be joined by train drivers, civil servants, university lecturers, bus drivers and security guards from seven trade unions in what will be the biggest day of industrial action in more than a decade.
Government 'squandered' chance to avoid strike by teachers
The NEU has announced seven days of strikes in England and Wales in February and March, with the walkout on Wednesday expected to affect over 23,000 schools.
Mary Bousted and Kevin Courtney, joint general secretaries of the NEU, said: "Gillian Keegan has squandered an opportunity to avoid strike action on Wednesday.
"The government has been unwilling to seriously engage with the causes of strike action.
"Real-terms pay cuts and cuts in pay relativities are leading to a recruitment and retention crisis with which the education secretary so far seems incapable of getting a grip.
"Training targets are routinely missed, year on year. This is having consequences for learning, with disruption every day to children's education."
Read more:
Almost one in five UK adults eating food past its use-by date
Who is taking action and when
Sunak says pay rise for nurses would make inflation worse
Meanwhile, a headteachers' union boss has described the talks with Ms Keegan as "deeply disappointing".
Geoff Barton, general secretary of the Association of School and College Leaders (ASCL), said: "Parents will have been looking for the government to avert the planned strike on Wednesday.
"Instead, the government continues to talk around the issues rather than putting anything on the table which allows for any meaningful negotiation."
Mr Barton added: "We are sorry to report that there is therefore no resolution to the dispute and the strike is set to go ahead."
Education Secretary Gillian Keegan said after talks failed: "It is hugely disappointing the NEU is continuing with strike action. These strikes will have a significant impact on children's education, especially following the disruption of the past two years, and are creating huge uncertainly for parents.
"With talks ongoing on a range of issues, including around future pay, workload, behaviour and recruitment and retention, it is clear that strikes are not being used as a last resort.
"I have been clear today that unions do not need to strike to meet with me. I also reiterated my call to union leaders to ask their members to let headteachers know if they intend to strike, helping schools to minimise the impact on children."
Firefighters likely to strike for first time in nearly 20 years
Firefighters vote for strike action

Firefighters also overwhelmingly backed strike action, with 88% voting yes on a 73% turnout, it was announced today.
The Fire Brigades Union (FBU) said it has given the government and employers 10 days to to come up with an improved offer which could be put to a vote of members in an effort to avoid strikes.
The last time there was a nationwide walkout by firefighters was in 2003.
Firefighters have experienced a 12% drop in real-terms earnings since 2010, the union says, while around one in five firefighter jobs have been cut in the same period.
It comes after members rejected an offer of a 5% pay increase in November, which unions argued was below-inflation and would be felt as a real-terms cut by workers.
The FBU argued polling has previously shown there is strong public support for strike action by firefighters, with around three in five people backing action.
FBU general secretary Matt Wrack said: "This is an absolute last resort for our members. The responsibility for any disruption to services lies squarely with fire service employers and government ministers.
"Rishi Sunak's government has refused to make funding available for a decent pay offer to firefighters and control staff.
"Firefighters were among Britain's COVID heroes who kept frontline services going during the pandemic. The prime minister has badly misjudged the public mood by imposing pay cuts on key workers."
The strike announcement comes after research by the FBU and the University of Central Lancashire found firefighters are more likely to die of cancer than the general public.
Stanford scientists figured out why lithium metal batteries fail
Researchers at Stanford University and the US Department of Energy's SLAC National Accelerator Laboratory have identified what causes lithium metal batteries to short-circuit and fail – and this could help avoid the problem in future battery production.
As a result of this discovery, energy-dense, fast-charging, nonflammable lithium metal batteries that last a long time could overcome the main barriers to their use in EVs, among other benefits.
Lithium metal batteries with solid electrolytes are lightweight, inflammable, pack a lot of energy, and can be recharged very quickly. There's just been a short-circuiting problem that causes them to fail.
But researchers appear to have pinpointed the problem. In a paper published in the journal Nature Energy, titled, "Mechanical regulation of lithium intrusion probability in garnet solid electrolytes," researchers cited mechanical stress, especially during potent recharging, to be the cause of failure.
Senior author William Chueh explains:
Just modest indentation, bending or twisting of the batteries can cause nanoscopic fissures in the materials to open and lithium to intrude into the solid electrolyte, causing it to short circuit.

Even dust or other impurities introduced in manufacturing can generate enough stress to cause failure.
Colead author Xin Xu likened it to the way a pothole appears in pavement. Through rain and snow, car tires pound water into the tiny, preexisting imperfections in the pavement, producing ever-widening cracks that grow over time.
Xu said:
Lithium is actually a soft material, but, like the water in the pothole analogy, all it takes is pressure to widen the gap and cause a failure.
So the researchers are now looking at ways to use these very same mechanical forces to toughen the material during manufacturing, much like a blacksmith anneals a blade during production. They're also looking at ways to coat the electrolyte surface to prevent cracks or repair them if they emerge.
Scientists around the world working to develop new solid electrolyte rechargeable batteries can design around the problem, or even turn the discovery to their advantage, as scientists at Stanford are now researching. 
Main image section: Cube3D
Read more: Porsche to design 3D-printed battery gigafactories for Sakuu
---
UnderstandSolar is a free service that links you to top-rated solar installers in your region for personalized solar estimates. Tesla now offers price matching, so it's important to shop for the best quotes. Click here to learn more and get your quotes. — *ad.
FTC: We use income earning auto affiliate links. More.