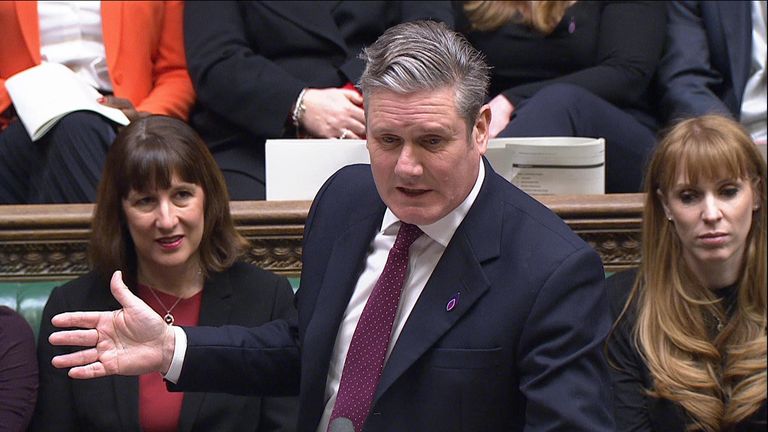 Those worried about the health of British politics have diagnosed a new disease at Westminster.
Chris Patten, a grandee from the Conservative establishment, spotted what he called "Long Boris" last summer.
Weeks after Boris Johnson announced his resignation as prime minister, Lord Patten, a former party chairman and former BBC chairman, lamented the persistent "corrupting and debilitating impact of Johnson's premiership on British politics and government."
As with 'SARS-Covid-19' there was some debate as to how the condition should be named in general conversation.
Eventually, "Long Johnson" was settled on rather than the more familiar "Long Boris".
The commentator Paul Waugh listed some of the symptoms of Long Johnson he saw in the bloodstream of the Conservative party: "A debilitating condition that led it to lose its sense of taste, decency and direction."
Long Johnson hit fever pitch with the Conservative party's short-lived collective decision to select Johnson's preferred candidate, Liz Truss, as the next prime minister. That quickly burnt itself out.
Westminster Accounts: Search for your MP
On taking office Rishi Sunak tried to shake off Long Johnson by promising that his government would be one of "integrity, professionalism and accountability" at all times. It is not proving so easy for the new prime minister to escape unwanted legacies from his predecessor-but-one.
Questions of probity over two men who were promoted by Johnson, Nadhim Zahawi and Richard Sharp, have combined to create the biggest political crisis of Sunak's short premiership.
According to Raphael Behr, political columnist on The Guardian, the "Zahawi episode is a symptom of Long Johnson, the chronic, recurrent, debilitation of government by a pathogen that still circulates in the ruling party long after the original infection has been treated".
Analysis: Labour says PM 'too weak'

The embarrassments Sunak is grappling with are debilitating hangovers from the Johnson era, so is the fumbling way the prime minister is dealing with them.
Nadhim Zahawi had the reputation at Westminster of a comparatively competent and personable minister, one of those credited with the successful roll-out of the vaccine programme. But as often with politicians who become conspicuously wealthy there was much gossip about his finances.
His wealth was generated as a co-founder of the polling company YouGov before he became an MP.
Scrutiny of Zahawi's finances sharpened when he became Chancellor of the Exchequer, the politician responsible for the nation's finances and tax system. In seeking the truth, journalists received what they considered to be aggressive threats of libel from lawyers acting for Zahawi, designed to suppress allegations, some of which have been confirmed as accurate.
It is now known that while he was Chancellor, Zahawi quietly negotiated a tax settlement totalling some £5m, including a penalty of more than £1m, with Her Majesty's Revenue and Customs (HMRC) for which he was the minister responsible.
Zahawi says his mistake was "careless but not deliberate". Jim Harra, the head of HMRC, told MPs this week: "There are no penalties for innocent errors in your tax affairs."
There is no pressing reason why Boris Johnson should have made Zahawi chancellor. Nor does the haste with which the appointment was made suggest that the prime minister or his officials, led by the Cabinet Secretary, had sufficient time for due diligence looking into his suitability for this most sensitive financial post. Yet their green light then effectively gave him a free pass to prominent ministerial ranks under both Truss and Sunak.
'Questions need answering' in Zahawi case

By late last year scrutiny by an honours committee elsewhere in Whitehall reportedly held up a proposed knighthood for Zahawi.
In the past, when serving prime ministers have announced their intention to resign, other ministers have stayed in post until the successor is chosen. He or she then assembles their own cabinet team. This has been so even when threatened ministerial resignations force out a prime minister, as happened to both Tony Blair and Boris Johnson.
Once he announced he was going, Johnson could have said that he was not accepting resignations and that all minsters would stay on in the interim. That is not the way Boris Johnson behaved. He used his dying powers of patronage to settle scores and to try to influence the outcome of the leadership election.
He fired Michael Gove and then he troubled the ailing Queen to appoint an entirely new temporary cabinet for the few weeks of the leadership contest. Johnson promoted Zahawi to the Treasury, thus crucially depriving Rishi Sunak of the status of high office during the leadership battle, while Truss luxuriated in the great office of state of foreign secretary.
Earlier, after Sunak emerged as the person most likely to replace Johnson, he became the subject of damaging leaks about his US Green Card and his wife's non-dom status. The Metropolitan Police coincidentally tarnished the teetotal Sunak's reputation, and blunted the impact on Johnson, by issuing them both with fixed penalty notices for breaking COVID regulations at the "ambushed with a cake" Johnson birthday party in the cabinet room.
Sunak experienced the hard way the phenomenon, now hitting Zahawi and Sharp, that friendship with Johnson often has adverse consequences.
Richard Sharp insists that he was appointed the chairman of the BBC on merit after a rigorous selection process. There is no reason to doubt his perspective. When I knew him at university, more than 40 years ago, he was an exceptionally decent and considerate person. He went on to build a highly successful career in finance alongside generous voluntary contributions to public service and charity.
Men with known political affiliations such as Michael Grade, Gavyn Davies and Marmaduke Hussey have been appointed to the BBC chair by other prime ministers. But Boris Johnson made the final decision over Sharp, after he and his allies had previously broken with precedent by conjuring up culture wars and pre-endorsing friends and allies such as Paul Dacre and Charles Moore for top posts in the media, normally viewed as apolitical – unsuccessfully it turned out.
Johnson used his patronage to appoint Peter Cruddas to the House of Lords, someone who had helped him out with his personal finances. Richard Sharp says he "simply connected" people, who then facilitated an undeclared personal £800,000 overdraft guarantee for the prime minister.
Zahawi should 'stand aside'

Richard Sharp and cabinet secretary Simon Case may genuinely have decided this was immaterial to Sharp's BBC application but is that the way Boris Johnson sees things? Several enquiries into Sharp's appointment are now under way. Johnson's benefactor Sam Blyth is an old friend of Sharp.
The inquiries will doubtless ascertain whether Boris Johnson knew of this obliging distant cousin's existence before Sharp introduced him to the cabinet secretary.
Long Johnson is also evident in the way the government is handling these potential scandals.
Quick resignations and moving on are things of the past. Following a pattern which became familiar during the Johnson era, Sunak has presided over, and sometimes joined in, denials that have turned out to be inaccurate, playing for time by calling for further inquiries after awkward facts are established.
Sir Keir Starmer had a two-pronged attack at PMQs: "We all know why the prime minister was reluctant to ask his party chair questions about family finances and tax avoidance, but his failure to sack him, when the whole country can see what is going on, shows how hopelessly weak he is."
Sizeable minorities in parliament and perhaps even more in the Tory membership are not loyal to Sunak and hanker for a return of Johnson. This limits Sunak's ability to lead firmly.
With his oblique reference to the great wealth of Sunak's family, the leader of the opposition went further, implying that the prime minister is really just one of them – sharing similar values, or the absence of them, to Johnson and Zahawi and the same acquisitiveness.
Only urgent decisive action by Sunak can demonstrate that he has beaten the plague of Long Johnson.
Easter holidaymakers warned of disruption as Heathrow Airport security guards start 10-day strike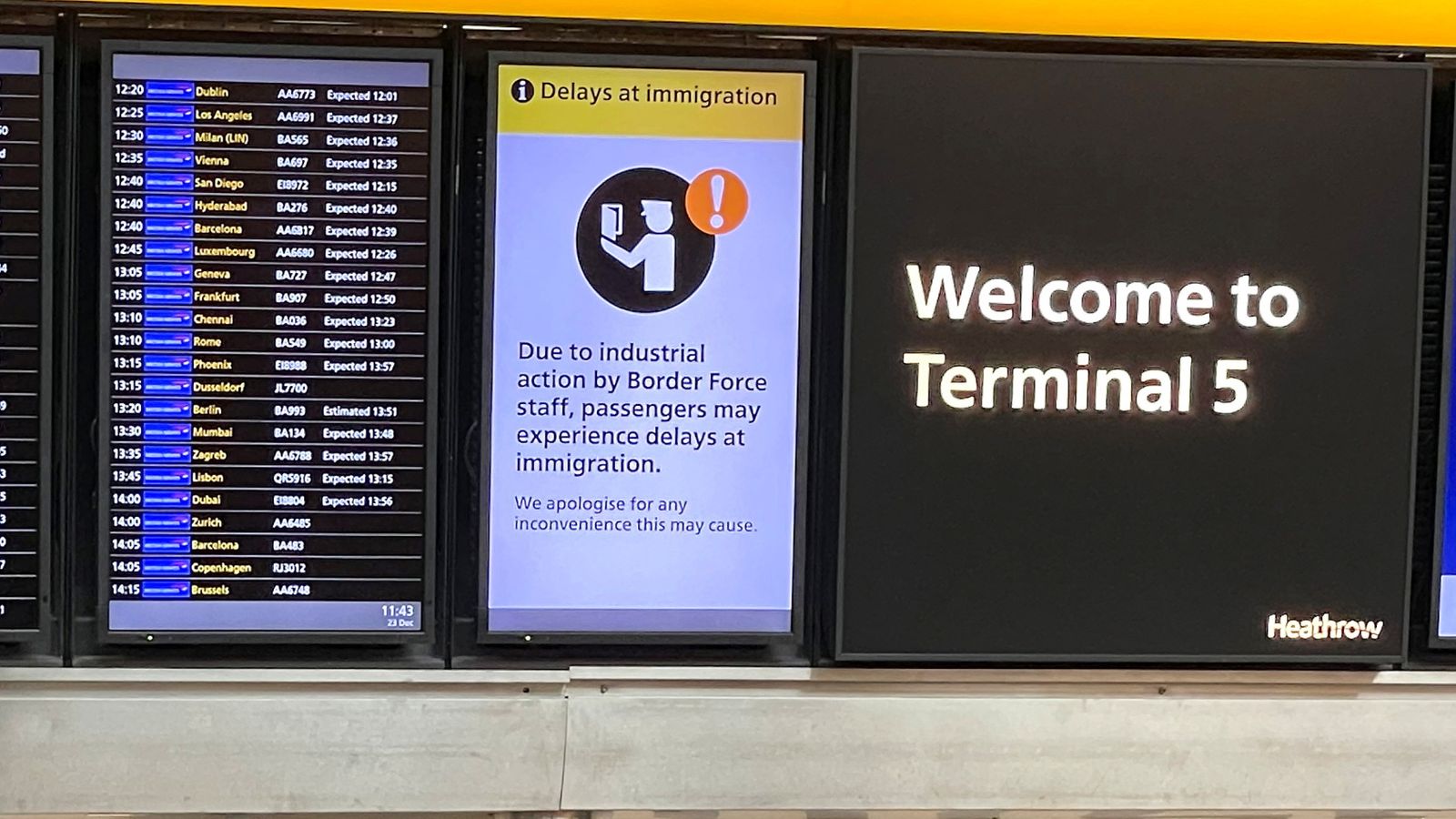 Ten days of of strikes by security guards at Heathrow Airport start today after last-minute talks failed to resolve a pay dispute.
Around 1,400 members of the Unite union who are employed by Heathrow Airports Ltd (HAL) are expected to take part in the 10-day walkout which ends at 23.59pm on Easter Sunday.
The strikes involve security officers at Terminal Five, which is used exclusively by British Airways, and campus security guards who are responsible for checking all cargo that enters the airport.
As a result, British Airways said it has cancelled around 5% of its flights during the industrial action and stopped selling tickets for strike days.
Unite said the strikes will cause disruption to flights, however Heathrow said it has contingency plans to help passengers during the Easter getaway.
The union said talks broke down because HAL failed to substantially improve its pay offer.
Unite regional co-ordinating officer Wayne King said: "Heathrow Airport has thrown away the opportunity to avoid strikes.
Union warns of 'severe delays and disruption'
"Unite went into today's (Friday's) meeting looking for an offer our members could accept. Unfortunately it seems HAL went in with no intention of avoiding industrial action.
"The strike action will undoubtedly result in severe delays and disruption to passengers across the airport but this dispute is a direct result of Heathrow Airport's stubborn refusal to pay its workers fairly."
Read more:
Heathrow strike forces BA to cancel flights from Terminal 5 over Easter period
Strike to hit Heathrow Airport over Easter
Who is striking and when?
Heathrow said it was putting "contingency plans" in place and drafting 1,000 extra staff into terminals to assist passengers.
An airport spokesperson said: "We will not let these unnecessary strikes impact the hard-earned holidays of our passengers.
"Our contingency plans will keep the airport operating as normal throughout."
Passengers should check their flight status
They added: "Following further talks, Unite has again refused to take an improved offer to members, despite the PCS union wanting to do so.
"Colleagues could have an above-inflation 10% pay increase back-dated to January 1 and a lump sum payment of £1,150, but instead they're left empty-handed by Unite's actions."
Heathrow said that at any busy time it may take a little longer than usual to get through security during the strikes.
"Passengers can help us ensure they get the best start to their journeys by checking their flight status with their airline before travelling to the airport, arriving at I no earlier than two hours before short haul flights and three hours before long-haul flights and by being ready for security with their compliant liquids and electronics out of their hand luggage," it said in a statement.
Olivia Pratt-Korbel: Reformed Liverpool gangster says 'morals have gone out of the window' among city's criminals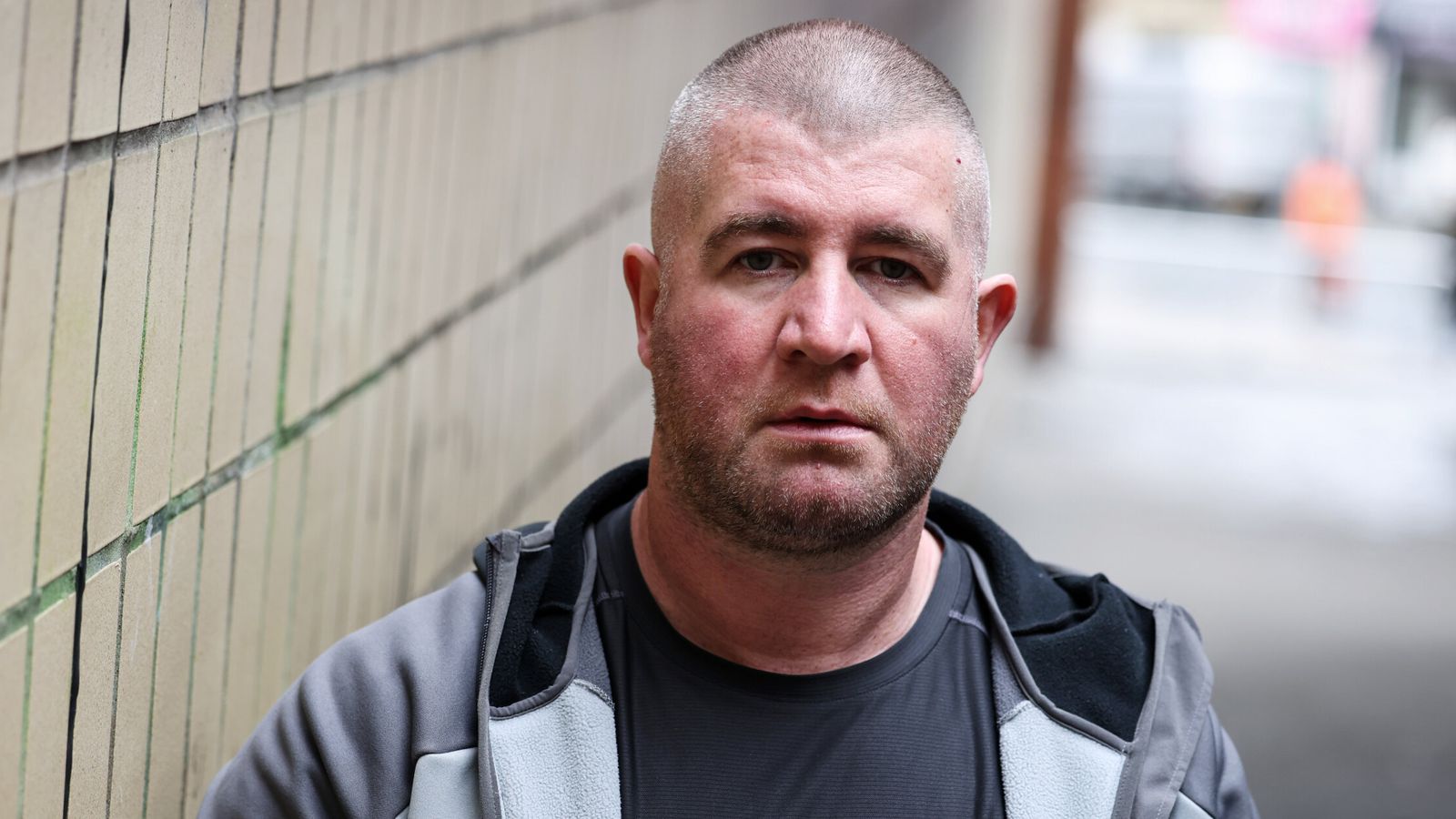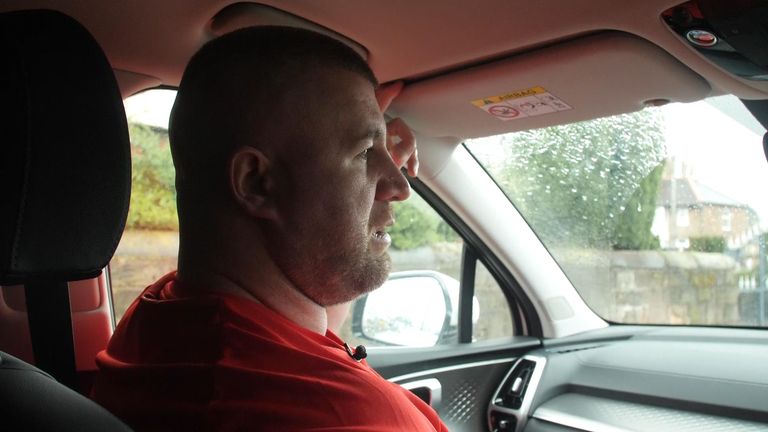 Sicarius McGrath is a big guy. Muscled, shaven-headed and more than a little intimidating – everything you might expect of a Liverpool gangster.
But his days of roaming the streets of Anfield are over and now he helps steer vulnerable and deprived kids away from a life of gangland crime.
With convictions for violence and intimidation, he knows his subject and was an enlightening companion as together we toured the city's estates, waiting for the jury verdicts in the Olivia Pratt-Korbel murder trial.
I drove, he talked. When he was setting up a gun factory and protection rackets he was known as Anthony Harrington.
At 7pm Sky News will broadcast a special programme: The murder of Olivia Pratt-Korbel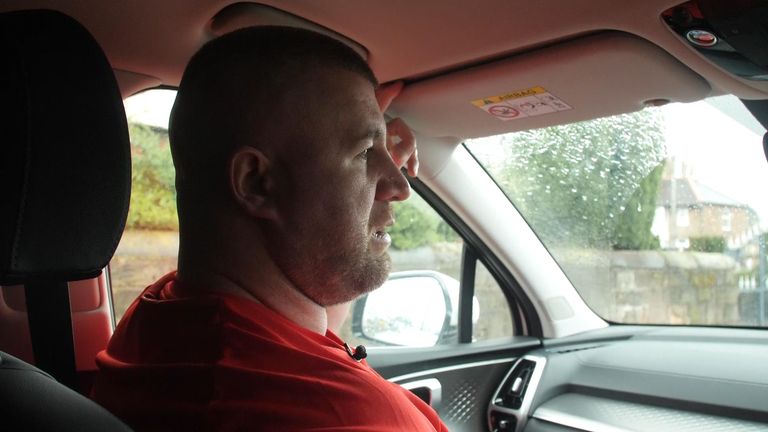 His adopted name Sicarius means "assassin", but he didn't go to a school that taught Latin. I did, but that isn't the only difference between us.
"I used to put guns on the streets in massive volumes," he told me, rather matter-of-factly.
"They are bought and paid for through drugs money. I felt responsibility 100% for the things that happened, whether someone was harmed as a result, but when you're in that game you don't give a s***. It's profits over anything else.
"Decades ago there was a moral code, that you didn't harm women, you didn't harm kids. I'm not saying that little girl was shot intentionally, but those morals have gone out of the window.
"I was mixing in those circles and surroundings, so I'm a bit of a hypocrite to say now they are absolute scum, but I was once that scumbag."
Read more: Thomas Cashman found guilty of murdering Olivia Pratt-Korbel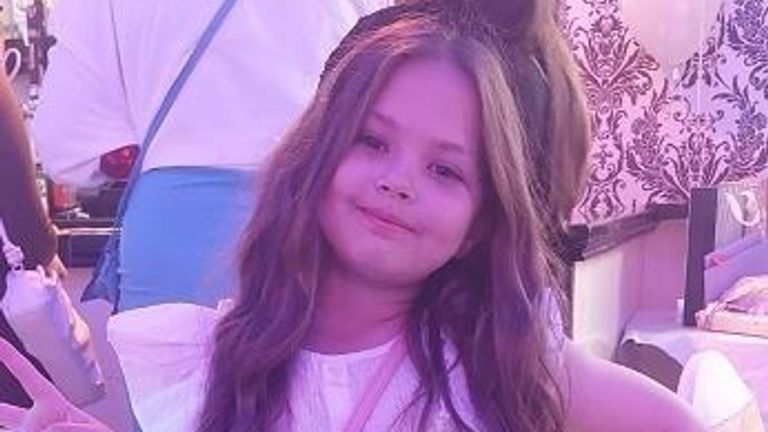 Although Merseyside Police had a key witness within a day or two of Olivia's shooting, they struggled to find the direct evidence detectives always strive for.
There were no forensics, no eyewitnesses who could identify the killer and the two guns used have not been found.
I asked Mr McGrath how a close community deals with the conflict of outrage and the need for justice, set against loyalty and the fear of being labelled a grass.
"People are going to be reluctant, of course they are, depending on who commits the murder. If it's established gang members people are going to be more reluctant. Everyone says there's a code, no grassing, but criminals will grass each other up," he said.
"It's a question of what benefits them, if they can get a rival out of the way, bring police attention on them, but they're not just gonna do it for charity."
Gasps as Thomas Cashman found guilty on all charges – follow updates
What about the ordinary public – wouldn't they be more scared of retribution for giving police information?
"It's gonna be scary, they're not really going to want to get involved, but when it's a little girl the rule book goes out the window and you have to dig deep," he said.
"People are more likely to engage with the police when it's a young girl murdered and it's up to the police to reassure them they are going to protect them."
A month on from the shooting, after initial arrests but no charges, and with police still appealing for help, an anonymous businessman offered a remarkable £100,000 reward for information leading to the conviction of Olivia's killer.
Lord Ashcroft, the founder of Crimestoppers, had also initially offered a £50,000 reward – but the anonymous donation prompted him to double his offer and, at £200,000 combined, it became the biggest ever reward.
At 7pm Sky News will broadcast a special programme: The murder of Olivia Pratt-Korbel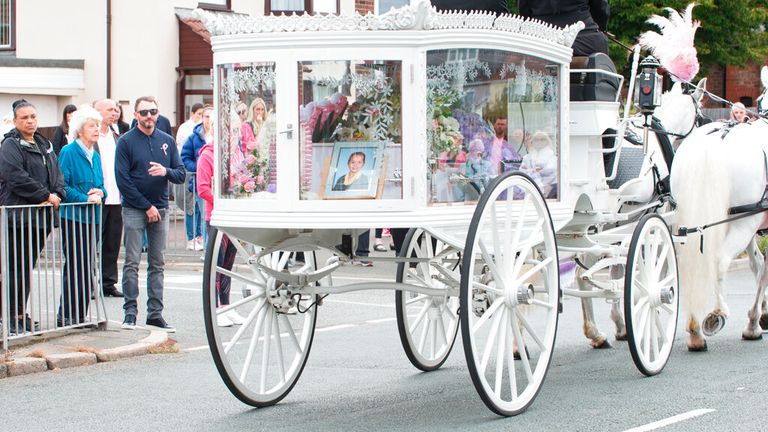 The other businessman, who did not want to be named for safety reasons, said: "When I heard that there was a seeming reluctance for people to come forward and testify, that's what really got my back up.
"I thought, well, I'm going to try and do something about this. It was an amount that would make people sit up and make it as easy as possible for them to help catch the killer."
The businessman's family are from Merseyside and memories of his childhood in the area fuelled his desire for justice for Olivia.
"I understand people's reluctance to speak out and I've thought about my own safety in putting up the reward. Like others, I had doubts and worries, but Crimestoppers assured me my identity would be protected. The bottom line is that this was horrific, the murder of a young girl. It doesn't come much worse than that."
Read more from Sky News:
Who are Liverpool's feuding gangs?
Merseyside beset by violence in summer trail of bloodshed
The battle between Liverpool's gangs

Mick Duthie, director of operations at Crimestoppers, said the reward had prompted "a phenomenal amount" of information from the public.
"I understand that in communities people don't want to be seen as a grass or make themselves vulnerable, they don't want to talk to the police, so the charity allows people to speak up anonymously," he said.
"The community of Liverpool provided so much information. It wasn't for us to decide how important it was. We took it and passed it on to Merseyside Police."
As we drove through Dovecot, where Olivia was murdered, I asked Mr McGrath whether £200,000 was a life-changing amount for people in this community.
"For someone anywhere in the country it's a life-changing amount of money," he said.
"People are struggling to put their lights on and run their cookers. A reward of £200,000 is gonna benefit the vast majority of people, criminals and non-criminals."
Sixteen years ago, schoolboy Rhys Jones, who was 11, was shot dead – caught in cross-fire – only a few miles from here.
I reported on it at the time and Mr McGrath was in prison, but we both remember the loud and widespread calls for change.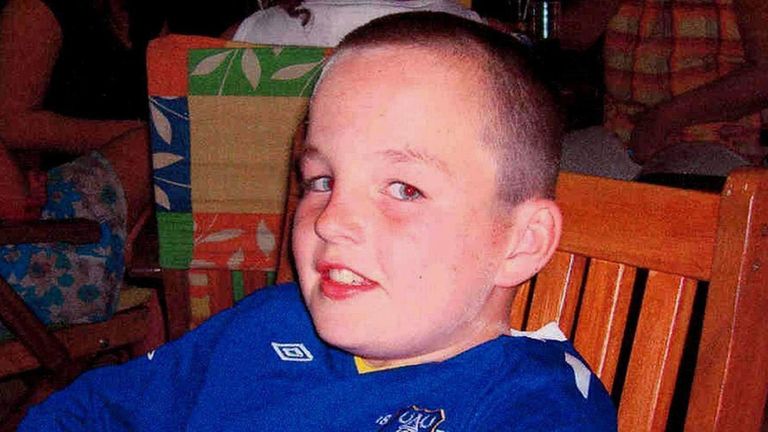 Mr McGrath said: "They always say that when a young person is stabbed or shot, they always say enough is enough, they're going to take a stand but communities never do. It's all just words.
"A couple of days or weeks later they go back to doing what they were doing. It's only the families that are left suffering. Whoever shot Olivia, whoever's convicted, his friends won't stop talking to him because he shot a young girl."
A blitz on organised crime and guns by Merseyside Police has driven down the number of firearms discharges to record low levels in the past couple of years.
There hadn't been one reported in more than a year before last August. But then Olivia became the third gun murder victim in just a week. And there have been two more in the city since.
Cambridgeshire shooting: Father and son shot dead – 'custody battle' active line of inquiry for police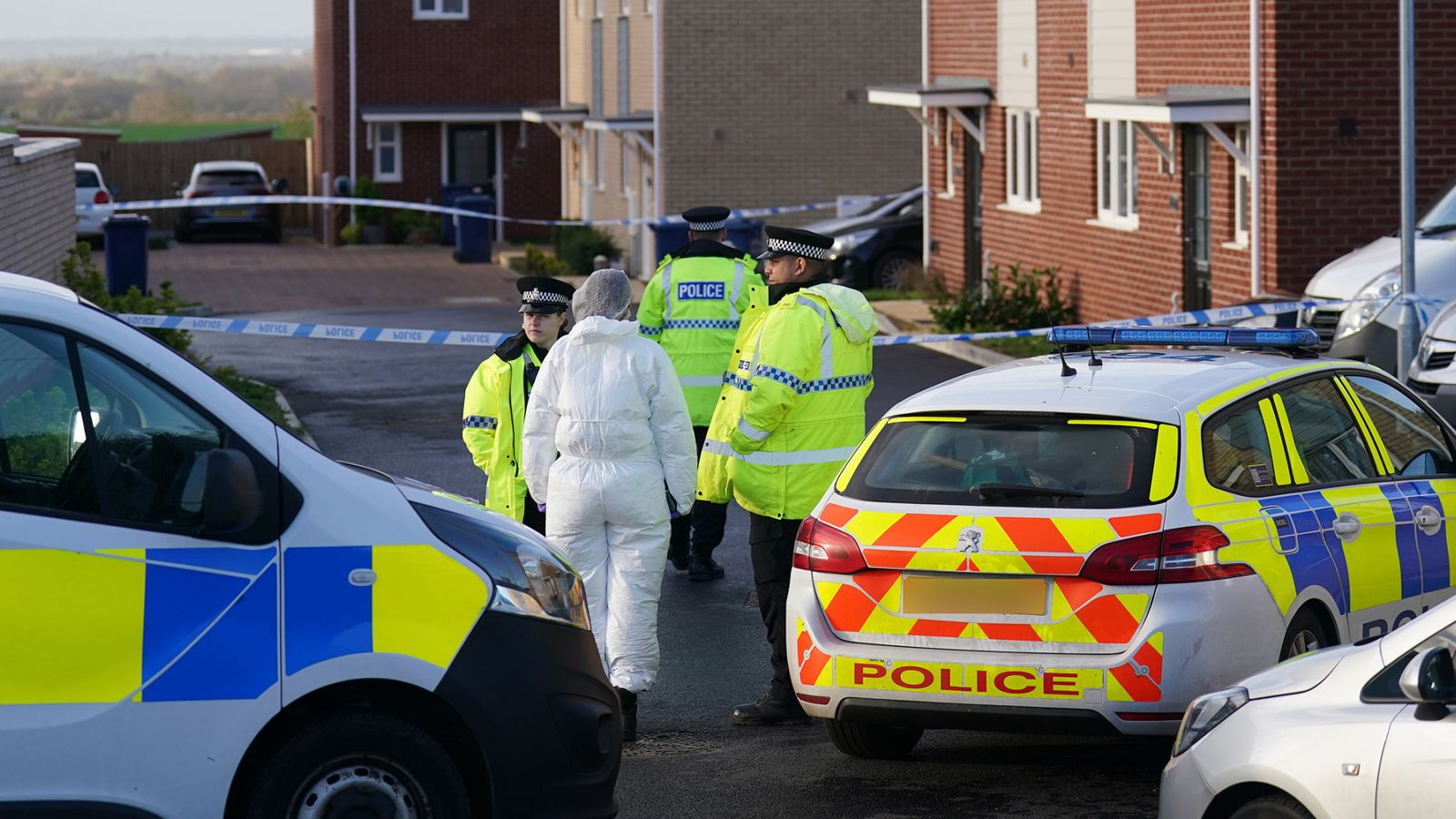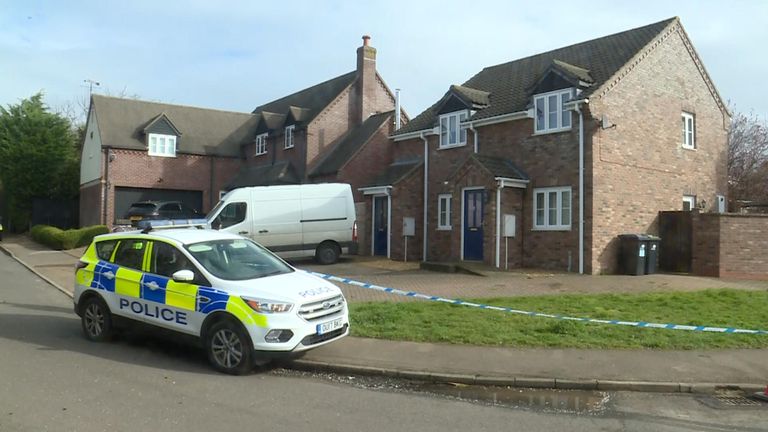 Two men shot dead in Cambridgeshire on Wednesday evening were father and son, police have said.
Detective chief superintendent Jon Hutchinson, of Cambridgeshire Police, said the "primary line of investigation" was that the incident related to a "familial issue".
"It's been widely reported in the media that this may relate to a custody battle," he said. "I can confirm that is an active line of inquiry for us."
Police described the attacks as "targeted".
The bodies of the 32-year-old man and a 57-year-old man were found on Wednesday evening at two different locations six miles apart in Cambridgeshire.
Police have recovered a firearm in Worcester.
A 66-year-old man was arrested in Worcester. A 27-year-old man and a 33-year-old woman have also been arrested in Cambridge.
All three were arrested on suspicion of conspiracy to murder.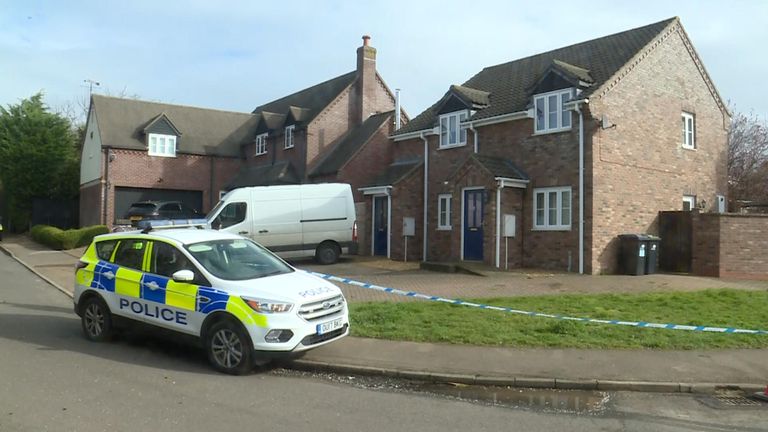 Mr Hutchinson said that officers made a "very quick two arrests in a hotel just outside Cambridge".
He added: "In the early hours of this morning we did a joint operation alongside West Mercia Police at which stage a 66-year-old man was arrested on the motorway by armed officers.
"Following his arrest his vehicle was searched and I can confirm we have recovered a firearm."
He said the man was in police custody in Worcester and is being transported to Cambridgeshire for interview.
Police were called to a property in Meridian Close, Bluntisham, just after 9pm on 29 March, where the body of a 32-year-old was found.
Seven minutes later, at 9.37pm, officers received a call from a person in Sutton, near Ely, who reported hearing gunshots. They found the body of a 57-year-old at a property in The Row.
The two locations are around a 15-minute drive apart, according to Google Maps.
Mr Hutchinson said that an "active line of inquiry" is "understanding whether that firearm was legally owned" and forensic work is taking place to establish whether the same weapon was used at both locations.
"A line of inquiry that we're focusing on is that those people who are in custody are known to the deceased and have had recent contact with them."
He added that the "initial arrests have been made for conspiracy to murder – that is likely to change as information develops in the hours ahead".
At this stage, police are not looking for any further people in relation to the incident.
Read more on Sky News:
Campaigners issue warning over revised net-zero strategy
£21bn of public money lost in fraud since COVID
At the time of the arrests, Detective Inspector Mark Butler said: "Tonight we have launched two linked murder investigations following the shootings of two men at separate properties in the county.
"These events will be shocking to local people and there will be understandable concerns within local communities, however, we are treating the attacks as targeted and there is no wider risk to the general public.
"There will be an increased police presence in the areas concerned today and officers and scenes of crime officers will be at the scenes throughout the day.
"Our thoughts also go out to the family and friends of the victims. Specially trained officers are in touch with them and they are helping our investigation."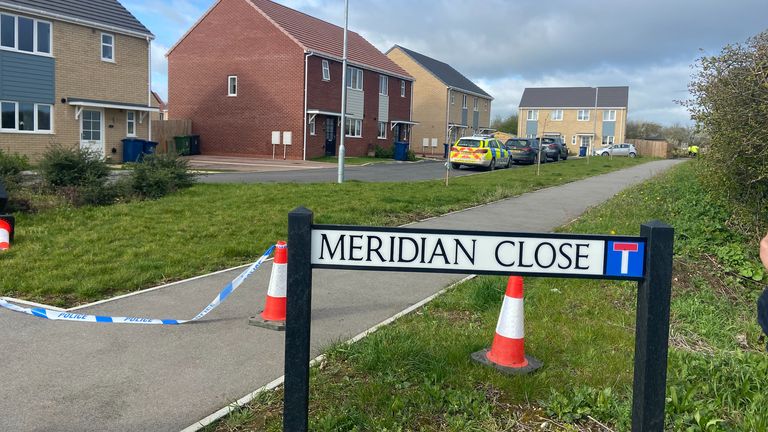 A car believed to have been used by the offender, a white Peugeot 208, and a shotgun have been recovered.
"Detectives are now beginning inquiries into how these events unfolded and we are appealing to anyone who was in either area and saw anyone acting suspiciously or a white Peugeot 208," Mr Butler added.
Sarah Lown, who lives near the sealed-off houses in Sutton, said she heard three loud bangs on Wednesday evening, but thought it was objects in her garden that had blown over.
"I didn't think anything crazy had happened," she said. "I heard two more – it was bang, space, bang. Whether or not they were each gunshots I don't know; then police were outside the house."