Raye on the fight to release debut album My 21st Century Blues: 'It's been a real wild journey'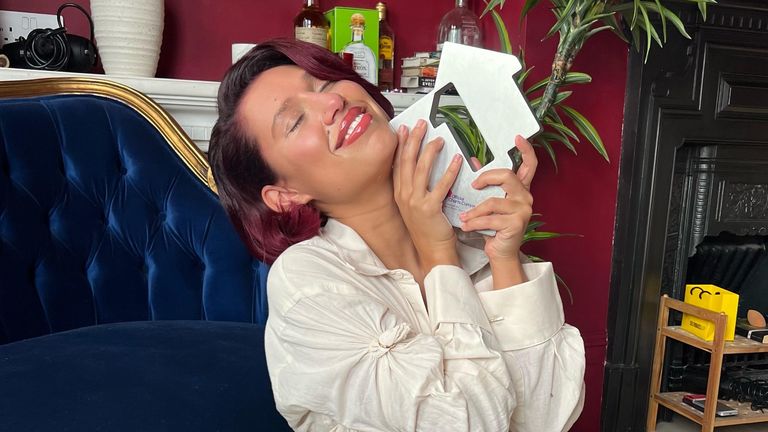 Raye is gaining her power back. Not just from the industry that made her feel "mediocre" for so many years, but over past traumas she kept bottled up for a long time.
"Some of my closest friends didn't even know some of the stuff I'm discussing on my album," she tells Sky News. "It's probably the most honest I've been. It's deep and it's real."
Raye, real name Rachel Keen, is only 25 but already a music industry veteran; a platinum-selling performer and a songwriter with credits for everyone from Charli XCX and Little Mix to John Legend and Beyonce.
She was just 15 when she released her first song and 17 when all her dreams came true, in the form of a four-album contract with record label Polydor. But after years of what seemed to be a successful career as a vocalist collaborating mainly on other artists' dance hits, in 2021 she posted a string of tweets claiming the label was holding her back from releasing her own album.
"I'm done being a polite pop star," she wrote, her frustration and anger palpable. The singer says after years of "trying to make it work", she had reached the point where she had nothing to lose. "You get to that breaking point, really."
Shortly after her tweets, it was announced she and Polydor were parting ways, with the label saying the decision had been "amicable and mutual" and wishing her "all the very best for the future".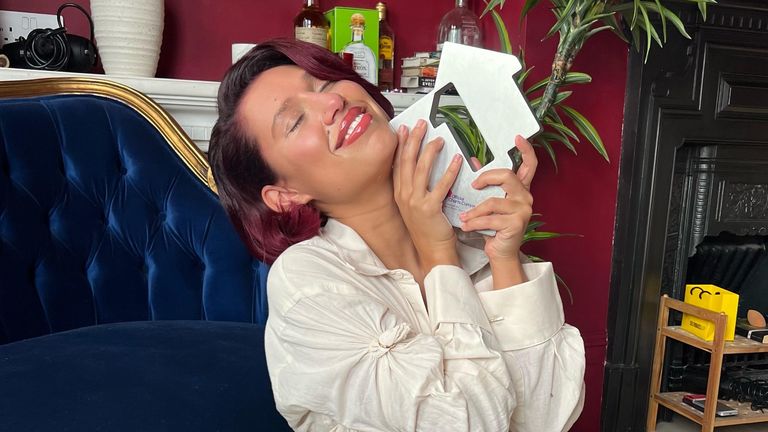 Fast-forward 18 months or so and Raye is in a very different place; now an independent artist, earlier in January she topped the UK charts for the first time with viral hit Escapism. In February, the debut album she fought so hard to make, My 21st Century Blues, will finally be released. No longer pigeonholed or stifled, this is the real Raye, she says, and it's been a long time coming.
"The album is discussing a lot of different topics… the deepest depths of really ugly stories about assaults and body dysmorphia and environmental anxiety. I think there's no limit on what I've really spoken on in terms of my perspective on my blues as a woman in the 21st Century."
'It's things I've been silent about for so long'
Always outspoken, Raye is not an artist who sticks to trotting out lines of approved PR-speak when she's being interviewed, and this candidness is evident throughout her music. "Being real and transparent is really important to me, to skip out metaphors and similes and cut straight to the point of what I'm talking about," she says. "Some of these things I haven't also entirely healed from.
"It's definitely going to be a rollercoaster for sure, but one that I'm making the decision to go on. That's kind of the artist I like to be, transparent, honest. I think that's what I'm like in real life."
One song, Ice Cream Man, deals with sexual assault. "It's things I've been silent about for so long and swallowed for so long and self-managed for so long in non-constructive ways," she says.
"I've written pretty transparently about sexual violence… multiple things that occur in a life that you just bury, bury down, hide in a box, don't tell anyone. And it just festers and manipulates itself into something quite ugly."
As with Escapism, a dark electro banger about using alcohol, drugs and casual sex as coping mechanisms for dealing with emotional pain, the album is a contrast of often melancholy or dark lyrics, with beats that will fill a dance floor, as well as a range of genres.
"You've got songs with a contrasting sonic landscape," she says. "I find it really exciting to tell a story and then the music feel the opposite so I think there's a lot of juxtaposition there."
Irony in its 'most hilarious and ridiculous form'
Escapism's success feels ironic to Raye. "With the previous music, not in a bad way, but it was more about the song than about the artist. The big dance songs or whatever, they don't necessarily say anything about me as a person. I never necessarily wanted to be someone who did huge, huge hits, but without depth and substance or discussing things I'm passionate about, or breaking a couple of rules.
"Escapism is such a personal story. It's kind of dark. It's extremely explicit and honest and raw… I really told myself on the beginning of this next chapter, I'm not creating music with the intent or purpose to sell loads of copies, it's about integrity and telling these uncomfortable stories that I think are really important.
"I had all the preparation in the world for building a small, steady fanbase bit by bit, and to not expect anything in terms of mainstream reflection. So this is like irony in its most hilarious and ridiculous form, that this is the biggest song of my entire career."
Read more on Raye:
'I was right to back myself': Raye rises to first number one
Raye speaks out after leaving record label
Despite it not necessarily being the plan, she admits topping the charts does feel like vindication.
"[I feel] like anything is possible and I was right to back myself," she says. "Never give up on your dreams. For someone who [felt] so, like, mediocre and… such a disappointment, actually, for so long, to just receive all the affirmation in the world that I was right to back my music is just…"
She doesn't need to finish the sentence. "For someone who puts words together for a living, I don't necessarily really have the best words to describe how crazy this is."
'Fear is the driving factor of secrets'
Emboldened, Raye says artists need to speak out more about the inner workings of the industry. And despite moves to improve diversity and equality making headlines in recent years, she says misogyny is still rife.
"We do need to be telling these stories more," she says. "I think things that happen in the darkness have so much more power than they do when they're brought out to the light, you know? Fear is the driving factor of secrets, and truths and stories being withheld. But there is still that very sad view that women need to be guided and controlled and taught and given instructions to follow and meet these requirements."
She sighs. "I don't know… I think it's probably the same for all artists but especially for women, especially for everything I've witnessed in 10 years in the industry. I think a lot needs to change, but I don't think anything will truly be equal and fair until we've got the same amount of female CEOs as we do male CEOs, we've got the same amount of female staff working a video shoot as male staff, the same amount of female A&Rs, and the same amount of, you know, different ethnicities in these same roles.
"Balance overall is so important, and until we have that, there's always going to be issues and problems when you have men deciding what they think is best for women."
Read more from Sky News Entertainment:
Self Esteem on not being cool, not having her bum pinched, and not being completely skint
'We cannot let Faye's life end here': Campaign to save young star fighting rare brain tumour
How deafness helped artist James Vickery find his musical sound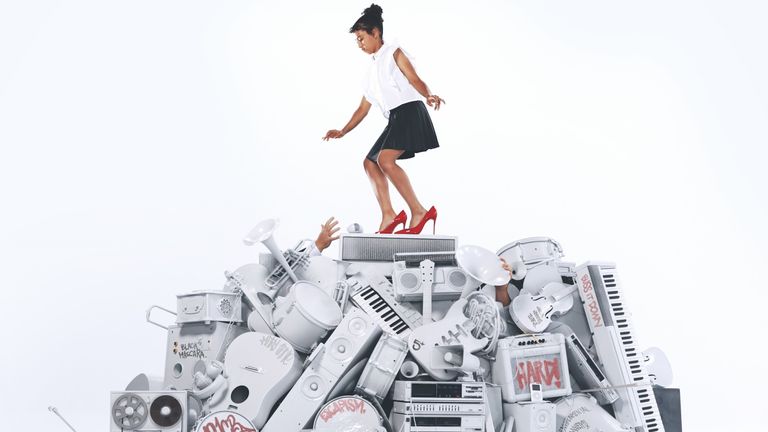 Raye is looking to the future. She says she has had little communication with her former label bosses since she left, but wants to make it clear it wasn't all bad. There were "some great people there who really believed in me… but obviously it came down to the big people making big decisions", she says.
I ask her about the artwork for My 21st Century Blues; it features a little girl, dressed for the workplace but teetering in red stilettos hanging off her heels, standing atop a pile of instruments and recording equipment bearing the names of her songs, grabbing hands reaching out from inside. It feels poignant.
"That's actually my baby sister on top of that big structure we built," says Raye. "But that little girl up there is me, you know, seven years old, wide-eyed with a dream, not realising what the next 10 or 15 years of my life would be like.
"All the different life – in the industry and out of the industry – that I've had to navigate, process, understand, learn in my transition to being a woman, to being an artist, to being an independent artist. It's been a real wild journey."
Raye's debut album, My 21st Century Blues, is out from 3 February
Gwyneth Paltrow wins high-profile civil court case against man who claimed she crashed into him while skiing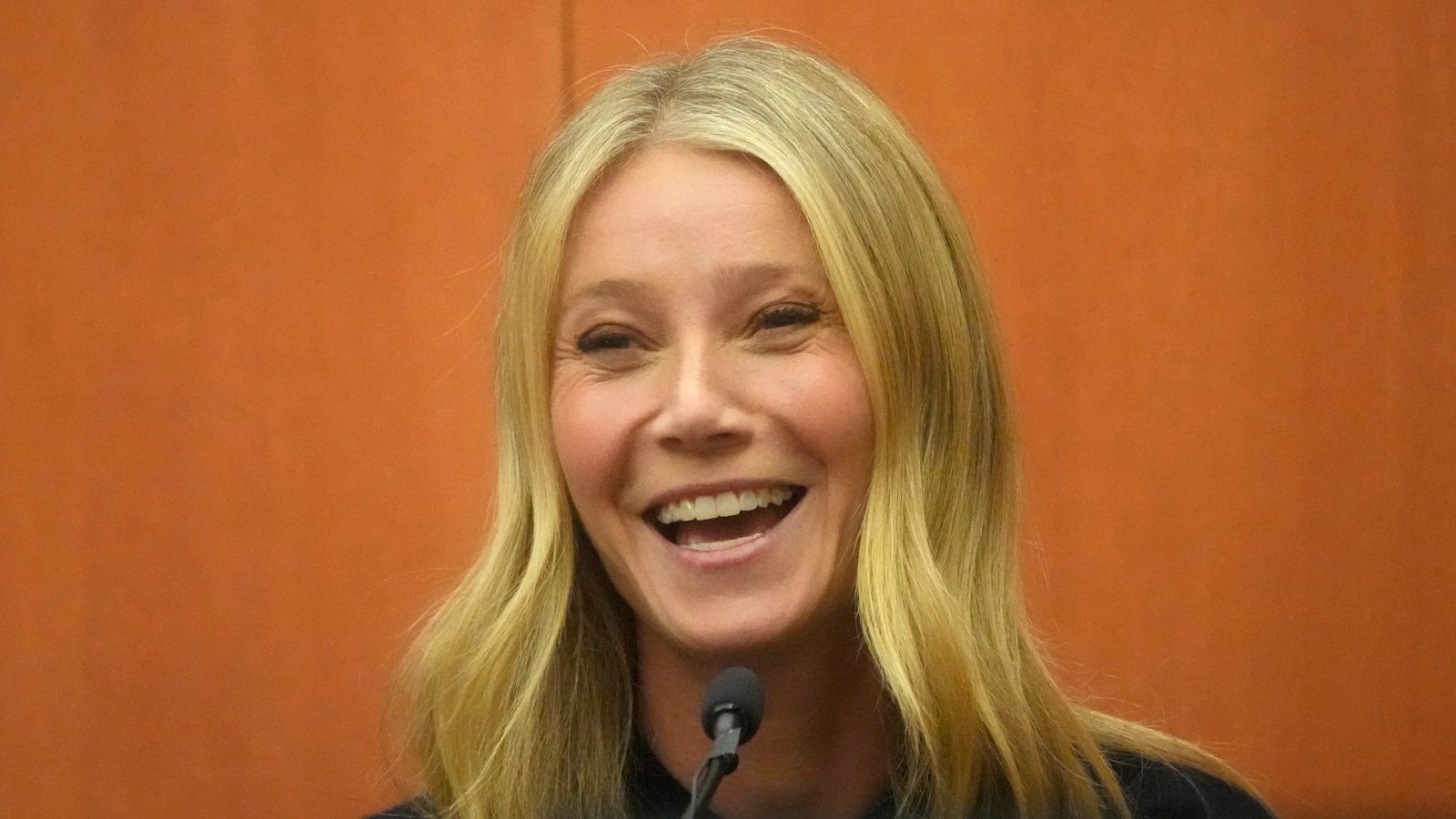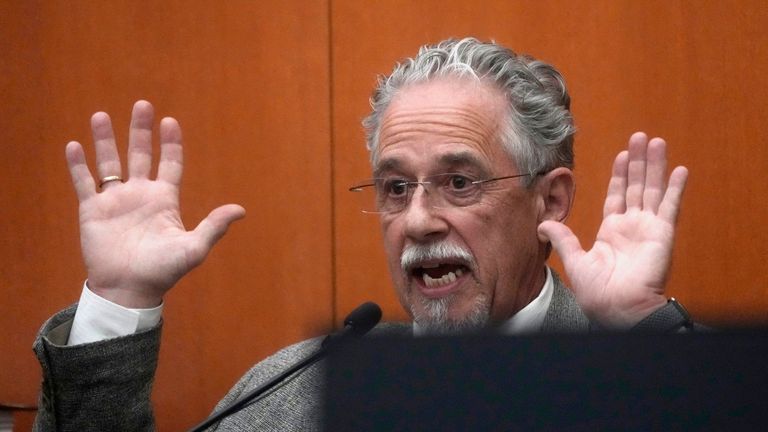 Gwyneth Paltrow has won a high-profile civil court case against a man who claimed she crashed into him while skiing.
She was awarded $1 in damages after the jury found retired optometrist Terry Sanderson was "100%" at fault for the skiing accident.
The jurors deliberated for two hours on Thursday after hearing eight days of evidence.
Paltrow, dressed in a navy blazer jacket and striped shirt, did not react when the verdict was announced.
In a statement released after the verdict, she said she was "pleased" with the outcome.
"I felt that acquiescing to a false claim comprised my integrity," she said.
"I am pleased with the outcome and I appreciate all of the hard work of Judge Holmberg and the jury, and thank them for their thoughtfulness in handling this case."
Mr Sanderson, 76, sued the Hollywood actress for $300,000 (£242,000), saying the 2016 collision on the slopes of Utah left him with several broken ribs and severe brain injuries.
Paltrow, who is also a lifestyle influencer, denied the claims, alleging Mr Sanderson crashed into her at the Deer Valley resort, and caused her to lose "half a day of skiing".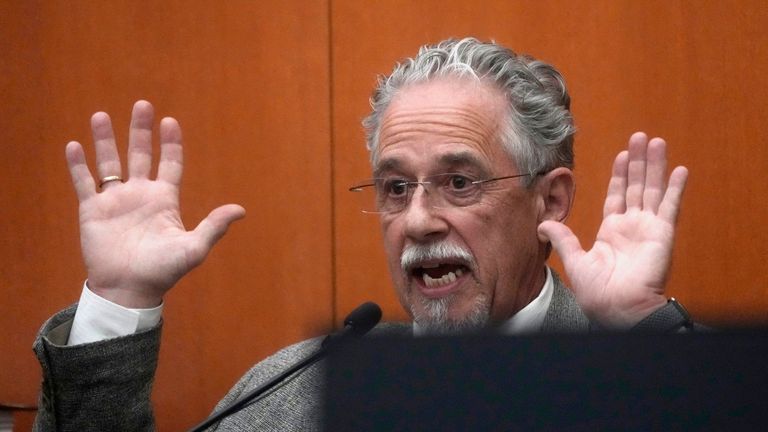 She counter-sued him for the awarded amount of $1 and her legal fees.
During the court case in Park City, jurors heard evidence from a variety of medical experts, ski instructors, and members of both Mr Sanderson and Paltrow's family, including the actress' children Apple and Moses Martin.
Mr Sanderson said he had become a "self-imposed recluse" after the incident and had been advised never to ski again in case of further injury.
But Paltrow's lawyers showed photos of him enjoying multiple holidays after the accident.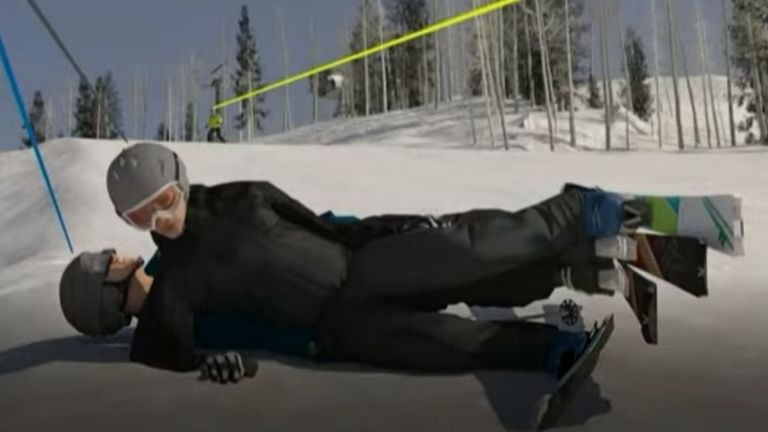 Oscar-winning actress Paltrow, 50, said she felt "very sorry" for Mr Sanderson but reiterated that she was not "at fault" for the crash.
Mr Sanderson said he had been told by medical experts that travelling would be "healing" for him and that he had struggled during his trips.
Stephen Lawrence's mother Doreen was effectively 'gaslit' by Daily Mail, court told – as Harry makes appearance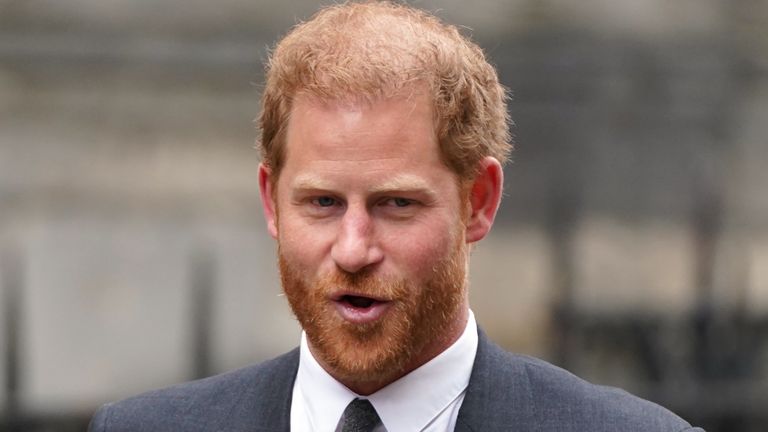 The mother of murdered teenager Stephen Lawrence was effectively "gaslit" by the Daily Mail, the High Court has been told – as Prince Harry made a brief appearance for the end of the privacy hearing.
Baroness Doreen Lawrence is one of a number of high-profile individuals, including the Duke of Sussex, accusing the newspaper's publishers Associated Newspapers Limited (ANL) of concealing "wrongdoing" over the alleged unlawful gathering of their private information.
ANL vehemently denies the claims and has argued for the case to be dismissed. A four-day preliminary hearing has now concluded, with the judge to deliver a decision on whether the case should go to trial in writing at a later date.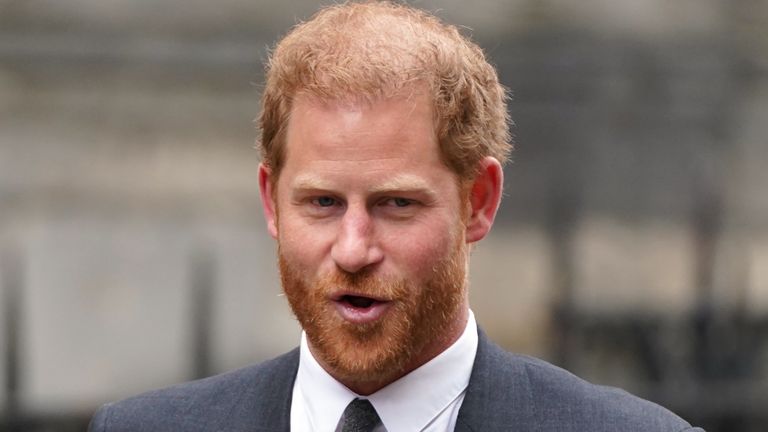 During Thursday's session, barrister David Sherborne, representing the claimant group – which also includes Sir Elton John, Liz Hurley, Sadie Frost and former Liberal Democrat MP Sir Simon Hughes – said they had a "compelling case".
It is alleged ANL commissioned 19 different private investigators to carry out a series of unlawful acts from 1993 to 2011 and beyond, which in some instances informed articles, Mr Sherborne said.
The group was "thrown off the scent by the way in which the articles were written", the court heard.
Mr Sherborne later read out extracts from Baroness Lawrence's witness statement, in which she said she felt "played for a fool" by the Daily Mail, believing the newspaper "really cared" about the injustice of the murder of her son Stephen.
"They were supposed to be our allies and friends, the good people, not the bad," she said. Baroness Lawrence said she had believed information in articles about her had come from the police.
Mr Sherborne told the court: "That is nothing short of gaslighting Baroness Lawrence, that's the form of concealment we are talking about."
Read more:
Five things we learned from Harry's court submission
Eyewitness: What was it like in court for Harry's surprise appearance?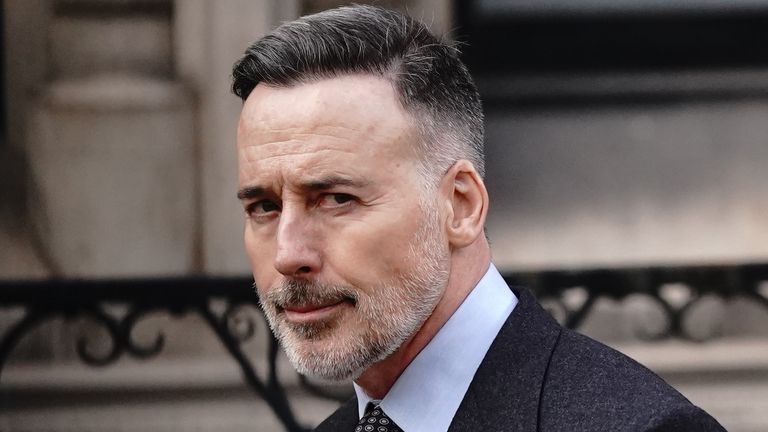 The term gaslighting means to manipulate someone into questioning their own sanity or powers of reasoning.
Known as a campaigner and reformer, Baroness Lawrence has devoted herself to seeking justice for her 18-year-old son, an aspiring architect who was murdered in an unprovoked racist attack in southeast London in 1993.
The Daily Mail, under then editor Paul Dacre, campaigned to bring Mr Lawrence's killers to justice, running a front page in 1997 that saw the newspaper brand five suspects "Murderers" – challenging them to sue if the headline was incorrect.
Baroness Lawrence was present in court for part of Thursday's session, as were Harry and Sir Elton's husband David Furnish, following appearances earlier in the week from Sir Elton and Frost.
Trial could be 'substantial' if it does go ahead
Adrian Beltrami KC, representing the publisher, previously told the court that all the claims "are rejected by the defendant in their entirety as are the unfounded allegations that are repeatedly made that the defendant either misled the Leveson Inquiry or concealed evidence from the Leveson Inquiry".
The lawyer said the legal action against ANL has "no real prospects of succeeding" and is "barred" under a legal period of limitation.
After hearing the final arguments in the preliminary hearing, Mr Justice Nicklin told the court he would hand down his judgment on whether the case should go to trial as soon as he can.
He indicated earlier in the session that if the case does go to trial, it could be one that lasts for a "substantial period of time".
Read more:
Prince Harry v Associated Newspapers: All you need to know
Harry's children officially recognised as prince and princess
After hearing Baroness Lawrence's claims during the first day of the preliminary hearing, an ANL spokesperson said: "While the Mail's admiration for Baroness Lawrence remains undimmed, we are profoundly saddened that she has been persuaded to bring this case.
"The Mail remains hugely proud of its pivotal role in campaigning for justice for Stephen Lawrence. Its famous "Murderers" front page triggered the Macpherson report [an inquiry into Mr Lawrence's death].
"Associated Newspapers, which owns the Daily Mail and Mail on Sunday, vigorously denies all the claims against it."
Paul O'Grady: Royal Vauxhall Tavern cabaret club where Lily Savage rose to fame pays raucous tribute to star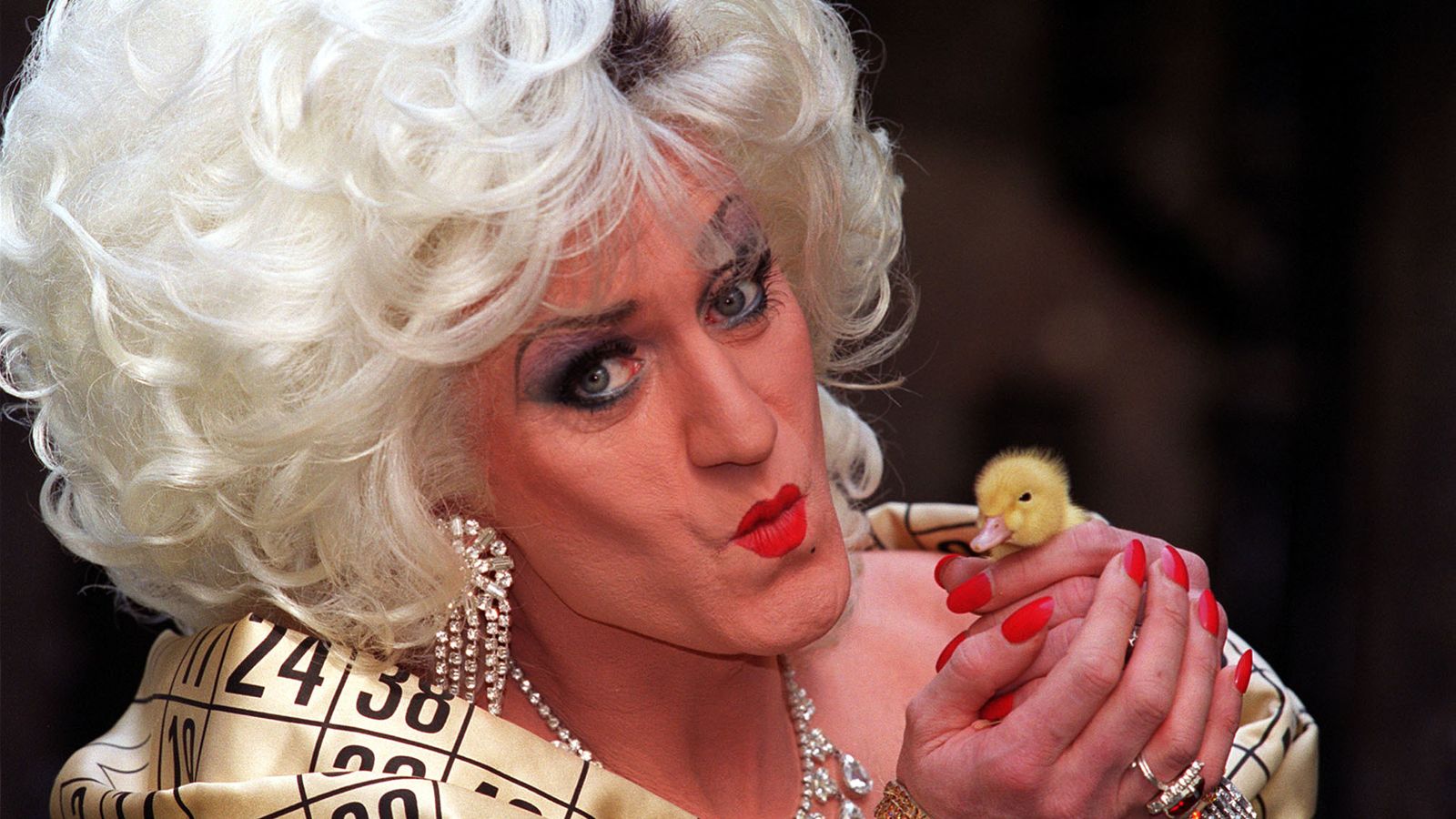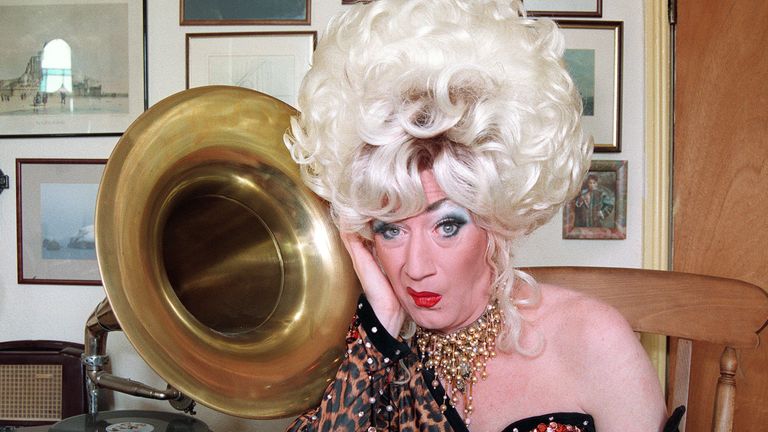 Paul O'Grady has been remembered as "one of the greatest drag artists the UK has ever seen" at the LGBTQ+ cabaret club that helped him rise to fame as Lily Savage.
Instead of the typical minute's silence, there was a minute of raucous applause from the audience at the Royal Vauxhall Tavern (RVT) in south London on Wednesday evening – a moment to cheer in memory of the "trailblazer and legend".
O'Grady died "unexpectedly but peacefully" at the age of 67 on Tuesday evening.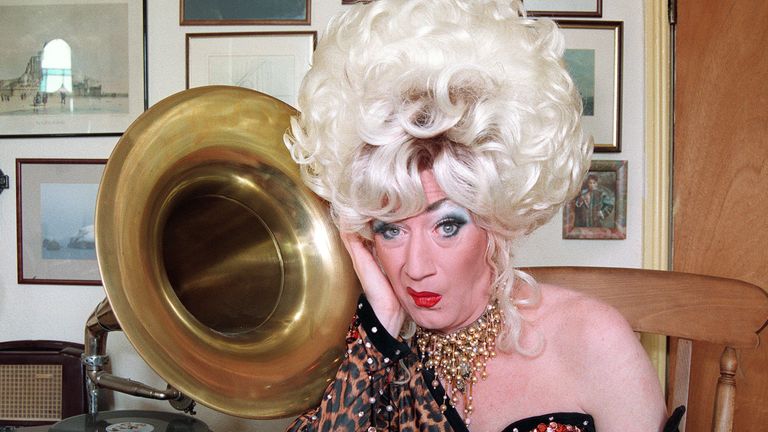 His close friend Linda Thorson, an actress known for starring in The Avengers and Emmerdale, said in an interview with Good Morning Britain that he died in bed with his husband, Andre Portasio, beside him.
Stars and royalty including Sir Elton John and the Queen Consort led the thousands of tributes following his death.
The TV presenter and comedian rose to fame on the nightclub circuit in the 1980s as the acerbic, platinum wig-wearing Lily Savage – a name believed to have been inspired by his late mother.
After touring the north of England, he settled into a solo residency at the RVT before the character went on to become a household name.
'Silence is polite – but this is a moment to applaud'
Producer reveals how O'Grady was day before death

On Wednesday evening, RVT host Michael Twaits described O'Grady as "an absolute legend of the community" to a full-house audience paying tribute.
"Today we lost one of the greatest drag artists the UK has ever seen, and it is this building, this building was where it happened," he said.
"Eight years of doing solo shows… and also doing shows like tonight, introducing new talent to the LGBT+ scene. Paul O'Grady was an absolute legend of the community."
Read more on Paul O'Grady:
Lily Savage to Battersea: A life in pictures
A rubber gloves raid and a plane crash
Twaits said O'Grady had always stayed true to his roots, despite his rise to TV fame.
"It was around raising up the community, and when you move from a stage like this into the mainstream, when you move into breakfast f****** television… and still stay true to yourself, stay true to your queer self, and stay true to your working class roots."
Telling the audience that "a trailblazer and a legend has left us", he then led the crowd in a round of applause.
"Obviously a moment of silence is polite… but I don't think a moment of silence is right. I think this is a moment to applaud, a moment to love, a moment to cheer," he said.
Deputy PM invited to cabaret club
Paul O'Grady – and Lily Savage – remembered by MPs

MPs also highlighted O'Grady's time at the RVT in the House of Commons earlier on Wednesday.
Addressing Dominic Raab, Sir Chris Bryant said: "I don't know whether the deputy prime minister ever met Lily Savage or has ever spent a night out at the Royal Vauxhall Tavern, but… I can take him some time if he wants to go?"
As laughter broke out, the Labour MP added: "Her alter ego, Paul O'Grady, campaigned acerbically and hilariously for elderly people, for care workers, against oppression of every kind.
"Isn't it time we in this country celebrated our naughty, hilarious drag queens and comics of every kind who inspire us to be a better and more generous nation?"
Mr Raab, who was filling in for Rishi Sunak during Prime Minister's Questions, accidently referred to O'Grady as "Paul Grayson", before correcting himself and describing the star as an "incredible comic".
'A true animal lover in every bone in his body'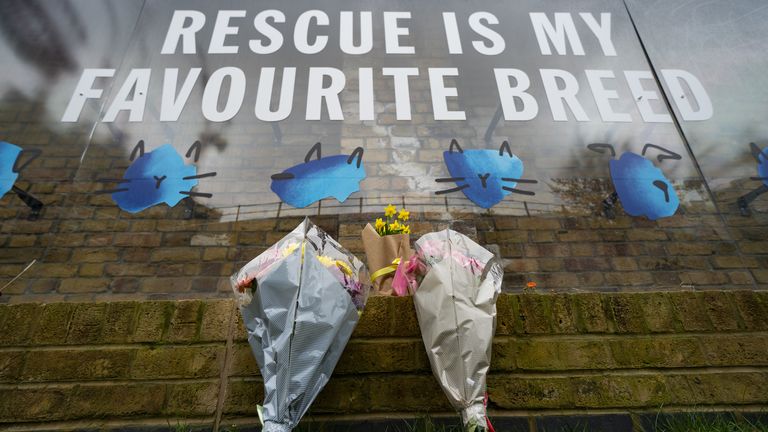 Among the many paying tribute to O'Grady was the Battersea Dogs and Cats Home, the charity for which the star had been an ambassador since 2012.
He filmed 11 series of his beloved show For The Love Of Dogs at the centre, and during the first series he rehomed Eddie, a Chihuahua Jack Russell-cross puppy.
Eddie was followed by shih-tzu Boycie in 2014, Conchita, a Maltese, in 2015, Arfur, a mongrel puppy, in 2017, Nancy, another mongrel puppy, in 2020, and Sausage, a wire-haired dachshund, in 2021.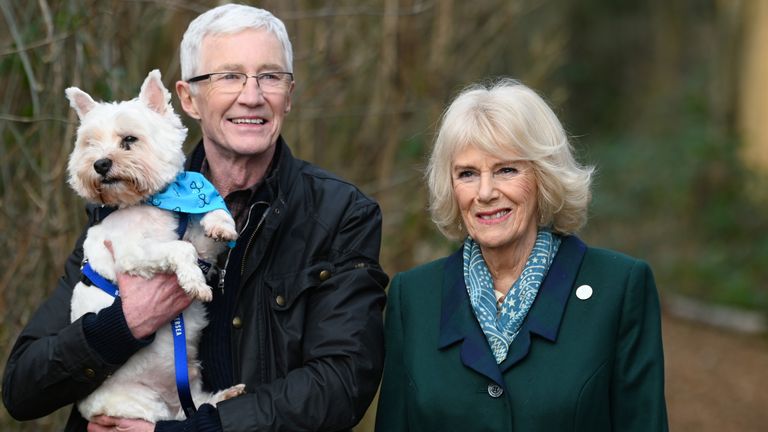 Battersea chief executive Peter Laurie said O'Grady would have taken all of the charity's dogs home "if he had his way".
Mr Laurie said: "It's hard to overstate Paul's impact at Battersea over the last decade. He really helped put Battersea on the map."
O'Grady's "real legacy" is how he showed both the British public and an international audience how "lovable and incredible" rescue dogs are, Mr Laurie added.
"He could walk into a kennel with a dog he had never met before, sit on the floor and play with that dog and bond with that dog within minutes.
"He would fall in love with that dog and the dog would fall in love with him too and you can't pretend, that was so authentic, that really was Paul – a true animal lover in every bone in his body."