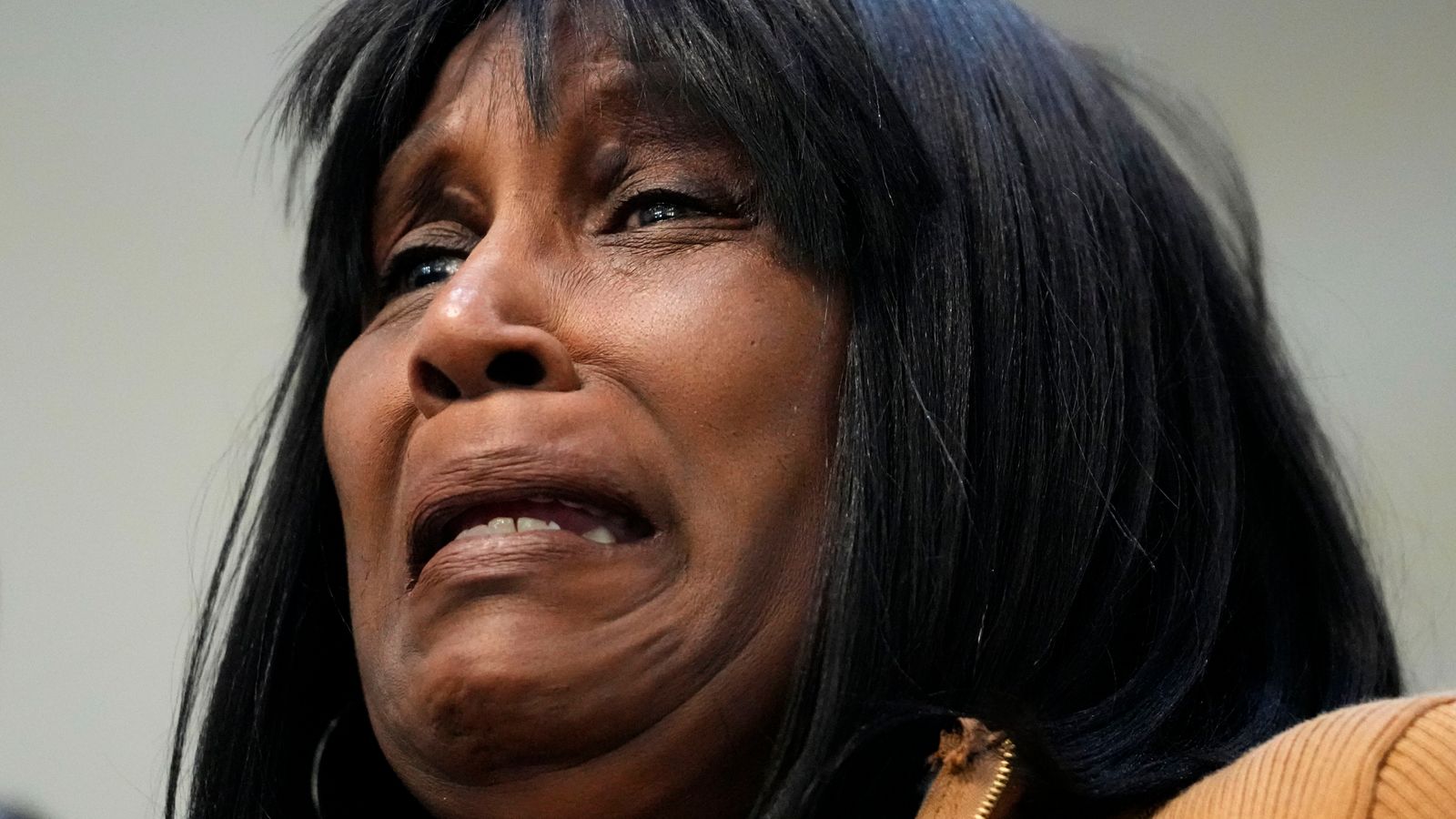 Tyre Nichols' mother says she's 'not going to stop' until those responsible for her son's death face justice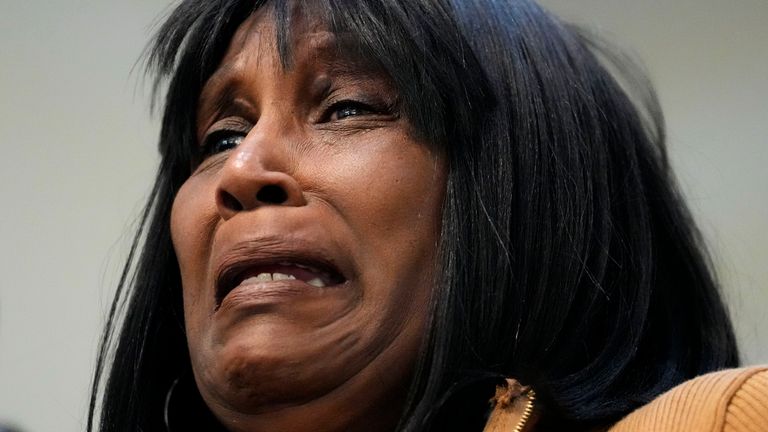 The mother of Tyre Nichols has said she is "not going to stop" until every person responsible for her son's death "is prosecuted to the fullest of law".
RowVaughn Wells was speaking to US news network MSNBC a day after Memphis Police released bodycam footage showing her son screaming "mom, mom" several times as he was attacked by officers.
Ms Wells said: "I believe in my heart that my son was on assignment from God. He finished his assignment and God took him back home.
"Even though this tragedy happened to my son, I truly believe that there is going to be a greater good that comes out of this.
"And that is what keeps me going to get this justice for my son, because I'm not going to stop until every person that had anything to do with my son's death is prosecuted to the fullest of the law."
Warning: This article contains violent images
Ms Wells went on to say that the officers she believes killed her son had "shamed their own families" and continued: "You shame your communities. You just brought a bad taste to everybody's mouth.
"I hate the fact that it was five black men that actually did this to another black man. My son probably was their age.
"They just brought disgrace to themselves. I'm not an evil person, my son is not an evil person…. I pray for (the officers') families, because their families didn't deserve any of this either."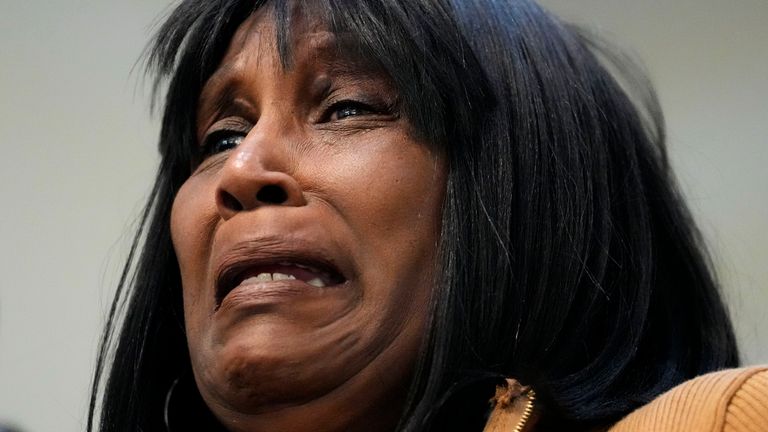 Ms Wells and Mr Nichols' stepfather also repeated their call for people to protest in a non-violent way.
Mr Nichol's mother earlier said in the same interview: "Tyre was a beautiful person, he was full of life, as you can see he loved to skateboard, he loved to watch the sunsets. He was a great dad.
"He was just a good person. There's no perfect person in this world, but he was close to it."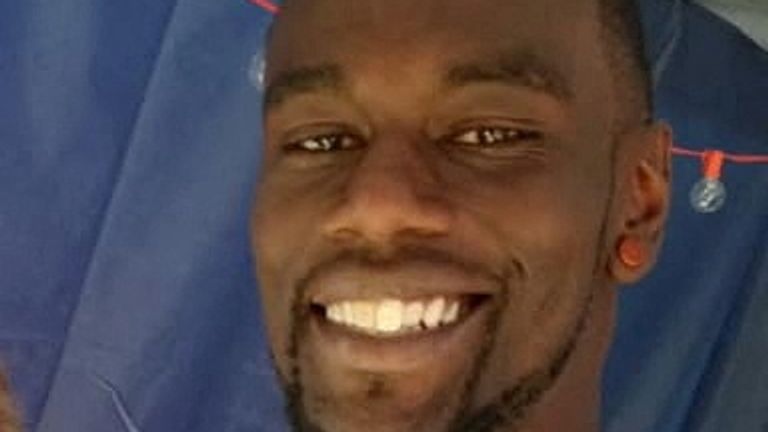 Ms Wells has spoken after Memphis Police announced the SCORPION (Street Crimes Operations to Restore Peace in Our Neighbourhoods) unit, that the five officers charged with murder over the father-of-one's death were members of, has been "permanently deactivated".
Memphis Police said in a statement: "In the process of listening intently to the family of Tyre Nichols, community leaders, and the uninvolved officers who have done quality work in their assignments, it is in the best interest of all to permanently deactivate the SCORPION unit.
"The officers currently assigned to the unit agree unreservedly with this next step.
"While the heinous actions of a few casts a cloud of dishonour on the title SCORPION, it is imperative that we, the Memphis Police Department take proactive steps in the healing process for all impacted."
The move comes after Memphis Police released bodycam footage showing Mr Nichols screaming for his mother while being beaten by officers.
The footage shows police attacked the 29-year-old for three minutes while shouting profanities at him.
Mr Nichols was 80 yards (73 metres) from his family home, according to his mother.
Police have released four separate videos cut into one hour-long clip, including police bodycam footage and footage from a CCTV camera.
Five officers have been charged with second-degree murder and other crimes, including assault, kidnapping, official misconduct and official oppression over Mr Nichols' death.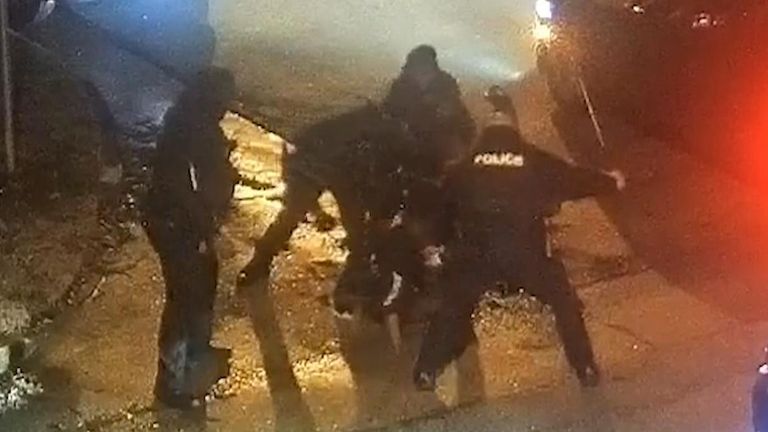 In the footage of the attack, one camera shows the initial police stop at an intersection in Memphis, Tennessee.
"I'm going to baton the f*** out of you," one officer can be heard saying. His body camera shows him raise his baton while at least one other officer holds Mr Nichols.
After the first officer roughly pulls Mr Nichols out of his car just after 8:20pm on 7 January this year, the FedEx worker can be heard saying "I didn't do anything" as a group of officers begins to wrestle him to the ground.
"Get on the ground!," one officer yells, as another is heard shouting: "Tase him! Tase him!"
The father-of-one calmly replied soon after being wrestled to the pavement: "OK, I'm on the ground."
Moments later, as the officers continue to shout, Mr Nichols says: "Man, I am on the ground."
An officer yells: "Put your hands behind your back before I break your (expletive)."
Moments later an officer shouts: "Put your hands behind your back before I break them."
"You guys are really doing a lot right now," Mr Nichols says loudly to the officers. "I'm just trying to go home."
"Stop, I'm not doing anything," he yells moments later.
Read more:
What is Scorpion, the police unit at the centre of Tyre Nichols' death?
Timeline of violent arrest
Arrest video is sickening indictment of policing that night
The camera is briefly obscured and then Mr Nichols can be seen running as an officer fires a Taser at him. The officers then start chasing Mr Nichols.
He is then punched, kicked and hit with a baton. After the beating, officers mill about for several minutes while Mr Nichols lies propped up against the car, then slumps onto the street.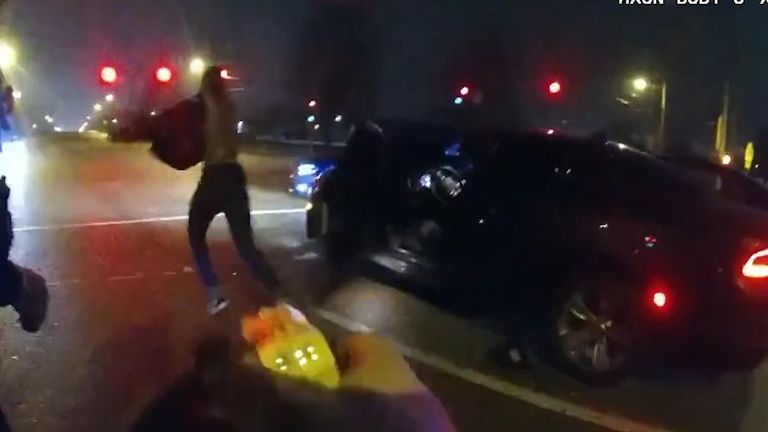 Emergency workers with what looks like medical equipment attend, but do not immediately intervene.
He died on 10 January, three days after the violent arrest.
The officers involved have been dismissed by Memphis Police Department's Chief of Police, Cerelyn Davis.
Ms Davis, who became the force's first black female boss in 2021, previously called for "sweeping changes and police reform" in the aftermath of the 2020 murder of George Floyd in Minneapolis.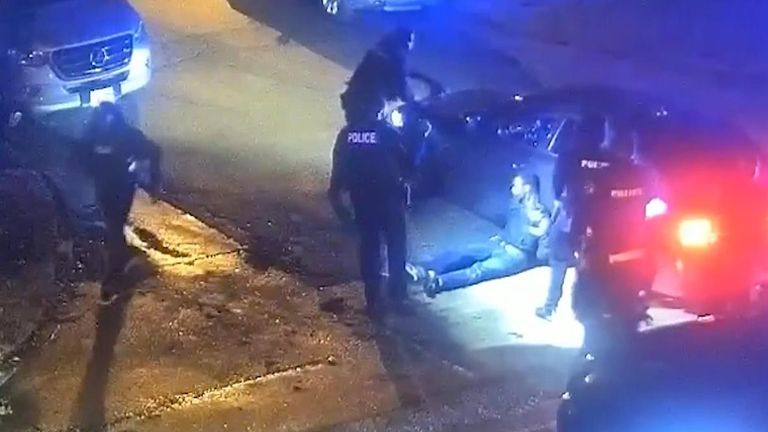 Meanwhile, influential civil rights campaigner Al Sharpton said the US has a "new clock" on police accountability following the quick arrest and firing of five officers charged over the death of Mr Nichols.
Speaking at a rally in Harlem, New York, Reverend Sharpton also rejected the idea that there was no race element to the fatal beating of Mr Nichols by the officers just because they themselves are black.
Making a speech at a weekly National Action Network rally, he said: "So there's a new precedent set now 'cos this black women police chief messed you up now – 'cos she said I'm not waiting on nothing – arrest them, fire them.
"You now got a new clock on police accountability. We don't want to hear no year investigation."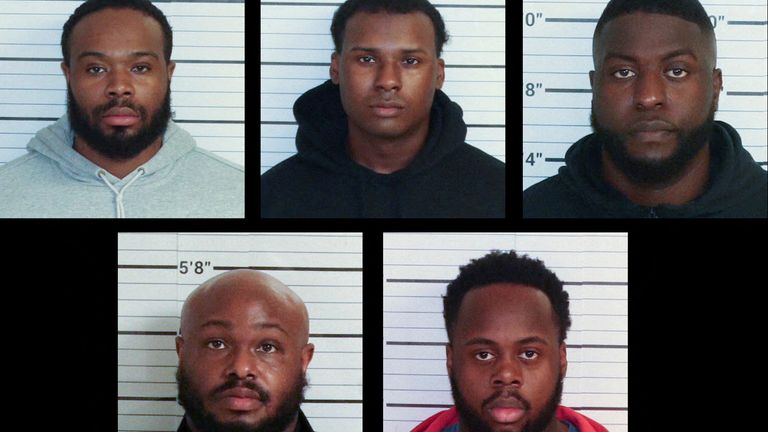 Addressing the involvement of race, he said: "One person said to me well at least it ain't about race.
"I said the race part of it is those black guys thought they could get away with doing it to a black guy.
"You know you couldn't get away with doing that in Tennessee to a white guy – and you won't get away with doing it to a black guy either."
Meanwhile, at a news conference of city leaders held on Saturday, state representative Joe Towns Jr, echoed the comments of Reverend Sharpton on the force's prompt investigation.
He also said police chief Ms Davis had his full support, praising her for taking "swift action".
The comments came as a memorial fund set up in the aftermath of Mr Nichols topped $535,000 (£433,000).
'They killed a man who looked like me'

The GoFundMe page, set up by Mr Nichols' mother, is aimed at helping to pay for a memorial skate park in his honour, as well as to allow his family time off from their jobs to grieve and seek justice.
Protests are taking place in at least nine cities across the US – including Memphis – after the bodycam footage was released.
Mr Nichols' mother had earlier warned supporters of the "horrific" nature of the video but pleaded for peace saying "tearing up the streets" is "not what my son stood for".
US President Joe Biden said he was "outraged and deeply pained to see the horrific video of the beating that resulted in Tyre Nichols' death".
"It is yet another painful reminder of the profound fear and trauma, the pain, and the exhaustion that black and brown Americans experience every single day," he added.
Gwyneth Paltrow wins high-profile civil court case against man who claimed she crashed into him while skiing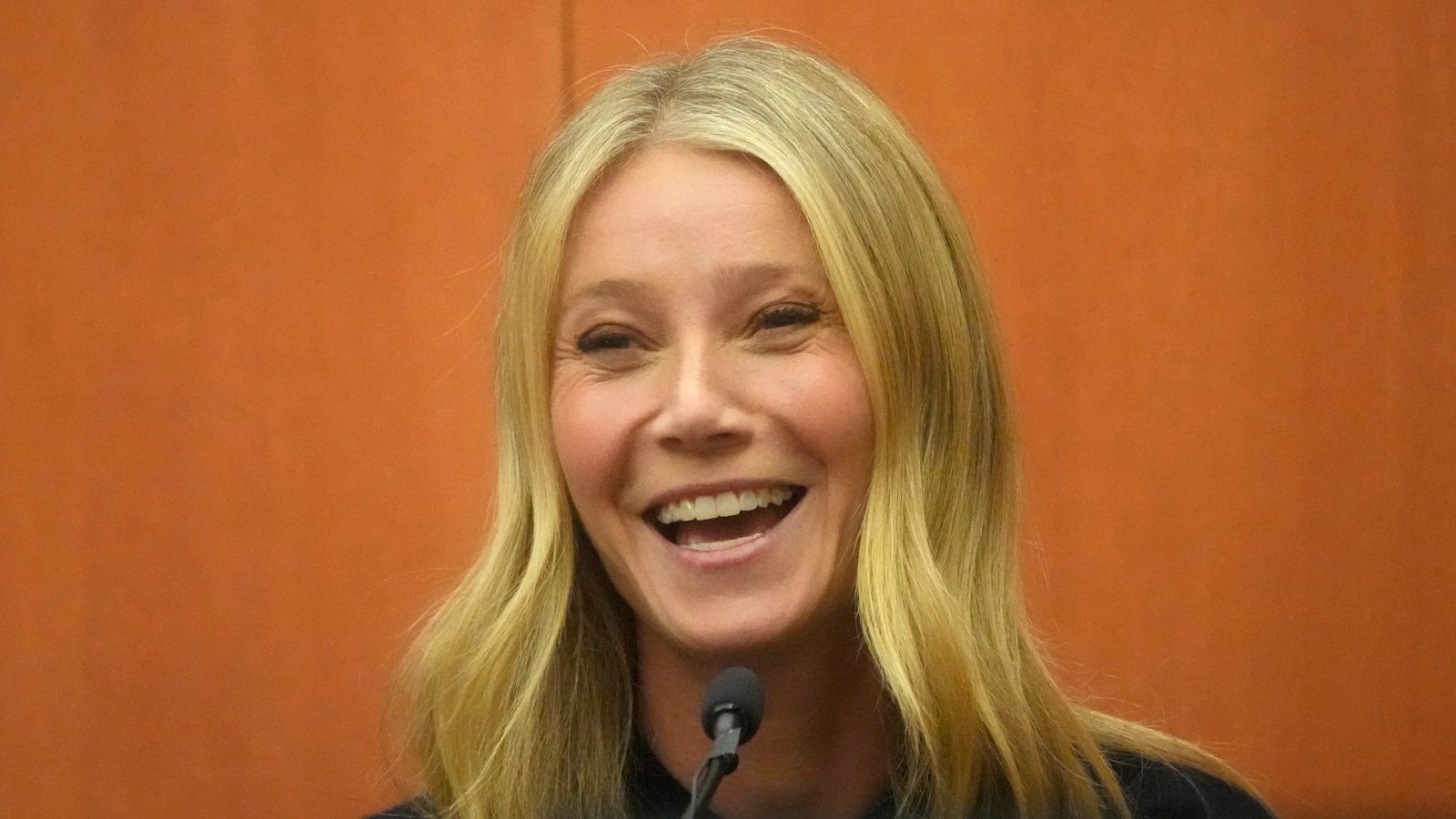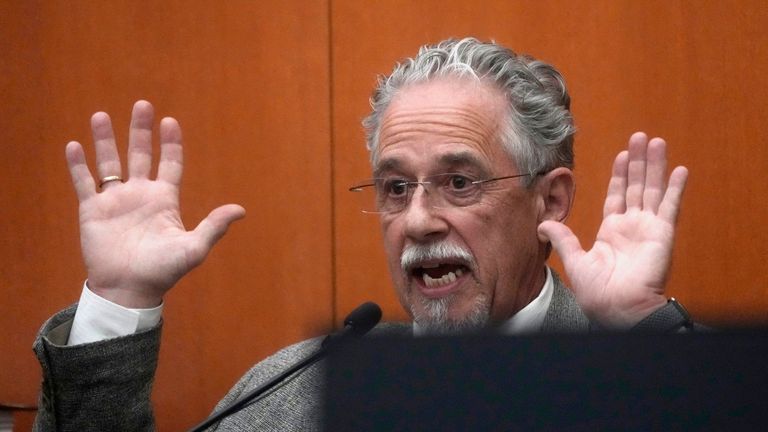 Gwyneth Paltrow has won a high-profile civil court case against a man who claimed she crashed into him while skiing.
She was awarded $1 in damages after the jury found retired optometrist Terry Sanderson was "100%" at fault for the skiing accident.
The jurors deliberated for two hours on Thursday after hearing eight days of evidence.
Paltrow, dressed in a navy blazer jacket and striped shirt, did not react when the verdict was announced.
In a statement released after the verdict, she said she was "pleased" with the outcome.
"I felt that acquiescing to a false claim comprised my integrity," she said.
"I am pleased with the outcome and I appreciate all of the hard work of Judge Holmberg and the jury, and thank them for their thoughtfulness in handling this case."
Mr Sanderson, 76, sued the Hollywood actress for $300,000 (£242,000), saying the 2016 collision on the slopes of Utah left him with several broken ribs and severe brain injuries.
Paltrow, who is also a lifestyle influencer, denied the claims, alleging Mr Sanderson crashed into her at the Deer Valley resort, and caused her to lose "half a day of skiing".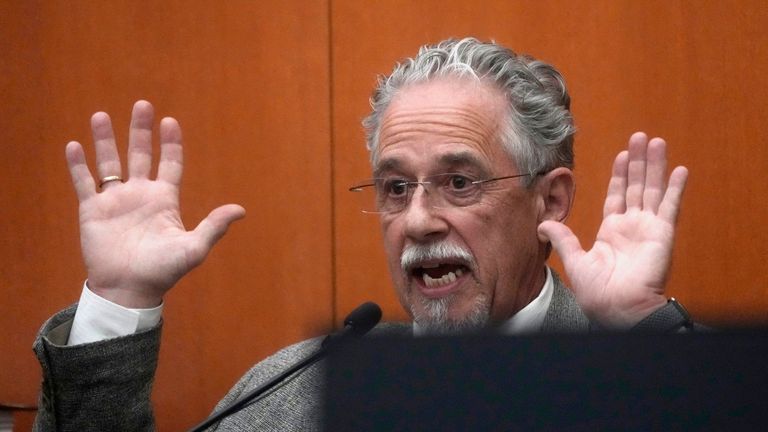 She counter-sued him for the awarded amount of $1 and her legal fees.
During the court case in Park City, jurors heard evidence from a variety of medical experts, ski instructors, and members of both Mr Sanderson and Paltrow's family, including the actress' children Apple and Moses Martin.
Mr Sanderson said he had become a "self-imposed recluse" after the incident and had been advised never to ski again in case of further injury.
But Paltrow's lawyers showed photos of him enjoying multiple holidays after the accident.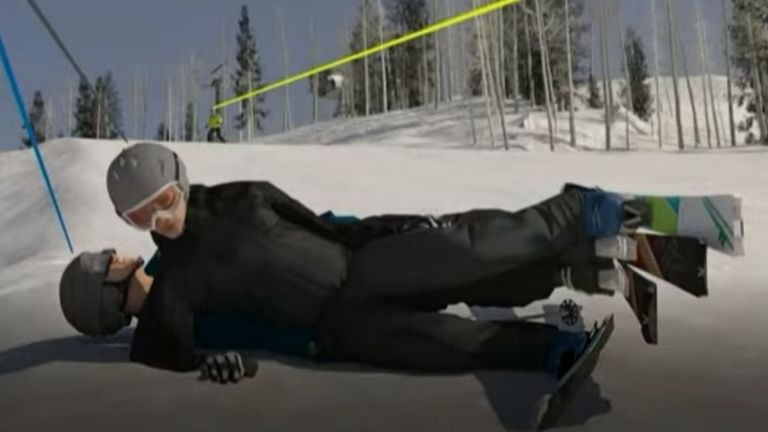 Oscar-winning actress Paltrow, 50, said she felt "very sorry" for Mr Sanderson but reiterated that she was not "at fault" for the crash.
Mr Sanderson said he had been told by medical experts that travelling would be "healing" for him and that he had struggled during his trips.
Donald Trump indicted: Who is Stormy Daniels and what is former president accused of doing?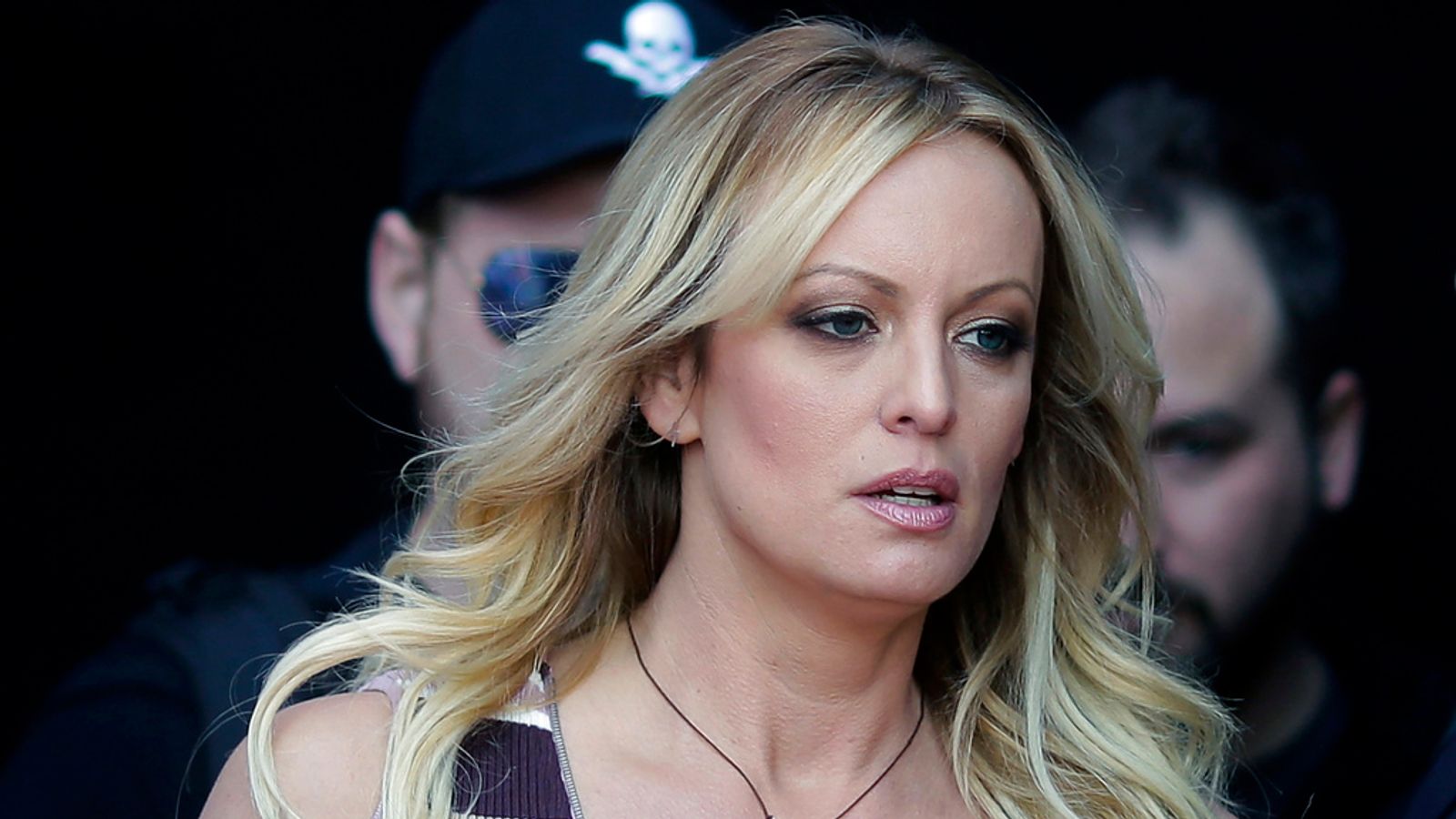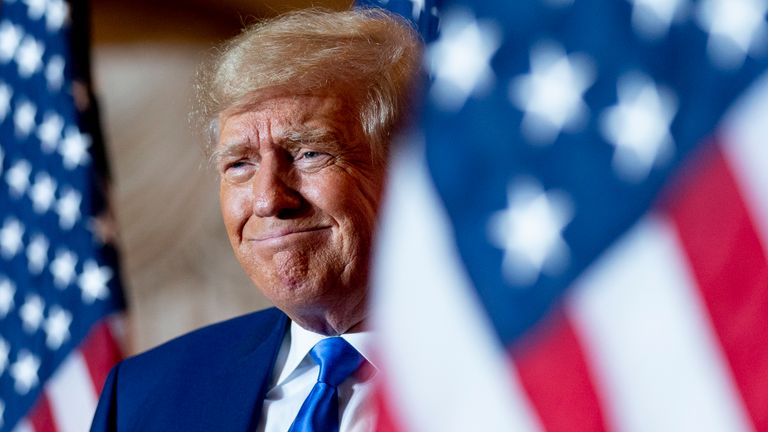 Donald Trump has been indicted by a grand jury in New York, making him the first ex-president to face criminal charges.
The case against him centres on a $130,000 (£105,000) payment made to adult film star Stormy Daniels during the final days of the 2016 presidential campaign.
Live updates – Prosecutors launch first ever criminal case against former president
What is Trump accused of doing?
Ms Daniels, whose real name is Stephanie Clifford, claims she had an affair with Mr Trump in 2006, which the former US president denies.
In 2016 when he was running for president, she offered to sell her story to the press.
Mr Trump's then-lawyer Michael Cohen was notified of her plans, resulting in a $130,000 (£105,000) payment being made to keep Ms Daniels quiet.
Once he was elected, Mr Trump reimbursed Mr Cohen by paying him more than double the original amount. He continued to deny the affair, however.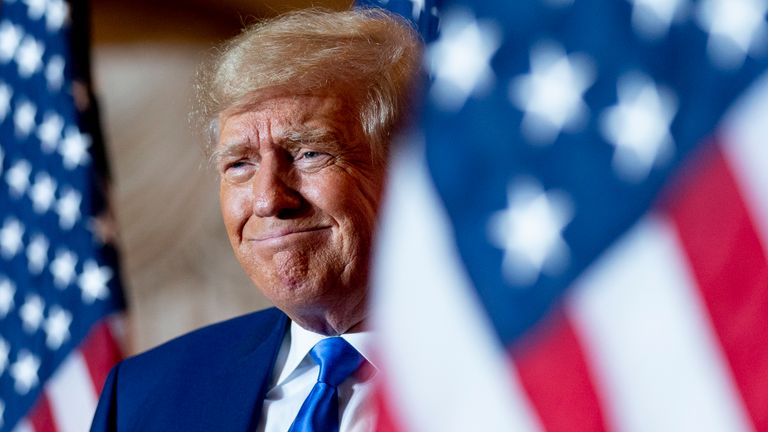 New York investigators have been looking into the former president's finances for years – originally led by former District Attorney Cyrus R. Vance Jr.
But when he was replaced with Alvin Bragg in 2022, Mr Bragg decided to drop the grand jury investigation into claims the Trump empire fraudulently inflated its real estate value.
Instead he decided to focus on the hush money case last summer, impanelling a grand jury (one assembled in secret to determine whether there's enough evidence to prosecute) in January.
Soon after Mr Cohen, who was jailed on several counts in 2018, was summoned by prosecutors.
According to court documents, Mr Trump falsely listed his former lawyer's reimbursement as "legal services".
What charges could Trump face?
It is not yet known what Mr Trump will be charged with.
But among the options for prosecutors is an accounting fraud charge over the payment made to Mr Cohen.
They could also decide to indict him on campaign fraud charges – as silencing Ms Daniels's claims could have helped propel him to power.
Mr Trump has described the investigation as a politically motivated "witch hunt".
Donald Trump faces criminal charges over alleged hush money payment to adult film actress Stormy Daniels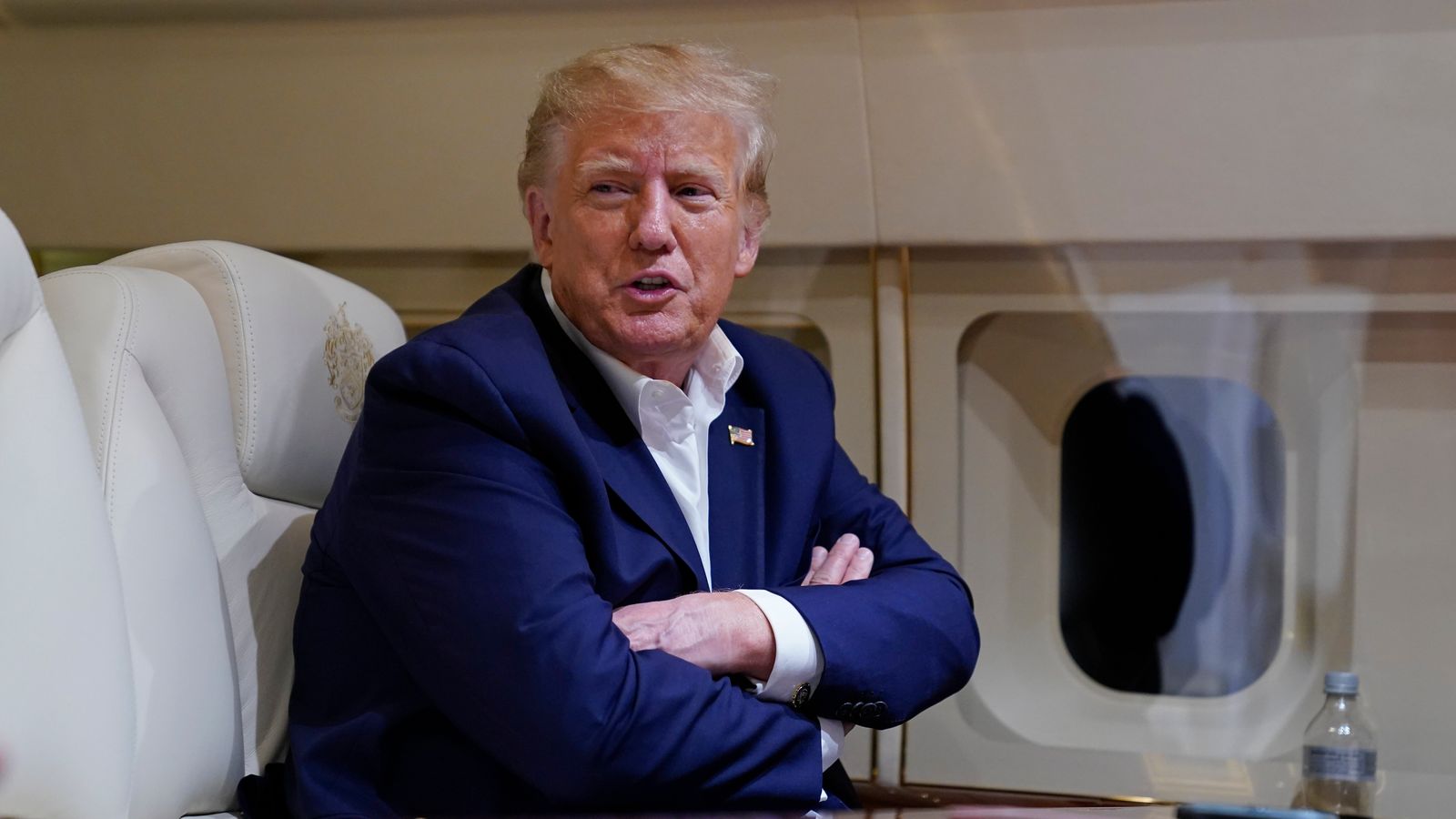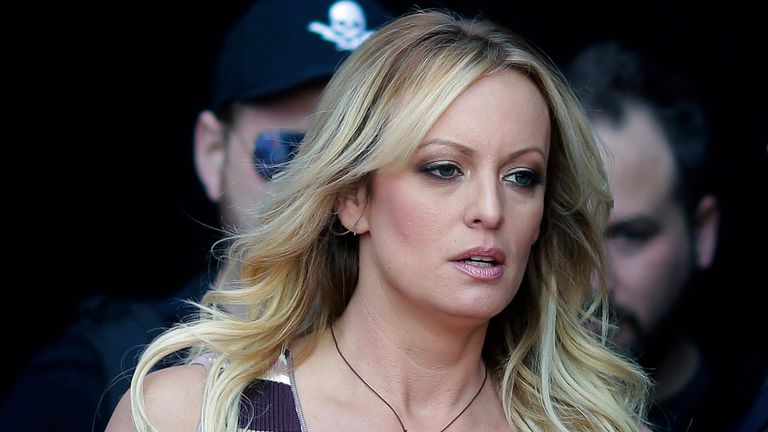 Donald Trump has been indicted on criminal charges arising from an alleged hush money payment to an adult film actress.
A grand jury in New York voted to indict Trump over possible offences related to a $130,000 (£105,000) payment to Stormy Daniels during the 2016 presidential election campaign.
It was allegedly made in exchange for Daniels' silence about an alleged sexual encounter she said she had with Trump a decade earlier.
He is the first former US president to face criminal charges in court, even as he makes a bid to retake the White House in 2024.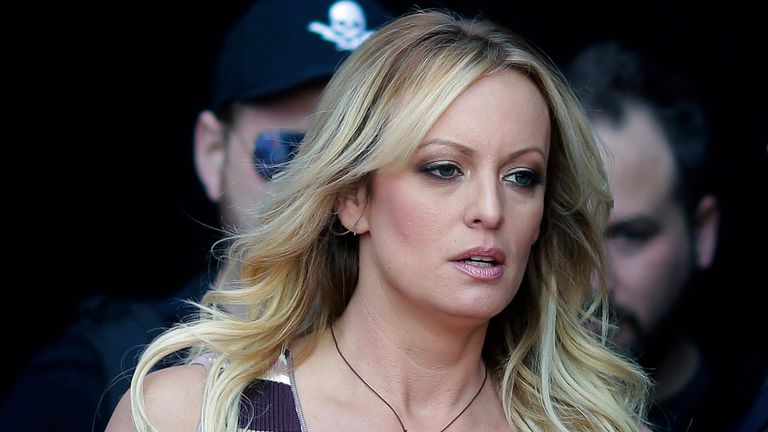 Trump, a Republican, said he was "completely innocent" and called the indictment "political persecution", with his lawyers saying they will "vigorously fight" it.
Live updates: Prosecutors launch criminal case against Trump
The Manhattan district attorney's investigation centred on accusations of money paid to Daniels and former Playboy model Karen McDougal, whom Trump allegedly feared would go public with claims they had extramarital sexual encounters with him.
Trump, 76, has denied having affairs with either woman.
His former personal lawyer Michael Cohen said he co-ordinated with Trump on the payments to Daniels, real name Stephanie Clifford, and also to McDougal.
Cohen pleaded guilty to campaign finance violations in 2018 related to the payments and served more than a year in prison.
Federal prosecutors said Cohen acted at Trump's direction.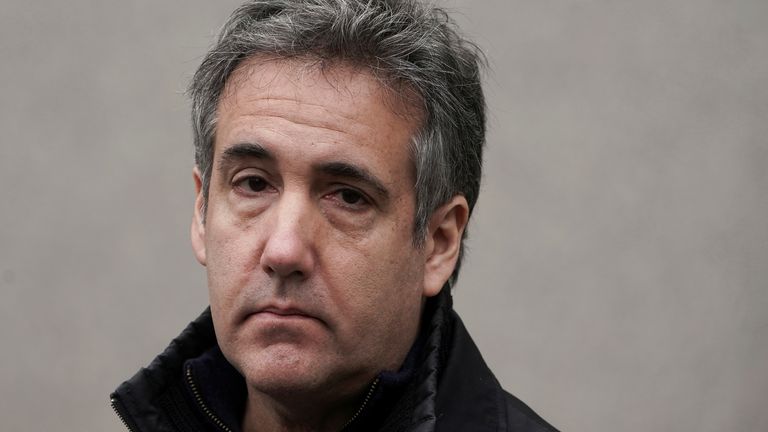 Trump said: "The Democrats have lied, cheated and stolen in their obsession with trying to 'Get Trump,' but now they've done the unthinkable – indicting a completely innocent person in an act of blatant election interference."
"Never before in our nation's history has this been done."
He added: "I believe this witch-hunt will backfire massively on Joe Biden."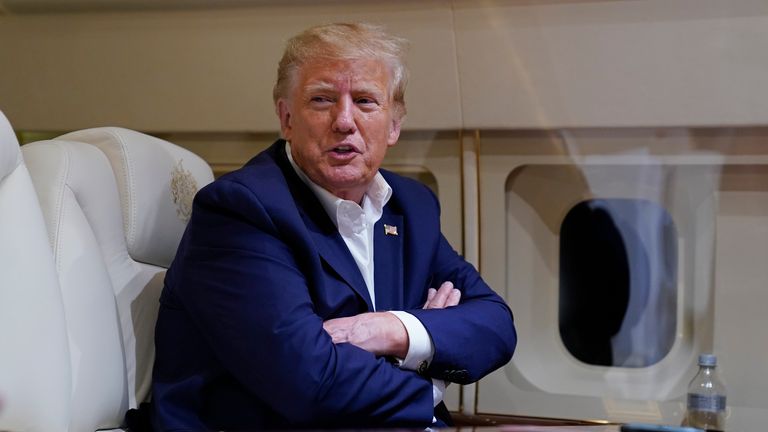 Read more:
Trump says investigations 'straight out of Stalinist Russia horror show'
Who is Stormy Daniels?
How many investigations is former US president facing?
Trump was expected to surrender to authorities next week.
He has denied any wrongdoing and has repeatedly attacked the investigation by district attorney Alvin Bragg.
His office has spent nearly five years investigating Trump and the grand jury has been hearing its evidence since January.
Trump son hits out at indictment
On Twitter, one of Trump's sons, Eric, wrote: "This is third world prosecutorial misconduct. It is the opportunistic targeting of a political opponent in a campaign year."
Amid speculation in recent weeks that the former American leader was due to be indicted, Trump urged his supporters to protest against the authorities if he was detained.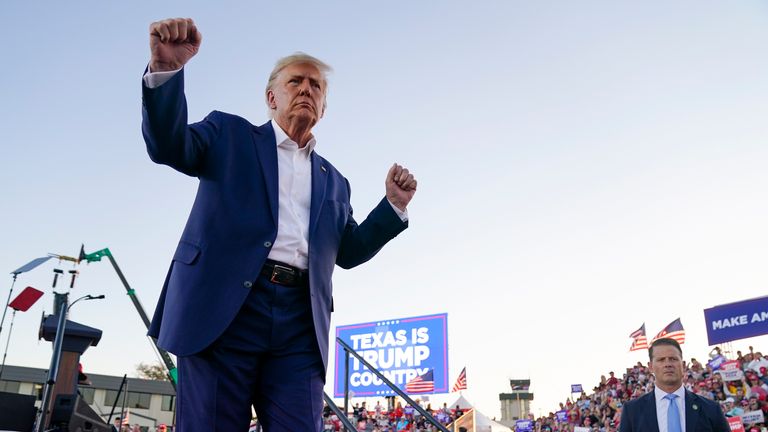 He published a long statement describing the investigation as a "political witch-hunt trying to take down the leading candidate, by far, in the Republican Party".
"I did absolutely nothing wrong," he said, before criticising a "corrupt, depraved and weaponised justice system".
Other ongoing cases Trump faces include a Georgia election interference probe and two federal investigations into his role in the 6 January 2001 insurrection at the US Capitol.