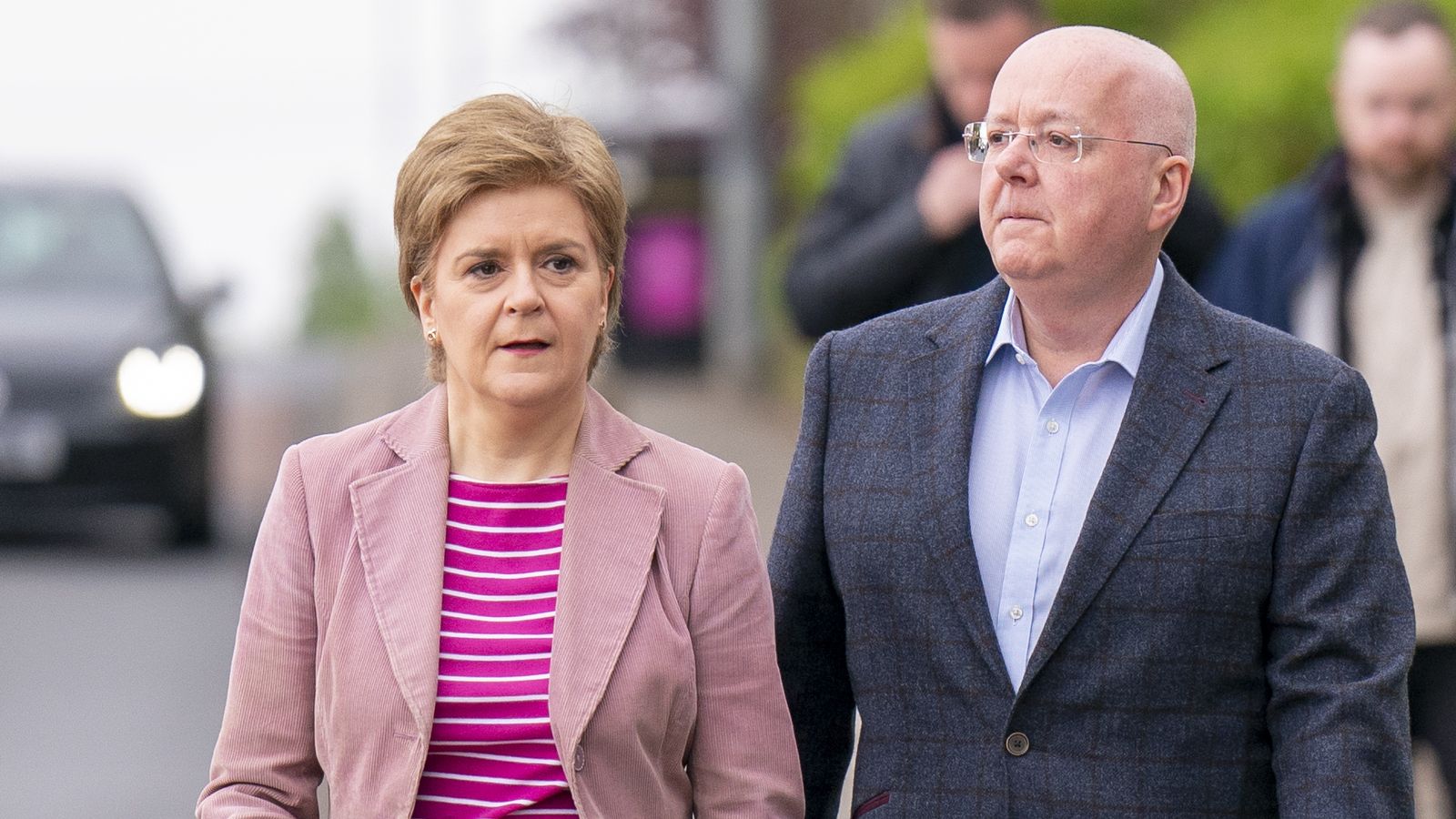 Nicola Sturgeon's husband Peter Murrell quits as SNP chief executive in face of no confidence threat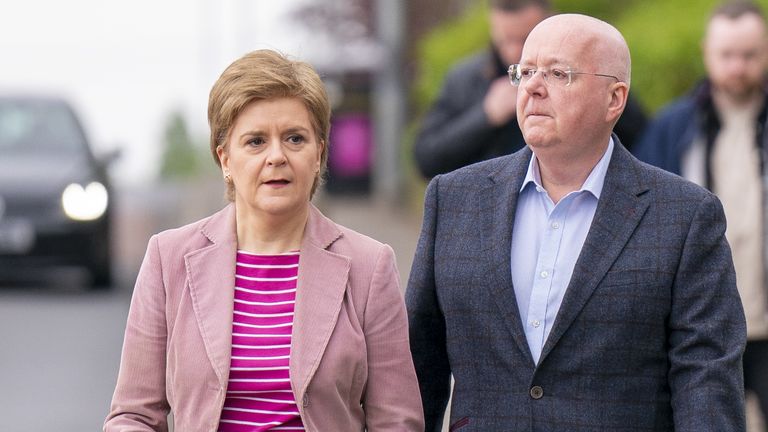 The chief executive of the Scottish National Party has resigned with immediate effect in the face of a no confidence vote.
Peter Murrell, who is married to Nicola Sturgeon, said his future had become "a distraction" from the current contest to replace his wife as SNP leader and first minister following a damaging secrecy row.
His dramatic departure following more than two decades in the post comes after the party's head of communications quit on Friday in the wake of revelations he inadvertently provided bogus membership numbers to a journalist.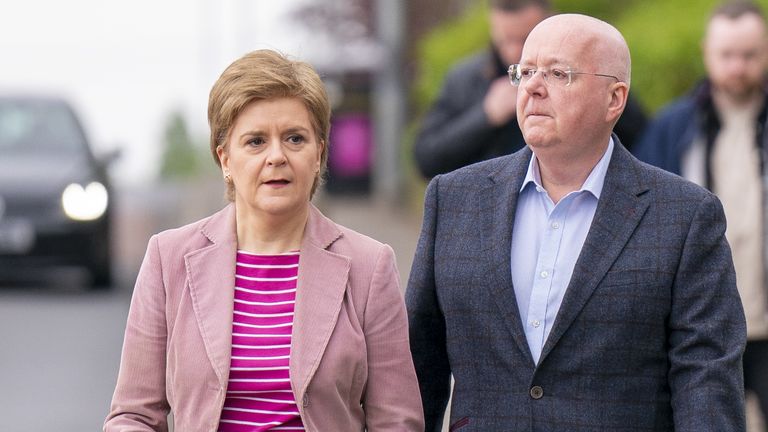 Murray Foote was told to deny reports the party had lost 30,000 members branding them "inaccurate" and "drivel".
With claims the leadership process was being undermined by a refusal to issue membership data and demands by the candidates themselves, the party was forced to confirm the significant fall in paid-up support.
Enrolment as of 15 February this year was 72,186, having dropped from 103,884 in 2021.
Ahead of Mr Murrell's announcement, a senior member of the SNP's governing body told Sky News: "The buck stops with Peter… he shouldn't have thrown a junior member of staff under the bus".
It is understood the party's national executive committee had given Mr Murrell an ultimatum over his exit strategy – announce a plan to resign today or face a vote of no confidence.
Earlier, SNP leadership candidate Kate Forbes had also acknowledged "extraordinary turmoil" in the party.
Mr Murrell, 58, had already faced accusations of a "conflict of interest" over his involvement in the race to choose his wife's successor, with concerns raised over the integrity of the election.
Meet the SNP leadership candidates

In a statement, Mr Murrell said: "Responsibility for the SNP's responses to media queries about our membership number lies with me as chief executive.
"While there was no intent to mislead, I accept that this has been the outcome. I have therefore decided to confirm my intention to step down as chief executive with immediate effect.
"I had not planned to confirm this decision until after the leadership election.
"However, as my future has become a distraction from the campaign I have concluded that I should stand down now, so the party can focus fully on issues about Scotland's future.
"The election contest is being run by the national secretary and I have had no role in it at any point."
He added: "I have worked for independence all my life and will continue to do so, albeit in a different capacity, until it is achieved – and I do firmly believe that independence is now closer than ever."
Read more:
Key moments of fiery SNP Sky News debate
How will Nicola Sturgeon's successor be chosen?
Does hunger for independence remain in Scotland's 'Yes' towns and cities?
Ms Sturgeon told Sky News: "He's obviously taken responsibility for the recent issue with membership.
"He had intended to step down when there was a new leader, but I think he's right to make that announcement today."
She added: "Peter's been a key part of the electoral success we have achieved in recent years and I know there will be a recognition of that across the party."
Ms Forbes, Ash Regan, and Humza Yousaf are currently in the running to replace Ms Sturgeon as SNP leader and first minister.
Ms Regan said: "Eight years ago was the point where it was unacceptable to have the husband of the party leader as the CEO.
"I am encouraged to see the democratic foundations of the party now asserting their rightful function."
Click to subscribe to the Sky News Daily wherever you get your podcasts
Mr Yousaf, widely viewed as the favourite for the top job among the party hierarchy, said: "Peter Murrell has been an outstanding servant of the independence movement and the SNP.
"I agree with Peter that it is time for him to move on and make way for a new leader to appoint a new chief executive as passionate about the SNP and the cause of independence as he has been.
"With less than 10 days to go in this leadership contest, it is vital we all focus on the policies and vision we have for the party, movement and country."
Meanwhile, the SNP's political opponents highlighted that the party's finances are still being investigated.
Scottish Conservative chairman Craig Hoy MSP said: "A fish rots from the head down – and the same applies to the SNP."
Scottish Labour deputy leader Jackie Baillie said: "This latest resignation of a top SNP figure goes to show that the wheels have fallen off the SNP wagon."
Olivia Pratt-Korbel: Reformed Liverpool gangster says 'morals have gone out of the window' among city's criminals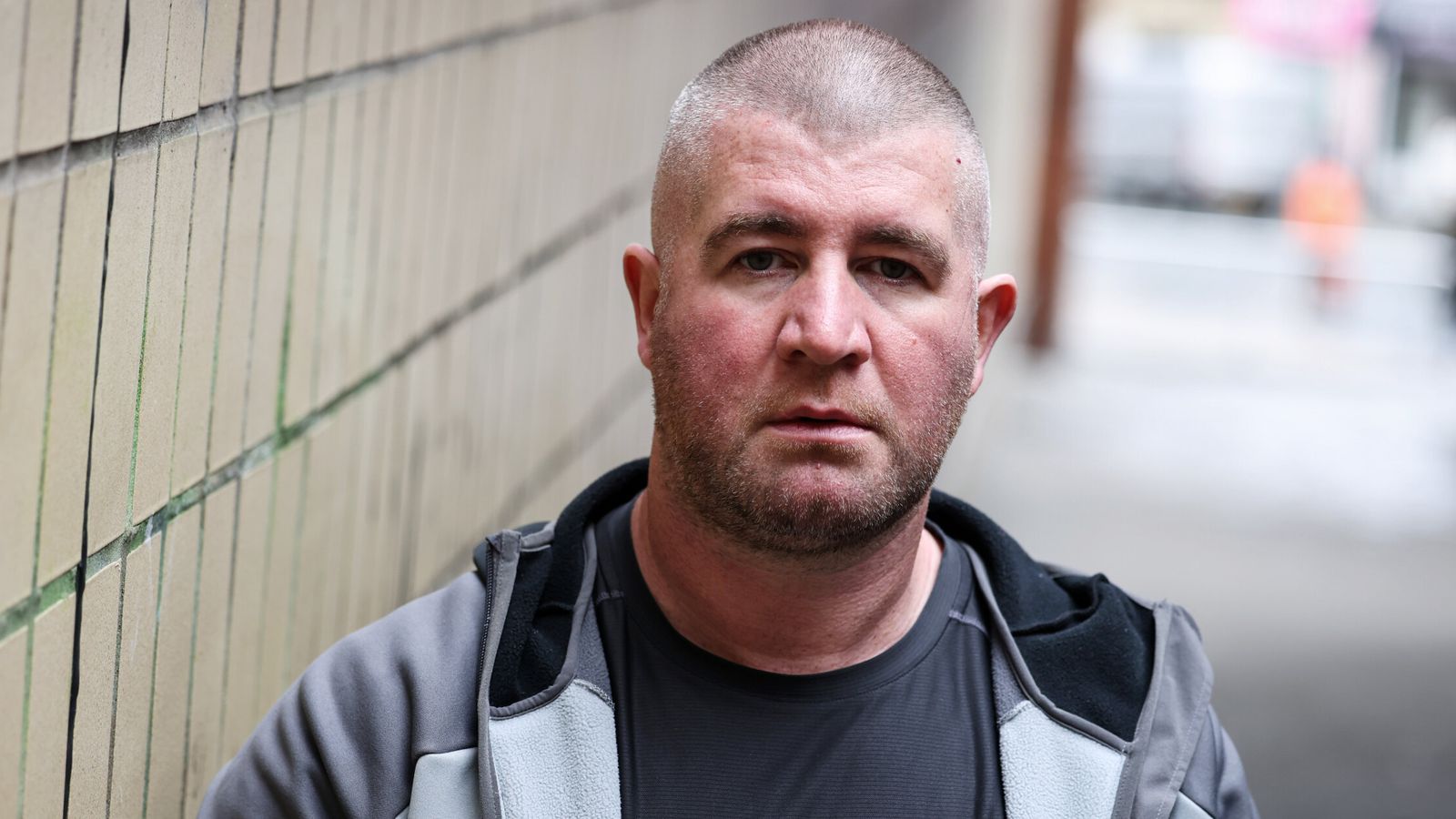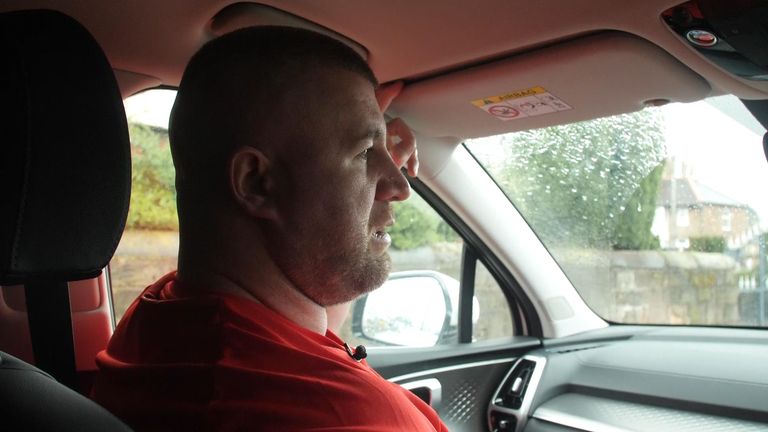 Sicarius McGrath is a big guy. Muscled, shaven-headed and more than a little intimidating – everything you might expect of a Liverpool gangster.
But his days of roaming the streets of Anfield are over and now he helps steer vulnerable and deprived kids away from a life of gangland crime.
With convictions for violence and intimidation, he knows his subject and was an enlightening companion as together we toured the city's estates, waiting for the jury verdicts in the Olivia Pratt-Korbel murder trial.
I drove, he talked. When he was setting up a gun factory and protection rackets he was known as Anthony Harrington.
At 7pm Sky News will broadcast a special programme: The murder of Olivia Pratt-Korbel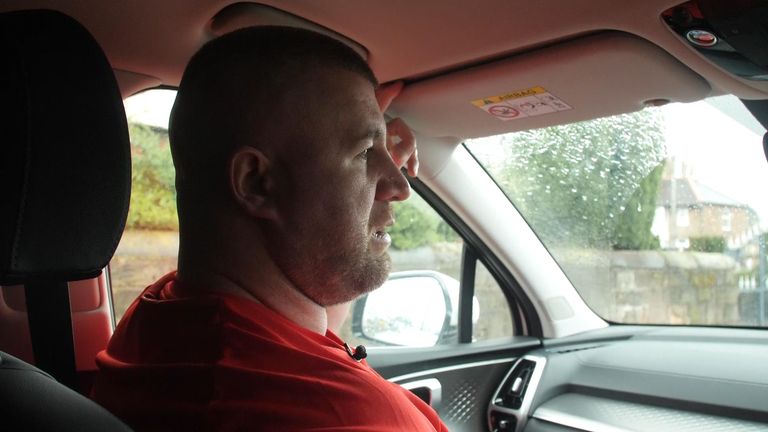 His adopted name Sicarius means "assassin", but he didn't go to a school that taught Latin. I did, but that isn't the only difference between us.
"I used to put guns on the streets in massive volumes," he told me, rather matter-of-factly.
"They are bought and paid for through drugs money. I felt responsibility 100% for the things that happened, whether someone was harmed as a result, but when you're in that game you don't give a s***. It's profits over anything else.
"Decades ago there was a moral code, that you didn't harm women, you didn't harm kids. I'm not saying that little girl was shot intentionally, but those morals have gone out of the window.
"I was mixing in those circles and surroundings, so I'm a bit of a hypocrite to say now they are absolute scum, but I was once that scumbag."
Read more: Thomas Cashman found guilty of murdering Olivia Pratt-Korbel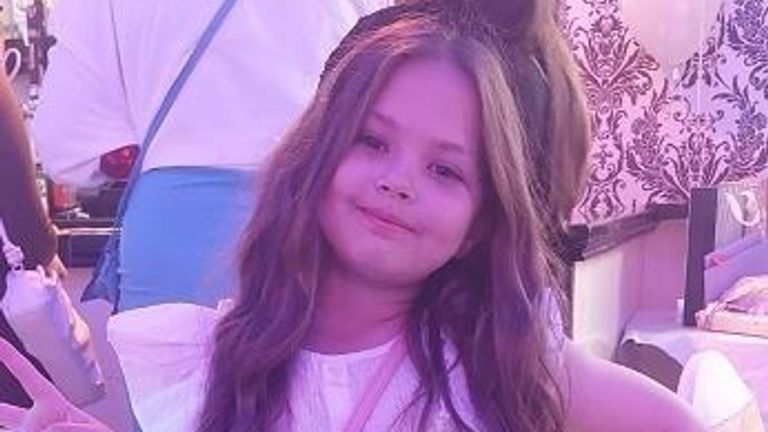 Although Merseyside Police had a key witness within a day or two of Olivia's shooting, they struggled to find the direct evidence detectives always strive for.
There were no forensics, no eyewitnesses who could identify the killer and the two guns used have not been found.
I asked Mr McGrath how a close community deals with the conflict of outrage and the need for justice, set against loyalty and the fear of being labelled a grass.
"People are going to be reluctant, of course they are, depending on who commits the murder. If it's established gang members people are going to be more reluctant. Everyone says there's a code, no grassing, but criminals will grass each other up," he said.
"It's a question of what benefits them, if they can get a rival out of the way, bring police attention on them, but they're not just gonna do it for charity."
Gasps as Thomas Cashman found guilty on all charges – follow updates
What about the ordinary public – wouldn't they be more scared of retribution for giving police information?
"It's gonna be scary, they're not really going to want to get involved, but when it's a little girl the rule book goes out the window and you have to dig deep," he said.
"People are more likely to engage with the police when it's a young girl murdered and it's up to the police to reassure them they are going to protect them."
A month on from the shooting, after initial arrests but no charges, and with police still appealing for help, an anonymous businessman offered a remarkable £100,000 reward for information leading to the conviction of Olivia's killer.
Lord Ashcroft, the founder of Crimestoppers, had also initially offered a £50,000 reward – but the anonymous donation prompted him to double his offer and, at £200,000 combined, it became the biggest ever reward.
At 7pm Sky News will broadcast a special programme: The murder of Olivia Pratt-Korbel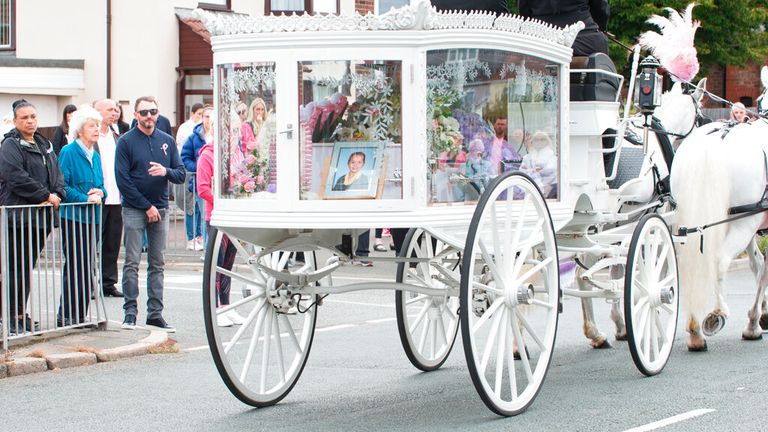 The other businessman, who did not want to be named for safety reasons, said: "When I heard that there was a seeming reluctance for people to come forward and testify, that's what really got my back up.
"I thought, well, I'm going to try and do something about this. It was an amount that would make people sit up and make it as easy as possible for them to help catch the killer."
The businessman's family are from Merseyside and memories of his childhood in the area fuelled his desire for justice for Olivia.
"I understand people's reluctance to speak out and I've thought about my own safety in putting up the reward. Like others, I had doubts and worries, but Crimestoppers assured me my identity would be protected. The bottom line is that this was horrific, the murder of a young girl. It doesn't come much worse than that."
Read more from Sky News:
Who are Liverpool's feuding gangs?
Merseyside beset by violence in summer trail of bloodshed
The battle between Liverpool's gangs

Mick Duthie, director of operations at Crimestoppers, said the reward had prompted "a phenomenal amount" of information from the public.
"I understand that in communities people don't want to be seen as a grass or make themselves vulnerable, they don't want to talk to the police, so the charity allows people to speak up anonymously," he said.
"The community of Liverpool provided so much information. It wasn't for us to decide how important it was. We took it and passed it on to Merseyside Police."
As we drove through Dovecot, where Olivia was murdered, I asked Mr McGrath whether £200,000 was a life-changing amount for people in this community.
"For someone anywhere in the country it's a life-changing amount of money," he said.
"People are struggling to put their lights on and run their cookers. A reward of £200,000 is gonna benefit the vast majority of people, criminals and non-criminals."
Sixteen years ago, schoolboy Rhys Jones, who was 11, was shot dead – caught in cross-fire – only a few miles from here.
I reported on it at the time and Mr McGrath was in prison, but we both remember the loud and widespread calls for change.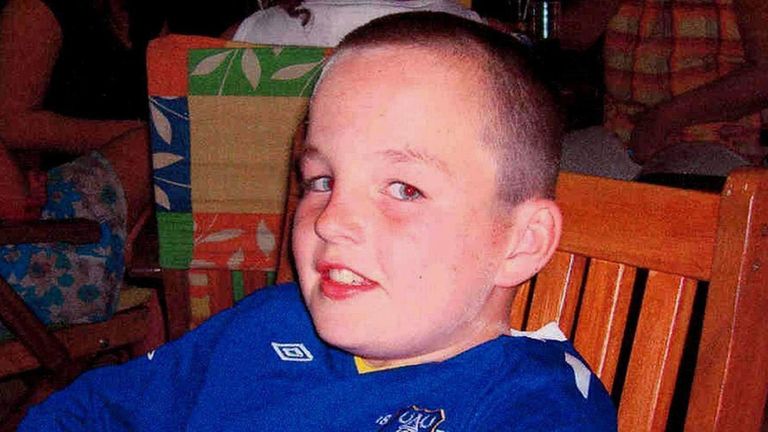 Mr McGrath said: "They always say that when a young person is stabbed or shot, they always say enough is enough, they're going to take a stand but communities never do. It's all just words.
"A couple of days or weeks later they go back to doing what they were doing. It's only the families that are left suffering. Whoever shot Olivia, whoever's convicted, his friends won't stop talking to him because he shot a young girl."
A blitz on organised crime and guns by Merseyside Police has driven down the number of firearms discharges to record low levels in the past couple of years.
There hadn't been one reported in more than a year before last August. But then Olivia became the third gun murder victim in just a week. And there have been two more in the city since.
Cambridgeshire shooting: Father and son shot dead – 'custody battle' active line of inquiry for police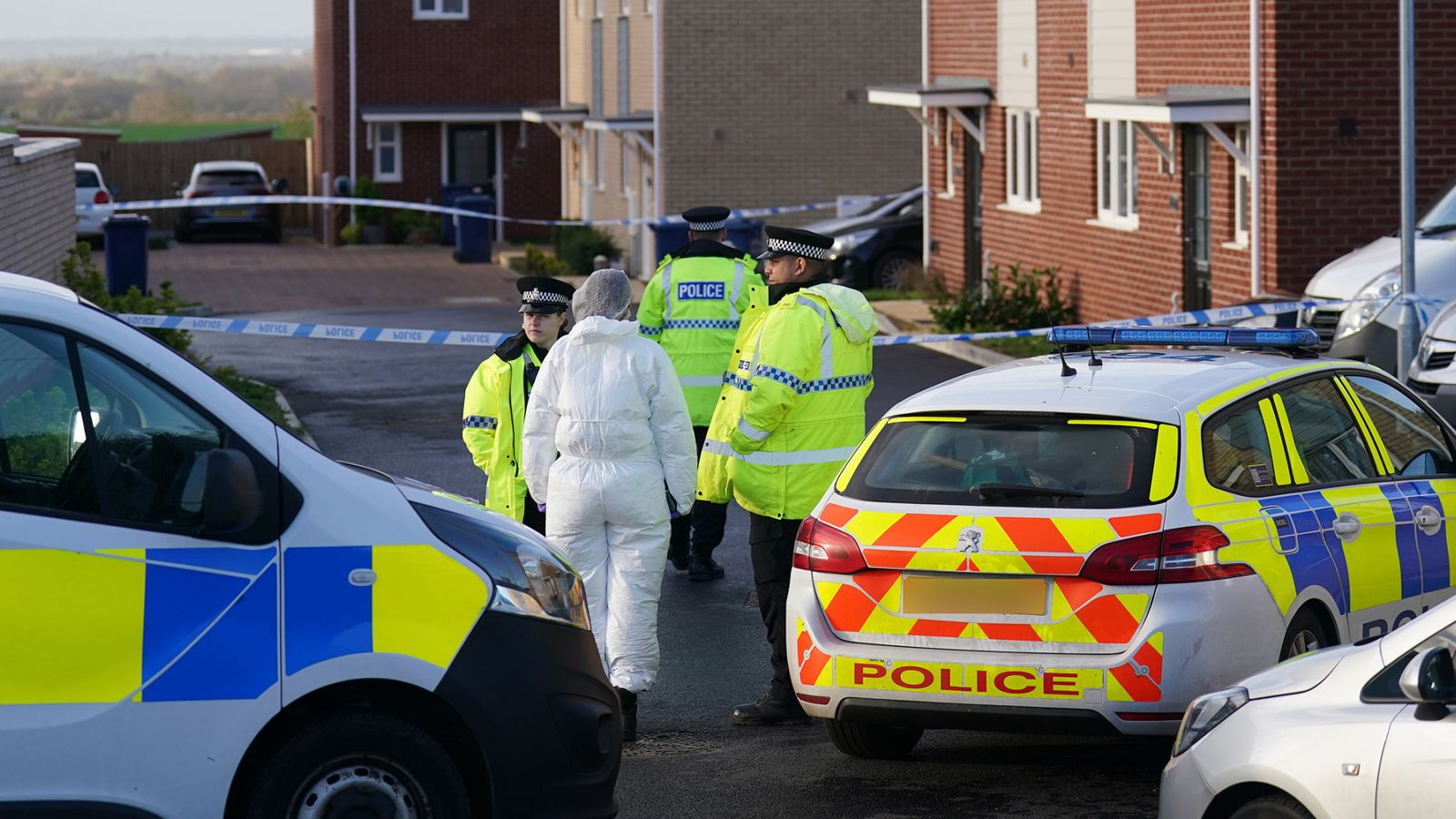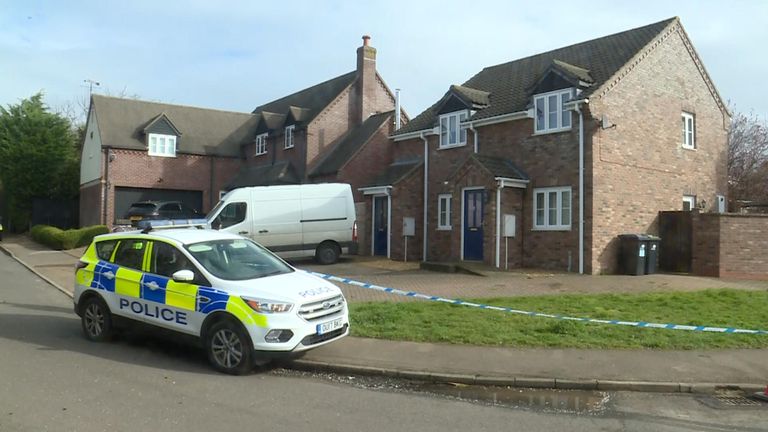 Two men shot dead in Cambridgeshire on Wednesday evening were father and son, police have said.
Detective chief superintendent Jon Hutchinson, of Cambridgeshire Police, said the "primary line of investigation" was that the incident related to a "familial issue".
"It's been widely reported in the media that this may relate to a custody battle," he said. "I can confirm that is an active line of inquiry for us."
Police described the attacks as "targeted".
The bodies of the 32-year-old man and a 57-year-old man were found on Wednesday evening at two different locations six miles apart in Cambridgeshire.
Police have recovered a firearm in Worcester.
A 66-year-old man was arrested in Worcester. A 27-year-old man and a 33-year-old woman have also been arrested in Cambridge.
All three were arrested on suspicion of conspiracy to murder.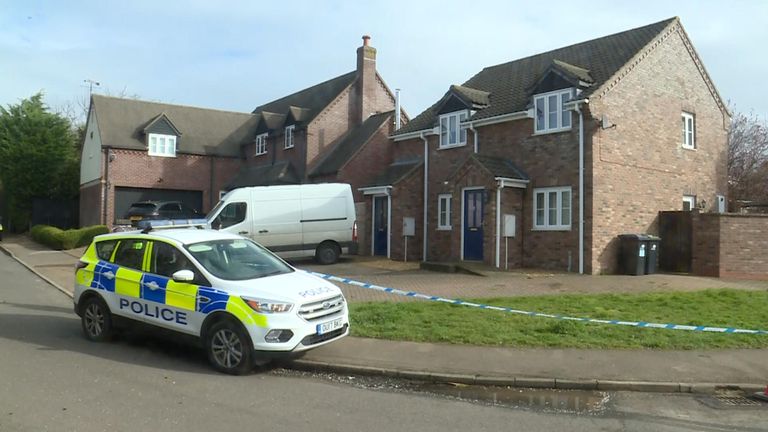 Mr Hutchinson said that officers made a "very quick two arrests in a hotel just outside Cambridge".
He added: "In the early hours of this morning we did a joint operation alongside West Mercia Police at which stage a 66-year-old man was arrested on the motorway by armed officers.
"Following his arrest his vehicle was searched and I can confirm we have recovered a firearm."
He said the man was in police custody in Worcester and is being transported to Cambridgeshire for interview.
Police were called to a property in Meridian Close, Bluntisham, just after 9pm on 29 March, where the body of a 32-year-old was found.
Seven minutes later, at 9.37pm, officers received a call from a person in Sutton, near Ely, who reported hearing gunshots. They found the body of a 57-year-old at a property in The Row.
The two locations are around a 15-minute drive apart, according to Google Maps.
Mr Hutchinson said that an "active line of inquiry" is "understanding whether that firearm was legally owned" and forensic work is taking place to establish whether the same weapon was used at both locations.
"A line of inquiry that we're focusing on is that those people who are in custody are known to the deceased and have had recent contact with them."
He added that the "initial arrests have been made for conspiracy to murder – that is likely to change as information develops in the hours ahead".
At this stage, police are not looking for any further people in relation to the incident.
Read more on Sky News:
Campaigners issue warning over revised net-zero strategy
£21bn of public money lost in fraud since COVID
At the time of the arrests, Detective Inspector Mark Butler said: "Tonight we have launched two linked murder investigations following the shootings of two men at separate properties in the county.
"These events will be shocking to local people and there will be understandable concerns within local communities, however, we are treating the attacks as targeted and there is no wider risk to the general public.
"There will be an increased police presence in the areas concerned today and officers and scenes of crime officers will be at the scenes throughout the day.
"Our thoughts also go out to the family and friends of the victims. Specially trained officers are in touch with them and they are helping our investigation."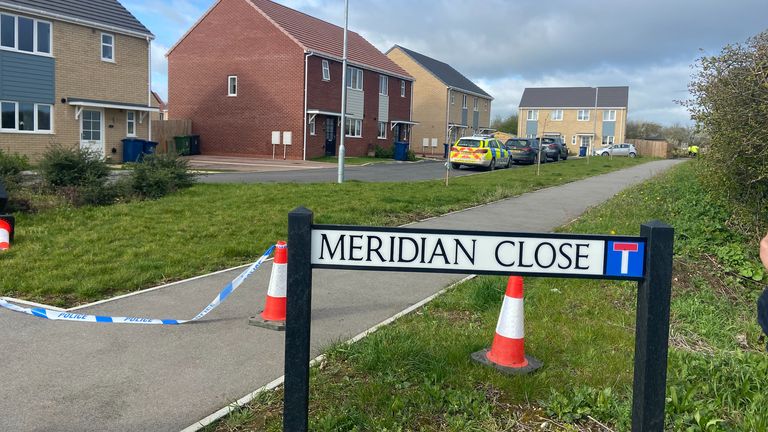 A car believed to have been used by the offender, a white Peugeot 208, and a shotgun have been recovered.
"Detectives are now beginning inquiries into how these events unfolded and we are appealing to anyone who was in either area and saw anyone acting suspiciously or a white Peugeot 208," Mr Butler added.
Sarah Lown, who lives near the sealed-off houses in Sutton, said she heard three loud bangs on Wednesday evening, but thought it was objects in her garden that had blown over.
"I didn't think anything crazy had happened," she said. "I heard two more – it was bang, space, bang. Whether or not they were each gunshots I don't know; then police were outside the house."
Getaway driver Paul Russell to be sentenced for assisting Thomas Cashman after murder of Olivia Pratt-Korbel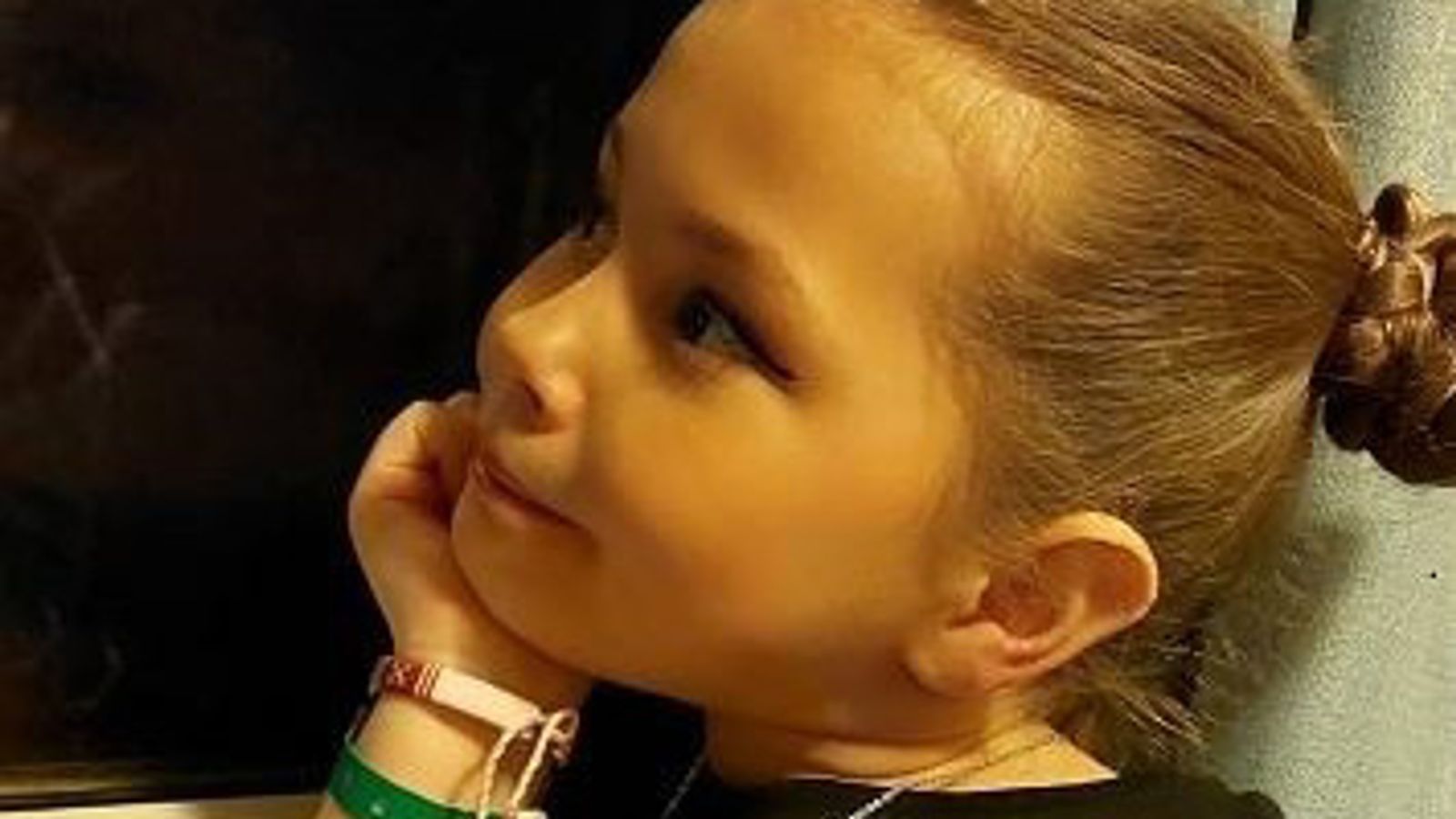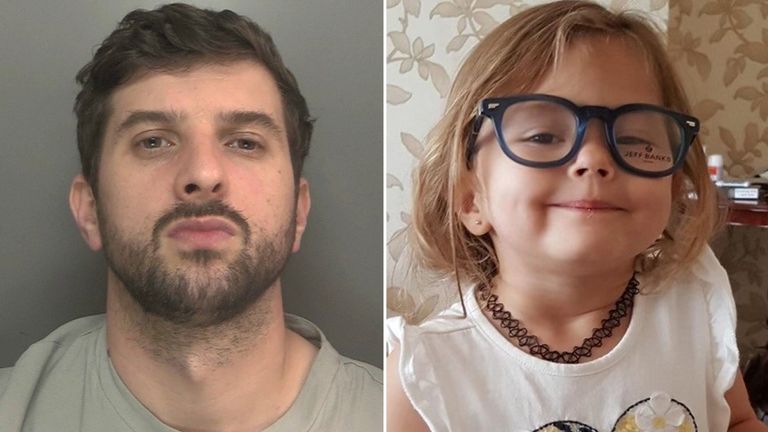 A getaway driver will be sentenced for assisting Thomas Cashman after he shot dead nine-year-old Olivia Pratt-Korbel.
Paul Russell, 41, admitted driving Cashman away from an address where he fled to after the murder on 22 August last year.
Olivia Pratt-Korbel trial – latest: Gasps as Thomas Cashman found guilty
Russell pleaded guilty at Liverpool Crown Court in October but the media was unable to report on it until the conclusion of Cashman's murder trial.
Cashman was convicted of the murder of Olivia at Manchester Crown Court on Thursday afternoon.
Cashman guilty Pratt-Korbel murder

Russell is also said to have disposed of a bag given to him by Cashman, which he believed to contain clothing, by passing it to another.
According to the charge, his actions were done with the "intent to impede the arrest and prosecution of Thomas Cashman".
At 7pm Sky News will broadcast a special programme: The murder of Olivia Pratt-Korbel
Russell's sentencing is set to take soon now Cashman's trial has taken place. Before the verdict had been delivered, Russell's representative asked for the sentencing to be held separately from one for Cashman.
During Cashman's trial on 30 March, the jury was told the gunman had spent the day of Olivia's killing "scoping out" his intended target, a convicted burglar called Joseph Nee. The prosecution said he had "murder in mind".
Read more:
Thomas Cashman found guilty of murdering Olivia Pratt-Korbel
'Morals have gone out the window', says ex-Liverpool gangster
Following the shooting, Russell drove him to the road where he had earlier parked his van. He then took a bag of clothing to a separate road where Cashman's friends lived, the court heard.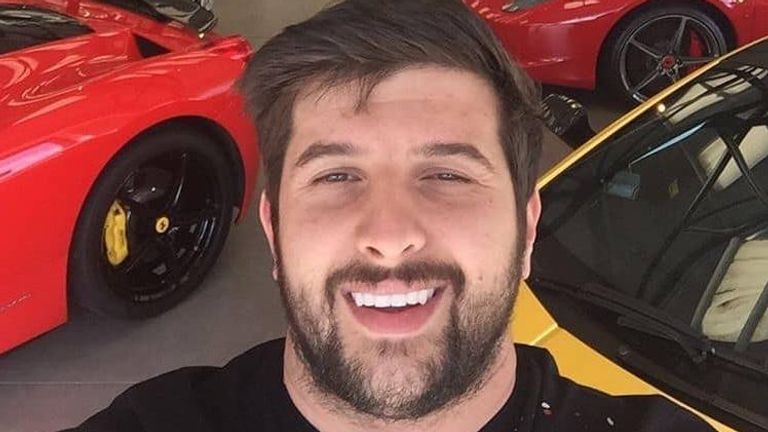 Olivia died after Cashman fired shots into the family's home in Dovecot, Liverpool, on 22 August 2022.
The gunman continued firing into the family home, with one bullet striking Olivia's mother, Cheryl Korbel, in the hand, before hitting Olivia in the chest. She was pronounced dead in hospital.