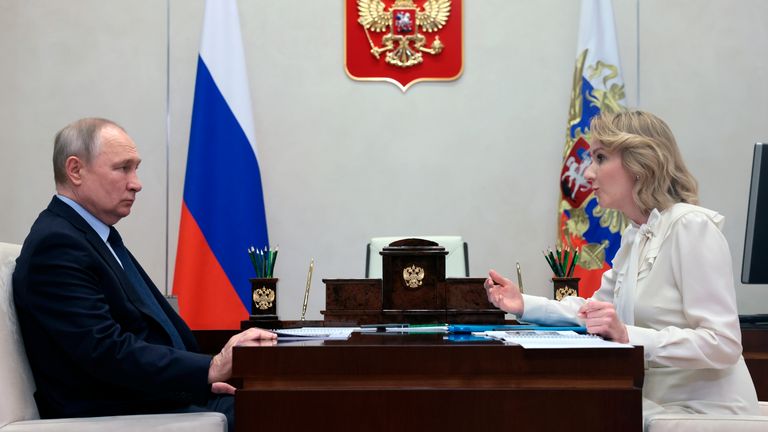 Russia has hit back after the International Criminal Court issued an arrest warrant for Vladimir Putin, which accuses him of war crimes for his alleged involvement in child abductions from Ukraine.
The ICC said the president is allegedly responsible for the "unlawful deportation of children and unlawful transfer of children from the territory of Ukraine to the Russian Federation".
It also issued a warrant for the arrest of Maria Alekseyevna Lvova-Belova, his commissioner for children's rights, on similar allegations.
Putin visits Crimea on anniversary of annexation – latest war updates
War crimes include torture, mutilation, corporal punishment, hostage taking and acts of terrorism. The category also covers violations of human dignity such as rape and forced prostitution, looting and execution without trial.
Crimes against humanity are acts committed as part of a widespread or systematic attack directed against any civilian population, such as murder, deportation, torture and rape.
So what do we know about Ms Lvova-Belova and other fugitives who are facing ICC arrest warrants?
Maria Alekseyevna Lvova-Belova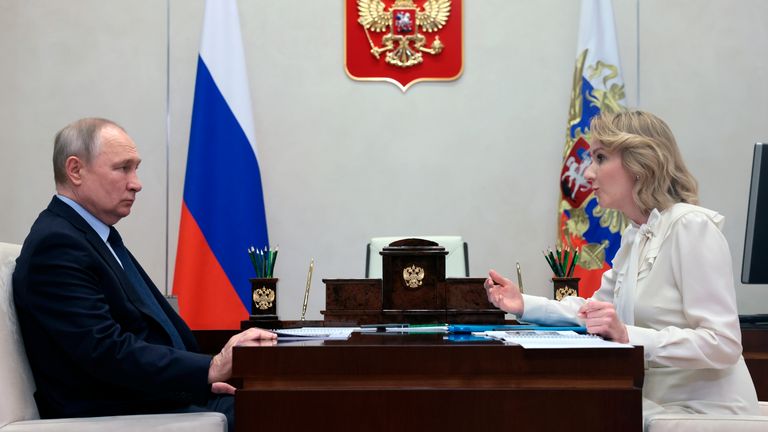 Lvova-Belova was appointed by Putin as his children's rights commissioner in October 2021.
British and Ukrainian officials have accused Lvova-Belova of the forcible deportation and adoption of children from Ukraine during the Russian invasion which began in February 2022.
Lvova-Belova has been sanctioned by the US, Europe, the UK, Canada and Australia.
She claims to be the "saviour" of Ukrainian children caught up in Russia's so-called "special military operation" but her passionate rhetoric allegedly conceals a sinister plan to deport Ukrainian kids from territories occupied by Russian invading forces.
A recent US report said Russia has held at least 6,000 Ukrainian children in sites in Russian-held Crimea and Russia whose primary purpose appears to be political re-education.
Last month on television, Lvova-Belova thanked Putin for being able to "adopt" a 15-year-old boy from Mariupol, the southeastern Ukrainian city that was destroyed and occupied by Russian forces.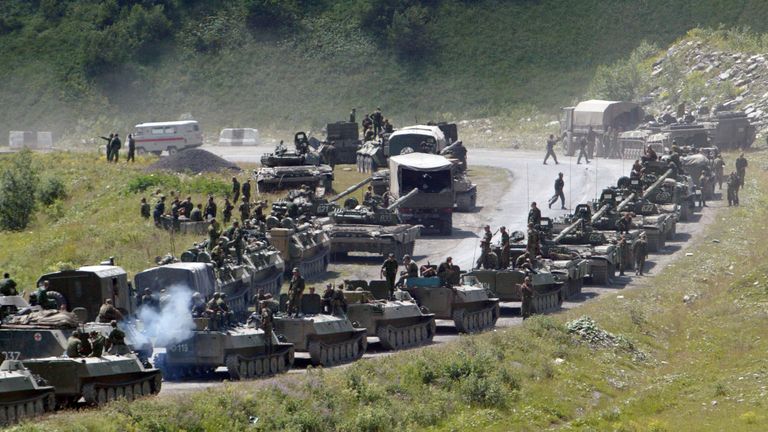 Lvova-Belova was already the mother and guardian of 22 mostly adopted children, according to reports.
She is also a member of the governing body of the pro-Kremlin United Russia party, the largest party in the Russian parliament.
Mikhail Mayramovich Mindzaev
The Russian allegedly committed war crimes during the August 2008 conflict between Georgia and Russia over South Ossetia, a breakaway region of Georgia that has very close ties with Moscow.
The war cost hundreds of lives on both sides and forcibly displaced tens of thousands of civilians.
Human Rights Watch found that after Georgian forces withdrew from South Ossetia on 10 August, the Russian-backed South Ossetian forces deliberately destroyed ethnic Georgian villages in South Ossetia that had been administered by the Georgian government.
It said the forces looted, beat, threatened, and unlawfully detained numerous ethnic Georgian civilians, and killed several, on the basis of the residents' ethnicity and political affiliations.
The ICC issued an arrest warrant for Mindzaev in June 2022. It said the ex-Russian police officer was the minister of internal affairs of the de facto South Ossetian administration from 2005 until 2008.
He was charged with war crimes of unlawful confinement, torture and inhuman treatment, outrages upon personal dignity, hostage taking, and unlawful transfer of civilians.
These were allegedly committed between 8 and 27 August 2008 during the conflict. He is still at large.
Saif al-Islam Gaddafi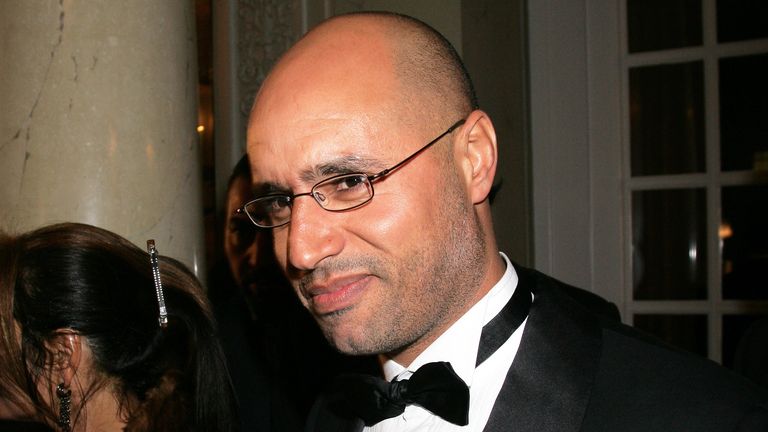 Saif al-Islam Gaddafi is a Libyan political figure and second son of the late Libyan dictator Muammar Gaddafi.
In 2011, the ICC issued an arrest warrant for Saif on two counts of crimes against humanity, which were murder and persecution, allegedly committed in Libya that year.
He was captured by a militia group in 2011 in Libya, as he tried to flee for Niger, but was released from prison in 2017 and is still at large.
In 2021, he registered to run for president, but the election authority rejected his bid.
Joseph Kony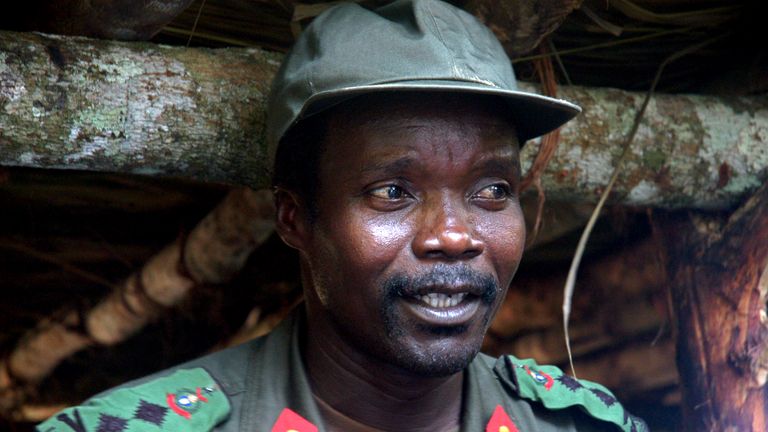 An arrest warrant was issued in July 2005 for the Ugandan rebel who was allegedly commander-in-chief of militia group the Lord's Resistance Army (LRA).
His decades-old war kept much of north Uganda trapped in a nightmare of violence, hunger and fear of night-time raids by the LRA.
Child soldiers and their commanders, many barely in their teens, carried out attacks on unarmed villagers, allegedly under Kony's orders.
Several attempts to capture him by UN and Ugandan forces over the years have failed and he remains on the run.
He is accused of 12 counts of crimes against humanity, which included murder, enslavement, sexual enslavement, rape, and inhumane acts of inflicting serious bodily injury and suffering.
The ICC also accused Kony of 21 counts of war crimes, including murder, cruel treatment of civilians, intentionally directing an attack against a civilian population, pillaging, inducing rape, and forced enlistment of children – these were allegedly committed after 1 July 2002.
Read more:
Vladimir Putin wanted by International Criminal Court
Biden says Vladimir Putin has 'clearly committed war crimes'
Russia says it scrambled fighter jet to intercept two US bombers over Baltic Sea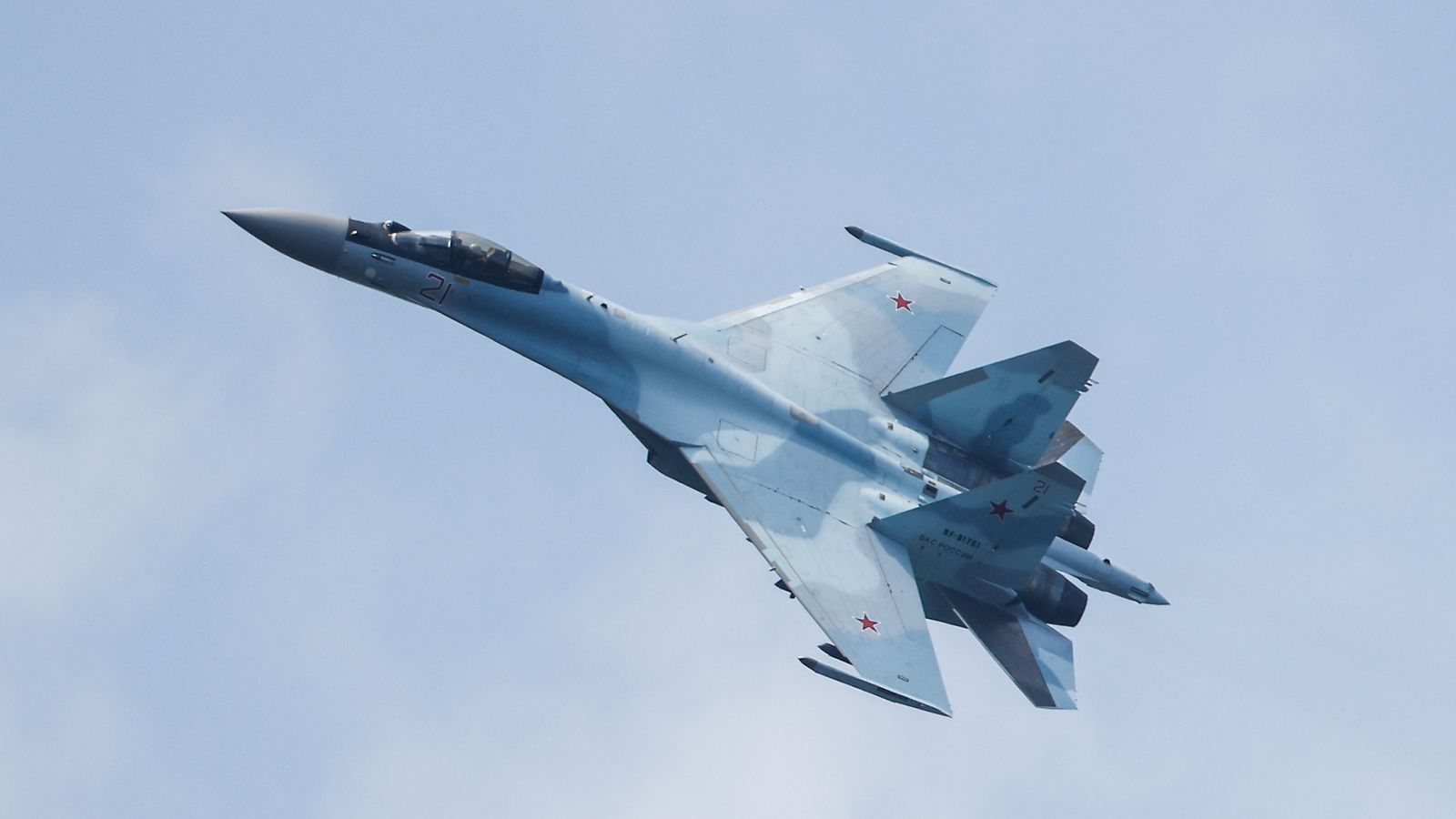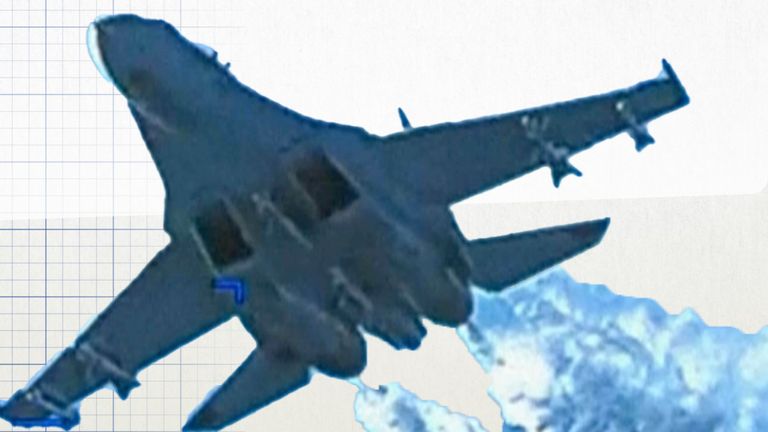 A Russian Su-35 fighter jet was scrambled to intercept two US strategic bombers over the Baltic Sea, Russia's defence ministry has said.
"Two air targets flying in the direction of the state border of the Russian Federation" were detected by radar on Monday, it said in a statement on the social media platform Telegram.
The aircraft were identified as two US Air Force B-52 strategic bombers "flying in the direction of the Russian Federation's state border".
A Su-35 fighter jet took to the air to prevent a border violation, the ministry continued.
"After the foreign military aircraft moved away from the Russian Federation state border, the Russian fighter returned to its base airfield," it added.
The National Defense Center of the Russian Federation said: "The flight of the Russian fighter was carried out in strict accordance with the international rules for the use of airspace.
"Violations of the state border of the Russian Federation are not allowed."
The US has not yet responded to the claim.
It comes after the crash of a US military surveillance drone into the Black Sea on 14 March after it was intercepted by Russian jets.
The US Air Force released a video it said showed a Russian jet intercepting the drone and dumping fuel on it over the Black Sea.
Russian jet vs US drone – what happened?

Read more:
I was a fighter pilot – this is how the US drone crash happened
It said two Russian Su-27 jets flew close to the MQ-9 Reaper before one hit its propeller and forced remote operators to crash it into the ocean.
The incident highlighted the increasing risk of direct confrontation between the superpowers as fighting continues in nearby Ukraine.
American officials accused the Russian pilots of flying in a "reckless, environmentally unsound and unprofessional manner".
Moscow denied the jets behaved dangerously and said they didn't come into contact with the drone, claiming it crashed due to "sharp manoeuvring".
What happens if Donald Trump is arrested?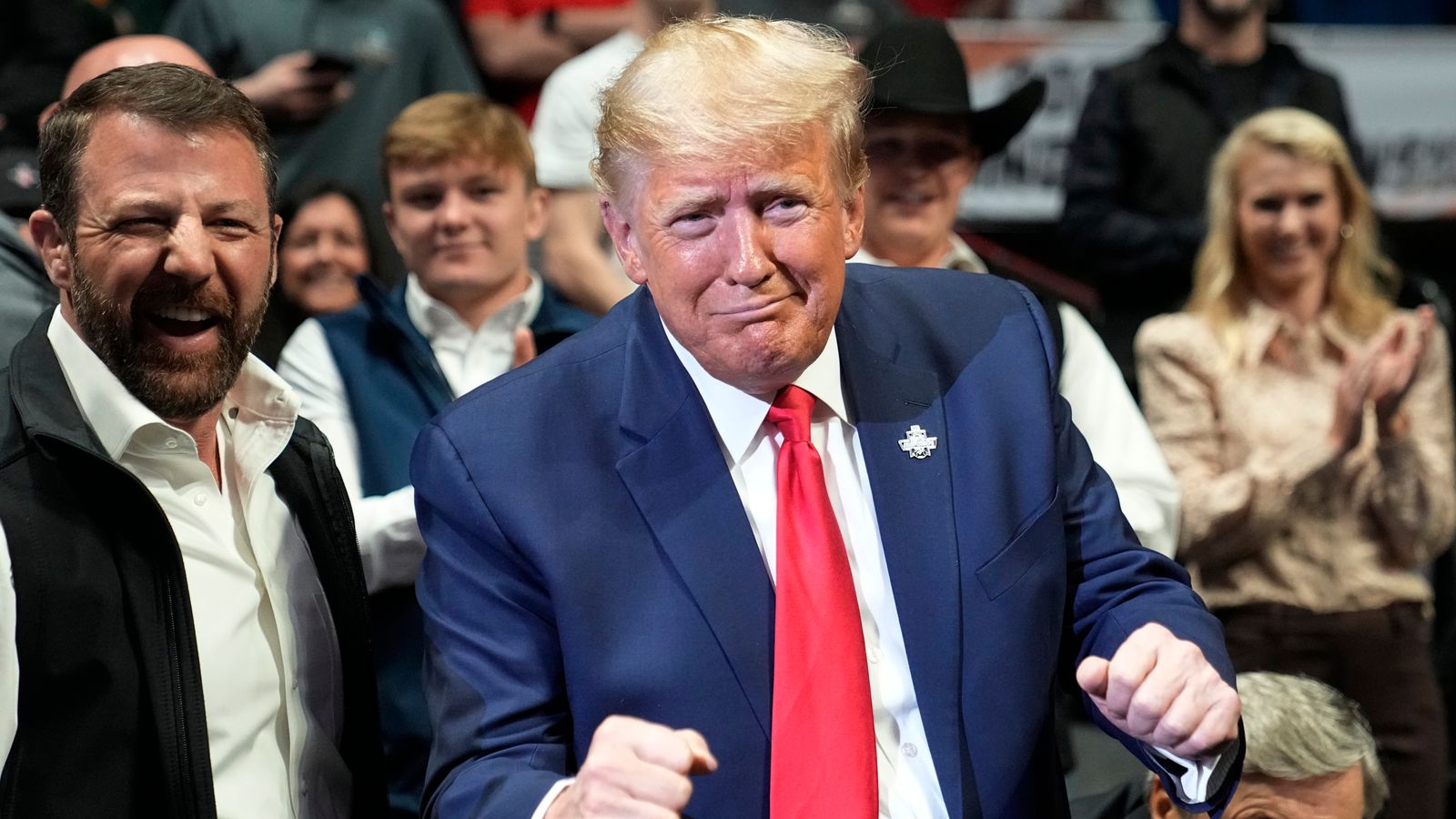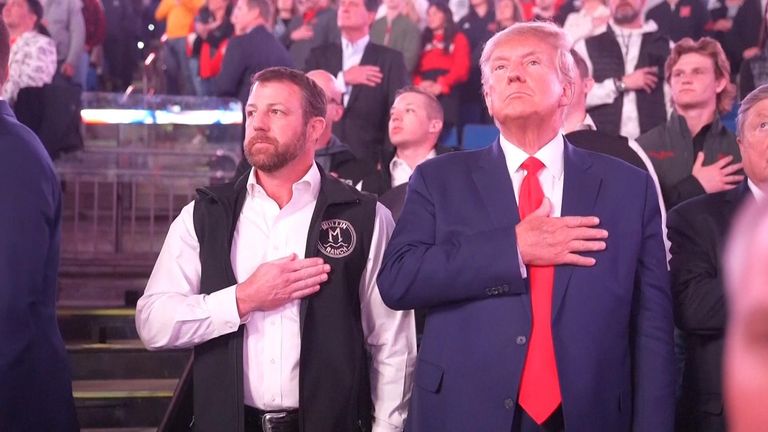 Donald Trump has claimed he is set to be arrested over an alleged hush money payment to adult film star Stormy Daniels.
If right in his assertion, the former US president could be charged by authorities in New York within days.
But what will happen if he is indicted – and how will both sides present their case?
What Trump has said
In a post on his Truth Social platform on Saturday, Mr Trump said he expected to be arrested on Tuesday and urged his supporters to protest against the authorities if he is detained and indicted.
He published a long statement describing the investigation as a "political witch-hunt trying to take down the leading candidate, by far, in the Republican Party".
"I did absolutely nothing wrong," he said, before criticising a "corrupt, depraved and weaponised justice system".
However, it's worth noting a spokesperson for Mr Trump said he had not been notified of any pending arrest.
The case – that the Republican made a payment to Ms Daniels towards the end of the 2016 presidential campaign in exchange for her silence over an alleged affair – is one of several related to Mr Trump.
Other ongoing cases include a Georgia election interference probe and two federal investigations into his role in the 6 January insurrection in the US Capitol.
Read more:
What has happened with Donald Trump's Facebook and Instagram pages?
Mike Pence won't commit to supporting Trump in 2024
Trump watches wrestling after arrest claim

What Trump will do
Mr Trump has accused Manhattan's district attorney Alvin Bragg, a Democrat, of targeting him for political gain, and may try to argue for the dismissal of the charges on those grounds.
He could also challenge whether the statute of limitations – five years in this instance – should have run out.
But in New York, the statute of limitations can be extended if the defendant has been out of state – Trump may argue that serving as US president should not apply.
Politically, how any possible indictment may affect Mr Trump's chances in the 2024 presidential election is unclear.
Click to subscribe to the Sky News Daily wherever you get your podcasts
He could be the first former US president to face criminal prosecution – right as polls show him leading other potential rivals for the Republican nomination, including controversial Florida governor Ron DeSantis.
This could lead to the unprecedented situation in which Mr Trump would stand trial as he campaigns in 2024.
If elected, he would not have the power to pardon himself of criminal charges.
In any case, Mr Trump's lawyer Joe Tacopina told CNBC on Friday that he would surrender if charged. If he refused to come voluntarily, prosecutors could seek to have him extradited from Florida, where he currently lives.
In an ironic twist, as governor, Mr DeSantis would typically have to give formal approval for an extradition.
Read more:
Trump arrest 'would be politically motivated'
Trump pleads the fifth in 2022 deposition video

What prosecutors will do
The Manhattan District Attorney's office has spent nearly five years investigating Mr Trump.
It has presented evidence to a New York grand jury that relates to a £114,000 ($130,000) payment to Ms Daniels during the final days of the 2016 presidential campaign.
It is alleged the payment was given in exchange for Ms Daniels' silence about an affair between her and Mr Trump.
Mr Trump has denied the affair and accused Ms Daniels of extortion.
Any indictment by the district attorney's office would require Mr Trump to travel to its New York office to surrender.
But Mr Trump's lawyers will likely arrange a date and time with authorities, as it is a white-collar case. And then his mugshot and fingerprints would be taken before appearing for arraignment in court.
Mr Trump could also be charged with falsifying business records – typically classed as a misdemeanour – after he reimbursed his former attorney Michael Cohen for the payments, falsely recorded as legal services.
To elevate it to a felony, prosecutors would have to show Mr Trump falsified records to cover up a second crime.
In any case, legal experts have estimated that any trial of the former US president would be more than a year away.
That's why if it happened, it could coincide with the final months of a 2024 election in which Mr Trump seeks a controversial return to the White House.
Gwyneth Paltrow ski crash court case starts in US after man accused her of seriously injuring him in 'hit-and-run'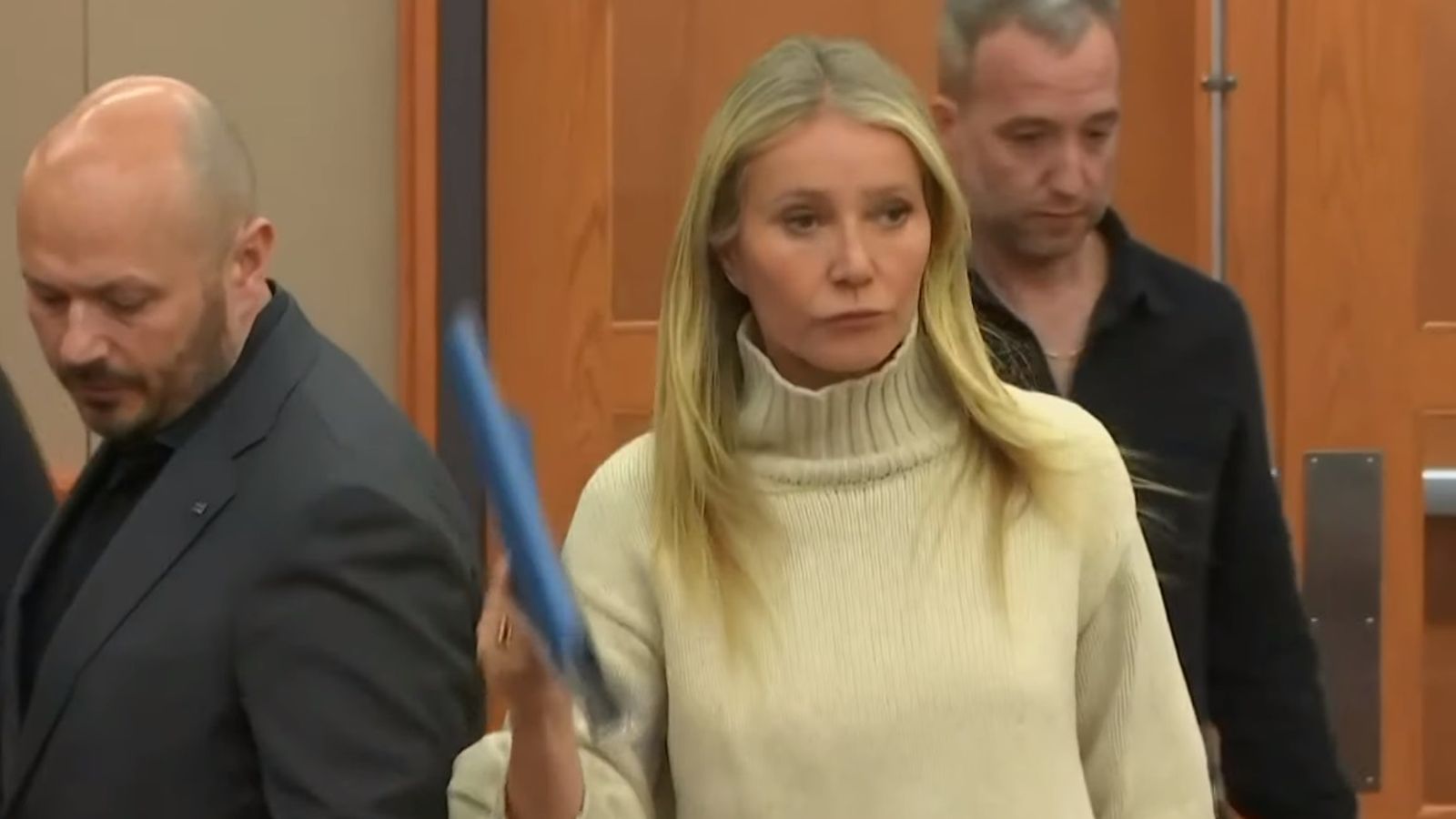 Gwyneth Paltrow has appeared in court in the US over claims she seriously injured a man in a "hit-and-run" skiing crash in 2016.
She is accused of skiing "out of control" and hitting retired optometrist Terry Sanderson at Deer Valley Resort in Utah.
The lawsuit claimed that Paltrow crashed into him, "knocking him down hard, knocking him out, and causing a brain injury, four broken ribs and other serious injuries".
Paltrow has alleged that Mr Sanderson is actually the culprit in the collision, and has been overstating his injuries.
The Hollywood star, also the founder and CEO of the wellness company goop, sat in the court wearing a high-necked cream jumper and brown trousers as opening statements in the case began.
Lawrence Buhler, representing Mr Sanderson, told jurors that Paltrow's behaviour on the mountain in 2016 had been "reckless".
Mr Sanderson first sued Paltrow in 2019, seeking $3.1m (£2.5m) in damages.
He is now seeking $300,000 (£245,000) after that claim was dropped.
The original 2019 claim stated that after hitting him, "Paltrow got up, turned and skied away, leaving Sanderson stunned, lying in the snow, seriously injured".
It also said a Deer Valley ski instructor who had been training Paltrow saw Mr Sanderson had been injured but made no attempt to help him.
The instructor did not send for help and later accused Mr Sanderson of having caused the crash in a "false report to protect his client", the claim said.
Read more from Sky News:
Bruce Willis celebrates 68th birthday following dementia diagnosis
Harry Potter actor dies after collapsing outside King's Cross
The actress countersued for a symbolic $1, saying it was Mr Sanderson who had caused the crash and delivered a full "body blow".
Paltrow's claim said she was shaken by the collision and stopped skiing with her family for the day.
It added that Mr Sanderson apologised to her and said he was fine.
The trial is scheduled to last for eight days.