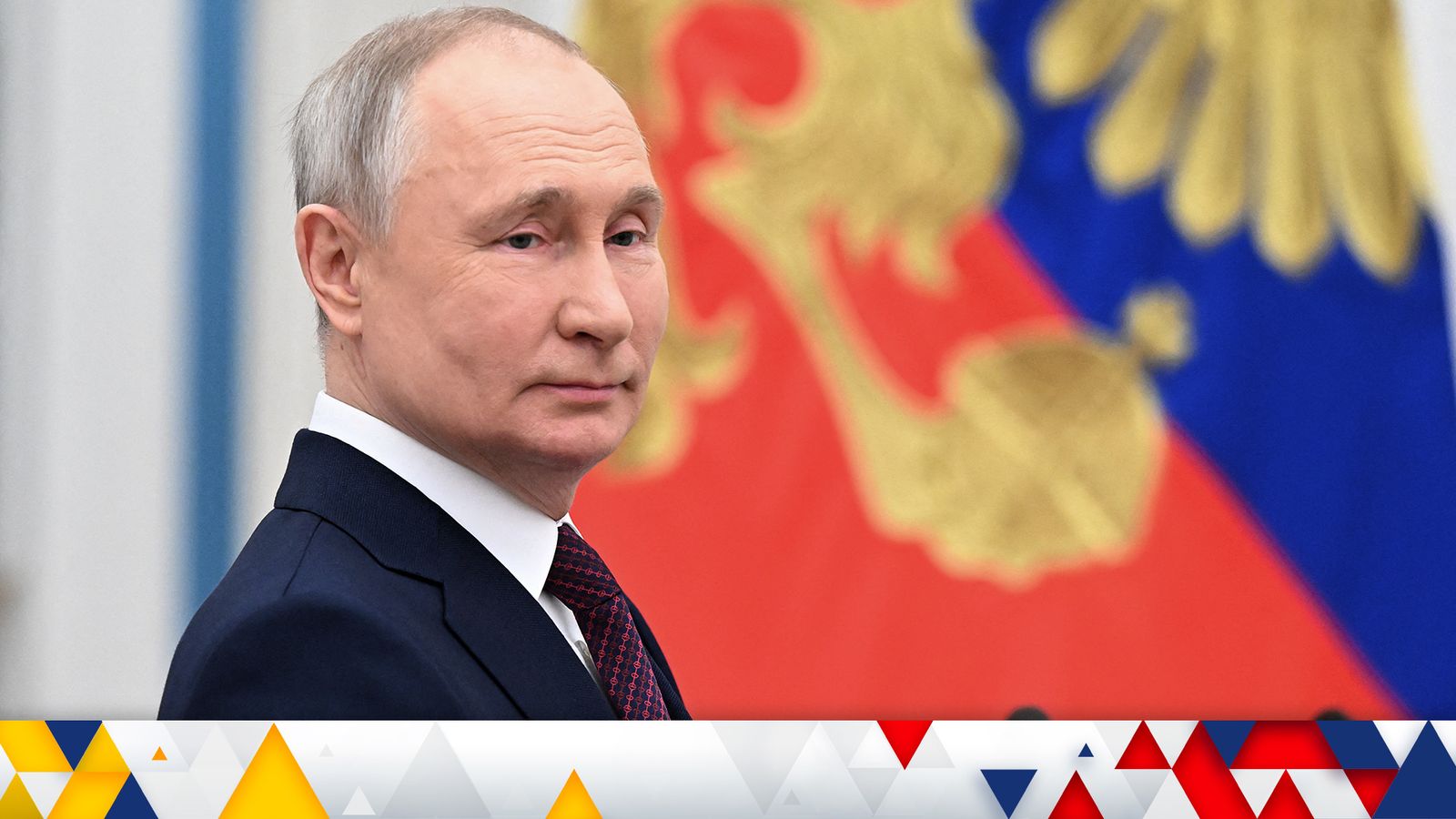 Vladimir Putin's arrest warrant is 'first shot' in potentially substantial indictment against him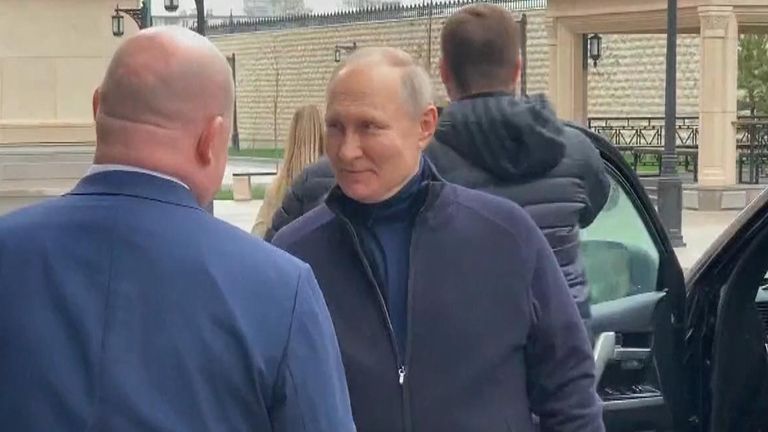 An arrest warrant issued against Russian President Vladimir Putin is the International Criminal Court's (ICC) "first shot" in what could be a substantial indictment against him, Ukraine's leading lawyer has said.
The intergovernmental group – based at The Hague – has accused Mr Putin of being responsible for the abduction of children from Ukraine.
An arrest warrant was also issued for Maria Alekseyevna Lvova-Belova, Russia's commissioner for children, on similar allegations of war crimes.
Speaking to Sky News, the lead lawyer for the government of Ukraine, Ben Emmerson, said he believes there are two reasons why the arrest warrant against Mr Putin has been issued now.
He said the immediate timing seems to have been the decision by the Office of the High Commissioner for Human Rights at the United Nations in Geneva "to publish a report detailing what the judges believe to be Russian war crimes committed in Ukraine – including the allegations of the forced transfer of children from Ukraine into Russia as a war crime".
Vladmir Putin visits Crimea

Mr Emmerson said the other dimension to the timing of the arrest warrant is "sometimes when indictments are issued, they are sealed".
"In other words, they're not made public. But increasingly, we have seen indictments being issued against leaders during an ongoing conflict that happened in relation to the indictment against General Gaddafi, for example, during the Libyan uprising."
Putin at risk of 'being held accountable'
He said that it has to be recognised that issuing an indictment against a sitting head of state in the midst of an armed conflict is to "some extent affecting the conduct or aimed to affect the conduct of those involved".
"In other words, this is clearly the first shot in what might be eventually a much more substantial indictment against President Putin," said Mr Emmerson.
He went on to say that he believes the main aim is to make Mr Putin and those around him aware of "the very real risk that exists of being held accountable criminally in due course".
On whether he thinks the narrow charges were a strategic move by the ICC, he said that Karim Khan, the head prosecutor at the International Criminal Court, has made it clear in the role that he intends to act "not on a political basis, but on the basis of prosecutable cases".
"In other words, he would choose cases that he was very confident could be won and won with evidential support," said Mr Emmerson.
How Russia 'stole' Ukrainian kids

Russian leadership makes 'erratic and belligerent moves'
Mr Emmerson suspects that the reason why this particular charge has been selected in the indictment against Mr Putin is that "proving his responsibility for this and indeed the responsibility of the children's commissioner is straightforward".
Asked whether the arrest warrant could offer some kind of hope for Ukrainian families getting their children back, Mr Emmerson said that he is always sceptical because "one thing that seems reasonably clear is that [Russian authorities] are often very unpredictable".
"But that said, these children have been unlawfully taken and in breach of humanitarian law. They have been effectively kidnapped. It is not the first time Russia has done this – it did this during the 2014 war in Donbas."
He added that "when the situation of lawlessness is as it is at the moment, and the Russian troops and authorities and indeed the Russian leadership are behaving with increasingly erratic and belligerent moves, everything remains unpredictable".
'Putin clearly committed war crimes'
The arrest warrant comes after US President Joe Biden described the ICC's decision to issue it as "justified".
The Kremlin said Russia, which does not recognise the ICC, found the questions raised by the court "outrageous and unacceptable".
Read more:
Putin's 'child snatcher' and other fugitives wanted by International Criminal Court
Vladimir Putin visits Crimea on anniversary of region's annexation from Ukraine
But Mr Biden, speaking at a news conference on Friday, said: "He's [Putin] clearly committed war crimes.
"I think it's justified [the warrant]. But the question is – it's not recognised internationally by us either. But I think it makes a very strong point."
Putin 'clearly committed war crimes'

Though both Russia and the US were once signatories to the Rome Statute – the treaty that established the ICC – the US has never ratified the agreement, while Russia withdrew after the court's criticism of its 2014 annexation of Crimea.
Alongside the ICC arrest warrant, the US has separately concluded that Russian forces have committed war crimes in Ukraine.
Click to subscribe to Ukraine War Diaries wherever you get your podcasts
"There is no doubt that Russia is committing war crimes and atrocities [in] Ukraine, and we have been clear that those responsible must be held accountable," a State Department spokesperson said.
Russia said the ICC's warrants were "null and void" as it does not recognise the court.
Meanwhile, Ms Lvova-Belova said her arrest warrant validated her work "helping the children of our country".
The allegations come as Russia prepares to celebrate the ninth anniversary of its 2014 annexation of Crimea, which Mr Putin is expected to mark with a "patriotic" rally at Moscow's Luzhniki Stadium this weekend.
Boris Johnson 'very much' looking forward to partygate grilling by MPs as he says committee has 'not a shred of evidence'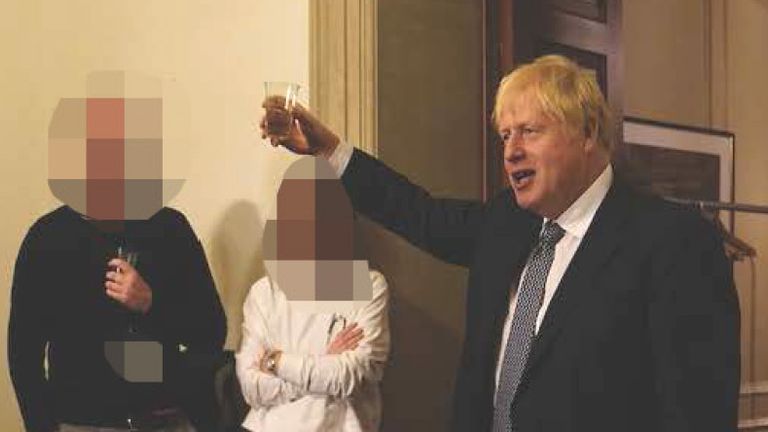 Boris Johnson has said he is "very much" looking forward to appearing before MPs investigating whether he knowingly misled parliament over partygate.
The former prime minister earlier on Tuesday said he accepts he misled parliament over partygate but insisted his statements were made "in good faith".
On the eve of his appearance in front of the privileges committee on Wednesday, he said: "I look forward very much to the committee session tomorrow.
"I believe that the evidence conclusively shows that I did not knowingly or recklessly mislead parliament.
"The committee has produced not a shred of evidence to show that I have."
Mr Johnson and his team are understood to be "very confident" ahead of his appearance.
The former prime minister earlier accused the privileges committee of having gone "significantly beyond its terms of reference" with its probe into whether he knowingly lied to MPs.
In his written evidence to the committee, published on Tuesday, Mr Johnson said it was "unprecedented and absurd" to claim that relying on assurances from "trusted advisers" was "in some way reckless".
But the committee hit back with a scathing statement which said the submission contains "no new evidence" in his defence, and an earlier version had to be re-submitted because of "errors and typos".
Boris Johnson to appear in front of the privileges committee from 2pm tomorrow – watch and follow live on Sky News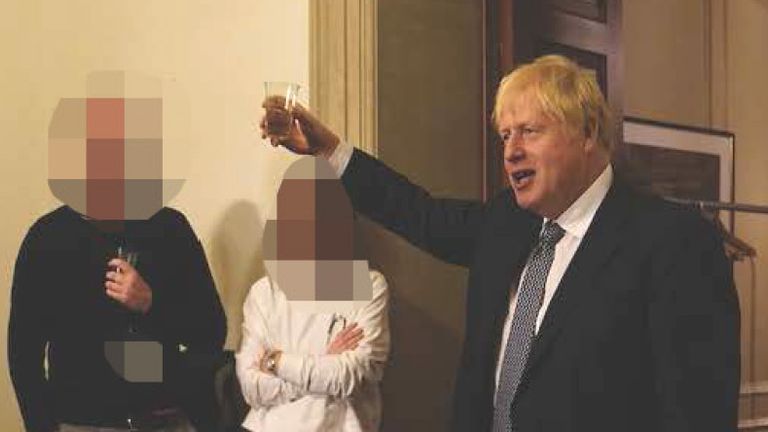 The committee launched its probe in the wake of Sue Gray's partygate report, which blamed a "failure of leadership and judgement" for the lockdown-busting parties that took place in Number 10 during the COVID pandemic.
The report criticised the culture that existed "at the heart of government" at a time when the rest of the country was ordered to follow strict social distancing guidelines.
Mr Johnson said he accepts the House of Commons "was misled by my statements that the rules and guidance had been followed completely at No 10".
"But when the statements were made, they were made in good faith and on the basis of what I honestly knew and believed at the time," he added.
Other key points in Mr Johnson's evidence:
• Mr Johnson insisted that other than the "assertions of the discredited Dominic Cummings", his former aide, there is "not a single document that indicates that I received any warning or advice that any event broke" the rules
• He rejected the committee's belief that the evidence strongly suggested breaches of coronavirus rules would have been "obvious" to him while prime minister, calling the allegation "illogical"
• He argued that some of those who attended the events "wished me ill and would denounce me if I concealed the truth"
• He criticised the "highly partisan tone and content" in the committee's damning interim report
• Referring to allegations of rule-breaking, the ex-prime minister said that any lack of social distancing in the "old, cramped London townhouse" of Number 10 was not necessarily a breach of guidance
• He said that while he personally attended five of the events considered by the committee, he "honestly believed that these events were lawful work gatherings"
• While he said he accepts the conclusion of the Met Police investigation, he said that it "remains unclear" to him – and possibly Prime Minister Rishi Sunak – about why they were fined for breaching lockdown laws
• He did not deny joking that he was at "probably the most unsocially distanced gathering in the UK right now" during a boozy mid-pandemic leaving do, but said he did not recall making the remark
Mr Johnson conceded in his evidence that his statements to parliament "did not turn out to be correct", but insisted he corrected the record at "the earliest opportunity".
"I did not intentionally or recklessly mislead the House on December 1 2021, December 8 2021, or on any other date," he said.
"I would never have dreamed of doing so."
Members of the COVID-19 Bereaved Families for Justice group called his defence "sickening" and called for him to resign as an MP.
Becky Kummer, a spokesperson for the group, said it's "obvious" that the former leader "deliberately misled parliament", adding: "Far worse though is the lies he deliberately told to families like mine, after failing to protect our loved ones. His claim that he did so in 'good faith' is sickening."
Partygate inquiry explained

The 52-page defence dossier was published a day before Mr Johnson faces a live grilling by the cross-party group of MPs in a hearing that could decide his political fate.
In response to his evidence, the committee said Mr Johnson's legal argument "contains no new documentary evidence" and that it had to be resubmitted on Tuesday because of "a number of errors and typos".
What is the committee investigating?
If Mr Johnson fails to convince the committee he did not deliberately mislead the Commons, he could be found to have committed a contempt of parliament.
A suspension of more than 10 days could result in a high-profile by-election in his Uxbridge and South Ruislip seat – though MPs will have to vote on any recommendations.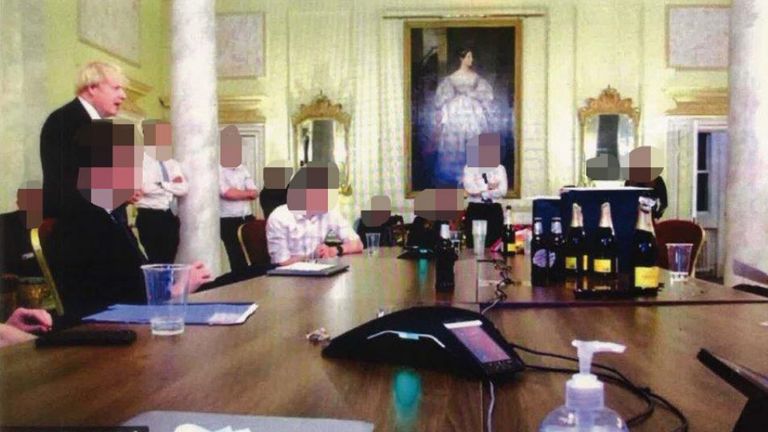 In an interim report into its investigation published earlier this month, the committee said the evidence it had gathered "strongly suggests" it would have been "obvious" to Mr Johnson that COVID rules were being breached at Downing Street gatherings he attended.
It said it had identified at least four occasions where Mr Johnson may have misled MPs, which will form the backbone of its investigation.
The first instance was when Mr Johnson told MPs in December 2021 that no rules or guidance had been broken – when subsequent investigations by Ms Gray and the Met Police found otherwise.
The second occasion came when the former prime minister failed to tell the Commons about his own knowledge of gatherings where the rules or guidance had been broken, when evidence showed he had been present at some of them.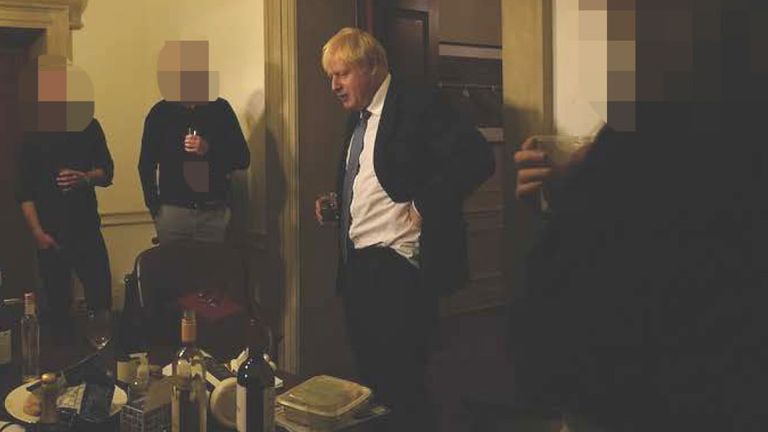 Thirdly, the committee said MPs may have been misled when Mr Johnson claimed on 8 December 2021 he had been given "repeated assurances" that rules were not broken.
However, these assurances only applied to one event on 18 December 2020 and not to compliance with the rules and guidance more generally.
Click to subscribe to the Sky News Daily wherever you get your podcasts
Finally, the committee said Mr Johnson gave the impression that he could only answer MPs' questions once the investigation by Ms Gray had determined whether rules or guidance had actually been broken.
"While repeatedly making that statement to the House he appears to have had personal knowledge he did not reveal," the committee said.
Read more:
The key parts of Boris Johnson's partygate evidence
How he defends each of his partygate statements to parliament
As well as being required to be truthful to parliament at all times, MPs are also encouraged to correct the record at the earliest opportunity if they have inadvertently said something wrong.
The committee said in its interim findings that Mr Johnson "did not use the well-established procedures of the House" to correct the record, as is convention.
Man charged with sending offensive messages to Labour deputy leader Angela Rayner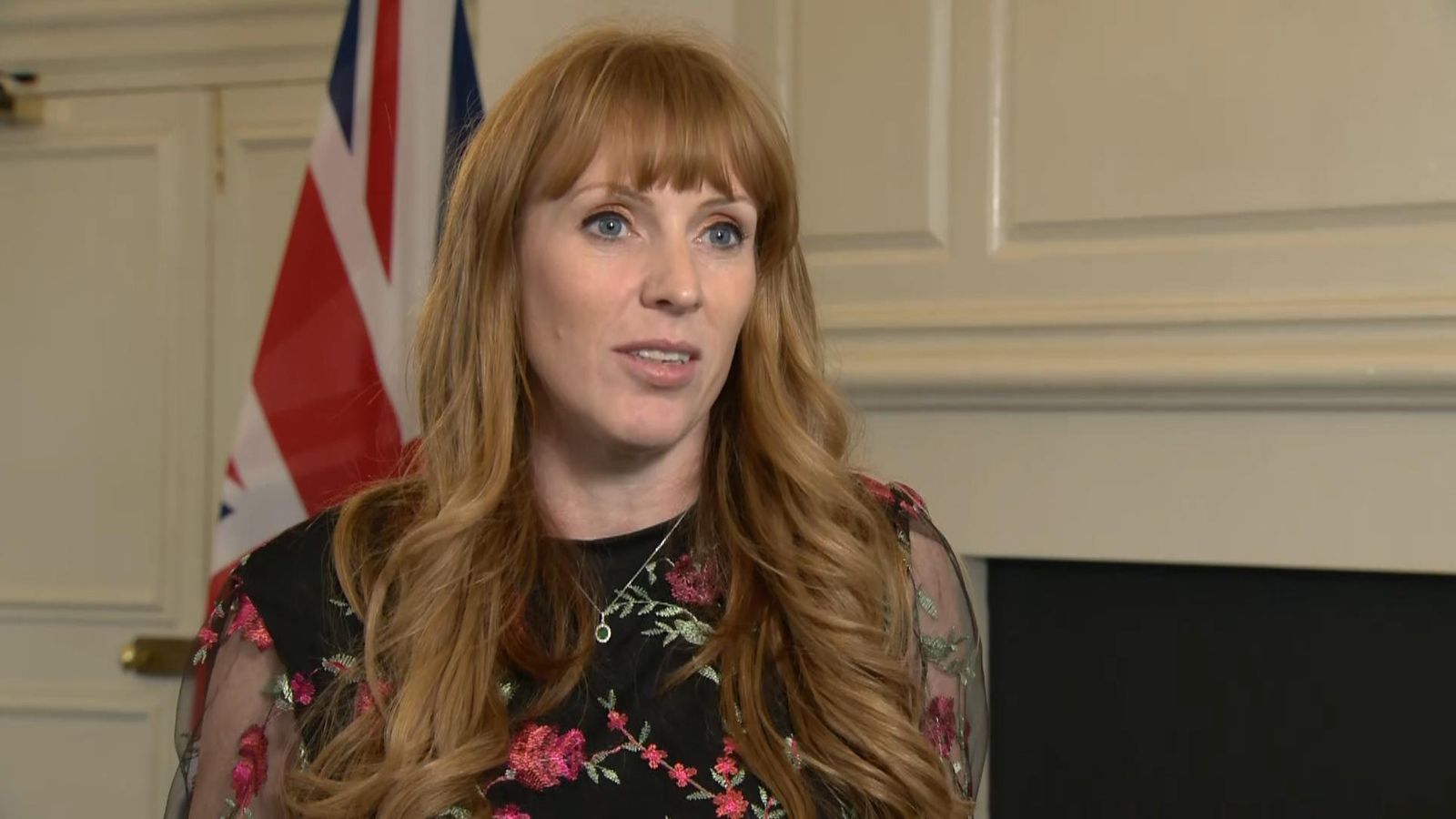 A man has been charged with sending offensive and indecent messages to Labour's deputy leader Angela Rayner.
David Perry has been charged with sending the MP a grossly offensive message and an indecent message.
The 66-year-old, from Weybridge, Surrey, is due to appear at Westminster Magistrates' Court on 11 April.
Greater Manchester Police said the charges relate to an email sent to Ms Rayner, MP for Ashton-under-Lyne, on 2 May 2022.
How Boris Johnson defends each of his partygate statements to parliament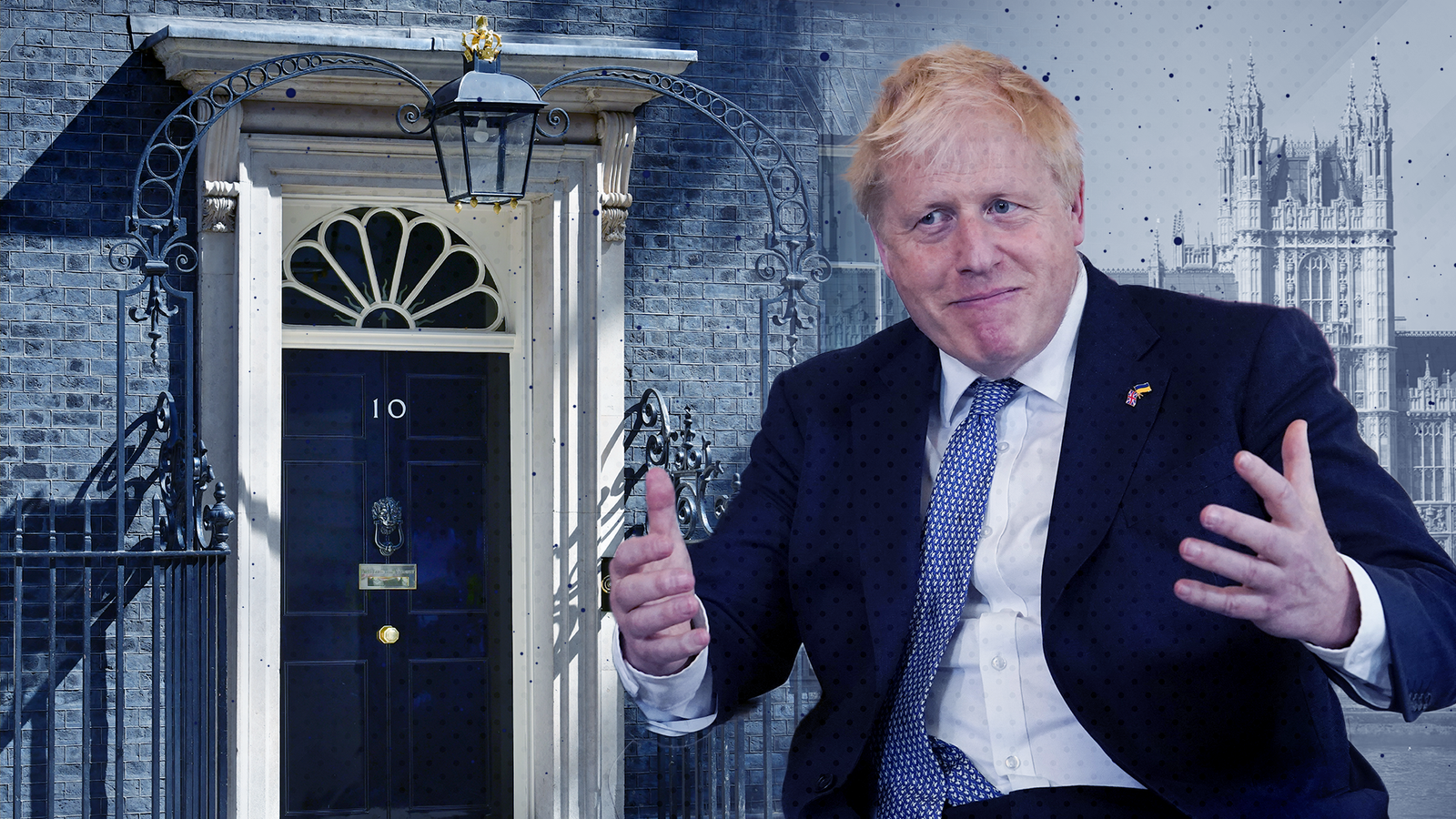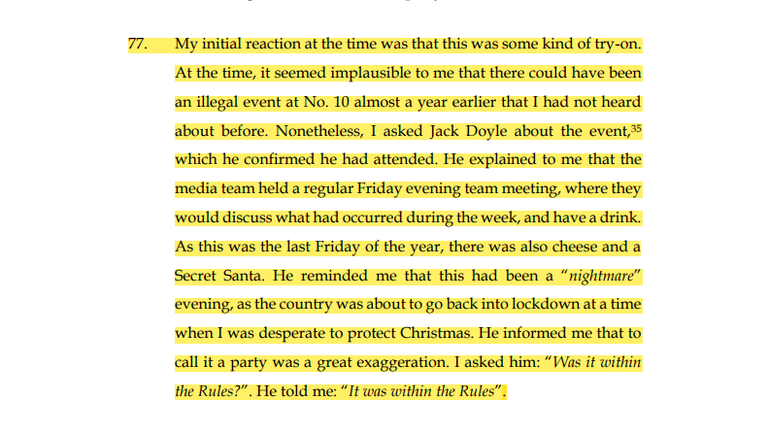 Boris Johnson has admitted he inadvertently misled parliament in a series of statements he made in relation to partygate.
But setting out his defence ahead of an appearance at the privileges committee tomorrow, the former prime minister insisted his comments were delivered "in good faith" and that he believed them to be true at the time.
It's his response to allegations he broke the Palace of Westminster's rules, as set out in a book called Erskine May's Parliamentary Procedure, which says: "The Commons may treat the making of a deliberately misleading statement as a contempt."
Here we take a look at each of the three Commons statements the committee is investigating and set out Mr Johnson's explanation for how he played by the rules:
Alleged rule breach 1
Date: 1 December 2021
What Boris Johnson said: "What I can tell the right honourable and learned gentleman is that all guidance was followed completely in Number 10."
His defence: Mr Johnson said he became aware the Daily Mirror was planning to run a story on alleged lockdown breaking at a gathering on 30 November 2021 – around the time of the Omicron variant and new restrictions being voted through Parliament.
He said his director of communications, Jack Doyle, came to see him that evening about an email the paper's political editor had sent – his diary recorded this meeting between 6pm and 6.05pm – making allegations about four parties.
"I did not see the email myself and the only event I can recall Jack mentioning in any detail was the one held in the press office on 18 December 2020, which I had not attended," said the then PM.
"The email mentions two other events – on 13 November 2020 and 27 November 2020 – which I do not recall Jack bringing up but I accept that he may have. These were ones that I had attended."
But he said had Mr Doyle mentioned them, he would have been "confident" they had complied with the COVID rules at the time due to his own attendance.
Back to 18 December, and Mr Johnson said he felt it was "implausible" the COVID rules had been broken.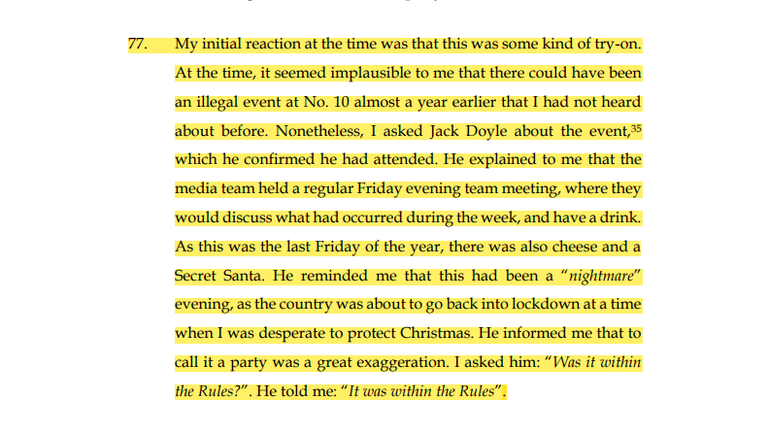 After hearing Mr Doyle's description of the gathering, Mr Johnson said he believed it.
And in his evidence to the privileges committee, he sought to add context to the experience of Downing Street staff.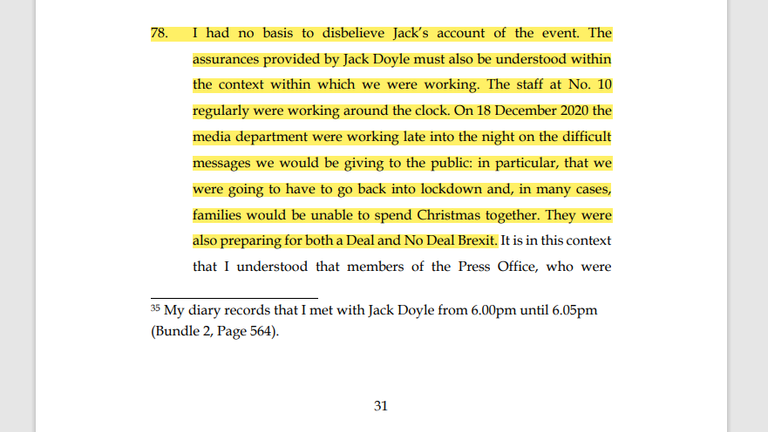 For the then PM, drinking wine at a person's desk was not rule breaking under the rules he had brought into force.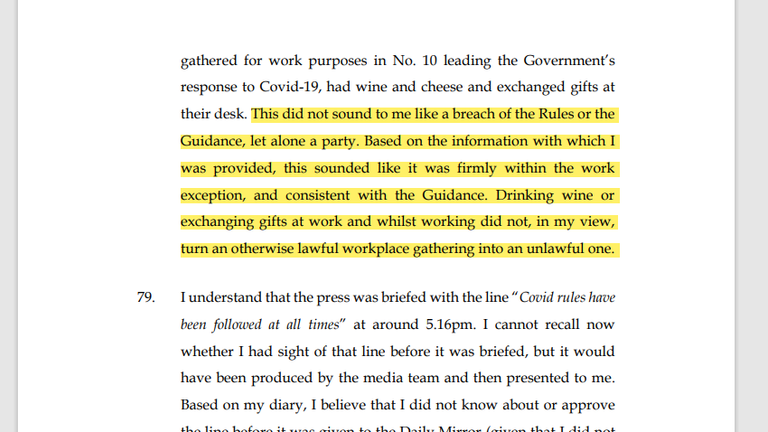 The press was briefed "COVID rules were followed at all times" and Mr Johnson said he "did not anticipate that this would be a big story", even saying he was "surprised" when Labour leader Sir Keir Starmer raised it at Prime Minister's Questions on 1 December.
Sir Keir asked: "As millions of people were locked down last year, was a Christmas party thrown in Downing Street for dozens of people on 18 December?"
Mr Johnson responded: "Based on the conversations that I had had the previous day and that morning… What I can tell the right honourable and learned gentleman is that all guidance was followed completely in Number 10."
Sir Keir Starmer accuses the PM of holding a lockdown party during PMQs.

And while he said he meant to repeat the exact line given to the Daily Mirror the night before, he said he did believe all guidance had been followed based on his understanding of the rules.
He said: "I did not mean that social distancing was complied with perfectly in Number 10, but this was not required by the guidance."
He said he "relied on my knowledge of those events for the periods which I attended".
He also added: "Number 10 and the Cabinet Office are very large departments. I believed that if anyone witnessed something that they considered to be illegal or contrary to guidance, I would have been made aware of it."
Evidence supporting him: Mr Johnson said it was fair to accept he believed everyone was following the rules and guidance because "this belief was shared by many others" – pointing to six individuals.
The names of three of them – all Number 10 officials – have been redacted, but his principle private secretary, Martin Reynolds, his official spokesman (later promoted to director of communications) James Slack, and Mr Doyle were named.
In his written evidence to the committee, Mr Reynolds wrote that he and others "involved in organising and attending the gatherings" believed they were following regulations and that decisions "were taken in good faith and were reasonable on a common-sense reading of the relevant regulations".
He also said he believed "all senior staff in Downing Street", assumed the events were lawful too, both political staff and civil servants, saying: "They spoke at, attended or were aware of some, or all, of the gatherings. The attendees included some of those responsible for the regulations. I believe in-house lawyers were copied in to some invitations."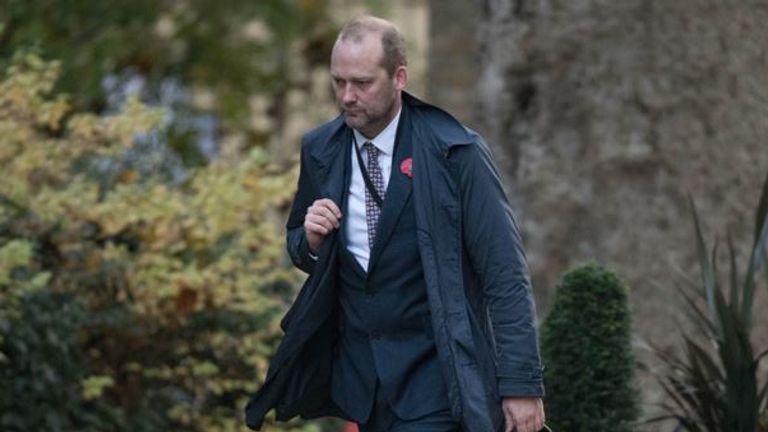 In an interview that came as part of Sue Gray's partygate investigation, Mr Slack said: "I honestly don't think that anyone who was in that room was breaking any rules. They were with their colleagues who they sat with all day every day for 12 hours.
"Were there additional elements to that? Yes. That was a reflection of the specific circumstances of the end of the year. Everyone in the office knew that they were public servants and wouldn't have done it if they thought they were breaking rules."
Mr Johnson also cited a WhatsApp conversation between him and Mr Doyle on 10 December, where the then PM said: "Is there a way we could get the truth about this party out there."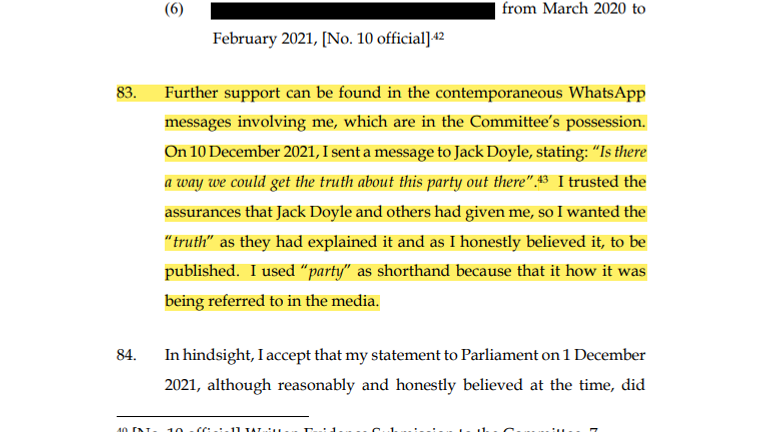 In conclusion, Mr Johnson said: "In hindsight, I accept that my statement to Parliament on 1 December 2021, although reasonably and honestly believed at the time, did mislead the House.
"If I had been aware of this information, I would obviously not have stood up in Parliament and said what I said."
Alleged rule breach 2
Date: 8 December 2021
What Boris Johnson said: "I repeat that I have been repeatedly assured since these allegations emerged that there was no party and that no COVID rules were broken – that is what I have been repeatedly assured."
His defence: The day before Mr Johnson made this statement to the House, the footage of Allegra Stratton joking about a lockdown event taking place on 18 December 2020 in Downing Street was published by ITV.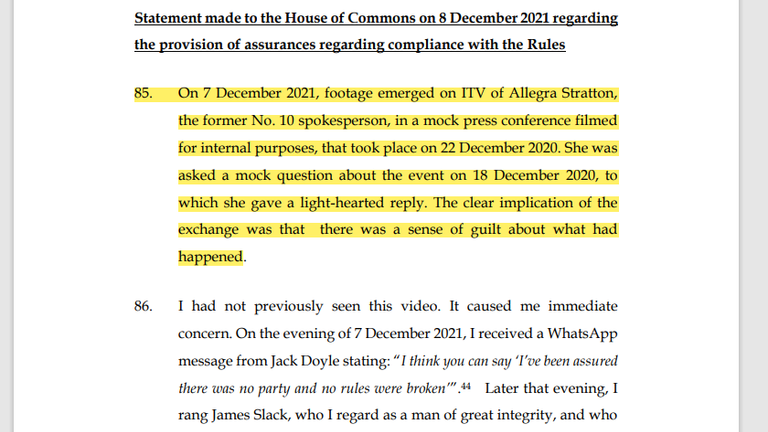 The then PM said he had "not previously seen this video" and it caused him "immediate concern", but in the evening Mr Doyle sent him a WhatApp saying: "I think you can say 'I've been assured there was no party and no rules were broken'."
Mr Johnson said he later called Mr Slack "who I regard as a man of great integrity and who was in the building on the evening of 18 December 2020", and he also confirmed that the rules had been followed.
But as he "remained concerned", he decided he needed to commission an investigation to "find out precisely what happened at the event in question", and spoke to cabinet secretary Simon Case that night, asking him to carry it out.
Former adviser to the PM Allegra Stratton resigns after the video of her joking about parties is leaked.

Mr Johnson received another WhatsApp from Mr Doyle the following morning with a proposed wording for a statement: "I sought and was given reassurance no rules were broken and no party took place."
The details were thrashed out in an email chain "which involved numerous civil servants and advisers", and after a large meeting, a statement was agreed.
The PM went to the House and ahead of PMQs said: "I repeat that I have been repeatedly assured since these allegations emerged that there was no party and that no COVID rules were broken. That is what I have been repeatedly assured."
He also confirmed the independent inquiry, which was due to be led by Mr Case – before he was later found to have attended a gathering and recused himself.
In his evidence to the committee, Mr Johnson said: "This statement was entirely accurate, and I do not believe that the House has been misled by it."
He said the statement "related exclusively to the event on 18 December discussed by Ms Stratton – "the focus of the media storm".
And he said he told MPs "what I honestly believed based on my own understanding, and what I had been told by others – but I acknowledged that the truth would be established independently, and that I might subsequently be found to have been wrong".
Evidence supporting him: First, Mr Johnson included Mr Doyle's interview with Sue Gray over what he had told the PM about the events.
Asked if he gave the repeated assurances, Mr Doyle said the pair had a conversation "and the only thing I said to the PM was that I didn't regard this as a party and we didn't believe the rules had been broken and that's what we said at lobby – the rules is a judgment for others, it was not an organised party".
The then PM also said the "repeated assurances" he was given were witnessed by two Tory MPs – Andrew Griffiths and Sarah Dines.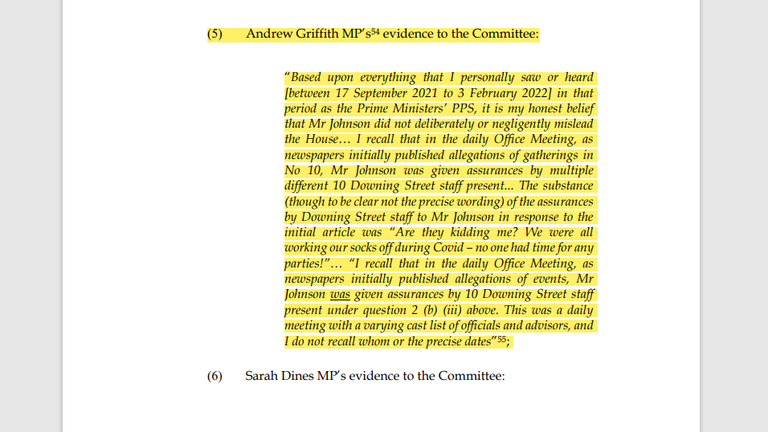 And Mr Reynolds said: "I believe that reassurances were provided by some of the senior communications team staff who were present at the event, including Jack Doyle."
Alleged rule breach 3
Date: 8 December 2021
What Boris Johnson said: "No but I am sure that whatever happened, the guidance was followed and the rules were followed at all times."
His defence: In the same PMQs sessions, Labour MP Catherine West asked Mr Johnson whether there had been a party on 13 November amid rumours of a fresh story.
It was later confirmed a leaving party did take place in Downing Street on that date – though rumours of a "victory party" taking place in the PM's flat the same day Dominic Cummings left his post have been denied.
Replying to the MP's question though, Mr Johnson said: "No but I am sure that whatever happened, the guidance was followed and the rules were followed at all times."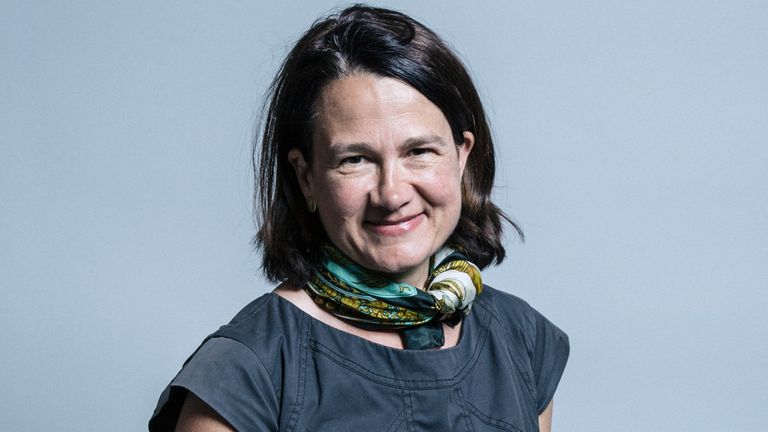 In his evidence, Mr Johnson said: "I appreciate that the meaning of this statement is not entirely clear. At the time, I did not know what event Catherine West MP was referring to, and it remains unclear."
He revealed he did attend two events on that day, but again said he believed he had acted in line with the rules.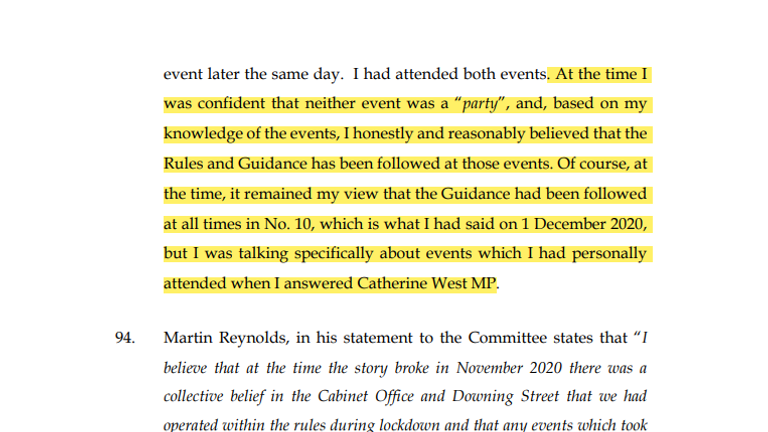 Evidence supporting him: Again it is principle private secretary Mr Reynolds who Mr Johnson uses to back up his claims.
In his statement to the committee, Mr Reynolds said: "I believe that at the time the story broke in November 2020 there was a collective belief in the Cabinet Office and Downing Street that we had operated within the rules during lockdown and that any events which took place had been legitimate, work-related gatherings".