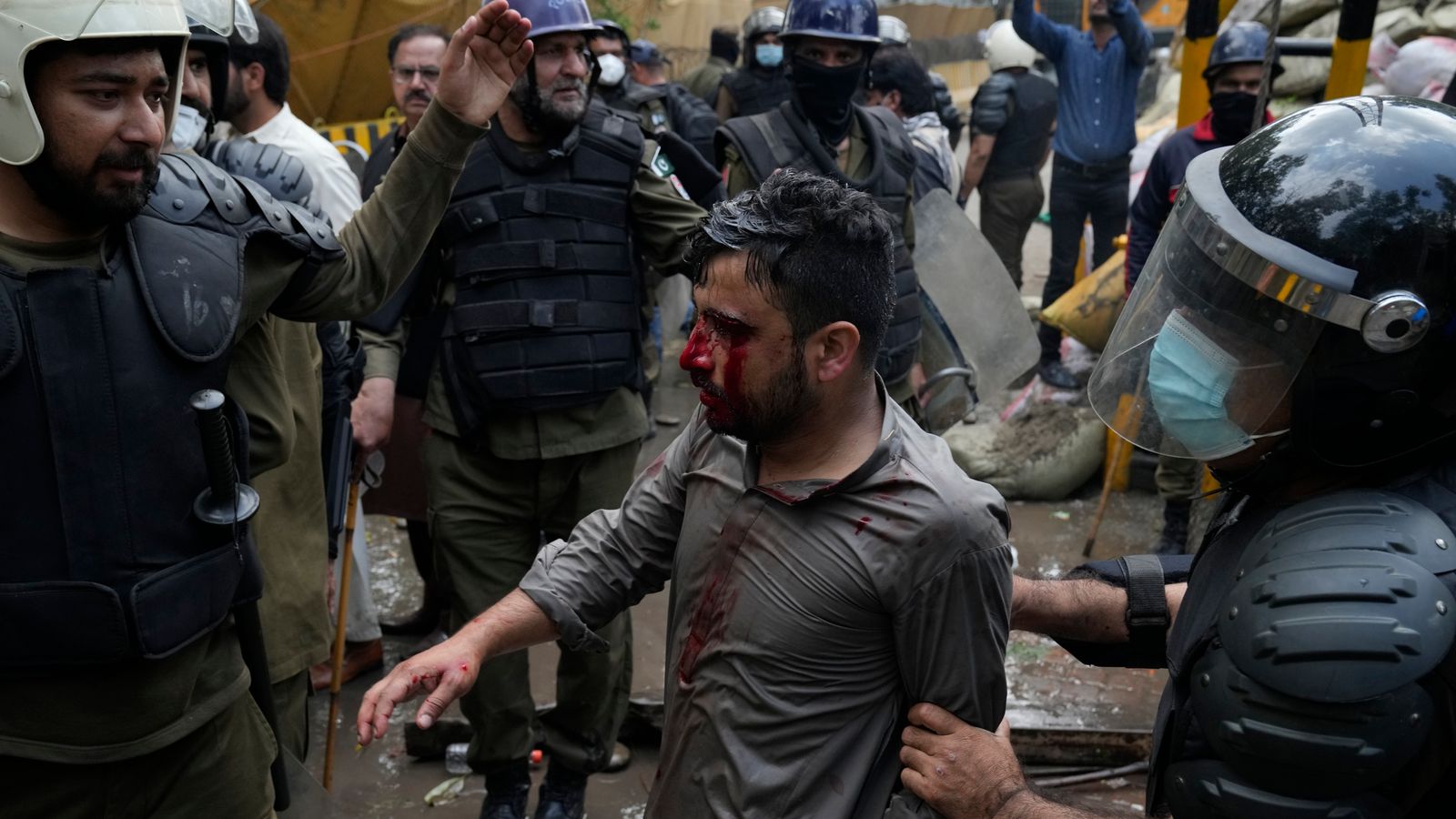 Imran Khan: Petrol bombs thrown and shots fired at Pakistan police as they raid home of former prime minister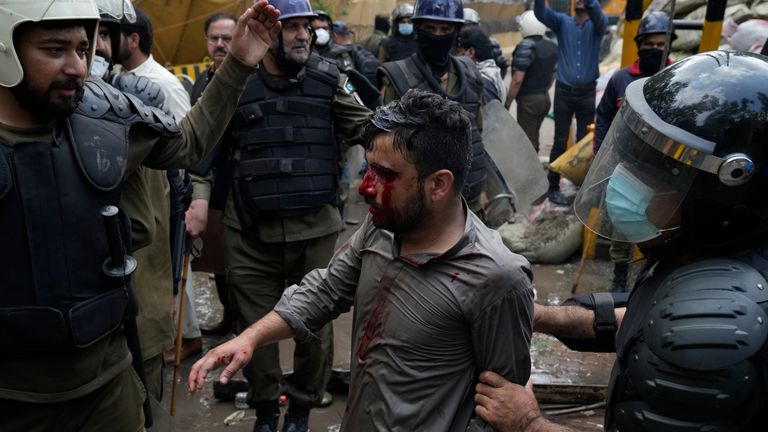 Petrol bombs and stones have been hurled at police in Pakistan as they raided the home of former prime minister Imran Khan, during which shots were also fired.
Officers responded with tear gas as they clashed with baton-wielding supporters of the politician in the eastern city of Lahore on Saturday and arrested more than 60 people.
During the operation, a man on the roof of the sprawling compound opened fire.
At least three police officers were injured.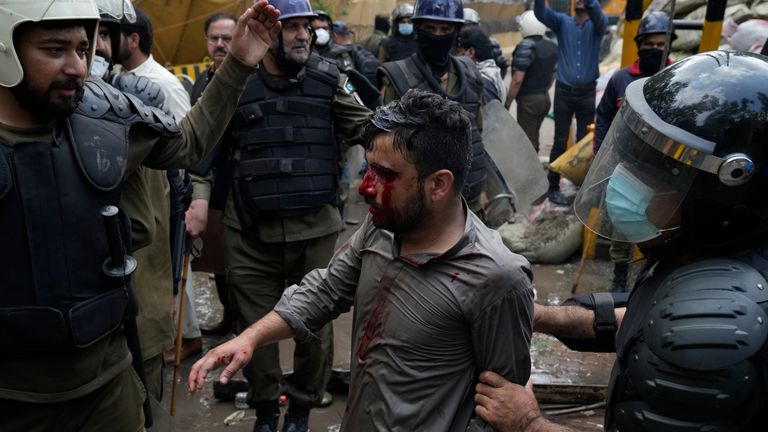 Senior commander Suhail Sukhera said the security forces had to remove barricades erected by members of Mr Khan's Tehreek-e-Insaf party.
He said they blocked the lanes around the property with concrete blocks, felled trees, tents and a parked truck.
On breaking open the main door of the main residence, police said they found masks, petrol-filled bottles, iron rods and batons used in attacks on police during the past week.
Mr Khan was not at home, having travelled to Islamabad to appear before a judge to face corruption charges.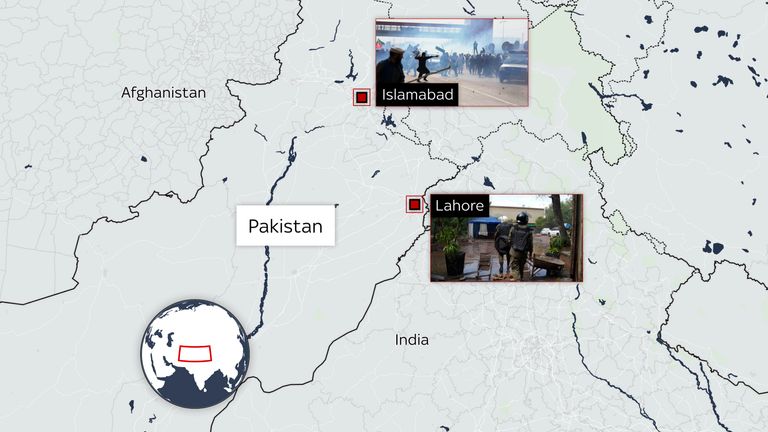 The judge postponed that hearing until 30 March.
Due to violence outside the judicial building between police and Mr Khan's supporters, he was unable to reach the courtroom and so was allowed to sign his presence from his vehicle.
Read more:
Imran Khan accused of 'blatant lies' by Pakistan minister
Former Pakistan PM Imran Khan 'prepared for arrest'
A top court on Friday had suspended Mr Khan's arrest warrant, giving him a reprieve to travel to the court without being detained.
He had taken refuge at his home in Lahore since Tuesday, after failing to appear at an earlier hearing in the case.
His supporters had clashed with police for two days to protect him from arrest.
During his journey to Islamabad, Mr Khan said in a video message that the government had planned his detention despite him travelling to the hearing.
He said police had broken into his home while his wife was alone there.
He condemned the actions of police and demanded those responsible be prosecuted.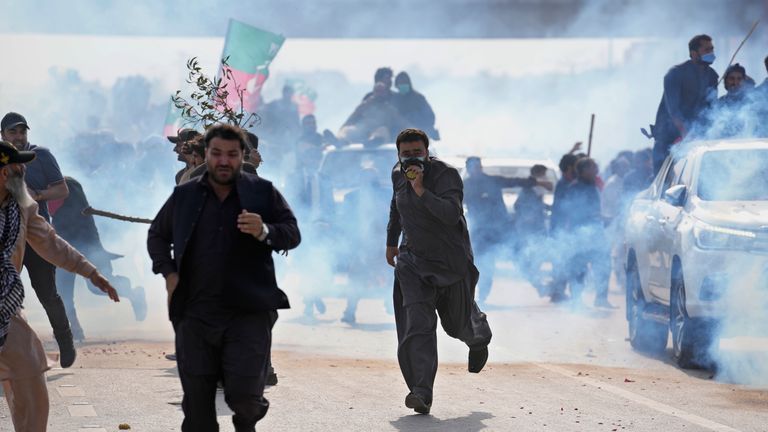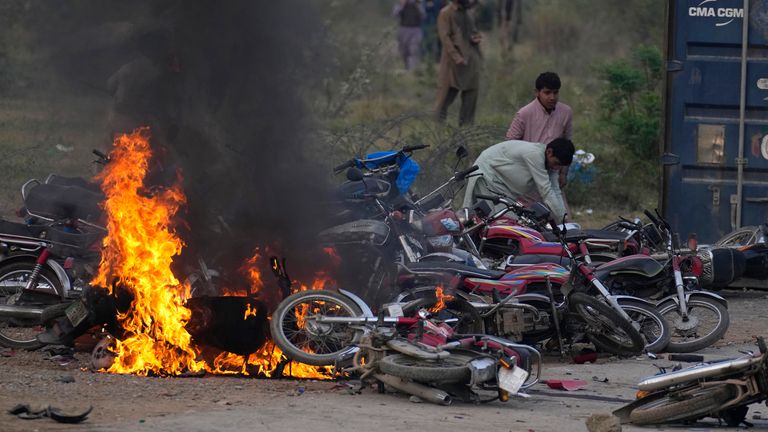 Mr Khan, 70, now in the opposition, was ousted in a no-confidence vote in parliament last April.
He is accused of selling state gifts while in office and hiding his assets.
It is one in a series of cases the former cricket star has been facing since his ousting.
He has also claimed that his removal from power was part of a conspiracy by his successor, Prime Minister Shahbaz Sharif, and the US.
Both Washington and Sharif's government have denied the allegations.
UK to join Indo-Pacific trade bloc in biggest trade deal since Brexit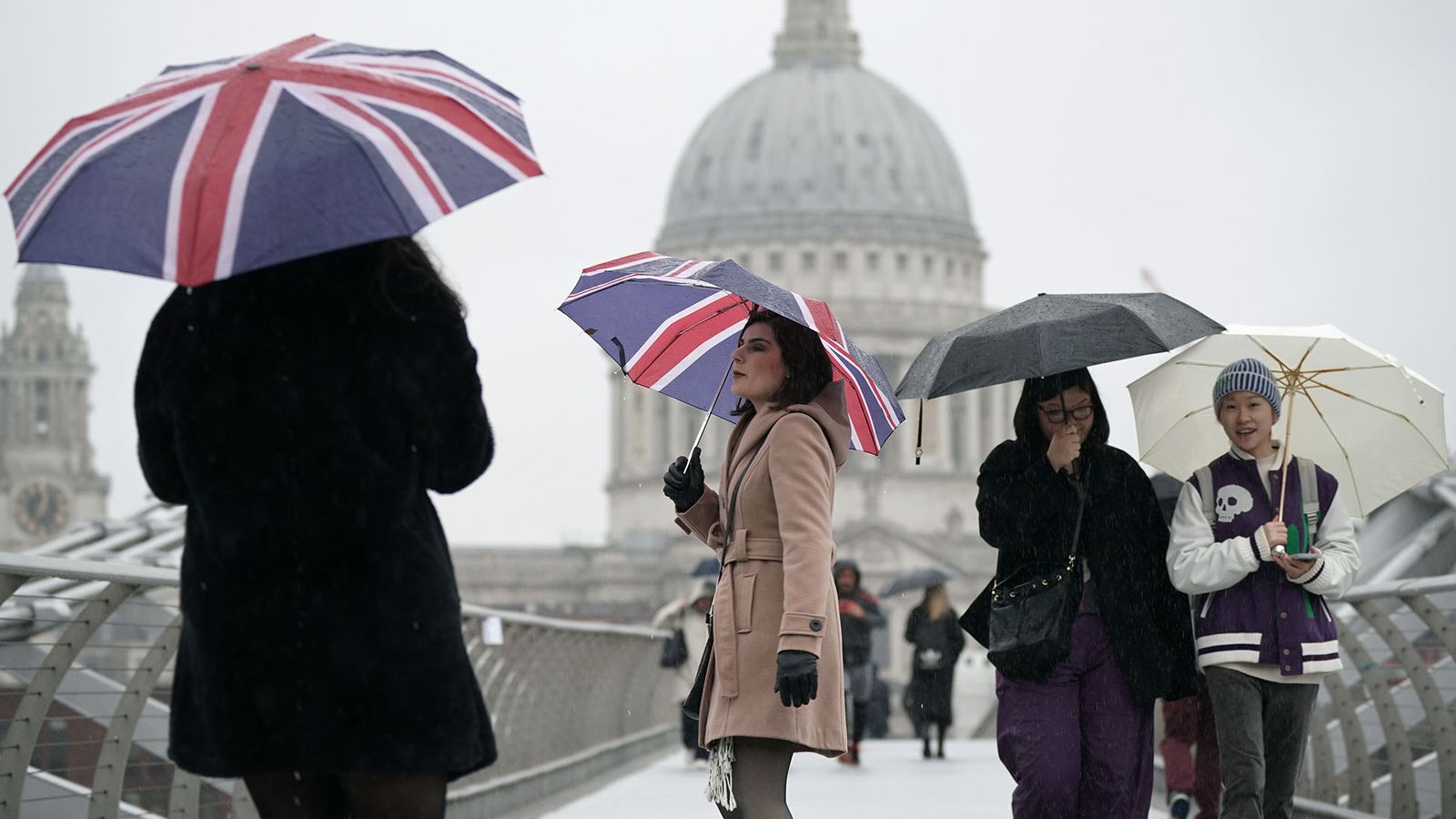 The UK is set to join the Comprehensive and Progressive Agreement for Trans-Pacific Partnership – known as CPTPP – in what the government says is its biggest trade deal since Brexit.
The CPTPP is a free trade agreement between 11 countries across the Indo-Pacific – namely Australia, Brunei, Canada, Chile, Japan, Malaysia, Mexico, New Zealand, Peru, Singapore and Vietnam.
The partnership sees the countries open up their markets to one another, reducing trade barriers and tariffs, with the hope of bolstering the economies of its members.
When it joins, the UK will become the first European country to enter the agreement, and the government claims it will lead to a £1.8bn boost to the economy "in the long run".
The deal has been praised by a number of business groups, including the CBI, Standard Chartered and Pernod Ricard.
But other trade experts have warned it will not make up for the economic hit caused by leaving the trade bloc of the European Union.
Zero tariffs for cheese, cars, chocolate and gin
The UK began negotiations to join the bloc in September 2021 when Boris Johnson was in Downing Street.
The signatory countries of the CPTPP are home to 500 million people and the government claims after the UK joins, it will be worth 15% of global GDP.
Number 10 said as a result of becoming a member, more than 99% of goods exported from the UK to the list of countries would be eligible for zero tariffs, including cheese, cars, chocolate, machinery, gin and whisky.
And it said the services industry would benefit too, with "reduced red tape and greater access to growing Pacific markets".
Commenting on the announcement, Prime Minister Rishi Sunak said the agreement "puts the UK at the centre of a dynamic and growing group of Pacific economies".
He added: "We are at our heart an open and free-trading nation, and this deal demonstrates the real economic benefits of our post-Brexit freedoms.
"As part of CPTPP, the UK is now in a prime position in the global economy to seize opportunities for new jobs, growth and innovation."
The final administrative and legal steps will now take place, before the UK formally signs up in 2023.
'EU should be priority'
The announcement was welcomed by the interim director general of business group the CBI, Matthew Fell, who called it "a real milestone for the UK and for British industry".
He added: "Not only does the agreement provide greater access to a group of fast growth economies representing 14% of global GDP and over 500 million consumers, but membership reinforces the UK's commitment to building partnerships in an increasingly fragmented world.
"CPTPP countries and business need to work together to future-proof the rules-based trading system and stimulate growth with a focus on digital, services and resilient supply chains."
However, while the Institute of Directors it was "vital the UK signs trade deals to restore our international reputation since Brexit", it said "complete reorientation" to the Indo-Pacific would not solve "the very real problem that businesses currently face – namely that they have many more trade related challenges than they did six years ago".
They added: "From our surveys, directors have told us that the EU-UK relationship is a priority issue the government needs to address in order to support business.
"UK companies still rely on the long established links they have with EU markets, which are directly on our doorstep and with whom they have closer historical ties.
"The Indo-Pacific strategy will open up important opportunities for UK businesses, but the government must not forfeit the significance of our relationship with the EU in order to do so."
Donald Trump faces criminal charges over alleged hush money payment to adult film actress Stormy Daniels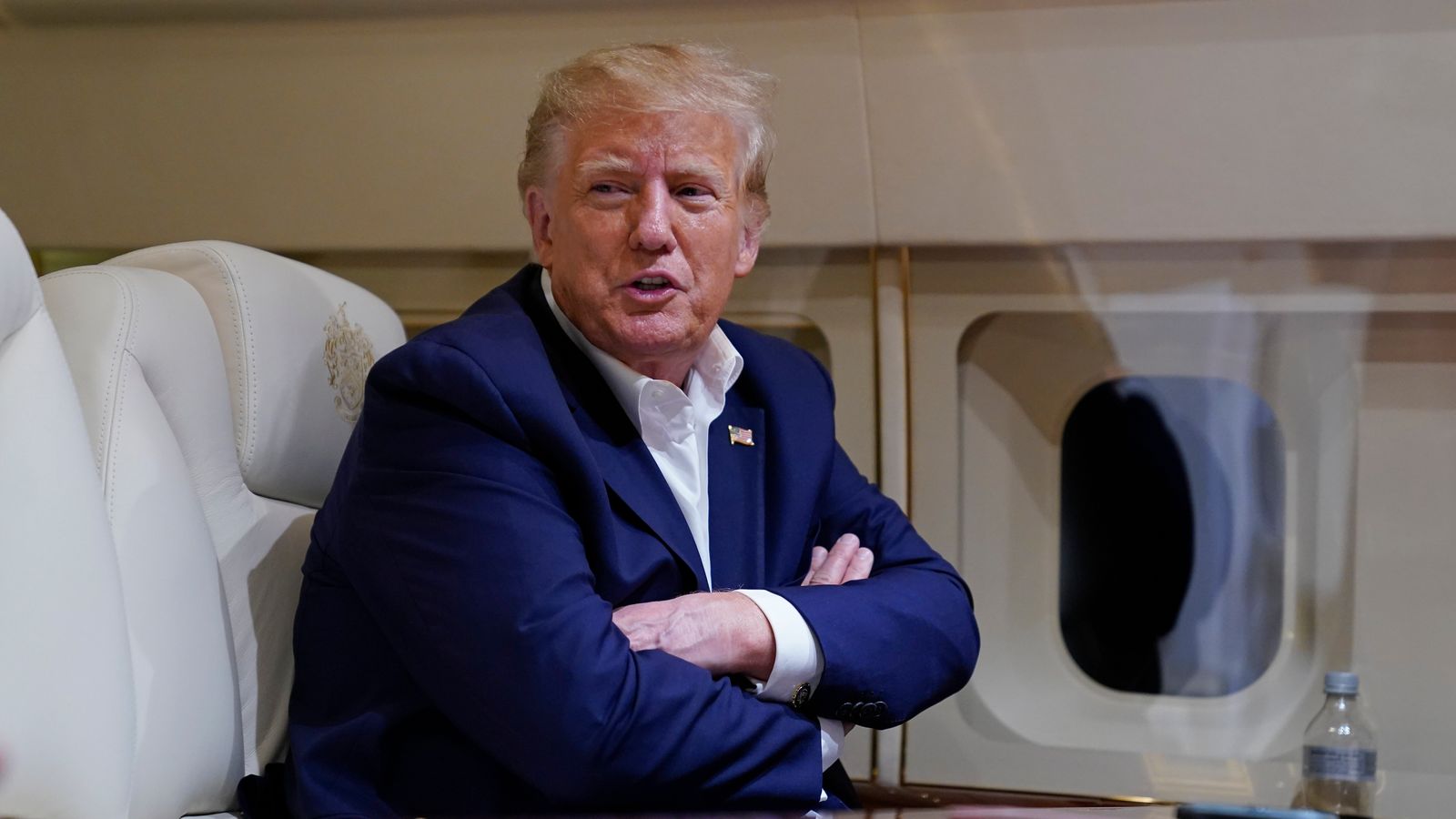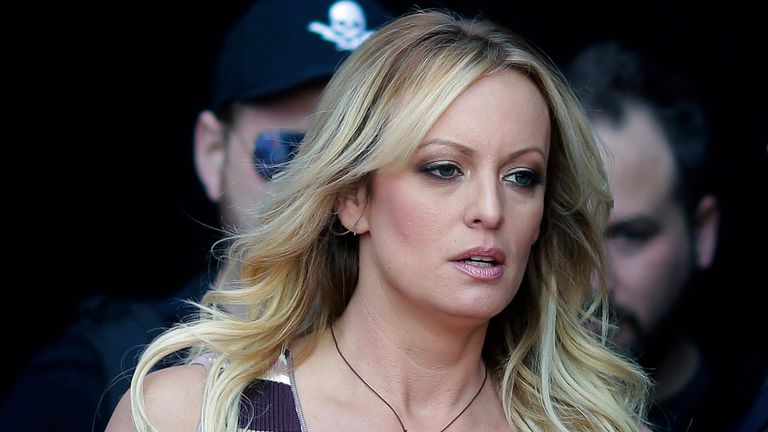 Donald Trump has been indicted on criminal charges arising from an alleged hush money payment to an adult film actress.
A grand jury in New York voted to indict Trump over possible offences related to a $130,000 (£105,000) payment to Stormy Daniels during the 2016 presidential election campaign.
It was allegedly made in exchange for Daniels' silence about an alleged sexual encounter she said she had with Trump a decade earlier.
He is the first former US president to face criminal charges in court, even as he makes a bid to retake the White House in 2024.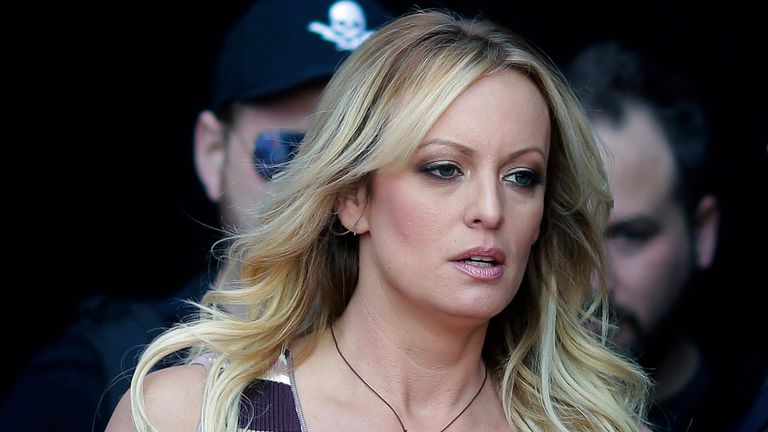 Trump, a Republican, said he was "completely innocent" and called the indictment "political persecution", with his lawyers saying they will "vigorously fight" it.
Live updates: Prosecutors launch criminal case against Trump
The Manhattan district attorney's investigation centred on accusations of money paid to Daniels and former Playboy model Karen McDougal, whom Trump allegedly feared would go public with claims they had extramarital sexual encounters with him.
Trump, 76, has denied having affairs with either woman.
His former personal lawyer Michael Cohen said he co-ordinated with Trump on the payments to Daniels, real name Stephanie Clifford, and also to McDougal.
Cohen pleaded guilty to campaign finance violations in 2018 related to the payments and served more than a year in prison.
Federal prosecutors said Cohen acted at Trump's direction.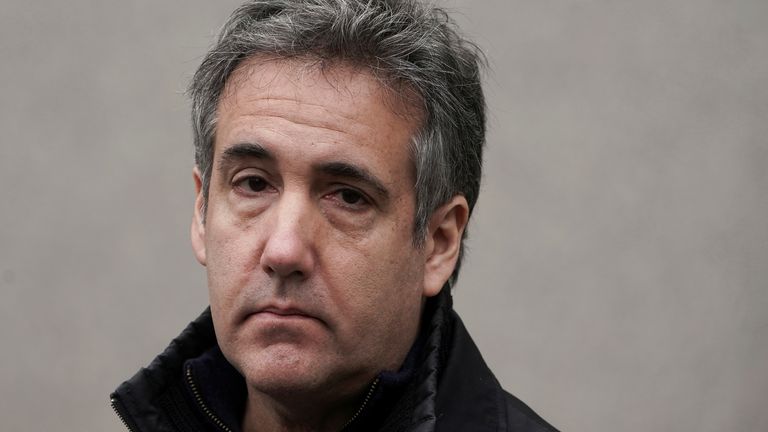 Trump said: "The Democrats have lied, cheated and stolen in their obsession with trying to 'Get Trump,' but now they've done the unthinkable – indicting a completely innocent person in an act of blatant election interference."
"Never before in our nation's history has this been done."
He added: "I believe this witch-hunt will backfire massively on Joe Biden."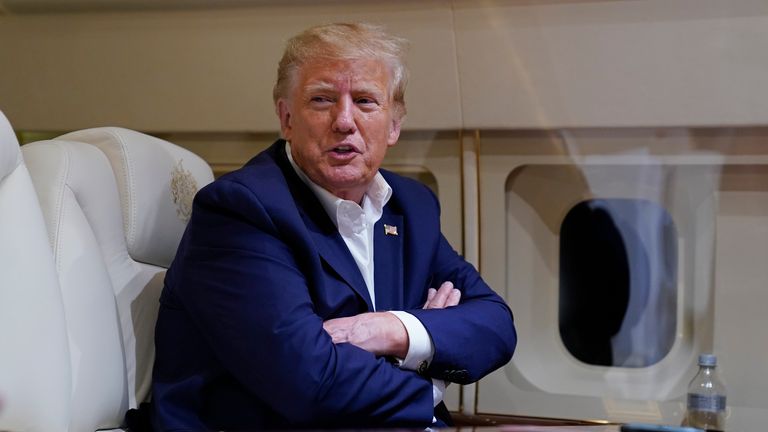 Read more:
Trump says investigations 'straight out of Stalinist Russia horror show'
Who is Stormy Daniels?
How many investigations is former US president facing?
Trump was expected to surrender to authorities next week.
He has denied any wrongdoing and has repeatedly attacked the investigation by district attorney Alvin Bragg.
His office has spent nearly five years investigating Trump and the grand jury has been hearing its evidence since January.
Trump son hits out at indictment
On Twitter, one of Trump's sons, Eric, wrote: "This is third world prosecutorial misconduct. It is the opportunistic targeting of a political opponent in a campaign year."
Amid speculation in recent weeks that the former American leader was due to be indicted, Trump urged his supporters to protest against the authorities if he was detained.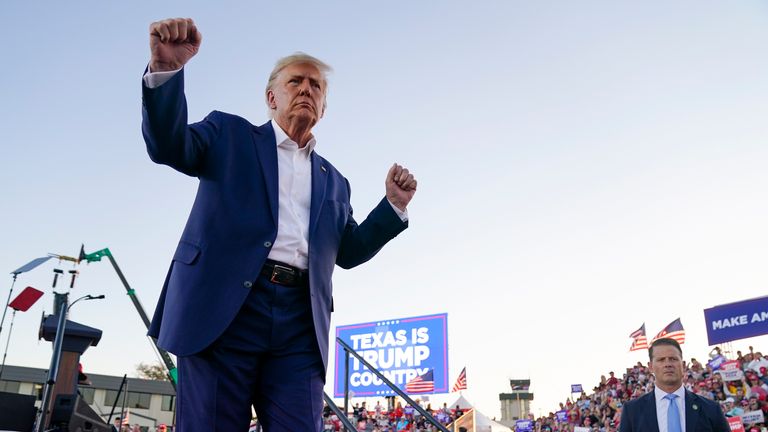 He published a long statement describing the investigation as a "political witch-hunt trying to take down the leading candidate, by far, in the Republican Party".
"I did absolutely nothing wrong," he said, before criticising a "corrupt, depraved and weaponised justice system".
Other ongoing cases Trump faces include a Georgia election interference probe and two federal investigations into his role in the 6 January 2001 insurrection at the US Capitol.
Donald Trump indicted: Who is Stormy Daniels and what is former president accused of doing?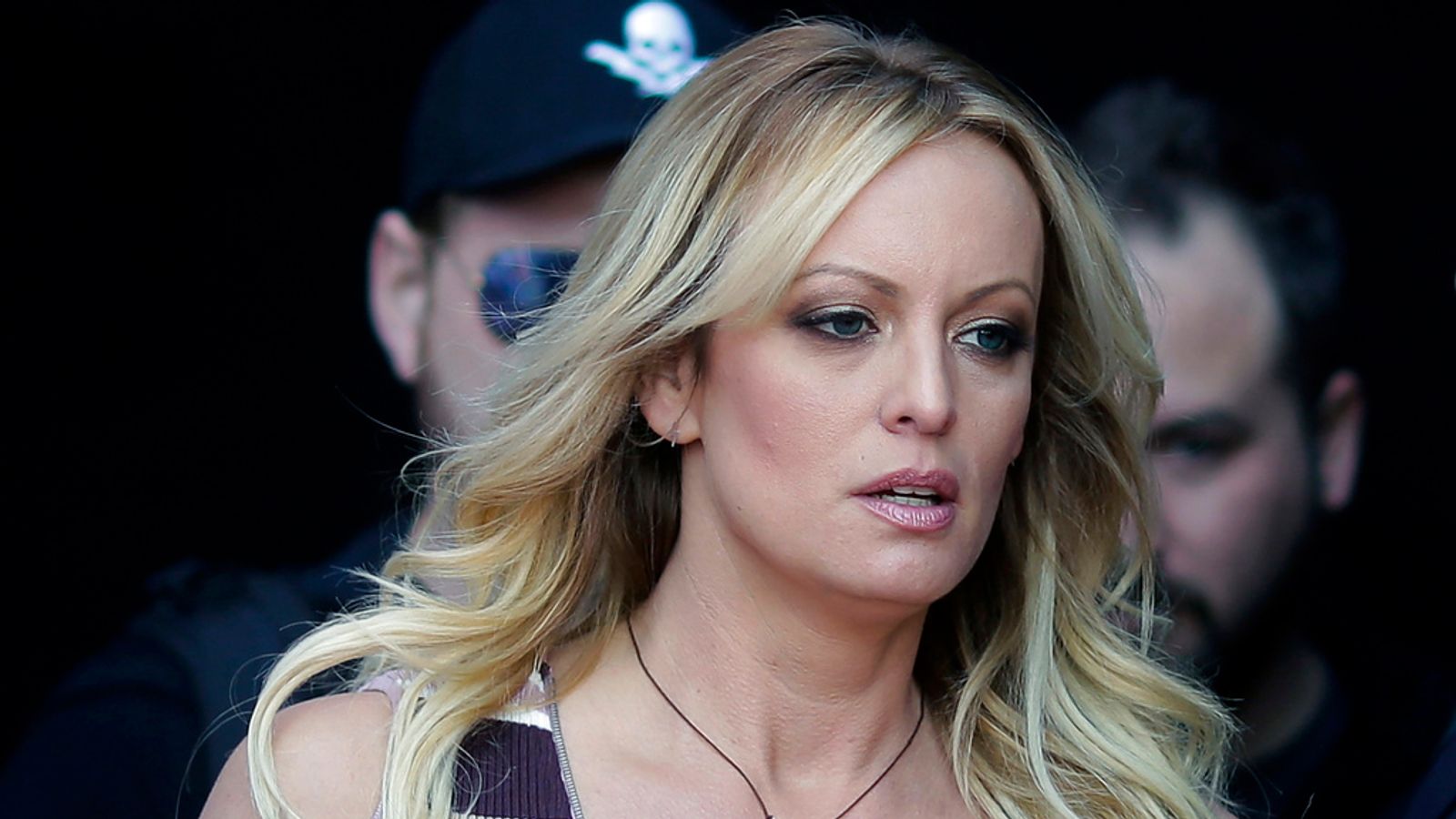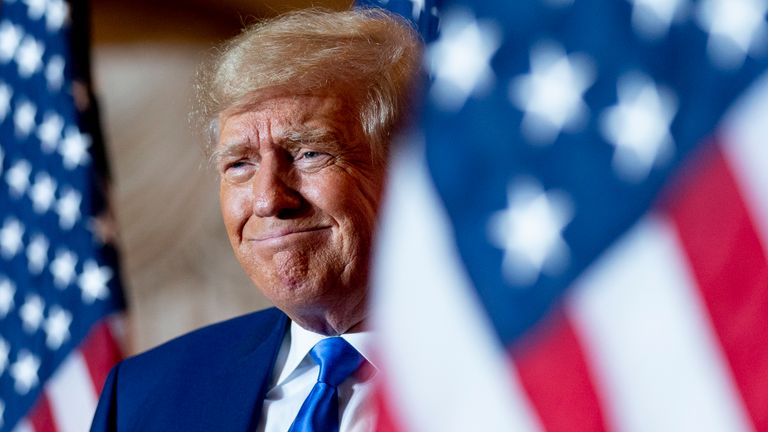 Donald Trump has been indicted by a grand jury in New York, making him the first ex-president to face criminal charges.
The case against him centres on a $130,000 (£105,000) payment made to adult film star Stormy Daniels during the final days of the 2016 presidential campaign.
Live updates – Prosecutors launch first ever criminal case against former president
What is Trump accused of doing?
Ms Daniels, whose real name is Stephanie Clifford, claims she had an affair with Mr Trump in 2006, which the former US president denies.
In 2016 when he was running for president, she offered to sell her story to the press.
Mr Trump's then-lawyer Michael Cohen was notified of her plans, resulting in a $130,000 (£105,000) payment being made to keep Ms Daniels quiet.
Once he was elected, Mr Trump reimbursed Mr Cohen by paying him more than double the original amount. He continued to deny the affair, however.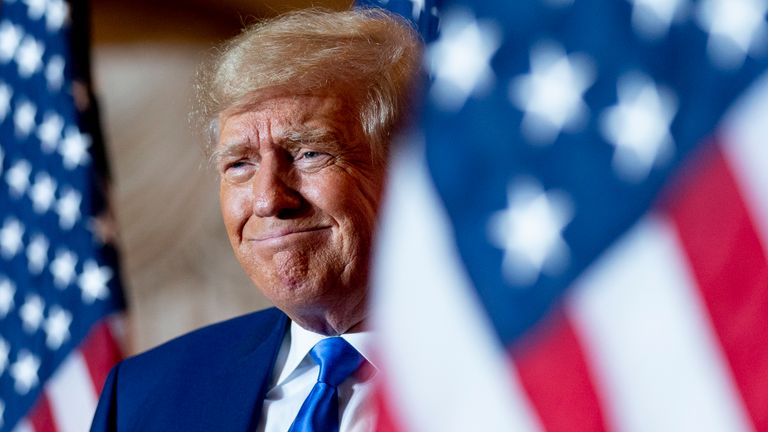 New York investigators have been looking into the former president's finances for years – originally led by former District Attorney Cyrus R. Vance Jr.
But when he was replaced with Alvin Bragg in 2022, Mr Bragg decided to drop the grand jury investigation into claims the Trump empire fraudulently inflated its real estate value.
Instead he decided to focus on the hush money case last summer, impanelling a grand jury (one assembled in secret to determine whether there's enough evidence to prosecute) in January.
Soon after Mr Cohen, who was jailed on several counts in 2018, was summoned by prosecutors.
According to court documents, Mr Trump falsely listed his former lawyer's reimbursement as "legal services".
What charges could Trump face?
It is not yet known what Mr Trump will be charged with.
But among the options for prosecutors is an accounting fraud charge over the payment made to Mr Cohen.
They could also decide to indict him on campaign fraud charges – as silencing Ms Daniels's claims could have helped propel him to power.
Mr Trump has described the investigation as a politically motivated "witch hunt".