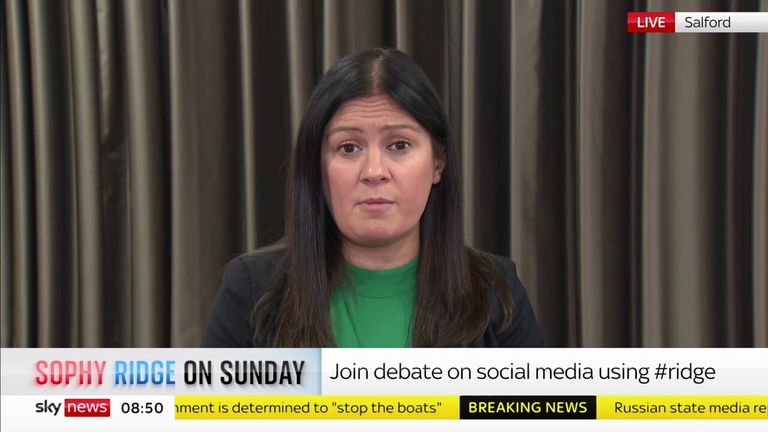 The government "doesn't relish" deporting migrants to Rwanda but is being "forced" to pursue the controversial policy because of the rise in Channel crossings, a cabinet minister has claimed.
Oliver Dowden was asked by Sky's Sophy Ridge on Sunday if he is "comfortable" with the idea of sending children and families to the east African nation if they arrive in the UK illegally.
He said: "I don't relish any of this and I really wish we didn't have to do it… we are being forced to do it."
Listing the reasons why the government is being "forced" into the policy, Mr Dowden said: "With those children seeking to cross the Channel, I think of the danger that their lives are being put in, the evil people smugglers in whose hands they're placed.
"And unless we are willing as a government and as a country to take tough action in relation to this, the numbers will keep on growing and more people's lives will be put at risk, the lives of young children. And I'm simply not willing to allow that to happen."
Labour's Lisa Nandy asked what the government has been "forced to do" as she pointed out the £140m deportation scheme is yet to get off the ground since it was launched last April.
She said "everybody accepts" that the small boat crossings amount to a "crisis… but the question is what is the government actually doing so far?"
Ms Nandy said: "They've done several PR opportunities and photo ops. We've had £140m of cheques written to Rwanda in order to implement a scheme that hasn't removed a single person. This is just more stunts from this government."
The shadow housing secretary said the government should use the money that is being spent on the "unethical unworkable scheme" and put it into the National Crime Agency "to create a cross-border cell in order to disrupt the criminal gangs who are profiting from people's misery".
She insisted this was not a "magic wand solution", saying "what it's doing is the hard yards that this government hasn't been prepared to do".
Lisa Nandy criticises Rwanda policy

Read more:
Asylum seekers are going 'underground' in fear of being deported to Rwanda
Rwanda asylum safety assessment 'not grounded in reality', say campaigners
Migration bill will 'seal off all loopholes'
The Rwanda scheme has been stalled by legal challenges since it was launched almost a year ago by Priti Patel, the home secretary at the time, but a government source has told Sky News UK officials are working towards getting the flights started "by the summer".
Suella Braverman, the home secretary, signed an update to the migrants agreement during a visit to the African country this weekend, expanding its scope to "all categories of people who pass through safe countries and make illegal and dangerous journeys to the UK".
A Home Office statement said this would allow ministers to deliver on its new Illegal Migration Bill as it would mean those coming to the UK illegally, who "cannot be returned to their home country", will be "in scope to be relocated to Rwanda".
The government source said it would "seal off all the loopholes" for those arriving illegally, including those claiming to be victims of modern slavery.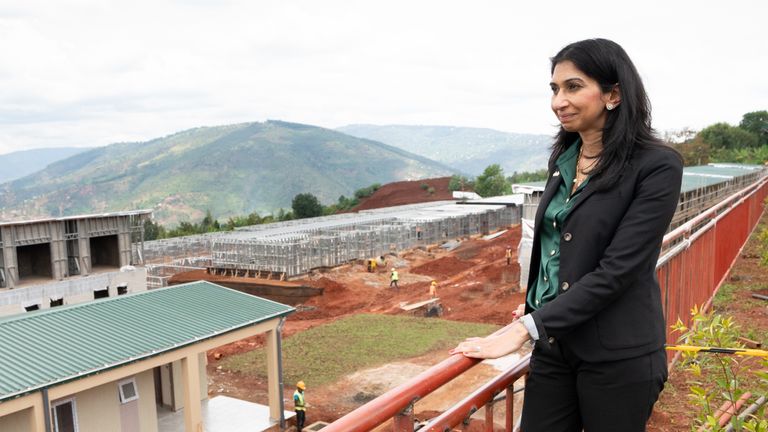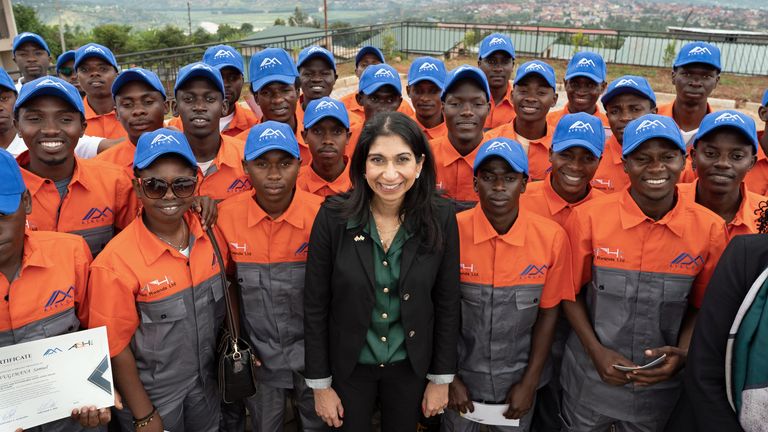 Dowden defends 'tone-deaf' comment
Ms Braverman's trip has been shrouded in controversy after some members of the media were excluded from going along.
She has also faced criticism for joking about the interior design while touring potential accommodation for asylum seekers.
Looking inside one of the properties, she said: "These houses are really beautiful, great quality, really welcoming and I really like your interior designer.
"I need some advice for myself."
Asked if that was "tone-deaf", Mr Dowden told Ridge: "Contrary to some of this characterisation of the policy, this is about making sure there is somewhere safe and secure for people to go to and actually the purpose of the Home Secretary's visit was to further strengthen our relationships with Rwanda."
The UN and human rights campaigners have warned that Rwanda is not a safe country to send asylum seekers, particularly those who are LGBT+.
The first deportation flight was stopped at the eleventh hour in June last year after an appeal to the European Court of Human Rights – and none have taken off since.
The scheme is seen as central to the Rishi Sunak's plan to "stop the boats" – a promise he has staked his premiership on.
Throughout 2022, some 45,728 people crossed to the UK via the Channel – up 60% on the previous year.
Click to subscribe to the Sky News Daily wherever you get your podcasts
Earlier this month, the prime minister announced a package that will see a new detention centre established in France as well as the deployment of more French personnel and enhanced technology to patrol beaches in a shared effort to drive down illegal migration.
However, the EU and UN are among those who have warned a new bill to ban asylum applications if people enter the UK through unauthorised means violates international law.
Russia says it scrambled fighter jet to intercept two US bombers over Baltic Sea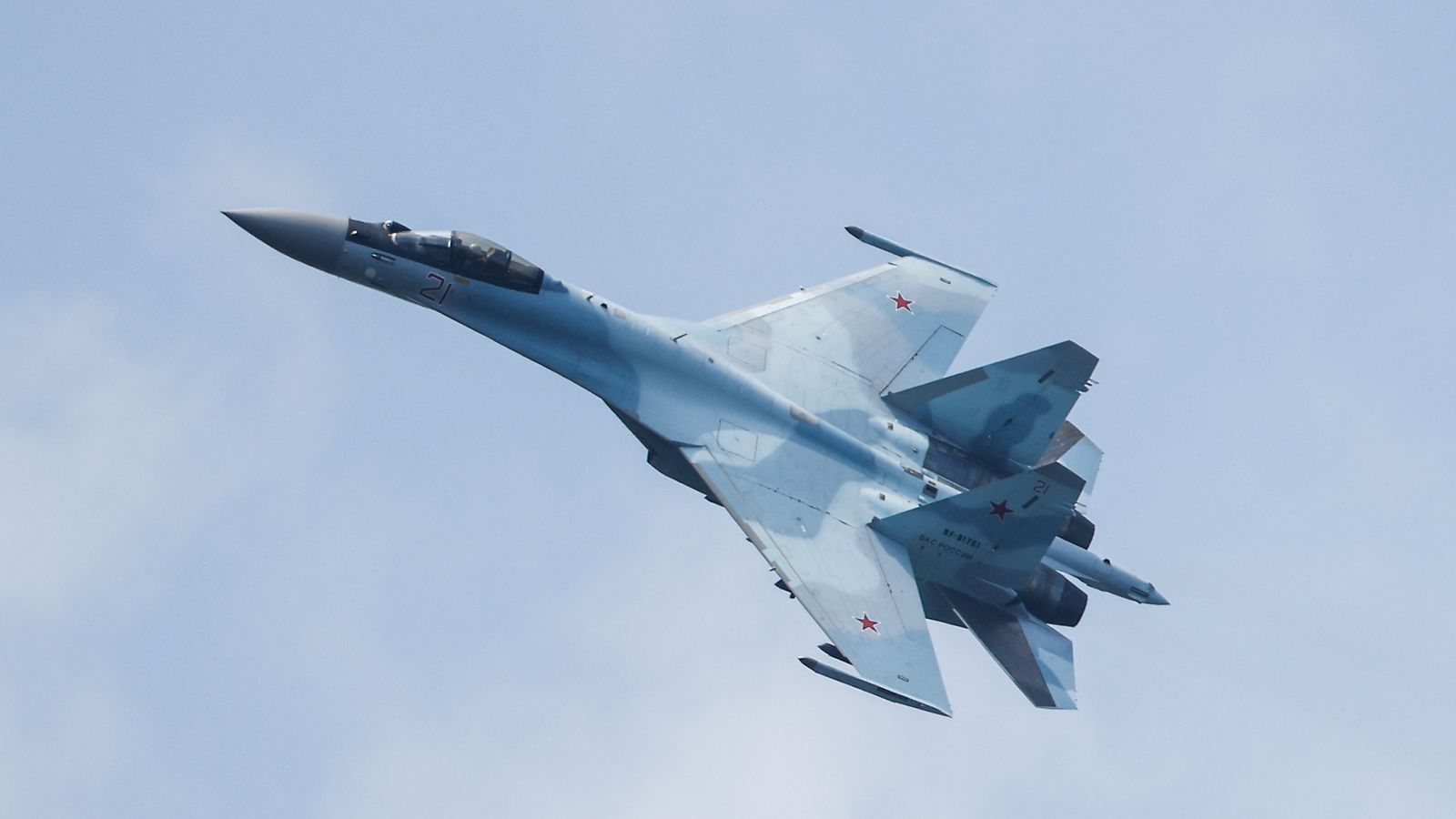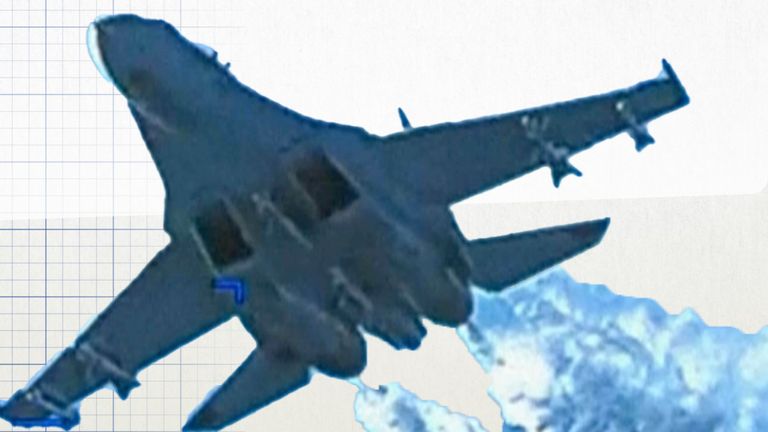 A Russian Su-35 fighter jet was scrambled to intercept two US strategic bombers over the Baltic Sea, Russia's defence ministry has said.
"Two air targets flying in the direction of the state border of the Russian Federation" were detected by radar on Monday, it said in a statement on the social media platform Telegram.
The aircraft were identified as two US Air Force B-52 strategic bombers "flying in the direction of the Russian Federation's state border".
A Su-35 fighter jet took to the air to prevent a border violation, the ministry continued.
"After the foreign military aircraft moved away from the Russian Federation state border, the Russian fighter returned to its base airfield," it added.
The National Defense Center of the Russian Federation said: "The flight of the Russian fighter was carried out in strict accordance with the international rules for the use of airspace.
"Violations of the state border of the Russian Federation are not allowed."
The US has not yet responded to the claim.
It comes after the crash of a US military surveillance drone into the Black Sea on 14 March after it was intercepted by Russian jets.
The US Air Force released a video it said showed a Russian jet intercepting the drone and dumping fuel on it over the Black Sea.
Russian jet vs US drone – what happened?

Read more:
I was a fighter pilot – this is how the US drone crash happened
It said two Russian Su-27 jets flew close to the MQ-9 Reaper before one hit its propeller and forced remote operators to crash it into the ocean.
The incident highlighted the increasing risk of direct confrontation between the superpowers as fighting continues in nearby Ukraine.
American officials accused the Russian pilots of flying in a "reckless, environmentally unsound and unprofessional manner".
Moscow denied the jets behaved dangerously and said they didn't come into contact with the drone, claiming it crashed due to "sharp manoeuvring".
Gwyneth Paltrow ski crash court case starts in US after man accused her of seriously injuring him in 'hit-and-run'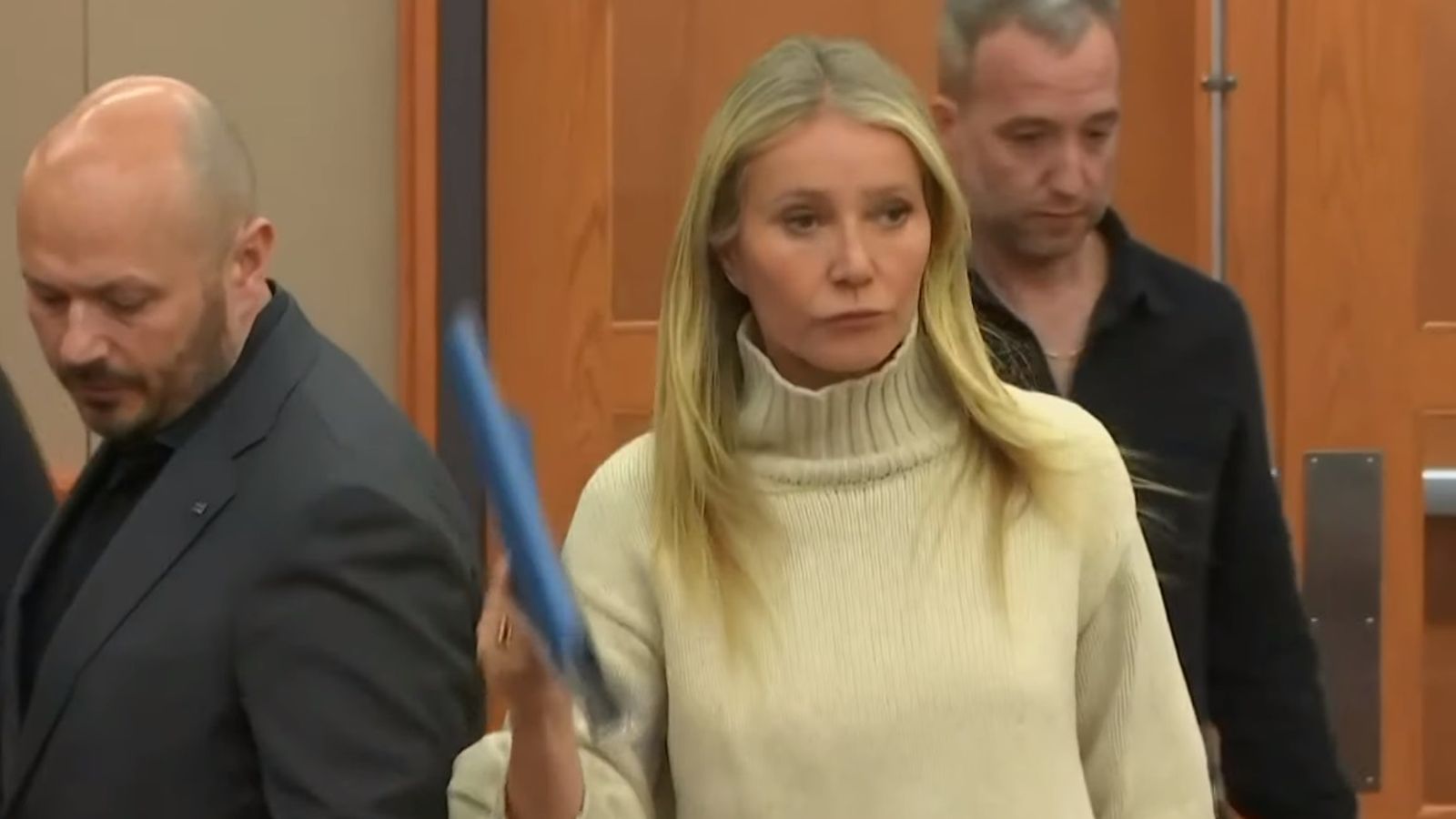 Gwyneth Paltrow has appeared in court in the US over claims she seriously injured a man in a "hit-and-run" skiing crash in 2016.
She is accused of skiing "out of control" and hitting retired optometrist Terry Sanderson at Deer Valley Resort in Utah.
The lawsuit claimed that Paltrow crashed into him, "knocking him down hard, knocking him out, and causing a brain injury, four broken ribs and other serious injuries".
Paltrow has alleged that Mr Sanderson is actually the culprit in the collision, and has been overstating his injuries.
The Hollywood star, also the founder and CEO of the wellness company goop, sat in the court wearing a high-necked cream jumper and brown trousers as opening statements in the case began.
Lawrence Buhler, representing Mr Sanderson, told jurors that Paltrow's behaviour on the mountain in 2016 had been "reckless".
Mr Sanderson first sued Paltrow in 2019, seeking $3.1m (£2.5m) in damages.
He is now seeking $300,000 (£245,000) after that claim was dropped.
The original 2019 claim stated that after hitting him, "Paltrow got up, turned and skied away, leaving Sanderson stunned, lying in the snow, seriously injured".
It also said a Deer Valley ski instructor who had been training Paltrow saw Mr Sanderson had been injured but made no attempt to help him.
The instructor did not send for help and later accused Mr Sanderson of having caused the crash in a "false report to protect his client", the claim said.
Read more from Sky News:
Bruce Willis celebrates 68th birthday following dementia diagnosis
Harry Potter actor dies after collapsing outside King's Cross
The actress countersued for a symbolic $1, saying it was Mr Sanderson who had caused the crash and delivered a full "body blow".
Paltrow's claim said she was shaken by the collision and stopped skiing with her family for the day.
It added that Mr Sanderson apologised to her and said he was fine.
The trial is scheduled to last for eight days.
What happens if Donald Trump is arrested?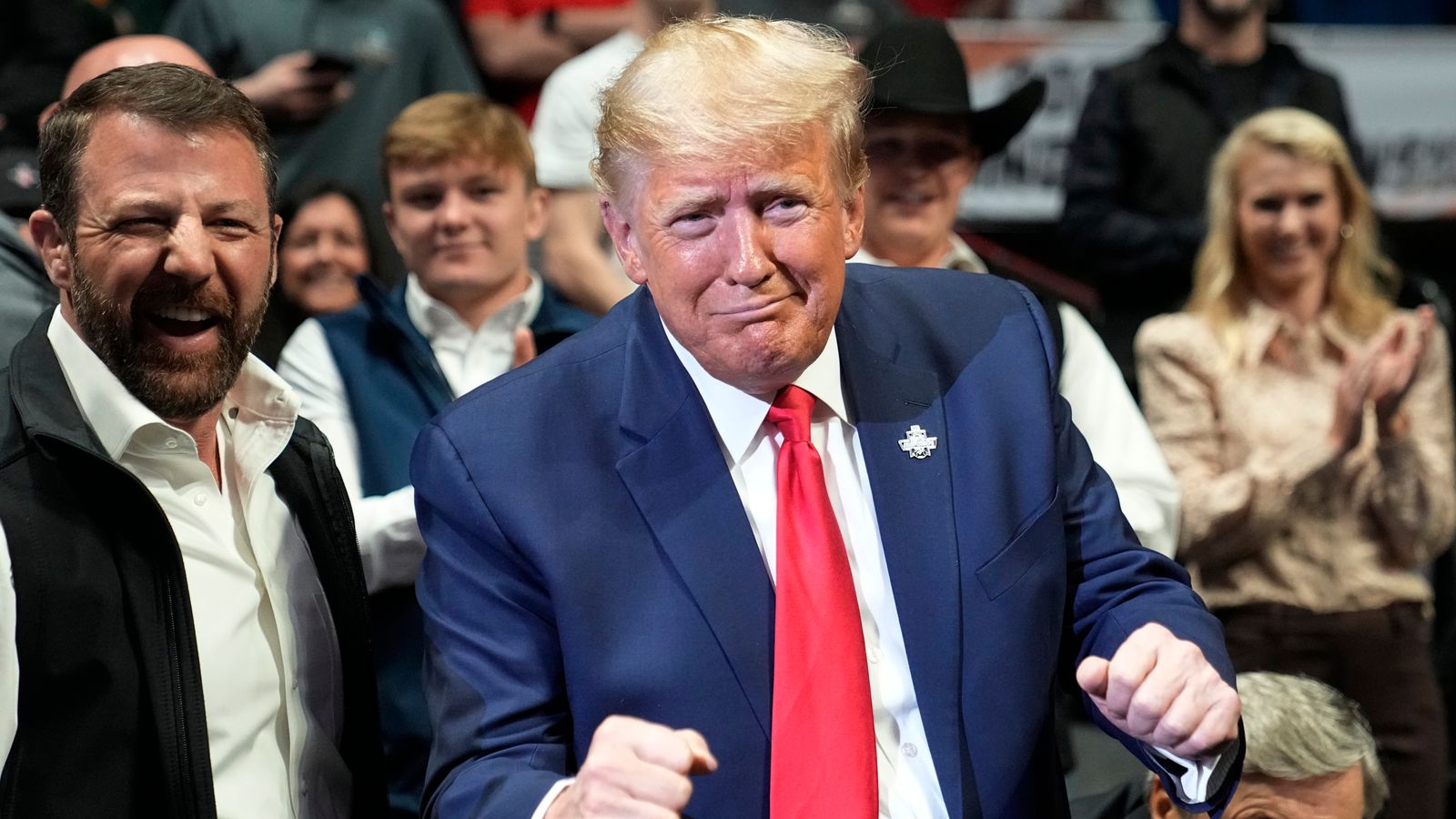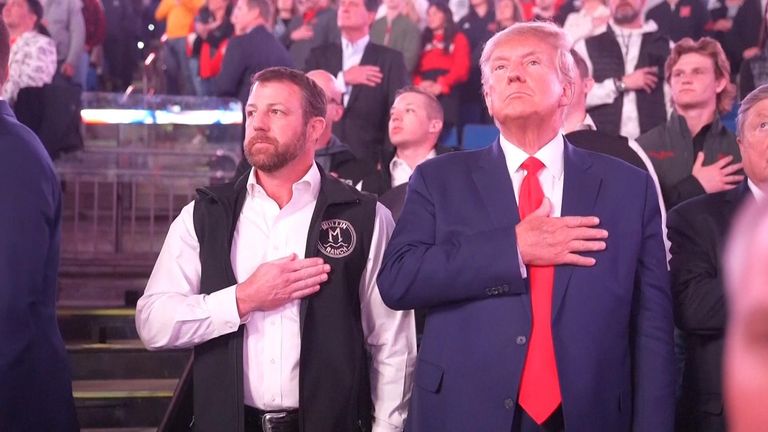 Donald Trump has claimed he is set to be arrested over an alleged hush money payment to adult film star Stormy Daniels.
If right in his assertion, the former US president could be charged by authorities in New York within days.
But what will happen if he is indicted – and how will both sides present their case?
What Trump has said
In a post on his Truth Social platform on Saturday, Mr Trump said he expected to be arrested on Tuesday and urged his supporters to protest against the authorities if he is detained and indicted.
He published a long statement describing the investigation as a "political witch-hunt trying to take down the leading candidate, by far, in the Republican Party".
"I did absolutely nothing wrong," he said, before criticising a "corrupt, depraved and weaponised justice system".
However, it's worth noting a spokesperson for Mr Trump said he had not been notified of any pending arrest.
The case – that the Republican made a payment to Ms Daniels towards the end of the 2016 presidential campaign in exchange for her silence over an alleged affair – is one of several related to Mr Trump.
Other ongoing cases include a Georgia election interference probe and two federal investigations into his role in the 6 January insurrection in the US Capitol.
Read more:
What has happened with Donald Trump's Facebook and Instagram pages?
Mike Pence won't commit to supporting Trump in 2024
Trump watches wrestling after arrest claim

What Trump will do
Mr Trump has accused Manhattan's district attorney Alvin Bragg, a Democrat, of targeting him for political gain, and may try to argue for the dismissal of the charges on those grounds.
He could also challenge whether the statute of limitations – five years in this instance – should have run out.
But in New York, the statute of limitations can be extended if the defendant has been out of state – Trump may argue that serving as US president should not apply.
Politically, how any possible indictment may affect Mr Trump's chances in the 2024 presidential election is unclear.
Click to subscribe to the Sky News Daily wherever you get your podcasts
He could be the first former US president to face criminal prosecution – right as polls show him leading other potential rivals for the Republican nomination, including controversial Florida governor Ron DeSantis.
This could lead to the unprecedented situation in which Mr Trump would stand trial as he campaigns in 2024.
If elected, he would not have the power to pardon himself of criminal charges.
In any case, Mr Trump's lawyer Joe Tacopina told CNBC on Friday that he would surrender if charged. If he refused to come voluntarily, prosecutors could seek to have him extradited from Florida, where he currently lives.
In an ironic twist, as governor, Mr DeSantis would typically have to give formal approval for an extradition.
Read more:
Trump arrest 'would be politically motivated'
Trump pleads the fifth in 2022 deposition video

What prosecutors will do
The Manhattan District Attorney's office has spent nearly five years investigating Mr Trump.
It has presented evidence to a New York grand jury that relates to a £114,000 ($130,000) payment to Ms Daniels during the final days of the 2016 presidential campaign.
It is alleged the payment was given in exchange for Ms Daniels' silence about an affair between her and Mr Trump.
Mr Trump has denied the affair and accused Ms Daniels of extortion.
Any indictment by the district attorney's office would require Mr Trump to travel to its New York office to surrender.
But Mr Trump's lawyers will likely arrange a date and time with authorities, as it is a white-collar case. And then his mugshot and fingerprints would be taken before appearing for arraignment in court.
Mr Trump could also be charged with falsifying business records – typically classed as a misdemeanour – after he reimbursed his former attorney Michael Cohen for the payments, falsely recorded as legal services.
To elevate it to a felony, prosecutors would have to show Mr Trump falsified records to cover up a second crime.
In any case, legal experts have estimated that any trial of the former US president would be more than a year away.
That's why if it happened, it could coincide with the final months of a 2024 election in which Mr Trump seeks a controversial return to the White House.