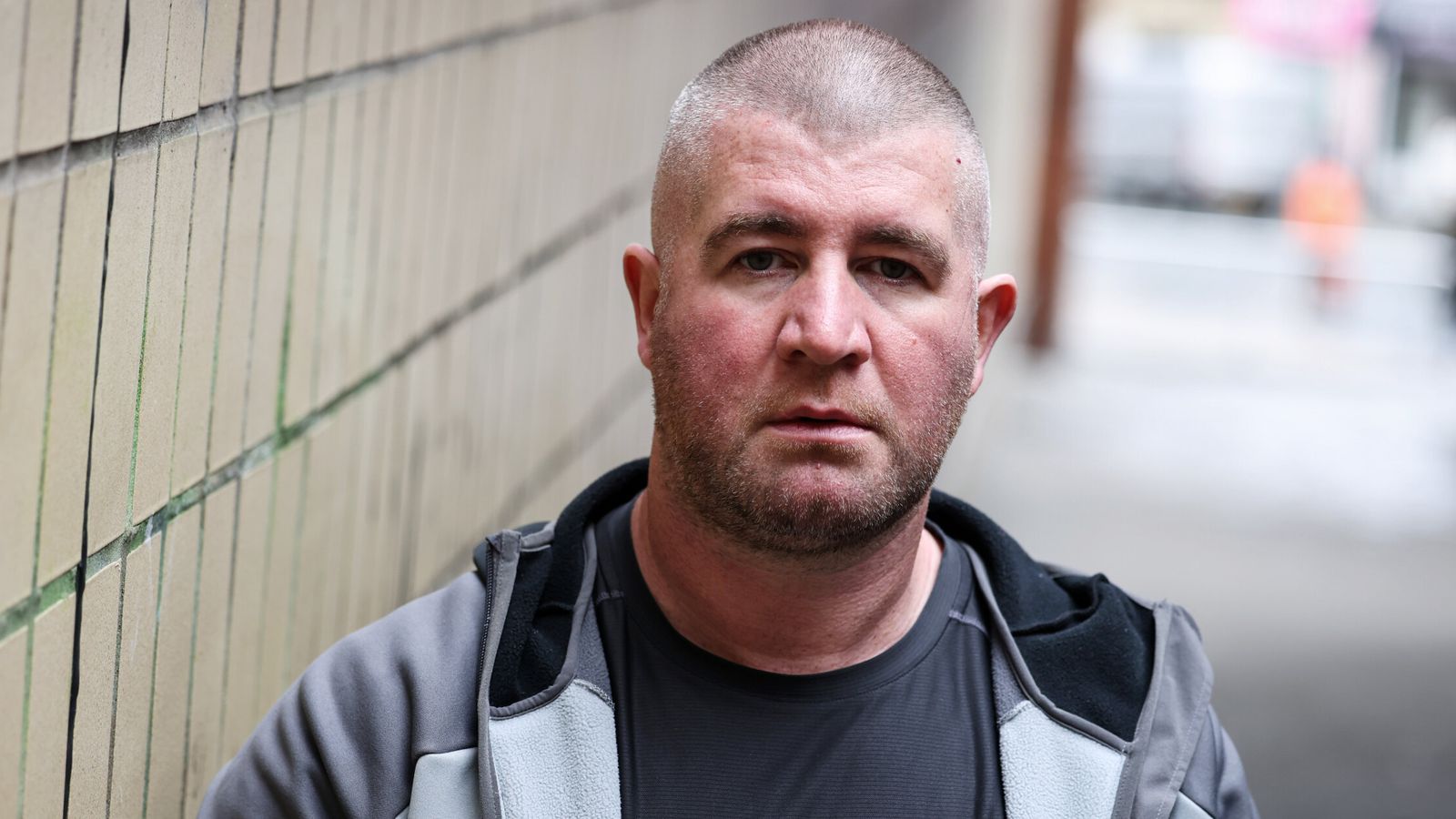 Olivia Pratt-Korbel: Reformed Liverpool gangster says 'morals have gone out of the window' among city's criminals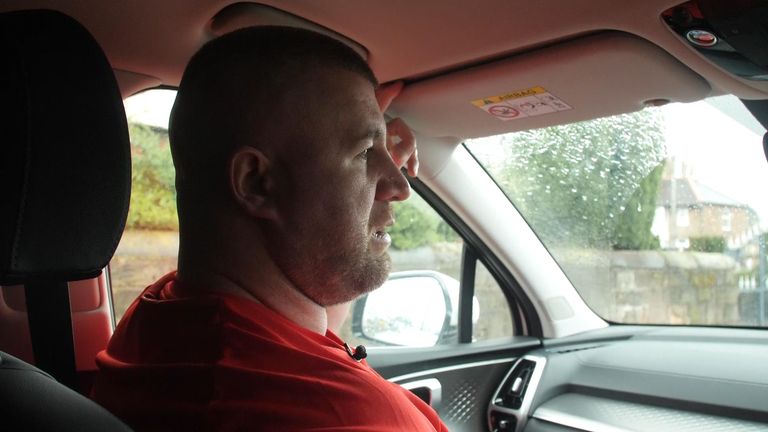 Sicarius McGrath is a big guy. Muscled, shaven-headed and more than a little intimidating – everything you might expect of a Liverpool gangster.
But his days of roaming the streets of Anfield are over and now he helps steer vulnerable and deprived kids away from a life of gangland crime.
With convictions for violence and intimidation, he knows his subject and was an enlightening companion as together we toured the city's estates, waiting for the jury verdicts in the Olivia Pratt-Korbel murder trial.
I drove, he talked. When he was setting up a gun factory and protection rackets he was known as Anthony Harrington.
At 7pm Sky News will broadcast a special programme: The murder of Olivia Pratt-Korbel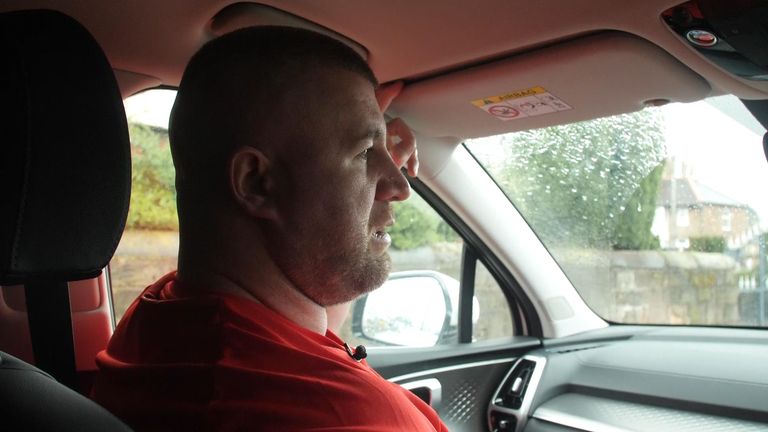 His adopted name Sicarius means "assassin", but he didn't go to a school that taught Latin. I did, but that isn't the only difference between us.
"I used to put guns on the streets in massive volumes," he told me, rather matter-of-factly.
"They are bought and paid for through drugs money. I felt responsibility 100% for the things that happened, whether someone was harmed as a result, but when you're in that game you don't give a s***. It's profits over anything else.
"Decades ago there was a moral code, that you didn't harm women, you didn't harm kids. I'm not saying that little girl was shot intentionally, but those morals have gone out of the window.
"I was mixing in those circles and surroundings, so I'm a bit of a hypocrite to say now they are absolute scum, but I was once that scumbag."
Read more: Thomas Cashman found guilty of murdering Olivia Pratt-Korbel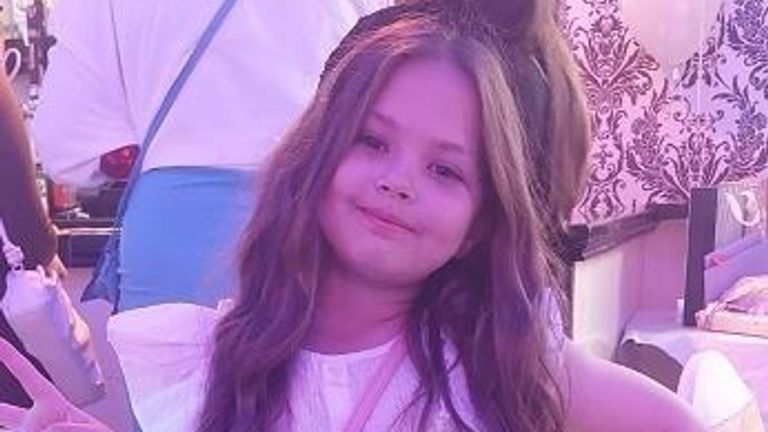 Although Merseyside Police had a key witness within a day or two of Olivia's shooting, they struggled to find the direct evidence detectives always strive for.
There were no forensics, no eyewitnesses who could identify the killer and the two guns used have not been found.
I asked Mr McGrath how a close community deals with the conflict of outrage and the need for justice, set against loyalty and the fear of being labelled a grass.
"People are going to be reluctant, of course they are, depending on who commits the murder. If it's established gang members people are going to be more reluctant. Everyone says there's a code, no grassing, but criminals will grass each other up," he said.
"It's a question of what benefits them, if they can get a rival out of the way, bring police attention on them, but they're not just gonna do it for charity."
Gasps as Thomas Cashman found guilty on all charges – follow updates
What about the ordinary public – wouldn't they be more scared of retribution for giving police information?
"It's gonna be scary, they're not really going to want to get involved, but when it's a little girl the rule book goes out the window and you have to dig deep," he said.
"People are more likely to engage with the police when it's a young girl murdered and it's up to the police to reassure them they are going to protect them."
A month on from the shooting, after initial arrests but no charges, and with police still appealing for help, an anonymous businessman offered a remarkable £100,000 reward for information leading to the conviction of Olivia's killer.
Lord Ashcroft, the founder of Crimestoppers, had also initially offered a £50,000 reward – but the anonymous donation prompted him to double his offer and, at £200,000 combined, it became the biggest ever reward.
At 7pm Sky News will broadcast a special programme: The murder of Olivia Pratt-Korbel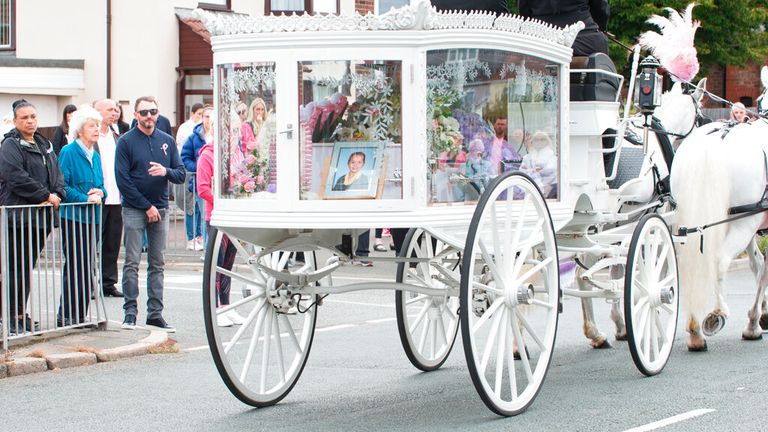 The other businessman, who did not want to be named for safety reasons, said: "When I heard that there was a seeming reluctance for people to come forward and testify, that's what really got my back up.
"I thought, well, I'm going to try and do something about this. It was an amount that would make people sit up and make it as easy as possible for them to help catch the killer."
The businessman's family are from Merseyside and memories of his childhood in the area fuelled his desire for justice for Olivia.
"I understand people's reluctance to speak out and I've thought about my own safety in putting up the reward. Like others, I had doubts and worries, but Crimestoppers assured me my identity would be protected. The bottom line is that this was horrific, the murder of a young girl. It doesn't come much worse than that."
Read more from Sky News:
Who are Liverpool's feuding gangs?
Merseyside beset by violence in summer trail of bloodshed
The battle between Liverpool's gangs

Mick Duthie, director of operations at Crimestoppers, said the reward had prompted "a phenomenal amount" of information from the public.
"I understand that in communities people don't want to be seen as a grass or make themselves vulnerable, they don't want to talk to the police, so the charity allows people to speak up anonymously," he said.
"The community of Liverpool provided so much information. It wasn't for us to decide how important it was. We took it and passed it on to Merseyside Police."
As we drove through Dovecot, where Olivia was murdered, I asked Mr McGrath whether £200,000 was a life-changing amount for people in this community.
"For someone anywhere in the country it's a life-changing amount of money," he said.
"People are struggling to put their lights on and run their cookers. A reward of £200,000 is gonna benefit the vast majority of people, criminals and non-criminals."
Sixteen years ago, schoolboy Rhys Jones, who was 11, was shot dead – caught in cross-fire – only a few miles from here.
I reported on it at the time and Mr McGrath was in prison, but we both remember the loud and widespread calls for change.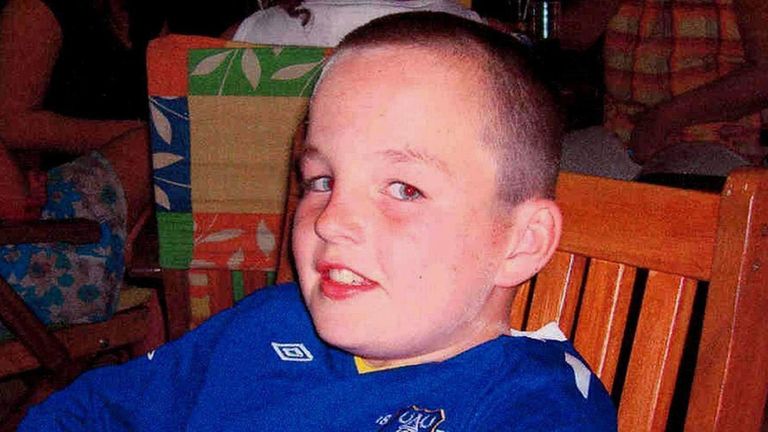 Mr McGrath said: "They always say that when a young person is stabbed or shot, they always say enough is enough, they're going to take a stand but communities never do. It's all just words.
"A couple of days or weeks later they go back to doing what they were doing. It's only the families that are left suffering. Whoever shot Olivia, whoever's convicted, his friends won't stop talking to him because he shot a young girl."
A blitz on organised crime and guns by Merseyside Police has driven down the number of firearms discharges to record low levels in the past couple of years.
There hadn't been one reported in more than a year before last August. But then Olivia became the third gun murder victim in just a week. And there have been two more in the city since.
Eamonn Holmes claims there was 'total cover-up' over Phillip Schofield's affair with younger man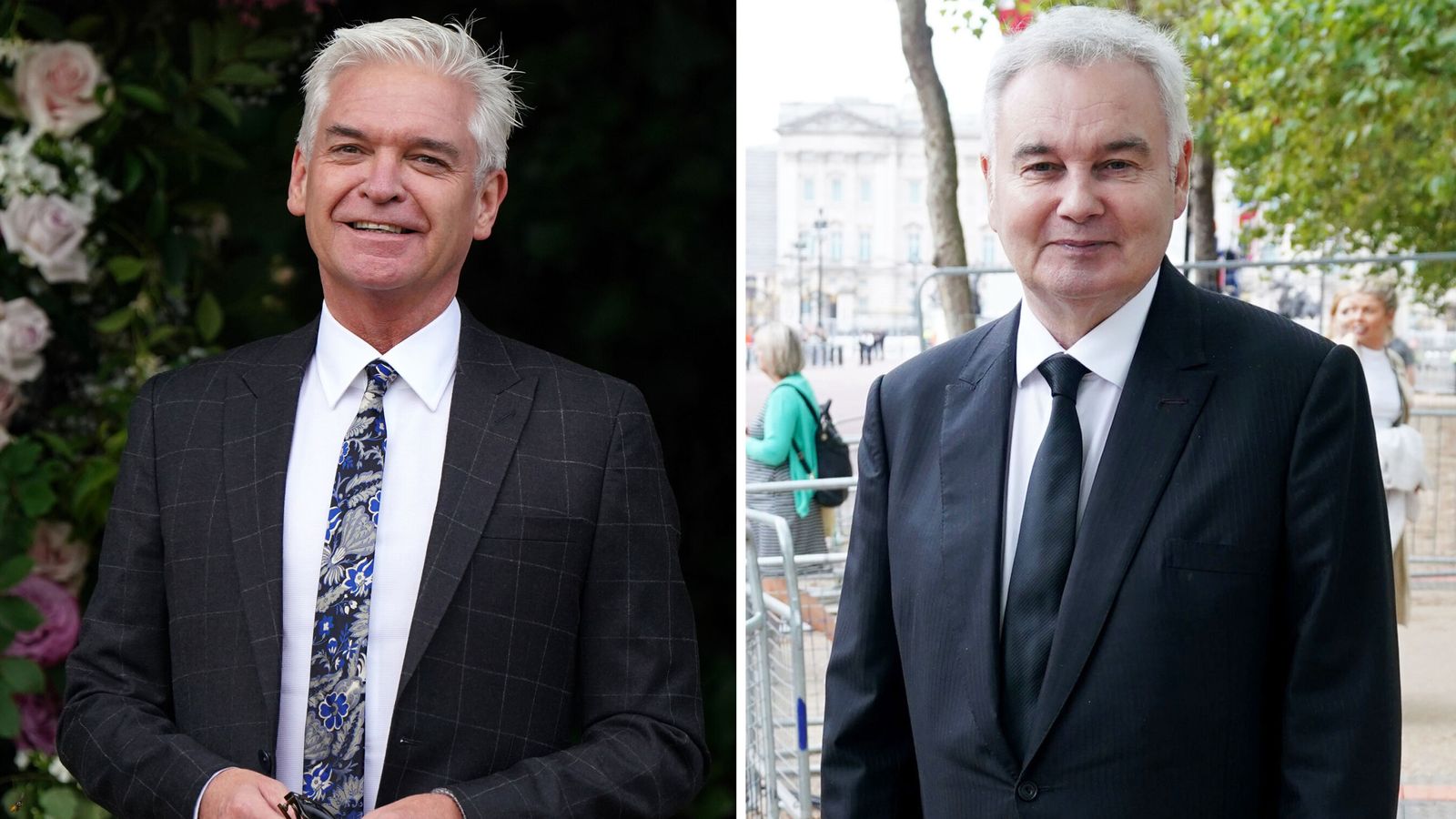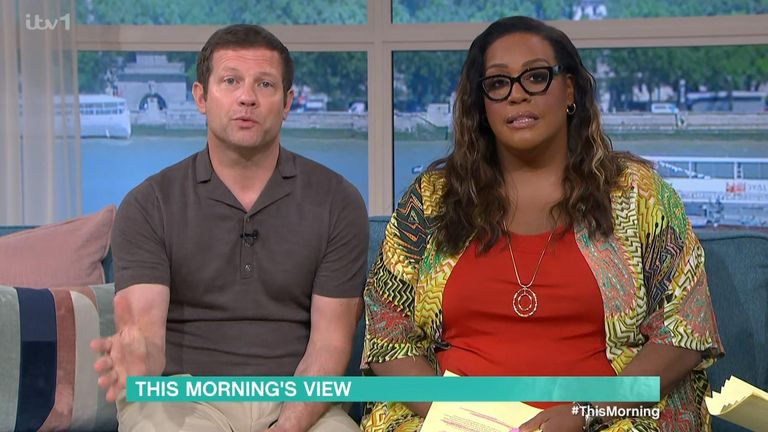 Eamonn Holmes has claimed there was a "total cover-up" over Phillip Schofield's affair with a younger male colleague on This Morning while he was married.
Holmes, 63, who also presented on the show, has accused Schofield of "toxicity" amid the furore over the culture on the ITV daytime programme.
Host Schofield, 61, admitted last Friday to an "unwise, but not illegal" affair with a younger male colleague on the show and has now quit the commercial broadcaster and been dropped by his talent agency YMU.
Schofield on Monday hit back at critics, saying on Instagram there was "no toxicity" on the programme, adding: "I hope you have noticed that it's the same handful of people with a grudge against me or the show who seem to have the loudest voice."
ITV said there had been an investigation in early 2020 when "rumours of a relationship between Phillip Schofield and an employee of ITV first began to circulate" but said it did not find "any evidence of a relationship beyond hearsay and rumour".
A statement from the commercial broadcaster on 27 May said: "Both parties were questioned and both categorically and repeatedly denied the rumours as did Phillip's then agency YMU.
"In addition, ITV spoke to a number of people who worked on This Morning and were not provided with, and did not find, any evidence of a relationship beyond hearsay and rumour… He lied to people at ITV, from senior management to fellow presenters, to YMU, to the media and to others over this relationship."
But Holmes told GB News presenter Dan Wootton: "It's a total cover-up.
"Those in authority had to know what was going on and they thought they would dodge a bullet with this.
"Which they do and they do constantly because with Schofield talking about those who speak out against him, namely me, Amanda Holden and you [Dan Wootton], you'll be included in the toxicity that goes on… Dr Ranj [Singh] of course as well.
"And you simply sit there and think 'no mate, you've had it all your way for too long'."
This Morning presenters address controversy

Read more:
A timeline of the This Morning controversy
ITV responds to rumours around show's future
Why Schofield's admission could kill off his career
Referring to Schofield's comments on Instagram, Holmes said: "I think that Phillip is absolutely right about toxicity.
"But my friend, the toxicity is not with me, Dan Wootton, or anyone else, the toxicity is with you."
Phillip Schofield and Eamonn Holmes social media statements in full
Just before 10am on Monday, Phillip Schofield posts a statement on his Instagram stories.
"Now I no longer work on @thismorning I am free to say this. I hope you have noticed that it's the same handful of people with a grudge against me or the show who seem to have the loudest voice.
"This morning IS the best show to work on, with the best people. In all the years I worked there there was no toxicity. You can listen to those persistently loud voices if you like.
"But the thousands of guests over the years, thousands of staff and crew, hundreds of presenters and contributors all know, it IS a family of wonderful, talented, kind, hard working people."
At 11.10am Eamonn Holmes tweets a response.
"Schofield has just put out a delusional statement. Like Holly he puts it on Insta Stories so if it goes wrong there is no record after 24 hrs.
"I'm reluctant to give the liar any more publicity but believe me Pip if u r looking for a fight , u have picked on the wrong person !"
Earlier in the day, Holmes on social media described Schofield as "delusional" and said he has "picked the wrong person… if you're looking for a fight".
ITV has been approached for comment by Sky News about Holmes's claims.
GB News asked ITV's managing director of media and entertainment, Kevin Lygo, if there was a "cover-up" and if he "protected" Schofield.
Mr Lygo told a GB News producer: "We really have no more to say."
Holmes previously presented This Morning on Fridays with his wife Ruth Langsford.
The programme's former resident doctor Dr Ranj Singh has hit out at the show's "toxic" culture, saying he raised concerns about "bullying and discrimination" two years ago when he worked there and afterwards felt like he was "managed out" for whistleblowing.
Schofield quit This Morning on 20 May after more than 20 years.
Schofield originally said he was stepping down from the show because it had "become the story", following reports of a feud between him and co-host Holly Willoughby.
It came after his brother was recently jailed for 12 years over child sex offences.
Willoughby, 41, is due to return next Monday (5 June), having gone on an early half-term holiday on 22 May.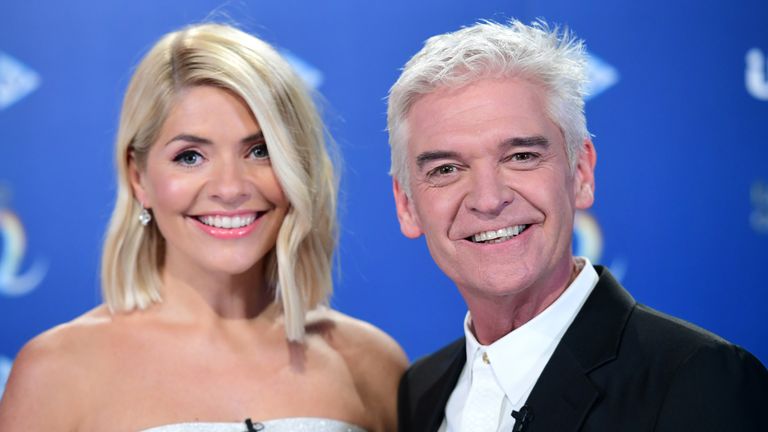 She said that "when reports of this relationship first surfaced, I asked Phil directly if this was true and was told it was not".
"It's been very hurtful to now find out this was a lie," an Instagram statement added.
Schofield has now completely resigned from ITV and been dropped by his agents.
In his statement to the Daily Mail he also admitted lying about his affair to his wife, to ITV, his agents and the media.
The controversy has raised doubts about both Willoughby's and the show's future, but the channel has denied reports it could be axed.
Vape advertising: Government to crack down on promotions 'targeted at children'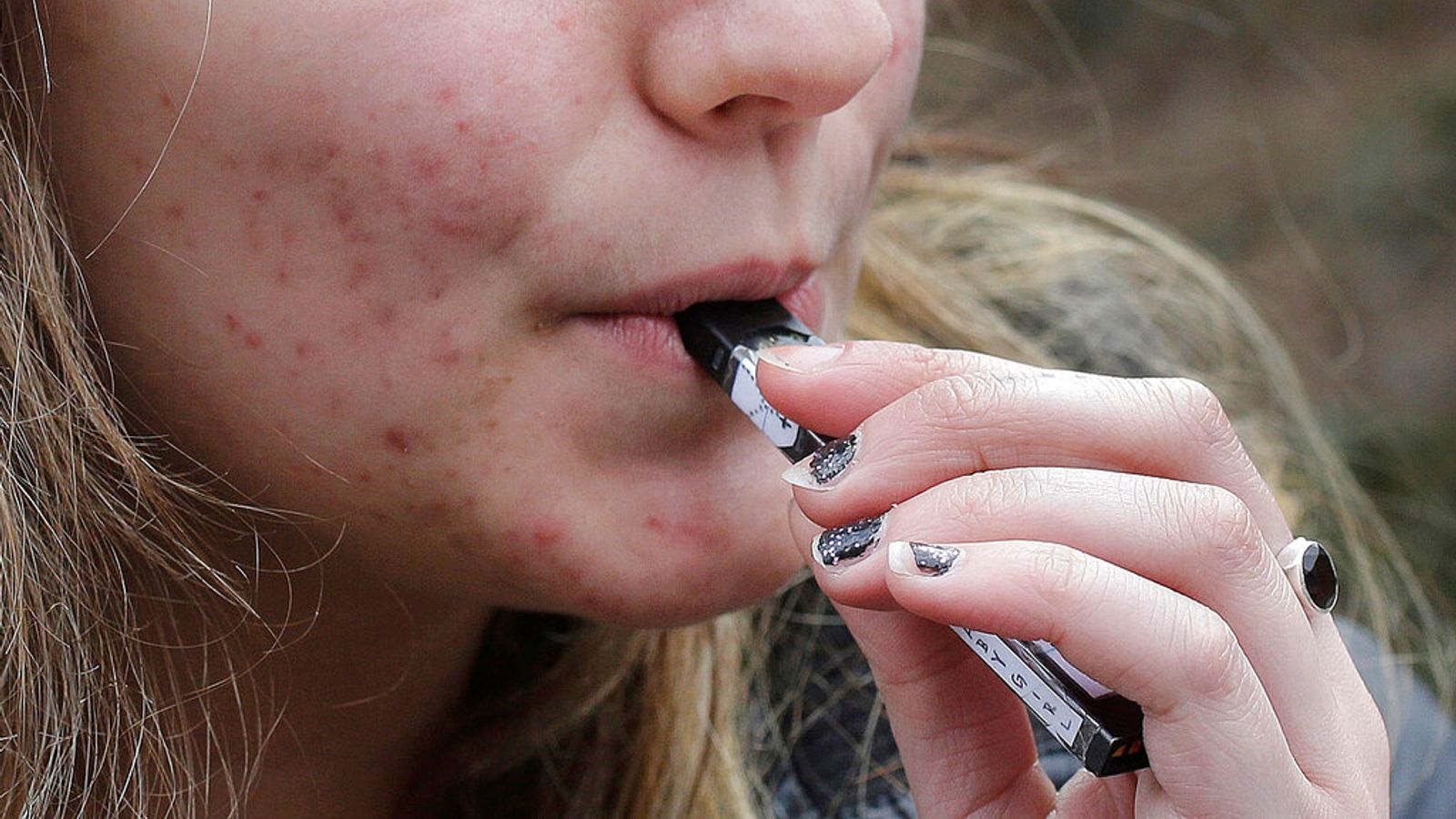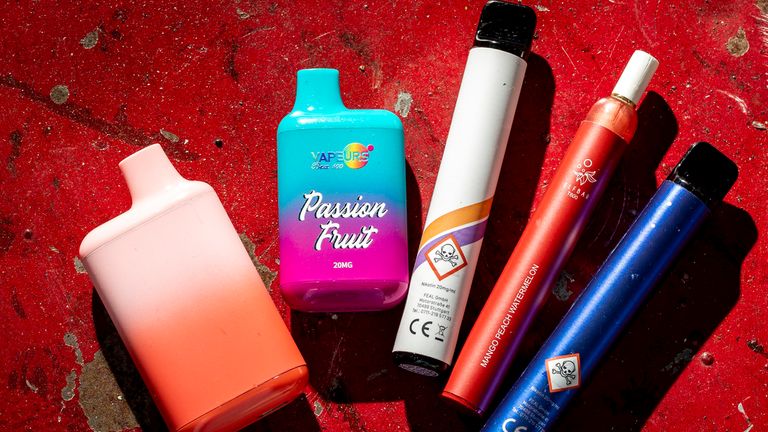 Rishi Sunak has said a new government crackdown on vape marketing will stop the "unacceptable" targeting of children and young people. 
Ministers have pledged to close a loophole that allows shops to offer free samples of vapes to children in England as concerns over the proportion of youngsters trying e-cigarettes mounts.
It comes days after the prime minister expressed concern about his own daughters potentially being targeted by vape marketing during an interview on ITV's Good Morning Britain.
There will also be a review into banning retailers selling "nicotine-free" vapes to under-18s, the government said, as well as a review of the rules on issuing fines to shops that illegally sell vapes to children.
The government said such reviews could make it easier for local trading standards officials to issue on-the-spot fines and fixed penalty notices.
Ministers cited NHS figures from 2021 which revealed 9% of 11 to 15-year-olds used e-cigarettes – up from 6% in 2018.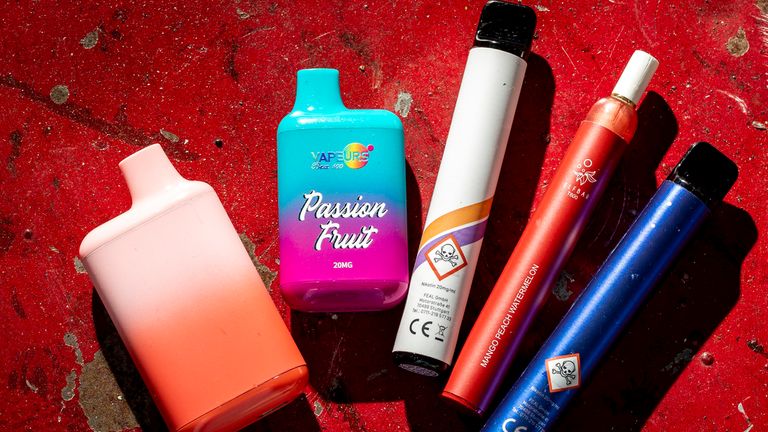 Mr Sunak said he was "deeply concerned" about the increase in children vaping, adding he was "shocked by reports of illicit vapes containing lead getting into the hands of schoolchildren".
"Our new illicit vape enforcement squad – backed by £3m – is on the case but clearly there is more to do," the prime minister said.
"That is why I am taking further action today to clamp down on rogue firms who unlawfully target our children with these products."
He added that the marketing and the illegal sales of vapes to children are "completely unacceptable" and that he will do everything in his power to "end this practice for good".
Meanwhile, Chief Medical Officer Professor Sir Chris Whitty called the decision to close the loophole a "very welcome step".
He said: "Whilst vaping can be an effective quitting tool for smokers, it is important that non-smokers are not encouraged to start vaping.
Sunak on vape 'enforcement squads'

"There has been a particularly worrying rise in the number of children using vapes, with companies clearly marketing these products at children using colours, flavours and cheap disposable options.
"Closing the loophole that allows companies to give out free samples of vaping products to under-18s is a very welcome step in tackling some of the harms caused by the vaping industry."
He added: "We should continue to encourage smokers to swap to vaping as the lesser risk, whilst preventing the marketing and sale of vapes to children."
Read more:
Number of children trying vaping rises 50% in a year in 'tide of experimentation'
Sunak hits out at vape companies for appealing to children
The health risks of vaping will now also be included in Relatonships, Sex and Health Education lessons in schools as part of the ongoing government review of the curriculum.
And the crackdown will also see dedicated police school liaison officers work to keep illegal vapes out of schools.
Health minister Neil O'Brien described any marketing of vaping products to children as "shameful".
He said the government would "review the rules on issuing on-the-spot fines to shops that break the law by selling vapes to underage youngsters, and look into banning the sale of nicotine-free vapes to under-18s – which we know can be a gateway to using nicotine products".
UK weather: Temperatures forecast to cool across parts of country after hottest day of the year so far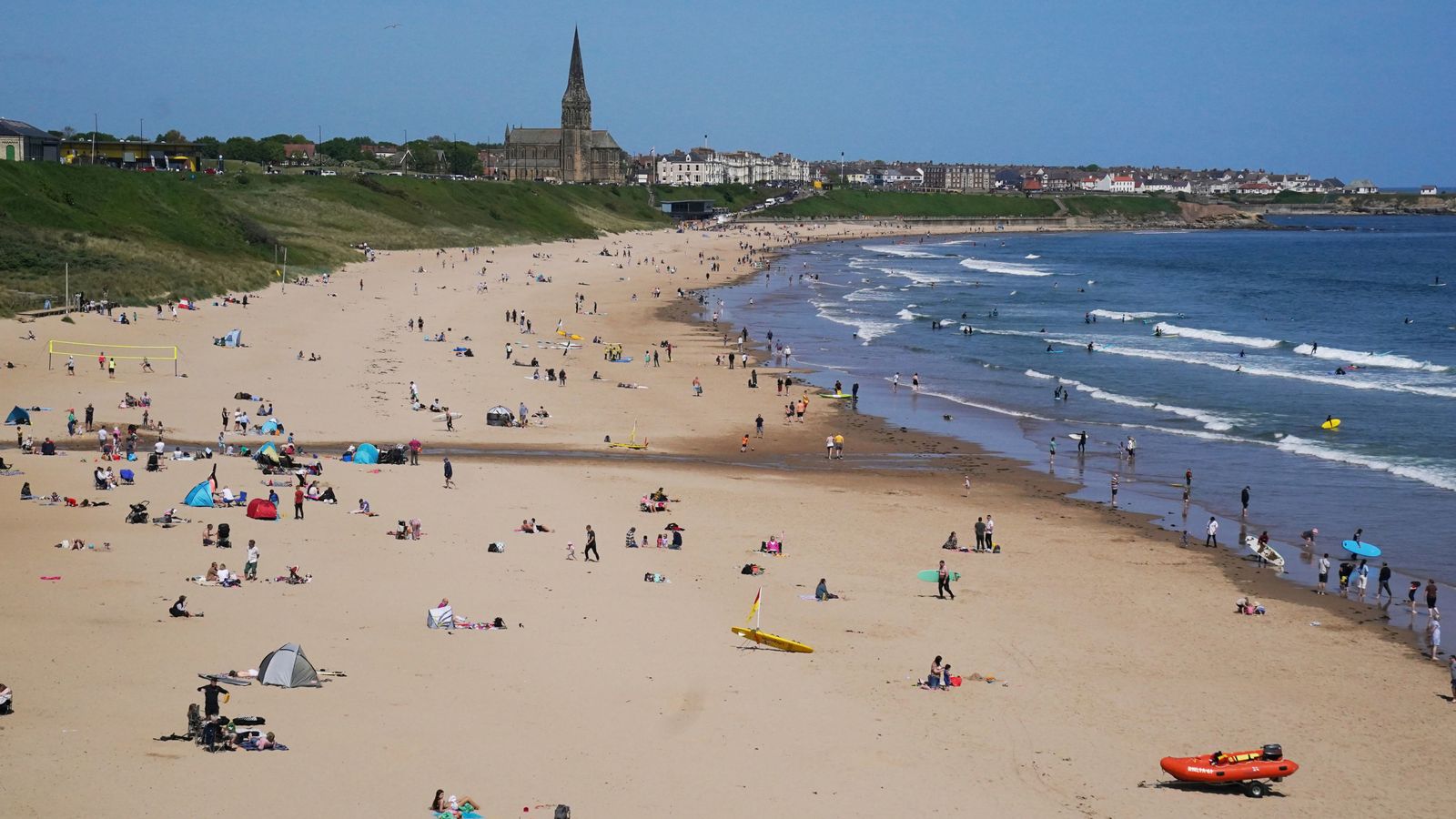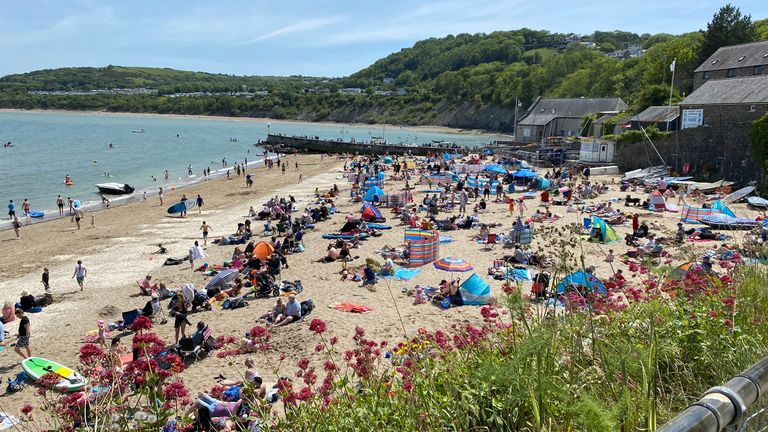 Sunday was officially the hottest day of 2023 so far – but temperatures are predicted to cool this week for some.
Plymouth hit 24.4C (75.9F) yesterday, beating Saturday's high of 24.3C (75.7F) in Bramham, West Yorkshire, by just a tenth of a degree.
Previously the hottest temperature of the year was 23.4C (74.1F) – recorded in Cardiff last Monday.
High pressure meant dry and warm conditions across the UK last week, but forecasters expect a cooler feel from Monday night.
Find out the 5-day forecast where you are here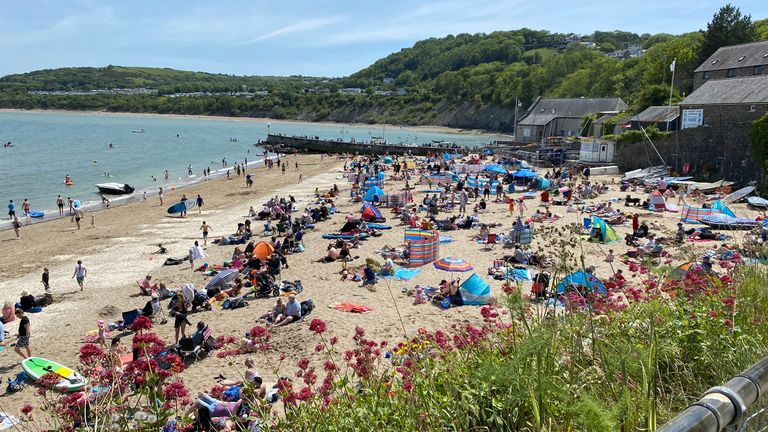 "Generally, there will be a lot of dry weather around and a good amount of sunshine still," Met Office meteorologist Jonathan Vautrey said. "Hazy cloud pushing through at times might make the sunshine hazy in places.
"Temperatures then going to be feeling cooler along eastern coastal areas."
Colder conditions in the far north and the east will be brought on by a "cool breeze off the North Sea", the Met Office added.
Southern and eastern parts will also be cloudy.
This spring has been cooler than usual in general so far, with temperatures not yet reaching 25C (77F) anywhere in the country.
If the UK doesn't meet that threshold in the coming days, it will be the first time in 10 years without a day of 25C or hotter by 1 June.
Read more:
Athlete dies while swimming in Swansea Triathlon
What is El Nino and how does it impact the weather?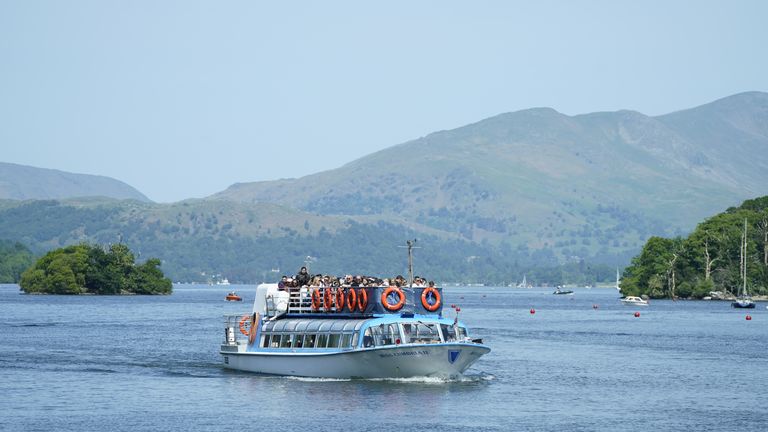 Warmer weather in the west
For the rest of this week, half-term for much of England and Wales, the best weather will be confined to western areas.
The Met Office says the high pressure that sent the mercury soaring last week will "stay in charge" in those parts.
Temperatures are likely to peak on Wednesday – and could reach 25C across western Scotland and Wales.
Conditions will be dry and settled, but feel cooler at night. Pollen counts will also be high.
South West England and Wales are set to have the highest temperatures for the remainder of the bank holiday.
Two men died having been pulled from the sea near Torbay in Devon during the hot weather on Saturday, with emergency services warning people against swimming in non-guarded areas.