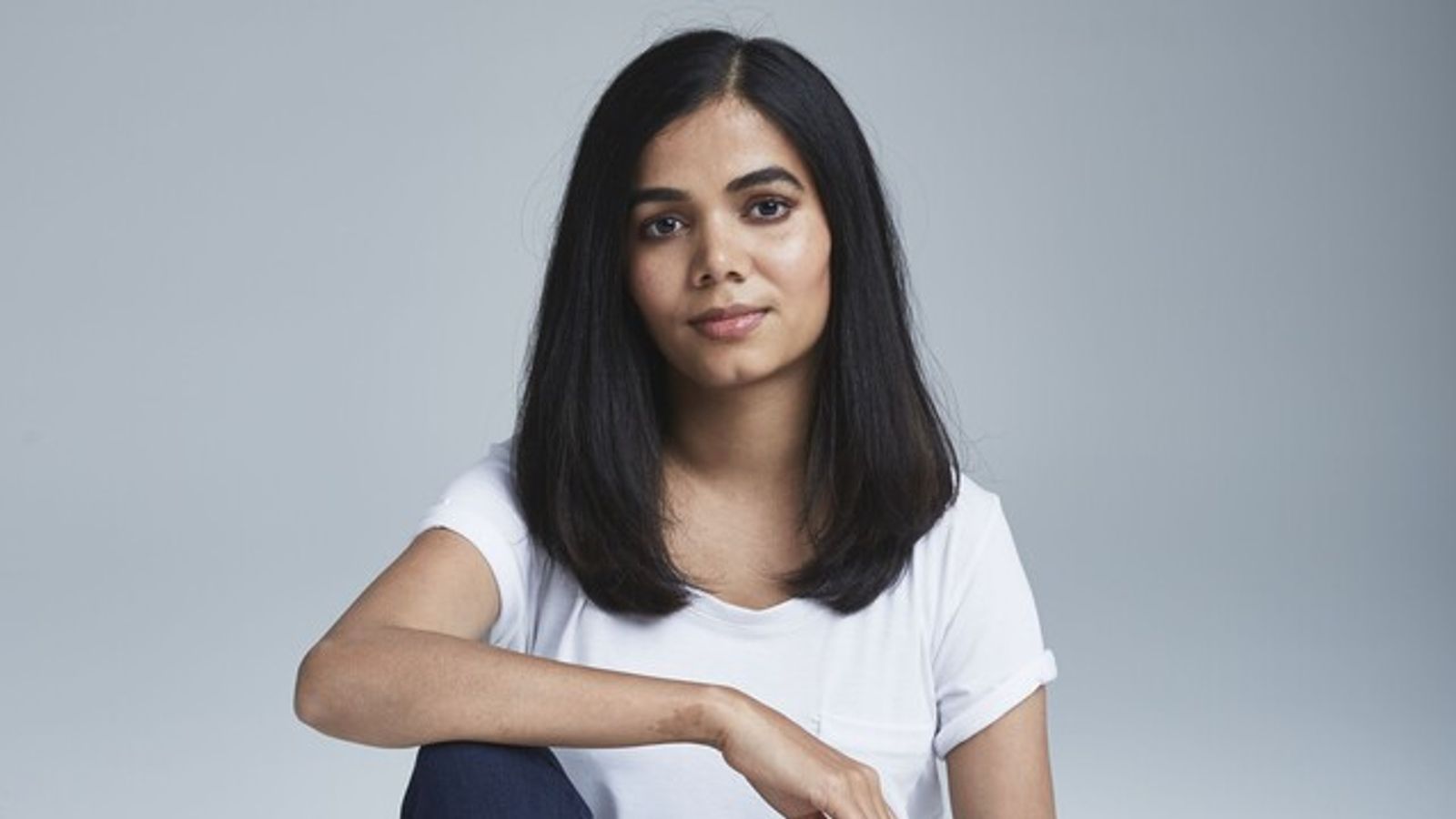 Phones, clothes and timber: How the UK is supporting global slavery as 50 million remain trapped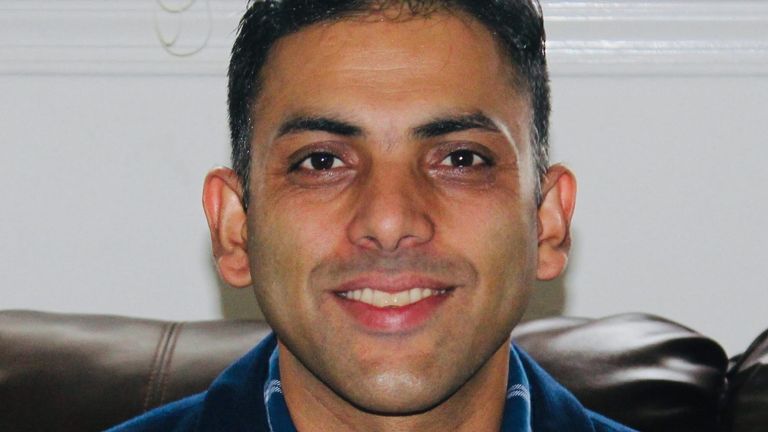 When Nasreen was just a young child, she saw her 12 -year-old sister forced into marriage, and her mother warned her she would be next.
At the age of around nine, with the help of a male cousin, she fled her small rural Nepalese village – she can't say exactly how old she was because her birth was never recorded.
She arrived in Kathmandu, the capital of Nepal with nothing – not even a last name – and spent 15 hours a day toiling in a sweatshop, creating garments that would later be flown to department stores in wealthy countries.
At night, she would fall asleep on the piles of clothes and dream about where they would end up.
"I was looking for freedom and a better life and I ended up as forced child labour, in one of these tiny rooms in a textile factory with six others – it was loosely regulated, no windows and the doors locked," she told Sky News.
Nasreen eventually escaped the cycle of slavery with the help of a mentor, and adopted the surname Sheikh – which in Arabic translates as 'Chief of the Tribe'. She now works as the co-director of the Empowerment Collective, A US-based group that helps eradicate modern-day slavery by giving marginalised women the support and skills they need to ensure their self-sufficiency and dignity.
But the latest Global Slavery Index from International human rights organisation Walk Free found more than 50 million people around the world live in modern slavery, exacerbated by warfare, the COVID-19 pandemic and climate change.
And the problem is only getting worse – some 10 million more people are enslaved compared to five years ago.
While the UK was found to have taken the most action to combat modern slavery (followed by the Netherlands and Portugal) it remains complicit. Nearly two-thirds of all forced labour cases are connected to global supply chains.
The UK accounted for £21bn in at-risk imported products, including electronics, fish, garments, textiles and timber.
People living in higher-income countries "need to start asking questions about the clothes you are wearing, the phone you have in your pocket or the seaweed you ate last night," Nasreen said.
"Those things contain slavery."
How the UK imports slave-made goods
Nasreen said that while the number of enslaved people in parts of the Western world is low – statistics suggest 122,000 living in modern slavery in the UK – "it does not mean that slavery is not there" – but it is just being imported.
"Forced labour is found in low-income countries, but it is deeply connected to demand from higher income countries," she said.
"These people are hidden, invisible. They don't have a voice. They are so traumatised they can't speak for themselves."
Worldwide, over half of those in modern slavery, like Nasreen, are female. A quarter are children.
Women and girls are disproportionately at risk of forced marriage, accounting for 68% of all people forced to marry.
However, estimates remain conservative – UNICEF suggests that worldwide there are 650 million women and girls who were married before the age of 18.
Nasreen said her sister was "terrified" and crying when she was forced into marriage.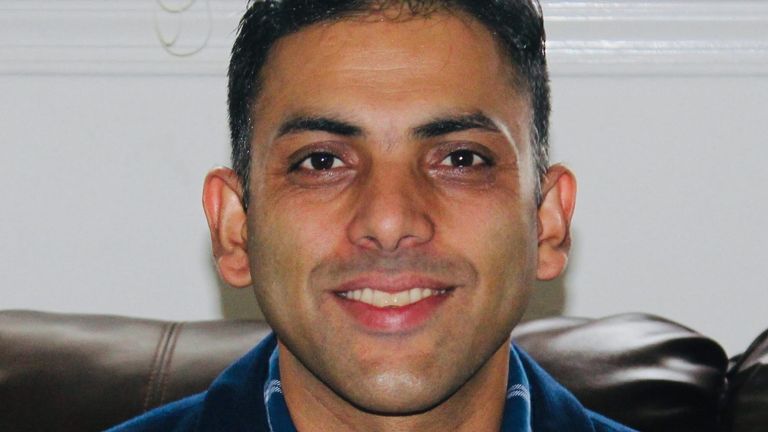 "But everyone said, that's how it goes, when they get married they cry," she said.
"I asked my mother why are you forcing my sister and she said that it's not that I'm doing it – this is how our culture is.
"This is how our society is – this is what happened to me, this is what happened to your sister, next it will happen to you."
"Child labour and modern-day slavery are so normalised in our part of the world," she added. "A lot of victims don't see it as an issue because the trauma is normalised too."
Migrant workers
The report from Walk Free found migrant workers are more than three times more likely to be in forced labour than non-migrant workers.
Mahendra Pandey, a former migrant worker in Saudi Arabia, said people like him "enter the country in good faith".
He continued: "But once were are there, and when we can't go back to our own country, we face discrimination, abuses and exploitations."
Click to subscribe to the Sky News Daily wherever you get your podcasts
The global community is now even further from achieving the goals it agreed to make a priority and no government is on track to achieve the UN Sustainable Development Goal 8.7 of ending modern slavery, forced labour, and human trafficking by 2030.
"Modern slavery permeates every aspect of our society. It is woven through our clothes, lights up our electronics, and seasons our food. At its core, modern slavery is a manifestation of extreme inequality," said Founding Director of Walk Free, Grace Forrest.
"It is a mirror held to power, reflecting who in any given society has it and who does not. Nowhere is this paradox more present than in our global economy through transnational supply chains."
Legal battle looms over Boris Johnson's COVID pandemic WhatsApp messages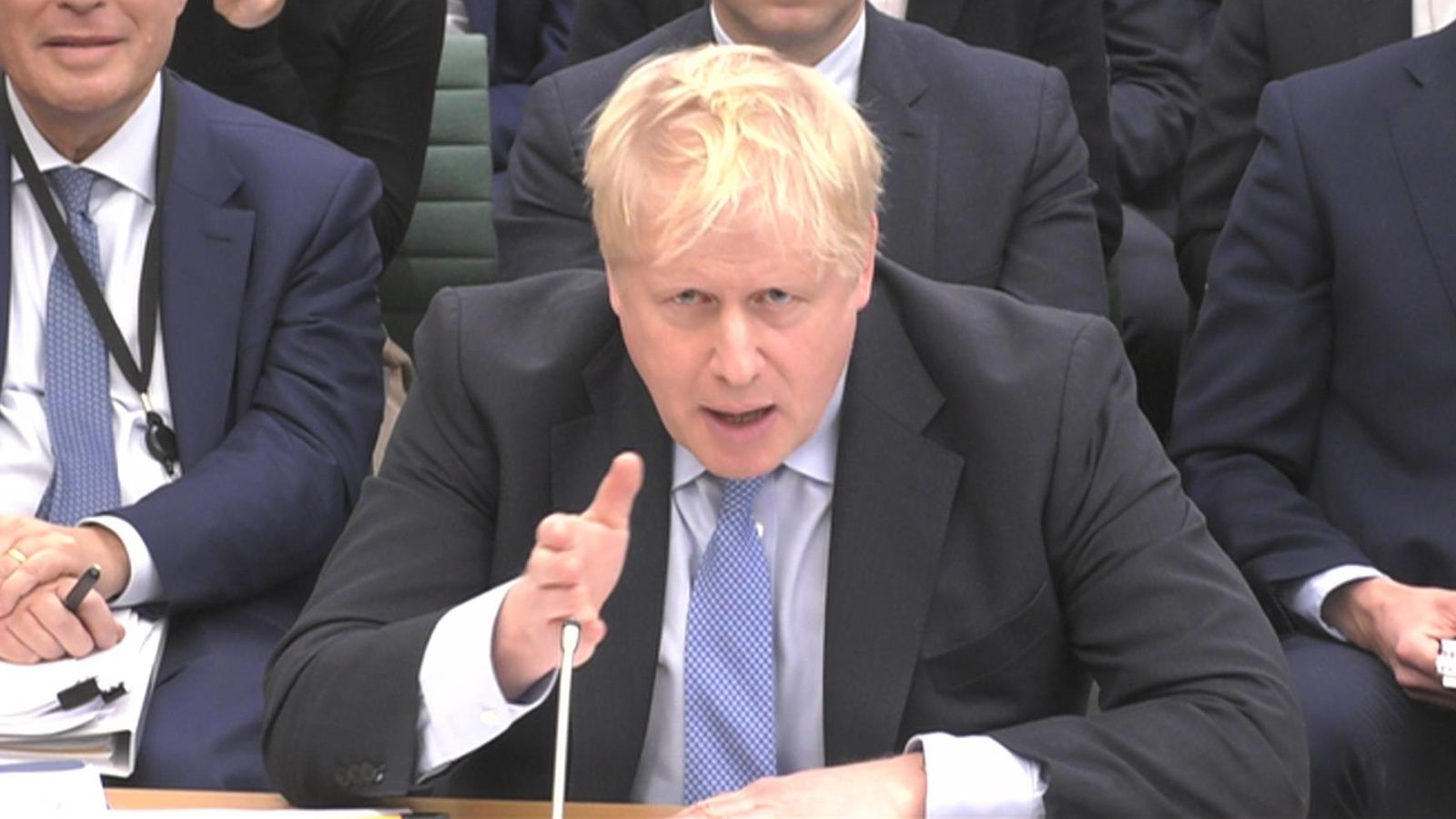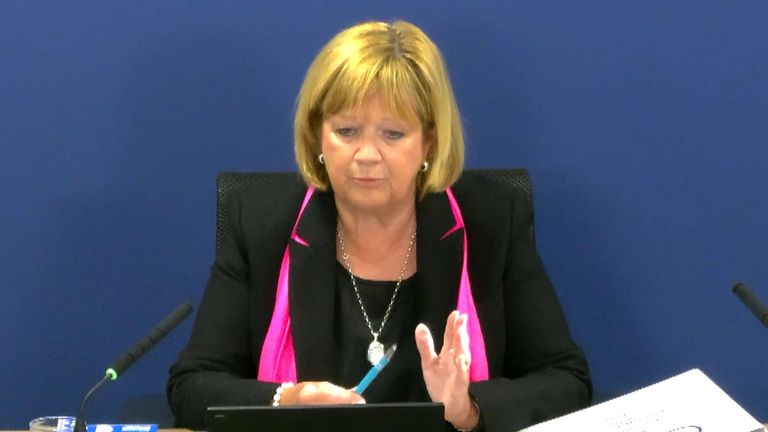 Boris Johnson and Rishi Sunak are preparing to launch a legal battle over COVID secrets, just hours before a deadline for handing over sensitive material to the official pandemic inquiry.
Mr Johnson, prime minister during the pandemic, is battling to prevent the Cabinet Office releasing all his unedited WhatsApp messages and diaries to the inquiry's chairwoman, Baroness Hallett.
With the clock ticking towards the 4pm deadline, Baroness Hallett is demanding to see all government messages, which she claims are vital for the inquiry's deliberations on COVID decisions.
She is said to have warned the government that failure to release material would amount to a criminal offence, a claim the government disputes and is therefore poised to launch a legal challenge.
The government argues that handing over all ministers' messages to the inquiry – including those of Mr Johnson – would stop them communicating freely in future and that much of the material is irrelevant.
In a ruling last week, Baroness Hallett said: "The entire contents of the documents that are required to be produced are of potential relevance to the lines of investigation that I am pursuing."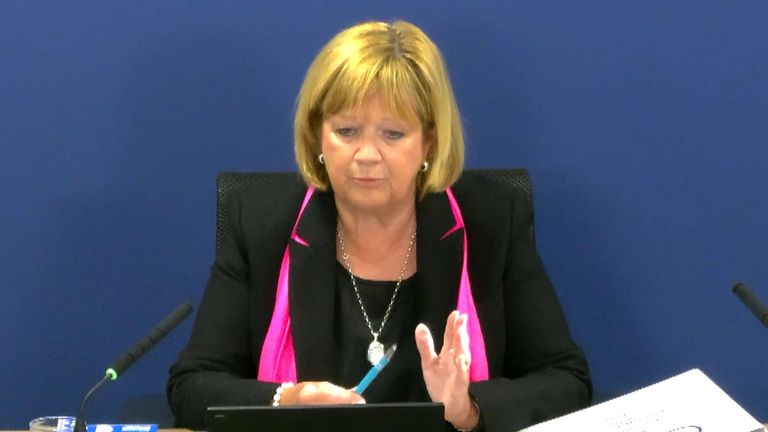 But the government's opposition to handing over WhatsApp messages and diaries in full and the threat to launch a legal challenge was strongly backed by the former Tory leader Sir Iain Duncan Smith.
Speaking to The Daily Telegraph, he accused Lady Hallett of "trying to be Agatha Christie" by turning the COVID inquiry into a "whodunnit" rather than "whatdunnit".
Sir Iain said: "It's completely unnecessary chasing individuals. They are on a fishing expedition and they should stop fishing. There is enough evidence out there to know what went wrong."
Mr Johnson has claimed publishing his diaries in full would be a breach of national security.
And the standoff now appears to be heading for the extraordinary spectacle of a legal battle between the government and the inquiry.
Mr Sunak and the former PM are expected to speak this week, for the first time since last year, about their approach to the COVID inquiry and also to discuss the former PM's controversial resignation honours list.
Boris Johnson denies fresh claims

Mr Johnson is already furious with the Cabinet Office for referring a dozen diary entries to the police and the Privileges Committee of MPs, which is investigating claims that he lied to the House of Commons.
As a result, officers from the Metropolitan Police and the Thames Valley force are now considering whether meetings that took place with allies in Downing Street and at Chequers in May 2021 broke COVID rules.
Read more:
How Boris Johnson was 'doorstepped' in US
Boris Johnson blasts 'bizarre' new claims he broke COVID rules
The diary entries include Chequers visits by outgoing BBC chairman Richard Sharp, Mr Johnson's cousin Sam Blyth, who loaned him £800,000, and Tory peer Lord Brownlow, who funded decorations to the Downing Street flat.
Another diary entry refers to a visit to Chequers by two friends of Carrie Johnson, though Mr Johnson's spokesman has insisted that this event was "entirely lawful".
'Leave Boris Johnson alone'

In an exclusive Sky News interview at Dulles Airport in the United States last Friday, a defiant Mr Johnson declared: "None of them constitute a breach of the rules during COVID. They weren't during lockdown.
"They were during other periods of the restrictions. None of them constitute a breach of the rules. None of them involve socialising. It is total nonsense."
Mr Johnson's allies are also accusing Oliver Dowden, Cabinet Office minister, deputy prime minister and Mr Sunak's closest ally, of sanctioning "a political stitch-up" to smear Mr Johnson and prolong the Privileges Committee inquiry.
It has been reported that Mr Johnson believes Mr Dowden "has form", after helping to trigger his downfall last year with a dawn resignation as party chairman within hours of two disastrous by-election defeats for the Conservatives.
The former PM told Sky News: "I think it's ridiculous that elements of my diary should be cherry-picked and handed over to the police, to the Privileges Committee, without even anybody having the basic common sense to ask me what these entries referred to."
'Is Boris Johnson toast?'

Johnson allies have also demanded a leak inquiry to catch the "ratty rat" who disclosed that his diary entries had been passed to police, a reference to the so-called "chatty rat" who leaked a lockdown announcement in November 2020.
Despite the threat of a looming legal battle, a spokesperson for the Cabinet Office said: "We are fully committed to our obligations to the COVID-19 inquiry.
"As such, extensive time and effort has gone into assisting the inquiry fulsomely over the last 11 months.
"We will continue to provide all relevant material to the inquiry, in line with the law, ahead of proceedings getting under way."
On board the mission to rescue 600 people from overcrowded fishing boat abandoned by its captain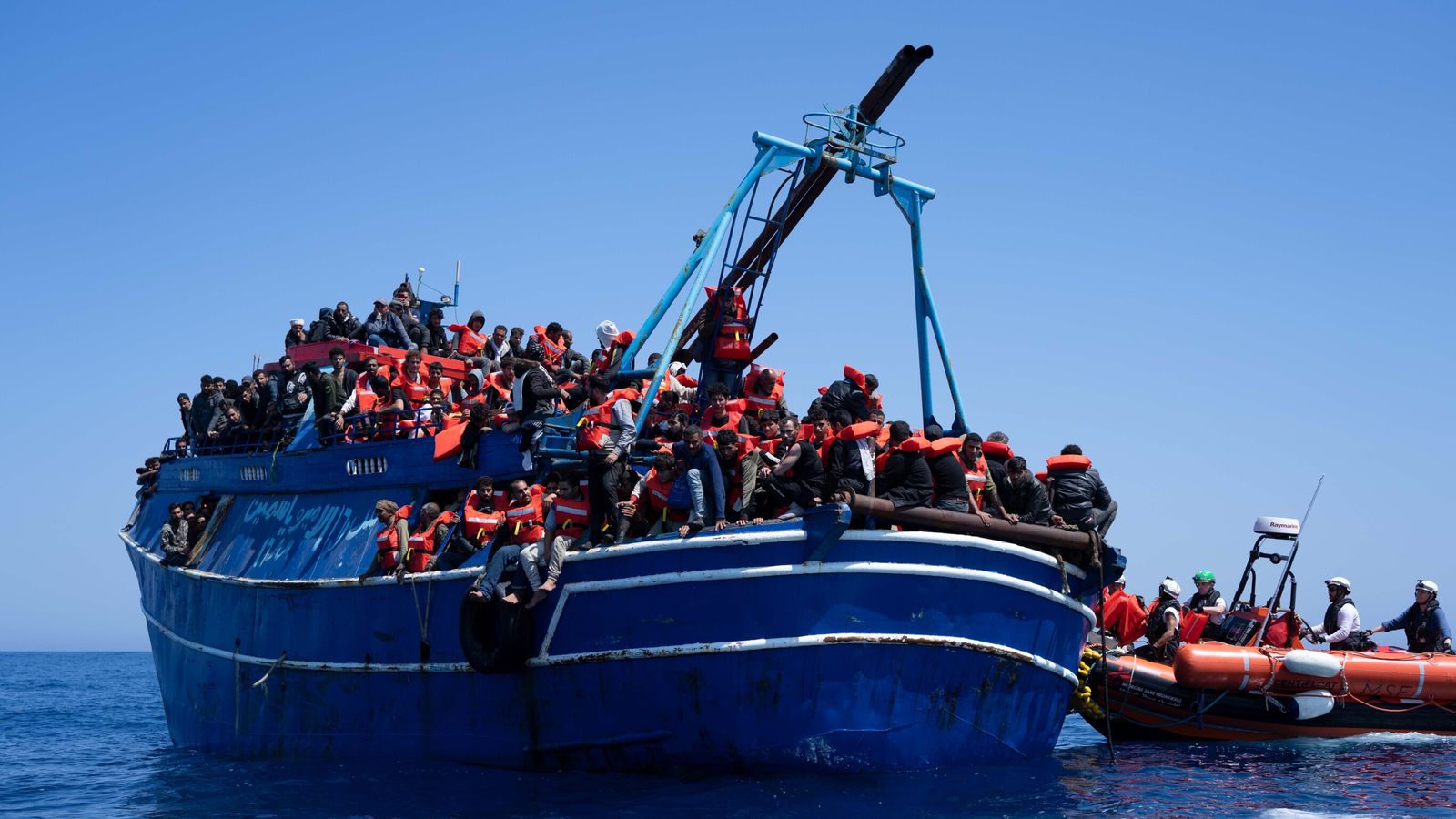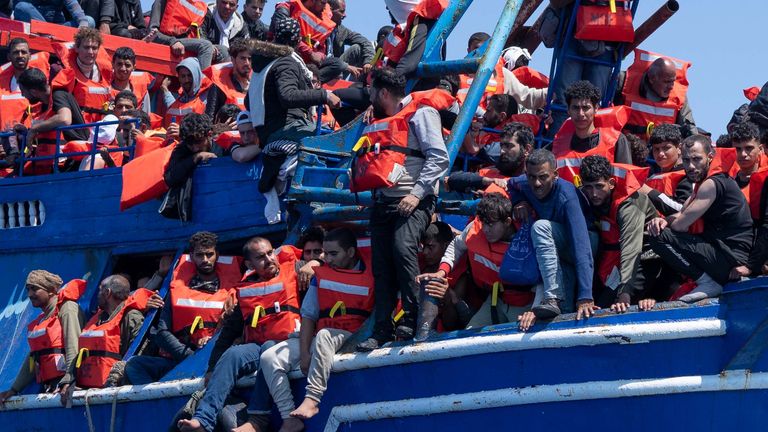 The sun beats down on us. I'm sweating, and there is noise from every angle. Two marine engines thrum behind me, churning the water of the Mediterranean.
You can smell the salt, but also the plastic of our boat, warmed by the early afternoon. Cloudless skies. I can hear shouts, cries, and also words of thanks.
Ahead of us – painted in a rich blue – is a hopelessly dilapidated fishing boat that teems with people. Crowded on to the deck, peering out of every gap, perching from every vantage point.
The boat left the Libyan port of Tobruk packed with hundreds of people and has meandered its way towards Italy. A day or so ago, with the food and water running out, the captain left during the night, abandoning his passengers to an uncertain fate. None of them knew how to control the vessel, or how to navigate.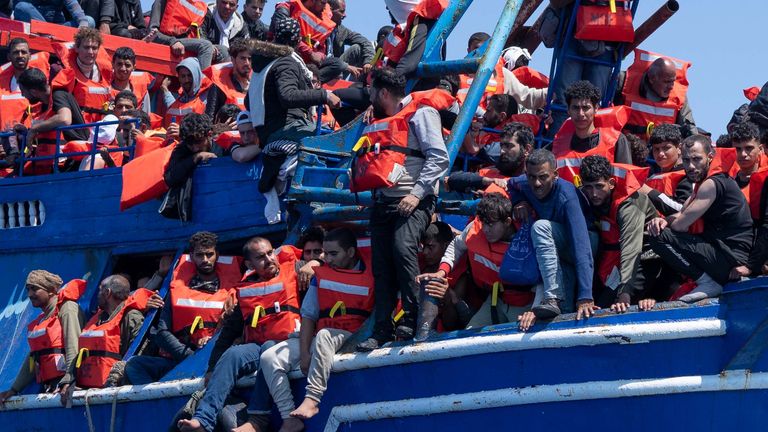 These are the passengers we are now rescuing. Mainly Egyptians, but with groups of Bangladeshis, Syrians and Pakistanis, among other nationalities. They clamber down from the fishing vessel and on to the RIB – the universally used acronym for a rigid inflatable boat.
My job is, basically, to get them to sit down and keep relatively still, so the boat doesn't get unbalanced.
Some of these people are exultant, but most seem exhausted. A few are clearly very ill.
I help a woman who turns and simply faints in my arms. The medic on board, a Belgian nurse called Simon, gives her a quick look and assures me she'll be fine. He's right. She's simply overwhelmed.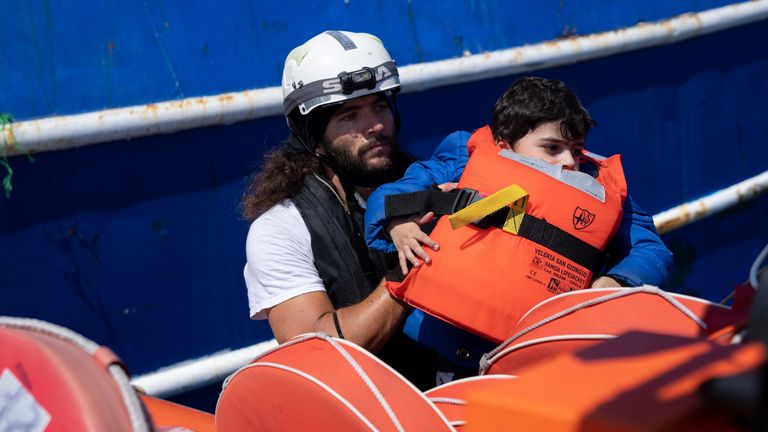 And now, almost out of nowhere, a middle-aged man in a discordantly warm jacket grabs me and kisses me on both cheeks. I can feel his stubble and hear him mumble "thank you". I smile, and then ask him to sit down in the boat.
It's filling up. Eventually, the leader of the boat team, an Argentinian man called Juan, will give the signal and we will back away and speed the passengers off to the looming presence of the Geo Barents, the 80m-long rescue ship run by the charity Medecins sans Frontieres (MSF). In a few hours, it will look less like a ship and more like a floating refugee camp.
The Geo Barents was never meant to be doing things like this. It was built as an oceanographic survey vessel, which is why there are still huge reels of cable on one of the decks, along with a "seismic room".
What is the Geo Barents rescue ship?

Read more:
70 dead and 1,200 people rescued after boats capsize
But MSF wanted to hire a boat to launch rescue missions in the Mediterranean and the Geo Barents was available and fitted the bill. There is space for the two RIBs to be launched and doors that can be flung open to help the migrants clamber back in.
There is storage capacity for clothes, food, water, medical supplies, bedding and the hundred other things needed to keep people going.
And there is space, which is just as well. This is the 30th time the Geo Barents has gone to sea on behalf of MSF, and its previous record was when 440 people were rescued during mission number 25.
That record is in the process of being very comfortably broken – a total of 606 people will be taken from the fishing boat and brought over to the Geo Barents. Space, the precious commodity, will run out quickly.
The biggest area is given over to men, who make up most of the people who are rescued. Upstairs are the minors and also the relatively small number of women.
More than a hundred minors were rescued from the boat. Some are very small – I saw a tiny baby being brought on to a rescue boat, passed gingerly to its mother – and there are fearful toddlers, who cried on the boat and now sit on the Geo Barents, open-eyed and overwhelmed.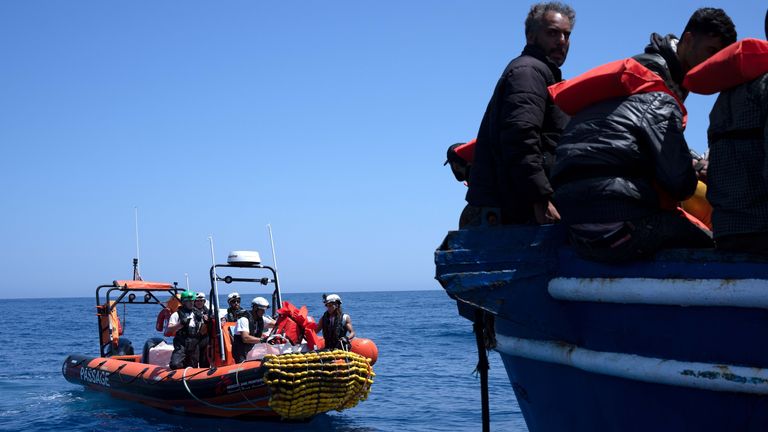 There is also a pregnant woman who was carefully helped on after her rescue. Once before, a baby has been born on the Geo Barents and there is a midwife onboard. Most of the children are here with a parent, or parents, and, as we complete one of the runs between wreck and rescue boat, a man asks me to take a photo of him and his small child. The man looks happy; the child stunned.
Food is given out once per day – a bag that contains emergency rations and meals that can be heated up by adding water and squeezing the packet.
We meet Hamdi and Assad, Egyptians who met in Libya and have become close friends. They paint a desperate picture of what life was like on board the boat.
"I was worried about the boat within 30 minutes of getting on board. We all thought it would be bigger and safer than it was. When we left for the first time there were even more people on board – 750 perhaps – but the captain said that we would sink. So about 150 people got off, and then we left."
He says there were problems with the engine, and then the ship – hopelessly ill-balanced due to overcrowding – was nearly knocked over by large waves. And then, amidst it all, the captain disappeared, having apparently abandoned his ship and its passengers by jumping on to another boat in the middle of the night.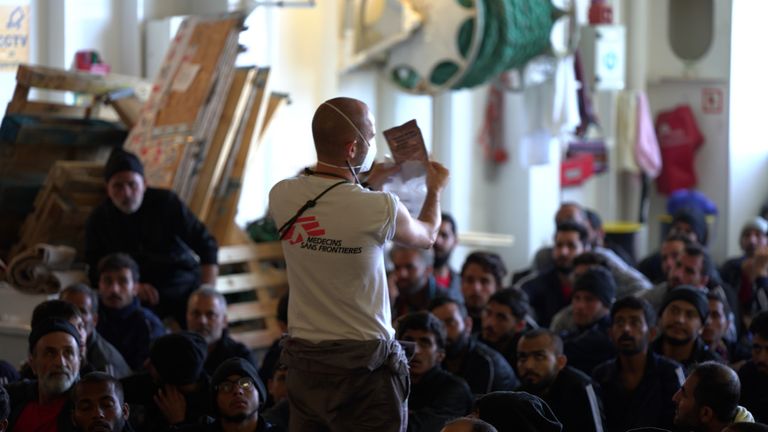 "We all thought we were going to die," said Hamdi, and Assad nods alongside him. "We had no water, the only food we had left was rotting, people were ill because of the sun, or the cold, or the sea water, or being crammed together, and nobody knew how to steer the boat. I was sure we would die." He smiles at me. "So now I feel I have been given another life."
He says the passengers did not know what was going on when they were first approached by a boat. They thought it might be kidnappers or pirates. In fact, it was the Italian coastguard, who assessed the situation, saw that it was grim but salvageable, and called the nearby Geo Barents to ask it to take all the passengers off the stricken fishing boat.
Things are not always so harmonious between the boat and the authorities. The Geo Barents, along with other charity rescue boats, has been criticised by Italy's government, which claims that it encourages migrants to try to cross the Mediterranean, knowing that there will be a boat to help them along the way.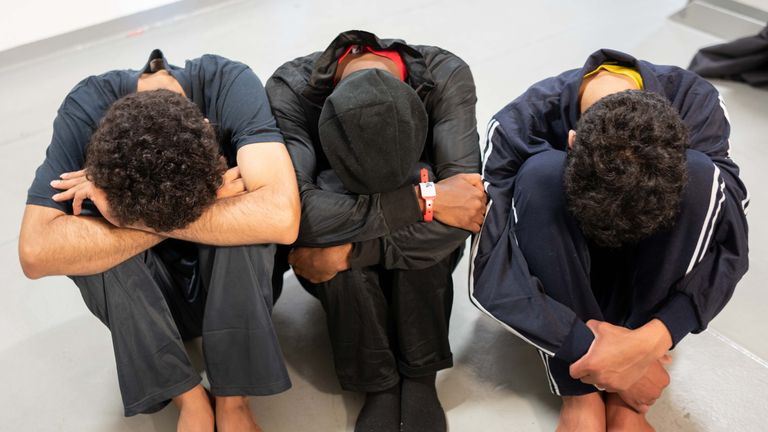 The reality is that the Mediterranean passage is the most dangerous migrant route in the world, with around 1,000 deaths already this year. But the political debate around migration is as fierce in Italy as it is in many other European countries. In Britain, the focus of migration policy is on small boats; in Italy, ministers talk of big ships, like the Geo Barents.
Those on board shrug off the criticism, pointing out that the coastguard rescues a lot more migrants than they do. But the tension is also clear – earlier this year, the Geo Barents was confined to harbour and fined after officials noted what they said was an administrative error. MSF suspects its work is being deliberately disrupted.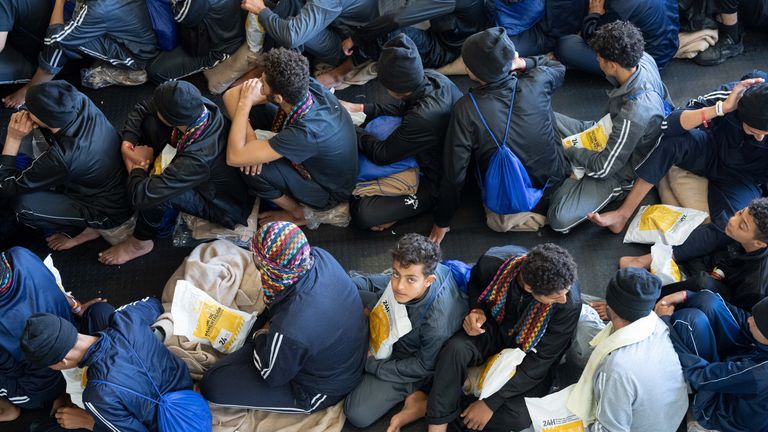 Out at sea, the last migrants are off the fishing boat. The logistical challenge of caring for them is enormous – food, water, bedding, toilets, shelter, clothes, toiletries and medical treatment are all offered. Everywhere you look, there are people sleeping, talking, laughing and eating all within a few square feet. The sense of relief over their rescue does not seem to have dissipated.
And so we set off back towards Italy, to drop off these 606 people and put them into the hands of the Italian authorities. The Geo Barents will be cleaned and loaded with new supplies, and then it will head back out to sea. A beacon of humanitarian goodwill in the minds of some, a magnet of controversy in the opinion of others.
Uganda: Anti-gay law that could mean the death penalty in some cases signed into law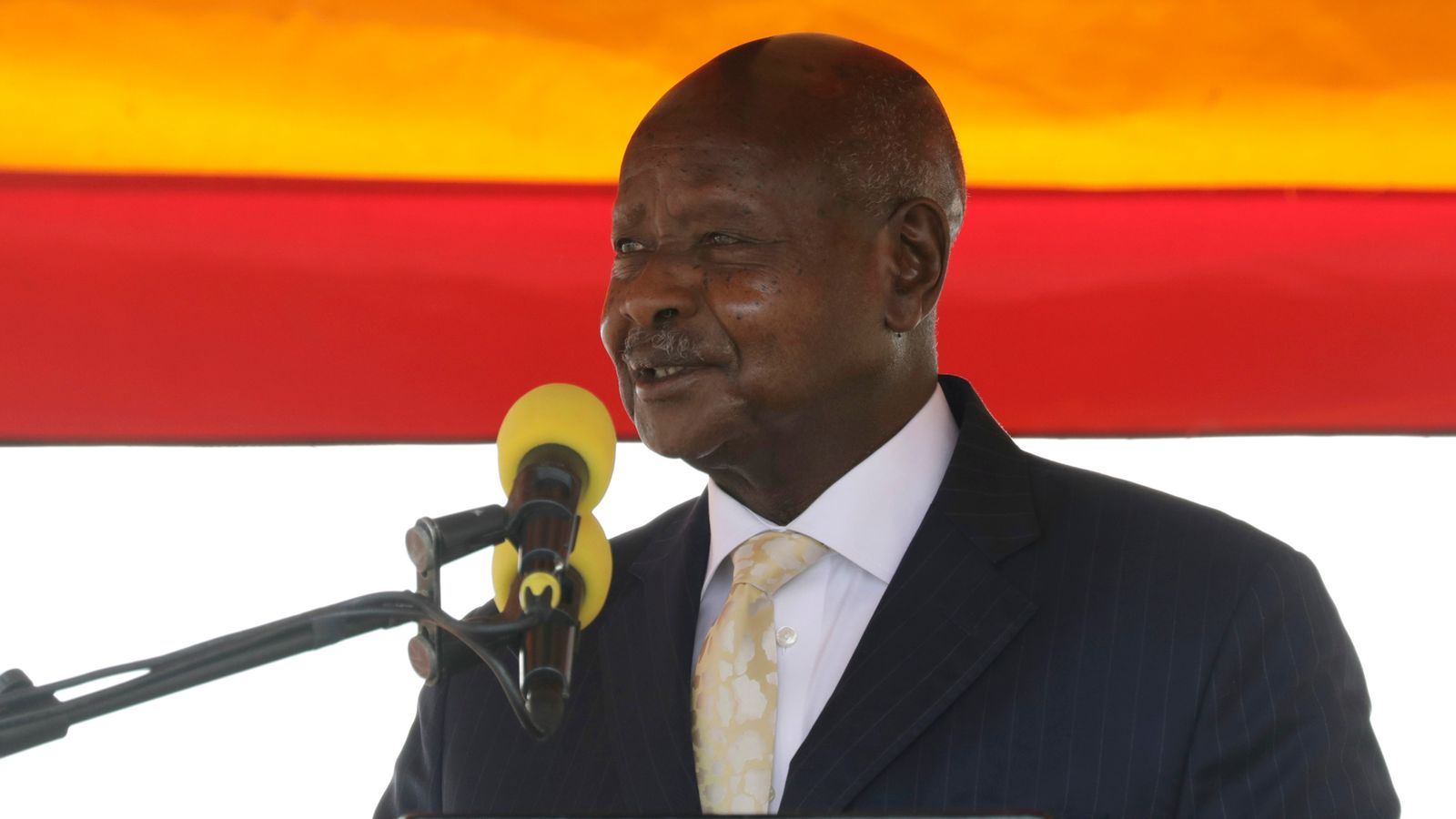 New anti-gay legislation that could mean the death penalty in some cases has been signed into law in Uganda, amid outcry by LGBT charities.
The version of the bill signed by President Yoweri Museveni doesn't criminalise those who identify as LGBTQ, which had been a key concern for campaigners who condemned an earlier draft of the legislation as an egregious attack on human rights.
But the new law still prescribes the death penalty for "aggravated homosexuality," which is defined as cases of sexual relations involving people infected with HIV as well as with minors and other categories of vulnerable people.
A suspect convicted of "attempted aggravated homosexuality" can be imprisoned for up to 14 years, according to the legislation.
Parliamentary Speaker Anita Among said in a statement that the president had "answered the cries of our people" in signing the bill.
"With a lot of humility, I thank my colleagues the members of parliament for withstanding all the pressure from bullies and doomsday conspiracy theorists in the interest of our country," the statement said.
Homosexuality was already illegal in Uganda and the country has some of the strictest punishments. It is one of more than 30 African countries where it is criminalised.
Read more on Sky News:
On board the mission to rescue 600 people from overcrowded fishing boat
Four dead as boat carrying British tourists overturns on Italian lake
The US has warned of economic consequences over legislation described by Amnesty International as "draconian and overly broad".
The leaders of the UN AIDS program, the US President's Emergency Plan for AIDS Relief and the Global Fund in a joint statement Monday said they "are deeply concerned about the harmful impact" of the legislation on public health and the HIV response.
"Uganda's progress on its HIV response is now in grave jeopardy," the statement said.