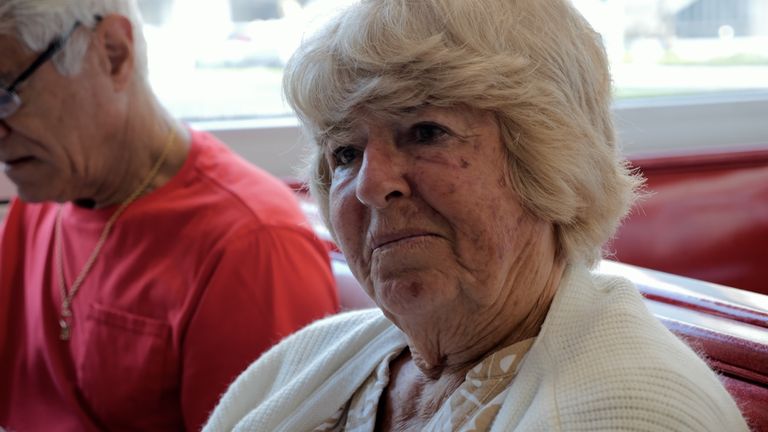 Breakfast in a Floridian diner is never for the faint-hearted.
There's the biscuits and gravy, the grits, the oversized breakfast tacos, the waffles, the pancakes, the corned beef hash and, of course, the all-American drip coffee.
If you survive all that, and if you nudge the locals a little, then the passionate yet divisive politics of this state and this nation all comes tumbling out.
The moment I mention Ron DeSantis, the cards are on the table.
"I love him… I think he's doing the things that most of us would like him to do," Patricia Barra says.
"He's just kept Florida very productive; open through COVID. I think he wants to make America the way we were used to having it."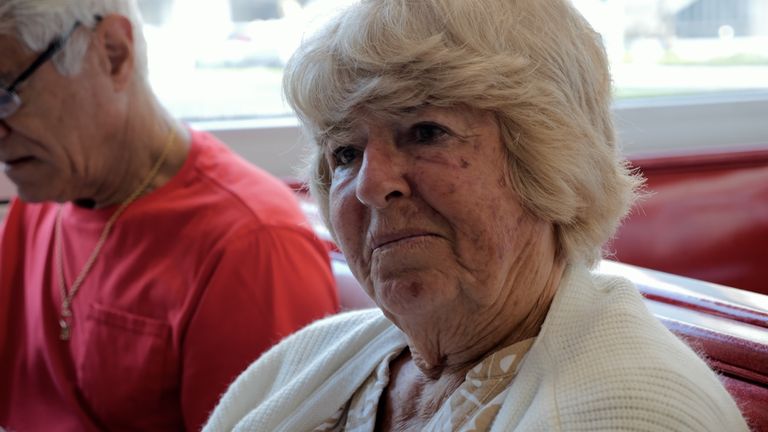 Her husband, Gerald, finishes her thought: "Californians moving to Florida, Massachusettsans moving to Florida, New Jerseyans moving to Florida, New Yorkers moving to Florida. Must be something!"
But, a table away: "He's bigoted, a white supremacist, a Trump wannabe…" Robin Mix says.
They say the Starlite Diner is a Daytona Beach landmark, an unofficial community meeting place for the locals. Where better, then, to find out more about Florida's governor?
This is where the political career began for the man who wants to be president.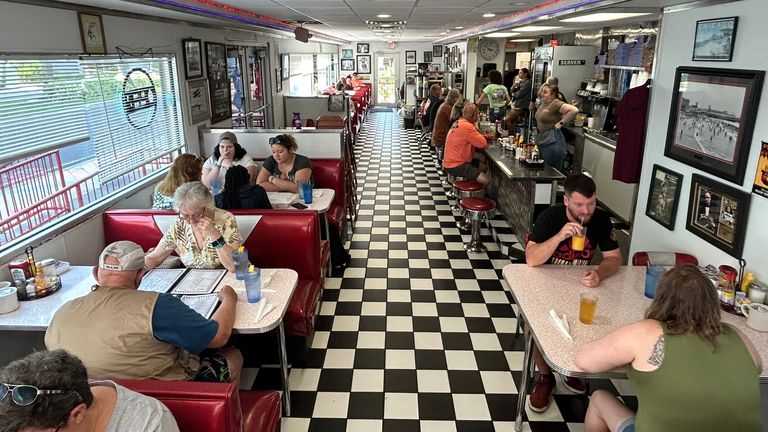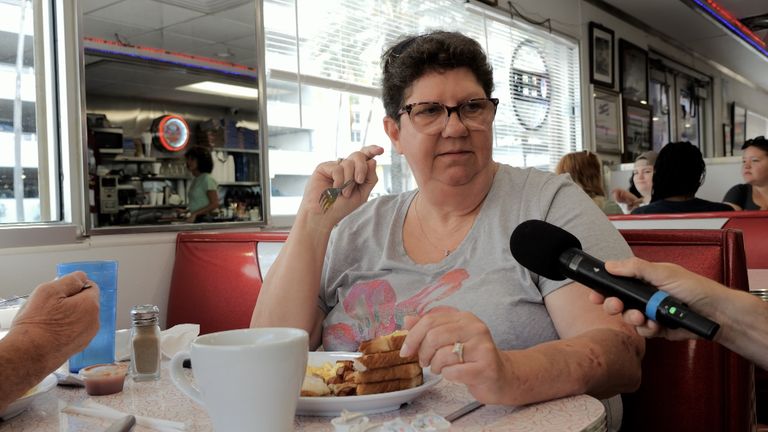 Daytona Beach is in his old district back when he was a congressman, way before he made waves nationwide.
I've come to find out what the allure is and whether that landslide vote for governor last year really could propel him all the way to the White House.
'Make America Florida' is his line. It's a neat play on the tagline of his fan-turned-foe, Donald 'Make America Great Again' Trump.
Read more on Sky News:
The controversial Florida governor – five things about DeSantis
Disney scraps plans for new campus following DeSantis dispute
Florida school bans poem read at Biden's inauguration
Trump is the clear favourite to clinch the Republican Party nominee for president. But DeSantis is behind him and hopes to close, fast.
He is Trumpian without the chaos. Maybe he can deliver on policy where Trump didn't manage to? That's exciting for some; frightening for others, and it turns out they're all represented in the Starlite Diner this morning.
The vibe from his fans reflects a view that America has lost its way and needs to return to traditional values – conservative ones.
'He would make a wonderful vice president'
"I like that idea…" another diner says when I put the Make America Florida tag to her.
"I think he would make a wonderful vice-president under President Trump…" another says.
It reflects what some see as the dream conservative ticket, however improbable it may be given the pair's current animosity.
If there is one theme which gets to the heart of what Ron DeSantis is all about, it's culture wars – his war on woke.
He has recognised that cultural issues – tapping into the idea that values have been eroded – so often resonates more with voters than issues like the economy.
Trump harked back to a time when America was apparently greater. DeSantis has gone further, identifying issues which, for his conservative support base, represent societal erosion – wokery.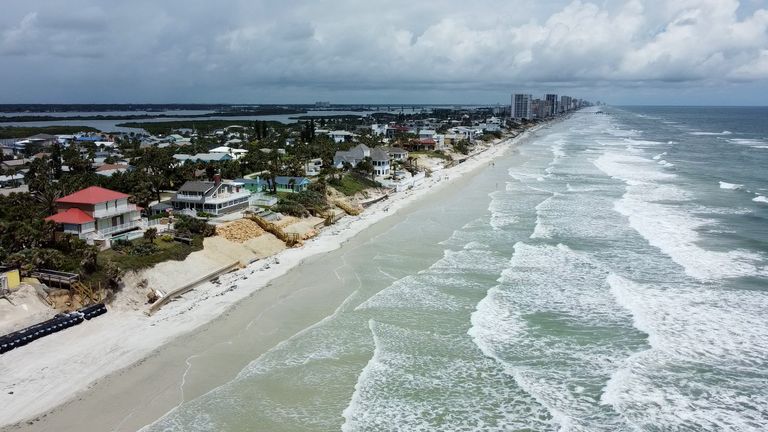 "We will fight woke in the schools, we'll fight woke in the corporations. We will never surrender to the woke mob. Florida is where woke goes to die," he says in varying forms repeatedly.
And yet, even channelling Churchill in Florida, by no means everyone here in the Starlite Diner is buying it.
"You know, his big thing is he wants to get rid of wokeness and I'm happy to be woke myself," Peter Stephenson says.
"You know, I feel the definition of wokeness is having an acceptance for all types of people."
His wife, Karen, adds: "And this stuff about all the gays and all that. Just let them live. Let everybody get along."
Ron DeSantis has never explicitly said anything against the gay community.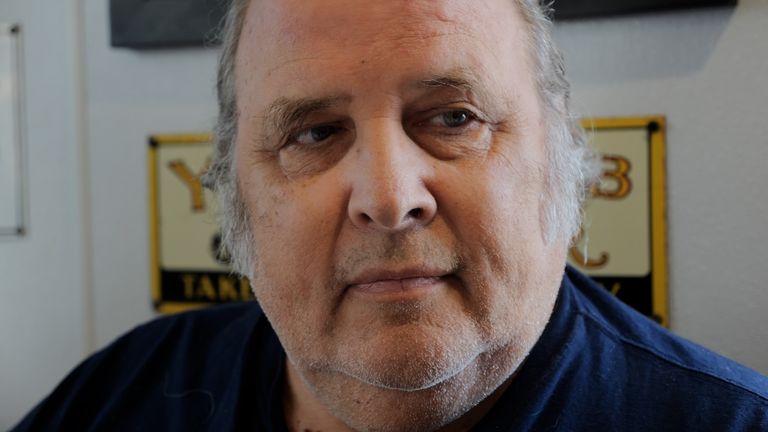 DeSantis's policies represent erosion of minority rights, say critics
But his policies, for his critics at least, represent an erosion of minority rights whether they be gay rights, racial rights or the freedom to be who you want to be.
"He wants to make everything like the 50s television shows where all the people were white, all the people were 'normal'. Dad goes to work, mum stays at home. We can't go back to the 50s. But that's what they want," Robin Mix says.
His recently published book is called The Courage To Be Free.
Critics say there's a deep irony that a man who champions freedom has been so busy restricting so many different things.
On abortion he has introduced legislation banning it after six weeks.
On drag shows, laws now make it illegal for children to be present. There are restrictions on gender-neutral toilets. He was elected governor with these policies as promises.
And then there is the so-called book ban. It's a headline that's not wholly accurate.
He hasn't banned books but has taken a hard line on what books are available to school children of different ages. In that sense, some books are banned for some age groups.
"Unfortunately, we've seen some books in some of these libraries – you're talking about kids in middle school – some of the stuff that's ended up there is incredibly disturbing stuff," he said recently.
The governor's grassroots support comes from mothers like Tina Descovich, who founded the group 'Moms for Liberty' here in Florida. It now has branches nationwide.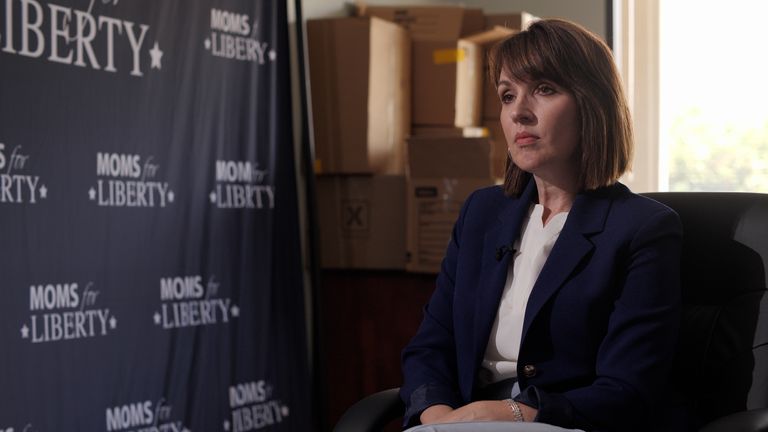 She raises a book in her hand as we chat.
"Gender Queer has obscene images throughout. It was found here in a local middle school library that shared middle school in high school and not only was it in the school, it was on display on one of the display cases at the end," she tells me.
"A lot of school districts around the country have decided that this is appropriate for as young as six grade so 11 and 12-year-olds here in the United States."
There is no evidence that this book is widely available to that age group across America.
But for Tina, his strong stance represents leadership.
"He takes action. You know, we are tired in our country and in our state of spineless leaders, who change their mind, who flip-flop, who go with the flow. What we saw with Governor DeSantis as he looked at facts, and he made decisions even though they were unpopular."
'DeSantis is not for freedom for all people'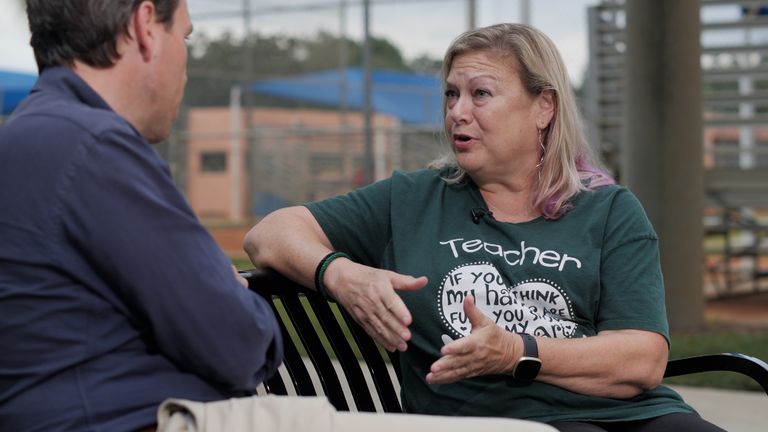 Down the coast in one of Florida's few remaining Democratic counties, I met Denise Soufrine, a teacher who is considering leaving Florida.
"He touts that we're the Free State of Florida, and I don't understand how he could possibly say that when you are restricting the rights," she says.
"The Moms for Liberty will say 'we're protecting children'. Well, what about all the other parents that want their children to be exposed to ideas of all sorts so their children can grow?
"I don't really think that's what this country wants. I don't think so.
"That's not what this country was founded on. And this governor is not for freedom for all people. He's only for freedom for certain people.
"Years ago, there were hardly any books in libraries that showed black characters, African American characters, Hispanic characters.
"So as a librarian, as a teacher, I'm someone that wants to make sure that everyone in the class feels comfortable and knows that they're accepted."
She adds: "There's no kindness in any of the bills that he is promoting at all."
Three dead and five injured in shooting at US motorcycle rally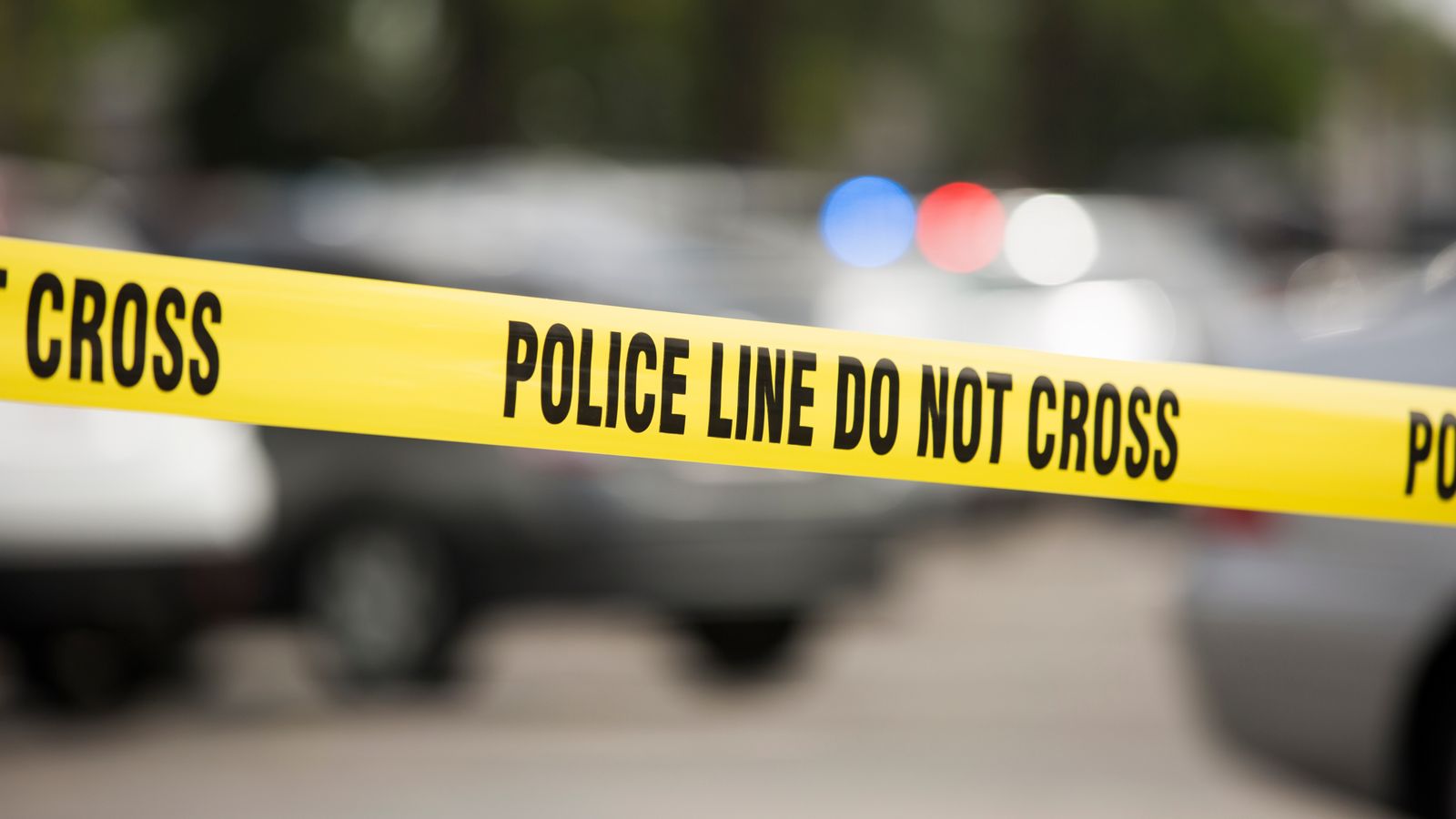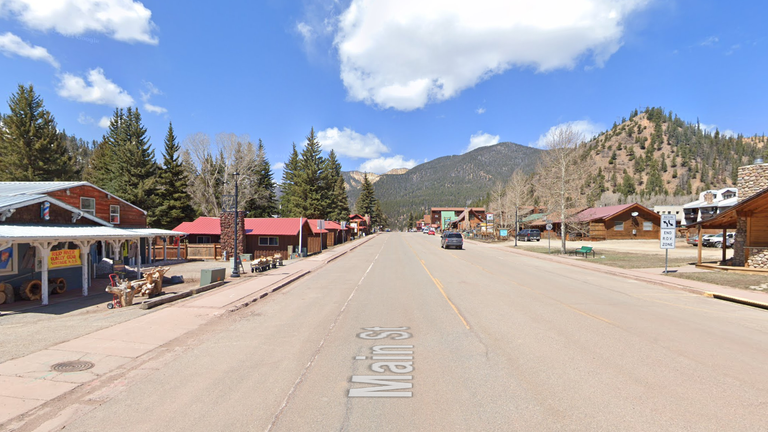 Three people have been killed and at least five injured in a shooting at a popular motorcycle rally in a New Mexico resort town.
The shooting at around 5pm local time on Saturday involved members of motorcycle gangs attending the 41st annual Red River Memorial Motorcycle rally.
It happened between two shops on Red River's main street.
One of the victims died in hospital. Information on the extent of the injuries was unavailable.
The victims were transported to hospitals in Denver, Albuquerque and the nearby town of Taos.
Local mayor Linda Calhoun said the shooters have been apprehended.
State police did not provide any information about arrests but confirmed that the scene is secure and there is "no ongoing threat to public safety".
Ms Calhoun said: "Our number one priority is the safety and wellbeing of our local community.
"We appreciate your cooperation and understanding as we work through this very difficult time together."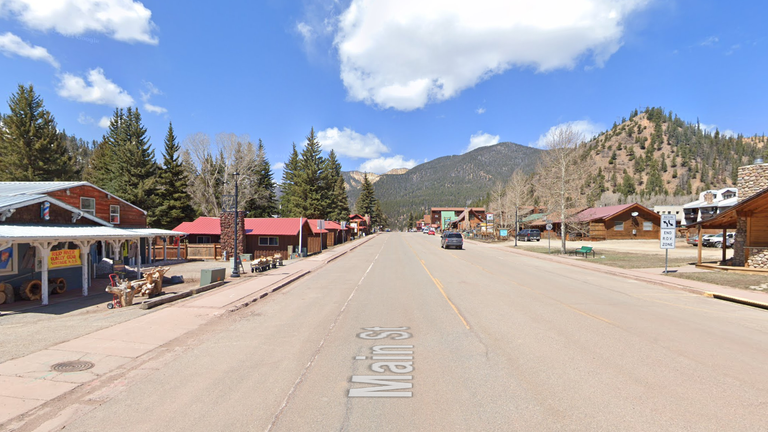 Officials urged businesses in Red River to remain closed on Sunday.
The governor of New Mexico, Michelle Lujan Grisham, said she was in contact with Ms Calhoun and law enforcement regarding the shooting.
"My thoughts are with the Red River community following this violent incident," she tweeted.
Read more US news:
Shark bites off US woman's leg
Winner of $2bn jackpot sued by man who claims ticket was stolen
Mother offered son 'shovel and garbage bags' in 'burn after reading' letter
The mayor of nearby Taos, Pascual Maestas, issued an emergency proclamation placing the town under a curfew from 10pm on Saturday until 4am on Sunday with an immediate ban on alcohol sales.
Red River has a population of around 500 and is in the southern Rocky Mountains. It is around 75 miles northeast of New Mexico's capital Santa Fe.
The rally draws around 30,000 people to the town every year.
Mother pleads guilty to murder after six-year-old son starves to death in Arizona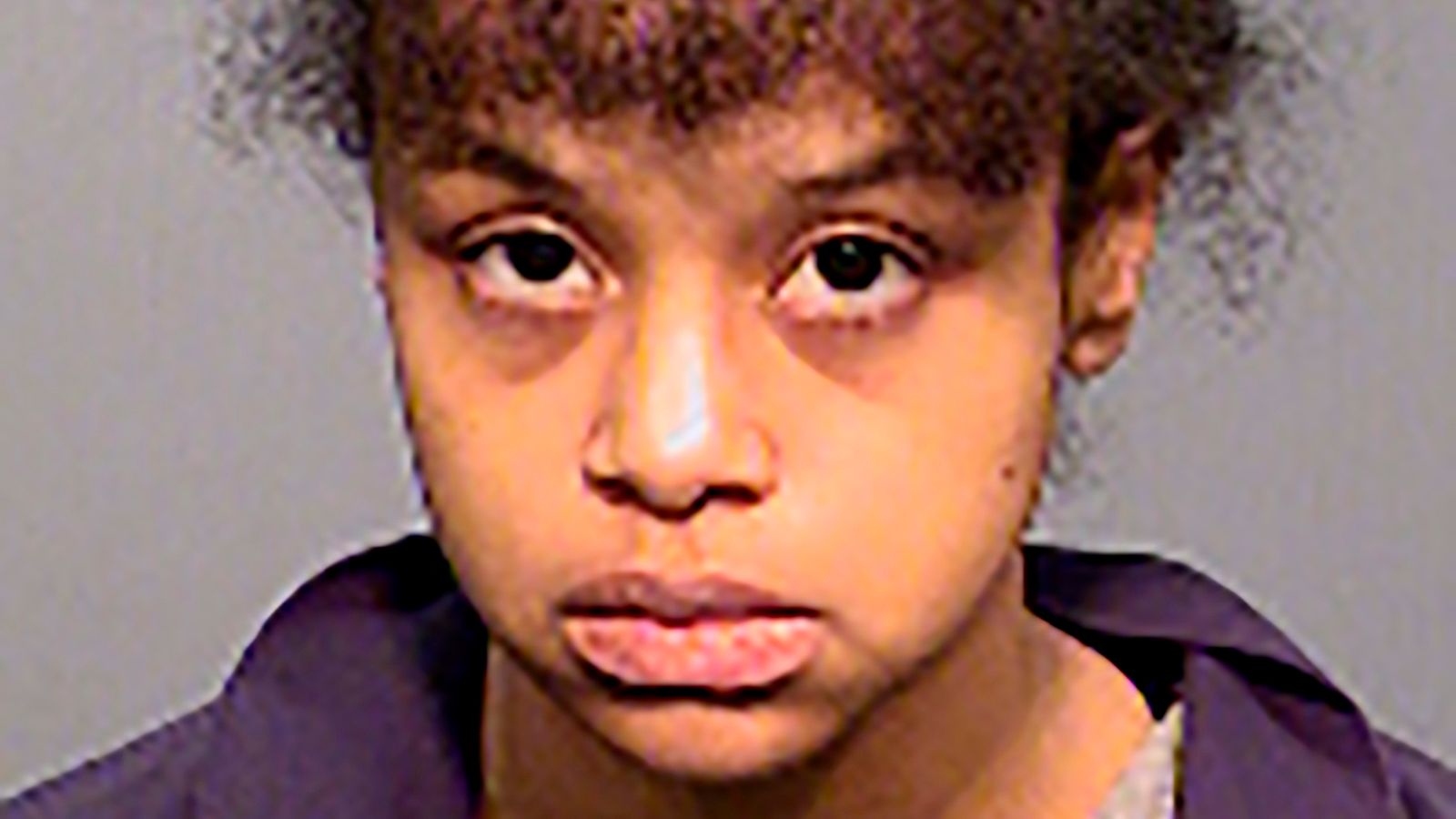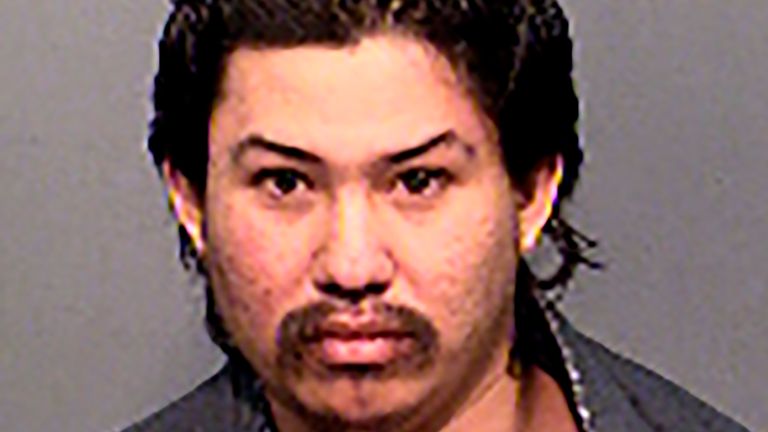 A mother has pleaded guilty to murder and child abuse over the death of her six-year-old son in Arizona.
Elizabeth Archibeque, 26, reached a plea deal with prosecutors this month and could face life in prison under the first-degree murder charge.
Her son, Deshaun Martinez, had been locked inside a small bedroom closet without food until he died in March 2020, reported the Arizona Daily Sun.
A post-mortem found the child starved to death.
When he died, he weighed just 18lbs (8.1kg) – which is well below average for his age.
The boy had a "skeletal appearance" because he had almost no fat on his body.
Archibeque was charged along with the boy's father, Anthony Martinez, and his grandmother, Ann Martinez. The cases were being tried separately.
The boy's parents initially put their son's malnourished state down to a medical condition and to taking diet or caffeine pills.
Eventually, they told police they kept Deshaun and his older brother in a closet in their Flagstaff apartment for 16 hours a day and gave them little to eat. The brother survived.
Police said the youngsters were confined there as punishment for stealing food while the parents slept.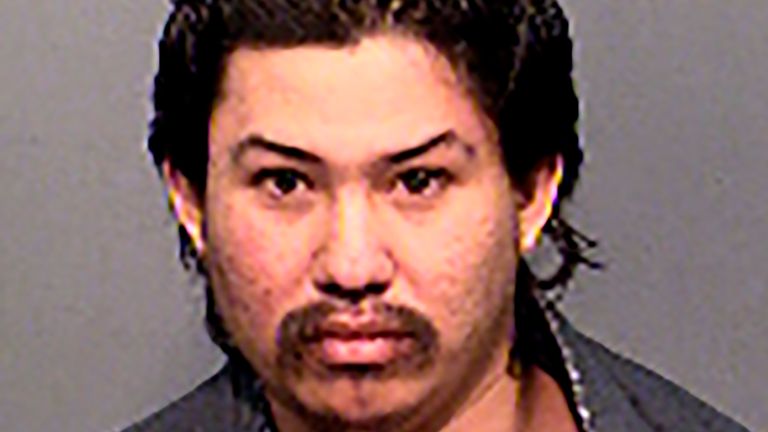 The adults told officers that Deshaun had been in the closet for "about a month".
Both Anthony Martinez and Ann Martinez reportedly have previously pleaded not guilty.
Read more:
NHS nurses die in crash near Grand Canyon
Polygamous 'prophet' had more than 20 wives, including many underage, FBI says
Arizona executes double murderer
According to the terms of the plea agreement, Archibeque will not be eligible for probation.
She will be sentenced in the coming weeks.
If she gets life, she will not be eligible for any kind of parole.
Joe Biden and Kevin McCarthy reach 'agreement in principle' on raising US debt ceiling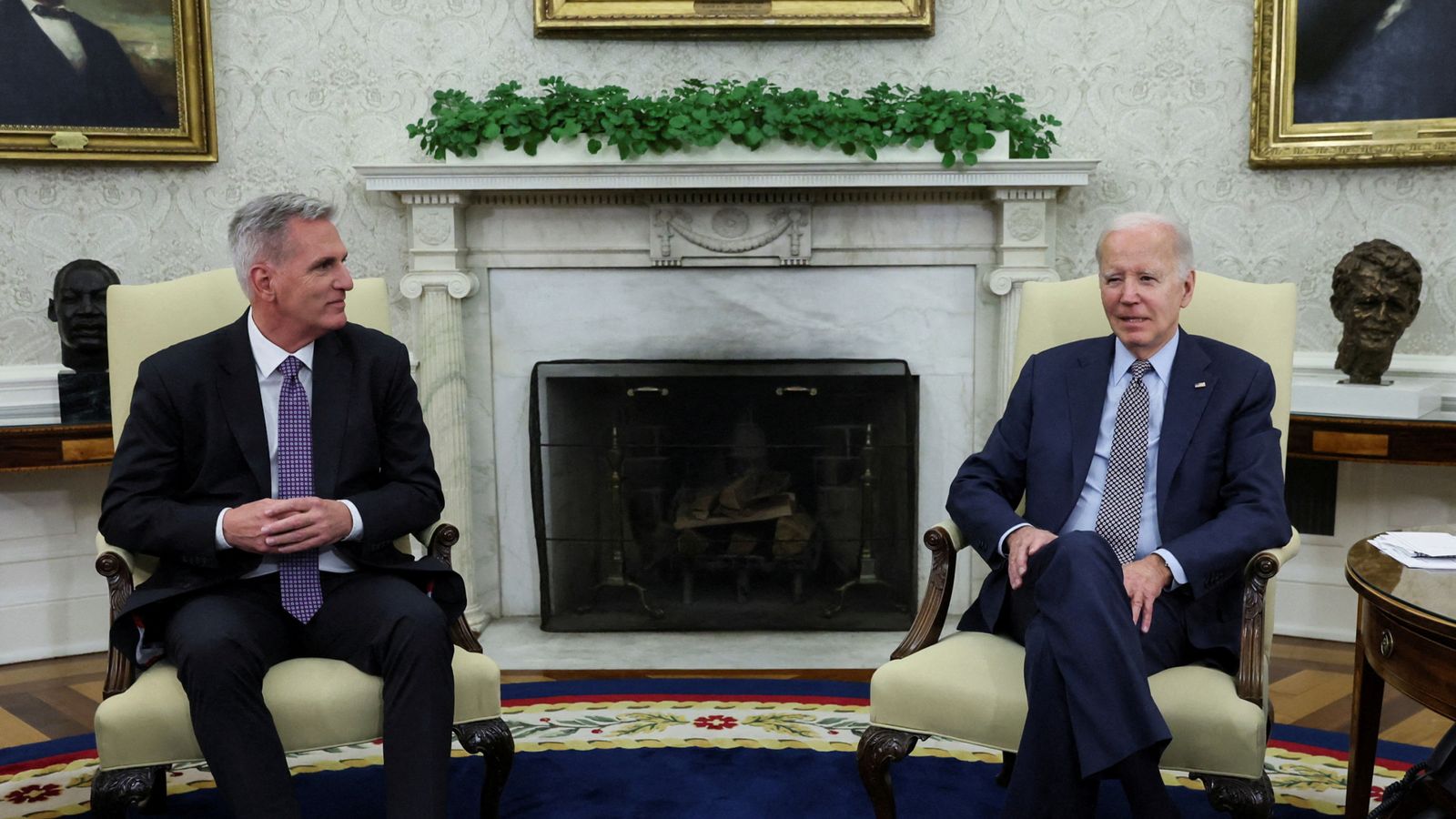 President Joe Biden and House Speaker Kevin McCarthy have reached an "agreement in principle" on raising the US debt ceiling, according to sources in Washington.
The tentative deal would bring to an end the months-long stalemate between the Republican controlled Congress and Democrat run White House.
Currently, the debt ceiling stands at $31.4trn (£25.4trn) with the new limit yet to be announced.
Mr Biden and Mr McCarthy held a 90-minute phone call on Saturday evening to discuss the deal, as the 5 June deadline looms.
Following the conversation, the speaker tweeted: "I just got off the phone with the president a bit ago.
"After he wasted time and refused to negotiate for months, we've come to an agreement in principle that is worthy of the American people."
During a very brief press conference on Capitol Hill Mr McCarthy said they "still have more work to do tonight to finish the writing of it", adding that he expects to finish writing the bill on Sunday, then hold a vote on Wednesday.
The deal would avert an economically destabilising default, so long as they succeed in passing it through the narrowly divided Congress before the Treasury Department runs short of money to cover all its obligations.
Republicans have pushed for steep cuts to spending and other conditions, including new work requirements on some benefit programmes for low-income Americans and for funds to be stripped from the Internal Revenue Service, the US tax agency.
They said they want to slow the growth of the US debt, which is now roughly equal to the annual output of the country's economy.
Read more:
Biden cancels visits to Australia and Papua New Guinea to deal with debt crisis
Could US default on its debt? UK should be praying it doesn't
Exact details of the deal were not immediately available, but negotiators have agreed to cap non-defence discretionary spending at 2023 levels for two years, in exchange for a debt ceiling increase over a similar period, according to Reuters news agency.
The impasse frightened the financial markets, weighing on stocks and forcing the US to pay record-high interest rates in some bond sales.
A default would take a far heavier toll, economists say, likely pushing America into recession, rocking the world economy and cause unemployment to spike.