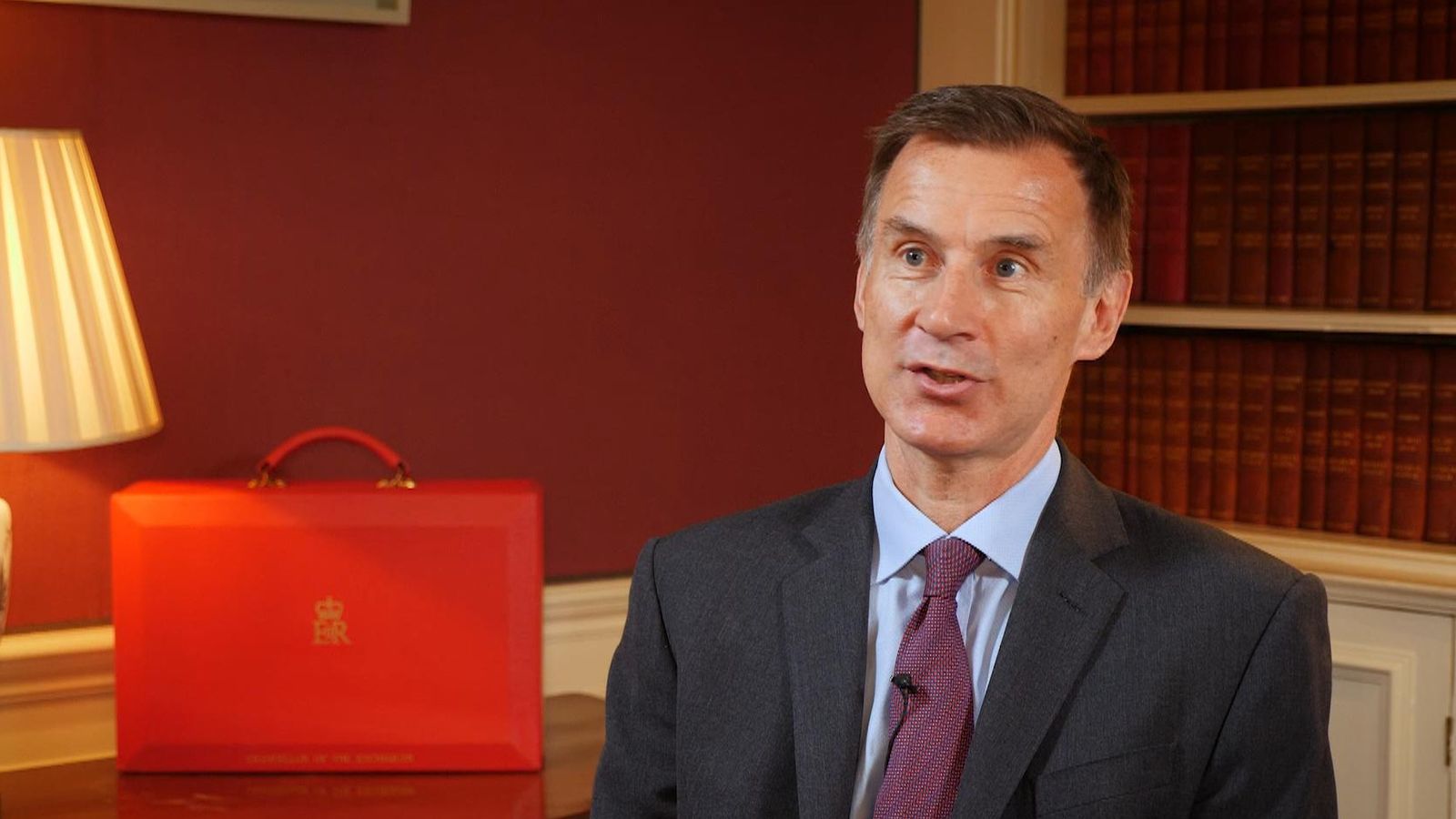 Chancellor Jeremy Hunt says he is 'willing to do what it takes' when asked about future energy support
The chancellor has said he "is willing to do what it takes" and increase support for households if energy bills rise again this autumn.
Sky's economics and data editor Ed Conway asked the chancellor if he could guarantee he would step in if energy bills start rising again.
"All I can say is that I think I've demonstrated in the autumn statement, and the spring budget where I extended the energy price guarantee for another three months, funded in part by a windfall tax on the oil companies, that we are willing to do what it takes," Mr Hunt said.
"We are very aware of the pressures that families are facing, and we want to do what we can to support them", he said.
But, he added they were not expecting a major increase in Ofgem's energy price cap, which today brought average bills to £2,074 a year, down £426 a year from the previous cap and is reviewed every three months.
When asked if the government would step in, if bills hypothetically reached £3,000 a year, the chancellor said he was not expecting those kinds increases.
"I don't want to predict today what might happen to energy prices at the moment", he said. "I don't have a crystal ball."
Wholesale gas prices have come down, enabling the energy regulator to bring down the price cap, but the future of prices is unknown.
Ofgem's chief executive on Thursday told MPs it is "very, very hard" to predict future energy prices.
"Every prediction on the market has turned out to be substantially wrong," Jonathan Brearley said at the Public Accounts Committee.
Read more
Why high energy prices are the new normal – despite price cap drop
Energy price cap set to remain more than £1,000 higher than pre-pandemic
His "best guess" is prices will continue to come down but said it was only a guess.
Mr Brearley added he hopes prices continue to fall but said that it only takes one global event to bring prices up again.
Energy prices rose sharply in the wake of Russia's invasion of Ukraine as Western countries rushed to cease use of Russian gas and find alternative sources.
Oil and gas prices had already been rising as economic activity restarted after pandemic-era lockdowns.
The government's energy price guarantee is set to end on 1 July. It limits the amount suppliers can charge per unit of energy used and was applied throughout the autumn and winter.
No state support is planned from July.
Left-wing Labour MP hits out after losing selection battle – as party leadership accused of 'purging socialists'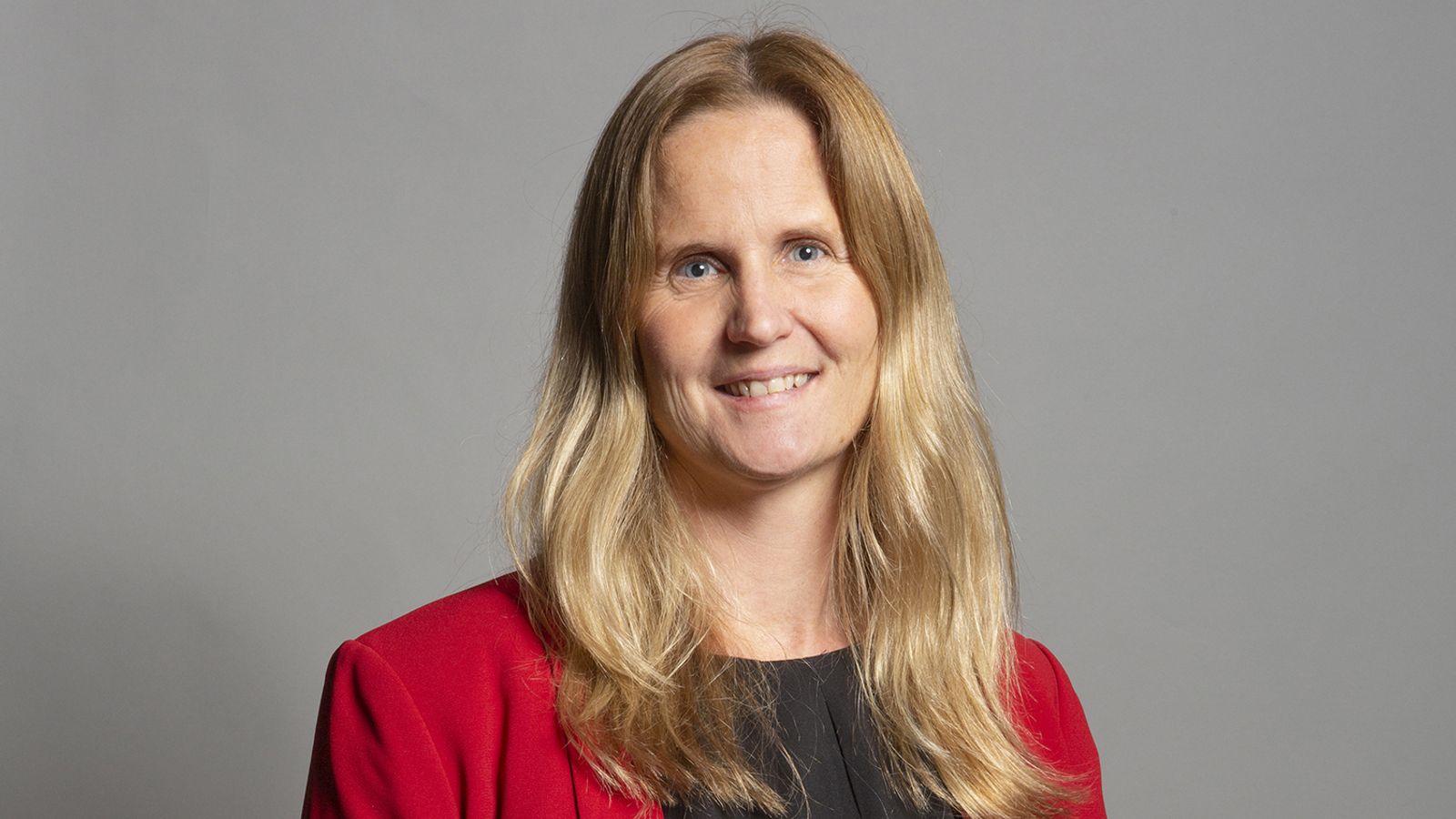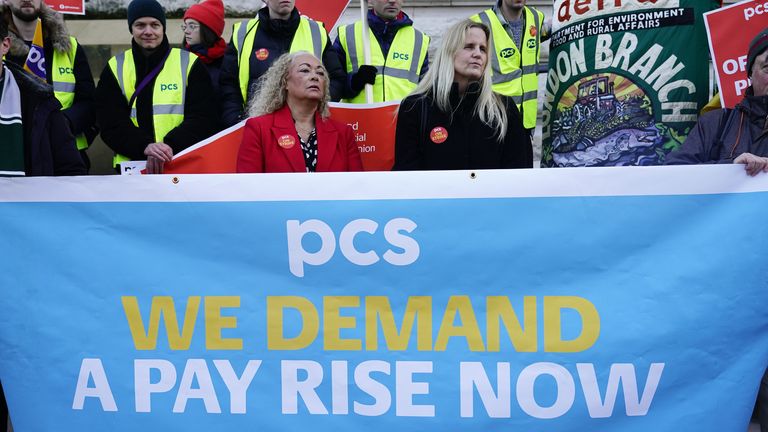 A left-leaning Labour MP claimed she faced "unacceptable obstacles" after losing a selection battle for a new seat in Wales.
Beth Winter said she would be "taking advice and soundings" on her next steps after Gerald Jones, a Labour frontbencher, was announced as the candidate for Merthyr Tydfil and Upper Cynon.
Proposed boundary changes in Wales mean the two MPs' constituencies would effectively be merged into one – setting up the two-way contest between them.
Politics Live: Labour asks 'where is missing £21bn'
The controversy comes amid a row over the decision to block left-wing Labour mayor Jamie Driscoll from running for another role in the North East.
Momentum, the grassroots left-wing organisation that supports Labour, accused the party's leadership of "taking a sledgehammer to the democratic rights of local Labour members in order to purge socialists and instal [Keir Starmer] loyalists".
Mr Driscoll said he had not ruled out taking legal action against the party, with Greater Manchester mayor Andy Burnham and his counterpart in the Liverpool City Region, Steve Rotheram, claiming the move did not seem "democratic, transparent and fair".
In a statement, Ms Winter said she was "disappointed by this very close result and the unjust manner in which it came about, which leaves major questions outstanding".
She said: "In this contest, I sought reselection as Labour's candidate on a platform of solidarity with striking rail workers, nurses and teaching staff, all of who I have been proud to stand with on the picket line.
"I have campaigned for properly funded public services paid for by taxing the rich, an extension of workers' rights including a £15 per hour living wage, the renationalisation of our public services and a 'green new deal' to deliver a jobs-led economic recovery.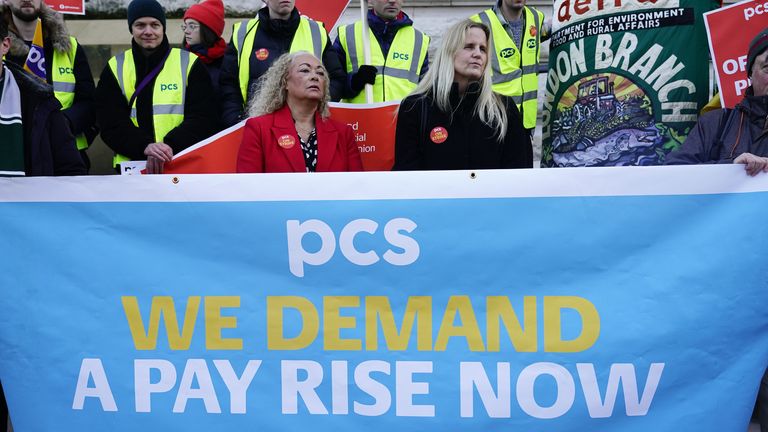 "However, unacceptable obstacles were placed in the way of this grassroots campaign, undermining the democratic process."
Describing the "obstacles" she faced, Ms Winter claimed the "online only process" was "bulldozed through" in a matter of weeks without any face-to-face hustings.
She added: "This was not a fair contest, and I will be taking advice and soundings in the days ahead about my next steps."
Ms Winter has been MP for Cynon Valley since 2019 and is a member of the Socialist Campaign Group parliamentary caucus.
She had previously expressed concern that too much of the contest was online.
Commenting on the case, veteran left-wing MP John McDonell said there were questions to be answered and called the result a "huge setback for our movement".
He tweeted: "Beth Winter is a principled, incredibly hard working, socialist MP, so this is a huge setback for our movement. In this dignified statement, she shows her commitment to her constituents & the cause of Labour. Questions need to be asked about forcing thru of a solely online process."
Mr Jones has represented Merthyr Tydfil and Rhymney since 2015 and serves as shadow Wales minister.
He thanked Ms Winter for a "comradely campaign" and said he was "incredibly grateful that Labour members have chosen me to be the candidate for Merthyr Tydfil & Upper Cynon".
"Britain is crying out for a UK Labour Government and I'll work flat out to make Keir Starmer our next prime minister," he said.
Putin's dam attack is a dangerous escalation that takes the war in an even more perilous direction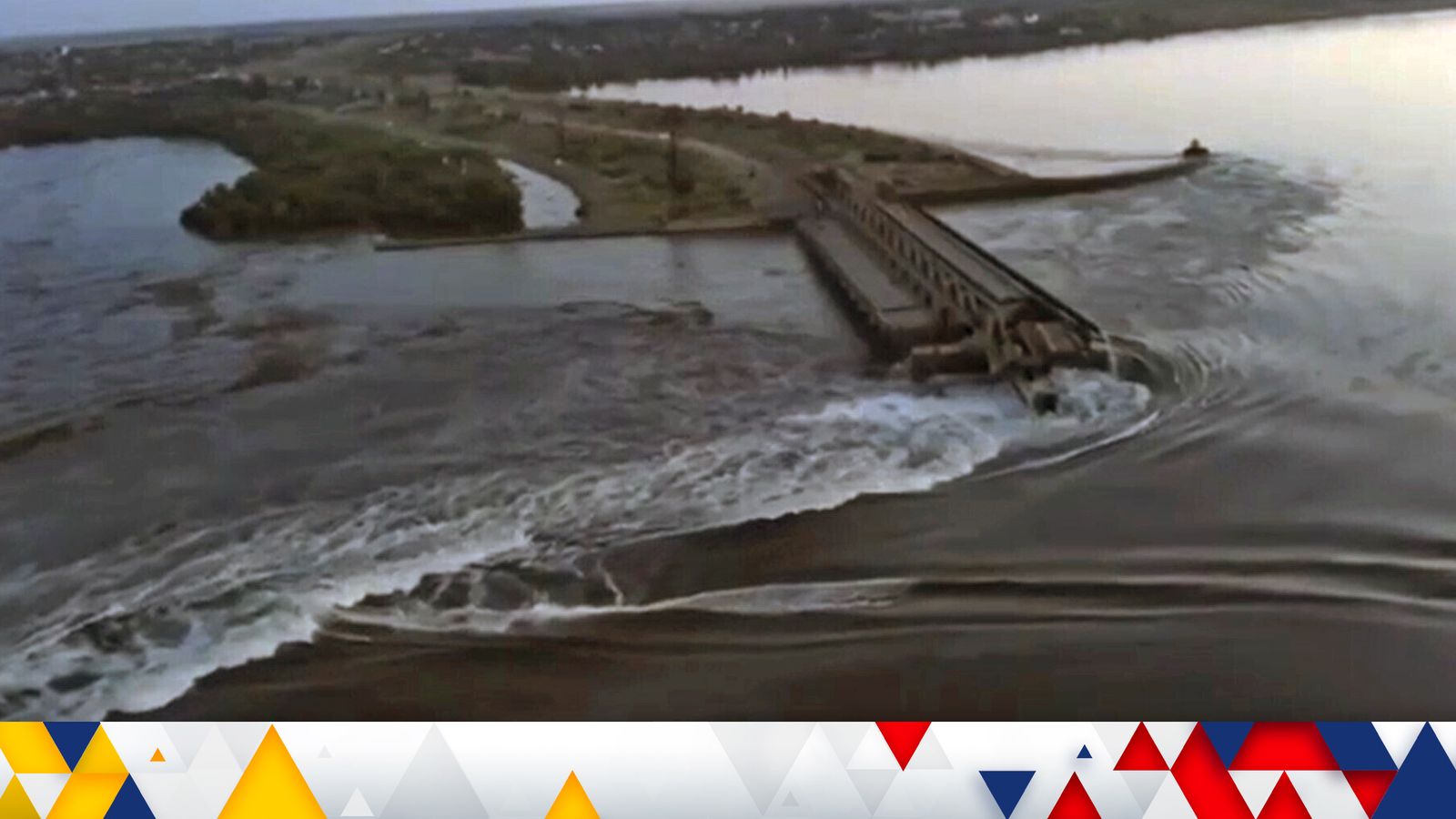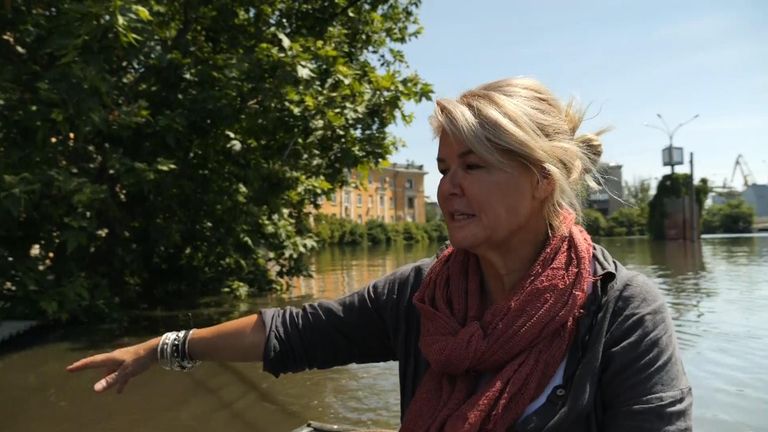 The breach of the Nova Kakhovka dam is most worrying for what it says about the mind of Russian President Vladimir Putin and his generals – and their capacity for dangerous escalation.
It takes the war in an even more perilous direction.
The military impact is likely to be temporary. Armies blow dams or use them to unleash floodwaters for tactical advantage.
The Soviets and the Germans both did it in the Second World War.
But the gains generally do not hold. Water drains away, the ground dries out.
Warning of 'grave consequences' after dam blast – live updates
Ben Barry, a land war senior fellow at the International Institute of Strategic Studies, said: "It could set back any assault river crossing for a couple of weeks.
"Difficult to tell for how long. But only once the water subsides and the ground dries out will Ukraine have the same chance of a river crossing as it did before the flood."
And he believes an attack across the swollen Dnipro is not out of the question even now.
"It's not impossible to do an assault river crossing across a river that's in full flood. It's just more difficult," he said.
Kherson main square 'awash with water'

The Russians have blamed the Ukrainians for the attack, but most analysts have dismissed that as unlikely to impossible.
The Russians have a proven track record for accusing the other side of doing what they have themselves done. And the Russians have most to gain. Up to a point.
Read more:
Satellite images reveal scale of dam damage
Five environmental impacts of dam collapse
'42,000 people at risk' from dam flooding
The breach benefits the Russians by reducing the length of the frontline it has to defend and allowing it to focus attention in the east, but not indefinitely.
And it has blowback for the Russians too, flooding some of the defensive positions they have dug in on the southern bank since retreating there last August.
So temporary gain, some self-harm and all the opprobrium that comes with carrying out yet another war crime.
Where is the margin in that for Vladimir Putin? It looks rash and premature. A disproportionate and irrational act.
But that may be the point.
Ukraine dam attack explained

Russian president 'excels in scare tactics'
In war, it can pay to do the crazy thing, to look unhinged and keep your enemy guessing at your next act of madness.
Putin excels in scare tactics and knows the dam blast makes him look more dangerous.
If Russia was irresponsible enough to blow the dam and unleash such destruction for limited advantage, what will it do next, planners in Kyiv and the West will be asking.
The fear now is for the Zaporizhzhia nuclear power plant. The dam breach endangers the supply of water to its cooling systems. Could Russia now sabotage the plant to change the course of the war?
The destruction of the dam undoubtedly changes the risk calculus in handling Russia, but correctly calibrating it will need cool heads so it is not overdone.
Ukraine war: Major dam attack

Putin has, after all, indulged in nuclear sabre-rattling for much of this war.
It has weighed on the minds of Ukraine's allies and made them more timid in arming Kyiv.
But so far analysts say his nuclear bluster is just that.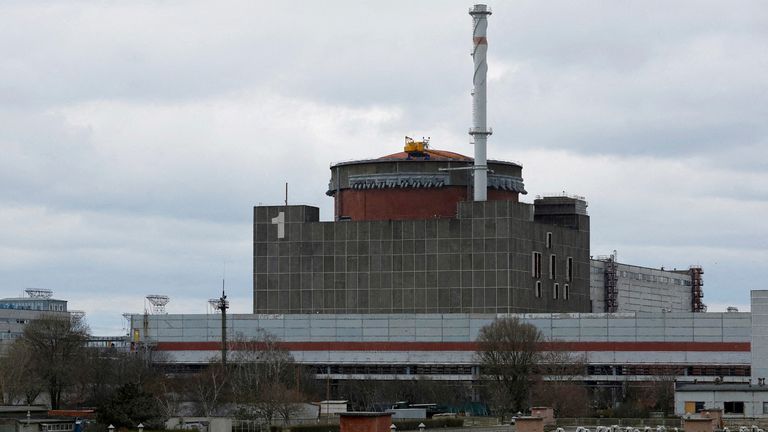 The nuclear option
There is no sign of Putin starting the lengthy process of bringing tactical warheads out of storage and deploying them.
And any disaster at Zaporizhzhia threatens Russia most.
Click to subscribe to Ukraine War Diaries wherever you get your podcasts
The prevailing winds would be most likely to carry the fallout east across the Russian border.
The Russians have shown stunning disregard for the welfare of their own soldiers but a radioactive cloud over their defensive positions and logistics lines would be challenging to say the least.
What we can say for sure is this war has swung again in a more unpredictable direction and the longer it goes on, the more such lurches are likely to happen.
Elderly Ukrainians weep after escaping floodwaters and Russian fire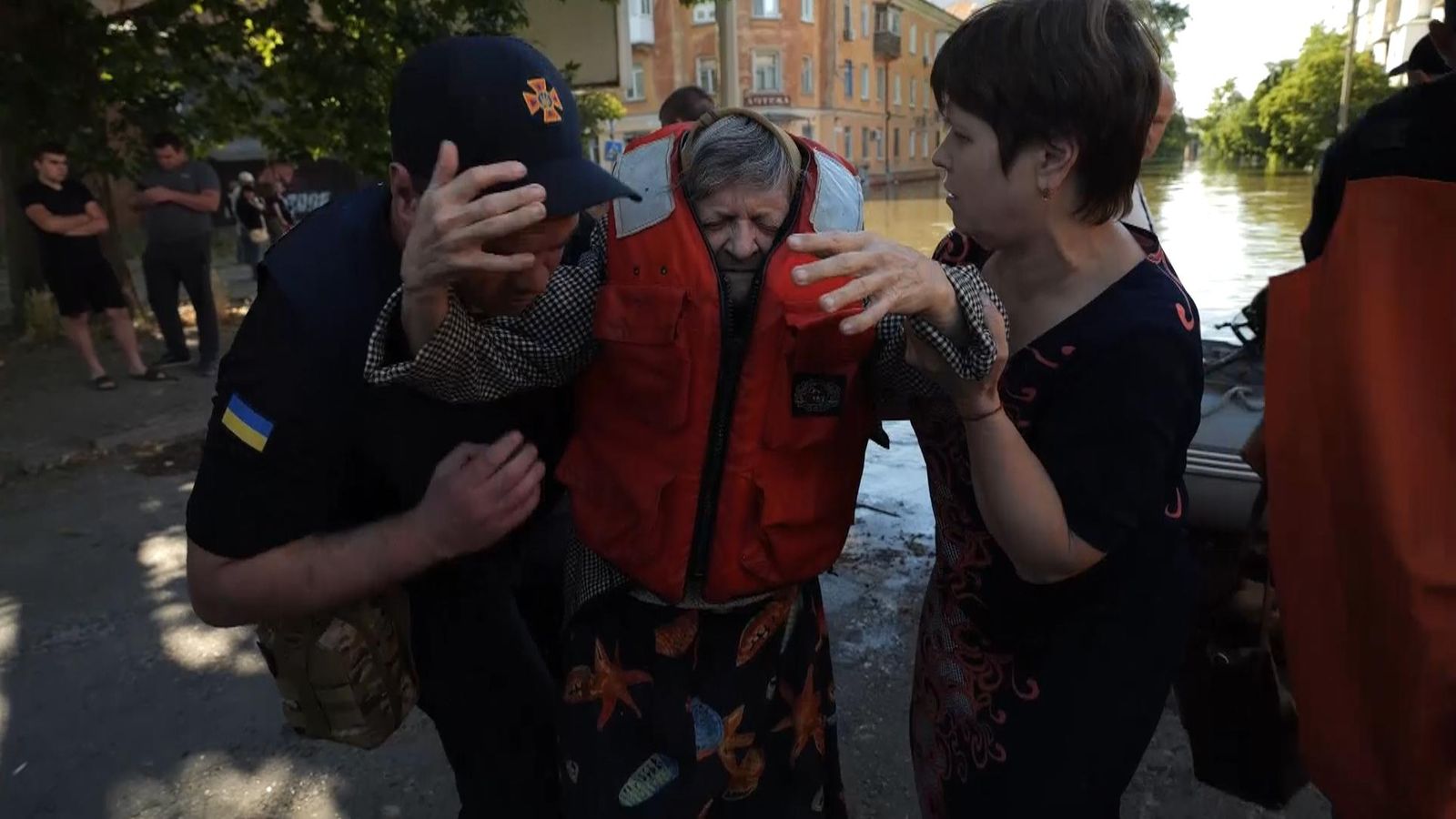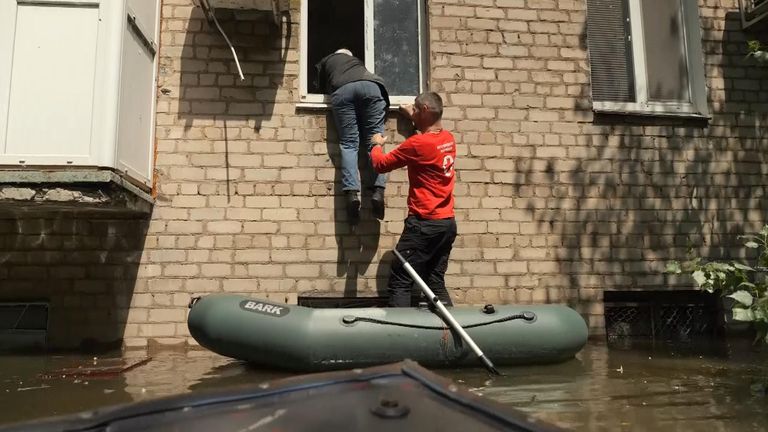 There was a steady stream of boat landings throughout the day in Kherson city in southern Ukraine as the rescue efforts were ramped up to reach those stranded by floodwaters.
The water levels rose about 11 feet in about 24 hours according to emergency services, with some areas reaching a depth of 17 feet.
It meant those who had stayed in their homes overnight awoke to find themselves stranded the day after the destruction of the enormous Nova Kakhovka dam in southern Ukraine.
The Ukrainian president said the priority was evacuating those trapped in their homes and providing fresh drinking water to an area where they predict there are going to be serious supply challenges in the very near future.
We watched as a flotilla of rescue boats serviced by police, troops and eager volunteers searched the newly flooded streets of Kherson.
Amphibious vehicles like the Ukrainian-made Sherp were brought in with its huge, specialised inflatable wheels to try to help in the rescue attempts.
It turned out to be of less use than small rubber dinghies which have been forced to manoeuvre their way through broken electrical lines, submerged trees and trailing branches to try to reach trapped residents.
"Turn around, it'll be easier," volunteer Mykola urged one of the pensioners he was rescuing from the third floor of an apartment block.
Putin reacts to dam collapse – follow Ukraine war live updates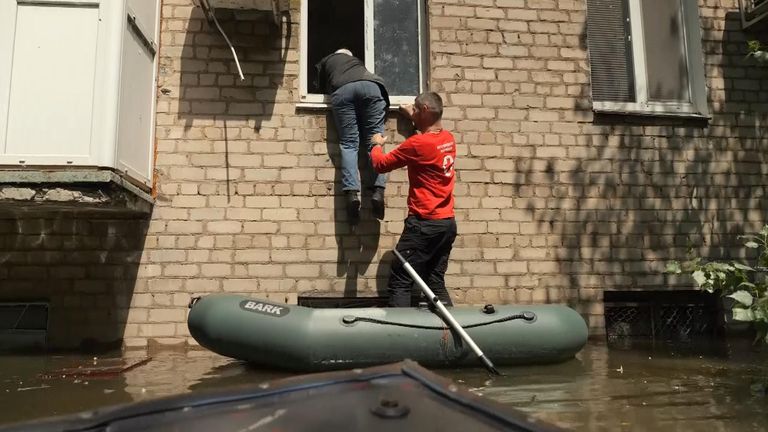 The two floors downstairs are now utterly submerged. "I can't go inside my home at all," one resident shouted to our boat, "The water is way over our heads in there now".
Mykola tells us there are still a lot of people stranded after believing the waters wouldn't rise so high.
The predictions are the levels are likely to go up a few inches more before they hope they will start to recede – but it could take a week for them to go down entirely.
Until then it is going to be difficult to assess the long-term impact of this catastrophic dam burst – which the Russian authorities are continuing to deny responsibility for.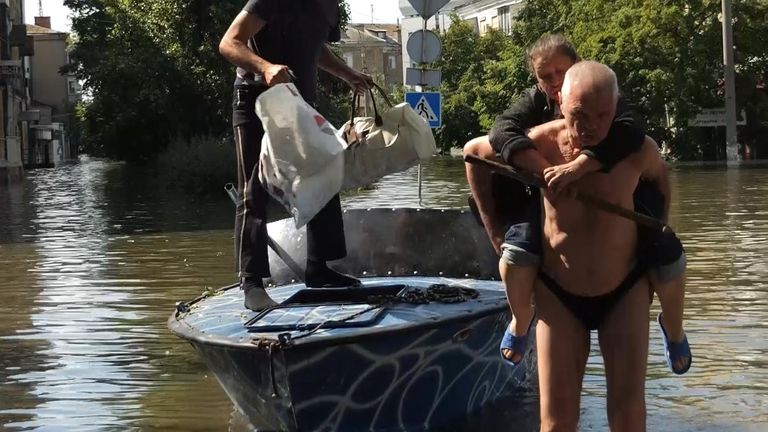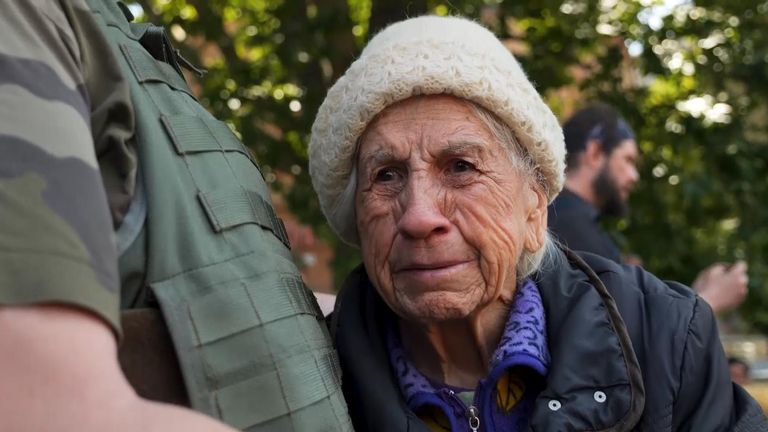 But Vladimir Putin's enemies are in no mood to listen to his protestations with the United Nations, America and European countries all lining up to blame him.
The US admitted it did not have any firm evidence but Western officials seem to be basing their assumptions on the fact the dam has been largely under the control of Russian forces since the beginning of the war.
Read more:
Analysis: Putin's dam attack is a dangerous escalation
Five environmental impacts of Ukraine dam collapse
Before-and-after images of devastation after dam destroyed
Putin loyalists, however, are still blaming the Ukrainians as the Russian leader announced he too would be launching a criminal investigation to discover exactly what happened.
There are several witnesses saying that the Russians have been continuing to attack those trying to flee the territory they control on the other side of the flooded Dnipro River.
Two boats carrying old people and family members landed in Kherson saying they'd fled Russian troops from the east bank. They went on to say the Russians had also looted their summer homes and been bombing the beaches.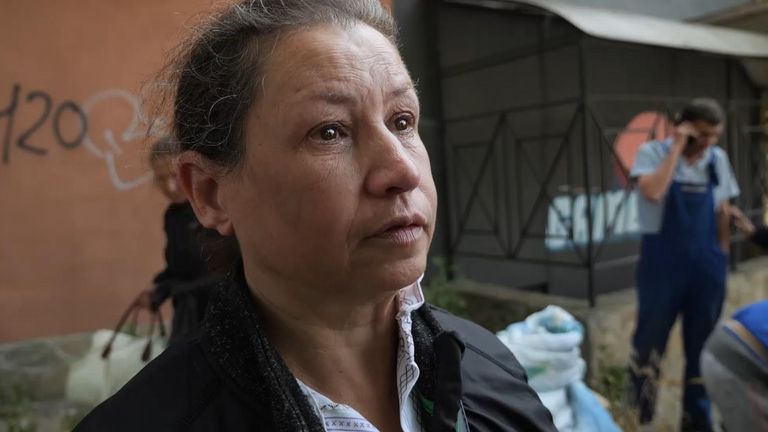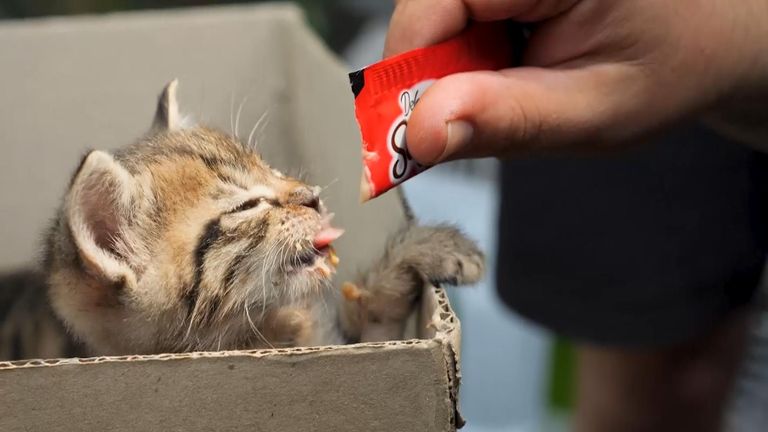 Olga wept with relief as she told us: "The current was so powerful, we barely made it."
She was hugged and consoled by her friends as they all sat round the few bags of possessions they'd managed to take with them.
"When we were in Dachi, all our boats had been sunk and the Russians were looting our summer houses and taking our boat engines. They were taking everything. Our guys just managed to save our two boats."
She's overwhelmed with emotion as reaching dry land. But the challenges in this area are likely to mount in the coming days and weeks when the full scale of the disaster is finally known.