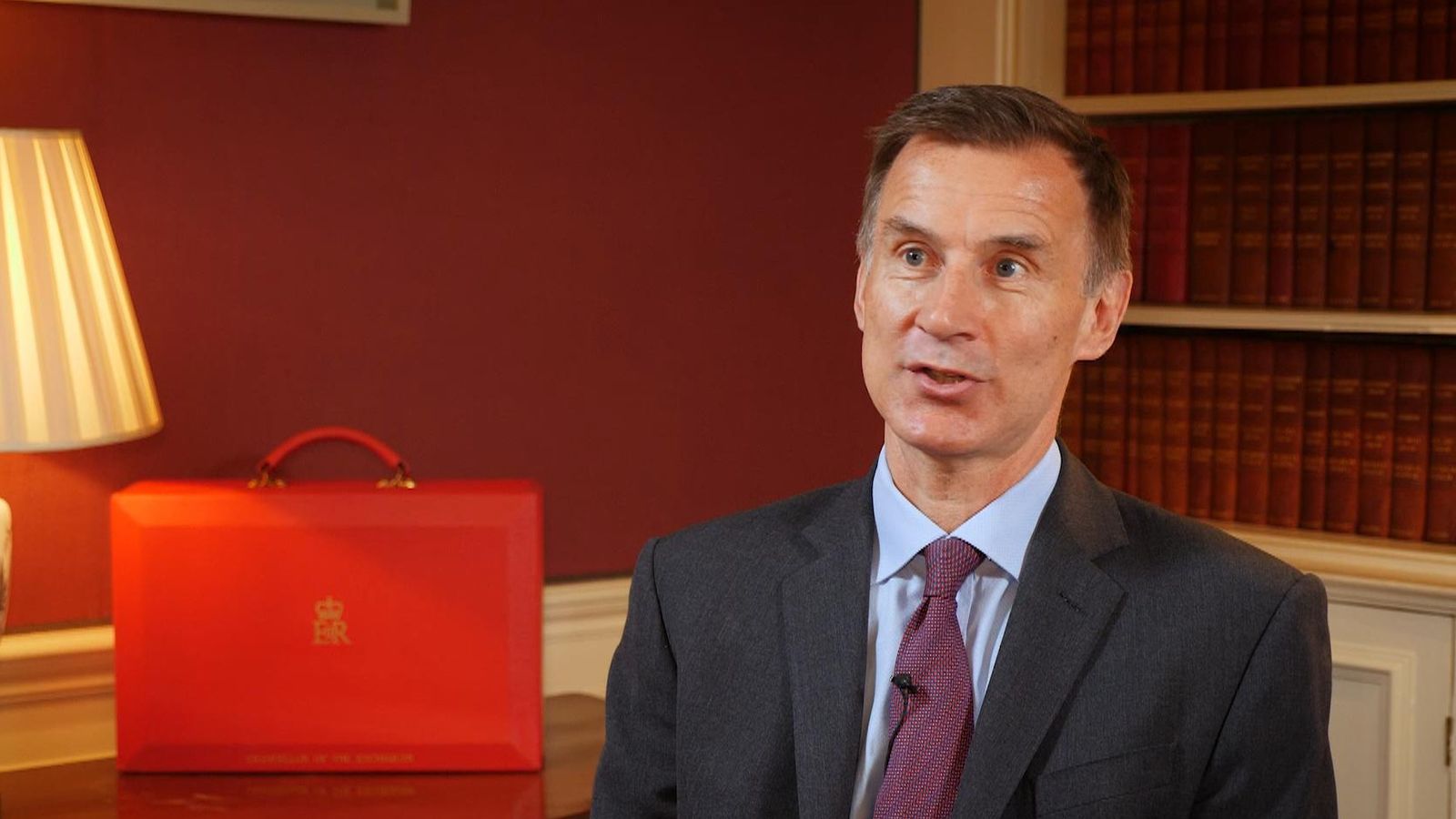 Chancellor Jeremy Hunt says he is 'willing to do what it takes' when asked about future energy support
The chancellor has said he "is willing to do what it takes" and increase support for households if energy bills rise again this autumn.
Sky's economics and data editor Ed Conway asked the chancellor if he could guarantee he would step in if energy bills start rising again.
"All I can say is that I think I've demonstrated in the autumn statement, and the spring budget where I extended the energy price guarantee for another three months, funded in part by a windfall tax on the oil companies, that we are willing to do what it takes," Mr Hunt said.
"We are very aware of the pressures that families are facing, and we want to do what we can to support them", he said.
But, he added they were not expecting a major increase in Ofgem's energy price cap, which today brought average bills to £2,074 a year, down £426 a year from the previous cap and is reviewed every three months.
When asked if the government would step in, if bills hypothetically reached £3,000 a year, the chancellor said he was not expecting those kinds increases.
"I don't want to predict today what might happen to energy prices at the moment", he said. "I don't have a crystal ball."
Wholesale gas prices have come down, enabling the energy regulator to bring down the price cap, but the future of prices is unknown.
Ofgem's chief executive on Thursday told MPs it is "very, very hard" to predict future energy prices.
"Every prediction on the market has turned out to be substantially wrong," Jonathan Brearley said at the Public Accounts Committee.
Read more
Why high energy prices are the new normal – despite price cap drop
Energy price cap set to remain more than £1,000 higher than pre-pandemic
His "best guess" is prices will continue to come down but said it was only a guess.
Mr Brearley added he hopes prices continue to fall but said that it only takes one global event to bring prices up again.
Energy prices rose sharply in the wake of Russia's invasion of Ukraine as Western countries rushed to cease use of Russian gas and find alternative sources.
Oil and gas prices had already been rising as economic activity restarted after pandemic-era lockdowns.
The government's energy price guarantee is set to end on 1 July. It limits the amount suppliers can charge per unit of energy used and was applied throughout the autumn and winter.
No state support is planned from July.
Daily Telegraph inches closer to sale after bank seizes control of parent firm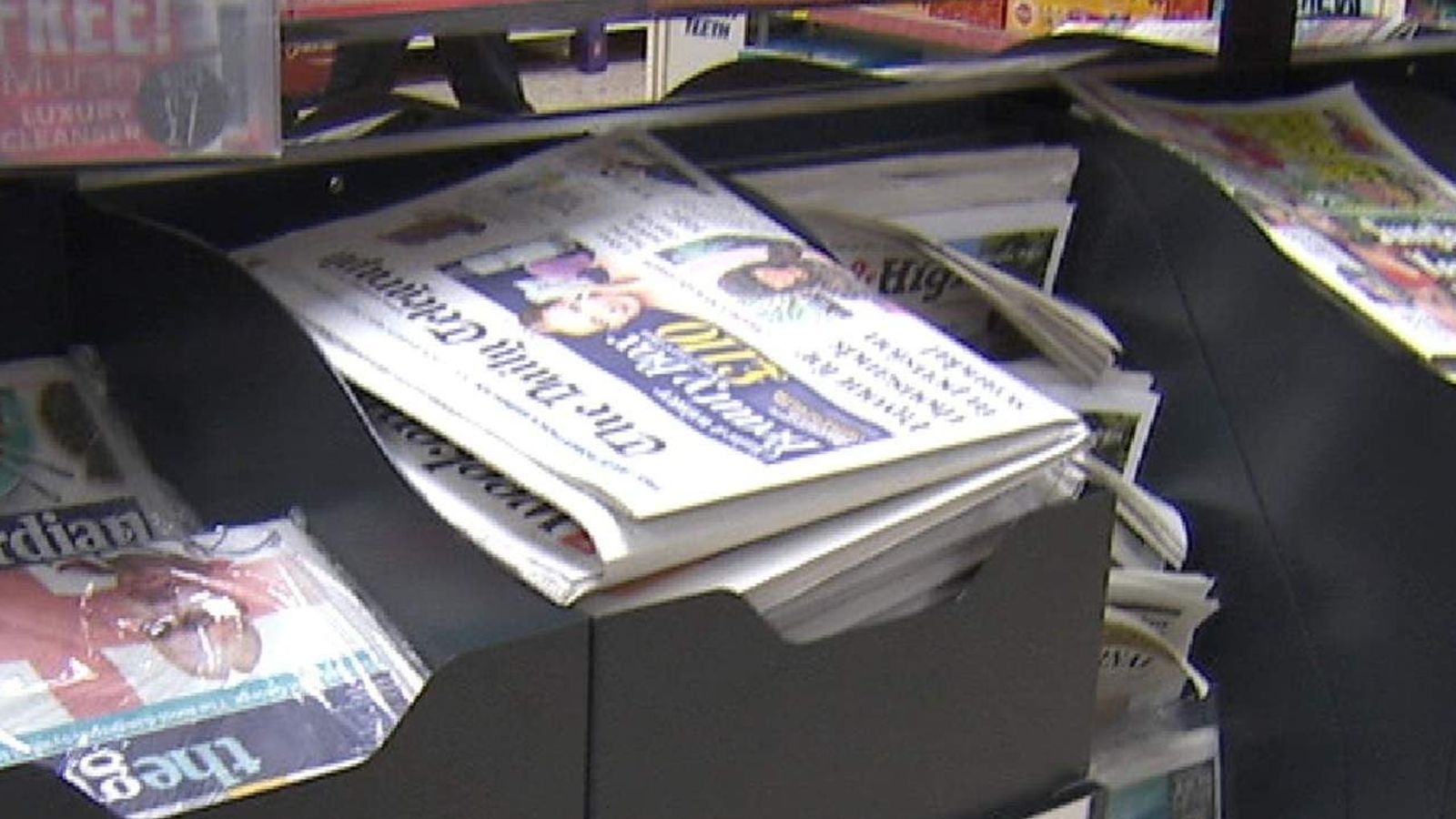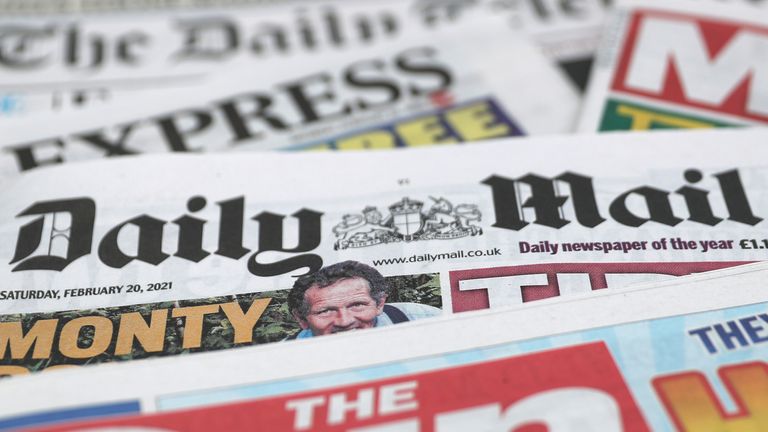 The Daily Telegraph newspaper has inched closer to a sale after Lloyds Banking Group seized control of its parent firm over unpaid loans and placed it in the hands of receivers.
Sky News has previously reported how the bank was understood to have undertaken the drastic move and was in the process of appointing investment banks to handle an auction of the press pack.
It is understood to value the Telegraph, its sister Sunday paper and The Spectator magazine at £600m.
They are contained within the profitable Press Acquisitions division of B.UK Ltd, which is controlled by the Barclay family.
The division also includes the Telegraph Media Group.
Lloyds appointed AlixPartners to act as receiver over B.UK after years of talks about refinancing a family business loan dating back before the financial crisis of 2008 came to nothing.
AlixParters said of the current position: "Bank of Scotland [part of Lloyds] has made this appointment under its rights as a lender, to consider alternative strategies to repay a facility… that remains in default despite extensive discussions to resolve the situation."
The statement added that the process ahead "may involve sales of the Telegraph and Spectator businesses".
It concluded: "The receivership over the shares in B.UK is in no way related to the financial health or performance of the Telegraph or Spectator businesses and we do not anticipate any operational changes to the businesses or their employees.
"Neither the Telegraph Media Group nor the Spectator are entering administration.
"In the meantime, the day-to-day running of all operating subsidiaries held by B.UK Limited will continue as normal."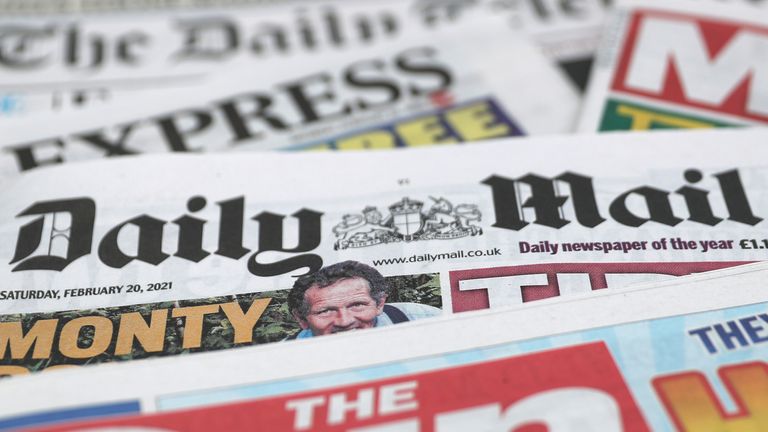 The Barclays have maintained ownership of the newspapers since 2004.
The expected sale, while not guaranteed, would attract high levels of interest given its subscriber base and profitability.
Sky's City editor Mark Kleinman expected a bidding frenzy for the titles.
"It's not often that we get national newspapers of the calibre of the Telegraph titles coming onto the market," he said.
"I would expect a pretty hot bidding war to take place over the next few months."
Of the potential bidders, he said: "I think we will get some interest from Lord Rothermere, the owner of the Daily Mail.
"We'll almost certainly hear speculation that Rupert Murdoch, the owner of course of The Times and The Sun, may want to throw his hat into the ring."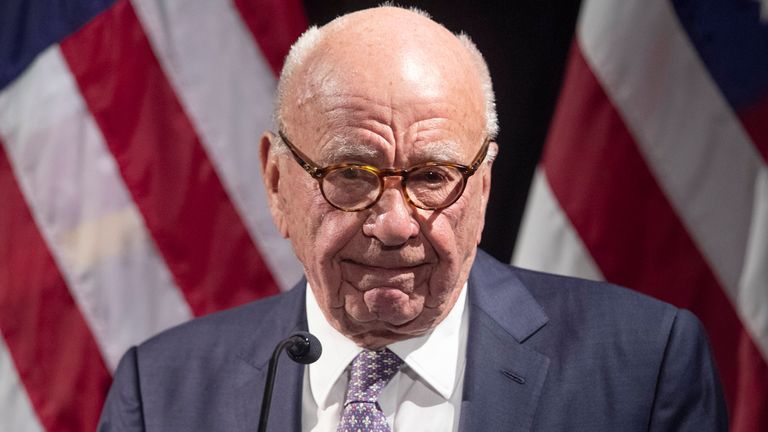 Given the papers' political affiliations, he also expected some Conservative party donors to express interest in the auction.
The competition regulator would be expected to take a keen interest should it feel that the successful bidder already has enough of a share of the market.
Bank of Scotland said of its actions: "Due to debts being in default and with no sign they would be repaid, Bank of Scotland was regrettably left with no other choice but to appoint receivers over B.UK. Limited.
"The Receivers subsequently initiated changes to the directors of certain B.UK subsidiaries, with independent directors appointed to Ellerman Investments Ltd, Telegraph Media Group Limited and Spectator (1828) Limited.
"The decision to appoint receivers is an act of last resort and follows numerous discussions with B.UK's parent company, Penultimate Investment Holdings Limited (PIHL).
"The aim of these discussions, which were held over a long period and undertaken in good faith, had been to find a consensual solution and repayment of PIHL's borrowing to Bank of Scotland.
"Unfortunately, no agreement could be reached, which prompted the appointment of Receivers. While the Receivers are now in place, the Bank remains willing to continue discussions to find a suitable solution."
A spokesperson for Barclays said: "We can confirm that discussions with Lloyds Banking Group remain ongoing.
"We hope to come to an agreement that will satisfy all parties. As AlixPartners made clear, this situation is in no way related to the financial health or performance of the Telegraph or Spectator businesses".
BT chief Philip Jansen to see £1.1m salary frozen until retirement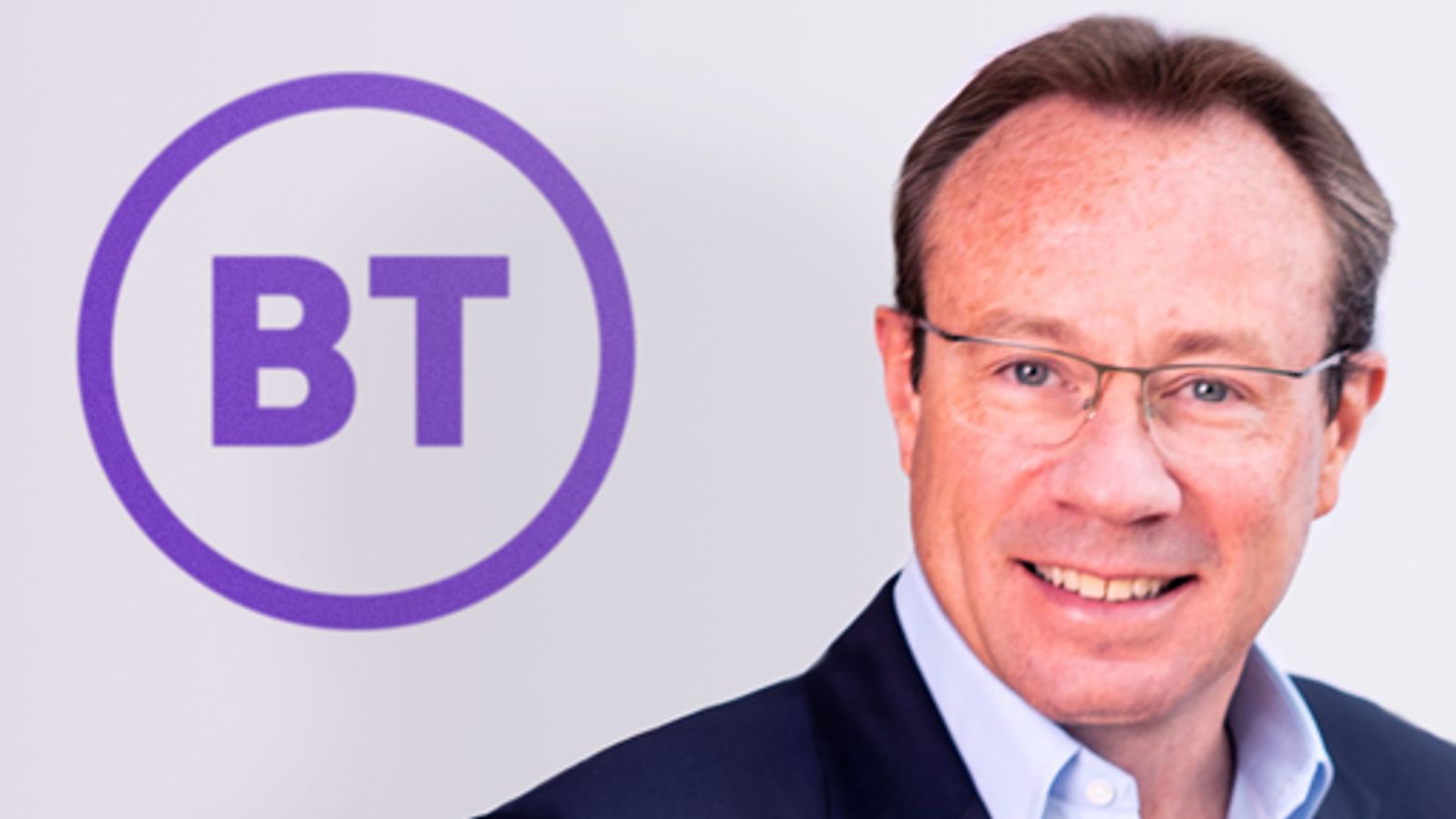 The boss of BT Group is to freeze his £1.1m salary until he retires from the FTSE 100 telecoms operator.
Sky News has learnt that Philip Jansen's base pay will be maintained at the same level at which it was set when he joined the company in 2019.
City sources said the decision would be set out in BT's annual report, which is expected to be published as soon as Thursday.
Mr Jansen's annual salary was fixed for five years upon joining, meaning the existing arrangement was due to expire at the end of this calendar year.
However, an insider said it would be renewed on a rolling basis and would apply until he eventually leaves the company.
In total, Mr Jansen is understood to have been paid approximately £3m in BT's last financial year, slightly down on the previous 12 months.
News of the pay decision comes just weeks after BT signalled that its workforce would shrink by as many as 55,000 people by the end of the decade amid a boom in artificial intelligence and as its full-fibre broadband rollout comes to an end.
Read more:
Hedge fund founder swells Tory coffers with £1m donation
Daily Telegraph inches closer to sale after bank seizes control of parent firm
Under Mr Jansen, BT has accelerated its transformation, although its share price performance has led City analysts to speculate that it is vulnerable to a takeover.
The telecoms tycoon Patrick Drahi has built a 25% stake in the company, although he again ruled out mounting a full bid.
The company declined to comment ahead of the publication of its annual report.
Wall Street giants vie to sell Telegraph and Spectator titles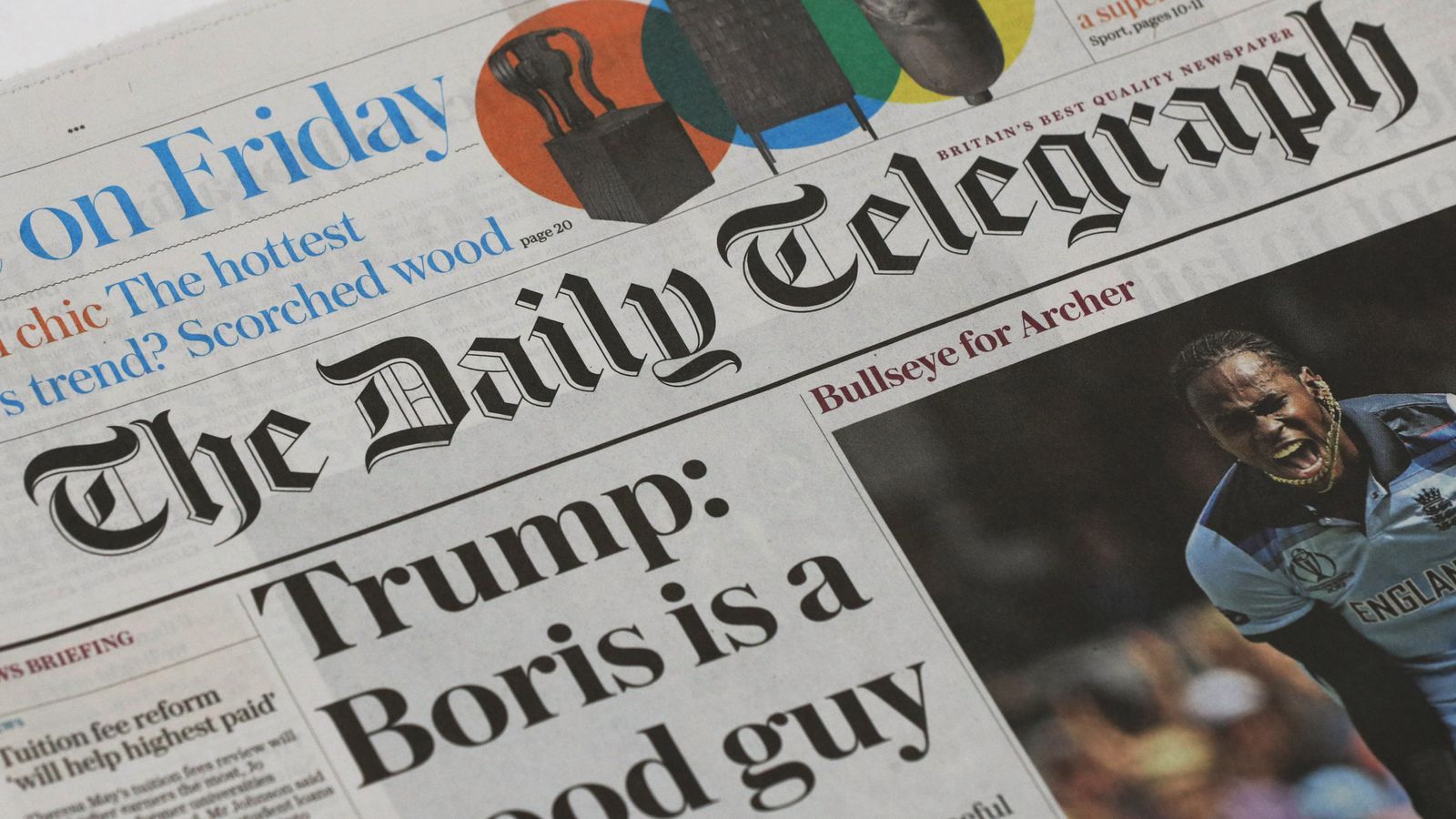 A group of banks including the Wall Street behemoths Goldman Sachs and JP Morgan are vying for the prized mandate to sell The Daily Telegraph and its sister Sunday newspaper.
Sky News understands that the investment banks are on a shortlist to be picked by Lloyds Banking Group in the coming days to handle the sale of the titles, along with the current affairs magazine, The Spectator.
Sources said they expected advisers to be selected by Lloyds in the coming days if it finalises a plan to seize control of the assets from their long-standing owners, Sir Frederick Barclay and his family.
Lloyds is understood to believe the titles are worth in the region of £600m.
Britain's biggest high street lender has appointed AlixPartners to act as receiver over B.UK Ltd, a Bermuda-based entity, which ultimately controls the companies which own two of the UK's best-known newspapers.
Sky News revealed on Tuesday night that Lloyds is being advised by Lazard on its options for the assets, and that another investment bank will be chosen to kick off an immediate process to sell the Daily and Sunday Telegraph titles.
The decision to take control of the Barclay-owned companies comes after years of talks about refinancing loans made to the family by HBOS prior to its rescue by Lloyds during the 2008 banking crisis.
People close to the bank said that Charlie Nunn, Lloyds' chief executive, was now taking "decisive action" to resolve the situation.
A sale process would be among the most hotly contested media auctions in Britain for years and would formally end the Barclay family's nearly two decade ownership of the broadsheet newspapers.
Lloyds is expected to take control of a cascade of companies within the group, including Press Acquisitions, which controls the newspapers, as early as Wednesday.
Barring a last-minute agreement with the current owners, Lloyds would then remove directors appointed by the Barclay family, including Aidan Barclay, the chairman of the newspaper group.
Click to subscribe to The Ian King Business Podcast
However, the bank does not plan to place Telegraph Media Group or Press Acquisitions into administration themselves.
The newspaper titles are not remotely close to insolvency and indeed are said to be performing strongly, with a well-regarded management team led by chief executive Nick Hugh.
"It is an attractive asset that is likely to be straightforward to sell," said one insider.
A sale for £600m, or anywhere close to it, would trigger a substantial writeback for Lloyds since it had written down the loan years ago.
Read more business news:
UK to have one of highest inflation rates in G20 this year, new forecast shows
Cyber gang issues ultimatum to BBC, BA and Boots after hack
Aidan Barclay is the nephew of Sir Frederick Barclay, the octogenarian who along with late brother Sir David engineered the takeover of the Telegraph in 2004.
Sir Frederick is currently embroiled in a £100m court battle over his divorce settlement.
The Barclays previously owned the Ritz hotel in London, and still own Very Group, the online retailer.
The bombshell move has been triggered by Lloyds' dissatisfaction with the Barclays' approach to repaying a loan which dates back to the pre-crisis era of large corporate loans issued by HBOS.
Lloyds' intention to force the Barclay-owned entity into receivership was first reported by The Times on Tuesday evening.
A spokesperson for the Barclay family said: "The loans in question are related to the family's overarching ownership structure of its media assets.
"They do not, in any way, affect the operations or financial stability of Telegraph Media Group.
"The businesses within our portfolio continue to trade strongly, are run by independent management teams, are well capitalised with minimal debt and strong liquidity.
"They have no liability for any holding company liabilities, continue to operate as normal and are unaffected by issues in the holding company structure above them.
The spokesman added that Telegraph Media Group had been "performing extremely well and now has over 750,000 subscribers".
"The company recorded a 25% increase in operating profit during 2021, has recently successfully acquired Chelsea Magazine company, and is progressing strongly towards meeting its targets.
"Speculation about the business entering administration is unfounded and irresponsible."
Lloyds and AlixPartners declined to comment.