There's a huge target on the back of Florida Gov. Ron DeSantis (R) as he enters the 2024 Republican presidential primary, even though he's trailing the GOP-favored front-runner.
While former President Trump is maintaining a commanding, at times double-digit lead in national polls of GOP primary voters, DeSantis has drawn intense criticism from Trump and other contenders, such as former South Carolina Gov. Nikki Haley (R) and entrepreneur Vivek Ramaswamy.
Candidates who are hoping to overtake Trump likely will need to peel off a swath of DeSantis's voters to build their winning coalition, strategists said.
"He'll be taking flack from both the front-runner and the lower-tier candidates," said Alex Conant, who worked on Sen. Marco Rubio's (R-Fla.) 2016 presidential campaign.
There is the possibility some candidates are vying for a spot on the ticket with Trump should he win the nomination, or aiming for a Cabinet position in a second Trump administration, though no one running for president would openly admit to doing so.
"Each candidate has their own motives," Conant said, adding that anyone who wants to beat Trump will eventually have to run against him.
DeSantis has been viewed for months as the most formidable challenger to Trump, consistently running second in national GOP primary polls and even leading Trump in some state-level polling.
Trump has relentlessly attacked DeSantis, suggesting in recent weeks that the Florida governor shouldn't even bother getting into the primary race. A Trump-aligned Super PAC on Wednesday released an ad hitting DeSantis for his congressional voting record on entitlements and immigration.
Haley's campaign on Wednesday released an ad drawing similarities between DeSantis and Trump in terms of policy and personality, at one point featuring a side-by-side video of the two men using similar hand gestures during speeches.
In an interview with Fox News in New Hampshire, Haley accused DeSantis of "copying" Trump.
Ramaswamy, another 2024 candidate officially in the race, has largely avoided going after Trump, framing his candidacy as a way to build on what Trump accomplished. But he has attacked DeSantis at times.
Ramaswamy took a dig at the Florida governor when he did not immediately rally to Trump's side when the Manhattan District Attorney filed charges against Trump for an alleged hush money scheme, and Ramaswamy has criticized DeSantis for his handling of his feud with Disney.
The Disney battle, which has seen DeSantis aim to strip the company of its self-governing status in Florida and other government exemptions for disagreeing with his stance on state legislation, has also led to criticism from former New Jersey Gov. Chris Christie and former Vice President Mike Pence, both of whom are expected to announce their candidacy in the coming weeks.
"Ron DeSantis does not have a natural base. He has a natural base in Florida. So you can attack Ron DeSantis, and it's not going to hurt you in Iowa or New Hampshire," said former Speaker and presidential candidate Newt Gingrich (R-Ga.). "But Trump has a real base, and if you attack Trump, you're alienating Trump's voters."
DeSantis's team has repeatedly argued the frequent attacks against the governor are proof he is viewed as a strong candidate to win the party's presidential nomination.
Bryan Griffin, a spokesperson for DeSantis's political team, tweeted this week that the spending by a pro-Trump group on attack ads against the governor provided "all you need to know to draw the obvious conclusion. @RonDeSantis presents the greatest threat to Donald Trump."
Erin Perrine, a spokesperson for the pro-DeSantis super PAC Never Back Down, said in a recent statement Trump "is scared of Ron DeSantis and has every reason to be," noting that DeSantis has yet to lose an election.
While Christie and Pence have been willing to take on Trump — the former focusing on personality and the latter zeroing in on policy differences — others have been more reluctant to directly criticize Trump.
Haley and Sen. Tim Scott (R-S.C.), who also entered the race this week, have often struggled to identify clear policy differences with Trump, instead relying more on arguments about a need for new leadership in the GOP or for more persuasive messaging to win over new voters.
A CNN poll released Wednesday found 53 percent of Republican and Republican-leaning voters listed Trump as their first choice candidate in a primary, with DeSantis in second at 23 percent. Haley and Pence were each the first choice for 6 percent of those surveyed. DeSantis to tour early voting states after glitch-marred campaign launch Frontier Airlines confirms gate agent 'incentive' for baggage fees after viral TikToks
The poll found 85 percent of voters said they either support or are open to supporting DeSantis, with 84 percent saying the same about Trump.
While GOP officials expect to see more attacks on DeSantis in the days after he gets into the race, they are adamant that anyone who is serious about overtaking Trump will eventually need to present a direct contrast with the former president, even if it means drawing fire from Trump and his allies.
"Clearly, you have candidates who don't want to face the wrath of Trump, but that doesn't change the fundamental dynamic," said Doug Heye, a Republican strategist. "You're not going to get the nomination by going around Donald Trump."

Eamonn Holmes claims there was 'total cover-up' over Phillip Schofield's affair with younger man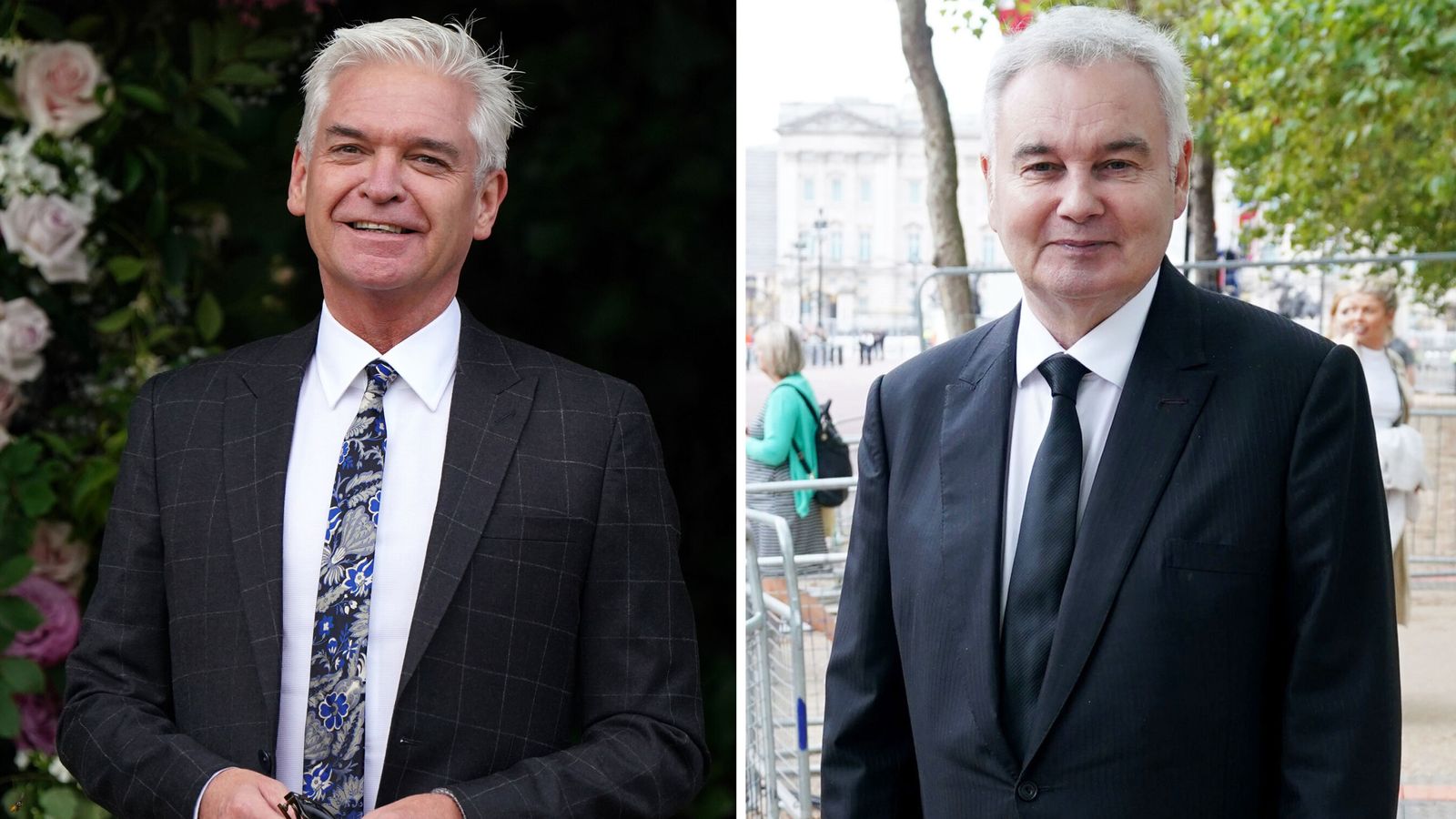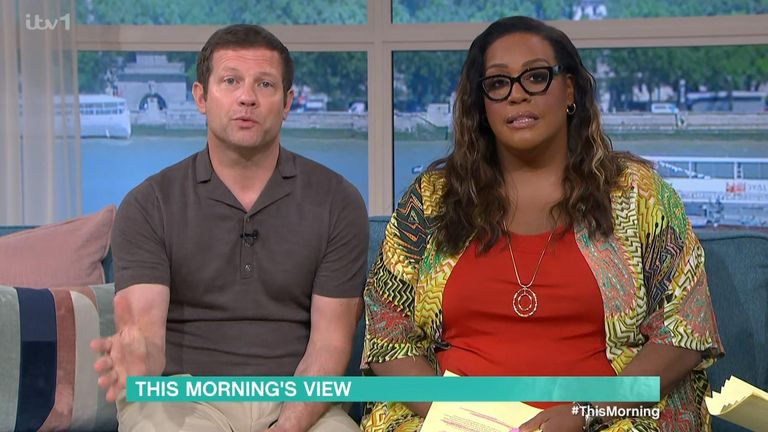 Eamonn Holmes has claimed there was a "total cover-up" over Phillip Schofield's affair with a younger male colleague on This Morning while he was married.
Holmes, 63, who also presented on the show, has accused Schofield of "toxicity" amid the furore over the culture on the ITV daytime programme.
Host Schofield, 61, admitted last Friday to an "unwise, but not illegal" affair with a younger male colleague on the show and has now quit the commercial broadcaster and been dropped by his talent agency YMU.
Schofield on Monday hit back at critics, saying on Instagram there was "no toxicity" on the programme, adding: "I hope you have noticed that it's the same handful of people with a grudge against me or the show who seem to have the loudest voice."
ITV said there had been an investigation in early 2020 when "rumours of a relationship between Phillip Schofield and an employee of ITV first began to circulate" but said it did not find "any evidence of a relationship beyond hearsay and rumour".
A statement from the commercial broadcaster on 27 May said: "Both parties were questioned and both categorically and repeatedly denied the rumours as did Phillip's then agency YMU.
"In addition, ITV spoke to a number of people who worked on This Morning and were not provided with, and did not find, any evidence of a relationship beyond hearsay and rumour… He lied to people at ITV, from senior management to fellow presenters, to YMU, to the media and to others over this relationship."
But Holmes told GB News presenter Dan Wootton: "It's a total cover-up.
"Those in authority had to know what was going on and they thought they would dodge a bullet with this.
"Which they do and they do constantly because with Schofield talking about those who speak out against him, namely me, Amanda Holden and you [Dan Wootton], you'll be included in the toxicity that goes on… Dr Ranj [Singh] of course as well.
"And you simply sit there and think 'no mate, you've had it all your way for too long'."
This Morning presenters address controversy

Read more:
A timeline of the This Morning controversy
ITV responds to rumours around show's future
Why Schofield's admission could kill off his career
Referring to Schofield's comments on Instagram, Holmes said: "I think that Phillip is absolutely right about toxicity.
"But my friend, the toxicity is not with me, Dan Wootton, or anyone else, the toxicity is with you."
Phillip Schofield and Eamonn Holmes social media statements in full
Just before 10am on Monday, Phillip Schofield posts a statement on his Instagram stories.
"Now I no longer work on @thismorning I am free to say this. I hope you have noticed that it's the same handful of people with a grudge against me or the show who seem to have the loudest voice.
"This morning IS the best show to work on, with the best people. In all the years I worked there there was no toxicity. You can listen to those persistently loud voices if you like.
"But the thousands of guests over the years, thousands of staff and crew, hundreds of presenters and contributors all know, it IS a family of wonderful, talented, kind, hard working people."
At 11.10am Eamonn Holmes tweets a response.
"Schofield has just put out a delusional statement. Like Holly he puts it on Insta Stories so if it goes wrong there is no record after 24 hrs.
"I'm reluctant to give the liar any more publicity but believe me Pip if u r looking for a fight , u have picked on the wrong person !"
Earlier in the day, Holmes on social media described Schofield as "delusional" and said he has "picked the wrong person… if you're looking for a fight".
ITV has been approached for comment by Sky News about Holmes's claims.
GB News asked ITV's managing director of media and entertainment, Kevin Lygo, if there was a "cover-up" and if he "protected" Schofield.
Mr Lygo told a GB News producer: "We really have no more to say."
Holmes previously presented This Morning on Fridays with his wife Ruth Langsford.
The programme's former resident doctor Dr Ranj Singh has hit out at the show's "toxic" culture, saying he raised concerns about "bullying and discrimination" two years ago when he worked there and afterwards felt like he was "managed out" for whistleblowing.
Schofield quit This Morning on 20 May after more than 20 years.
Schofield originally said he was stepping down from the show because it had "become the story", following reports of a feud between him and co-host Holly Willoughby.
It came after his brother was recently jailed for 12 years over child sex offences.
Willoughby, 41, is due to return next Monday (5 June), having gone on an early half-term holiday on 22 May.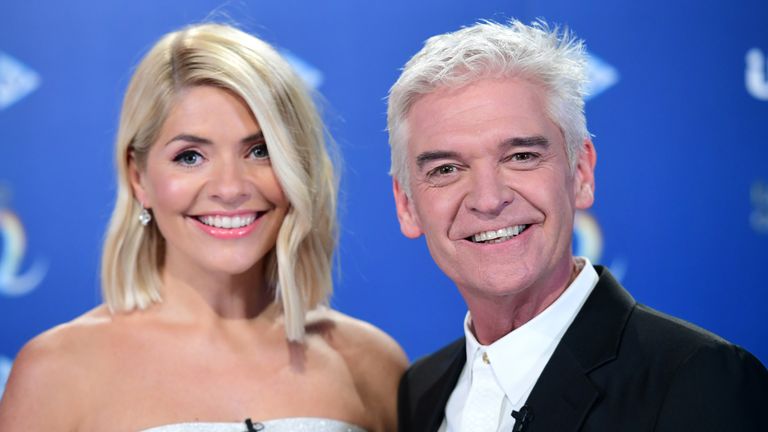 She said that "when reports of this relationship first surfaced, I asked Phil directly if this was true and was told it was not".
"It's been very hurtful to now find out this was a lie," an Instagram statement added.
Schofield has now completely resigned from ITV and been dropped by his agents.
In his statement to the Daily Mail he also admitted lying about his affair to his wife, to ITV, his agents and the media.
The controversy has raised doubts about both Willoughby's and the show's future, but the channel has denied reports it could be axed.
Vape advertising: Government to crack down on promotions 'targeted at children'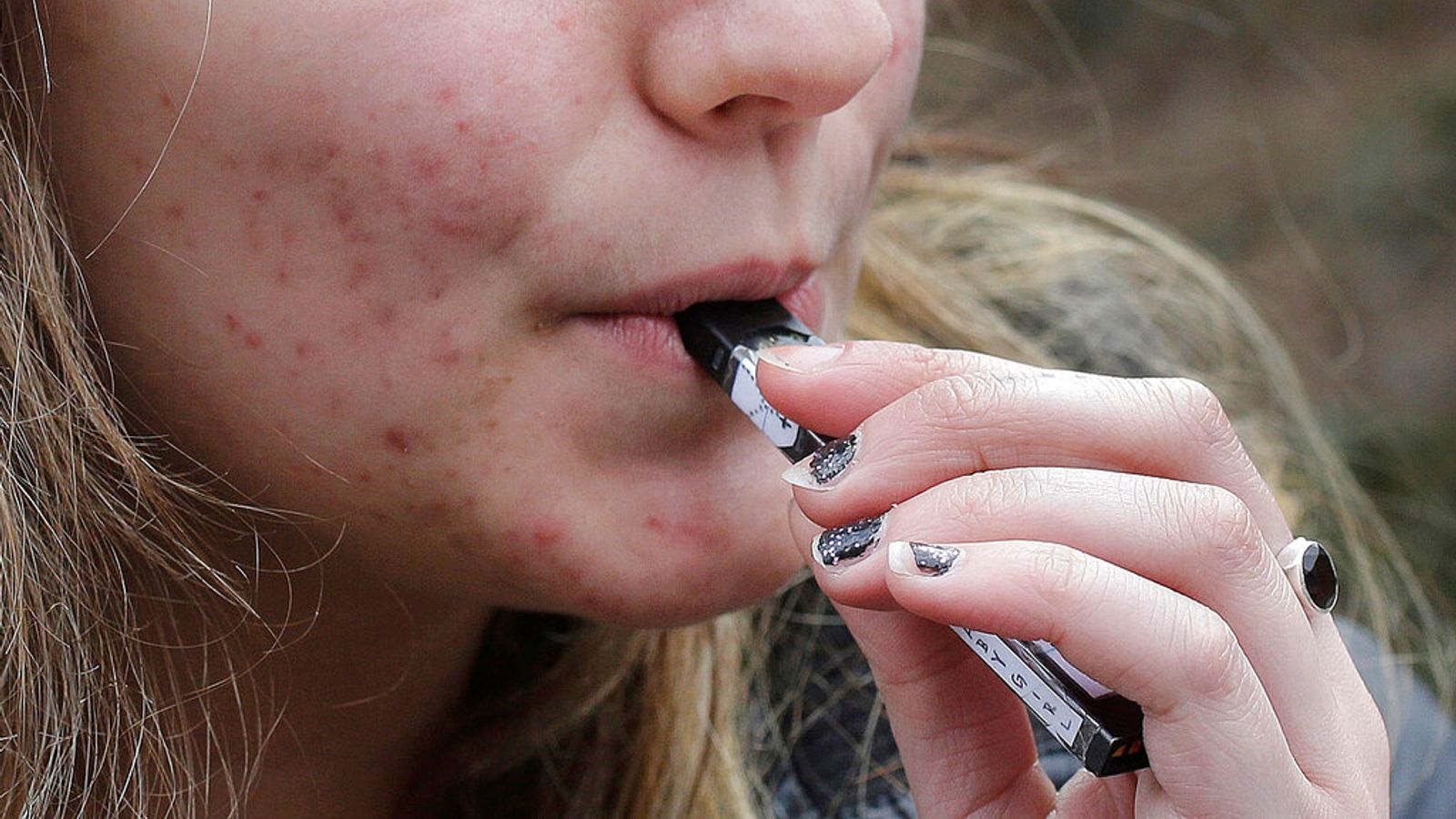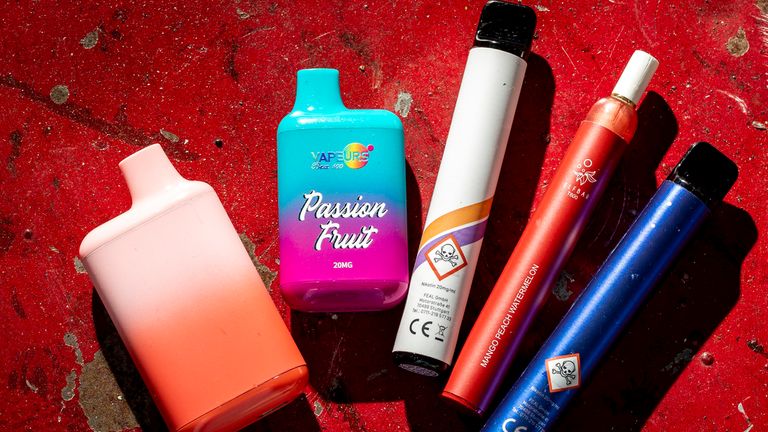 Rishi Sunak has said a new government crackdown on vape marketing will stop the "unacceptable" targeting of children and young people. 
Ministers have pledged to close a loophole that allows shops to offer free samples of vapes to children in England as concerns over the proportion of youngsters trying e-cigarettes mounts.
It comes days after the prime minister expressed concern about his own daughters potentially being targeted by vape marketing during an interview on ITV's Good Morning Britain.
There will also be a review into banning retailers selling "nicotine-free" vapes to under-18s, the government said, as well as a review of the rules on issuing fines to shops that illegally sell vapes to children.
The government said such reviews could make it easier for local trading standards officials to issue on-the-spot fines and fixed penalty notices.
Ministers cited NHS figures from 2021 which revealed 9% of 11 to 15-year-olds used e-cigarettes – up from 6% in 2018.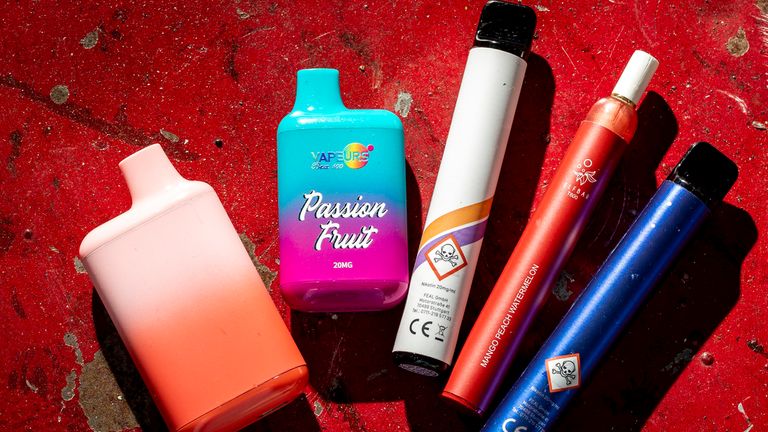 Mr Sunak said he was "deeply concerned" about the increase in children vaping, adding he was "shocked by reports of illicit vapes containing lead getting into the hands of schoolchildren".
"Our new illicit vape enforcement squad – backed by £3m – is on the case but clearly there is more to do," the prime minister said.
"That is why I am taking further action today to clamp down on rogue firms who unlawfully target our children with these products."
He added that the marketing and the illegal sales of vapes to children are "completely unacceptable" and that he will do everything in his power to "end this practice for good".
Meanwhile, Chief Medical Officer Professor Sir Chris Whitty called the decision to close the loophole a "very welcome step".
He said: "Whilst vaping can be an effective quitting tool for smokers, it is important that non-smokers are not encouraged to start vaping.
Sunak on vape 'enforcement squads'

"There has been a particularly worrying rise in the number of children using vapes, with companies clearly marketing these products at children using colours, flavours and cheap disposable options.
"Closing the loophole that allows companies to give out free samples of vaping products to under-18s is a very welcome step in tackling some of the harms caused by the vaping industry."
He added: "We should continue to encourage smokers to swap to vaping as the lesser risk, whilst preventing the marketing and sale of vapes to children."
Read more:
Number of children trying vaping rises 50% in a year in 'tide of experimentation'
Sunak hits out at vape companies for appealing to children
The health risks of vaping will now also be included in Relatonships, Sex and Health Education lessons in schools as part of the ongoing government review of the curriculum.
And the crackdown will also see dedicated police school liaison officers work to keep illegal vapes out of schools.
Health minister Neil O'Brien described any marketing of vaping products to children as "shameful".
He said the government would "review the rules on issuing on-the-spot fines to shops that break the law by selling vapes to underage youngsters, and look into banning the sale of nicotine-free vapes to under-18s – which we know can be a gateway to using nicotine products".
British man, 26, dies in Greece after being 'struck by lightning while paddleboarding'
A British man has died after he was reportedly hit by lightning while paddleboarding in Greece.
The unnamed 26-year-old was in the sea during a thunderstorm in Agia Agathi, Rhodes, as his girlfriend filmed him from the beach, according to local media.
Some reports said he had been swimming at the time, rather than paddleboarding.
An investigation is now under way into the incident, which is believed to have happened shortly before 2pm on Monday local time (12pm UK time).
Greek newspaper Rodiaki reported that lightning struck the water near the paddleboarder, causing him to fall in the sea injured.
The newspaper said a passer-by, named as a Brazilian footballer who plays for a local side, waded into the sea to pull the man back to shore.
Medics then took him to a nearby hospital before he was declared dead, the publication added.
The Port Authority of Rhodes confirmed the man's age and that he was a British national but would give no further information.
A spokesperson said: "This is an active case so we cannot give more details at the moment."
The Foreign and Commonwealth Office said: "We are supporting the family of a British man who has died in Rhodes and are in contact with local authorities."
Read more:
Sunak appears to rule out return of Elgin Marbles
Protesters clash with riot police in Athens over train crash
Dozens killed in Greek rail disaster
According to the swimming website oceanswims.com, when lightning strikes water the electric charge doesn't penetrate deep into the water, but rather, it spreads across the surface, dispersing horizontally.
"This electric charge can travel as little as 10m or as much as 100m or more, depending on the power of the lightning bolt itself," it added.
"From a swimmers' point of view, this means the bolt of lightning doesn't have to hit you directly for it to cause harm."