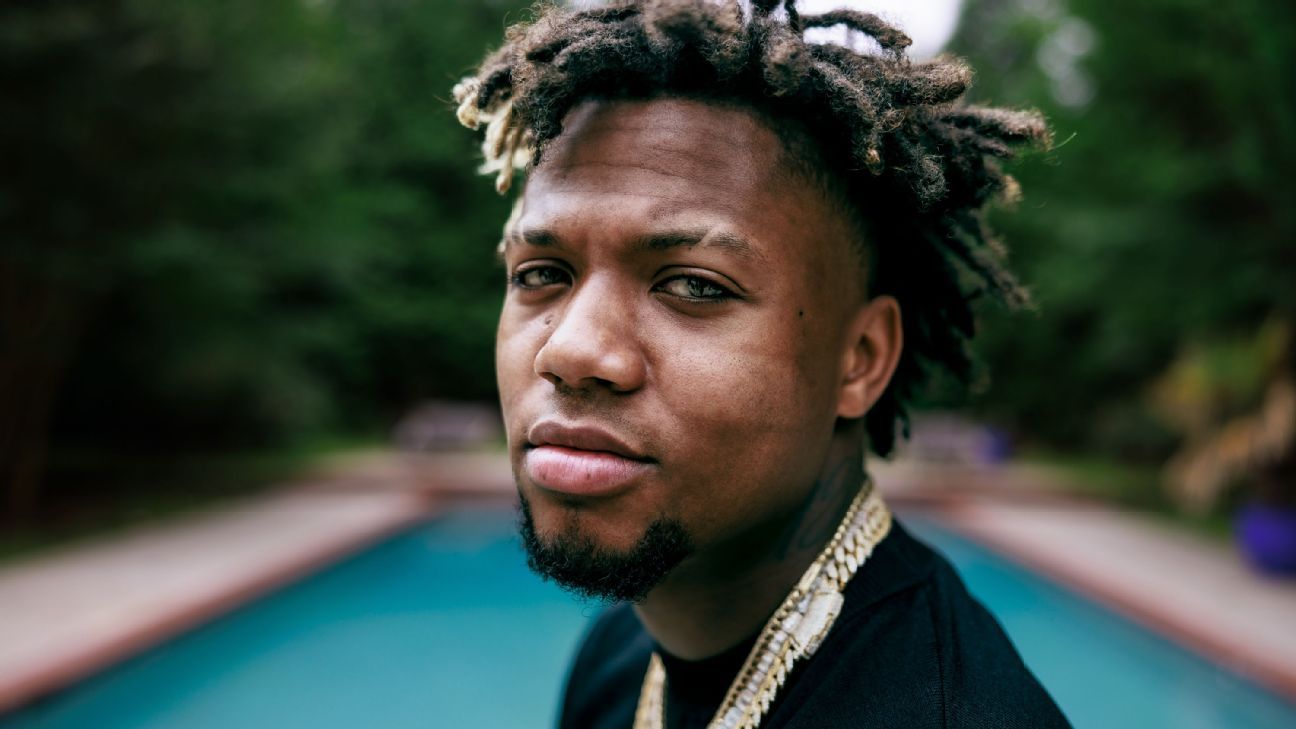 'Every time I would go play, I doubted': How Ronald Acuna Jr. regained his confidence — and his MVP form
MARIETTA, Ga. — The living room of Ronald Acuña Jr.'s two-story, craftsman-style home looks more like a sports memorabilia store, replete with mementos from a career that blossomed earlier than most. All-MLB plaques and commemorative baseballs dot two sets of bookcases on each side of a white fireplace. A signed lineup card from last year's All-Star Game in Los Angeles sits on one, a Team Venezuela batting helmet from this year's World Baseball Classic rests on the other. In the middle, an oversized picture of a smiling, 20-year-old, tuxedoed Acuña posing with the 2018 National League Rookie of the Year Award overlooks it all.
Acuña, now 25, takes no credit for the arrangement.
"That was my mom," he says in Spanish. "She's the one who decorates."
It's an overcast, muggy afternoon May 18, a Thursday off-day that doesn't quite feel like one because Acuña and his Atlanta Braves teammates didn't touch down from Texas until 3 a.m. The last four games of that road trip saw Acuña unleash four home runs that averaged 440 feet. A little more than a quarter into the season, Acuña stands on pace to surpass 40 home runs, 60 stolen bases, 100 RBIs and 150 runs, a combination of numbers that have never been reached.
Acuña, wearing tight-fitting black pants with blue-and-white bands that resemble streaks of lightning and high-top sneakers that were clearly designed to match, smiles at the thought of what 2023 is becoming.
Acuña looks like the most exhilarating, dynamic baseball player in the world again, a sentiment that extends beyond his numbers (a .332/.419/.577 slash line, 11 homers, 22 steals and 2.6 FanGraphs wins above replacement, tops among position players). He's wreaking havoc on the basepaths, crushing prodigious home runs with regularity and making highlight-reel defensive plays seem routine.
It all feels, well, normal, as if this is how it always goes. As if it hadn't been three years — four if you count the COVID-19-shortened 2020 season — since this version of Acuña presented itself with regularity.
To Acuña, though, none of this feels like a given, not when those three years featured a devastating knee injury and a subpar return from it. Through it all, one of the most outwardly confident athletes of our time wondered if he'd ever be good again.
---
IT WAS JULY 2021, and Acuña couldn't stop crying. An awkward landing on a leaping attempt in Miami had caused a torn anterior cruciate ligament in his right knee, an injury that typically comes with an eight- to 12-month recovery and leaves an uncertain future beyond it. Acuña, then only 23, had already secured a $100 million extension and was three days shy of his second All-Star Game start, in the middle of his best year yet. Now he had to wonder if he would ever be the same.
"He cried every day," Acuña's mother, Leonelis Blanco, said in Spanish. "It wasn't just every day — it was the whole day. He was distraught, crying, crying, wondering about his leg."
Acuña — with a father, Ronald Sr., who spent six years in the New York Mets' minor league system, and four cousins, most notably Kelvim and Alcides Escobar, who reached the majors — lived and breathed baseball since birth, Leonelis said. When he was 9, he was appreciably better than the other children his age in La Guaira, a port city in northern Venezuela. At 11, it was clear he would make a career out of the sport.
Leonelis had only known Acuña to be excellent and assertive. But in the two weeks that spanned his ACL tear and subsequent surgery, he was exceedingly vulnerable, refusing to watch baseball games and pondering the possibility of never playing again. Most of his days were spent lying in bed. Leonelis never left his side. She played music, cooked his favorite foods, brought up other topics of conversation and did her best to project positivity. When the subject of baseball inevitably returned, she clung to three phrases.
Paciencia, hijo. (Patience, son.)
Confía en ti. (Believe in yourself.)
Libera tu mente. (Free your mind.)
"Terrible," Leonelis said of those conversations, every one of which she remembers. "It was really, really hard."
As his knee improved, so too did Acuña's state of mind. Simply ditching the wheelchair to walk on crutches noticeably lifted his spirits. Later that season, while the Braves excelled with a makeshift outfield constructed before the end of July, he found joy through his teammates' success. When the World Series came, he asked to be cleared for travel. It allowed him to be in Houston on Nov. 2, when the Braves became one of the most improbable champions in recent memory. That night, Acuña's body froze. He then felt a chill run through both of his arms. The tears flowed shortly thereafter.
"I cried out of joy," Acuña said, "but also I cried because I couldn't be there with my teammates. I couldn't be there day to day; I couldn't be there with them."
Those feelings directly impacted the following season.
"He missed it so much in '21, when we won a championship, that he was definitely going to be part of the team in '22," Braves first-base coach Eric Young said. "It didn't matter. If he was well enough to go, he was going out [even if not fully healthy]. That was his mentality. And I don't fault him for that."
---
ACUÑA RETURNED TO the Braves on April 28, 2022, and played in 119 of the team's remaining 143 regular-season games, plus four more in the playoffs — but he was never truly himself.
Young, Acuña's coach through his entire major league career, noticed it in how slowly he cut off base hits in the gap. Austin Riley, Acuña's teammate dating back to rookie ball, noticed it in the batting cage, where the ball didn't quite jump off his bat like it used to. Braves third-base coach Ron Washington, going on his sixth decade in the major leagues, noticed it in how infrequently his typical burst would arrive on the bases. Brian Snitker, his manager, noticed it in the deluge of reports from the training staff that detailed Acuña's constant need for treatment.
Acuña felt it everywhere — when he didn't rotate his hips quickly enough to reach fastballs, when he didn't explode well enough to track down distant fly balls, when he didn't come out of his stride fast enough to steal bases.
"I put a lot of pressure on myself, like, 'I have to get back to being who I was before,' and I think that influenced a lot," Acuña said. "Things didn't turn out the way I wanted them to. The knee — there were days when it wouldn't hurt, I'd go out and play a hundred percent and I'd tell myself, 'I'm back,' but then the next day the pain would return. It just kept going like that."
Acuña was selected by fans as the starting right fielder in the All-Star Game, but he finished with a .764 OPS that fell 161 points below his career mark heading into 2022. He stole 29 bases but was thrown out an NL-leading 11 times. Defensively, he was credited with negative-seven outs above average, placing him among the worst at his position.
On the outside, Acuña continued to flaunt jewelry and smear eye black and celebrate boisterously.
Inside, doubt consumed him.
"I would tell my mom, 'Mom, I don't know if I'll ever run the same again.' Or my dad, 'You think I'll go back to playing the same?'" Acuña said. "The pain was not easy. The operation also was not easy. So I doubted many times. I would tell my friends, 'I don't know if I'll be able to play that way again.' Every time I would go play, I doubted."
---
IN 2018, Young's first season coaching Braves outfielders coincided with Acuña's rookie year. The two have been inseparable since. If anybody can reach Acuña, it's Young. And when the 2022 season ended, Young felt the need.
A week after the 101-win Braves were eliminated by the resurgent Philadelphia Phillies in mid-October, Young called Acuña to chat. He wanted to help set the tone for what would become the most important offseason of Acuña's career.
"You talk about the best players in the game — Ronald Acuña's name's gotta be mentioned," Young recalled saying. "And I told him, 'It's not gonna be mentioned because you've got these skills and you're talented. You have to do it in between the lines each and every single day to gain respect from your peers. Your peers are the ones telling you who's the best player in the game. If you go out there and you do the things that you're capable of, there's no other person out there that can do it like you.'"
Young's words helped to reaffirm a mindset Acuña was already carrying with him. He waited another week or so for his knee to become fully healthy — it finally did at the start of November, convenient yet cruel timing — then set out to test it like never before.
"I told myself, 'I have to work and I have to get back to being 100 percent,'" Acuña said. "'It's either gonna be 100 percent the good way or 100 percent the bad way.'"
Acuña wanted to play as much baseball as possible as quickly as possible. He planned to take part in the Venezuelan Winter League in December, then represent his country in the 2023 World Baseball Classic. Before that, though, he would take a detour to the Dominican Republic to hit with Fernando Tatis Sr., the former major league third baseman and father of one of his closest friends.
Acuña and Fernando Tatis Jr., the San Diego Padres' superstar shortstop-turned-outfielder, met near the end of April 2019, when Tatis paid his first visit to Atlanta early in his rookie season.
"You feel the chemistry from the moment you say hello," Acuña said. "You say, 'That's going to be my brother.' It's just a good vibe. Since then, we've been brothers."
Three and a half years later, from Nov. 10 until around Thanksgiving, Acuña and Tatis met on a field in Tatis' hometown of San Pedro de Marcoris and tried to rediscover their respective selves. Tatis, on the heels of a season lost both to a motorcycle accident and a steroid suspension, wore a cast on a surgically repaired left wrist that limited him to conditioning work. Acuña, meanwhile, hit almost daily under the watchful eye of a man famous for once belting two grand slams in a single inning.
Early on, Tatis Sr. suggested a minor tweak that turned into a major adjustment. He asked Acuña to lower his hands ever so slightly during his setup, down near the bottom part of his chest, making his bat parallel to his upper body in order to get its barrel through the strike zone more quickly.
"I was open to everything," Acuña said. "It's why I went down there."
Acuña struggled mightily to hit fastballs last season, slugging only .416 against four-seamers, 56 points below the major league average. This year, it's up to .773. His strikeout rate has been cut nearly in half, all the way down to 14.1%. He is a better, more complete hitter than he ever has been, a product, he believes, of the changes he made in the D.R.
Acuña, a deep admirer of legendary countryman Miguel Cabrera, hopes to someday win a batting title. At this rate, at least, he'll secure his third Silver Slugger Award in five months.
"If I do," Acuña said, "I'll give it to Fernando."
---
YOUNG HAD BEEN keeping close tabs on Acuña's offseason work, and by the onset of spring training, he saw a new, more mature version up close. Acuña used to lag through the various stations of workouts, but suddenly he was displaying what Young described as "more focus, more intent" during outfield drills that often seemed to bore him.
The attention to detail, Braves coaches said, has spilled into the regular season, where Young said he is "not running away from any type of challenge in preparing for the game."
Acuña believes being a father — he has two boys, a 2-year-old and a 7-month-old — has brought a new level of maturity. Suffering the ACL tear in 2021, Young believes, humbled him like never before. But simply being ordinary for perhaps the first time in his life might have played just as big a role in his transformation.
"I think he found out what he is, what he looks like, when he's not healthy," Washington said, "and that's the player he doesn't wanna be."
Acuña, Washington added, is no longer solely relying on his eye-popping physical talent. He works diligently on his baserunning technique and studies pitcher tendencies for the first time. That focus, combined with new rules that have created the most favorable stolen-base environment in decades, have led Acuña to a 91.7% success rate. He's reading balls off the bat during pregame batting practice on a near-daily basis, as opposed to once a week. He's more diligent with his physical therapy and plyometric exercises. Lapses still occur, but they're far more infrequent.
"He used to hit ground balls, and if it wasn't a base hit he didn't run 'em out," Washington said. "Now, he's making those son of a b—-es make plays out there. He's running everything out."
Last year, Braves trainers talked to NFL trainers to pick their brains about how running backs recovered from ACL tears like Acuña's. They were told that most players needed a full season and offseason to get back to their previous standards. It's a message the team continued to impart on Acuña, but one he didn't fully believe until experiencing it first-hand.
And by the time he felt completely healthy, that doubt had become fuel.
"I would hear people saying, 'He's not gonna run the same anymore, he's not gonna be the same baseball player because people don't come back well from this surgery,'" Acuña said. "It was frustrating to hear people talk like that. But also, it motivated me. I practiced, I trained hard, I fought and now they're mistaken."
---
RILEY HAS FOUND himself on a dugout's top step for every one of Acuña's plate appearances this season.
"Just waiting for something to happen," Riley said. "It's pretty special."
Acuña hasn't disappointed. Through the season's first eight weeks, he ranks within the top 3% in exit velocity and hard-hit rate, within the top 17% in sprint speed and within the top 1% — better yet, second among 187 qualified players — in arm strength. Defensive metrics, prone to faultiness in small sample sizes, still grade him as a below-average right fielder. But Acuña has already accumulated six outfield assists and turned in a handful of sensational plays, including two leaping catches up against the outfield fence of his home ballpark.
Meanwhile, his already prodigious home runs have been legendary.
"It looks effortless," Braves second baseman Ozzie Albies said. "He just hits the ball and the ball keeps going."
Acuña unleashed a 461-foot home run to straightaway center field May 3 and followed with a 470-foot moonshot to left May 10. Five days later, he swung at a curveball only 1.3 feet off the ground and lined it 454 feet to left-center. Acuña has already totaled a major league-leading nine home runs that have traveled at least 420 feet, three more than the second-place Aaron Judge, who outweighs him by 80 pounds. In May alone, he has hit four home runs at least 450 feet. Every other player in the sport has combined for 18 of those this month.
"He's on his legs now, and you're seeing what he can do," Snitker said. "And he's maturing. He's growing up — physically, mentally, the whole thing. The kid's starting to come into his own. It's kinda scary what he's capable of, honestly."
Acuña has acted as a crucial tone-setter for a Braves team that is already 12 games above .500 and 5½ games up on first place, slashing .500/.540/.804 while leading off games. He's only three points shy of a 1.000 OPS, a mark reached by only six leadoff hitters since 1900, and is on pace to finish as the third player in major league history to combine 30-plus home runs with 50-plus stolen bases, not to mention the first to 30 and 60.
He's all the way back, but he's also better than ever.
Those who know him well are bullish.
"Acuña wants to be the best," Young said. "And if Acuña wants to be the best, his best is the MVP, in my mind. He's gonna be the MVP this year. It's a prediction. I'm confident in that prediction."
Canadian fires force MLB, WNBA postponements
Major League Baseball has announced it is postponing games in New York and Philadelphia on Wednesday night because of poor air quality caused by smoke from Canadian wildfires.
A National Women's Soccer League game in New Jersey and an indoor WNBA game set for Brooklyn were also called off Wednesday amid hazy conditions that have raised alarms from health authorities.
The New York Yankees' game against the Chicago White Sox was rescheduled as part of a doubleheader starting at 4:05 p.m. on Thursday, and the Philadelphia Phillies' game against the Detroit Tigers was reset for 6:05 p.m. on Thursday, originally an off day for both teams.
What Yankee Stadium normally looks like vs. what it look like today pic.twitter.com/uutCu4Znqh

— Joon Lee (@joonlee) June 7, 2023
"These postponements were determined following conversations throughout the day with medical and weather experts and all of the impacted clubs regarding clearly hazardous air quality conditions in both cities," MLB said in a statement.
The National Weather Service issued an air quality alert for New York City, saying: "the New York State Department of Health recommends that individuals consider limiting strenuous outdoor physical activity to reduce the risk of adverse health effects." In Philadelphia, the NWS issued a Code Red.
The Yankees and White Sox played through a lesser haze on Tuesday night.
The WNBA said a game between the Minnesota Lynx and New York Liberty would not be played Wednesday, saying the decision was made to "protect the health and safety of our fans, teams and community." A makeup date wasn't immediately announced.
The NWSL postponed Orlando's match at Gotham in Harrison, New Jersey, from Wednesday night to Aug. 9.
"The match could not be safely conducted based on the projected air quality index," the NWSL said.
At nearby Belmont Park, The New York Racing Association said training went on as planned ahead of Saturday's Triple Crown horse race.
"NYRA utilizes external weather services and advanced on-site equipment to monitor weather conditions and air quality in and around Belmont Park," spokesman Patrick McKenna said Wednesday. "Training was conducted normally today, and NYRA will continue to assess the overall environment to ensure the safety of training and racing throughout the Belmont Stakes Racing Festival."
New York's NFL teams, the Giants and Jets, both had Wednesday off from offseason workouts. The Giants had been planning to practice inside Thursday, and the Jets say they are also likely to work out indoors Thursday.
The Associated Press contributed to this report.
Yankees place Judge on 10-day IL with toe injury
NEW YORK — For the second time this season, the New York Yankees will need to play without Aaron Judge.
New York placed its superstar slugger on the injured list with a contusion and a ligament sprain in his right big toe, it was announced Wednesday.
Judge does not have a fracture or break in his toe, according to team physician Dr. Christopher Ahmad.
"The biggest thing now is trying to get the swelling out of there," manager Aaron Boone said Tuesday. "He had some improvements today, but now we'll see where he is in the coming days and then week. But the biggest thing is getting the swelling out of there."
"I think it definitely could have been worse. Hopefully it's on the shorter side of things."
Judge was hurt while making a running catch and crashing into the outfield fence Saturday against the Dodgers and hadn't played since.
He also spent time on the injured list earlier this season because of a right hamstring strain. When he's been healthy, Judge has put up MVP-type numbers again, hitting .291/.404/.674 with 19 homers and 2.2 bWAR in 49 games.
New York's pitching depth also is getting tested.
Nestor Cortes will be placed on the injured list due to a left shoulder injury. Boone mentioned Cortes has struggled to bounce back between starts. He's expected to miss at least two starts.
Cortes has a 5.16 ERA in 11 starts, striking out 59 batters in 59⅓ innings.
To replace Cortes, New York called up Randy Vasquez from Triple-A. The righty made his major league debut on May 26 against the San Diego Padres, allowing two runs in 4⅔ innings pitched.
Also, pitcher Ryan Weber was diagnosed with a UCL strain and has been placed on the 60-day injured list. The 32-year-old righty has pitched in eight games this season, posting a 3.14 ERA in 14⅓ innings.
In a related roster move, the Yankees recalled outfielder Billy McKinney.
Why this Stanley Cup is so important to Indigenous players Brandon Montour and Zach Whitecloud
LAS VEGAS — For the Florida Panthers' Brandon Montour and the Vegas Golden Knights' Zach Whitecloud, this year's Stanley Cup Final carries a significance that goes well beyond both of them trying to help their teams win what would be each franchise's first championship.
They are also part of the conversation about representation in hockey.
While records have not been meticulously kept, Montour and Whitecloud appear to be the first pair of players who identify as Indigenous to play against each other in a Stanley Cup Final in more than 30 years, based on data compiled by Hockey Indigenous, a Canadian nonprofit organization that promotes the sport among Indigenous people.
"I think it's obviously pretty crazy. I don't know the exact number of Indigenous players on the Stanley Cup, but just the league in general, to have that is huge," said Montour, who is in his third season with the Panthers. "To support not just my reserve and his reserve, but the whole countries of Canada and the [United States] will be watching. The support will be huge for both of us."
Both Montour and Whitecloud, who did not know each other before the Cup Final, are among 10 players on current NHL rosters who identify as Indigenous. The list also features Montreal Canadiens goaltender Carey Price, Washington Capitals forward T.J. Oshie, Ottawa Senators defenseman Travis Hamonic and Vancouver Canucks defenseman Ethan Bear.
A New York Times story from 2018 suggests that Tony Gingras along with brothers, Magnus and Rod Flett, might have been the first Indigenous players to win a Stanley Cup in 1901 and 1902, when they played for the Winnipeg Victorias. Gingras along with both Flett brothers were Métis, according to The Times.
Since then, there have been numerous Indigenous players who have won a Stanley Cup. They include four members of the Hockey Hall of Fame: George Armstrong, Theo Fleury, Grant Fuhr and Bryan Trottier. Other Indigenous players to win a Cup include Dwight King, Jamie Leach, Reggie Leach, Jordan Nolan and Chris Simon.
Oshie is the most recent Indigenous player to win a Stanley Cup when he helped the Capitals beat the Golden Knights to win the first title in franchise history during the 2017-18 season.
The meeting between Montour and Whitecloud appears to be at least the fourth time two Indigenous players have faced each other in a Cup Final since 1980.
That year, Trottier and the New York Islanders defeated Leach and the Philadelphia Flyers in six games. In 1983, Trottier and the Islanders faced Fuhr and the Edmonton Oilers, but Fuhr did not play in the Final, which the Isles won. A year later, Fuhr did play as he and the Oilers beat Trottier and the Islanders for the title.
Based on information on HockeyIndigenous.com, the most recent meeting between Indigenous players on opposite teams in the Cup Final came in 1989, when the Calgary Flames beat the Montreal Canadiens. Fleury, who is Métis, played against Shayne Corson, who is also reported to be Métis. ESPN contacted an event management firm that represents Corson to seek clarification but did not receive a response.
"It's a cool experience for a lot of our youth in our communities. … It's about sending a message to a lot of those kids that this is possible," said Whitecloud, who is in his third full season with the Golden Knights. "Dreaming and going after your dreams are attainable. That's the most important part for me. It's being able to get to this point but also, being a role model in terms of saying this is possible with hard work, dedication and that doesn't stem from just hockey. … Whatever your passion is in life, go get it."
Montour, who is Mohawk from Six Nations of the Grand River, has been one of the Panthers' best players this season. He finished the regular season with 16 goals and 73 points, shattering his previous career highs of 11 goals and 37 points in 2021-22.
In the postseason, Montour is leading the Panthers and third in the NHL in average ice time at 27:29 per game. His six goals are tied for third on the Panthers, while his nine points are the most for a Panthers defenseman.
"You see players like myself come from the same town as you or little towns where all of us came from, it just gives that sense of hope," said Montour, who grew up in Oshweken, Ontario. "When I was a kid, I was in the same situation trying to watch and follow the footsteps of my heroes and guys I looked up to. To be in that spot, obviously, is huge and you take that in a full serious note and enjoy playing for all of them."
Whitecloud, who grew up in the Sioux Valley Dakota Nation, about 30 miles west of Brandon, Manitoba, expressed a similar sentiment. Growing up close to Brandon, he saw players who reached the NHL, both those who were from there or who played for the WHL's Brandon Wheat Kings.
Keegan Kolesar, Whitecloud's Vegas teammate, is from Brandon, and Golden Knights general manager Kelly McCrimmon played for the Wheat Kings before becoming their coach, GM and owner prior to reaching the NHL.
But Whitecloud said there were no hockey players who came from the Sioux Valley Dakota Nation who went further than juniors. He said his dad was among them, but the numbers were few from the Sioux Valley Dakota Nation, which has a population of 2,500.
Whitecloud said his dad has always been his hockey role model and continues to have a passion for the game. It's what led to Whitecloud working his way to the Golden Knights, signing as an undrafted free agent after two seasons at Bemidji State University. He spent two seasons playing for Vegas' AHL affiliate before he became a full-time NHL player during the 2020-21 season.
Jennifer Bone, who is chief of the Sioux Valley Dakota Nation, told ESPN there is an immense sense of pride in that community watching Whitecloud. She said there is a sign that welcomes people when they enter the community that reads, "Home of NHL player Zach Whitecloud of the Vegas Golden Knights."
"When we had a watch party last week, we gave away T-shirts at the school and there are cars driving around with flags on their window and people have flags outside their homes," Bone said. "They are really supportive and people are being fans of Zach. … It's like, 'Wow, he is in the Stanley Cup playoffs' and the success he has had over the past few seasons and the limited number of First Nation who have achieved that in hockey makes it more inspiring for our community members.
"Just having that and having him and Brandon Montour in the Stanley Cup Final just shows the representation of Indigenous people and showcases the talent that they have."
Like Montour, Whitecloud has made significant contributions to the Golden Knights' playoff run. The biggest came in Game 1 of the Cup Final, when he had the winning goal in a 5-2 Vegas victory. Whitecloud is averaging just under 19 minutes per game but has paired with Nicolas Hague to create a defensive partnership that has logged the most 5-on-5 ice time of any Golden Knights pairing in the playoffs.
Bone said the Sioux Valley Dakota Nation will continue to have watch parties. The nation's website features a graphic that includes a picture of Whitecloud and words such as "Ambassador," "Role Model," "Trail Blazer" and "Warrior."
The Six Nations of the Grand River also will host watch parties for every game of the Stanley Cup Final, according to the community's official website, with Chief Mark B. Hill issuing a news release that said Montour "represents Six Nations of the Grand River with pride."
Bone said she received a phone call from Hill days before the Cup Final in which they talked about the significance of seeing two members of their communities represent what it means to be Indigenous on hockey's biggest stage.
"Jordin Tootoo was one of the role models for me, and Micheal Ferland and some of those guys," Whitecloud said. "People that look like me that got to those levels. That was always cool, but I was never the player that was first picked for teams or was always praised for being that person. I was fine with that. I think that's a big part of why I am where I am today. I genuinely played the game because I love it."
Bone was not able to attend the Game 1 watch party but said more than 100 people did, which she said is a strong number for their community events.
While she was talking about the watch parties, Bone said she had thought about what would happen if the Golden Knights won the Stanley Cup and what it would mean for Whitecloud to have his day with the Cup in their community.
"It would be a huge event for us and a huge celebration," Bone said. "Zach returns to the community during the summer months, and he was here for an annual power celebration. Him visiting and spending a few hours with people is a big deal. There was a line of people wanting photographs, autographs or have him sign whatever memorabilia and meet with him and have a chat with him. It's definitely going to be a huge event if that happens."