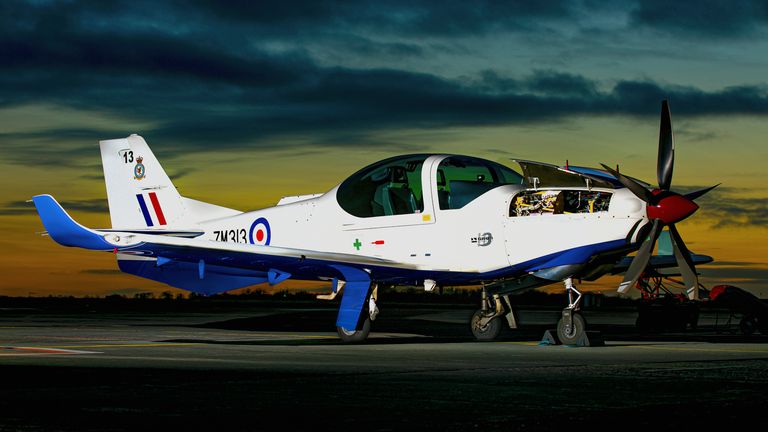 Trainee Royal Air Force pilots will have to wait up to a year to start flying lessons as commanders work to fix chronic problems with training that have prompted some recruits to quit, Sky News has learnt.
A leaked document reveals a plan to reduce the flow of personnel into the initial phase of flying training to ease a logjam in the pipeline.
This is the elementary part of the programme Prime Minister Rishi Sunak has just announced will be opened up to Ukrainian pilots. They will not be affected.
The situation is particularly challenging for British fast jet recruits, with the RAF forced to ask other nations, including Italy, Spain and Saudi Arabia, for slots on their courses.
One trainee aviator, who eventually gave up on a military career after spending so long stuck in limbo waiting for training, said: "I and the majority of aircrew are resentful at having had our time wasted through shoddy organisation in a service that doesn't value its personnel."
Speaking on condition of anonymity, they added: "I am not alone in feeling massively let down by senior officers after we've given up so much personally to serve UK security."
Sky News revealed last year that hundreds of trainees were spending months – sometimes years – on hold, waiting to progress through the training system.
This was despite Defence Secretary Ben Wallace telling Air Chief Marshal Sir Mike Wigston, the head of the air force, that his only priority was to fix flying training when took on the role in 2019.
The delays were caused by a variety of factors, including engine issues on a fast jet training aircraft and a "damaging drain" of flying instructors quitting the military for jobs in industry.
Read more:
Training Ukrainian pilots could impact RAF's ability to teach British recruits
RAF boss ready to test 'the limit of the law' to improve diversity
Ultimately, a reduction in the capacity of the military flying training system (MFTS) over time in line with cuts to the size of the air force means the whole training pipeline – which was largely privatised around 15 years ago under a contract led by the defence company Lockheed Martin – is far more vulnerable to external shocks, multiple defence sources said.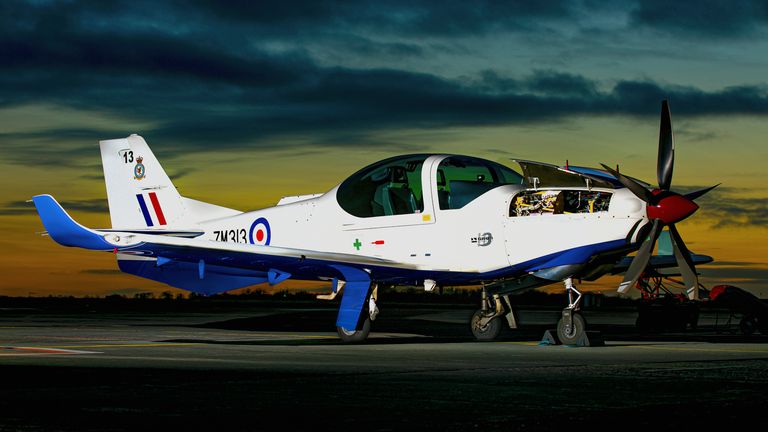 The leaked document – entitled "MFTS pipeline executive summary May 2023" – gave an update on the situation, listing improvements but admitting challenges remained.
It "isn't perfect yet and many of you are still experiencing holds for longer that I would wish", according to the 11-page report, written by a commander whose name was not given.
The file revealed that out of 770 aircrew trainees, almost two-thirds – some 490 personnel – are in between courses or holding. The figure comprised pilots and rear crew.
The RAF said the number of so-called "holdies" – personnel waiting for courses – was a reduction from a year ago and that the hold time is shorter.
A message from RAF career management, included in the report, thanked recruits for their "unwavering patience, cooperation and understanding".
"We know that the process of flying training can be both challenging and rewarding, but it can also be frustrating at times. Your willingness to work through these challenges with us has not gone unnoticed… The current situation is a lot better than it was in August 2022."
'It's been a complete, embarrassing mess'
However, a defence source with knowledge of the delays, said: "It's been a clusterf***."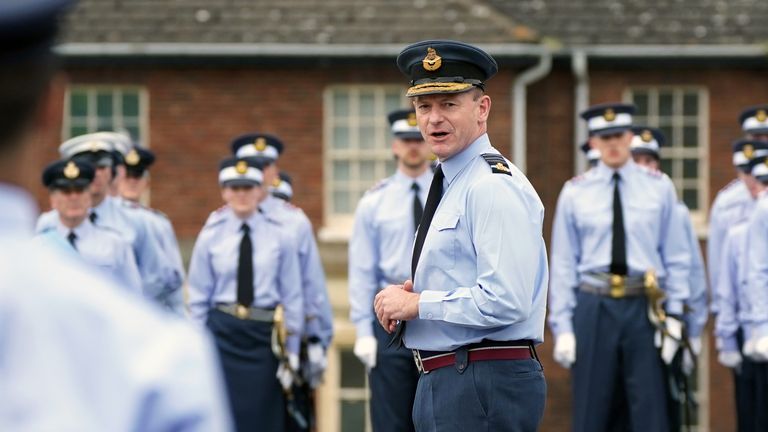 The source, speaking anonymously, criticised how the chief of the air staff, who is due to retire next week after almost four years in charge, has dealt with the crisis.
"Like everything else, it's always someone else's fault and there is no accountability," the source said.
"It's been a shambles since he took over and remains a complete, embarrassing mess."
Persistent delays
A second, informed defence source, also speaking anonymously, said persistent delays over many years meant the average age of a new pilot in a frontline squadron was now nearly 30 compared with being in their early 20s.
He said this was something "no senior officer ever wants to address… You have f***** up people's development and career progression".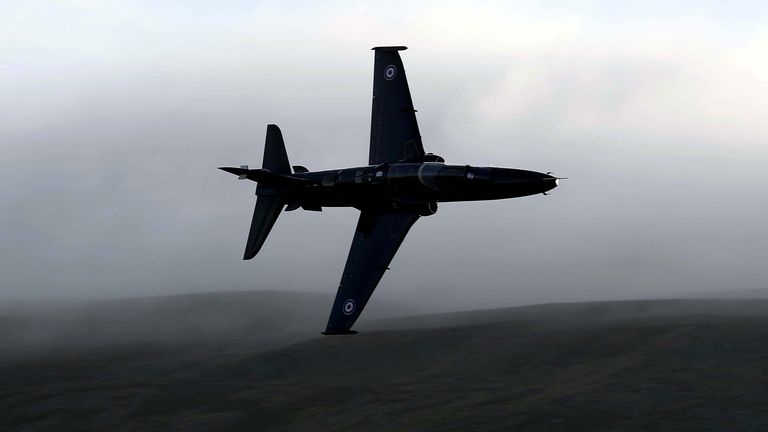 The document offered an update on all aspects of flying training across the RAF, Royal Navy and Army – from basic training to learning how to operate fast jets, helicopters and other aircraft such as transport and spy planes.
It described a number of "pipeline optimisation initiatives" to reduce the length of time people are on hold, but warned: "The optimisation initiatives are not instantaneous, time is required to ensure the pipelines can properly stabilise meaning that for the next 12-18-months there will still be holds in some parts of the pipeline that are longer that I would wish."
'Reducing inflow of trainees'
A particular focus was on beginners – those who have completed modular initial officer training (MIOT) and are ready to start elementary flying training (EFT).
"We have taken the conscious decision to optimise the pipeline by temporarily reducing the inflow of trainees to EFT," the document said.
"For RAF pilots this will mean an increase in the post MIOT hold whilst EFT loading is moderated between October 2023 and March 2024.
"For some exiting MIOT this financial year this may mean a pre-EFT hold of up to 12 months, but this is a temporary measure and holds will rapidly reduce from March 2024."
The move is aimed at "stabilising the entire training pipeline by next year".
Outsourcing fast jet training
But problems look set to persist for anyone wanting to go on to fly Typhoon or F35 Lightning II fast jets because of ongoing engine woes with the Hawk training aircraft.
"I would ask for patience from those of you within the FJ pipeline as this work progresses – there will be impacts to some class numbers and dates going forward but we are doing our best to ensure that these are minimal," the document said.
What happened on Zelenskyy's visit?

A key mitigation appears to be outsourcing British fast jet flying training to allies, including four slots a year for the next three years at Italy's fighter pilot school in Sardinia from this summer.
"The team continue to investigate other overseas training options including Canada, Saudi Arabia and Spain," the document said.
It all comes as the UK prepares to start giving Ukrainian pilots elementary flying training as part of an effort by allies to help Kyiv operate western fast jets to combat Russia's invasion.
The RAF said that this offer would not impact the training of British pilots.
System 'wholly unfit for service'
However, the former trainee aviator, said he believed the entire UK flying training system "is wholly unfit for service".
"We receive far fewer training hours impacting our flying ability and this is compounded by mundane waiting times of years between flying courses, spent at desks doing mind-numbing work," the individual said.
"There is a feeling among pilots that decisions are made on a politically-correct agenda by a stagnant, management consultant-esque senior leadership, hiding behind laptops, rather than the ambitious, operationally-minded military commanders we, the RAF and the UK deserve… I left because I no longer had an air force I was proud to serve."
Proactive measures
Asked about the criticism of the flying training system, an RAF spokesperson said: "The UK military flying training system continues to deliver the right number and highest standard of aircrew to the front line.
"Criticism of the system, focused on individual views and historical issues, ignores the variety of proactive measures that have been introduced and that both holding and training times have reduced and will continue to do so.
"The facts are that the training pipeline continues to deliver the aircrew we need, when we need them, enabling the RAF to deliver exceptional air power on operations around the globe."
'Embarrassed'
But Howard Wheeldon, a defence analyst with specialist knowledge on the RAF, said flying training remained problematic even as Air Chief Marshal Wigston prepares to retire, with Air Chief Marshal Sir Richard Knighton due to take over as service chief from the start of June.
"I would say that the situation that he's passing on to his successor is one that he would have been very, very embarrassed to have found when he took office," Mr Wheeldon said.
"So, in other words, we're not in a good position. There's a long, long way to go."
Prince Harry in court: William's prank call, strip club visit, and Chelsy Davy break-up – duke faces more questions from Mirror publisher's lawyer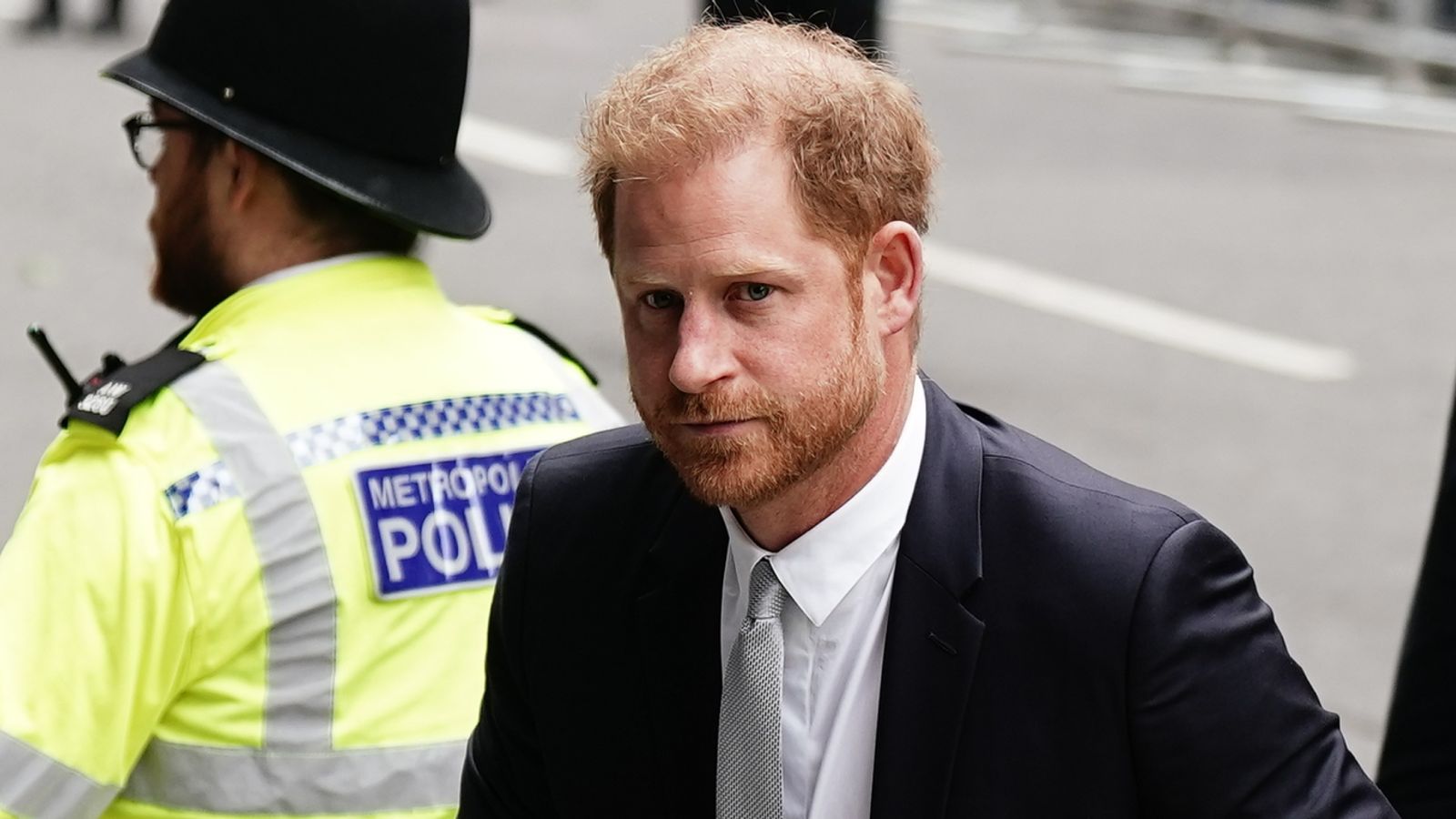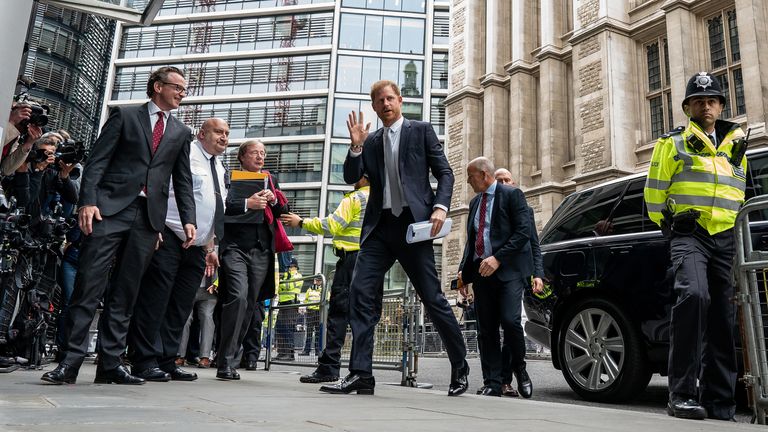 Prince Harry has answered questions about a prank voicemail left by his brother William, a visit to a strip club, and his break-up with Chelsy Davy, in his second day giving evidence at the High Court.
Harry was also asked if he would be "disappointed" should the court not find in his favour and decide details about his private life were not obtained by phone hacking by Mirror Group Newspapers (MGN) journalists.
The Duke of Sussex said he would be "speculating", but when pushed further he replied to say he would "feel some injustice".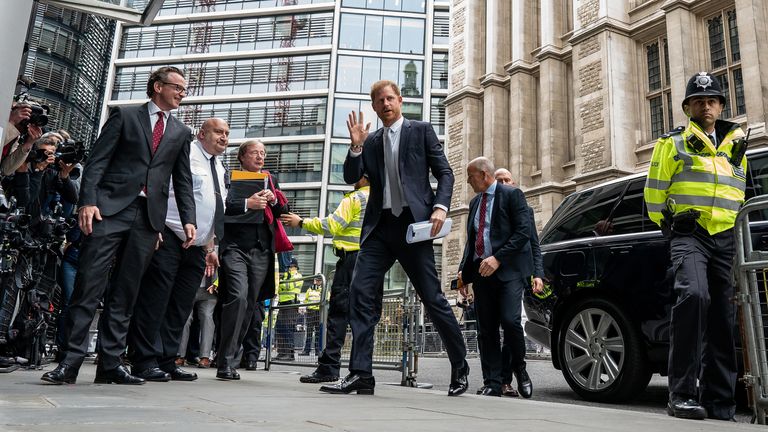 Harry told the court: "I believe that phone hacking was [done] on an industrial scale across at least three of the papers at the time… that is beyond any doubt.
"To have a decision against me and any of the other people [bringing a claim], given that Mirror Group have admitted hacking [in relation to other cases], yes it would feel like an injustice… if it wasn't accepted."
Andrew Green KC, representing MGN, then asked the duke: "So you want to have been phone hacked?".
"Nobody wants to be phone hacked," he replied.
In 2014, MGN admitted liability in four cases of phone hacking, and since then has settled dozens of claims, with stars including Hugh Grant and Sienna Miller. The publisher denies the allegations made by Harry.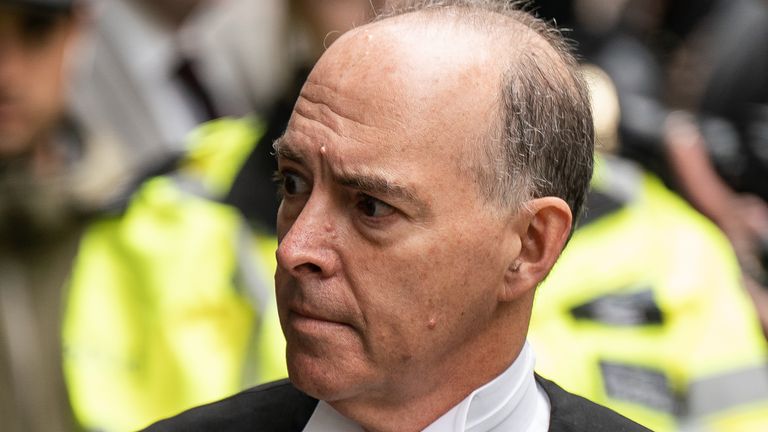 Harry arrived outside the court's Rolls Building in central London in a black Range Rover shortly before 10am, wearing a dark suit and silver tie, before entering the witness box again after nearly five hours of cross-examination on Tuesday.
His witness statement has also been released, containing the full details of all his allegations against MGN, publisher of the Daily Mirror and other titles – a lawsuit that makes him the first senior royal to give evidence in a UK court in more in than 100 years.
After resuming his questioning this morning, Mr Green asked Harry about an article headlined "Chel Shocked", published in the People in 2006, which reports how his then girlfriend Ms Davy was angry about the royal allegedly receiving a lap dance during a night out with cadet friends.
In his witness statement, Harry said he does not remember Ms Davy being mad at him. "We did speak about it over the phone, but I promised her that I hadn't had a lap dance and stayed with the three other cadets that had girlfriends," he wrote.
Speaking in court, Harry said parts of the article were "factually incorrect" – including a reference to a "tall statuesque blonde" who bore a "striking resemblance" to Ms Davy.
Mr Green put it to Harry that many MGN stories included as part of his case contained information that was already available elsewhere, including in articles by rival news outlets.
One story published by the now defunct News Of The World at the time contained details of a voicemail left by Prince William to Harry, mimicking Ms Davy's "high-pitched" accent, the barrister told the court – saying this was an "important step" to police arresting Clive Goodman, the then royal editor at the News Of The World, and private investigator Glenn Mulcaire, over royal phone hacking.
Harry said he was aware of this.
Mr Green also asked about an article headlined "Hooray Harry's dumped" – which the duke said was "hurtful to say the least" and that "such a private moment was turned into a bit of a laugh".
The barrister said the "Hooray" name had been used to describe the royal in previous stories and "was not celebrating the demise of your relationship."
Pop star appears outside Harry court case
Before today's evidence began, former East 17 star Brian Harvey turned up outside court, shouting about corruption.
He told Sky News that he too was a victim of phone hacking, and that the media is "a joke".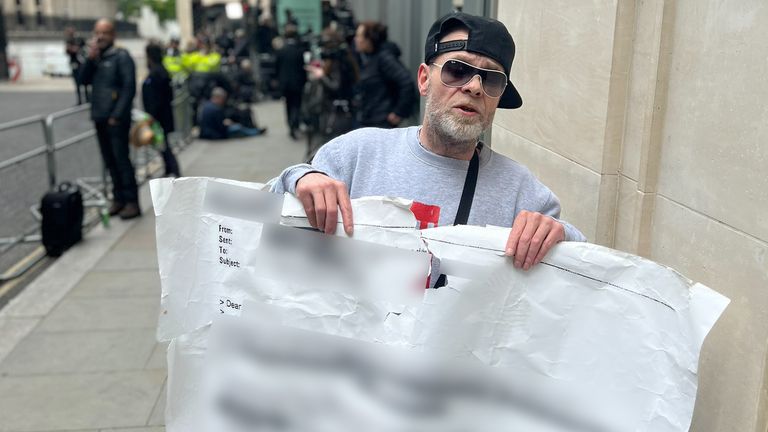 During his first day in court, Harry criticised Piers Morgan, and said in his witness statement that he felt "physically sick" at the thought of the former Mirror editor and his "band of journalists" allegedly "earwigging" on his mother Princess Diana's messages.
Morgan later told Sky News he did not see any of Harry's comments, but added: "I wish him luck with his privacy campaign and look forward to reading about it in his next book."
Piers Morgan reacts to Harry's claims

As part of our special programmes on the case, Sky News is transcribing Harry's evidence and recreating his court appearance with an actor.
The royal is suing MGN, attempting to prove that reporters for the Mirror, Sunday Mirror and Sunday People titles were linked to methods including phone hacking, so-called "blagging" or gaining information by deception, and use of private investigators, between 1996 and 2010.
He claims about 140 articles contained information gathered using unlawful methods, and 33 of these have been selected to be considered at the trial.
Harry's 'distress' at press coverage

MGN is contesting the claims and has either denied or not admitted each of them. The publisher also argues that some of the claimants have brought their legal action too late.
Read more:
Duke was calm on day one – but there's much more to come
Which articles have been brought up in the duke's case?
The key people named in Prince Harry's witness statement
As well as Harry, there are three other representative claimants involved in the case: Coronation Street actor Michael Turner, known professionally as Michael Le Vell, who is best known for playing Kevin Webster; Hollyoaks and former Coronation Street actress Nikki Sanderson; and comedian Paul Whitehouse's ex-wife Fiona Wightman.
They are representative of more than 100 claimants overall, including singer and TV star Cheryl, ex-footballer and pundit Ian Wright, and the estate of the late George Michael.
Harry In Court – watch special programme on Sky News tonight at 9pm
Cyber gang issues ultimatum to BBC, BA and Boots after hack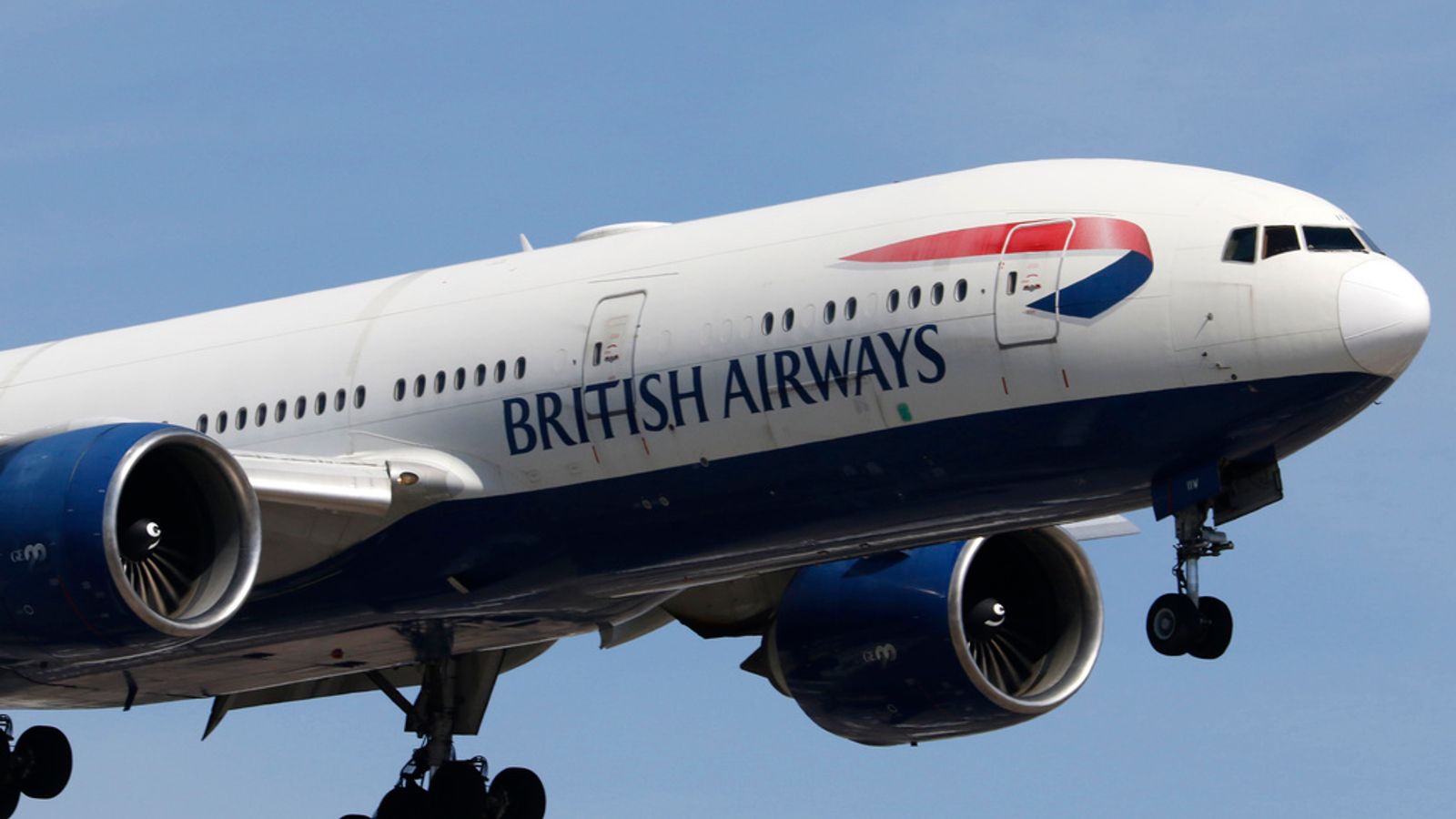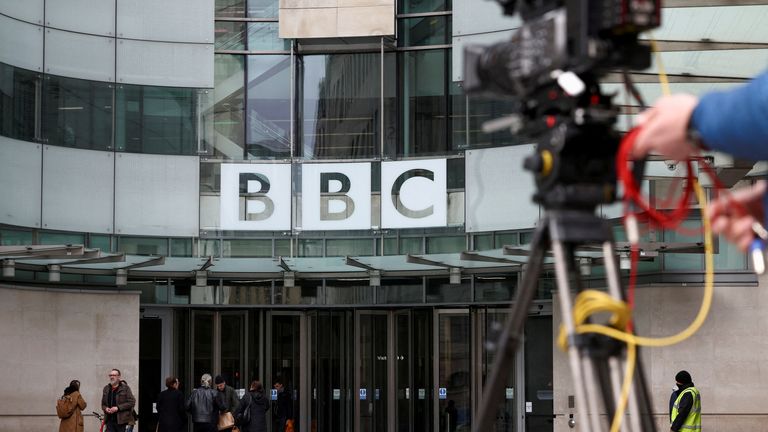 The gang thought to have carried out a cyber attack on companies including BA and Boots has given victims a deadline to negotiate or have the hacked information published online.
The suspected Russian group Clop, which claimed responsibility for the attack, issued the notice on the dark web to victims of the MOVEit software hack.
Personal data of more than 100,000 employees was accessed in the attack, including bank and contact details.
In a dark web blog post, Clop told victims to email and negotiate with the group by 14 June, the BBC reported.
The BBC itself was impacted by the attack, as was airline Aer Lingus.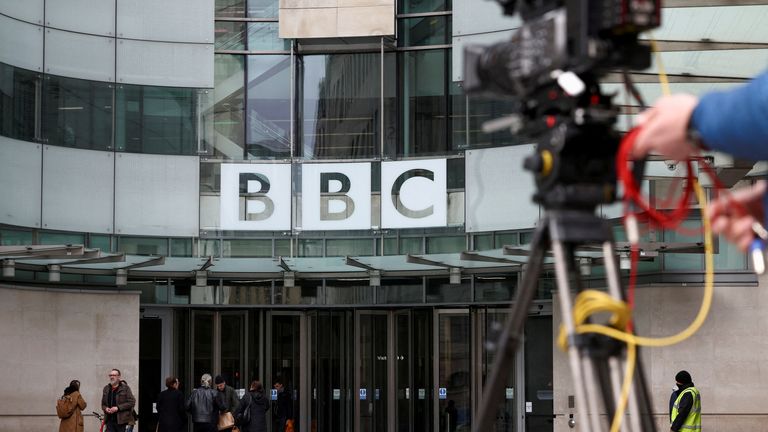 More victims have emerged, including the University of Rochester in New York. The government of Nova Scotia in Canada also said it was subjected to the attack.
Clop has reportedly claimed it has deleted any data from government, city or police services, saying: "Do not worry, we erased your data you do not need to contact us. We have no interest to expose such information."
Workers hit by cyber security breach

Payroll software company Zellis – which used the MOVEit software that resulted in BA, BBC and Aer Lingus staff having their data accessed – said eight of its customers were hit but did not name them.
Other Zellis customers include Jaguar Land Rover, Harrods and Dyson.
Potentially hundreds of companies using the popular MOVEit business software may be impacted.
Read more:
Origins of cyber attack 'appear to have Russian links' – analysis
A weak link in MOVEit code – a so-called zero day vulnerability – enabled hackers to access its servers and the personal and financial data of employees.
The group's motivations are unclear so far. It claimed responsibility in an email to Reuters news agency on Monday.
A MOVEit spokesperson said: "Our customers have been, and will always be, our top priority. When we discovered the vulnerability, we promptly launched an investigation, alerted MOVEit customers about the issue and provided immediate mitigation steps."
They added: "We are continuing to work with industry-leading cybersecurity experts to investigate the issue and ensure we take all appropriate response measures. We have engaged with federal law enforcement and other agencies with respect to the vulnerability."
Boy, 14, dies after 'playground incident' at school in West Lothian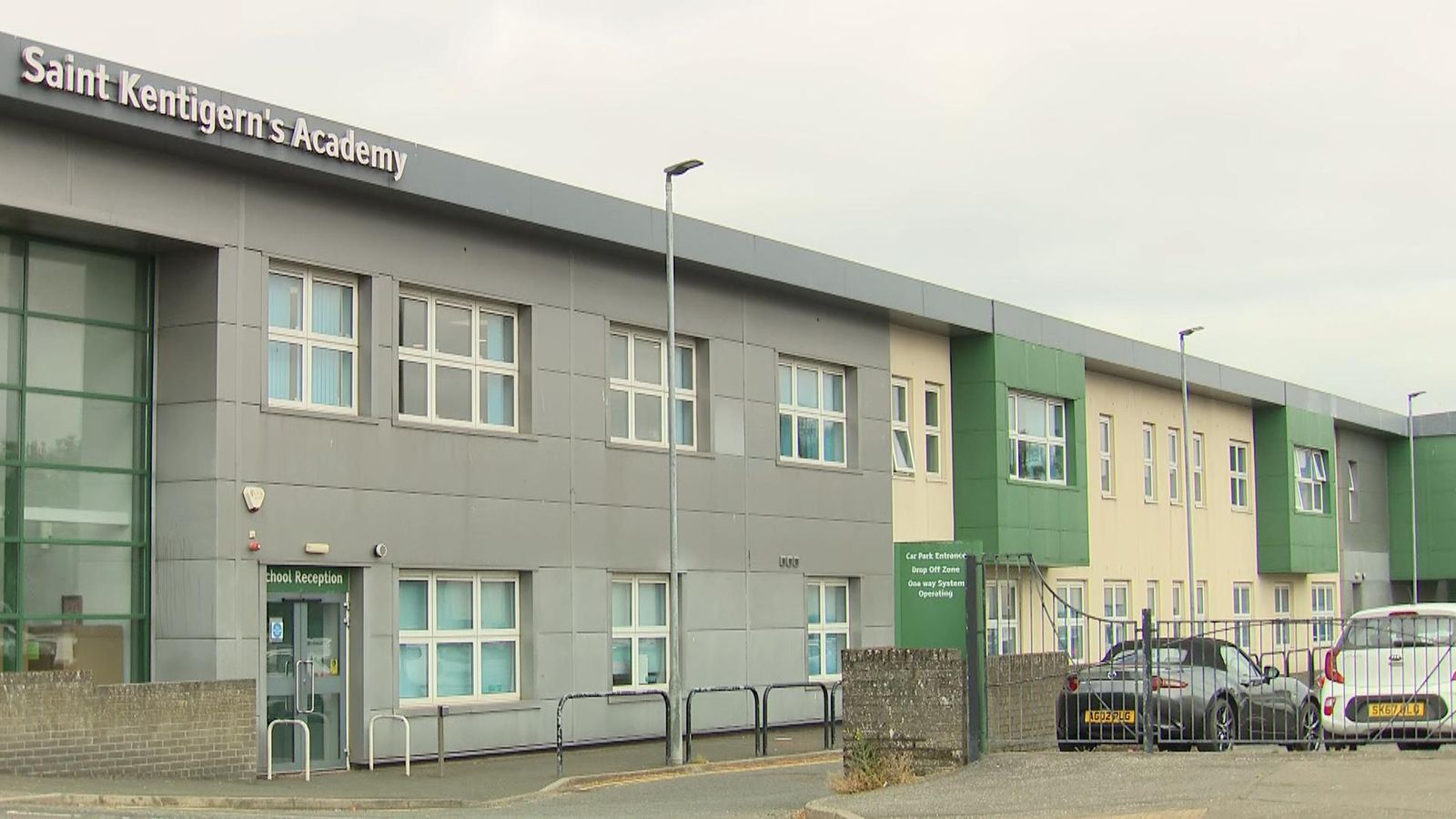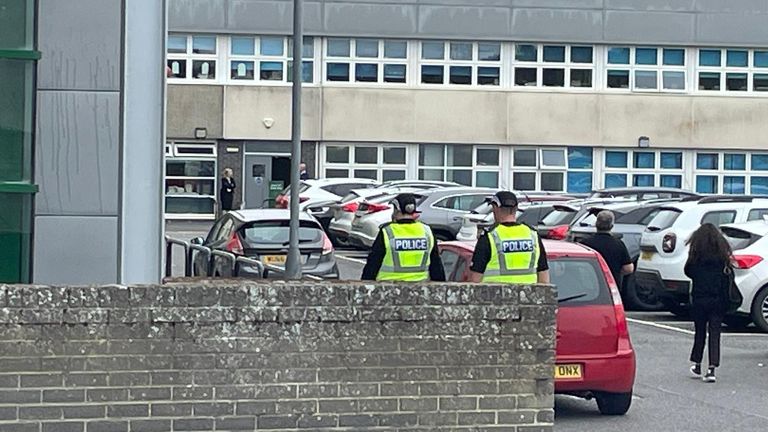 A 14-year-old boy has died following a playground incident between two pupils at a school in West Lothian, Sky News understands.
Emergency services were called to Kentigern's Academy in Blackburn, West Lothian, on Tuesday afternoon.
The teenager, who has not yet been identified, was taken by ambulance to hospital for treatment but died a short time later.
Detectives met education authorities on Wednesday morning to discuss the pupil's death, as other students continue to receive emotional support.
Police sources have said the incident was not part of an "online challenge" amid social media speculation within the community that it was a so-called "tap out" game.
Sky News understands there is "no criminality" involved, however Police Scotland has refused to comment as investigations continue.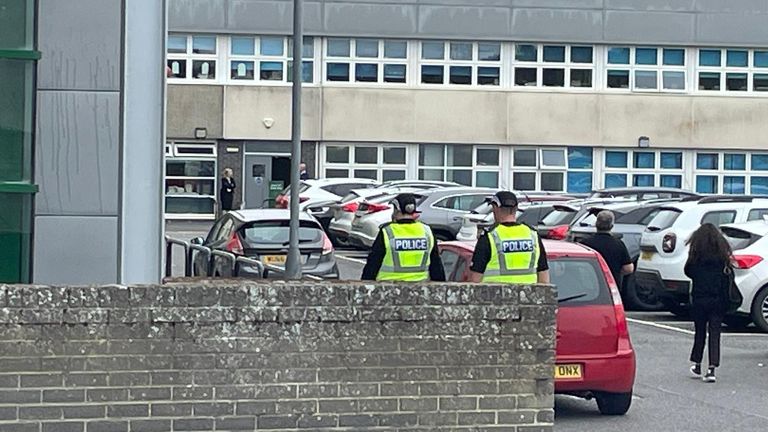 A force spokesperson said: "Around 1.20pm on Tuesday 6 June 2023, officers were called to a report of concern for a 14-year-old boy at a school in the Bathgate area.
"He was taken by ambulance to hospital for treatment, but died a short time later.
"His family have been informed and enquiries are ongoing to establish the full circumstances of the death."
The school, where singer Lewis Capaldi was once a pupil, previously said there was an "isolated incident" within the grounds.
Headteacher Andrew Sharkey said: "We have set up ongoing emotional support and signposting for students and staff affected by this tragic news.
"We would like to respect the family's privacy at this incredibly painful time."
Mr Sharkey confirmed that the school was assisting the relevant authorities and would not be making any further comment at this time.
Local MSP Fiona Hyslop said: "My deepest condolences are with the family and friends of the pupil who has died. I hope those closest to him are given the privacy they deserve at this tragic time.
"This will be an incredibly difficult time for everyone – not least the pupils, teachers and staff at St Kentigern's Academy.
"The support being offered at the school will be crucially important right now – and, in my capacity as their MSP, I will do everything I can to help the community through this awful situation."
West Lothian councillors Jim Dickson and Mary Dickson said they were "devastated" along with the community over the schoolboy's death.
They added: "Our thoughts and prayers are with the family and friends."