The Little Mermaid – the cartoon feature-film based on Hans Christian Andersen's story about a mermaid desperate for life on land – was credited with kicking off Disney's renaissance in 1989, a period when the company returned to making successful animated movies following something of a slump.
Half set underwater, with big musical numbers and aquatic creatures mixed in with mythical ones as well as those on land, making a live-action version was no mean feat.
The casting of the lead character Ariel had to be right – not only did the actress have to convincingly act as a mermaid, but they would also need to perform beloved songs and spend much of the movie without a voice at all.
Enter popstar Halle Bailey – who with her sister Chloe is one of half of the pop duo Chloe x Halle – was the first person to audition for the role and ultimately the only one to win it.
But her casting led to a racist backlash, with those behind it seemingly ready to believe in mermaids, but only if they are white.
Javier Bardem, who plays Ariel's father King Triton, is dismissive of anyone who disagrees with Bailey's casting.
"I don't think we need to give any voice to that," he told Sky News's Backstage podcast.
"Seeing it, she's so technically superior, she's such an amazing actress, her voice is just ridiculous, but I think what makes her so incredibly watchable and you feel like you're always with her is her kindness as a human," agreed Melissa McCarthy, who plays the sea witch Ursula.
"There's just a little bit of magic in her and I think you feel that, you can't deny it and I can't imagine any other human or fish playing Ariel."
Click to subscribe to Backstage wherever you get your podcasts
For director Rob Marshall it was frustrating to see Bailey being judged before anyone had seen her in the role.
"When we cast her there was no agenda, we weren't looking for a woman of colour, we saw every ethnicity for the role – we just wanted to find the best Ariel," he told Backstage.
"That was all we cared about and she was the one, it was just so clear, and so I thought these people are so small-minded, to me it feels archaic we're even discussing skin colour in this era – it's like from another century."
"I thought, you know what, just come see the film, in my head I was like, you will see that she's Ariel, there's no question about that, and I'm excited for people to see her."
Read more:
Backstage With… Florence Pugh and Zach Braff
Backstage With… Jennifer Garner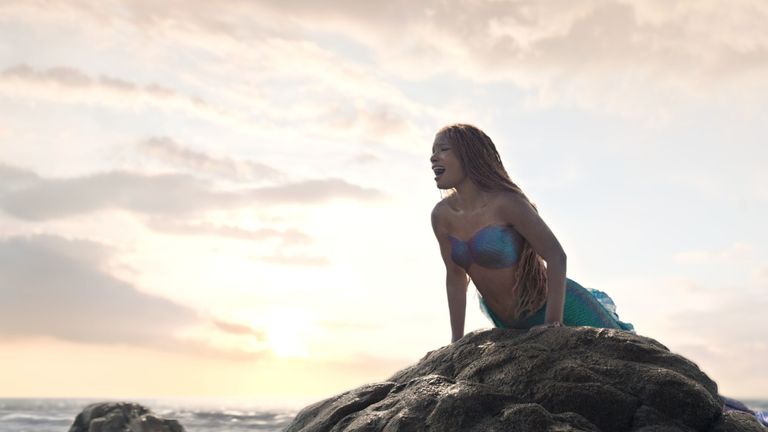 For the other actors playing roles that loom large in many people's childhoods was a balance between paying tribute to what came before and refreshing and modernising for the new movie.
The original Ursula was said to be inspired by the US drag queen Divine and McCarthy says she was definitely inspired by drag for her own performance.
Ursula in The Little Mermaid based on Divine

"I've always been a big fan of drag since high school – it's such an incredible art form and it's been around forever and there's something to that kind of unapologetic, bigger than life, I'm right in your face, I shall not apologise," she said.
"But also it's a front for things, so yes, it's a homage to a certain type of woman, but you're also kind of poking fun at that type of woman.
"It's a balancing act and there's always a drag queen in my heart for all my parts."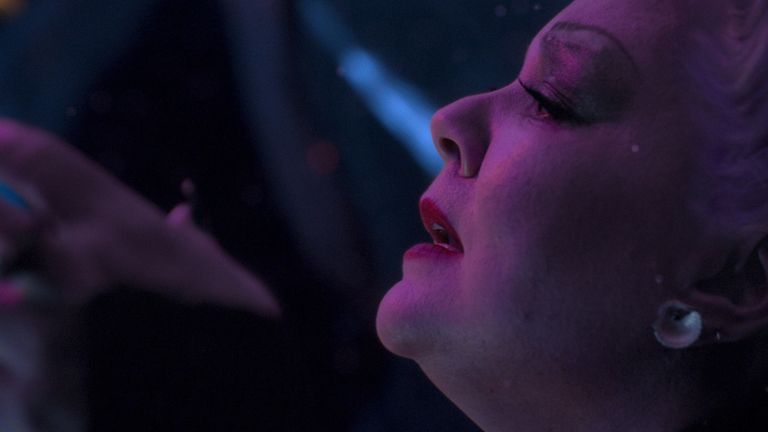 For Hamilton star Daveed Diggs who plays King Triton's advisor – a crab called Sebastian, he was aware that he didn't want to simply do an impression of the character's original voice actor Samuel E Wright.
"I was super worried about it until the day we started," he admitted.
"And then it was very clear that Rob [Marshall] was creating an atmosphere where he really wanted us to bring new things to it and the whole team like Alan [Menken – who did the film's music] too, every time we were doing anything, it was like, really find what works for you."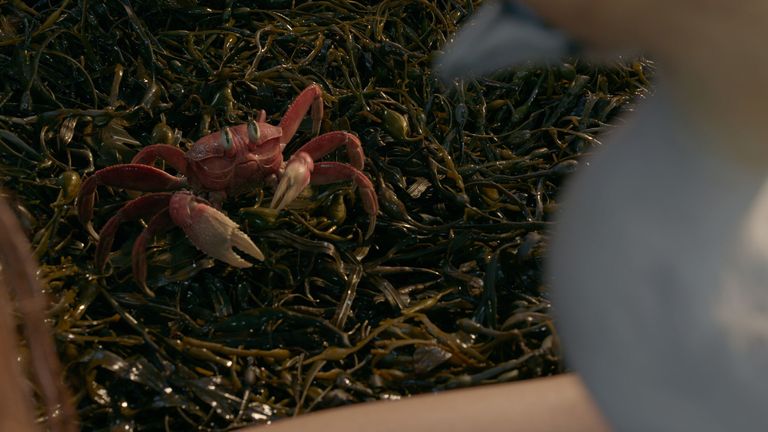 He added: "Everybody attached to this thing is such a fan of the original, so all of that was coming into it, we were getting all that for free, all of the like reverence for this film that we all love, and then they really pushed us to also figure out what our version is."
Making The Little Mermaid was a huge undertaking with the actors put on specially devised rigs in order to make them look as though they were moving underwater.
And rather than the voice cast of characters such as Sebastian or the fish Flounder being locked away in a booth far from set, they were also present during filming.
For Bardem having Diggs in the room as well as models of the character made a big difference in his performance.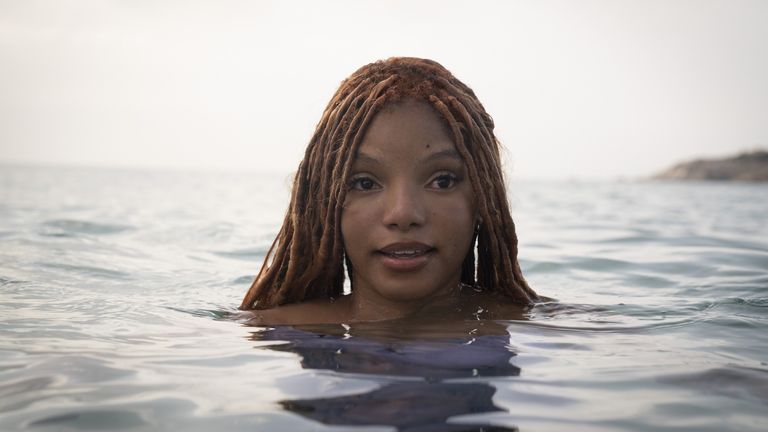 He said: "There were puppeteers and also there were toys. Toys! I was playing with toys!
"But Daveed was there too, to say the lines, so you will play the scene with the actor who's playing Sebastian, which is amazing.
"The scene will evolve and we'll go to different places because you have two actors playing it rather than following just one voice."
The Little Mermaid is out in cinemas in the UK.
Prince Harry in court: William's prank call, strip club visit, and Chelsy Davy break-up – duke faces more questions from Mirror publisher's lawyer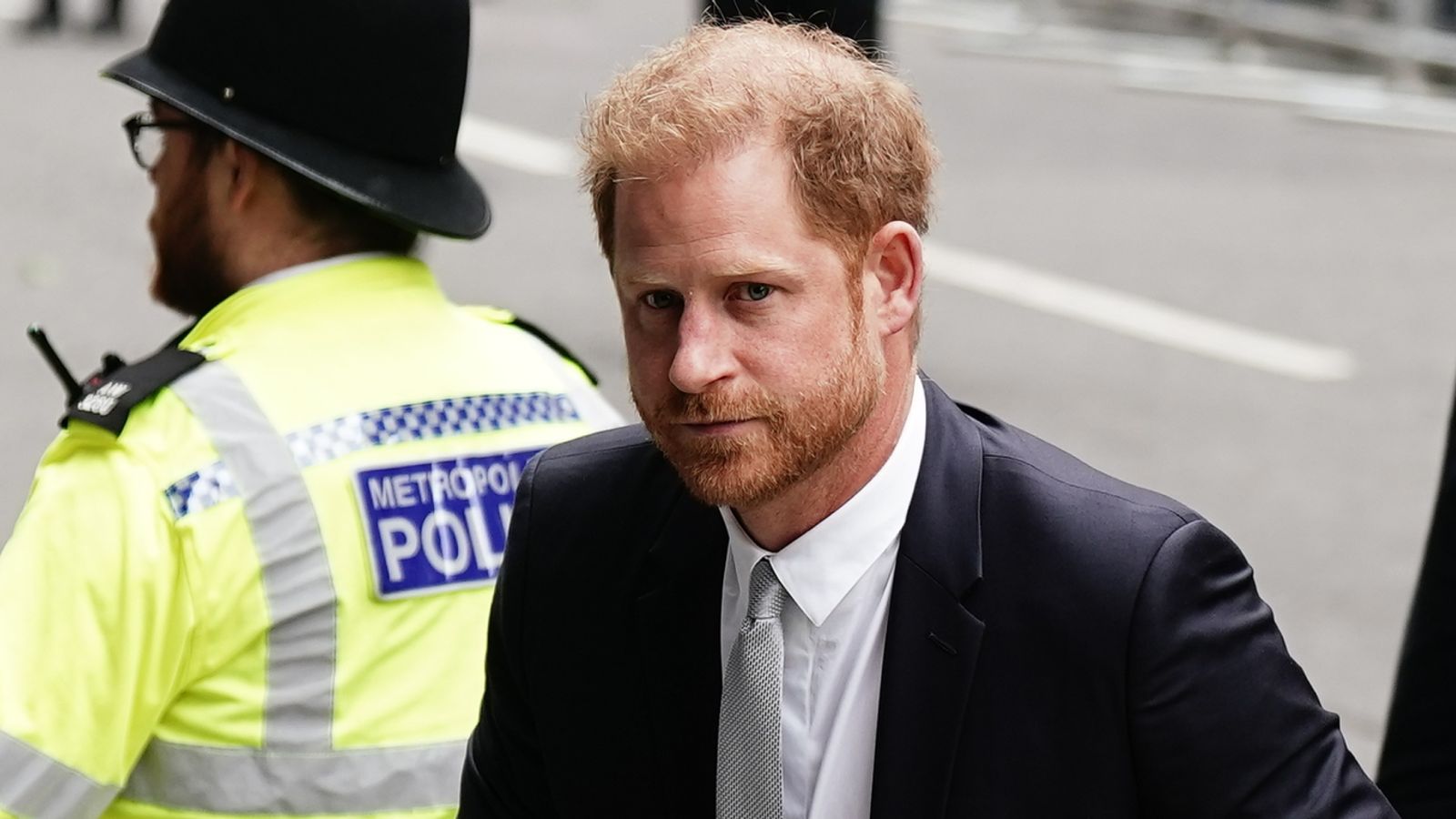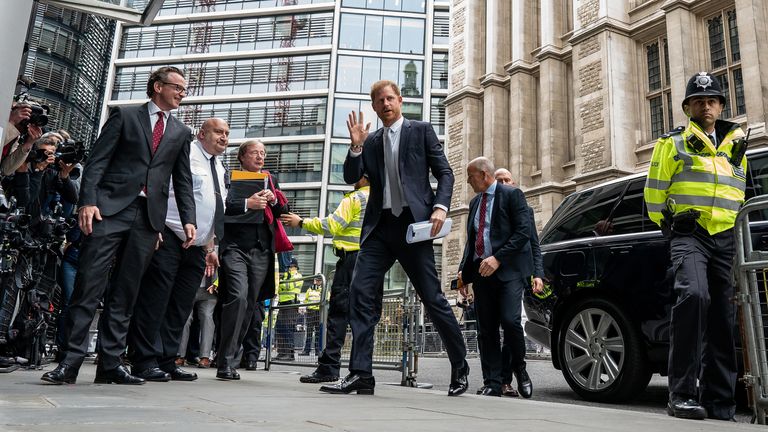 Prince Harry has answered questions about a prank voicemail left by his brother William, a visit to a strip club, and his break-up with Chelsy Davy, in his second day giving evidence at the High Court.
Harry was also asked if he would be "disappointed" should the court not find in his favour and decide details about his private life were not obtained by phone hacking by Mirror Group Newspapers (MGN) journalists.
The Duke of Sussex said he would be "speculating", but when pushed further he replied to say he would "feel some injustice".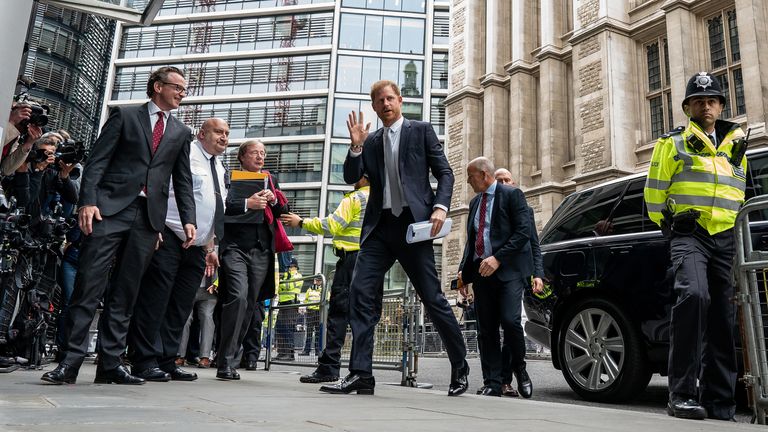 Harry told the court: "I believe that phone hacking was [done] on an industrial scale across at least three of the papers at the time… that is beyond any doubt.
"To have a decision against me and any of the other people [bringing a claim], given that Mirror Group have admitted hacking [in relation to other cases], yes it would feel like an injustice… if it wasn't accepted."
Andrew Green KC, representing MGN, then asked the duke: "So you want to have been phone hacked?".
"Nobody wants to be phone hacked," he replied.
In 2014, MGN admitted liability in four cases of phone hacking, and since then has settled dozens of claims, with stars including Hugh Grant and Sienna Miller. The publisher denies the allegations made by Harry.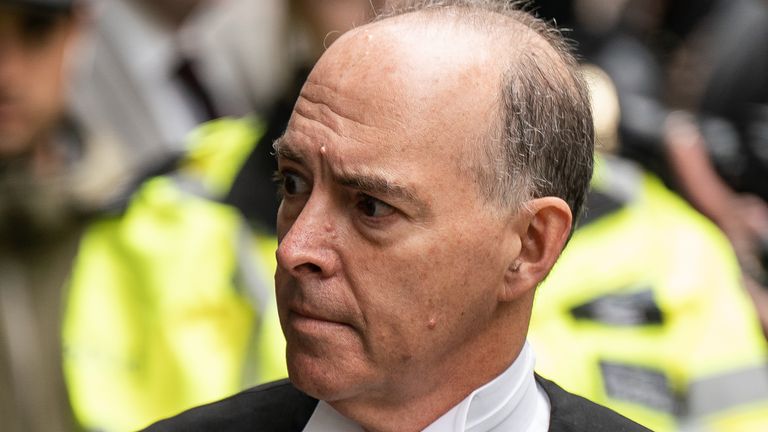 Harry arrived outside the court's Rolls Building in central London in a black Range Rover shortly before 10am, wearing a dark suit and silver tie, before entering the witness box again after nearly five hours of cross-examination on Tuesday.
His witness statement has also been released, containing the full details of all his allegations against MGN, publisher of the Daily Mirror and other titles – a lawsuit that makes him the first senior royal to give evidence in a UK court in more in than 100 years.
After resuming his questioning this morning, Mr Green asked Harry about an article headlined "Chel Shocked", published in the People in 2006, which reports how his then girlfriend Ms Davy was angry about the royal allegedly receiving a lap dance during a night out with cadet friends.
In his witness statement, Harry said he does not remember Ms Davy being mad at him. "We did speak about it over the phone, but I promised her that I hadn't had a lap dance and stayed with the three other cadets that had girlfriends," he wrote.
Speaking in court, Harry said parts of the article were "factually incorrect" – including a reference to a "tall statuesque blonde" who bore a "striking resemblance" to Ms Davy.
Mr Green put it to Harry that many MGN stories included as part of his case contained information that was already available elsewhere, including in articles by rival news outlets.
One story published by the now defunct News Of The World at the time contained details of a voicemail left by Prince William to Harry, mimicking Ms Davy's "high-pitched" accent, the barrister told the court – saying this was an "important step" to police arresting Clive Goodman, the then royal editor at the News Of The World, and private investigator Glenn Mulcaire, over royal phone hacking.
Harry said he was aware of this.
Mr Green also asked about an article headlined "Hooray Harry's dumped" – which the duke said was "hurtful to say the least" and that "such a private moment was turned into a bit of a laugh".
The barrister said the "Hooray" name had been used to describe the royal in previous stories and "was not celebrating the demise of your relationship."
Pop star appears outside Harry court case
Before today's evidence began, former East 17 star Brian Harvey turned up outside court, shouting about corruption.
He told Sky News that he too was a victim of phone hacking, and that the media is "a joke".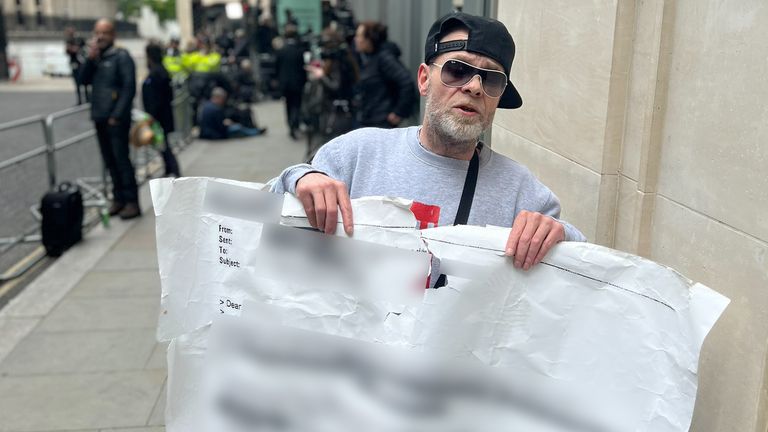 During his first day in court, Harry criticised Piers Morgan, and said in his witness statement that he felt "physically sick" at the thought of the former Mirror editor and his "band of journalists" allegedly "earwigging" on his mother Princess Diana's messages.
Morgan later told Sky News he did not see any of Harry's comments, but added: "I wish him luck with his privacy campaign and look forward to reading about it in his next book."
Piers Morgan reacts to Harry's claims

As part of our special programmes on the case, Sky News is transcribing Harry's evidence and recreating his court appearance with an actor.
The royal is suing MGN, attempting to prove that reporters for the Mirror, Sunday Mirror and Sunday People titles were linked to methods including phone hacking, so-called "blagging" or gaining information by deception, and use of private investigators, between 1996 and 2010.
He claims about 140 articles contained information gathered using unlawful methods, and 33 of these have been selected to be considered at the trial.
Harry's 'distress' at press coverage

MGN is contesting the claims and has either denied or not admitted each of them. The publisher also argues that some of the claimants have brought their legal action too late.
Read more:
Duke was calm on day one – but there's much more to come
Which articles have been brought up in the duke's case?
The key people named in Prince Harry's witness statement
As well as Harry, there are three other representative claimants involved in the case: Coronation Street actor Michael Turner, known professionally as Michael Le Vell, who is best known for playing Kevin Webster; Hollyoaks and former Coronation Street actress Nikki Sanderson; and comedian Paul Whitehouse's ex-wife Fiona Wightman.
They are representative of more than 100 claimants overall, including singer and TV star Cheryl, ex-footballer and pundit Ian Wright, and the estate of the late George Michael.
Harry In Court – watch special programme on Sky News tonight at 9pm
'I'll read about it in his next book' – Piers Morgan hits back at Prince Harry's criticism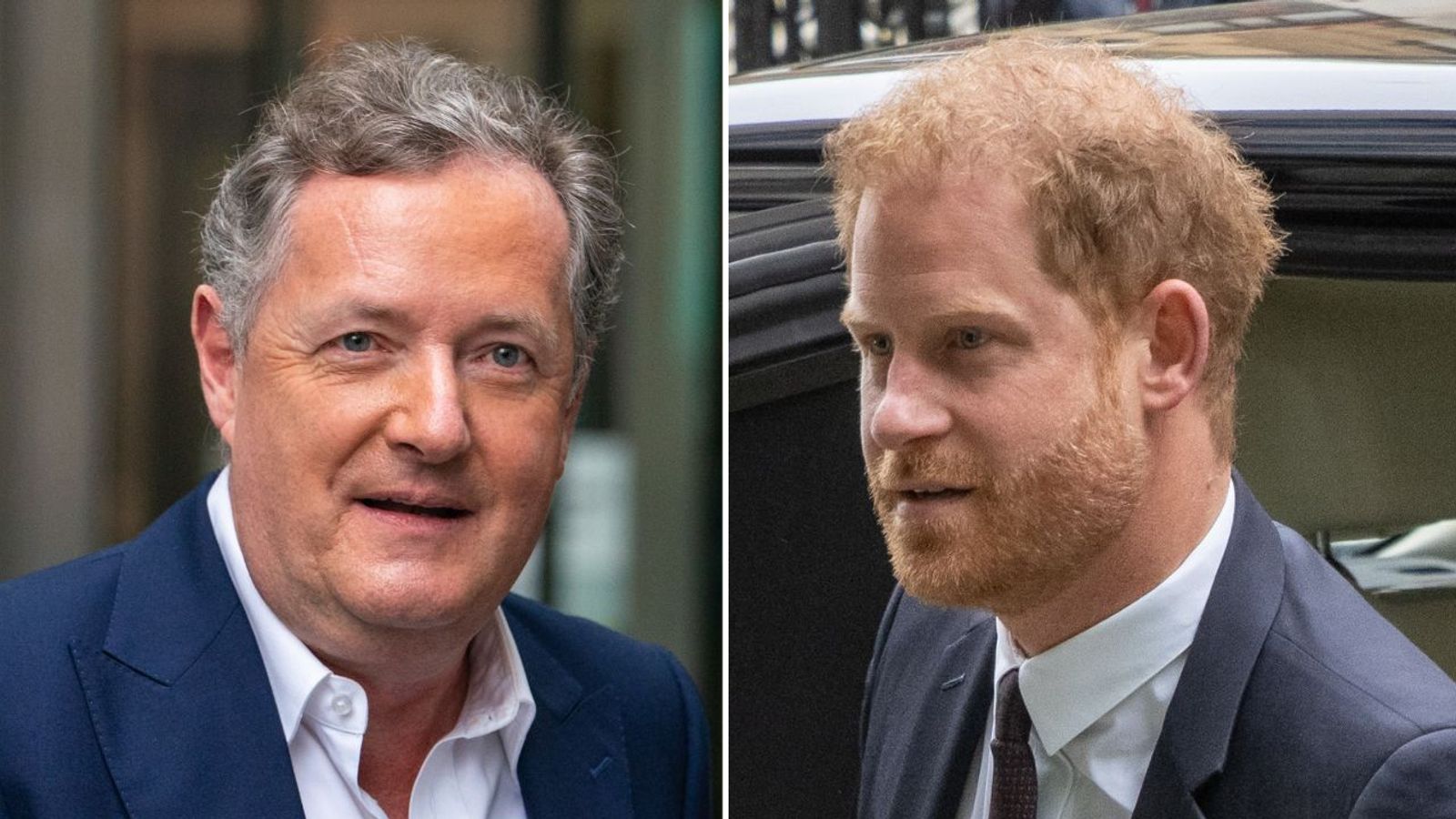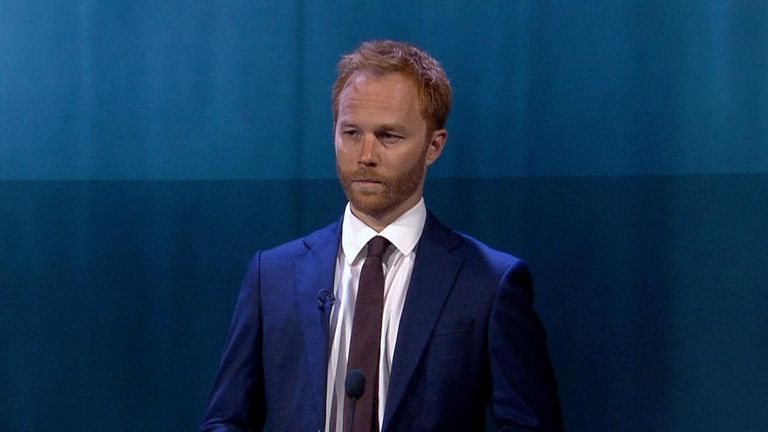 Piers Morgan has hit back at Prince Harry after receiving fierce criticism from the royal during his phone hacking trial.
The Duke of Sussex said the thought of the former editor of the Daily Mirror and his "band of journalists" earwigging on his mother's messages "makes me feel physically sick".
Morgan told Sky News he didn't see any of Harry's comments, but added: "I wish him luck with his privacy campaign and look forward to reading about it in his next book."
Harry in court: A reconstruction

Prince Harry's comments were written on page 12 of his 55-page witness statement, which claims that 33 articles written by papers owned by the Mirror Group Newspapers (MGN) involved unlawful information gathering by the publisher, including phone hacking.
Prince Harry court case as it happened
The Duke of Sussex wrote: "The thought of Piers Morgan and his band of journalists earwigging into my mother's private and sensitive messages (in the same way as they have me) and then having given her a 'nightmare time' three months prior to her death in Paris, makes me feel physically sick and even more determined to hold those responsible, including Mr Morgan, accountable for their vile and entirely unjustified behaviour."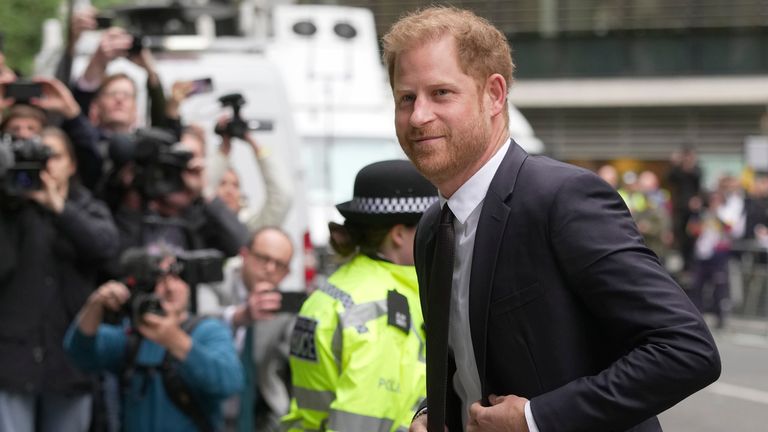 Yesterday, the High Court heard of allegations that Princess Diana's phone was hacked by the paper when it was under Morgan's supervision from 1995 to 2004.
Prince Harry's lawyer, David Sherborne, read aloud details of letters she wrote to comedian Michael Barrymore that revealed the pair had secret meetings, and that the Princess was supporting Barrymore who was "struggling with coming out as gay".
Analysing Harry's statement

He said that in Morgan's book, The Insider, he refers to "rumours" that Diana was "secretly comforting" Barrymore and that he was being treated for alcohol addiction.
Read more:
Which articles have been brought up in the duke's case?
The key people named in Prince Harry's witness statement
In his witness statement – paragraph 42 – Harry writes: "Mr Morgan's reference to 'secret' meetings, I can only assume that this information had been obtained via voicemail interception and/or other unlawful information gathering such as live land line tapping."
'Barrage of horrific personal attacks'
Morgan has always denied any involvement in, or knowledge of phone-hacking or other illegal activity, but has very publicly criticised both Harry and his wife, Meghan, in the past.
Later in the statement – paragraph 194 – Prince Harry accuses Morgan of inflicting a "barrage of horrific personal attacks and intimidation" on both him and Meghan.
"Unfortunately, as a consequence of me bringing my Mirror Group claim, both myself and my wife have been subjected to a barrage of horrific personal attacks and intimidation from Piers Morgan, who was the Editor of the Daily Mirror between 1995 and 2004, presumably in retaliation and in the hope that I will back down, before being able to hold him properly accountable for his unlawful activity towards both me and my mother during his editorship," he wrote.
Morgan's spokesperson had no comment on Harry's claims.
Piers Morgan Vs Harry and Meghan: A brief history
The Duke of Sussex today firmly put Piers Morgan in the spotlight for his alleged actions as editor of the Daily Mirror.
But Morgan's relationship with the royal couple has a complex history.
Morgan first met Meghan in 2016, before she met Prince Harry.
The pair "got on brilliantly" and "had a couple of dirty martinis" according to Morgan, who told RTE's The Late Late Show in 2019.
But their relationship quickly turned sour after Meghan met Harry, when Morgan accused the duchess of "ghosting" him.
"I just think she's a slight social climber," he told Late Late host Ryan Tubridy.
Morgan's criticism of the couple then escalated after their bombshell interview with Oprah Winfrey in March 2021, in which Meghan said she "didn't want to be alive anymore".
Reacting to the interview, Morgan said he "didn't believe a word" of it, while presenting ITV's Good Morning Britain (GMB).
His comments sparked furious outrage from the public, with 41,000 Ofcom complaints and mental health charity Mind stating they were "disappointed" by his comments.
Perhaps most famously of all, Morgan stormed off the set of GMB, and later left his role as presenter, after clashing with fellow presenter Alex Beresford about the interview.
Morgan maintained his opinion even after leaving the show, saying that he didn't believe "almost anything that comes out of her mouth" and that Meghan had done damage to the British monarchy.
"If I have to fall on my sword for expressing an honestly-held opinion about Meghan Markle and that diatribe of bilge that she came out with in that interview, so be it," he said in March 2021.
It also emerged that Meghan formally complained about Morgan before he left GMB.
The complaint was understood to focus on how Morgan's comments may affect the issue of mental health generally and those attempting to deal with their own problems.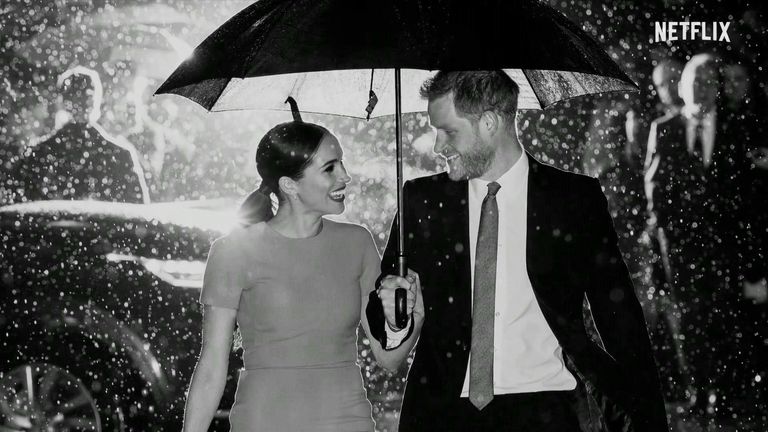 What has MGN said?
Previously, MGN, now owned by Reach, has admitted its titles were involved in phone hacking, settling more than 600
claims, but its lawyer, Andrew Green KC, has maintained that there was no evidence that Harry had ever been a victim.
As Prince Harry became the first British royal to appear in a witness box in more than a century, Mr Green claimed that his phone could not have been hacked when one of the articles was published as he did not have a mobile phone at the time.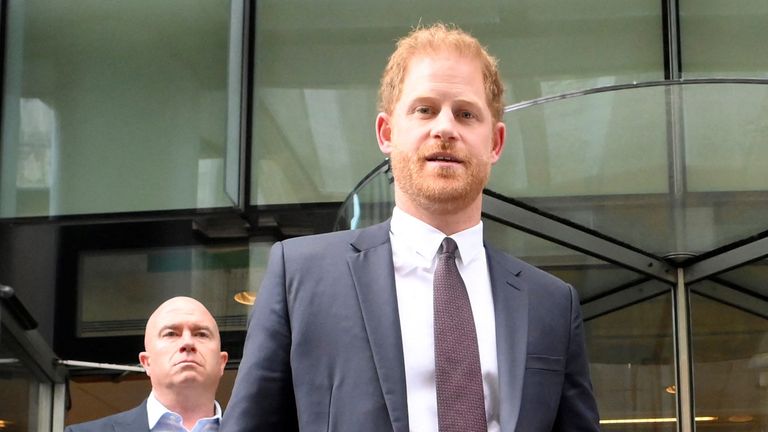 He also dismissed the claim that Diana's voicemails were hacked as "total speculation" and "without any evidential basis whatsoever".
Proceedings are due to conclude by the end of June, with Mr Justice Fancourt expected to give his written ruling later in the year.
Prince Harry to resume giving evidence in hacking case after blaming tabloids for 'inciting hatred'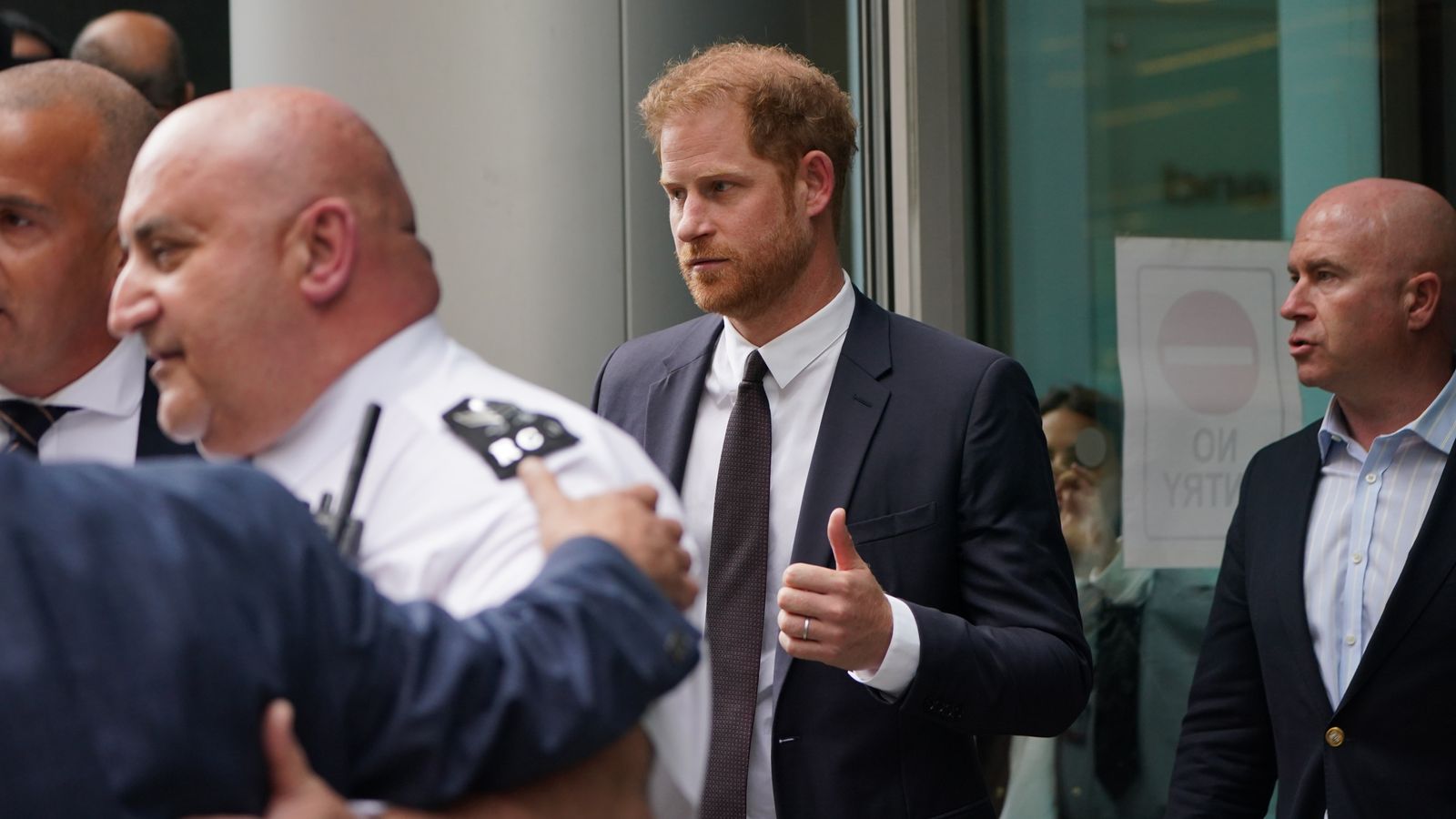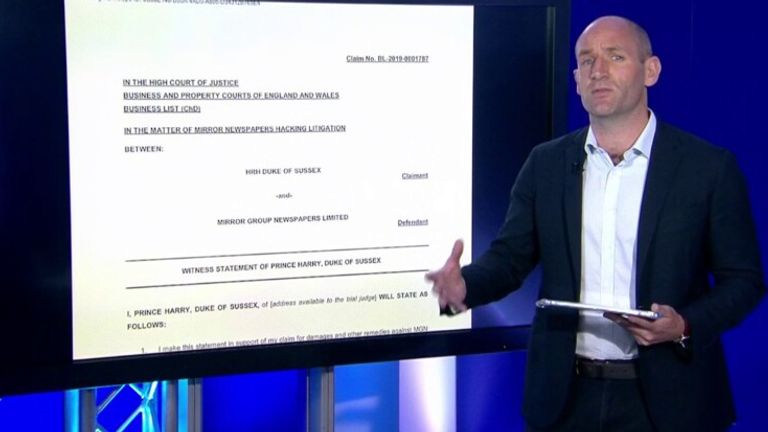 The Duke of Sussex is to resume giving evidence in his High Court claim against the publisher of the Daily Mirror over alleged unlawful information gathering.
The duke is suing MGN for damages, claiming journalists at its titles – which also include the Sunday Mirror and Sunday People – were linked to methods including phone hacking, so-called "blagging" or gaining information by deception, and use of private investigators for unlawful activities.
He alleges that about 140 articles published between 1996 and 2010 by Mirror Group Newspapers (MGN) titles contained information gathered using unlawful methods, and 33 of these have been selected to be considered at the trial.
Harry hacking trial – as it happened on Tuesday
On Tuesday, Harry faced nearly five hours of questions as he became the first senior royal in more than two decades to appear personally in court proceedings.
In his written evidence before the court, the 38-year-old said MGN's alleged intrusion into his life contributed to "a huge amount of paranoia" in his relationships.
In a 49-page witness statement, the duke said that he found it "very hard to trust anyone, which led to bouts of depression and paranoia".
"Friendships were lost entirely unnecessarily," he said, later adding that some of his friends "became instant targets".
Click to subscribe to the Sky News Daily wherever you get your podcasts
Other key claims from Harry's witness statement:
• He feels "sick" at the thought of former Mirror editor Piers Morgan and journalists allegedly hacking his mother Diana's phone
• He believes both the UK press and government "are at rock bottom"
• Reveals he has never been an account holder or received a bill for a mobile phone – this was dealt with "by the Institution, presumably for security purposes although that now seems rather ironic"
• He also says the Institution could "wipe our devices remotely"
What's included in Prince Harry's evidence?

Andrew Green KC, for MGN, questioned Harry on about 20 of the 33 articles over the course of Tuesday.
Harry was asked about why he has complained about articles in MGN titles when the same information had previously been put into the public domain by other media outlets.
The duke said his understanding was that MGN journalists used unlawful methods to get "exclusive" angles on existing stories or to move the story on in some way.
Read more:
The key people named in Harry's witness statement
Which articles have been brought up?
Mr Green also asked Harry about his claim that articles "caused him to be paranoid and to distrust those around him", and whether he was referring to specific MGN articles or "the general effect of all of the articles" about him.
Harry said: "Yes, because … it is 20 years ago and I simply can't other than speculate whether I saw these articles at the time.
"I certainly saw a lot of articles at the time and was made aware … unfortunately, by the behaviour and reaction of my inner circle."
MGN is contesting his claim and has either denied or not admitted that articles about Harry being examined at the trial involved phone hacking or unlawful activity.
Harry's claim is being heard alongside three other "representative" claims during a trial which began last month and is due to last six to seven weeks.
The three other representative claimants are Coronation Street actor Michael Turner, known professionally as Michael Le Vell, who is best known for playing Kevin Webster in the long-running soap, former Coronation Street actress Nikki Sanderson, and comedian Paul Whitehouse's ex-wife Fiona Wightman.