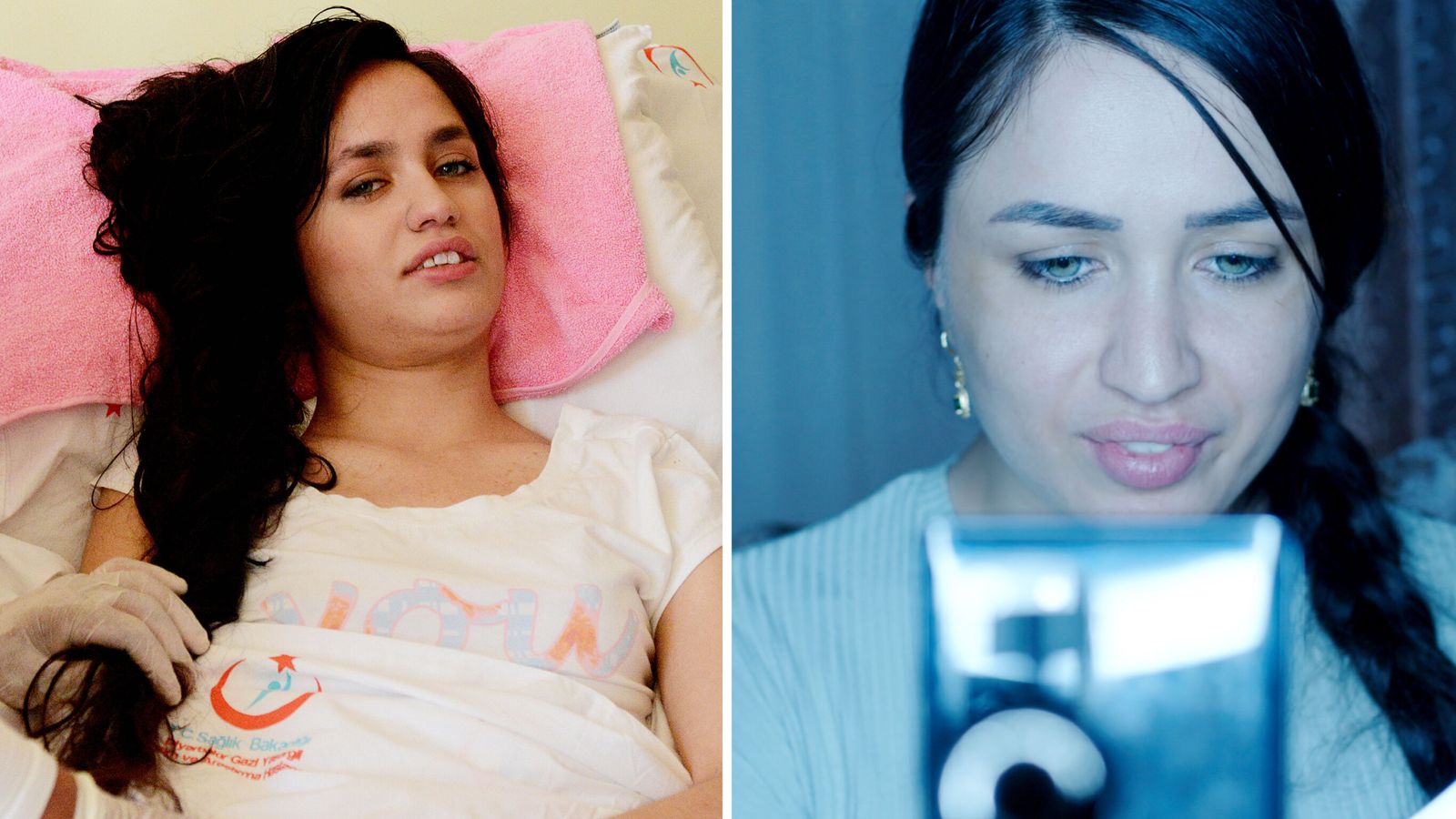 The bullet in my brain: Singer Mutlu Kaya was shot in the head, but survived. Now, she has found a new voice on TikTok
"Iron Woman" is the name given to Mutlu Kaya by her almost two million TikTok followers, due to the bullet in her brain. She is a social media star, a heroic figure to her followers. But this isn't how she wanted to find fame.
In May 2015, aged 20, Mutlu was a finalist on the Turkish equivalent of Britain's Got Talent. As a little girl, she used to sing into her hairbrush in front of the mirror, pretending to be a popstar, and now it looked as if her dream might come true. "I was so excited I could hear my heart," she recalls.
But, days after appearing on the TV show, the future she had imagined was brutally snatched from her when a jilted suitor tried to kill her. Mutlu was shot in the head and spent just under two months in intensive care, her family camping in the hospital car park outside to stay near her.
Her story made headlines around the world. Eight years on, she is unable to use her hands and uses a wheelchair, and the little walking she can manage is slow and stilted. The bullet remains lodged inside her brain, a permanent reminder of her ordeal, too risky to remove.
In a cruel twist of fate, her older sister, Dilek was murdered three years ago by a man claiming to be her boyfriend. According to the Turkish campaign group We Will Stop Femicide, some 334 women lost their lives as a result of gender violence in 2022, and 245 died suspiciously.
Dilek was shot and killed the day after her 35th birthday, in March 2020. "It hit me harder than the bullet," Mutlu says.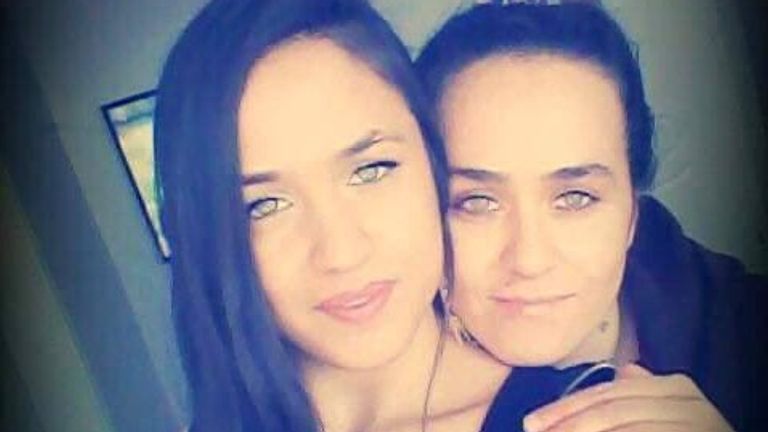 Today, she still wants her voice to be heard but she is no longer singing traditional Turkish folk. Instead, she has recorded a protest track, Resurrection, a Turkish trap song in which she sings of her hope that "the cruel ones will pay the price one day". On TikTok, she is fighting for change; for harsher penalties and for violence against women in Turkey to be taken more seriously.
Mutlu is one of eight siblings, six girls and two boys, and her family comes from the small Ergani district of Diyarbakir, a conservative, Kurdish-majority city in southeastern Turkey. She speaks no English, so we communicate through a translator on a video call. Dressed in a brown spotted blouse, she looks more formal than in the TikToks in which she is often beautifully made-up, wearing bright colours. Her long, dark hair, which reaches to the backs of her knees, is pulled loosely behind her.
Read more:
The fight for 'Women, Life, Freedom' in Iran
The Ukrainian punk trio separated by Russia's war
She first met Veysi Ercan, "the man who messed up all my life", when she was 14 and he was in his 20s. She thought he was a gentleman at first, but over time her opinion changed. When he asked her to marry him, she said no, sending him "crazy".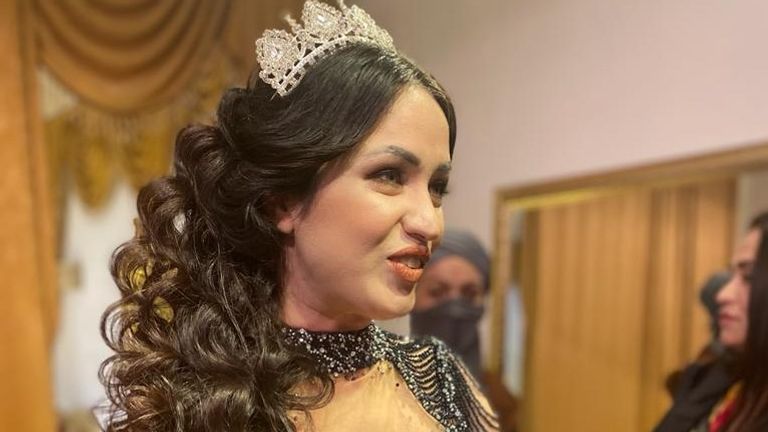 When she filmed the TV show in Istanbul, some 1,400km (869 miles) from her home, he also made the journey. "He came to the studios and said, 'if you let her join the show, I will kill you all'. He was always calling and threatening me. 'You are mine or you will be dead'. After I took part in the contest, he became more jealous. I think he felt like if she is successful on TV, [he] won't be able to control her."
With just a few days until the final, Mutlu had been rehearsing when Ercan turned up to find her at Dilek's home, after bombarding her with messages. Outside, he pulled out a gun and shot her through a glass door. The next thing she remembers is waking up in hospital. "I opened my eyes and I was in bed, totally immobile. I had to use nappies, which was very hard."
In 2016, Ercan was convicted over the shooting and sentenced to 15 years in jail. There have been reports of his release under surveillance, but it is unclear exactly when that may be. With time served before his sentencing – which counts for double – it could be in the next few years.
Mutlu says this is one of the hardest things to deal with. "This man took my hands and feet from me. He should have got a life sentence. The penalties are not strong enough. I want to keep the topic of violence against women on the agenda. I always get positive feedback, especially from women. They tell me, 'Mutlu, you are our hope'."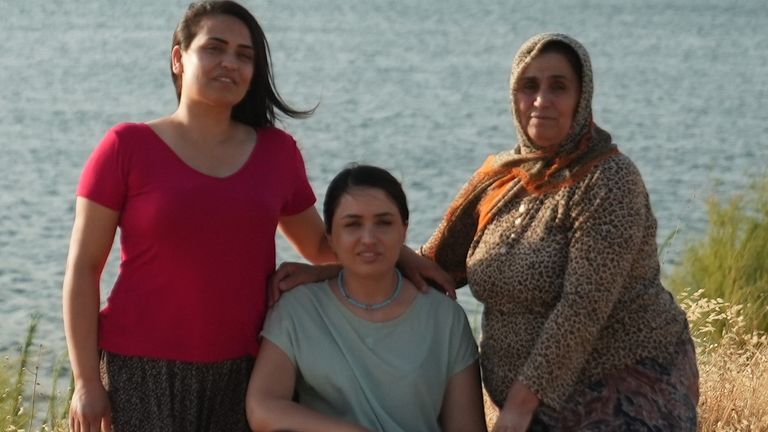 According to the World Health Organisation, almost a third (32%) of women and girls in Turkey aged between 15 and 49 have experienced physical and/or sexual violence from a partner in their lifetime, based on data collated between 2000 and 2018. This is the highest percentage in Europe and West Asia, for countries where data is available. By contrast, the average for Europe is 23%.
Incidents of femicide and violence against women are said to have risen in recent years. In 2021, there were protests after President Recep Tayyip Erdogan pulled out of the Istanbul Convention, an international accord designed to protect women from domestic violence.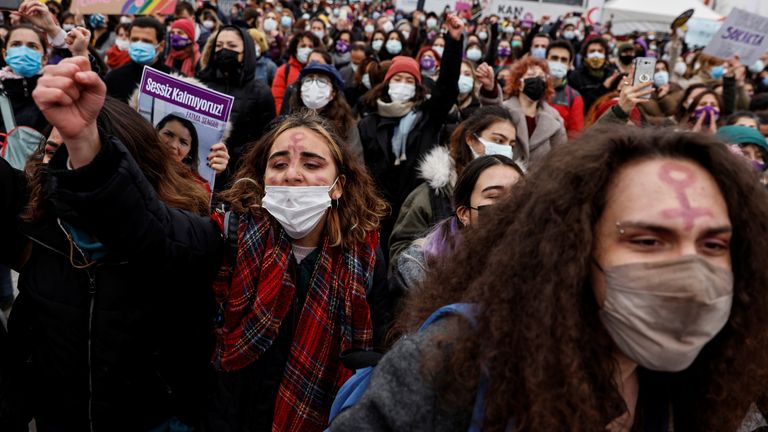 Mutlu is sharing her story in a new documentary, My Name Is Happy, so-called because "mutlu" means "happy" in English. In one extraordinary scene, she sits and watches as a doctor shows her a scan of the bullet inside her. She has made peace with it. It sounds strange, she says, but sometimes she talks to the foreign object inside her head. "Often I have strong headaches. I ask her not to make me feel so bad and cause so much pain."
Since the shooting, the support Mutlu has found on social media has sustained her in her darkest moments. She shares everything from updates on her treatment to touching family moments and singing clips. In the documentary, we see footage of her speaking to other women sharing their stories of violence and femicide.
In 2022, her sister's killer received a life sentence, which he is appealing, according to the programme. Despite her disabilities, Mutlu made sure she was at the court for the hearing.
She still loves singing but it is campaigning that helps her cope. "In Turkey, many people play the three monkeys: deaf, blind and mute," she says. "I want other countries and communities to hear what happened. I want everyone in England to hear my voice – and I ask them to add theirs."
Her name may mean "happy", but for her it now has a different meaning, as she says in the documentary. "When I say Mutlu now, it means to be mature, to be a woman who has suffered a lot."
Succession review: The end is revealed at last… but of course, as always there's a twist – contains spoilers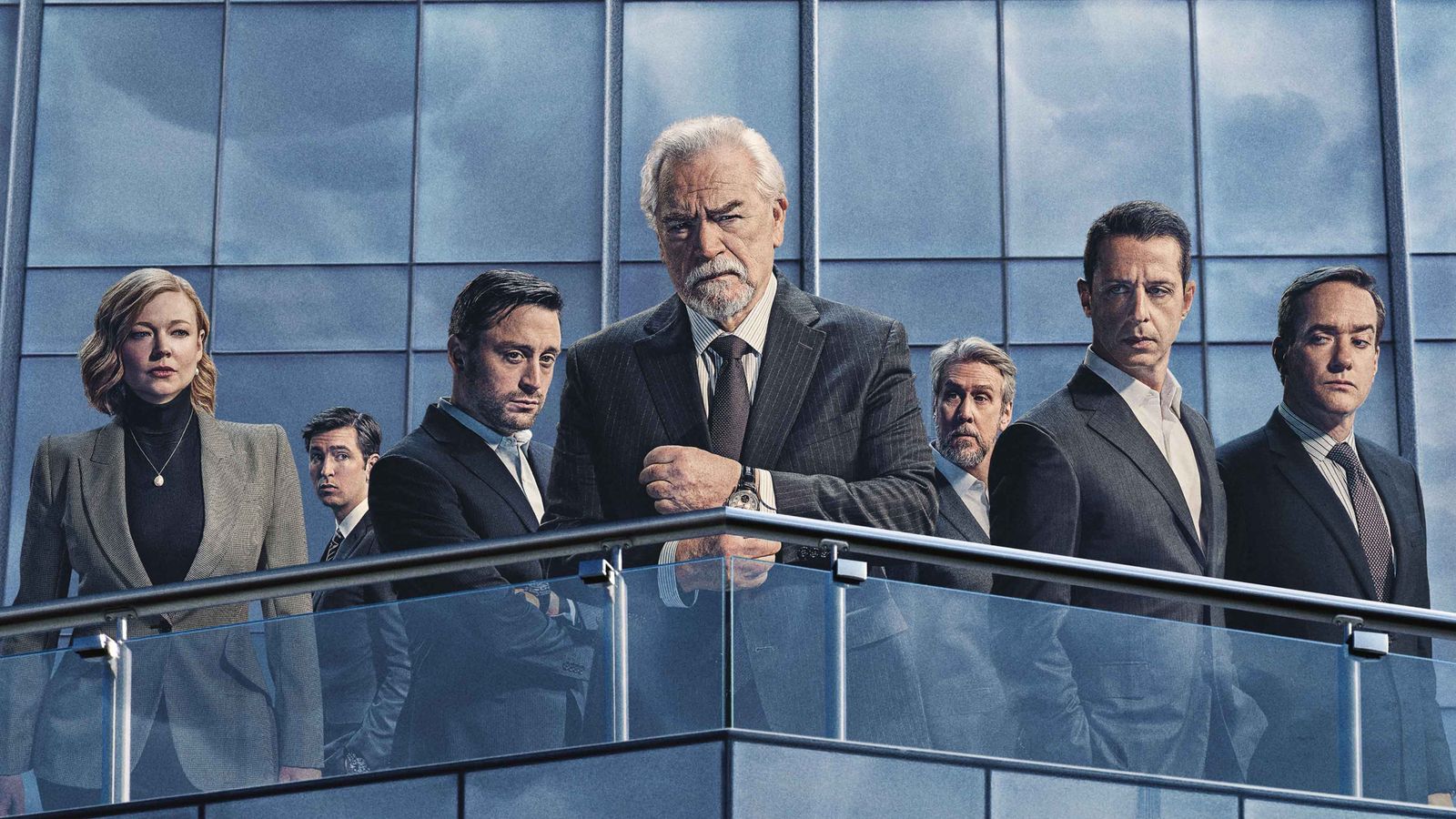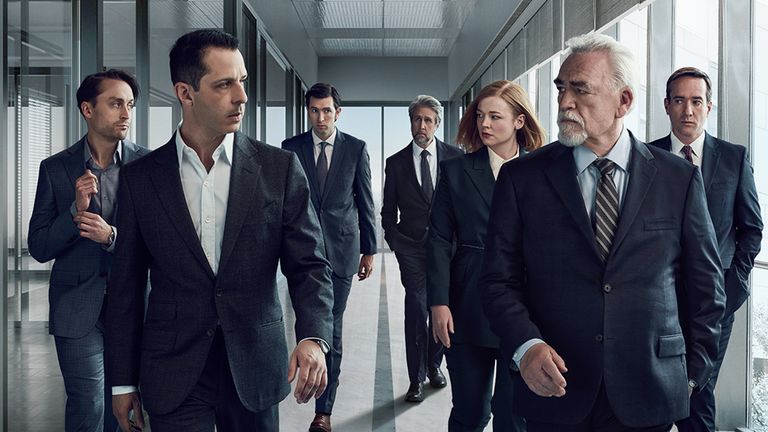 This review contains spoilers for the final episode of Succession, which is already available to stream on Now TV.
We'll warn you again – stop now if you don't want to know what happens.
Final warning. After the picture below all will be revealed.
You have been warned. Again.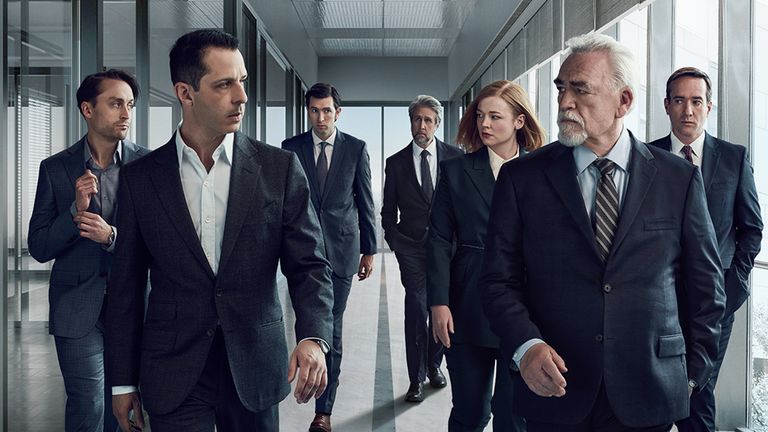 We finally have a successor to founder and CEO of Waystar Royco, Logan Roy (Brian Cox)… but it's none of his children.
In the end it was Tom Wambsgans (Matthew Macfadyen) who came out on top – the desperate outsider and social climber, described as an "empty suit" by his wife, Shiv Roy (Sarah Snook).
But it was Shiv's lack of faith in her elder brother, Kendall (Jeremy Strong), that led to Tom's crowning as CEO – and the finale rightly focused on the siblings' complicated relationship after four seasons of exhausting backstabbing.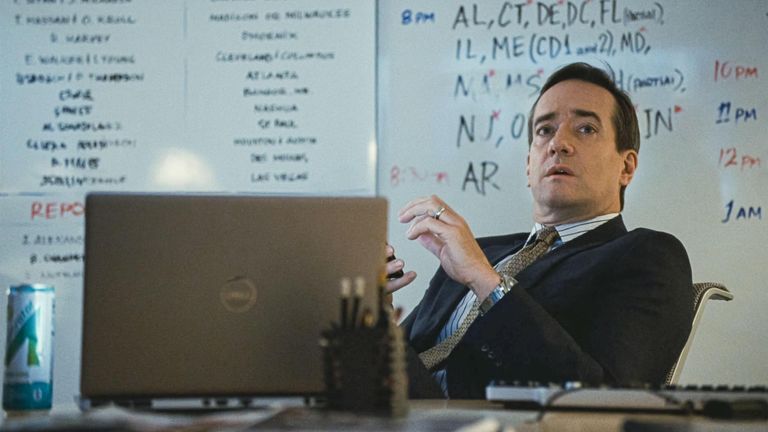 There's no big fanfare in the last episode, With Open Eyes, with most of the plot taking place in the Roy children's mother's house, their father's flat, then finally, the boardroom.
It's unnerving to watch the siblings getting along during most of the episode; united in wanting to defeat the billionaire GoJo CEO Lukas Matsson (Alexander Skarsgard) from buying Waystar Royco, the company their father built.
Humiliated Shiv has been betrayed by Matsson, who had promised her US CEO but has been interviewing other candidates – including her husband Tom unbeknown to her.
And a feeble Roman (Kieran Culkin) is sporting stitches and being looked after by his mother, seemingly on the verge of a mental breakdown.
They've decided between themselves, after four series of fighting it out, that Kendall should be CEO. And at the end of a season where he's shown himself to step in with a calm head, culminating in his spectacular speech at his father's funeral, viewers are almost convinced, too.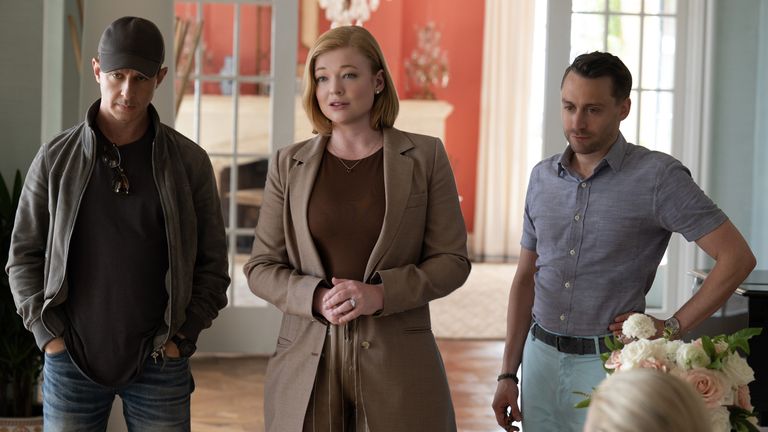 But it almost feels too good to be true, and when it comes down to the board vote – between Kendall or a GoJo takeover – Shiv changes her mind at the last minute.
"I love you but I cannot stomach you," she tells her brother.
"I'm the eldest boy", he yells back. And just like that, we're reminded that he never really has been good enough to fill Logan's shoes.
Read more:
Succession star lands Bond villain role
Kendall Roy's Succession penthouse up for sale for $29m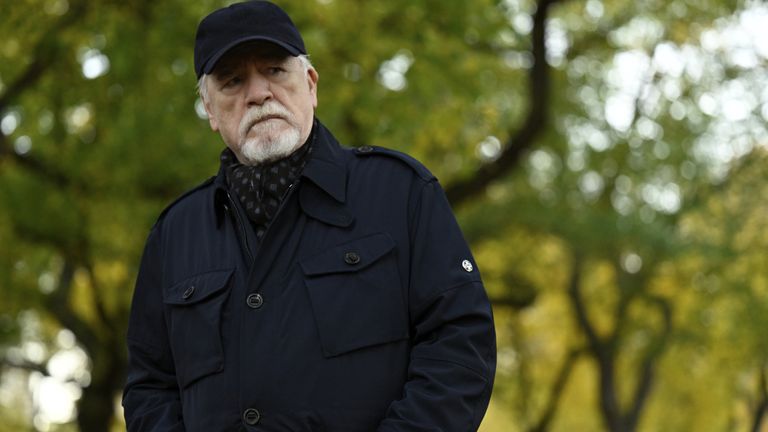 Meanwhile, Tom has listened to Matsson backstabbing Shiv – who is pregnant with their first child – describing how he doesn't want her as CEO because he feels that they "clickety click".
"What if I hired the guy who put the baby inside her," he asks Tom, "instead of the baby lady?"
And Tom, never one to miss a climb up the ladder, doesn't hesitate to tell him: "I'm your man."
It was never going to be one of the children.
They acknowledged it themselves – they were all promised the top job by their father at different points. Kendall even references his father promising it to him when he was seven years old at an ice cream parlour.
But Shiv points out what we knew all along: "I don't think he wanted to give it to any of us."
We're left without knowing their fates.
Roman looks almost relieved to be rid of the burden. Shiv appears despondent to be settling as second fiddle to her now more powerful husband.
And Kendall, the almost-King, is left with only his father's loyal bodyguard for company, seemingly without the will to even contemplate his next move.
In the end, they all lost – even Tom looks discouraged at being tied to maverick Matsson as his "pain sponge" rather than "partner".
And somehow you're left feeling slightly heartbroken for these characters who have few to no redeeming features – so perhaps it's the most satisfying end it could ever have been.
Eamonn Holmes trades blows on social media with 'delusional liar' Phillip Schofield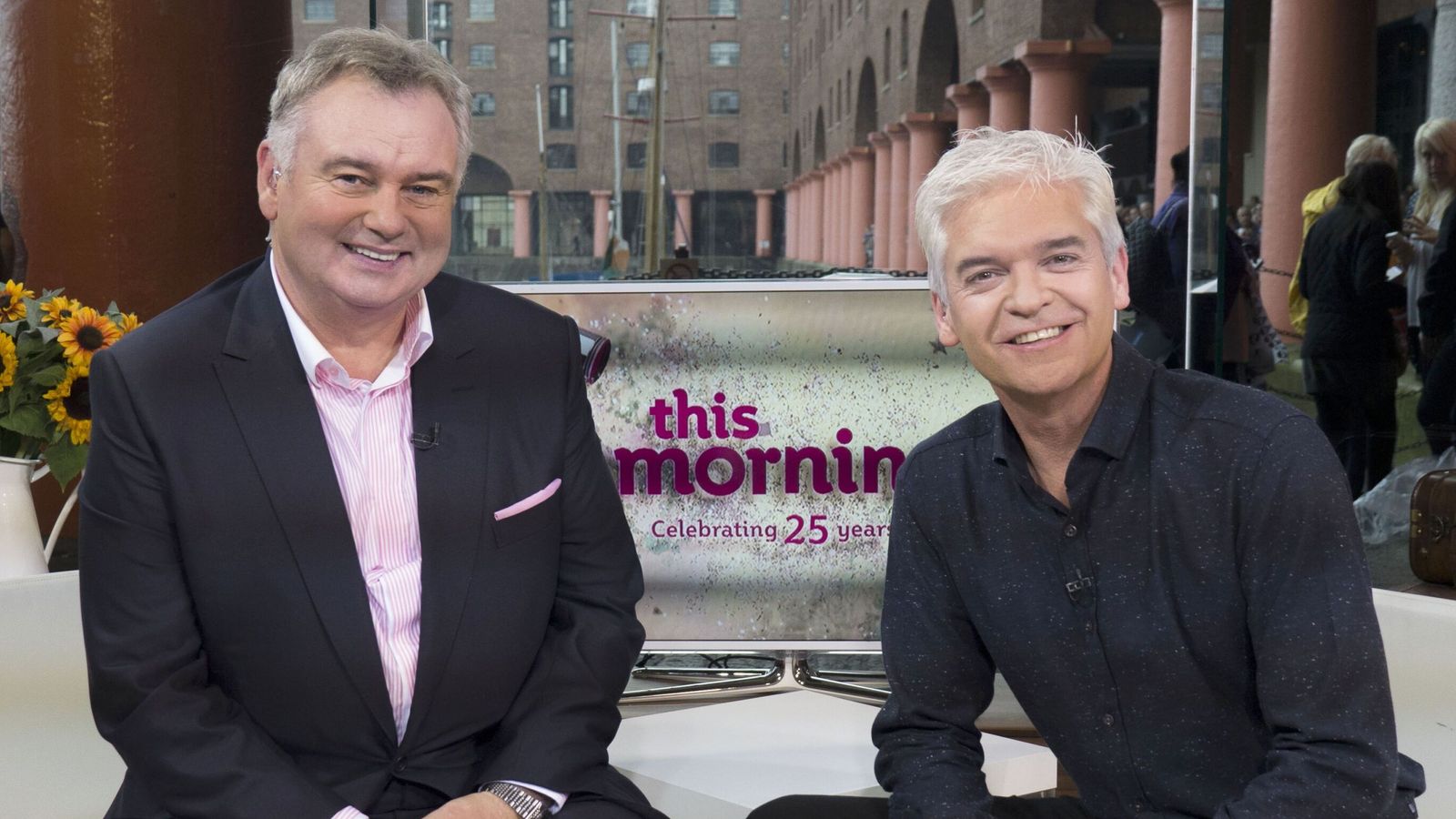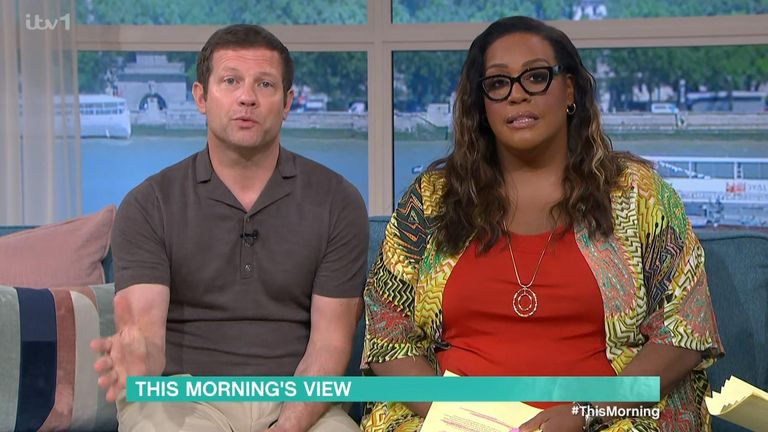 Eamonn Holmes has described Phillip Schofield as "delusional" and said he has "picked the wrong person… if you're looking for a fight".
It comes hours after Schofield, 61, released a statement attacking his critics as "a handful of people with a grudge against me".
Holmes, 63, who used to cover him on This Morning, called him a "liar" and said he is "reluctant to give the liar any more publicity".
"But believe me Pip if u r looking for a fight , u have picked on the wrong person," he wrote.
The feud emerged after Schofield quit the flagship ITV morning show on 20 May – six days before admitting an "unwise but not illegal" affair with a much younger production assistant on the programme.
ITV has been forced to answer questions about how much they knew about the relationship and accusations of a "toxic" culture. Bosses have confirmed they investigated rumours in 2020 but both parties denied it.
Phillip Schofield and Eamonn Holmes statements in full
Just before 10am on Monday, Phillip Schofield posts a statement on his Instagram stories.
"Now I no longer work on @thismorning I am free to say this. I hope you have noticed that it's the same handful of people with a grudge against me or the show who seem to have the loudest voice.
"This morning IS the best show to work on, with the best people. In all the years I worked there there was no toxicity. You can listen to those persistently loud voices if you like.
"But the thousands of guests over the years, thousands of staff and crew, hundreds of presenters and contributors all know, it IS a family of wonderful, talented, kind, hard working people."
At 11.10am Eamonn Holmes tweets a response.
"Schofield has just put out a delusional statement. Like Holly he puts it on Insta Stories so if it goes wrong there is no record after 24 hrs.
"I'm reluctant to give the liar any more publicity but believe me Pip if u r looking for a fight , u have picked on the wrong person !"
'We happen to be in the news at the moment'
Alison Hammond and Dermot O'Leary, who have presented This Morning since Schofield stepped down, made brief reference to the controversy on Monday morning's edition.
"We happen to be in the news at the moment, and of course we appreciate that," O'Leary said ahead of their newspaper review. "But just from both of us and the whole team here, the crew, the guys downstairs, we love making this show for all of you."
Hammond added: "We really do. And that's exactly what we're going to do."
Gyles Brandreth, who was reviewing the papers, also offered his support, saying: "This is a happy place to work. I enjoy coming here."
Short statement from This Morning

'Toxic culture' goes 'far beyond' Schofield
It comes after former This Morning doctor Ranj Singh, released a statement about the "toxic culture" at the show, claiming the "issues" with it "go far beyond him [Schofield]".
He said he "took my concerns directly to the top of ITV", but nothing came of it.
"There are some good people in TV, but we need to be brave and stand up to those who aren't. Even if it's scary as hell, we have to do the right thing otherwise nothing will change," he wrote.
Read more:
A timeline of the This Morning controversy
ITV responds to rumours around show's future
Why Schofield's admission could kill off his career
ITV said it was "saddened" to hear Dr Ranj's comments, but that his complaint was investigated and "no evidence of bullying or discrimination" was found.
Schofield's former colleague, Eamonn Holmes, had previously said Schofield had "finally been caught out".
"He's not the only guilty party. 4 high members of ITV management knew what sort of man he was," he said on Twitter.
Dermot O'Leary on Schofield affair

Schofield originally said he was stepping down from This Morning because it had "become the story" following reports of a feud between him and co-host Holly Willoughby.
That came after his brother was recently jailed for 12 years over child sex offences.
Willoughby, 41, is due to return next Monday (5 June), having gone on an early half-term holiday on 22 May.
She has said that "when reports of this relationship first surfaced, I asked Phil directly if this was true and was told it was not".
"It's been very hurtful to now find out this was a lie," an Instagram statement added.
'No mistakes' were made – ITV boss

Schofield has now completely resigned from ITV and been dropped by his agents.
His statement to the Daily Mail also admitted lying about the affair to his wife, to ITV, his agents and the media.
The controversy has raised doubts about both Willoughby's and the show's future, but ITV has denied reports it could be axed.
Jeff Stelling: Tributes to Sky Sports presenter following his final Soccer Saturday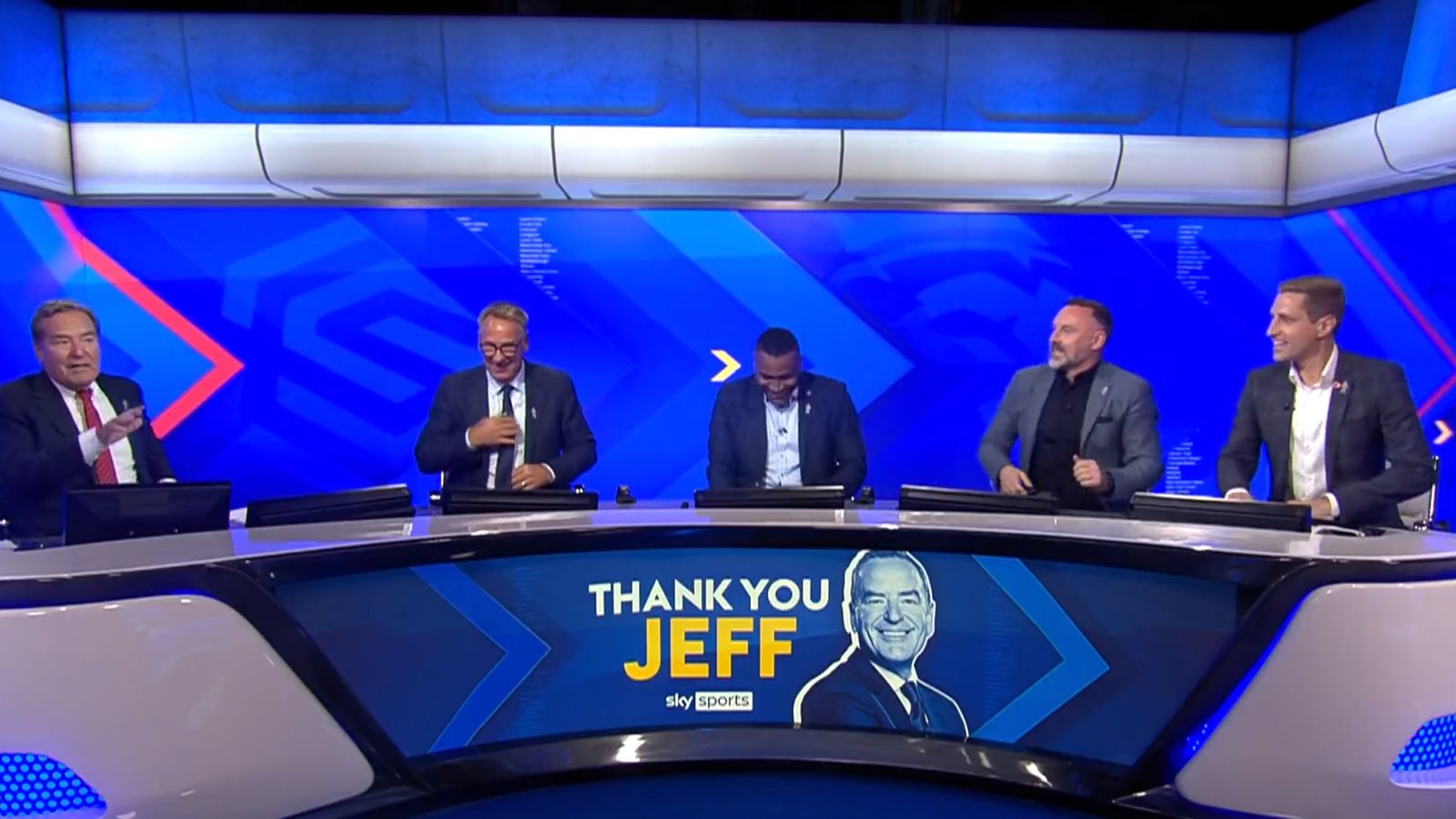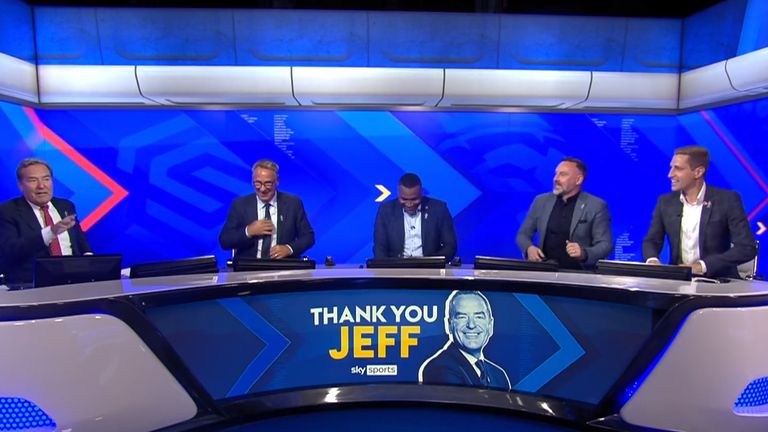 Tributes have poured in for Sky Sports presenter Jeff Stelling following his final Soccer Saturday show.
The 68-year-old marked his departure with an emotional farewell – which included the revelation that he had received a surprise phone call from Elton John.
Stelling said he was left "starstruck" when the legendary singer – once the owner of Watford football club – rang him at home to wish him well ahead of his final Soccer Saturday appearance.
"Elton John rang me this week," Stelling said.
"Someone asked me the other day if I have ever been starstruck, and yeah… I was starstruck when Elton John rang me at home to say 'thank you very much for all you have done'.
"He (Elton) said to me: 'Every week I watch the show and every week you tell me Watford are losing, and every week you tell me Hartlepool (the team Stelling supports) are losing – so I feel like we are kindred spirits'."
Following a celebratory montage and round of applause at the end of Sunday's Soccer Special programme, Stelling joked: "Thanks for the applause. I mean this is tricky because I've changed my mind."
Stelling paid tribute to all those who work on the show, including the call centre staff, runners, production crew and commentators.
He said: "It's a team game."
Stelling said his time at Sky had been "absolutely wonderful".
He added: "It's been the best job that anybody could possibly wish for.
"My wife Lizzie takes great pleasure in saying 'you're the luckiest man ever to take a breath'. And you know what, I don't tell her this often but she's right."
Stelling ended the show by paying tribute to the viewers for their incredible support.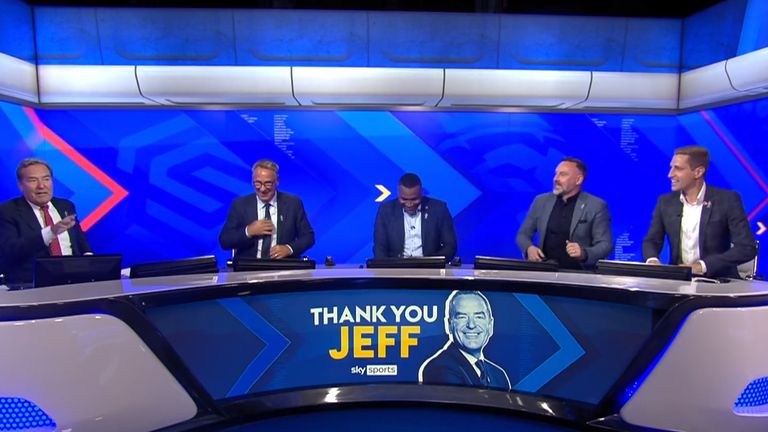 Stelling last month announced his intention to step down after more than 30 years at Sky and 25 years at the helm of the flagship football results show.
He said it was the "right time" to move on and give Sky Sports viewers a break from his "relentless rants, bad gags and over-the-top celebrations of Hartlepool United goals".
Well-wishers took to social media to pay tribute.
Son Robbie posted: "Well done dad, so proud of you.
"You've put your heart and soul into the show and have no doubt left a mark on more than just the world of football.
"As a father and broadcaster, you have taught me so much about football and life.
"You are the best there has ever been."
Piers Morgan tweeted: "Very few people get to leave a long-running job in TV whilst still at the absolute peak of their powers – but Jeff Stelling just did it.
"Thanks for all the fun, excitement, entertainment and incredible professionalism, Jeff – you'll be greatly missed."
Former This Morning presenter Eamonn Holmes tweeted: "Jeff Stelling… Do something you love and you will never work a day in your life. You have never worked. You are The Goat. Respect. Enjoy the next chapter."
LBC presenter Iain Dale thanked Stelling for "hours and hours of tremendous sports broadcasting".
He added: "Few people should ever be described as 'total legends' but Jeff really is one. Every football fan's best friend."
FootballJOE posted: "Twenty-five years of some of the best laughs on telly. Thanks for being the voice and face of football on a Saturday."
Hartlepool United wished fan Stelling "all the best", adding: "Our local hero."
FC Halifax Town joked: "All the best in your retirement. You're always welcome to Halifax vs Hartlepool next season, we will try not to call it off twice this time."
NFL UK said "congrats on an incredible stint", declaring: "You'll be missed from our screens."
On Friday, Prostate Cancer UK thanked Stelling for wearing the charity's badge for the past eight seasons.
A spokesperson added: "You have shared our message to millions of football fans, many of whom have been at risk of prostate cancer."
Stelling's charity football march for Prostate Cancer UK will take place this September.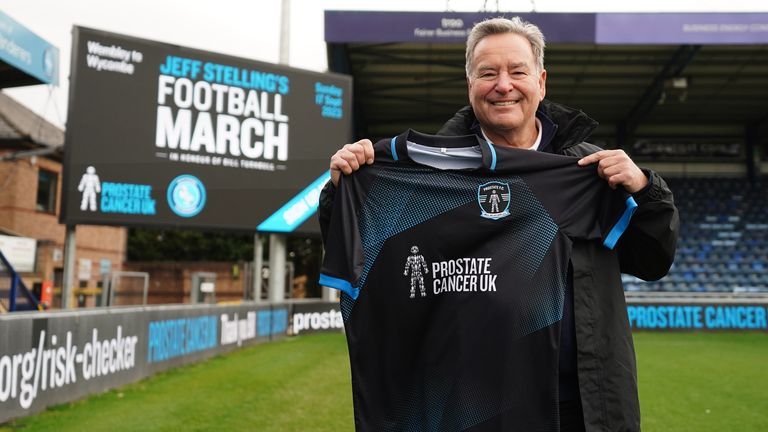 TV presenter Chris Kamara also posted an early tribute, describing Stelling as the "best broadcaster" he has ever met.
In the post on Thursday, he said: "I am getting my tribute in early because Jeff has been a massive part of my life and I love him to bits.
"One of the things I do miss is working with the maestro. There will never be another. You are 'Unbelievable Jeff' – and always will be."
Stelling joined Sky in 1992. He was also the main host for the broadcaster's live Champions League coverage between 2011 and 2015.
He previously announced plans to leave Soccer Saturday at the end of the 2021/22 campaign but stayed for another season.
Stelling announcing his decision to step down

Gary Hughes, Sky Sports' director of football, previously said: "Jeff has been synonymous with Saturday afternoon football for decades, exciting and enthusing football fans everywhere.
"His unique broadcasting ability and passion for the game has made Soccer Saturday an unmissable fixture for fans and has won him a multitude of awards.
"He will be sorely missed."