The executive who presided over a bitter "cruises and cufflinks" row at one of Britain's biggest wealth managers is preparing to step down.
Sky News has learnt that St James's Place, the FTSE-100 group which oversees more than £150bn of client assets, has kicked off a search to replace Andrew Croft.
City sources said on Saturday that the company was working with Russell Reynolds Associates, the headhunter, on the search.
Mr Croft has worked for St James's Place since 1993, and served as its finance chief between 2004 and 2017.
He took over as chief executive in 2018.
A source close to the company said there was "no rush" to find a new CEO, and hinted that a transition to a successor could take more than a year.
St James's Place caters to affluent clients, with thousands of financial advisers known as partners at the firm managing £153bn in assets.
The company has faced questions about its recent performance, with Mr Croft describing recent quarterly net inflows as a "good" outcome but many analysts taking a different view.
It warned this year that it would miss a key expenses growth target.
In 2019, St James's Place became embroiled in a row about partners' pay and perks, with benefits including cruise holidays and jewellery awarded to high-performing partners.
The regime was scrapped following a review aimed at encouraging "the right behaviours" amid concerns that partners were effectively being incentivised to mis-sell to customers.
News of the prospective change in leadership at St James's Place comes ahead of the introduction of a new consumer duty supervised by the Financial Conduct Authority.
Paul Manduca, the City grandee who chairs St James's Place and previously led Prudential, will oversee the hunt for Mr Croft's successor.
The company suffered a revolt this month at its annual meeting when more than 20% of shareholders voted against its remuneration report.
Mr Croft was paid a total package for last year of just over £3m, with some investors irritated that he received long-term awards linked to its depressed share price during the pandemic.
Partners at St James's Place, which is based in Cirencester, are self-employed.
A St James's Place spokesman said this weekend: "As part of long-term succession planning, the Board has regular dialogue with search firms to assess and monitor the market.
"This is in line with best practice corporate governance."
Shares in St James's Place closed on Friday up 7.5p at 1112.5p, giving the company a market value of £6.1bn.
The stock has slipped 11% during the last 12 months.
KPMG braced for record fine over audit of collapsed Carillion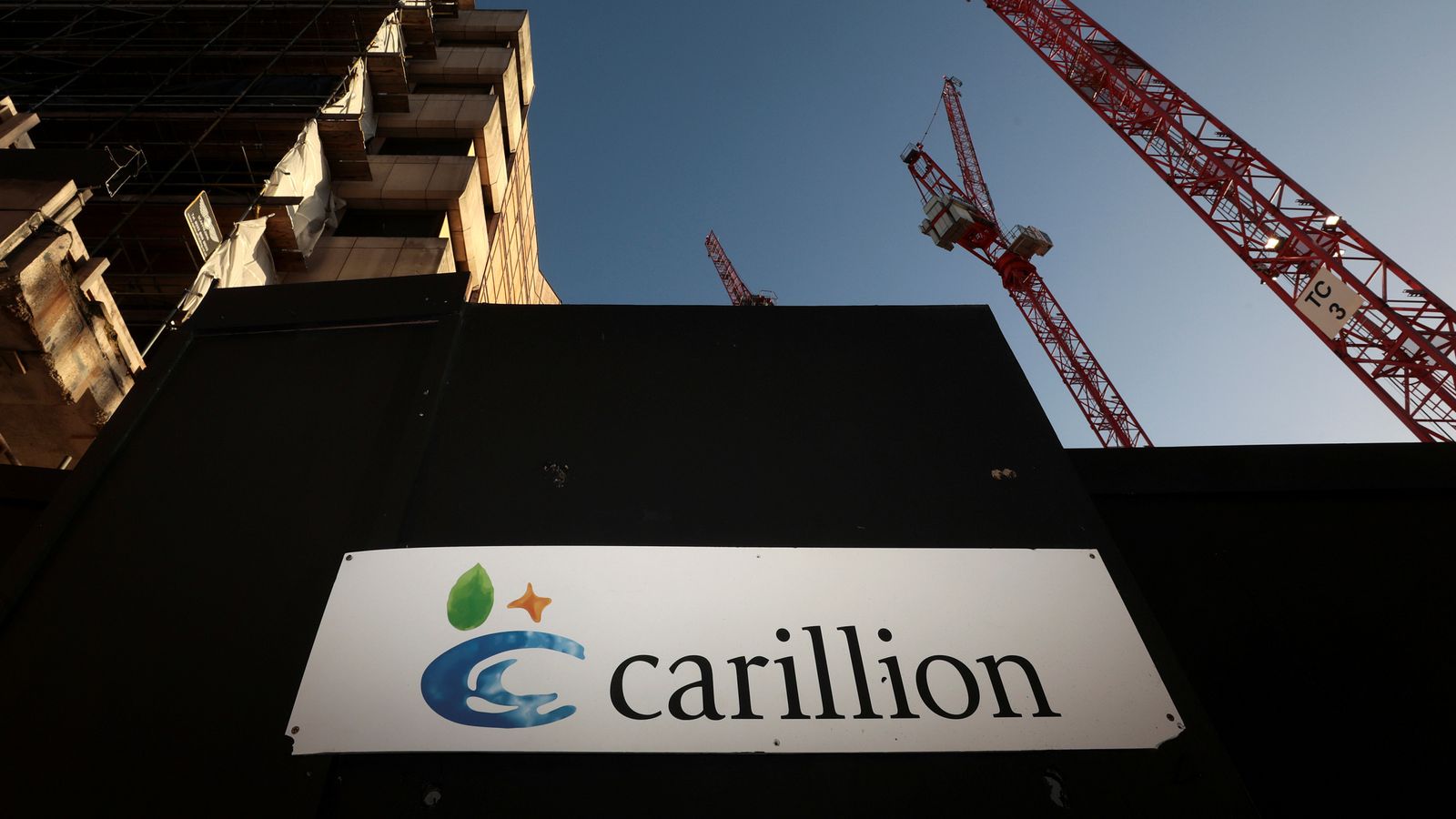 KPMG is in advanced talks with regulators about a record fine running into tens of millions of pounds for failings in its auditing of Carillion, the construction company which collapsed in 2018 with the loss of thousands of jobs.
Sky News has learnt that discussions between the accountancy firm and the Financial Reporting Council (FRC) are close to being finalised, with an announcement possible in the coming weeks.
City sources said the two sides had been negotiating penalties of between £25m and £30m, before the application of a discount on the basis of KPMG's co-operation with the probe.
After the discount is applied, the total fine is expected to land in the region of £20m, the sources added.
Sources cautioned, however, that the figures still remained subject to change, with one suggesting that they could yet be larger.
Technically, the FRC is conducting two inquiries into KPMG's work on Carillion, one covering the financial year 2013 and the other encompassing the following four financial years.
If confirmed, it would finally draw a line under the 'big four' audit firm's role in one of Britain's most notorious corporate collapses of recent years.
Carillion's insolvency, which came after months of intensive efforts to salvage a business which played a major role in the country's public sector infrastructure programme, sparked a firestorm of criticism over its directors' conduct and that of its advisers.
It also served as a catalyst for calls for wide-ranging reforms of the audit profession – many of which have yet to be implemented by the government.
KPMG has already been hit with a huge fine over its role in the Carillion scandal.
In July last year, the firm had a £14.4m sanction imposed on it for misleading the FRC during spot-checks on its audit of the construction group and Regenersis, an outsourcer.
Like its big four rivals Deloitte, EY and PricewaterhouseCoopers, it has also been hit with a multitude of other fines for audit failings in the last five years.
The scope and details of sanctions that will be applied by the FRC to former KPMG partners involved in the Carillion audit was unclear this weekend.
Earlier this year, KPMG and the Official Receiver agreed to settle a £1.3bn claim on behalf of Carillion's creditors alleging negligence on the part of the audit firm.
The terms were not disclosed.
The fallout from the company's collapse has also ensnared former board members.
In July, Zafar Khan, who served as its group finance director for less than a year prior to its implosion, was handed an 11-year boardroom ban by the government's Insolvency Service.
It was the first such ban imposed under the Company Director Disqualification Act against any former Carillion executive, although proceedings against a number of others, including former chief executive Richard Howson, remain ongoing.
In total, eight former Carillion directors are facing bans following the launch of legal proceedings authorised by Kwasi Kwarteng, the then business secretary, in January 2021.
Last year, Mr Khan, Mr Howson and Richard Adam, who also served as Carillion's finance chief, were fined a total of close to £1m for issuing misleading statements to investors about the state of the company's finances.
The trio were reported to be appealing against the fines imposed by the Financial Conduct Authority.
Carillion, which was involved in building and maintaining hospitals and roads, and delivering millions of school meals, went bust owing close to £7bn.
At the time of its collapse, Carillion held approximately 450 construction and service contracts across government.
It employed more than 43,000 people, including 18,000 in the UK.
In a scathing report on the company's corporate governance, the Commons business select committee said: "As a large company and competitive bidder, Carillion was well-placed to win contracts.
"Its failings in subsequently managing them to generate profit was masked for a long time by a continuing stream of new work and… accounting practices that precluded an accurate assessment of the state of contracts."
KPMG served as Carillion's auditor for almost two decades, earning a total of £29m for its audit work.
Last month, the Financial Times reported that the government was set to omit audit reform legislation from the King's Speech in November.
Under plans already agreed to by ministers, the FRC would be replaced by a statutory regulator called the Audit, Reporting and Governance Authority (ARGA).
On Saturday, both KPMG and the FRC declined to comment.
Amazon's Prime Video to include ads from 2024 unless you pay more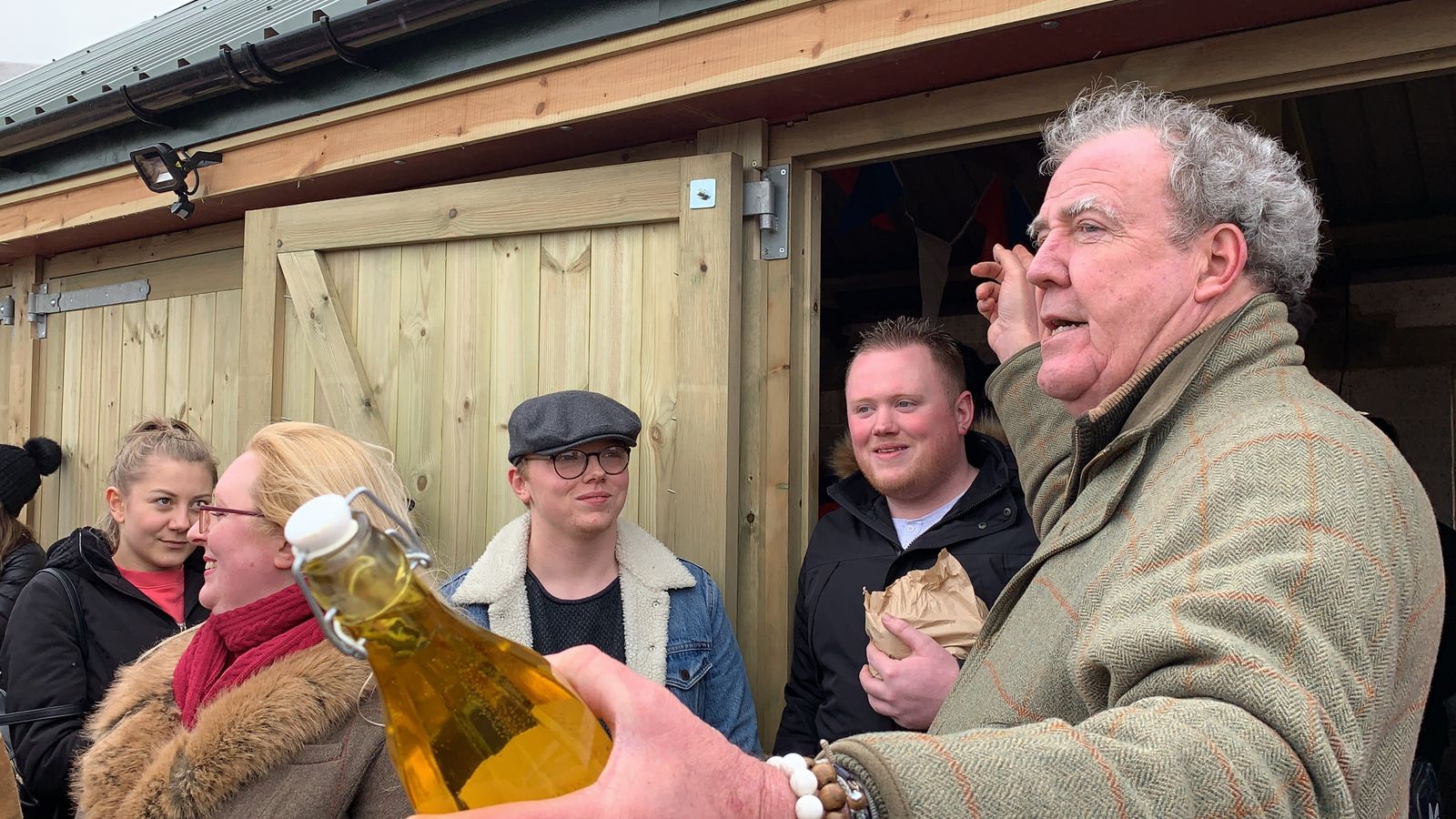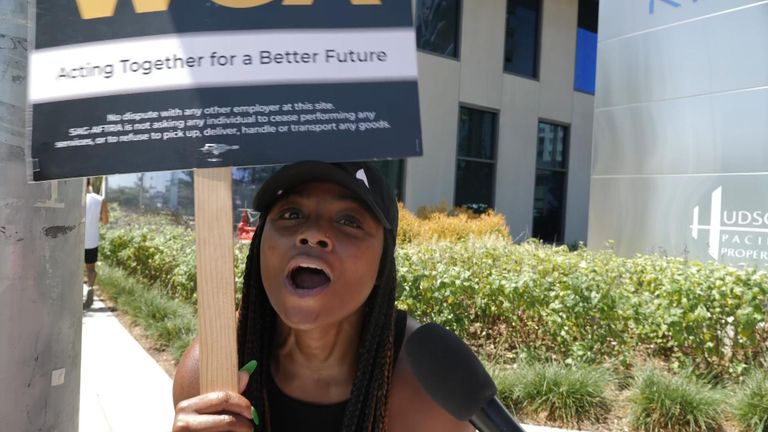 Amazon Prime Video customers will face a choice between watching adverts or paying more to remove them when updates to the firm's streaming service kick in at the start of next year.
The company also warned that live events, such as sports, will continue to include commercials even if people have upgraded to the new ad-free membership tier.
It is part of Amazon's efforts to grow revenue – started last year when it raised Prime fees by 17% to account for rising costs.
That was despite a surge in profitability for the group.
Amazon's move follows similar roll-outs by streaming rivals Netflix and Disney.
All are reacting to weaker subscription levels given the squeeze on household budgets across much of the world – damaged more recently by production delays linked to the Hollywood strike.
July – Striking actor: 'It's war!'

"To continue investing in compelling content and keep increasing that investment over a long period of time, starting in 2024, Prime Video shows and movies will include limited advertisements in the UK," its statement said.
"We aim to have meaningfully fewer ads than linear TV and other streaming TV providers.
"No action is required for Prime members. We're not making changes in 2024 to the current price of Prime membership.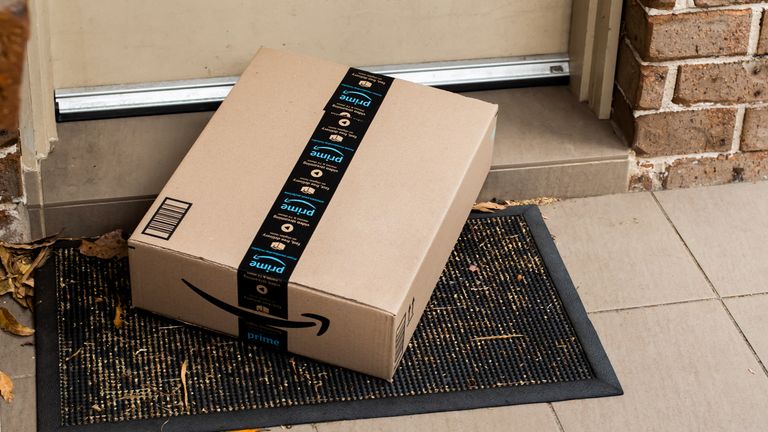 Read more from Sky News:
Emma Thompson: Hollywood strikes don't sound the same to people as doctors or miners' strikes
Amazon posts strong profits but warnings over slowdown sparks dip in share gains
"We will also offer a new ad-free option and will share the price of that option at a later date.
"We will email Prime members several weeks before ads are introduced into Prime Video with information on how to sign up for the ad-free option if they would like," it added.
The UK is not alone in facing the additional cost. For US customers it will be around £2.50 per month.
Germany and Canada will also be hit in early 2024, followed later by customers in France, Italy, Spain, Mexico and
Australia.
Retail sales recovery hurt by weaker fuel demand as prices shoot up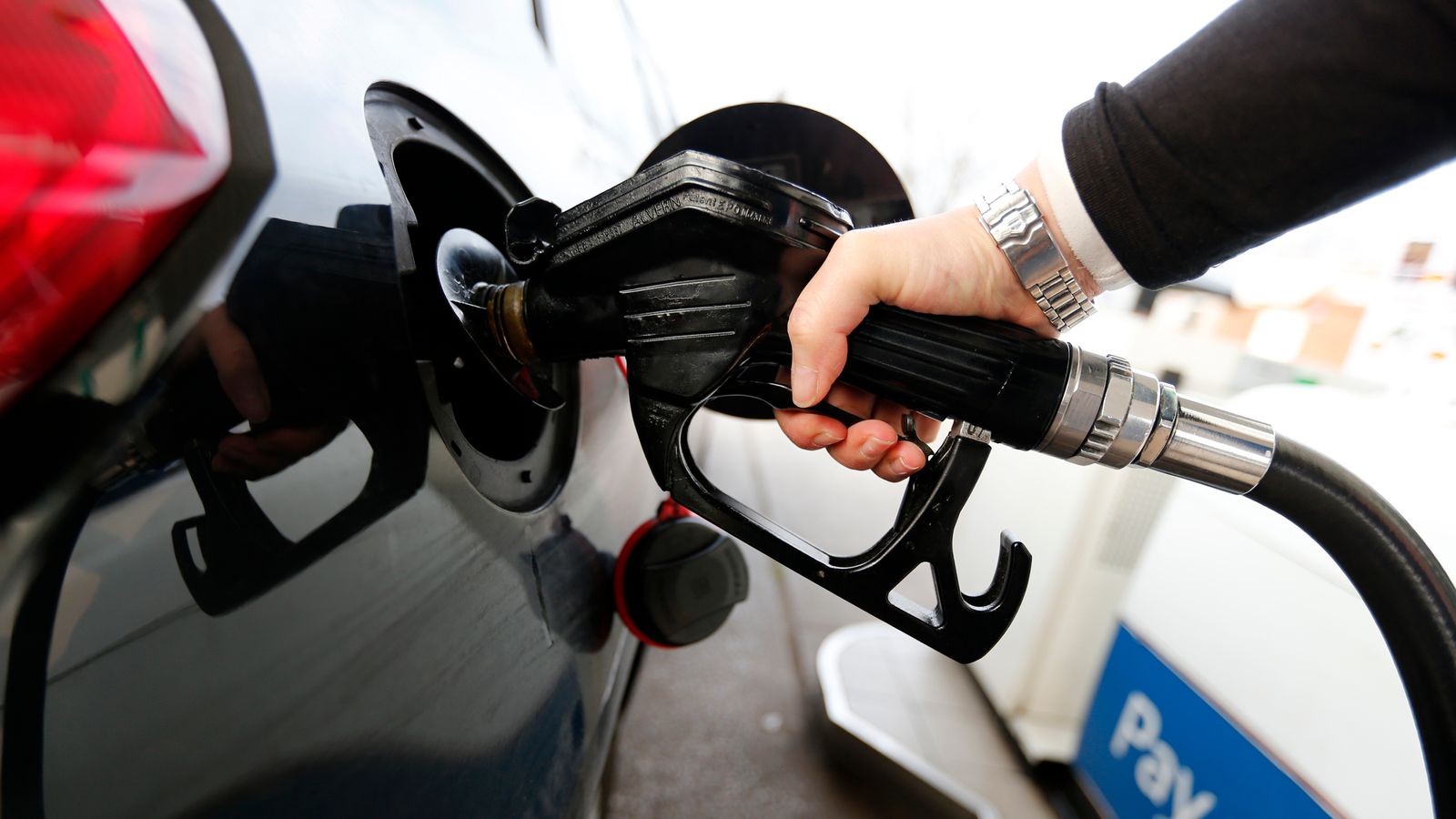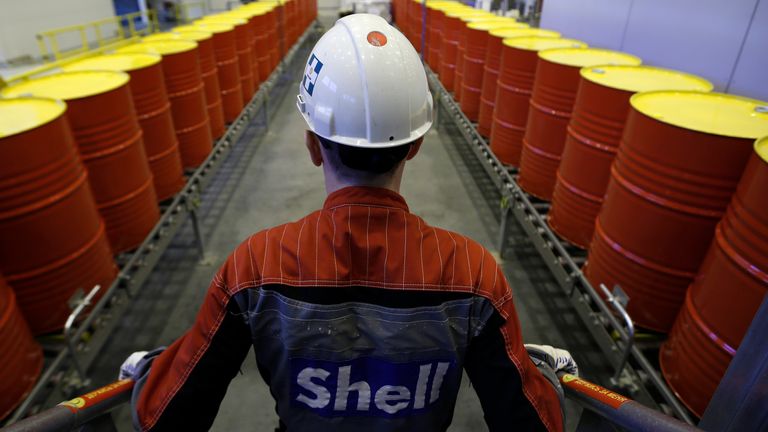 The return of summer weather last month helped retail sales recover despite a hit from weaker demand for fuel, according to official figures.
The Office for National Statistics (ONS) reported a 0.4% rise – a figure that grew to 0.6% when the effects of fuel sales were excluded.
It said stronger clothing sales drove the increase but fuel sales volumes were 1.2% lower – likely the result of a surge in pump costs due to rising global oil prices.
The bounce-back for overall sales followed an upwardly revised 1.1% decline in July compared to the previous month when wet weather was blamed for people shying away from summer fashion purchases in physical stores.
ONS senior statistician Heather Bovill said: "Retail recovered a little from the large fall seen in July, driven by a partial bounce back in food and a strong month for clothing, though sales overall remain subdued.
"These were partially offset by internet sales, which dropped slightly as some people returned to shopping in person following a very wet July. Fuel sales also fell, with increased prices hitting demand."
Recent RAC data suggested that costs for both unleaded and diesel were up by more than 10p a litre since the beginning of August, reflecting the highest prices for Brent crude oil seen in 10 months.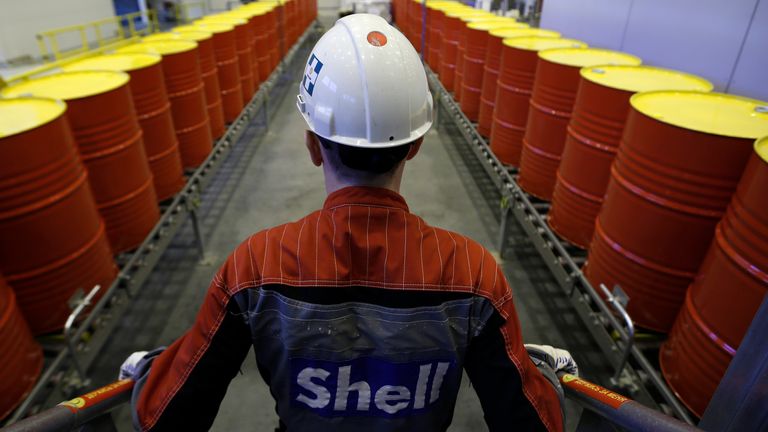 Production cuts by Saudi Arabia and Russia have been blamed for the hikes, with pump prices likely to have further to go to reflect the current level for Brent.
The ONS data is keenly awaited as household spending accounts for a majority of the UK economy – currently flatlining.
A measure of activity covering manufacturing and services, though excluding retail, indicated a growing risk of recession ahead.
The S&P Global Purchasing Managers' Index (PMI) said its readings on activity during September – which are subject to revision when full data becomes available – pointed to a contraction in quarterly output of 0.4%.
It was released as a closely-watched measure of consumer confidence showed improvement.
The GfK index, which measures consumer attitudes, showed a four point improvement for September but remaining well inside negative territory.
Joe Staton, the company's client strategy director, suggested that its findings were more bullish amid the shifting sands of the cost of living crisis, with the headline figure now back in line with January 2022.
"The view on our personal financial situation for the past year and the next is registering marginal but welcome growth, while expectations for the UK's wider economy in the coming year show a more robust six-point increase.
"And with less than 100 shopping days to Christmas, the four-point boost to the major purchase measure might offer some hope to retailers, who know all too well that many people face financial pressure in the run-up to this year's festive season."
The confidence readings were taken in advance of the Bank of England's latest interest rate announcement though rate-setters did have access to the PMI data.
Their decision to maintain Bank rate at 5.25% was due to reductions in key inflation indicators but the nine-member monetary policy committee will have also been concerned by the recession risks flagged by firms taking part in the PMI survey.
Bailey: 'We cannot be complacent'

That said, following 14 consecutive increases to tackle surging inflation, its rate-setting committee will be anxious to see if the move heralds a pick-up in demand, such as in consumer spending.
That scenario would be a concern as wages are currently outstripping the rate of inflation and any spending splurge would be seen as an added pressure.
While the Bank's pause on rate hikes gives some security to borrowers that things like mortgage costs should not go up further for now, the governor signalled that it would have to act again if the pace of price rises accelerated and was clear that there was no prospect of a rate cut any time soon.