President Joe Biden and House Speaker Kevin McCarthy have reached an "agreement in principle" on raising the US debt ceiling, according to sources in Washington.
The tentative deal would bring to an end the months-long stalemate between the Republican controlled Congress and Democrat run White House.
Currently, the debt ceiling stands at $31.4trn (£25.4trn) with the new limit yet to be announced.
Mr Biden and Mr McCarthy held a 90-minute phone call on Saturday evening to discuss the deal, as the 5 June deadline looms.
Following the conversation, the speaker tweeted: "I just got off the phone with the president a bit ago.
"After he wasted time and refused to negotiate for months, we've come to an agreement in principle that is worthy of the American people."
During a very brief press conference on Capitol Hill Mr McCarthy said they "still have more work to do tonight to finish the writing of it", adding that he expects to finish writing the bill on Sunday, then hold a vote on Wednesday.
The deal would avert an economically destabilising default, so long as they succeed in passing it through the narrowly divided Congress before the Treasury Department runs short of money to cover all its obligations.
Republicans have pushed for steep cuts to spending and other conditions, including new work requirements on some benefit programmes for low-income Americans and for funds to be stripped from the Internal Revenue Service, the US tax agency.
They said they want to slow the growth of the US debt, which is now roughly equal to the annual output of the country's economy.
Read more:
Biden cancels visits to Australia and Papua New Guinea to deal with debt crisis
Could US default on its debt? UK should be praying it doesn't
Exact details of the deal were not immediately available, but negotiators have agreed to cap non-defence discretionary spending at 2023 levels for two years, in exchange for a debt ceiling increase over a similar period, according to Reuters news agency.
The impasse frightened the financial markets, weighing on stocks and forcing the US to pay record-high interest rates in some bond sales.
A default would take a far heavier toll, economists say, likely pushing America into recession, rocking the world economy and cause unemployment to spike.
Darryl George: Family sues state governor after student suspended over dreadlocks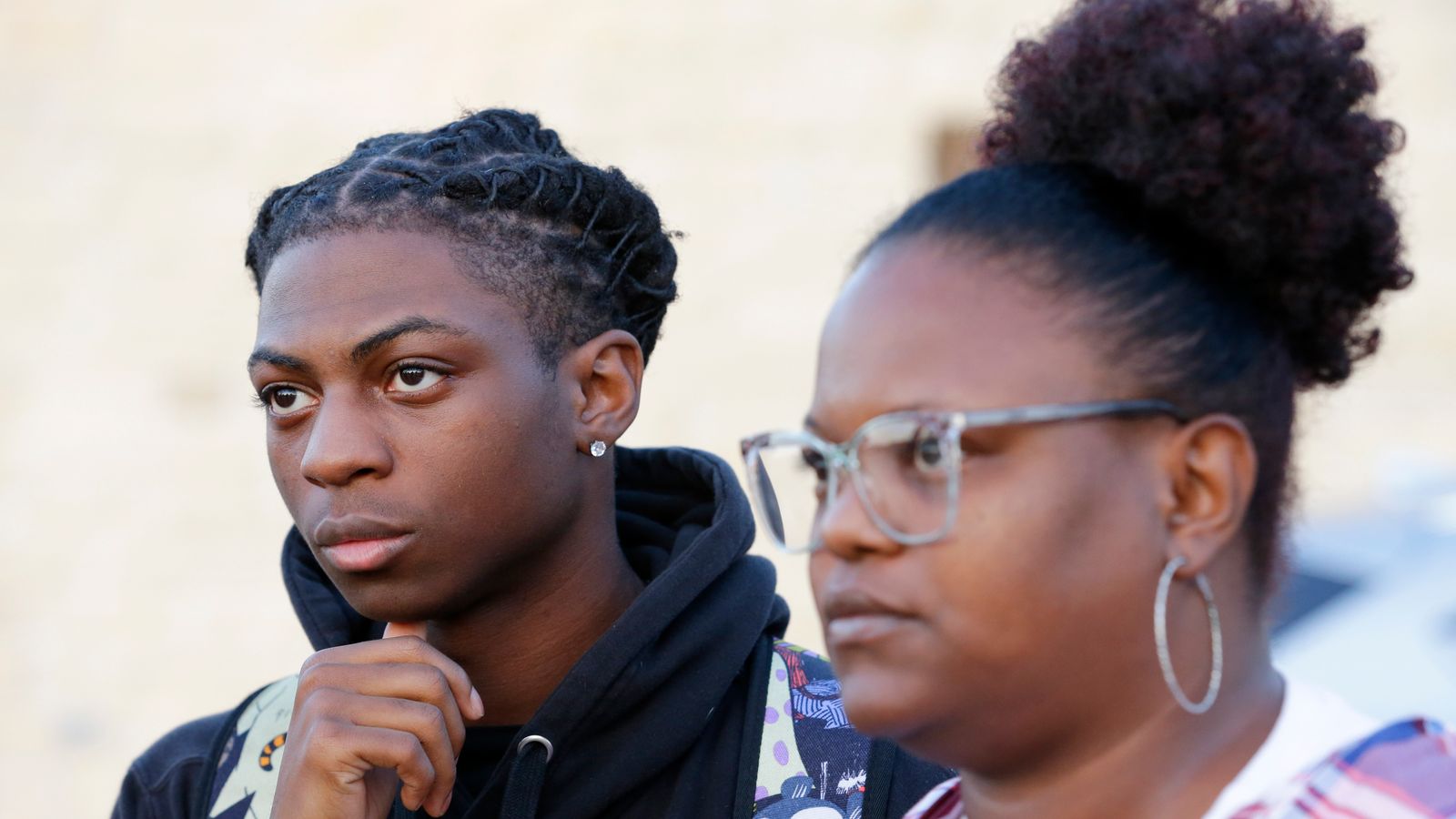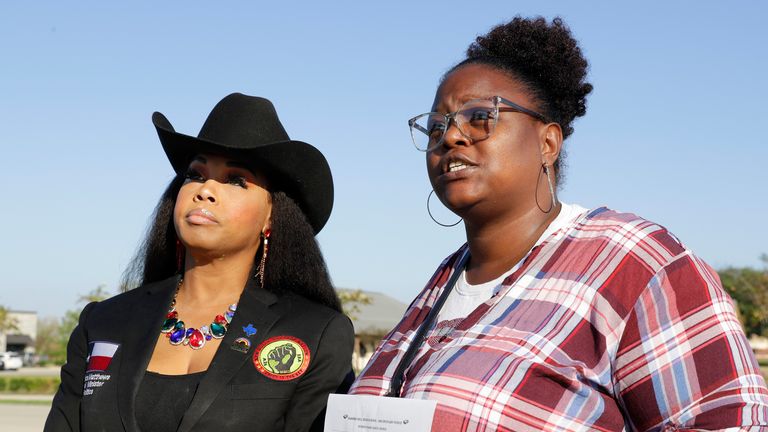 The family of a black student who was suspended from school in a row over his hairstyle has filed a lawsuit against the state's governor and attorney general.
Darryl George, 17, a junior at Barbers Hill High School in Mont Belvieu, has been expelled since 31 August because school officials said his dreadlocks fall below his eyebrows and ear lobes, violating the district's dress code.
His mother Darresha George has denied this and said his hair is neatly tied and twisted in dreadlocks on top of his head.
The lawsuit accuses Texas Governor Greg Abbott and Attorney General Ken Paxton of failing to enforce the CROWN Act, a new state law outlawing racial discrimination based on hairstyles.
The lawsuit claims the pair, in their official duties, failed to protect Darryl's constitutional rights against discrimination and violated his freedom of speech and expression.
Darryl George "should be permitted to wear his hair in the manner in which he wears it because the so-called neutral grooming policy has no close association with learning or safety and when applied, disproportionately impacts Black males," according to the lawsuit.
Second complaint in hair row
On Tuesday, his mother previously filed a formal complaint against the Texas Education agency and said Darryl was harassed and mistreated by officials because of his hair.
They claim during his suspension he was forced to sit for eight hours on a stool and was denied the free hot lunch he was eligible to receive.
Read more on Sky News:
911 call released after fighter jet pilot ejects and lands in back garden
Fugitive on run for more than 30 years laughs as he's finally caught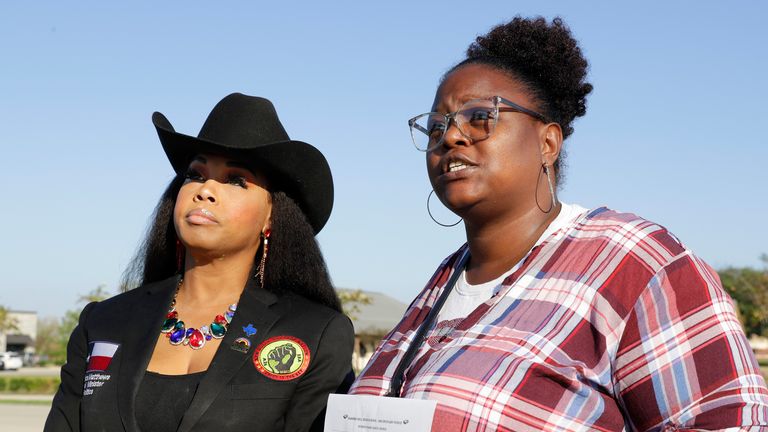 The agency is investigating the complaint.
Florida: Alligator killed after being discovered holding human remains in mouth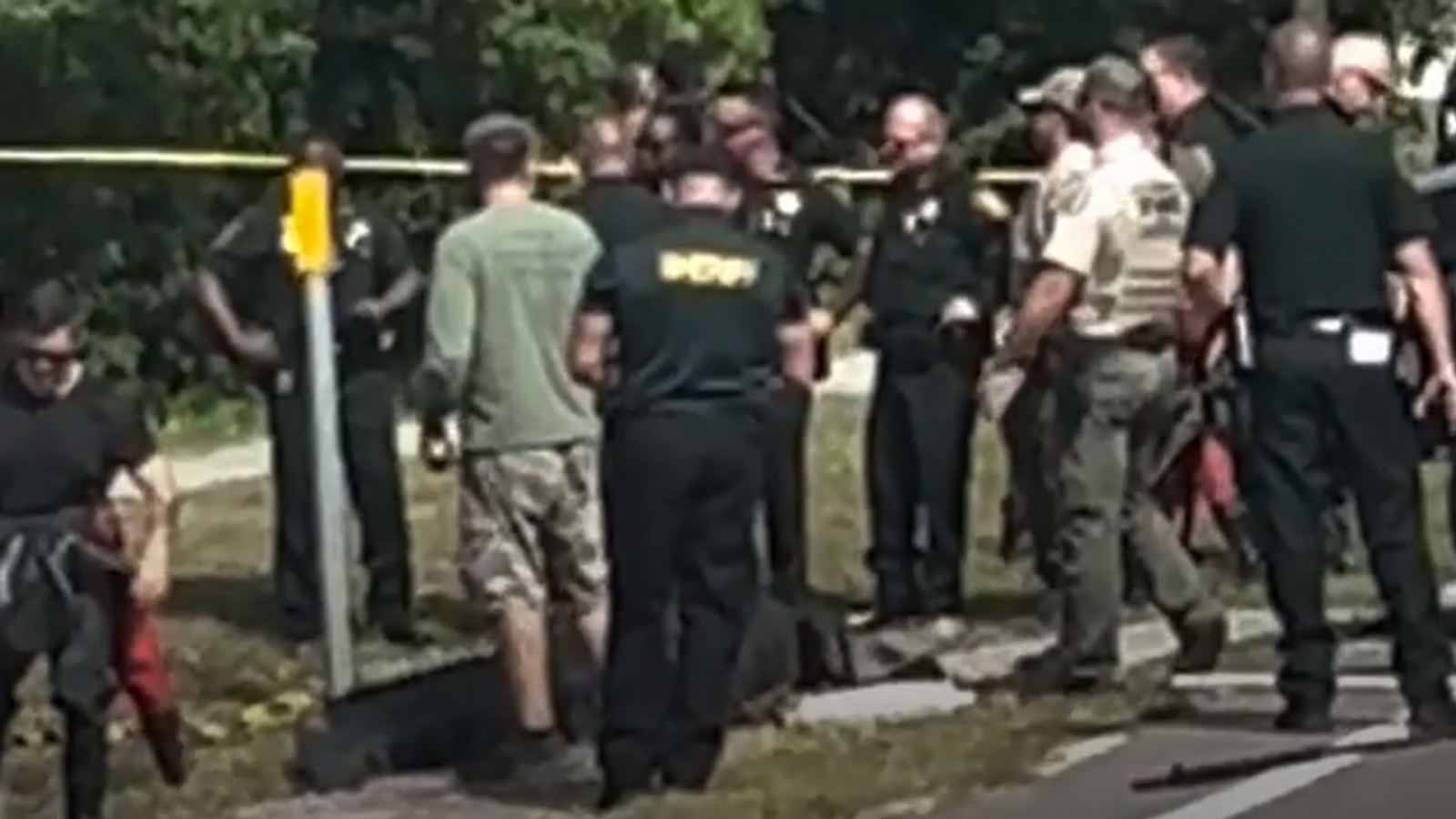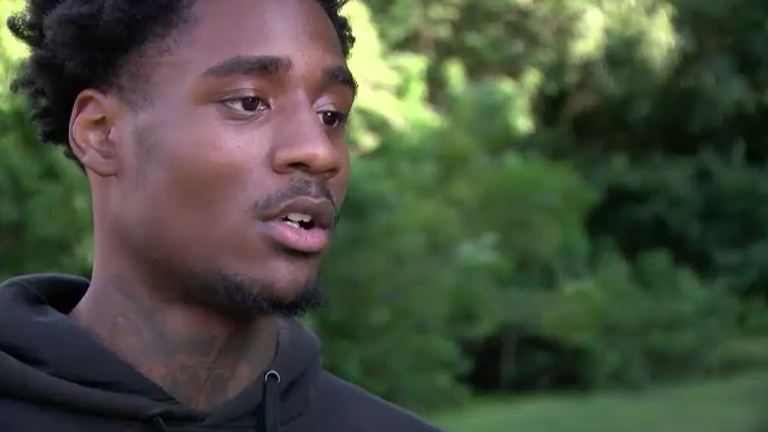 An alligator was spotted with human remains in its mouth by a passer-by in Florida.
The 13-foot reptile was spotted by Jamarcus Bullard in a canal in Largo, about 20 miles west of Tampa.
He said he saw the the alligator and a corpse in the water on Friday afternoon.
"I threw a rock at the gator just to see if it was really a gator and like it pulled the body, like it was holding on to the lower part of the torso, and pulled it under the water," he told a TV affiliate of NBC News, Sky News' US partner network.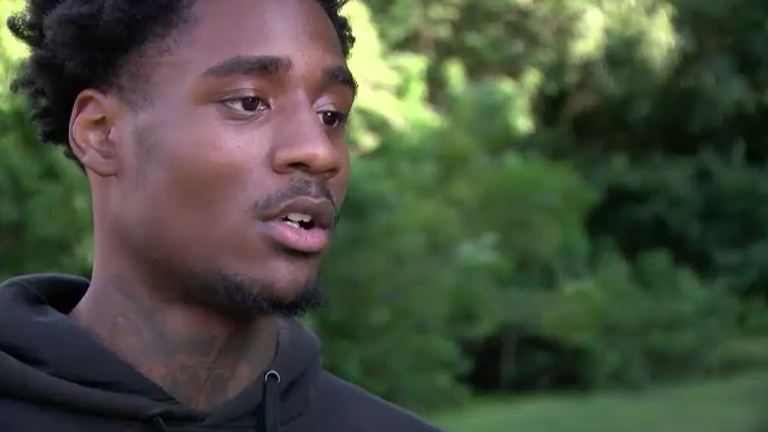 Bullard said he started recording on his phone and contacted the authorities.
A video he shared with the news station showed an officer with the Florida Fish and Wildlife Conservation Commission measuring the reptile.
The 13-foot, 8.5-inch male alligator was removed from the water and was "humanely killed," the Pinellas County Sheriff's Office said in a statement, adding that the remains of an adult had also been recovered.
No details about the deceased have yet been released and an investigation is under way.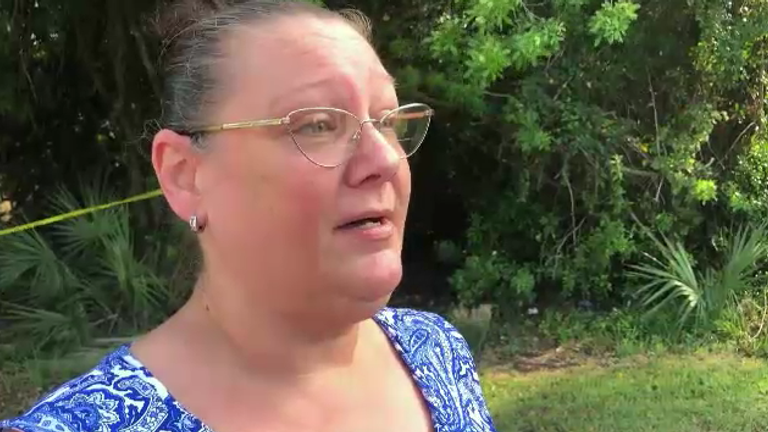 The medical examiner's office will conduct an autopsy to determine the cause of death.
The discovery has left some locals nervous with Jennifer Dean telling WFLA that her children frequently walk by the canal.
Bullard also said he walks near the water to and from work and will be more careful now.
US death row inmate Anthony Sanchez executed for rape and murder of Juli Busken after being caught by his DNA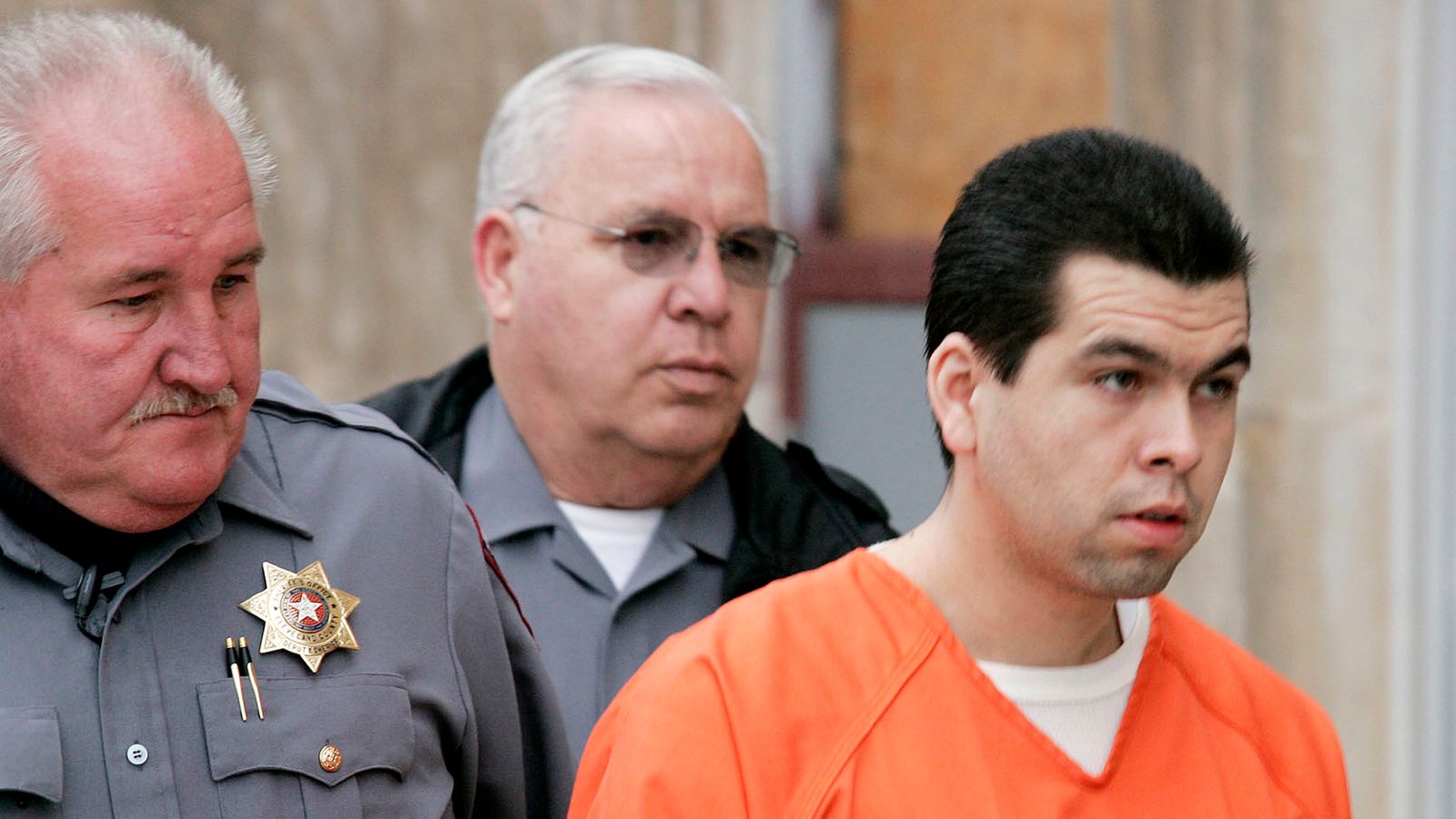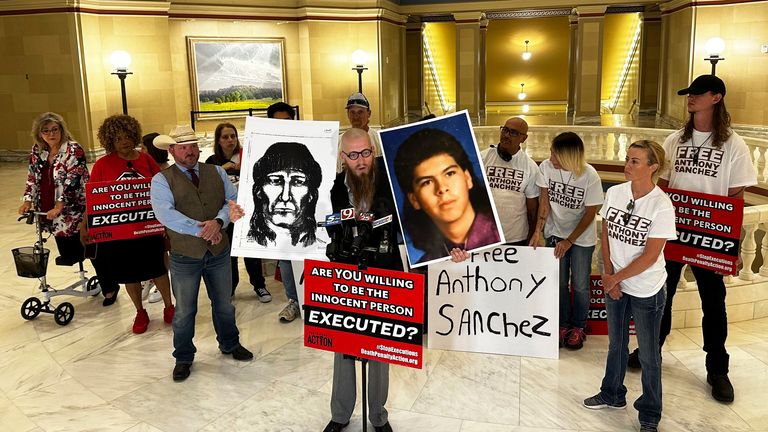 A man has been executed in the US for the rape and murder of a dance student which went unsolved for years until DNA from the crime scene was matched to him while he was in prison for burglary.
Anthony Sanchez, 44, protested his innocence as he was strapped down in the death chamber at the Oklahoma State Penitentiary in McAlester.
He was declared dead 11 minutes after the lethal drugs started to be administered.
While Sanchez maintained he had nothing to do with the 1996 killing of 21-year-old Juli Busken, he took the unusual step of opting not to present a clemency application to the state's pardon and parole board, which many viewed as the last chance to spare his life.
Ahead of his execution, Sanchez criticised his former lawyers and thanked his supporters, including his spiritual adviser who was in the chamber with him.
He said: "I'm innocent.
"I didn't kill nobody."
At one point during the procedure, a member of the execution team entered the chamber and reattached an oxygen monitor that prison officials said had malfunctioned.
Read more:
Star's cause of death revealed after inquest
Man dies driving off collapsed bridge following Google Maps
Shortly before he was put to death, the US Supreme Court rejected a request for a stay of execution submitted by his new lawyer, who had said he needed more time to go through the case evidence.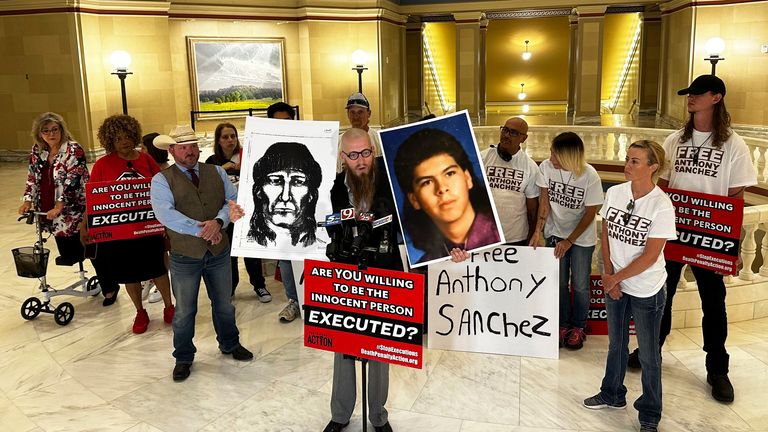 Juli Busken's family 'has found closure and peace'
Ms Busken had just completed her last term at the University of Oklahoma when she was abducted on 20 December 1996, from the car park of her apartment complex.
Her body was found later near a lake on the outskirts of Oklahoma City.
She had been bound, raped and shot in the head.
Busken had performed as a ballerina in several dance performances during her time at the university and a scholarship was set up in her name at the College of Fine Arts.
Years later, Sanchez was in jail for burglary when DNA from the victim's clothing was matched to him.
He was convicted and sentenced to die in 2006.
None of Ms Busken's family attended Thursday's execution, but state attorney general Gentner Drummond said he had spoken to them several times in recent months.
He said: "Juli was murdered 26 years, nine months and one day ago. The family has found closure and peace."
'False DNA'
Sanchez had long maintained his innocence.
In an interview earlier this year from death row. "That is fabricated DNA.
"That is false DNA. That is not my DNA. I've been saying that since day one."
He said he had declined to seek clemency because even when the five-member pardon and parole board takes the rare step of recommending it, governor Kevin Stitt was unlikely to grant it.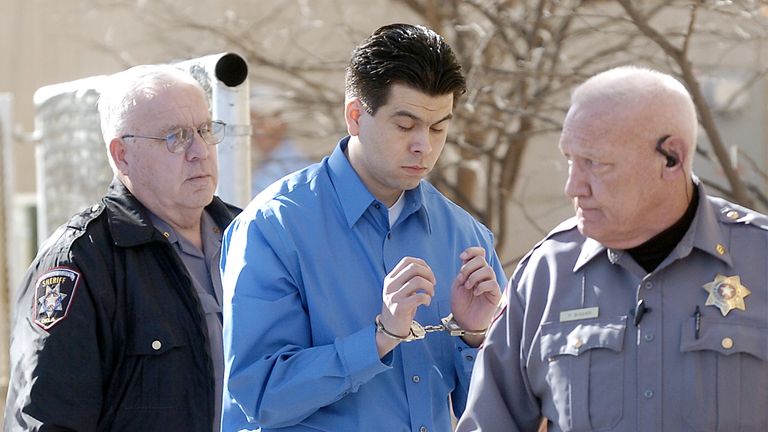 Sanchez said: "I've sat in my cell and I've watched inmate after inmate after inmate get clemency and get denied clemency. Either way, it doesn't go well for the inmates."
Mr Drummond maintained the DNA evidence unequivocally linked Sanchez to Ms Busken's killing.
He said the odds of randomly selecting an individual with the same genetic profile were one in 94 trillion.
'Brutal rapist and murderer'
"There is no conceivable doubt that Anthony Sanchez is a brutal rapist and murderer who is deserving of the state's harshest punishment," Mr Drummond said in a recent statement.
A private investigator hired by an anti-death penalty group argued the DNA evidence may have been contaminated.
Ballistic evidence
But former Cleveland county district attorney Tim Kuykendall, who was the county's top prosecutor when Sanchez was tried, has said while the DNA evidence was the most compelling at trial, there was other evidence linking him to the killing, including ballistic evidence and a shoe print found at the crime scene.
Mr Kuykendall said recently: "I know from spending a lot of time on that case, there is not one piece of evidence that pointed to anyone other than Anthony Sanchez.
"I don't care if a hundred people or a thousand people confess to killing Juli Busken."
Sanchez is the third inmate put to death in Oklahoma this year and the tenth since the state resumed carrying out the death penalty in 2021 ending a six-year moratorium introduced over concerns about its execution methods.