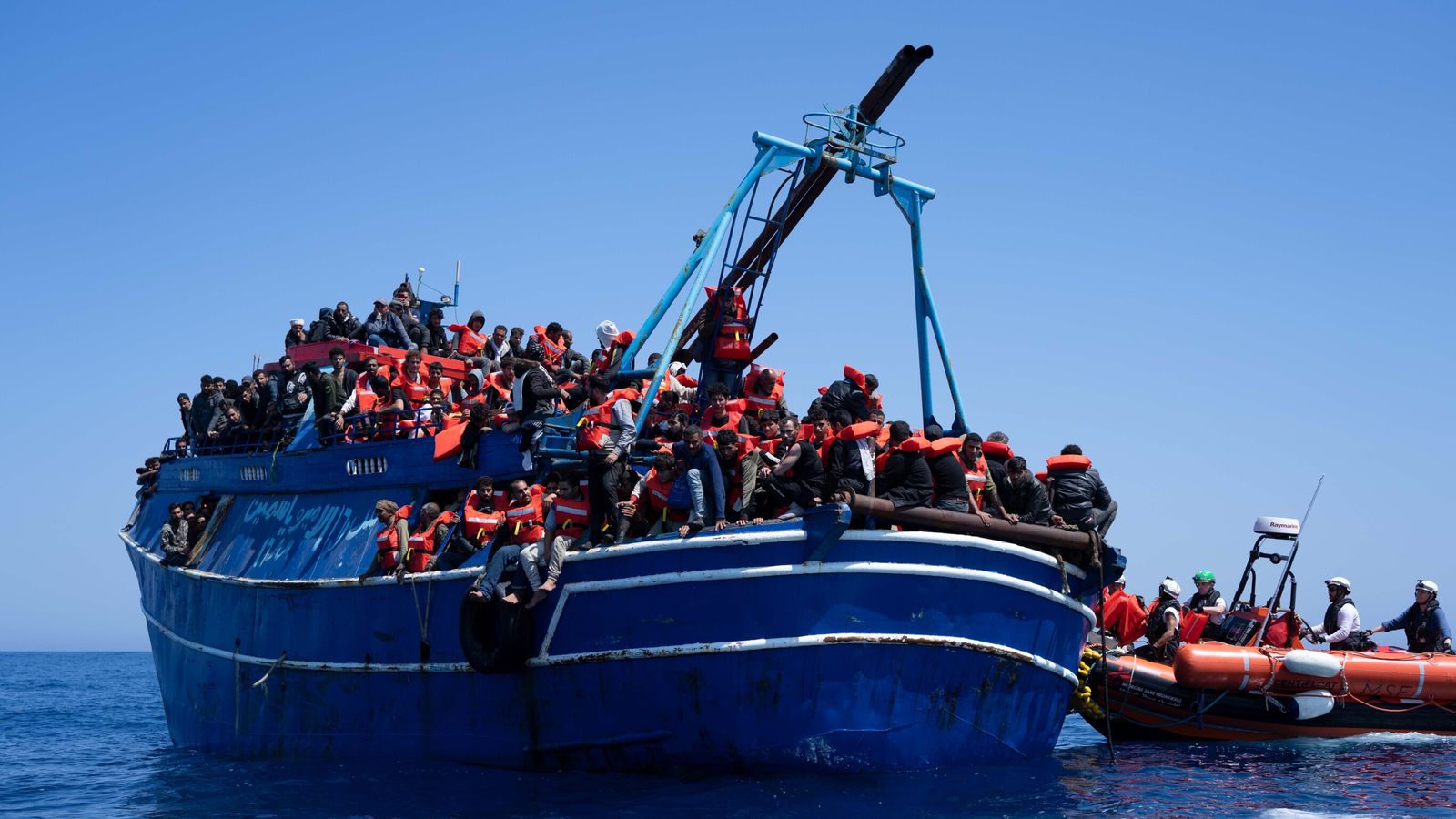 On board the mission to rescue 600 people from overcrowded fishing boat abandoned by its captain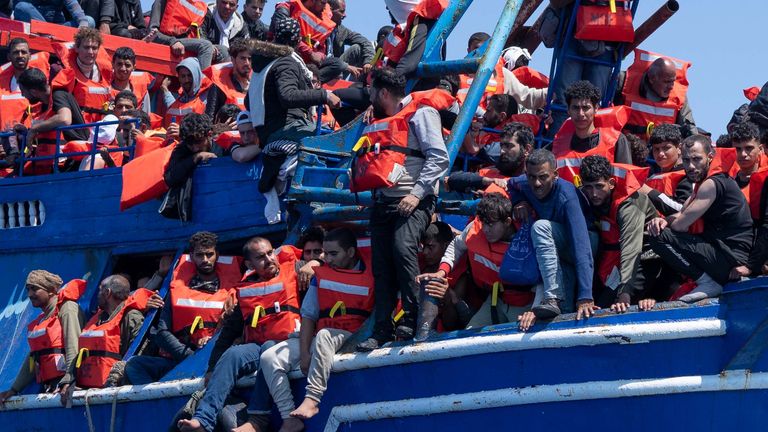 The sun beats down on us. I'm sweating, and there is noise from every angle. Two marine engines thrum behind me, churning the water of the Mediterranean.
You can smell the salt, but also the plastic of our boat, warmed by the early afternoon. Cloudless skies. I can hear shouts, cries, and also words of thanks.
Ahead of us – painted in a rich blue – is a hopelessly dilapidated fishing boat that teems with people. Crowded on to the deck, peering out of every gap, perching from every vantage point.
The boat left the Libyan port of Tobruk packed with hundreds of people and has meandered its way towards Italy. A day or so ago, with the food and water running out, the captain left during the night, abandoning his passengers to an uncertain fate. None of them knew how to control the vessel, or how to navigate.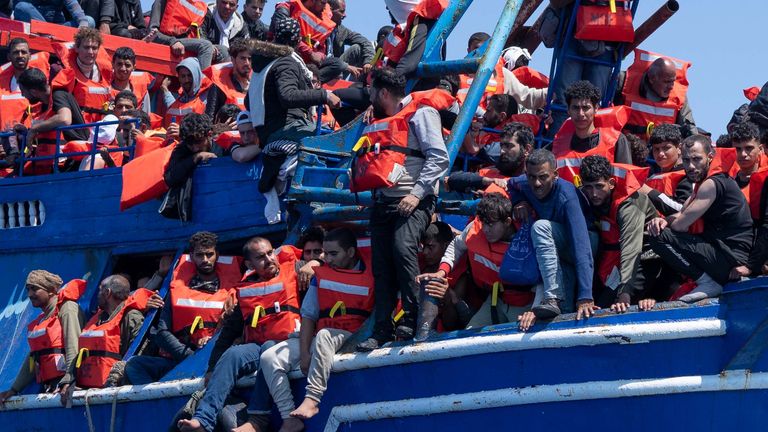 These are the passengers we are now rescuing. Mainly Egyptians, but with groups of Bangladeshis, Syrians and Pakistanis, among other nationalities. They clamber down from the fishing vessel and on to the RIB – the universally used acronym for a rigid inflatable boat.
My job is, basically, to get them to sit down and keep relatively still, so the boat doesn't get unbalanced.
Some of these people are exultant, but most seem exhausted. A few are clearly very ill.
I help a woman who turns and simply faints in my arms. The medic on board, a Belgian nurse called Simon, gives her a quick look and assures me she'll be fine. He's right. She's simply overwhelmed.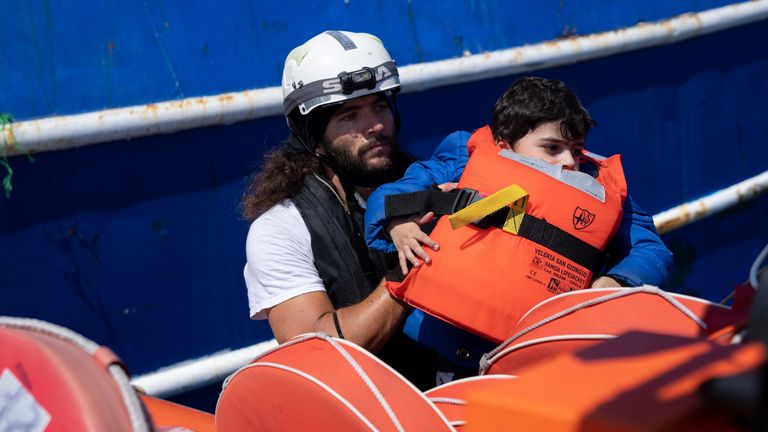 And now, almost out of nowhere, a middle-aged man in a discordantly warm jacket grabs me and kisses me on both cheeks. I can feel his stubble and hear him mumble "thank you". I smile, and then ask him to sit down in the boat.
It's filling up. Eventually, the leader of the boat team, an Argentinian man called Juan, will give the signal and we will back away and speed the passengers off to the looming presence of the Geo Barents, the 80m-long rescue ship run by the charity Medecins sans Frontieres (MSF). In a few hours, it will look less like a ship and more like a floating refugee camp.
The Geo Barents was never meant to be doing things like this. It was built as an oceanographic survey vessel, which is why there are still huge reels of cable on one of the decks, along with a "seismic room".
What is the Geo Barents rescue ship?

Read more:
70 dead and 1,200 people rescued after boats capsize
But MSF wanted to hire a boat to launch rescue missions in the Mediterranean and the Geo Barents was available and fitted the bill. There is space for the two RIBs to be launched and doors that can be flung open to help the migrants clamber back in.
There is storage capacity for clothes, food, water, medical supplies, bedding and the hundred other things needed to keep people going.
And there is space, which is just as well. This is the 30th time the Geo Barents has gone to sea on behalf of MSF, and its previous record was when 440 people were rescued during mission number 25.
That record is in the process of being very comfortably broken – a total of 606 people will be taken from the fishing boat and brought over to the Geo Barents. Space, the precious commodity, will run out quickly.
The biggest area is given over to men, who make up most of the people who are rescued. Upstairs are the minors and also the relatively small number of women.
More than a hundred minors were rescued from the boat. Some are very small – I saw a tiny baby being brought on to a rescue boat, passed gingerly to its mother – and there are fearful toddlers, who cried on the boat and now sit on the Geo Barents, open-eyed and overwhelmed.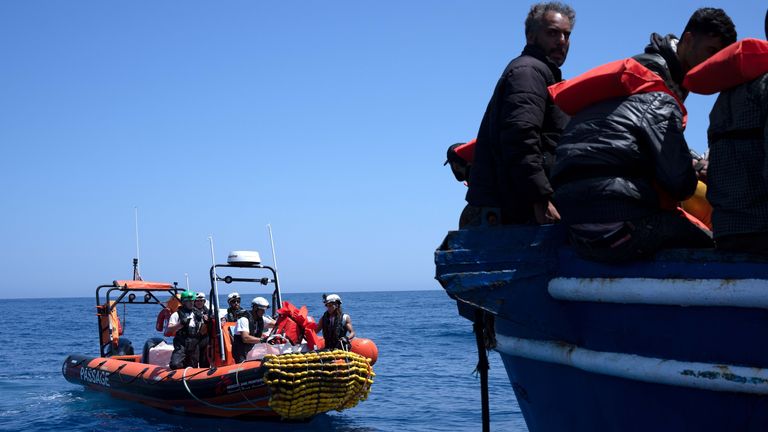 There is also a pregnant woman who was carefully helped on after her rescue. Once before, a baby has been born on the Geo Barents and there is a midwife onboard. Most of the children are here with a parent, or parents, and, as we complete one of the runs between wreck and rescue boat, a man asks me to take a photo of him and his small child. The man looks happy; the child stunned.
Food is given out once per day – a bag that contains emergency rations and meals that can be heated up by adding water and squeezing the packet.
We meet Hamdi and Assad, Egyptians who met in Libya and have become close friends. They paint a desperate picture of what life was like on board the boat.
"I was worried about the boat within 30 minutes of getting on board. We all thought it would be bigger and safer than it was. When we left for the first time there were even more people on board – 750 perhaps – but the captain said that we would sink. So about 150 people got off, and then we left."
He says there were problems with the engine, and then the ship – hopelessly ill-balanced due to overcrowding – was nearly knocked over by large waves. And then, amidst it all, the captain disappeared, having apparently abandoned his ship and its passengers by jumping on to another boat in the middle of the night.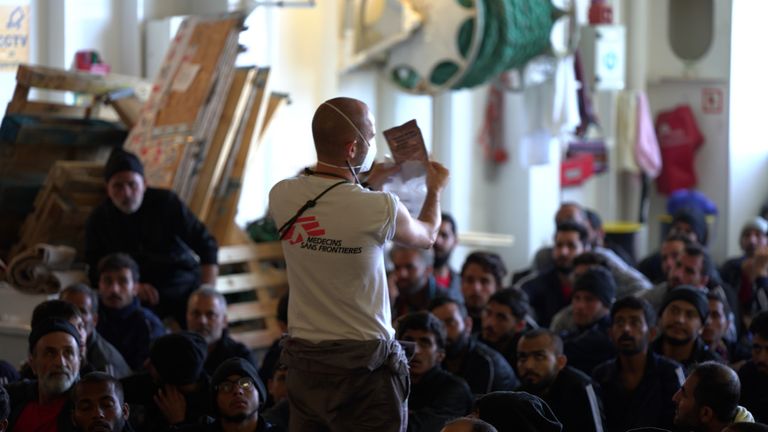 "We all thought we were going to die," said Hamdi, and Assad nods alongside him. "We had no water, the only food we had left was rotting, people were ill because of the sun, or the cold, or the sea water, or being crammed together, and nobody knew how to steer the boat. I was sure we would die." He smiles at me. "So now I feel I have been given another life."
He says the passengers did not know what was going on when they were first approached by a boat. They thought it might be kidnappers or pirates. In fact, it was the Italian coastguard, who assessed the situation, saw that it was grim but salvageable, and called the nearby Geo Barents to ask it to take all the passengers off the stricken fishing boat.
Things are not always so harmonious between the boat and the authorities. The Geo Barents, along with other charity rescue boats, has been criticised by Italy's government, which claims that it encourages migrants to try to cross the Mediterranean, knowing that there will be a boat to help them along the way.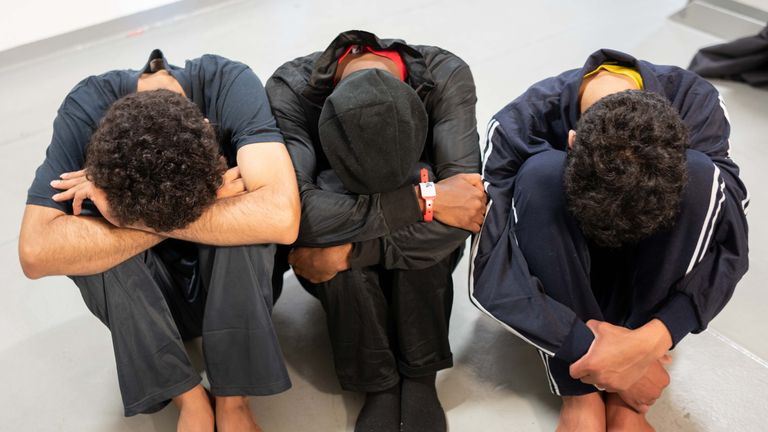 The reality is that the Mediterranean passage is the most dangerous migrant route in the world, with around 1,000 deaths already this year. But the political debate around migration is as fierce in Italy as it is in many other European countries. In Britain, the focus of migration policy is on small boats; in Italy, ministers talk of big ships, like the Geo Barents.
Those on board shrug off the criticism, pointing out that the coastguard rescues a lot more migrants than they do. But the tension is also clear – earlier this year, the Geo Barents was confined to harbour and fined after officials noted what they said was an administrative error. MSF suspects its work is being deliberately disrupted.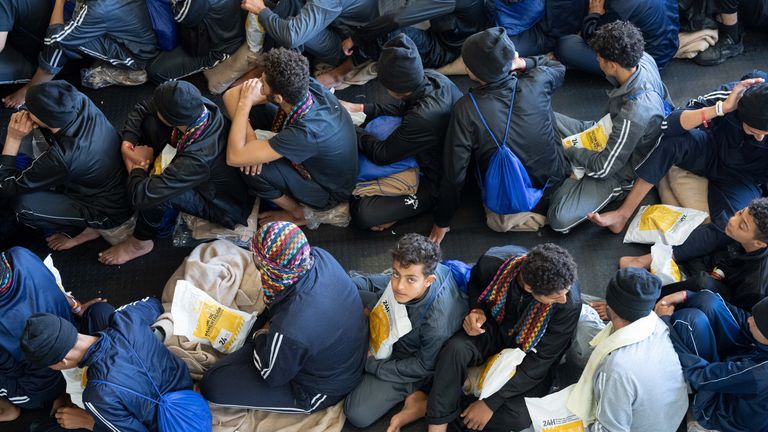 Out at sea, the last migrants are off the fishing boat. The logistical challenge of caring for them is enormous – food, water, bedding, toilets, shelter, clothes, toiletries and medical treatment are all offered. Everywhere you look, there are people sleeping, talking, laughing and eating all within a few square feet. The sense of relief over their rescue does not seem to have dissipated.
And so we set off back towards Italy, to drop off these 606 people and put them into the hands of the Italian authorities. The Geo Barents will be cleaned and loaded with new supplies, and then it will head back out to sea. A beacon of humanitarian goodwill in the minds of some, a magnet of controversy in the opinion of others.
Somalia truck bombing kills 15 people and wounds 40 others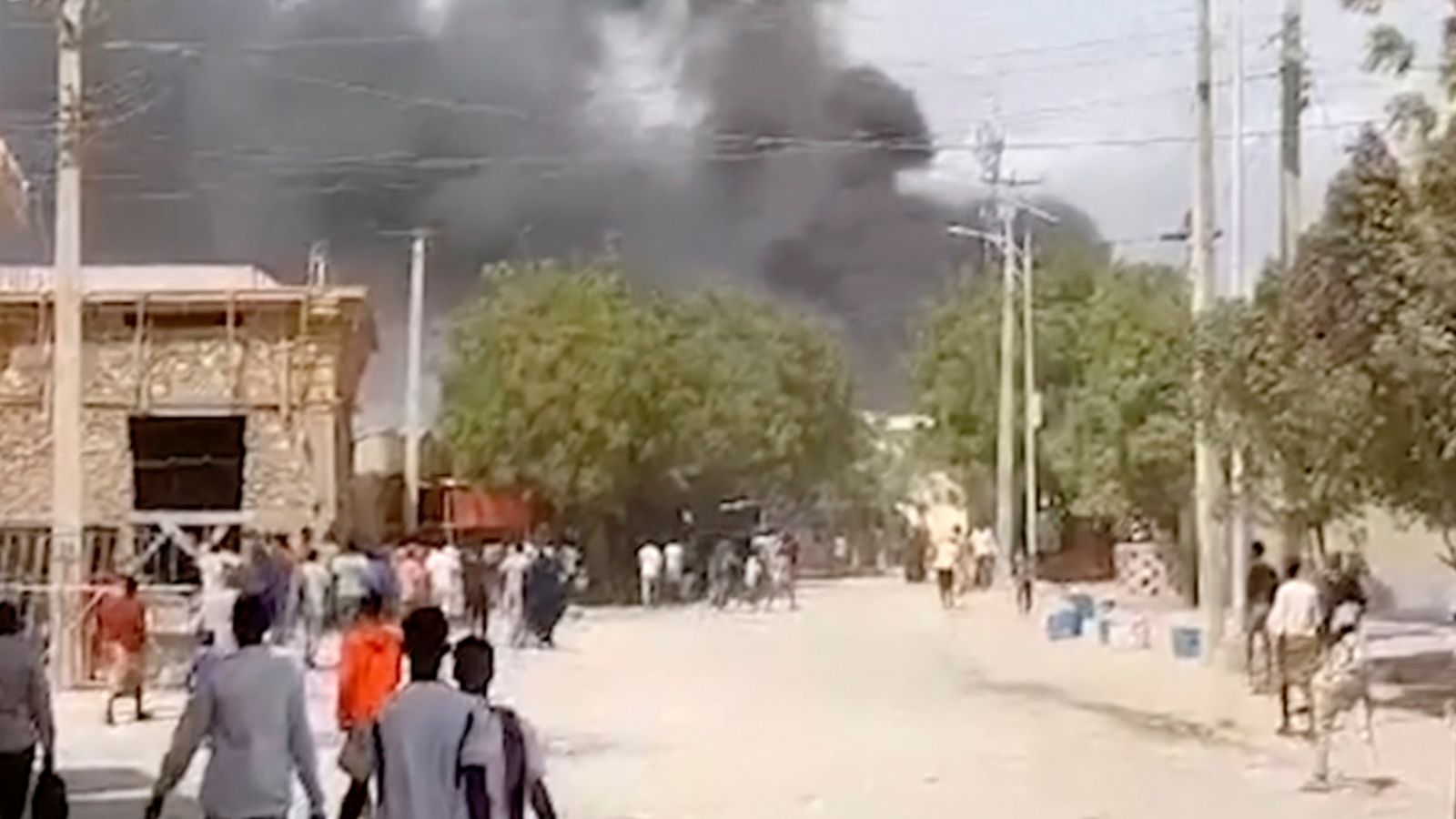 A bombing at a checkpoint in Somalia has killed at least 15 people and wounded 40 others, authorities have said.
Images on social media showed a damaged truck cab on fire and black smoke billowing from the scene in the central city of Beledweyne.
No one has immediately claimed responsibility, including Al Shabaab, which often carries out attacks and controls parts of Somalia.
Police officer Ahmed Aden said the dead included five police officers who fired on the truck in a failed attempt to stop it from ramming into the nearby checkpoint.
Shops nearby were reduced to rubble, with reports of people missing beneath the debris.
It was a truck loaded with explosive devices that forcefully passed through the government-manned checkpoint, and a pick-up vehicle belonging to security personnel was chasing it when it exploded," said witness Abdikadir Arba, who said he was about 200 metres away and was one of the first responders.
Abdifatah Mohamed Yusuf, director-general of the Hirshabelle Ministry of Humanitarian and Disaster Management, confirmed the deaths.
"Twenty of the wounded have been admitted to Beledweyne hospitals, while another 20 are in critical condition, prompting a request for their airlift to Mogadishu for advanced medical treatment," he said.
Read more on Sky News:
Somalia is fighting a battle on all fronts
At least 20 killed in hotel attack
Locust swarms risk food crisis
Hirshabelle is a state that includes Beledweyne. It has been the centre of the Somali government's latest military offensive against extremists from Al Shabaab.
Click to subscribe to the Sky News Daily wherever you get your podcasts
Al Shabaab has been battling Somalia's central government for more than a decade, aiming to establish its rule based on strict interpretation of Islamic sharia law.
Fugitive on run for more than 30 years laughs as he's finally caught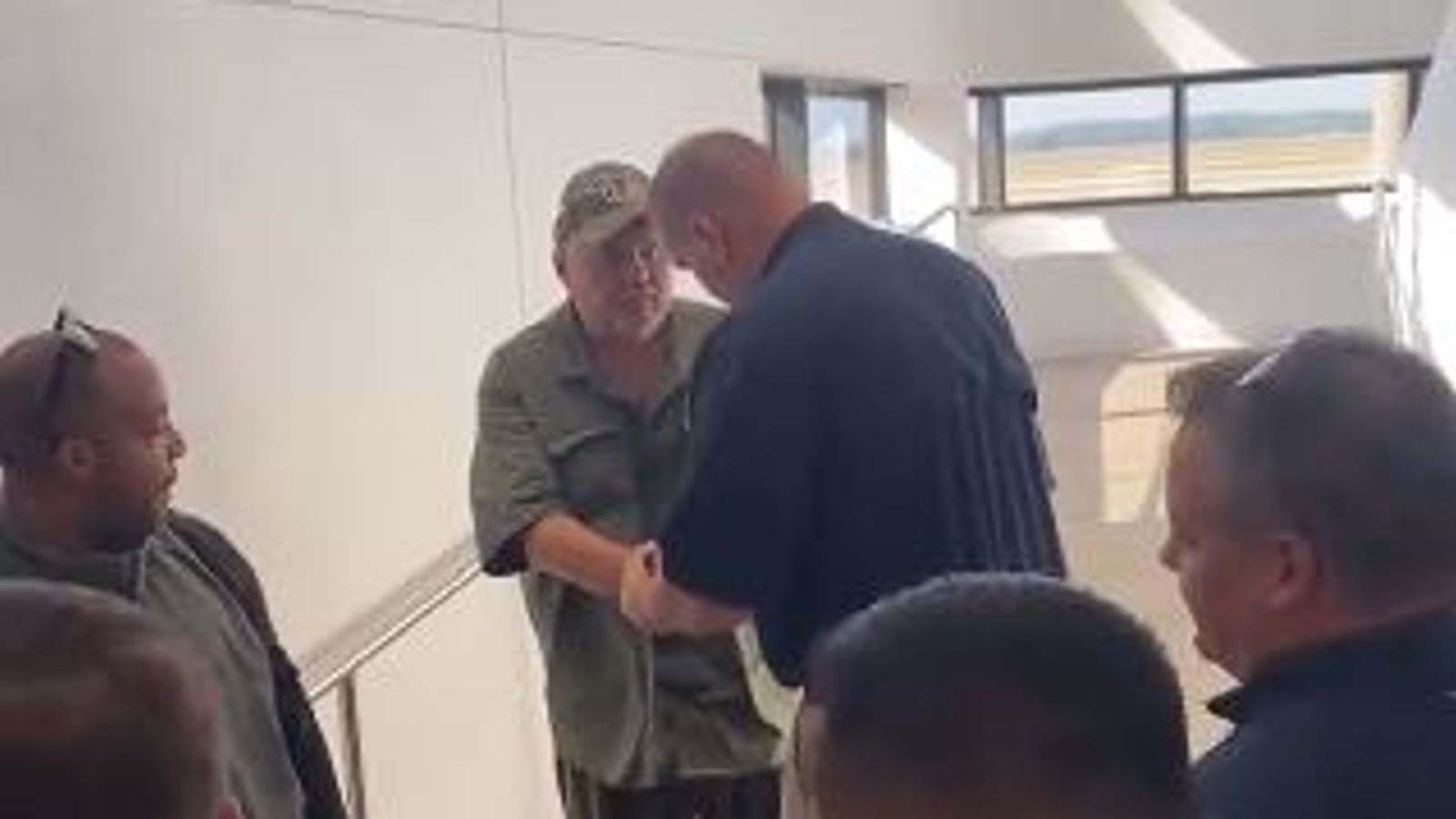 A fugitive convicted of attempted murder who evaded police for more than 30 years has been caught.
Greg Lawson, who had been on the run for 32 years, laughed and asked officers "how are you doing?" as he was handcuffed in Huatulco, Mexico.
Lawson, 63, fled Louisiana, in the US, just before a jury found him guilty of shooting a man called Seth Garlington in 1991 – sparking an FBI manhunt in May that year.
In a video shared by FBI News Orelans on X, formerly known as Twitter, Lawson is seen wearing a short-sleeve shirt and camouflage cap.
With police officers in escort, he patted someone on the shoulder while laughing, before another officer turned to handcuff him.
Douglas Williams Jr, the agent in charge of FBI New Orleans, said the capture would not have been possible without the help of authorities in Mexico.
"We want to thank our partners and the public in this case, who never gave up hope that justice could be served for Mr Lawson's victim," he said.
"There is no doubt that Mr Lawson might still be in the wind if our partners in Mexico had not been willing to deal with this so swiftly."
The FBI said they had always suspected Lawson was hiding out in Mexico, but a "tip" they received earlier this month appeared to confirm their theory.
Read more:
Murderer who escaped prison by 'crab-walking' up wall caught
Man fleeing Venezuela faces goodbye to pet squirrel after 3,000-mile journey
He was arrested on Tuesday, 19 September, and was taken into custody back in Louisiana.
According to a local Louisiana news channel, KTBS, Lawson had a "fistfight" with Mr Garlington in a car park at a petrol station.
Court documents, they added, claim Lawson forced Mr Garlington's vehicle off the motorway, with Lawson then firing shots.
When the jury came back from deliberation to confirm the guilty verdict, Lawson had already run away.
The FBI had offered a $10,000 (£8,200) reward for his capture.
Sweden: Chunk of motorway collapses in landslide – leaving three in hospital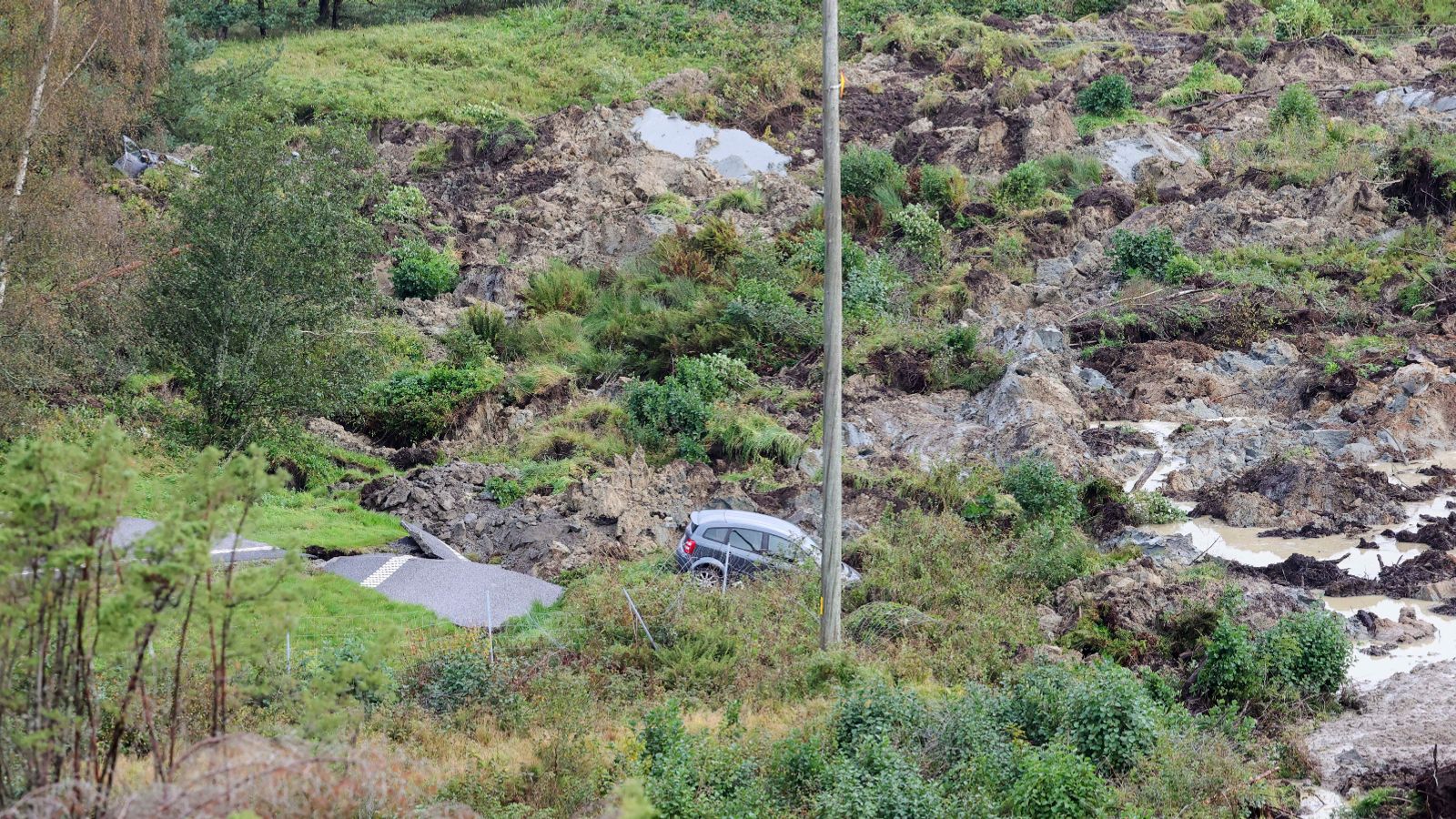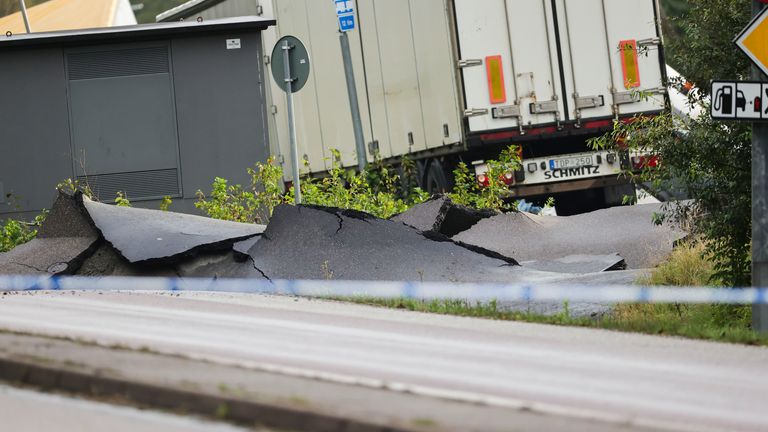 Three people have been taken to hospital after a large chunk of a motorway in Sweden collapsed in a landslide early on Saturday morning.
Police said at least four cars and a bus skidded off the E6 motorway – connecting Gothenburg in Sweden to Norway's capital Oslo – near the small town of Stenungsund.
Several buildings were also damaged, including a Burger King restaurant.
The landslide has affected a total area of around 700 x 200 metres, which is roughly equivalent of 21 football pitches.
"The hardest hit parts of the landslide area measure around 150 x 100 metres," the Gothenburg Rescue Services added in a statement.
"A number of people have been helped out of vehicles in the slide area with the help of fire personnel and a helicopter."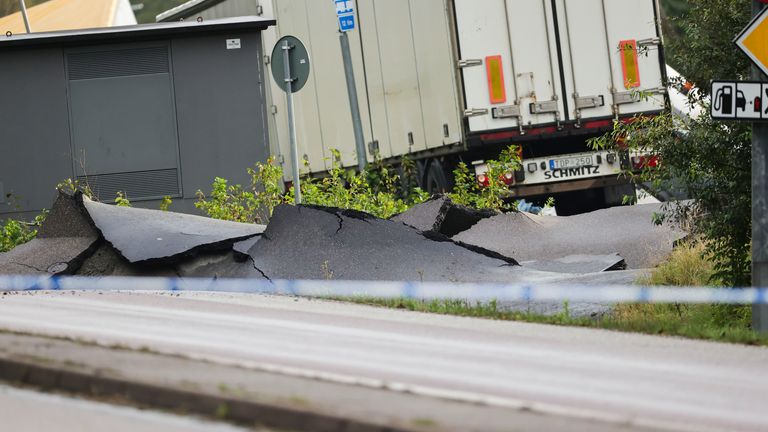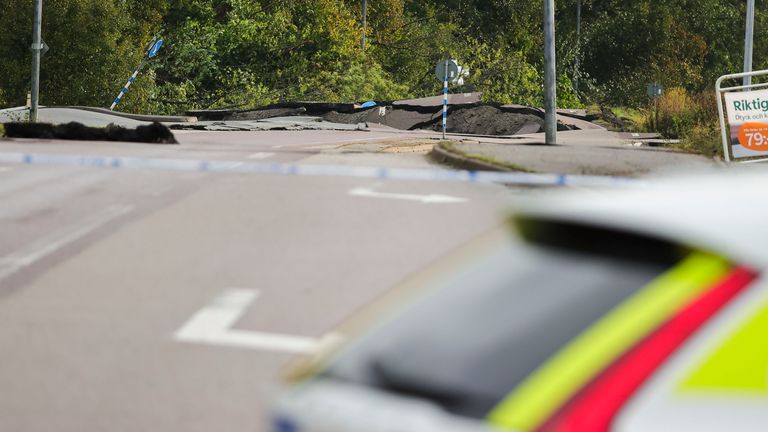 Rescue services say further landslides cannot be ruled out.
Police say nobody is suspected of a crime, but an investigation has been launched into whether a construction site nearby caused the landslide.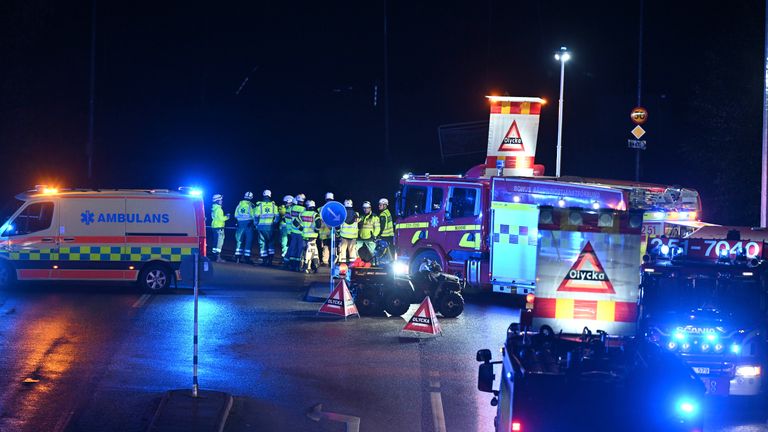 There has also been heavy rainfall in the area over the past few days.
Swedish news agency TT reported several cars and one truck had fallen into cracks caused by the landslide, while rescue services told public broadcaster SVT all people have been helped out.
Specially trained dogs were on the scene to ensure no people had been overlooked among the debris.