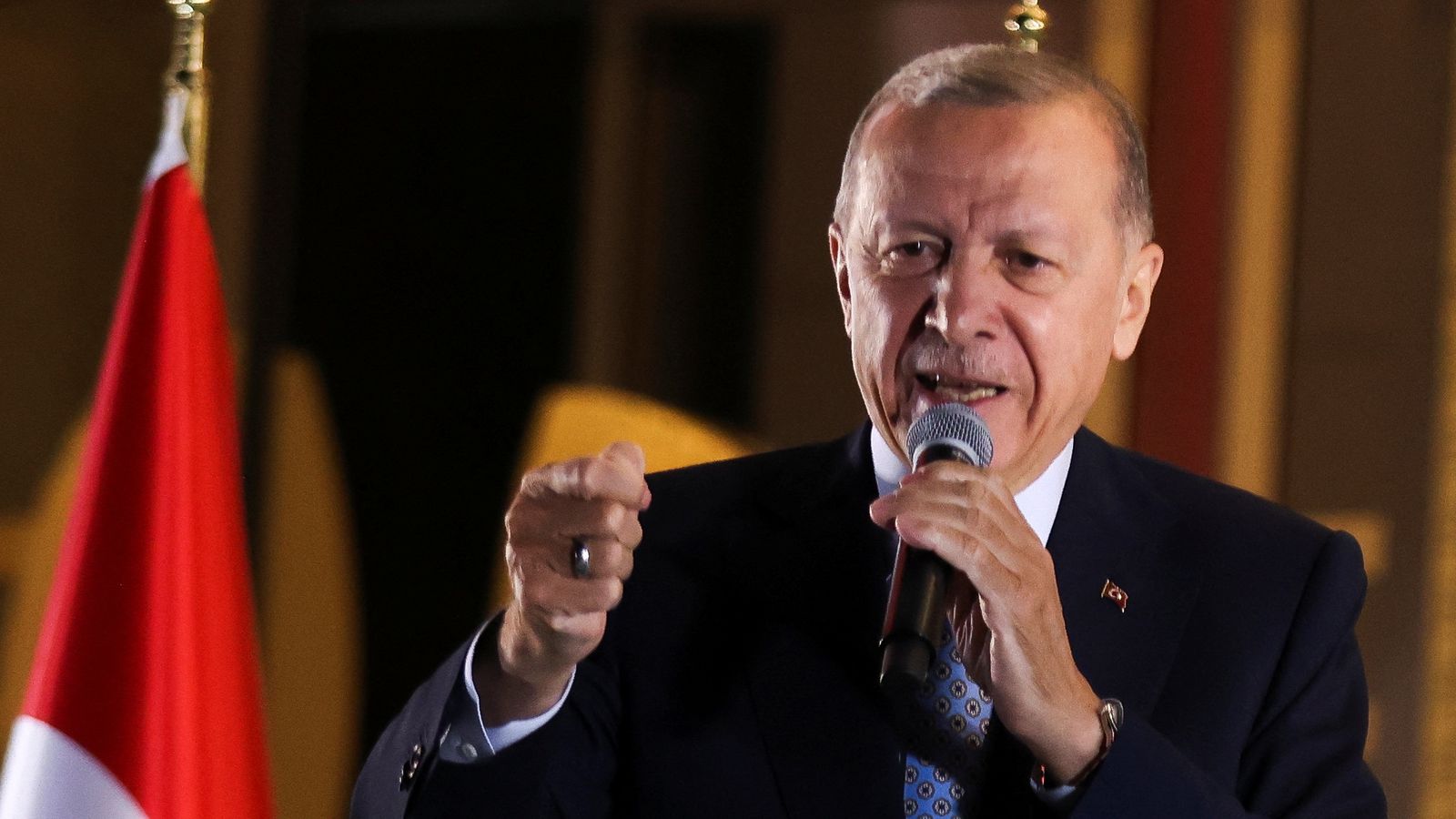 Turkey elections: Putin and Zelenskyy among world leaders to congratulate Erdogan on election victory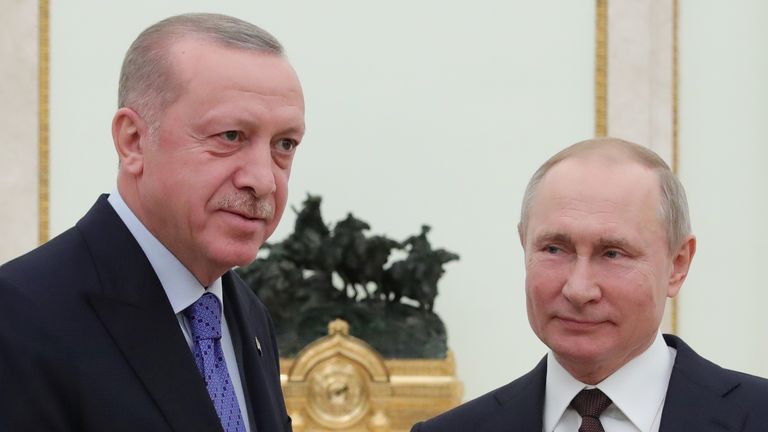 Vladimir Putin and Volodymyr Zelenskyy have joined world leaders in congratulating Turkish president Recep Tayyip Erdogan on his election win.
In a letter to president Erdogan celebrating his narrow run-off victory on Sunday, Mr Putin addressed the Turkish leader as "Dear Friend" and praised his efforts at strengthening Russian-Turkish relations.
"From the bottom of my heart I wish you new successes in such a responsible activity as the head of state, as well as good health and well-being," he added.
Mr Zelensky also offered his congratulations to Mr Erdogan and spoke of the need for the "further strengthening" of Ukraine and Turkey's "strategic" partnership.
He was joined by Western leaders, such as Rishi Sunak, Joe Biden and Emmanuel Macron, who took to Twitter to share congratulate Mr Erdogan on his election win.
Turkey holds an important position in world politics, in part because of its geographical location as the junction between Europe and Asia – in particular the Middle East.
With Russia's invasion of Ukraine, Turkey also holds increasing importance as the gatekeeper to the Black Sea and has been central in negotiating crucial deals to maintain the export of Ukrainian grain.
Though a NATO country – and one which has in the past pushed for European Union membership – Turkey maintains diplomatic relations with Russia.
In his letter of congratulations to Mr Erdogan, Mr Putin talked about the development of the joint Turkish-Russian Akkuyu nuclear power plant and the creation of a gas hub in Turkey.
'Russia must return land to Ukraine'
Mr Erdogan, however, has also in the past talked about the importance of maintaining Ukraine's territorial integrity and securing a peace deal to end the conflict.
In September last year, when asked whether Russia should be able to keep its territorial gains, he told US public broadcaster PBS: "No, and undoubtedly no.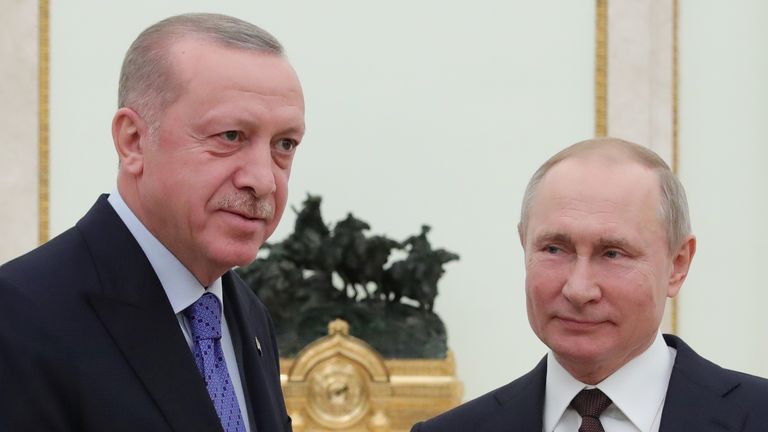 "If a peace is going to be established in Ukraine, of course, the returning of the land that was invaded will become really important. This is what is expected."
Turkey election latest:
Erdogan thanks crowds as election officials declare him winner
Western leaders, including the UK's prime minister, have also been keen to push the idea of a "strong relationship" between Turkey and the West.
In a statement, a Downing Street spokesperson said Mr Sunak and Mr Erodgan had spoken since his election victory was confirmed.
Turkey election: 'This is an historic vote'

"The prime minister reiterated the strong relationship between the United Kingdom and Turkey, as economic partners and close NATO allies," a spokesperson said.
"The leaders agreed to continue working closely together to address shared challenges."
Five more years
With 99% of the votes counted, Mr Erdogan, who served as prime minister from 2003 to 2014, won with a share of 52.1%.
It means he has secured a record-breaking third term as president and will serve at least five more years in power.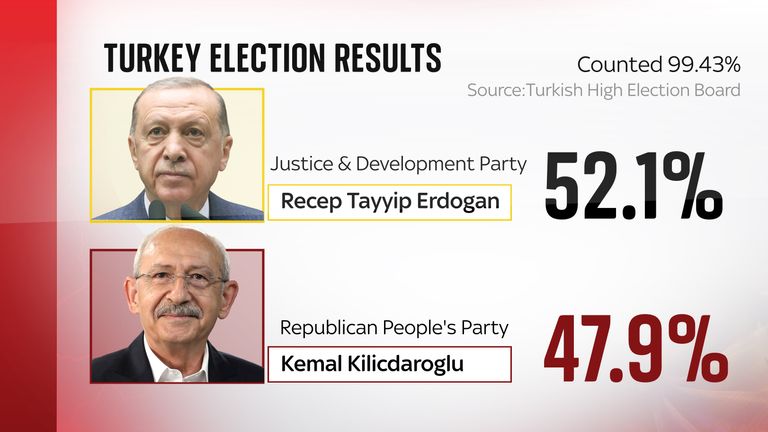 Polls closed at 5pm local time (3pm BST) and while votes were counted fast, for hours it remained too close to call. At one point, less than a percentage point separated the incumbent from his rival, Kemal Kilicdaroglu.
Shortly after 8pm local time (6pm BST) Mr Erdogan stepped out of his home and thanked people for "giving us the responsibility to rule for the next five years".
Opponent refuses to admit defeat
Kemal Kilicdaroglu took the stage earlier this evening, and in a rousing speech, he refused to admit defeat.
"I wasn't able to defend your rights," Kilicdaroglu began by saying. "I did not shirk against an unjust structure, I could not be a silent devil and I was not.
Erdogan: 'Bye, bye, bye Kemal'

"I could not stand quiet against millions of people becoming second-class citizens in this country.
"I could not let them stand all over your rights. For your children to go to bed hungry. For farmers to not to be able to produce. I could not allow these things."
He concluded by thanking the 25 million people who voted for him – and says the "battle continues".
First presidential run-off in Turkey's history
The pair were forced to go head-to-head when neither reached the required 50% of the vote in the first round on 14 May and Mr Erdogan's win will have profound consequences for Turkey, and the wider world.
The two candidates offered sharply different visions of the country's future and its recent past.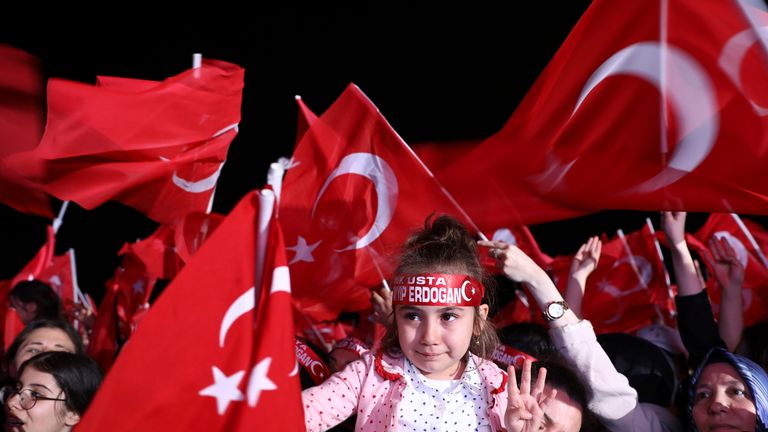 Mr Erdogan's government vetoed Sweden's bid to join NATO and purchased Russian missile-defence systems, which prompted the US to oust Turkey from a US-led fighter-jet project.
But it also helped broker a crucial deal that allowed Ukrainian grain shipments and averted a global food crisis.
Meanwhile, Mr Erdogan's 74-year-old challenger promised to restore a more democratic society.
Somalia truck bombing kills 15 people and wounds 40 others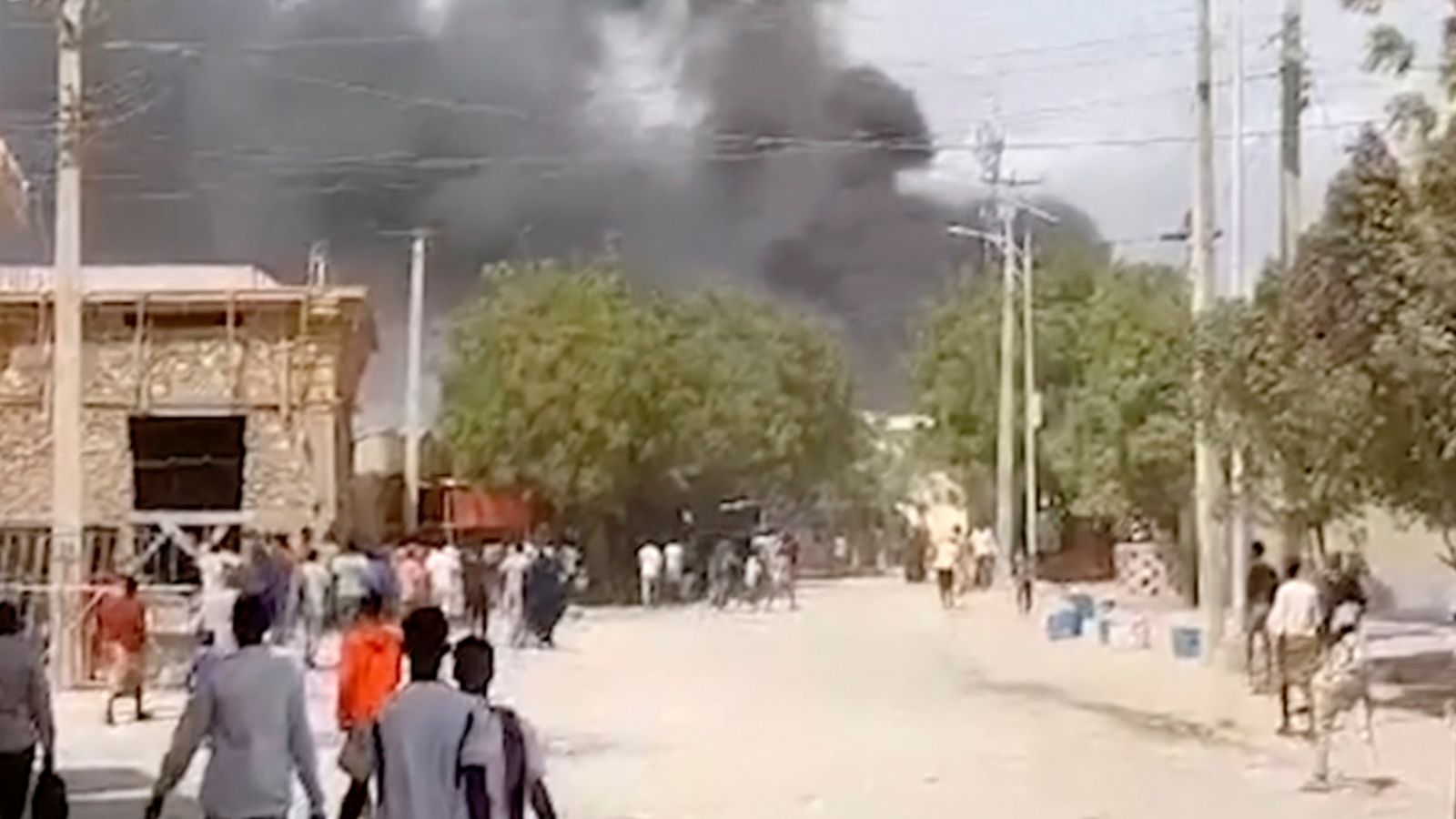 A bombing at a checkpoint in Somalia has killed at least 15 people and wounded 40 others, authorities have said.
Images on social media showed a damaged truck cab on fire and black smoke billowing from the scene in the central city of Beledweyne.
No one has immediately claimed responsibility, including Al Shabaab, which often carries out attacks and controls parts of Somalia.
Police officer Ahmed Aden said the dead included five police officers who fired on the truck in a failed attempt to stop it from ramming into the nearby checkpoint.
Shops nearby were reduced to rubble, with reports of people missing beneath the debris.
It was a truck loaded with explosive devices that forcefully passed through the government-manned checkpoint, and a pick-up vehicle belonging to security personnel was chasing it when it exploded," said witness Abdikadir Arba, who said he was about 200 metres away and was one of the first responders.
Abdifatah Mohamed Yusuf, director-general of the Hirshabelle Ministry of Humanitarian and Disaster Management, confirmed the deaths.
"Twenty of the wounded have been admitted to Beledweyne hospitals, while another 20 are in critical condition, prompting a request for their airlift to Mogadishu for advanced medical treatment," he said.
Read more on Sky News:
Somalia is fighting a battle on all fronts
At least 20 killed in hotel attack
Locust swarms risk food crisis
Hirshabelle is a state that includes Beledweyne. It has been the centre of the Somali government's latest military offensive against extremists from Al Shabaab.
Click to subscribe to the Sky News Daily wherever you get your podcasts
Al Shabaab has been battling Somalia's central government for more than a decade, aiming to establish its rule based on strict interpretation of Islamic sharia law.
Fugitive on run for more than 30 years laughs as he's finally caught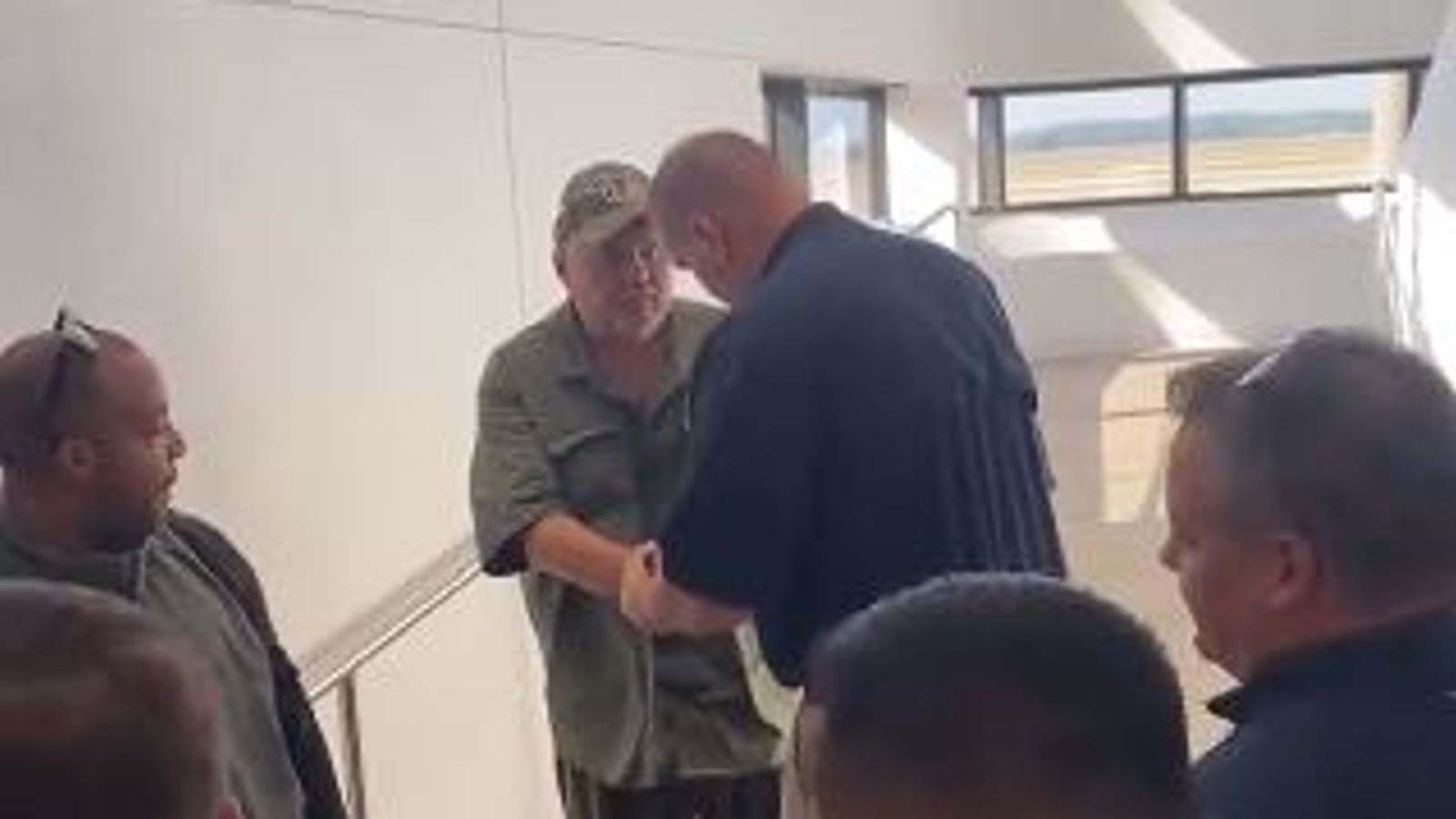 A fugitive convicted of attempted murder who evaded police for more than 30 years has been caught.
Greg Lawson, who had been on the run for 32 years, laughed and asked officers "how are you doing?" as he was handcuffed in Huatulco, Mexico.
Lawson, 63, fled Louisiana, in the US, just before a jury found him guilty of shooting a man called Seth Garlington in 1991 – sparking an FBI manhunt in May that year.
In a video shared by FBI News Orelans on X, formerly known as Twitter, Lawson is seen wearing a short-sleeve shirt and camouflage cap.
With police officers in escort, he patted someone on the shoulder while laughing, before another officer turned to handcuff him.
Douglas Williams Jr, the agent in charge of FBI New Orleans, said the capture would not have been possible without the help of authorities in Mexico.
"We want to thank our partners and the public in this case, who never gave up hope that justice could be served for Mr Lawson's victim," he said.
"There is no doubt that Mr Lawson might still be in the wind if our partners in Mexico had not been willing to deal with this so swiftly."
The FBI said they had always suspected Lawson was hiding out in Mexico, but a "tip" they received earlier this month appeared to confirm their theory.
Read more:
Murderer who escaped prison by 'crab-walking' up wall caught
Man fleeing Venezuela faces goodbye to pet squirrel after 3,000-mile journey
He was arrested on Tuesday, 19 September, and was taken into custody back in Louisiana.
According to a local Louisiana news channel, KTBS, Lawson had a "fistfight" with Mr Garlington in a car park at a petrol station.
Court documents, they added, claim Lawson forced Mr Garlington's vehicle off the motorway, with Lawson then firing shots.
When the jury came back from deliberation to confirm the guilty verdict, Lawson had already run away.
The FBI had offered a $10,000 (£8,200) reward for his capture.
Sweden: Chunk of motorway collapses in landslide – leaving three in hospital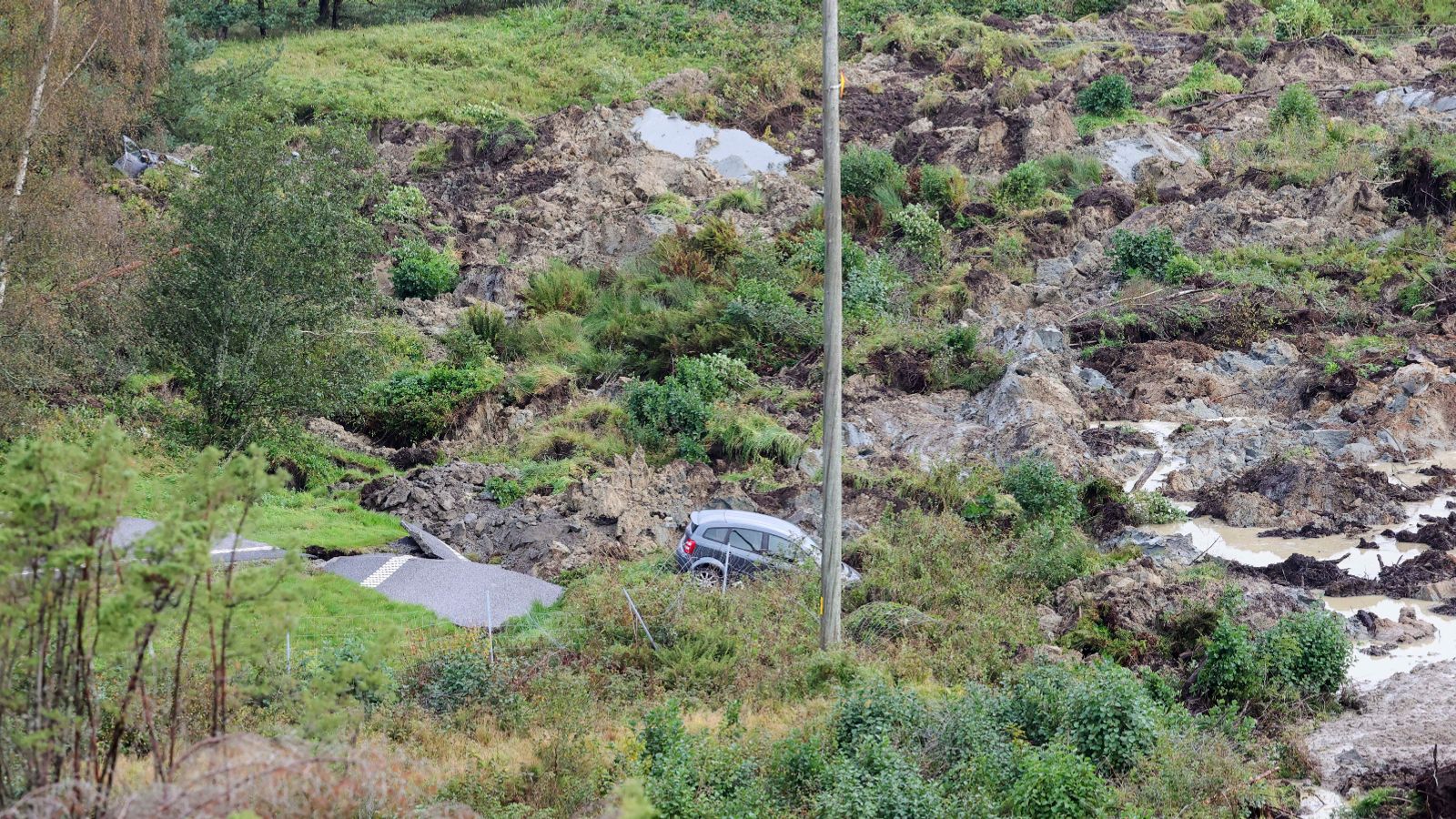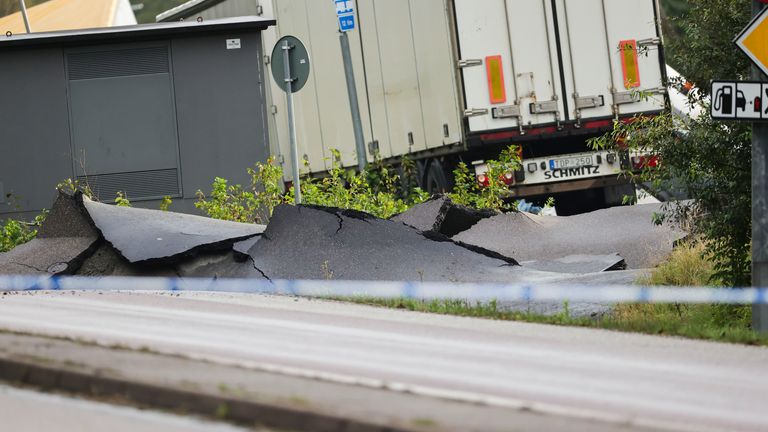 Three people have been taken to hospital after a large chunk of a motorway in Sweden collapsed in a landslide early on Saturday morning.
Police said at least four cars and a bus skidded off the E6 motorway – connecting Gothenburg in Sweden to Norway's capital Oslo – near the small town of Stenungsund.
Several buildings were also damaged, including a Burger King restaurant.
The landslide has affected a total area of around 700 x 200 metres, which is roughly equivalent of 21 football pitches.
"The hardest hit parts of the landslide area measure around 150 x 100 metres," the Gothenburg Rescue Services added in a statement.
"A number of people have been helped out of vehicles in the slide area with the help of fire personnel and a helicopter."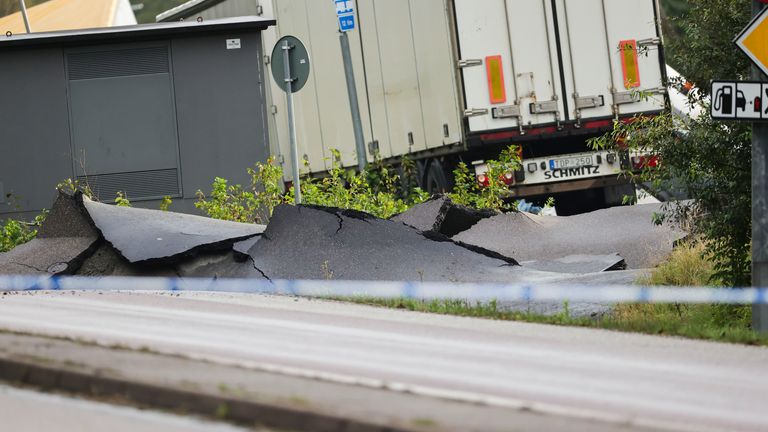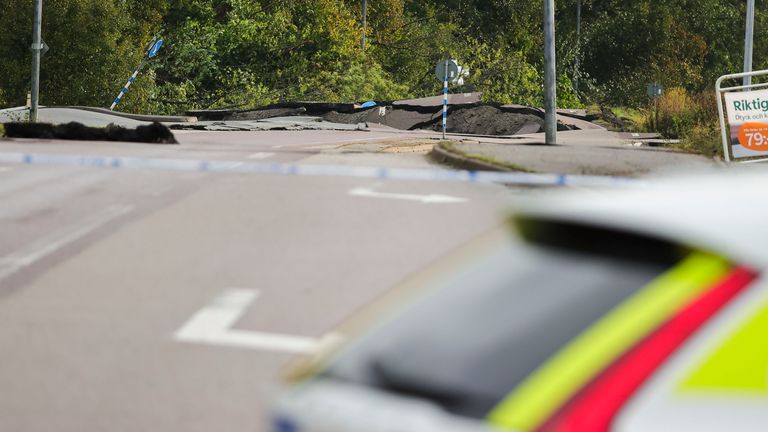 Rescue services say further landslides cannot be ruled out.
Police say nobody is suspected of a crime, but an investigation has been launched into whether a construction site nearby caused the landslide.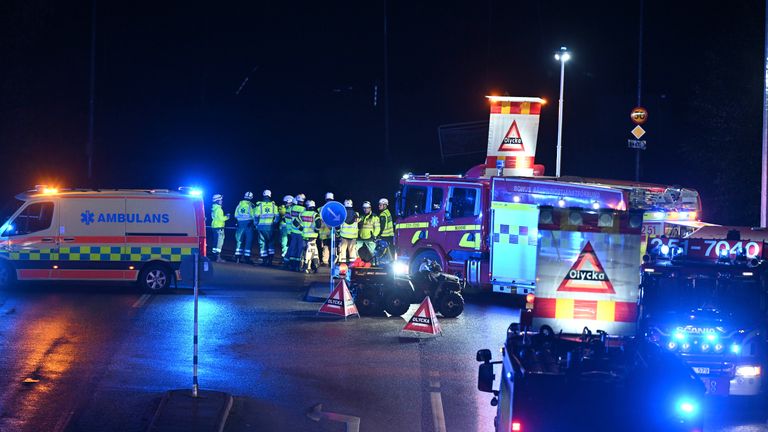 There has also been heavy rainfall in the area over the past few days.
Swedish news agency TT reported several cars and one truck had fallen into cracks caused by the landslide, while rescue services told public broadcaster SVT all people have been helped out.
Specially trained dogs were on the scene to ensure no people had been overlooked among the debris.