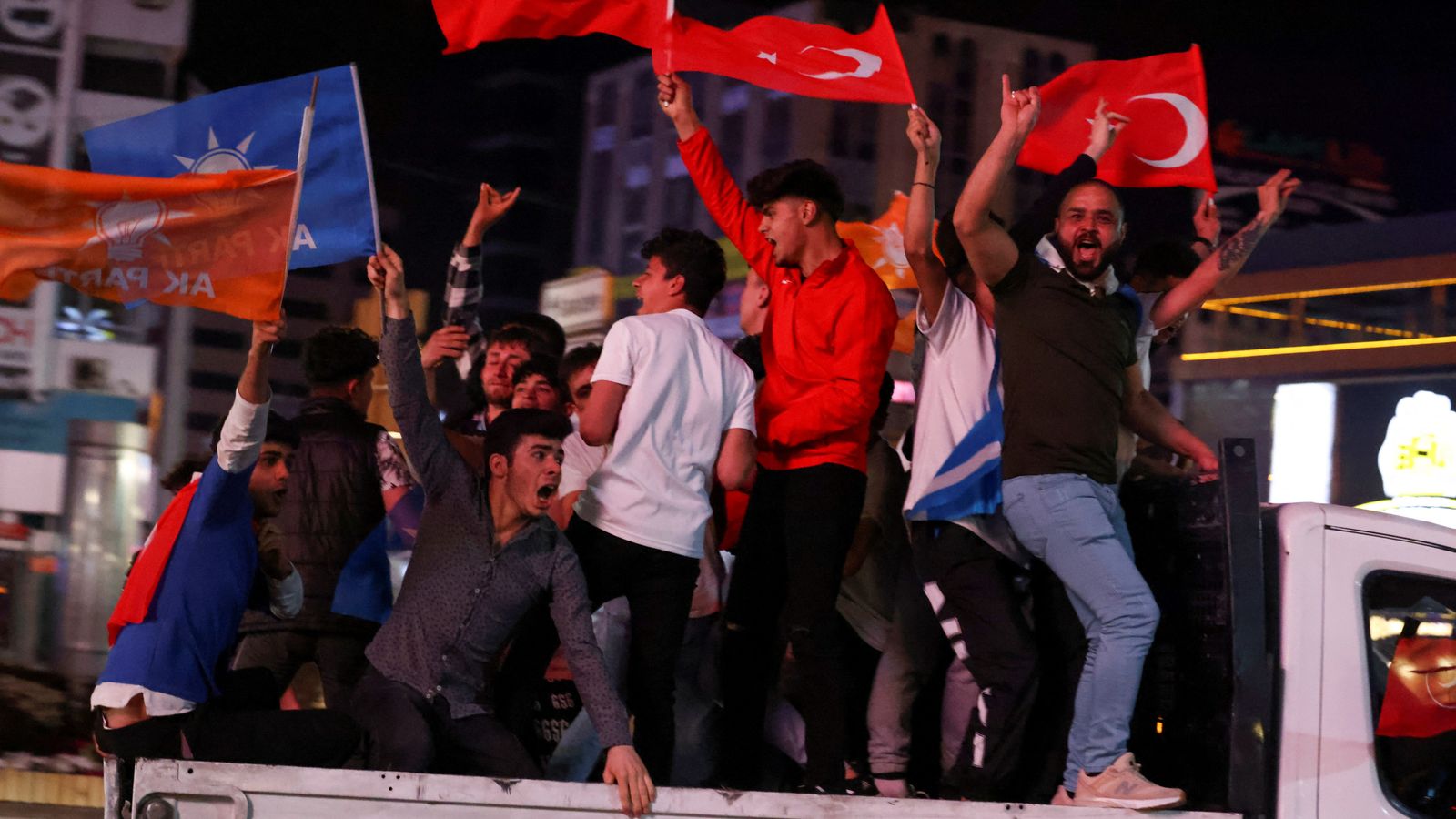 Turkish election: Erdogan has once again proved critics wrong and out-manoeuvred his toughest challengers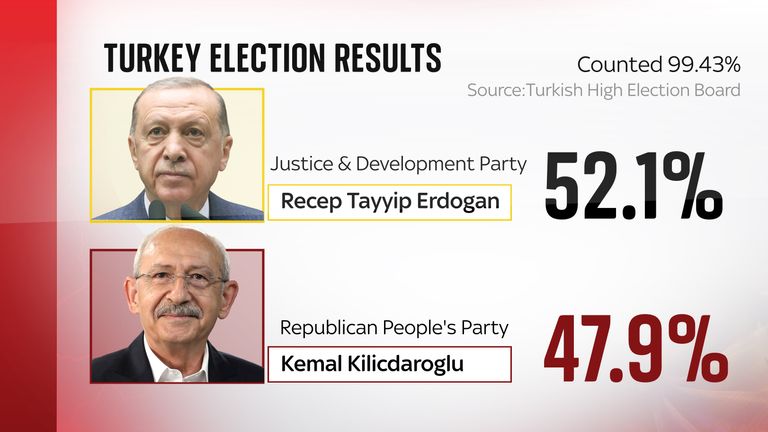 The man who revels in his image as Turkey's strongman took an early lead almost as soon as polls closed in the second round of voting for president.
Celebrations began long before the official declaration. But in truth, the dye was cast some time ago, before the election.
Recep Tayyip Erdogan's demeanour even before campaigning began for the unprecedented run-off has been one of a leader comfortably confident of securing his third decade in power in a country that holds a uniquely significant geographical position in the world.
Turkey election latest:
Erdogan thanks crowds as election officials declare him winner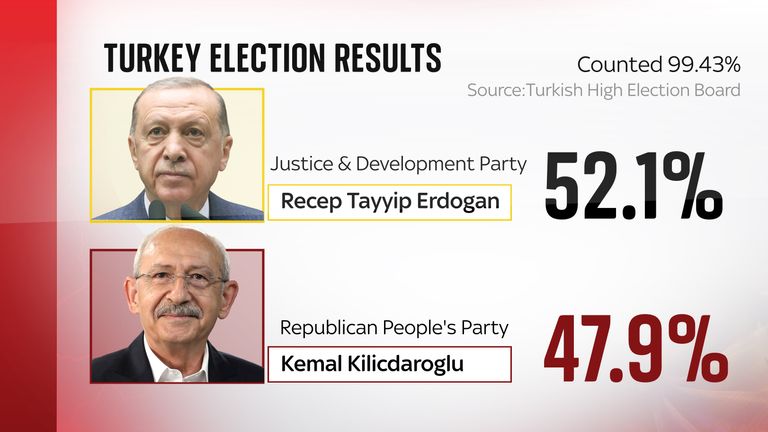 From the time he voted in the first round to extend his time as president, he appeared supremely relaxed about his chances of winning.
This was despite the polls showing him trailing behind his challenger, the leader of a six-party alliance called Kemal Kilicdoroglu.
Mr Erdogan's re-election comes in the teeth of a spiralling economy, rampant inflation and in the wake of a horrific natural disaster clouded by accusations his government was slow to respond.
"We are so happy," one of his fans told us outside his Istanbul home. "Our economy is good….OK, it's been bad for two years but we trust him and he will do his best."
"Bye bye Kemal," others told us. "Erdogan is our strong leader," was the mantra repeated to us over and over again.
The people gathered waving flags, setting off fireworks and singing and dancing down the roads leading to his home in the Uskudar district of the city were predominantly religious conservatives, many of them women, mostly wearing hijabs and conservative Muslim clothing.
"We love Erdogan," they told us.
Within an hour or so of polls closing, with just 55% of votes counted, the incumbent had already built a hefty lead, according to the state broadcaster TRT.
Sky's Alex Crawford reports from Istanbul as Turkey reacts to Erdogan claiming victory

That very early lead never seemed likely to change.
Later counting narrowed the gap somewhat but the sitting president still managed to secure more than half of the votes cast with his rival trailing roughly four points behind. (Latest official figures at the time of writing show 52.1% to Mr Erdogan and 47.8% for Mr Kilicdaroglu.)
This was the closest President Erdogan had come to being unseated was how the opposition and most Western media framed the outcome of the first round.
But in reality, the odds were always heavily stacked against any electoral upset or success by his rival.
Mr Erdogan has spent his two decades at the helm consolidating his power – cracking down on dissent, intimidating and jailing opposition politicians and journalists and ensuring the Turkish media is mostly state-controlled and compliant.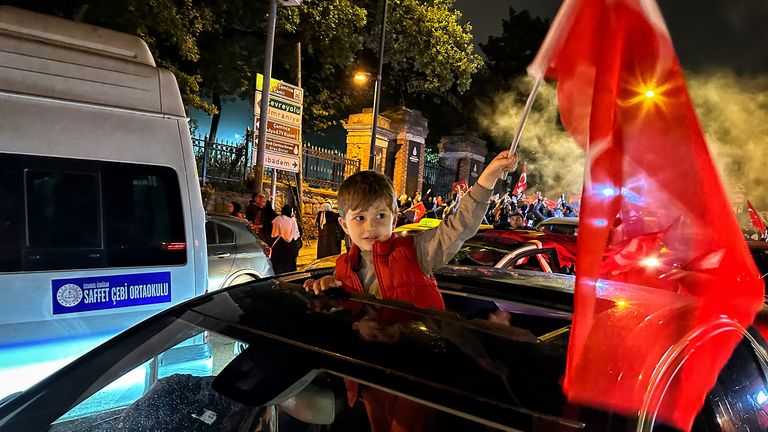 International observers in the country who were monitoring the initial vote criticised Mr Erdogan's use of state resources and his control of the media to unduly influence the electorate.
Once the dust has settled, they're likely to voice the same concerns this time around.
In his concession speech, Mr Kilicdoruglu called it the "most unjust election campaign ever" referring to the heavily-biased coverage of the president's campaign in most Turkish outlets rather than his.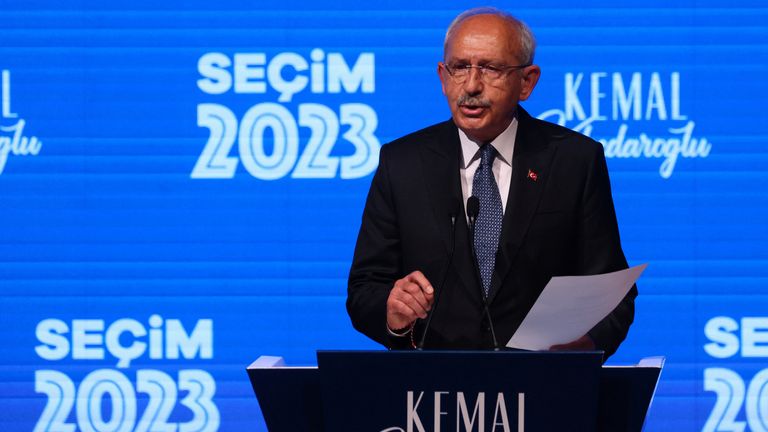 When we managed to get close enough to question the sitting leader about whether he'd accept the outcome of the vote whatever the result (in the first round), we were sharply rebuked by him for questioning his approach and his 'history' over the past 20 years.
"That is a very bad question," he told me.
"You don't know me and how I've been over the past 20 years," he scolded me as his security detail and political team rushed to move him on quickly.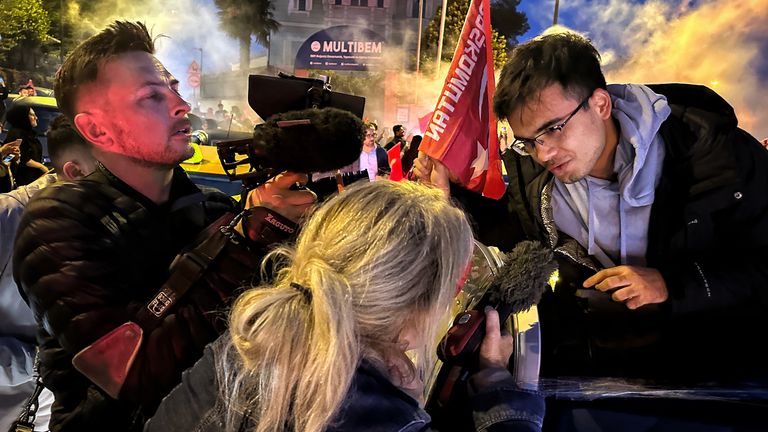 His critics believe his next five years in office are likely to see him take the country further down the autocratic path he embarked on several years ago.
It's a path made smoother after his AK Party gained 266 seats in the parliamentary elections, resulting in a commanding total of 321 including his coalition partners.
Read more:
Recep Tayyip Erdogan: Who is Turkey's president?
Who is Kemal Kilicdaroglu – the man who wanted to end Erdogan's reign?
If his campaigning over the past two weeks and his repeated criticism of how Western journalists have covered the elections are anything to go by, President Erdogan is likely to ratchet up his strained relationship with the foreign media and those nations critical of his leadership.
At one rally he told his supporters: "We are competing against those trying to disrupt the century of Turkey.
"Magazines have covers reading Erdogan must go. It's none of your business. The West cannot decide it. It is up to my nation."
President Erdogan speaking to crowds before victory was declared

Mr Erdogan's influence during his years in power on international affairs like the Russia-Ukraine war and the European migration crisis has been crucial. And he has used his position skilfully.
A largely suspicious West has seen him manoeuvre himself into a pivotal global spot – able to talk to the leaders of both Russia and Ukraine as well as America and Iran – and building essential bridges with key economic powers like Saudi Arabia, as well as sending peacekeeping troops to countries like Somalia and Libya.
He has visited African countries more times than any other non-African leader during his time in office.
Analysis:
The West will be disappointed with Erdogan's electoral success
As a member of NATO, he's shown he can wield considerable clout for political gain as he's demonstrated recently with the delayed but final acceptance of Finland into the club.
Turkey's acquiescence only came after Finland agreed to take a harder line against Kurdish dissidents and the Kurdish PKK party.
Now on his home turf, he has once again proved the critics wrong and outmanoeuvred his toughest challengers and his grip on power seems unassailable.
Somalia truck bombing kills 15 people and wounds 40 others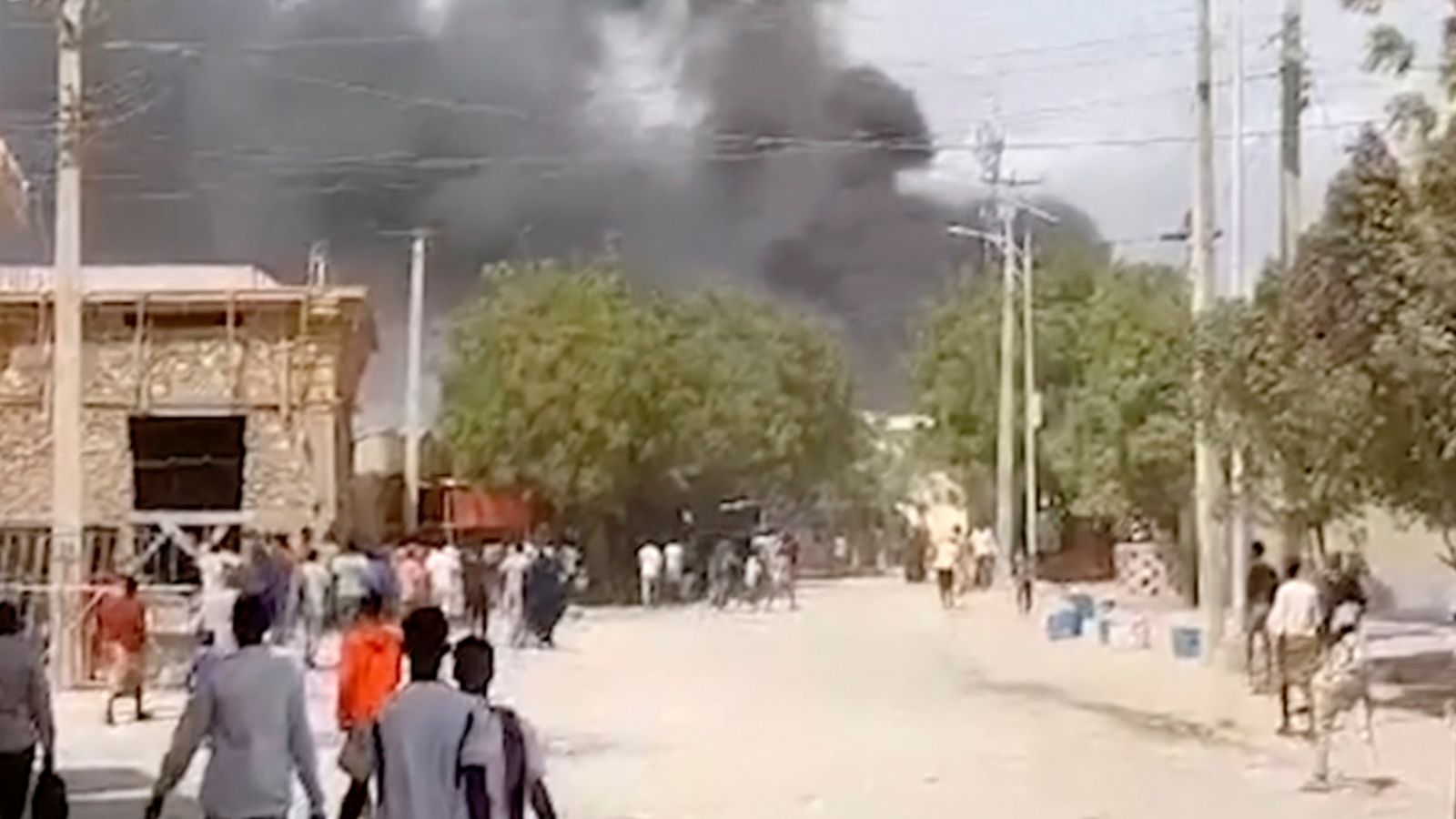 A bombing at a checkpoint in Somalia has killed at least 15 people and wounded 40 others, authorities have said.
Images on social media showed a damaged truck cab on fire and black smoke billowing from the scene in the central city of Beledweyne.
No one has immediately claimed responsibility, including Al Shabaab, which often carries out attacks and controls parts of Somalia.
Police officer Ahmed Aden said the dead included five police officers who fired on the truck in a failed attempt to stop it from ramming into the nearby checkpoint.
Shops nearby were reduced to rubble, with reports of people missing beneath the debris.
It was a truck loaded with explosive devices that forcefully passed through the government-manned checkpoint, and a pick-up vehicle belonging to security personnel was chasing it when it exploded," said witness Abdikadir Arba, who said he was about 200 metres away and was one of the first responders.
Abdifatah Mohamed Yusuf, director-general of the Hirshabelle Ministry of Humanitarian and Disaster Management, confirmed the deaths.
"Twenty of the wounded have been admitted to Beledweyne hospitals, while another 20 are in critical condition, prompting a request for their airlift to Mogadishu for advanced medical treatment," he said.
Read more on Sky News:
Somalia is fighting a battle on all fronts
At least 20 killed in hotel attack
Locust swarms risk food crisis
Hirshabelle is a state that includes Beledweyne. It has been the centre of the Somali government's latest military offensive against extremists from Al Shabaab.
Click to subscribe to the Sky News Daily wherever you get your podcasts
Al Shabaab has been battling Somalia's central government for more than a decade, aiming to establish its rule based on strict interpretation of Islamic sharia law.
Fugitive on run for more than 30 years laughs as he's finally caught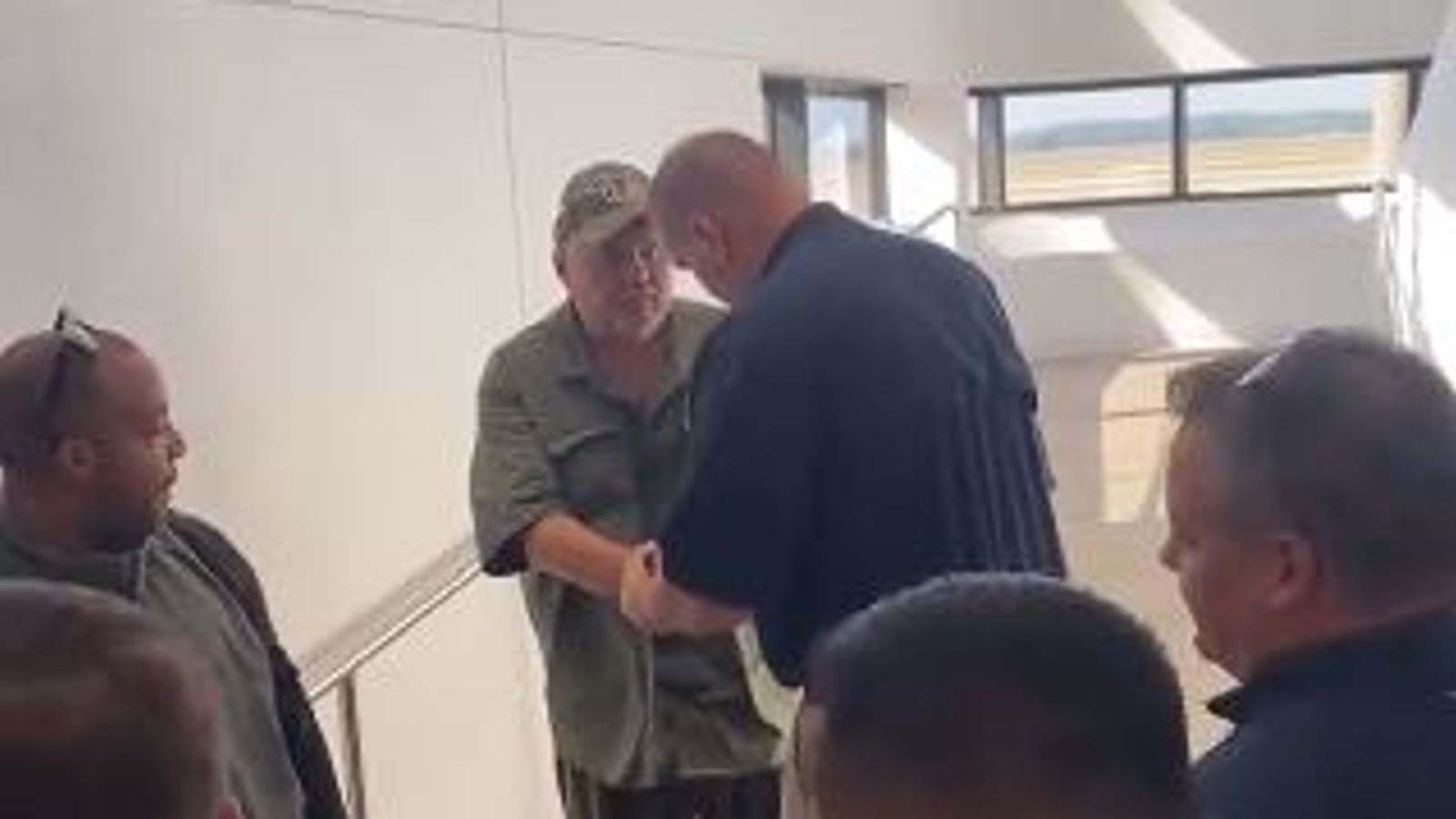 A fugitive convicted of attempted murder who evaded police for more than 30 years has been caught.
Greg Lawson, who had been on the run for 32 years, laughed and asked officers "how are you doing?" as he was handcuffed in Huatulco, Mexico.
Lawson, 63, fled Louisiana, in the US, just before a jury found him guilty of shooting a man called Seth Garlington in 1991 – sparking an FBI manhunt in May that year.
In a video shared by FBI News Orelans on X, formerly known as Twitter, Lawson is seen wearing a short-sleeve shirt and camouflage cap.
With police officers in escort, he patted someone on the shoulder while laughing, before another officer turned to handcuff him.
Douglas Williams Jr, the agent in charge of FBI New Orleans, said the capture would not have been possible without the help of authorities in Mexico.
"We want to thank our partners and the public in this case, who never gave up hope that justice could be served for Mr Lawson's victim," he said.
"There is no doubt that Mr Lawson might still be in the wind if our partners in Mexico had not been willing to deal with this so swiftly."
The FBI said they had always suspected Lawson was hiding out in Mexico, but a "tip" they received earlier this month appeared to confirm their theory.
Read more:
Murderer who escaped prison by 'crab-walking' up wall caught
Man fleeing Venezuela faces goodbye to pet squirrel after 3,000-mile journey
He was arrested on Tuesday, 19 September, and was taken into custody back in Louisiana.
According to a local Louisiana news channel, KTBS, Lawson had a "fistfight" with Mr Garlington in a car park at a petrol station.
Court documents, they added, claim Lawson forced Mr Garlington's vehicle off the motorway, with Lawson then firing shots.
When the jury came back from deliberation to confirm the guilty verdict, Lawson had already run away.
The FBI had offered a $10,000 (£8,200) reward for his capture.
Sweden: Chunk of motorway collapses in landslide – leaving three in hospital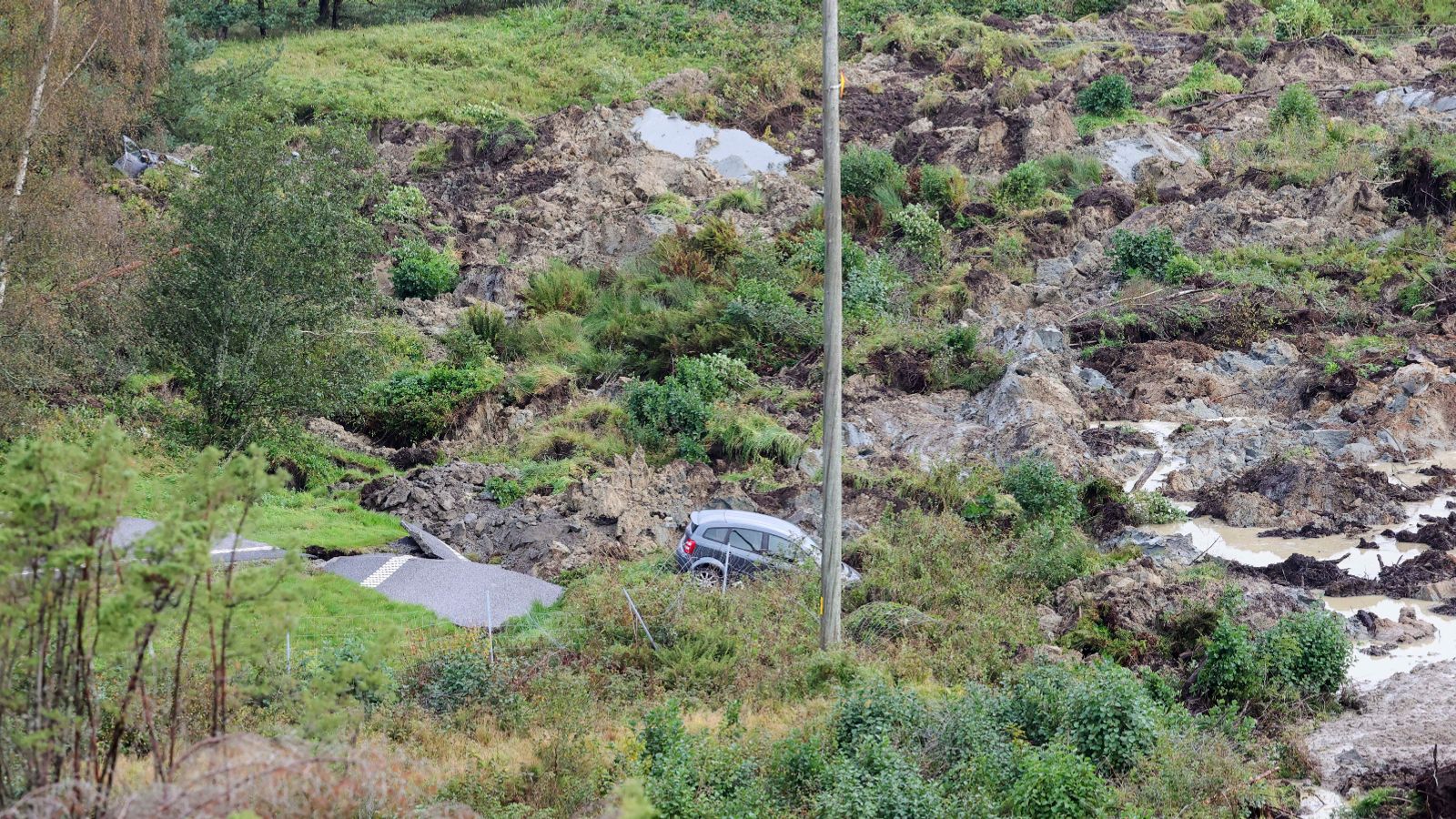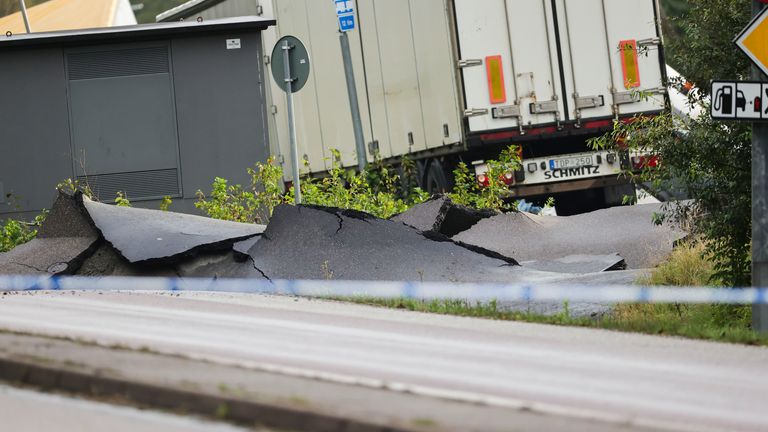 Three people have been taken to hospital after a large chunk of a motorway in Sweden collapsed in a landslide early on Saturday morning.
Police said at least four cars and a bus skidded off the E6 motorway – connecting Gothenburg in Sweden to Norway's capital Oslo – near the small town of Stenungsund.
Several buildings were also damaged, including a Burger King restaurant.
The landslide has affected a total area of around 700 x 200 metres, which is roughly equivalent of 21 football pitches.
"The hardest hit parts of the landslide area measure around 150 x 100 metres," the Gothenburg Rescue Services added in a statement.
"A number of people have been helped out of vehicles in the slide area with the help of fire personnel and a helicopter."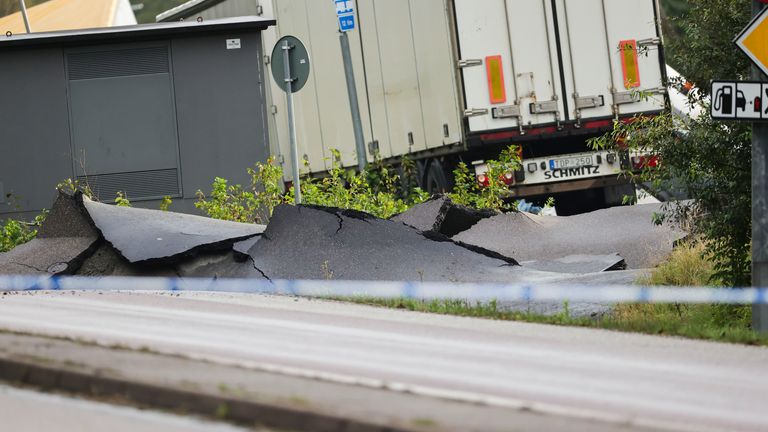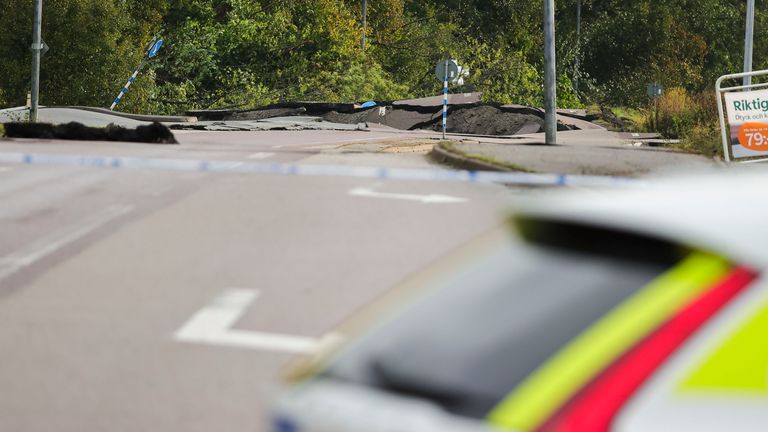 Rescue services say further landslides cannot be ruled out.
Police say nobody is suspected of a crime, but an investigation has been launched into whether a construction site nearby caused the landslide.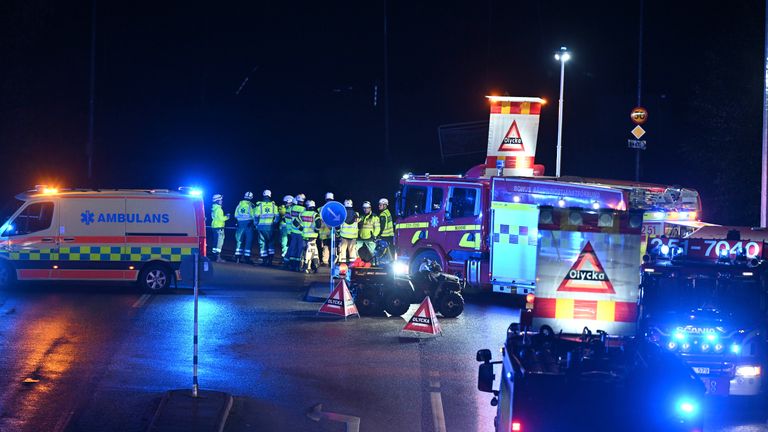 There has also been heavy rainfall in the area over the past few days.
Swedish news agency TT reported several cars and one truck had fallen into cracks caused by the landslide, while rescue services told public broadcaster SVT all people have been helped out.
Specially trained dogs were on the scene to ensure no people had been overlooked among the debris.