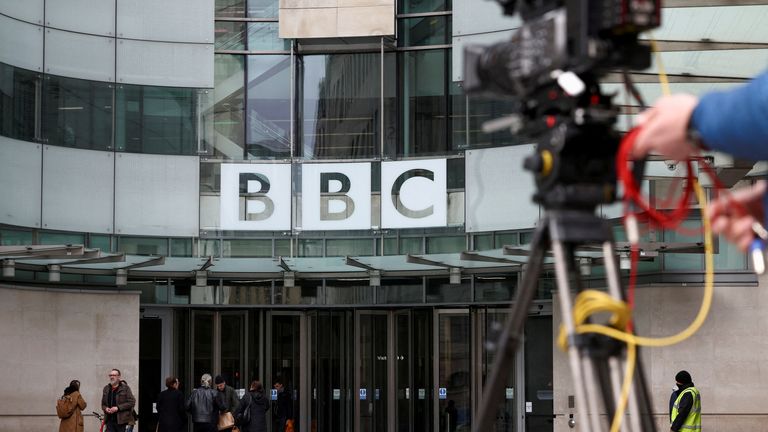 The gang thought to have carried out a cyber attack on companies including BA and Boots has given victims a deadline to negotiate or have the hacked information published online.
The suspected Russian group Clop, which claimed responsibility for the attack, issued the notice on the dark web to victims of the MOVEit software hack.
Personal data of more than 100,000 employees was accessed in the attack, including bank and contact details.
In a dark web blog post, Clop told victims to email and negotiate with the group by 14 June, the BBC reported.
The BBC itself was impacted by the attack, as was airline Aer Lingus.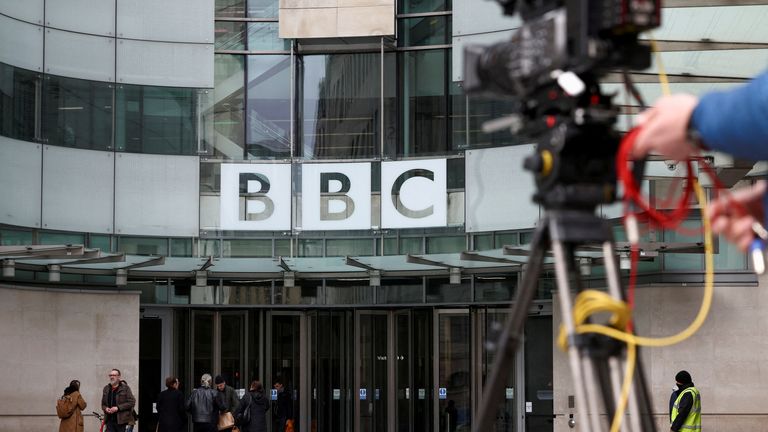 More victims have emerged, including the University of Rochester in New York. The government of Nova Scotia in Canada also said it was subjected to the attack.
Clop has reportedly claimed it has deleted any data from government, city or police services, saying: "Do not worry, we erased your data you do not need to contact us. We have no interest to expose such information."
Workers hit by cyber security breach

Payroll software company Zellis – which used the MOVEit software that resulted in BA, BBC and Aer Lingus staff having their data accessed – said eight of its customers were hit but did not name them.
Other Zellis customers include Jaguar Land Rover, Harrods and Dyson.
Potentially hundreds of companies using the popular MOVEit business software may be impacted.
Read more:
Origins of cyber attack 'appear to have Russian links' – analysis
A weak link in MOVEit code – a so-called zero day vulnerability – enabled hackers to access its servers and the personal and financial data of employees.
The group's motivations are unclear so far. It claimed responsibility in an email to Reuters news agency on Monday.
A MOVEit spokesperson said: "Our customers have been, and will always be, our top priority. When we discovered the vulnerability, we promptly launched an investigation, alerted MOVEit customers about the issue and provided immediate mitigation steps."
They added: "We are continuing to work with industry-leading cybersecurity experts to investigate the issue and ensure we take all appropriate response measures. We have engaged with federal law enforcement and other agencies with respect to the vulnerability."
XL bully protesters rally in London after ban by Rishi Sunak – as man injured in dog attack in Southwark park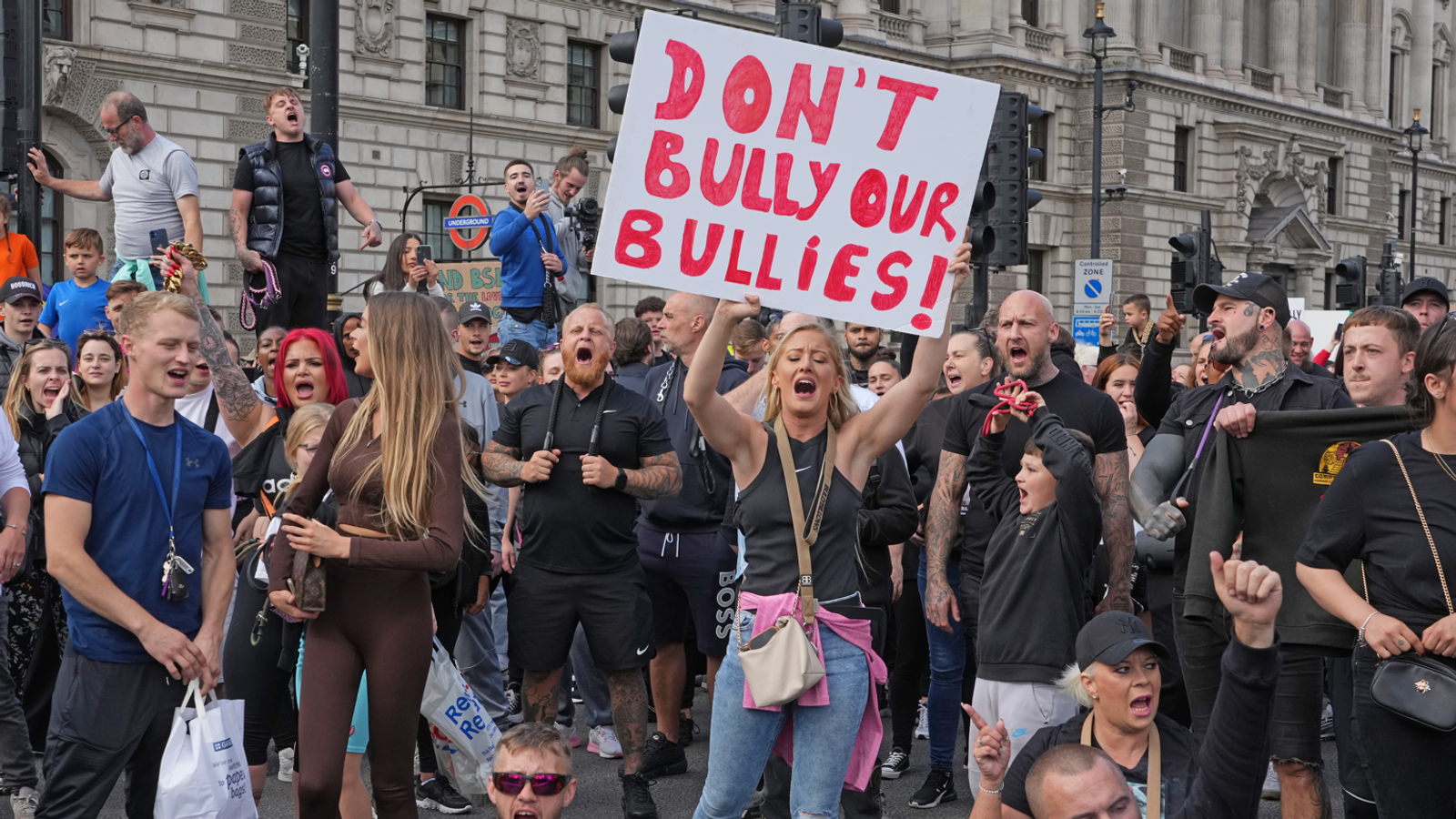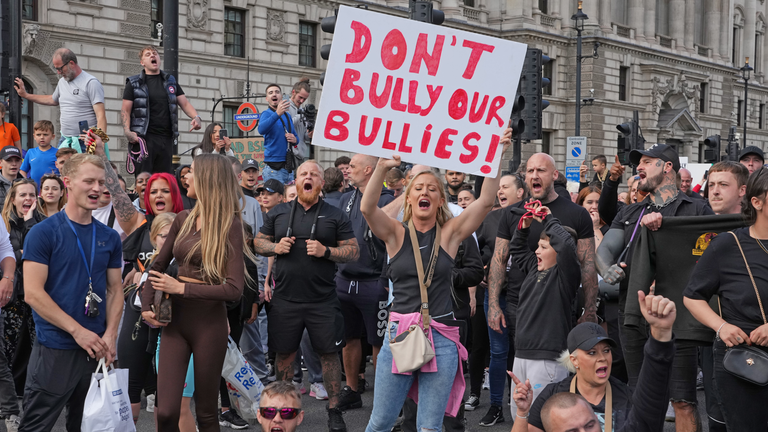 A man was taken to hospital after being bitten by a dog – believed to be an XL bully – just hours before demonstrators gathered in London today to protest against a proposed ban.
The victim, who is in his 40s, was attacked in Pasley Park in Southwark, southeast London, on Friday.
He suffered injuries to his arm and has since been discharged from hospital. The owner of the dog, believed to be a grey-coloured XL bully, left the scene before police arrived.
Demonstrators held signs in Trafalgar Square saying "don't bully our bullies" and "muzzle Rishi" at the event, however none of the dogs were present.
Shouts of "save our bullies" and "sit for your dog" rang out as protestors wearing slogan emblazoned T-shirts marched through the capital.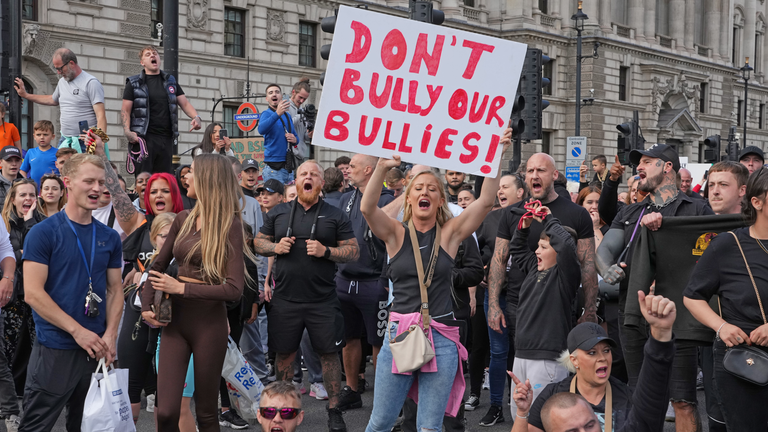 There have been no arrests after the incident in Pasley Park and police inquiries are ongoing.
Writer and lawyer Ness Lyons said the attack happened in her local park.
In a post on X, formerly known as Twitter, she said: "Earlier this evening an XL bully jumped a fence and attacked a man in my local park. Partially witnessed by my son.
"Man was bitten badly in several places including his abdomen.
"Police and ambulance came, but it took an hour. Horrifying.
"The owner grabbed his dog and legged it."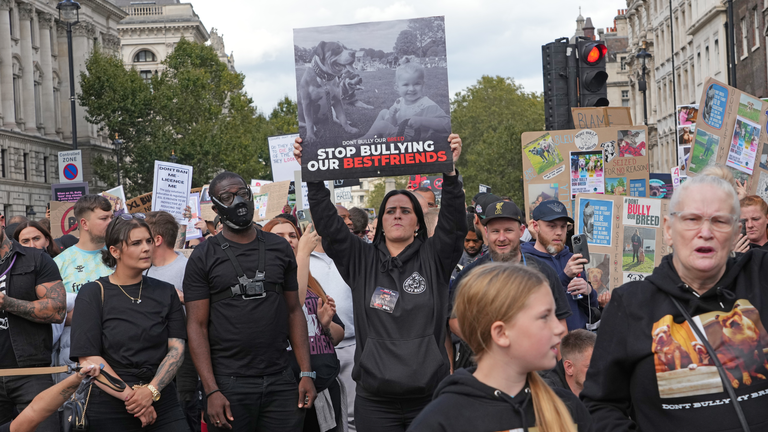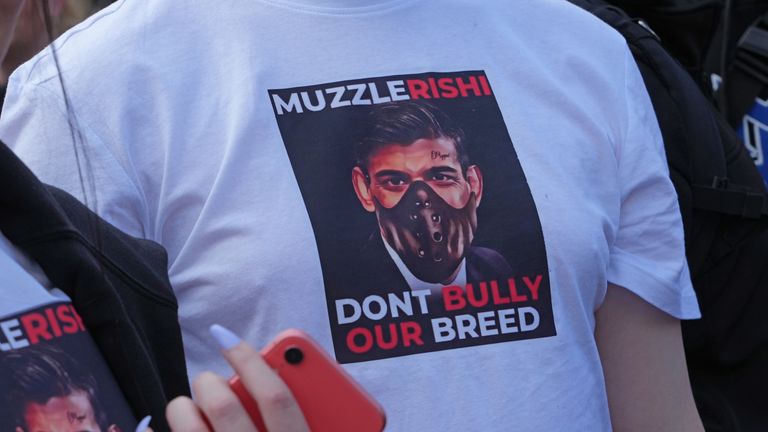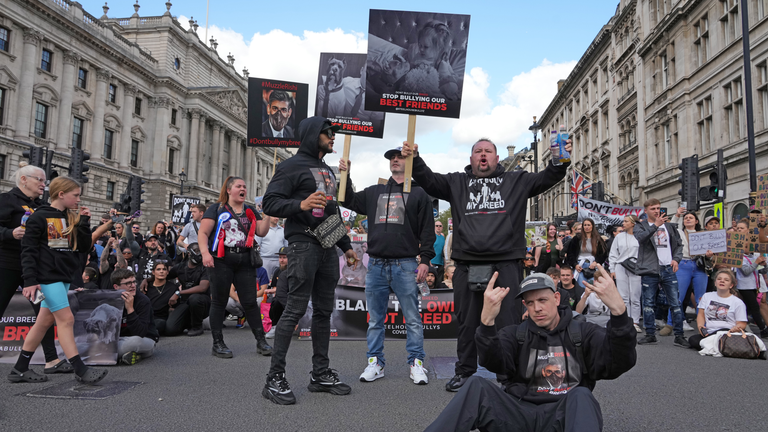 Rishi Sunak has said he will ban the animals under the Dangerous Dogs Act and new laws will be "in place by the end of the year", following a spate of attacks involving the breed.
Recent dog attacks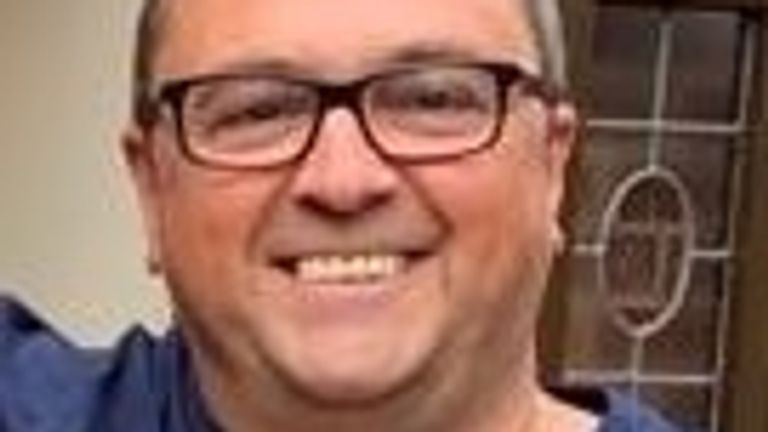 The prime minister's announcement came after the death of Ian Price, 52, who was mauled by two dogs in Staffordshire earlier in September, in what police said was a suspected XL bully attack.
A few days before his death, shocking footage emerged of an attack in Birmingham that left an 11-year-old girl with serious injuries.
And South Yorkshire Police reported four separate dog attacks on children in two days, including one in which a 15-year-old was taken to hospital after being savaged by an XL bully in Sheffield.
Read more:
Why banning the dogs could be problematic
Two XL bully dogs shot dead after killing 22 pregnant sheep
XL bully owner defends breed but calls for tougher laws
The four breeds currently banned in the UK
The XL bully, which is developed from the American pit bull terrier, is not recognised as a specific breed by the Kennel Club – and there are concerns an attempt to prohibit the animal may not be practical due because of this, as it could mean a ban may inadvertently outlaw other kinds of dogs.
Campaigners are calling for an overhaul of the existing legislation, so it focuses "not on the breed but the deed".
It is against the law to own, breed or sell dogs on the list of prohibited breeds, drawn up by the Department for Environment, Food and Rural Affairs (Defra).
There are currently four banned breeds of dog in the UK: the pit bull terrier, Japanese tosa, dogo Argentino and fila Brasileiro.
It is also against the law to have a dog that is dangerously out of control, an offence which can be punished by prison sentences and unlimited fines.
'Backyard breeders need to be targeted'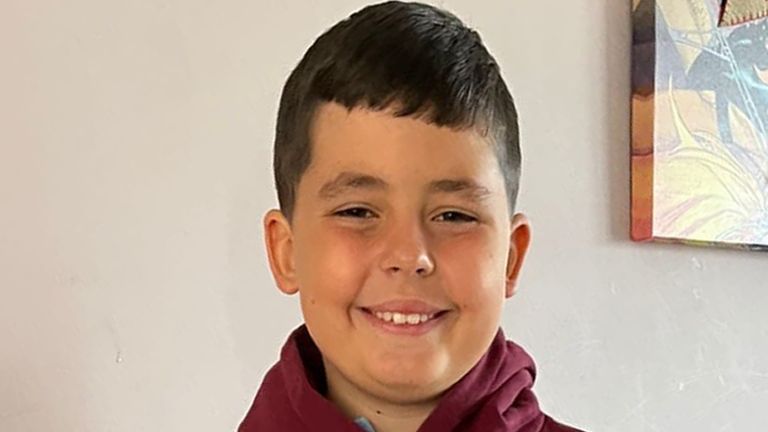 Emma Whitfield, whose 10-year-old son Jack Lis was killed by an American XL bully dog in Caerphilly, South Wales, in 2021, has called on the government to go further than just banning the breed, saying backstreet breeders and irresponsible dog owners need to be targeted.
"Banning the dog at the moment will help and putting restrictions on them will prevent these types of attacks," she said. "But, in the long term, if backyard breeders still exist, they are going to create a new breed and we could find ourselves in a few years in the same place."
Russell Brand: Men more likely than women to think sex between 16-year-old and older partner is okay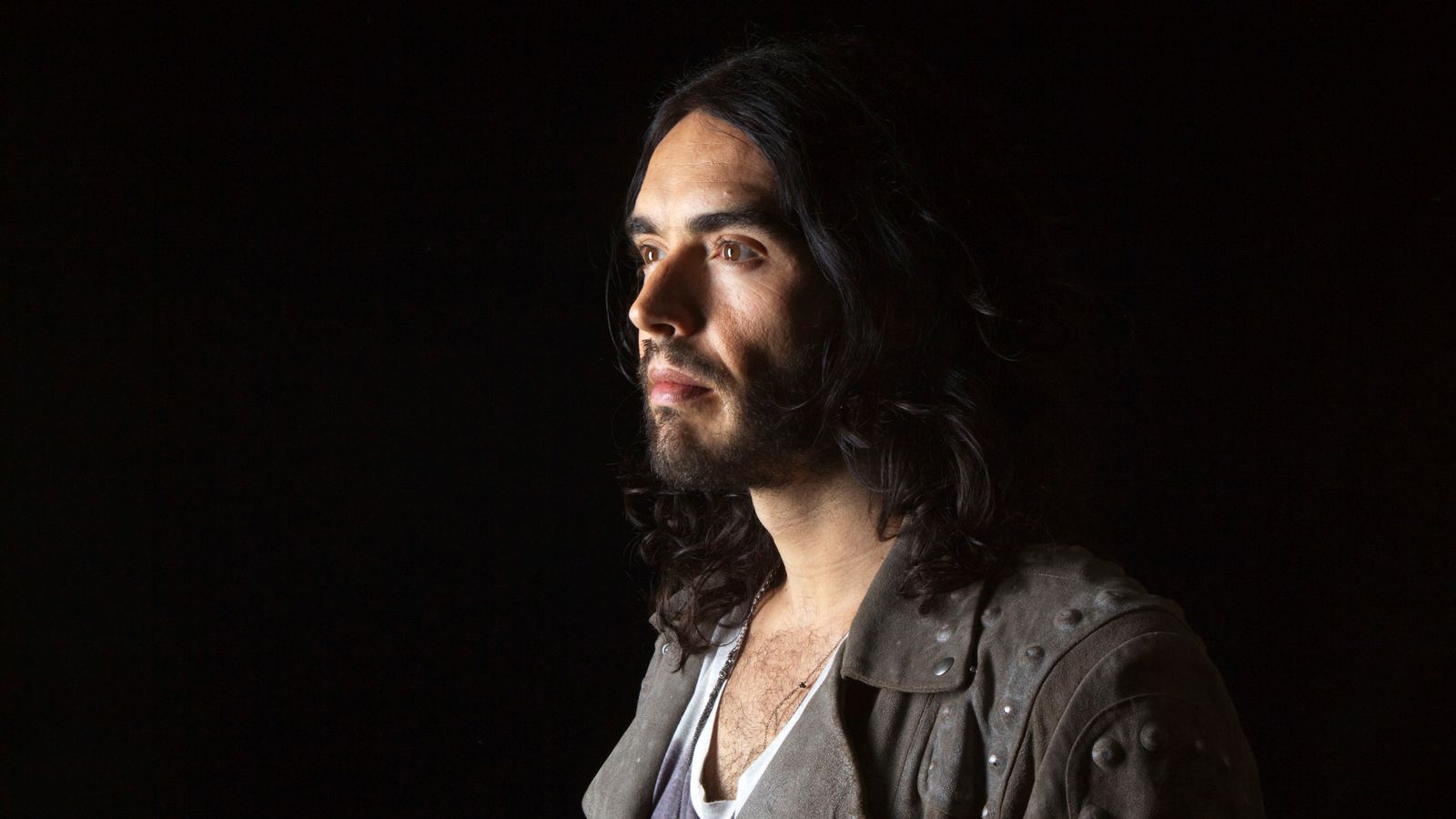 Men are more likely than women to think a sexual relationship between a 16-year-old and a partner decades older is acceptable, new polling has found.
It comes in the wake of concerns raised following claims Russell Brand was in a relationship with a 16-year-old schoolgirl when he was a 30-year-old BBC radio presenter.
Almost a third of men who responded to the Ipsos polling said this type of age gap was acceptable, compared to 15% of women who agreed it was okay.
The statistics showed a "grave need" for more conversations with young people on issues such as consent, power imbalance within relationships and gender equality.
Women were slightly more likely to support raising the age of consent than men and to feel that older men in relationships with at least a 10-year age gap hold more power, according to the exclusive Ipsos polling for the PA news agency.
The survey of 1,077 adults across Great Britain came a week after the allegations against Brand first surfaced.
Alice (not her real name) said she had a sexual relationship with the comedian when she was a teenager, and he would send BBC cars to her school to collect her from lessons so they could have sex at his home.
He became increasingly controlling during the relationship, Alice said, and encouraged her to lie to family and friends about the relationship.
What men and women think about this age gap
According to the PA polling, more than two-thirds (68%) of women said this type of age gap would be unacceptable, just over half (54%) of men felt this way.
More than a quarter (27%) of men said it was either somewhat or completely acceptable for a 16-year-old boy to have a sexual relationship with a woman aged up to 30.
This compares with just 9% of women thinking this is acceptable.
The trend continued with bigger age gaps – as almost a fifth (17%) of men said it was somewhat or completely acceptable for a 16-year-old girl to have sex with a man up to 40 years old, compared to just 4% of women feeling this way.
When it comes to a 16-year-old girl being in a sexual relationship with a man aged 50 or older, more than one in 10 men (13%) thought this was acceptable compared to 3% of women.
Overall, 48% of people said they either tended to or strongly supported the idea of raising the age of consent from 16 to 18, while 40% said they supported the idea of staggered consent, in findings similar to those from a YouGov poll earlier this week.
Woman 'felt trapped' by Brand relationship

Staggered consent
Women were slightly more likely to support the idea of staggered consent – where it is only legal for a 16 or 17-year-old to have sex with someone up to the age of 20 or 21 – than men, with a 41% and 38% split, according to the Ipsos polling.
Speaking to BBC Radio Women's Hour earlier this week, Alice said her mother had breakdowns because "there was nothing that she could do to protect me from being in that relationship" due to the fact the teenager was the legal age to consent to sex at the time.
Alice said: "People say 'well, just call the police'. And then what? I was legally allowed to be there."
Read more:
All the companies that have cut ties with Brand
Why are the allegations only coming out now?
The allegations in full
Click to subscribe to the Sky News Daily wherever you get your podcasts
Alice added: "He was 30. Now that I'm in my 30s looking at 16-year-olds, I can't imagine finding them sexually attractive. I can't imagine thinking of them as a potential mate in any way."
Anna Edmundson, head of policy and public affairs at the NSPCC, said: "While 16 and 17-year-olds are above the legal age of consent, we know from young people that reach out to Childline that they can still be vulnerable to grooming, exploitation and other forms of abuse, particularly from adults."
Rishi Sunak scraps government taskforce aimed at saving energy and lowering bills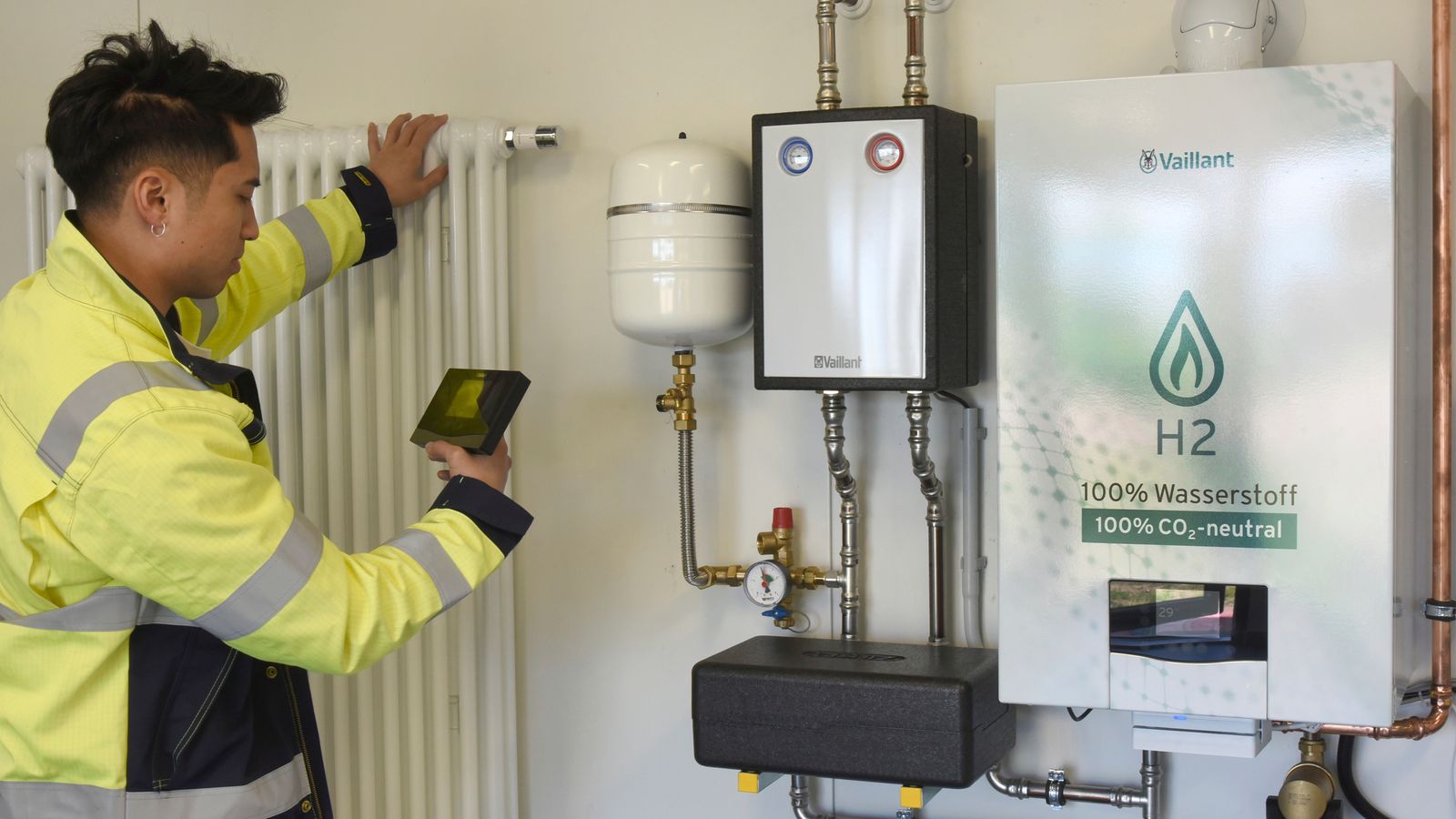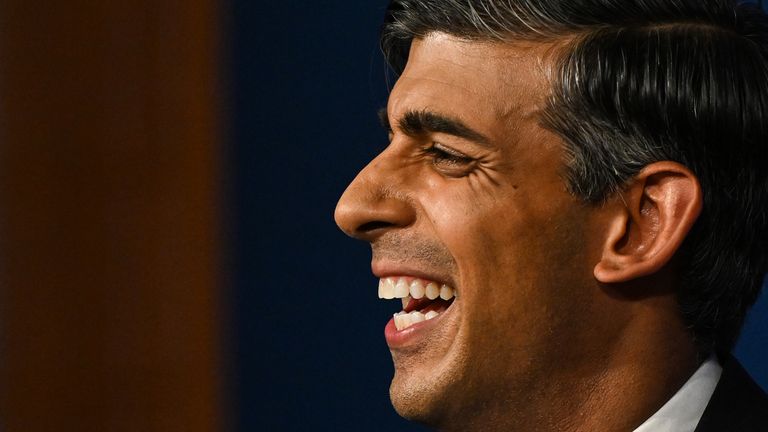 A government taskforce intended to help people save energy and lower their bills has been disbanded after just six months.
The Energy Efficiency Taskforce was set up by the chancellor, Jeremy Hunt, in March to boost uptake of insulation and boiler upgrades in homes and commercial buildings.
It included Sir John Armitt, chair of the National Infrastructure Commission, along with bosses of banks, housing developers and behavioural experts – aiming to drive a 15 per cent reduction in energy usage by 2030.
One member of the taskforce Laura Sandys, a former Conservative MP who now chairs the Green Alliance, tweeted she was "disappointed" the taskforce had been disbanded and confused about "the government's intentions on cost of living".
The group had four meetings but were yet to make any formal recommendations. Energy efficiency minister Lord Callanan wrote to them yesterday to say their work would be incorporated into the work of the Department for Energy Security and Net Zero.
Read more: Rishi Sunak considering banning cigarettes for next generation
Jess Ralston, an energy analyst at non-profit group the Energy and Climate Intelligence Unit, told Sky News: "This appears to be yet another u-turn that could lead to higher bills just like the prime minister's decision last week to roll back landlord insulation standards that could leave renters paying an additional £8bn on energy bills."
Two sources close to the taskforce discussions blamed the Treasury for not being willing to consider radical measures to incentivise families and businesses to take up the measures. One idea suggested was stamp duty reform.
One person said: "The Treasury spent £40bn last winter on energy support payments but wouldn't spend £1-2bn on energy efficiency incentives which would save people money on their bills. It's short-sighted".
The second person said: "We had some short-term ideas ready to go about how to help people with their energy bills, but the Treasury needed to kickstart it."
A Treasury source rejected this, and said: "Our commitment to energy efficiency has not changed one iota"
They added the decision to close the taskforce had been taken by the Department for Energy and Net Zero, created in February this year.
The taskforce was chaired by Lord Callanan and the former NatWest Group chief executive Alison Rose who resigned from the bank in July in a row over the closure of Nigel Farage's account. It was intended to stimulate private sector investment and identify barriers in the market.
PM overhauls climate policies
A spokesperson for the department confirmed the taskforce was being disbanded and said: "We would like to thank the Energy Efficiency Taskforce for its work in supporting our ambition to reduce total UK energy demand by 15% from 2021 levels by 2030.
"We have invested £6.6bn in energy efficiency upgrades this Parliament and will continue to support families in making their homes more efficient, helping them to cut bills while also achieving net zero in a pragmatic, proportionate and realistic way."
It comes after the prime minister made a speech this week rowing back on parts of the green agenda pursued by his predecessors – with targets relaxed for phasing out petrol and diesel cars, upgrading boilers and for landlords to make their properties energy efficient.
Net Zero: Sunak lowers ambitions

The oldest housing stock in Europe
Insulating homes is key to meeting the UK's net zero target in 2050 – which remains in place. The UK has the oldest housing stock in Europe with millions of draughty, poorly insulated homes.
It had been estimated six million homes would need to be insulated by 2030 to reach the government's target of reducing energy usage by 15%.
Ed Miliband, Labour's Shadow Energy Security and Net Zero Secretary, criticised the move.
"Every family is paying the price in higher energy bills due to 13 years of Tory failure on insulating homes." he said.
Click to subscribe to ClimateCast with Tom Heap wherever you get your podcasts
"After Rishi Sunak's track record as chancellor with the disastrous Green Homes Grant, this is another short-sighted decision that will cost families money."
Energy efficiency in England's homes has increased since 2010, when just 14% were in the highest efficiency bands A to C. By 2020, it was 46%, according to the English Housing Survey. For homes that were improved to a Band C level, the annual energy saving was £282 per year.